The clouds lifted and the Columbia Icefields make an a appearance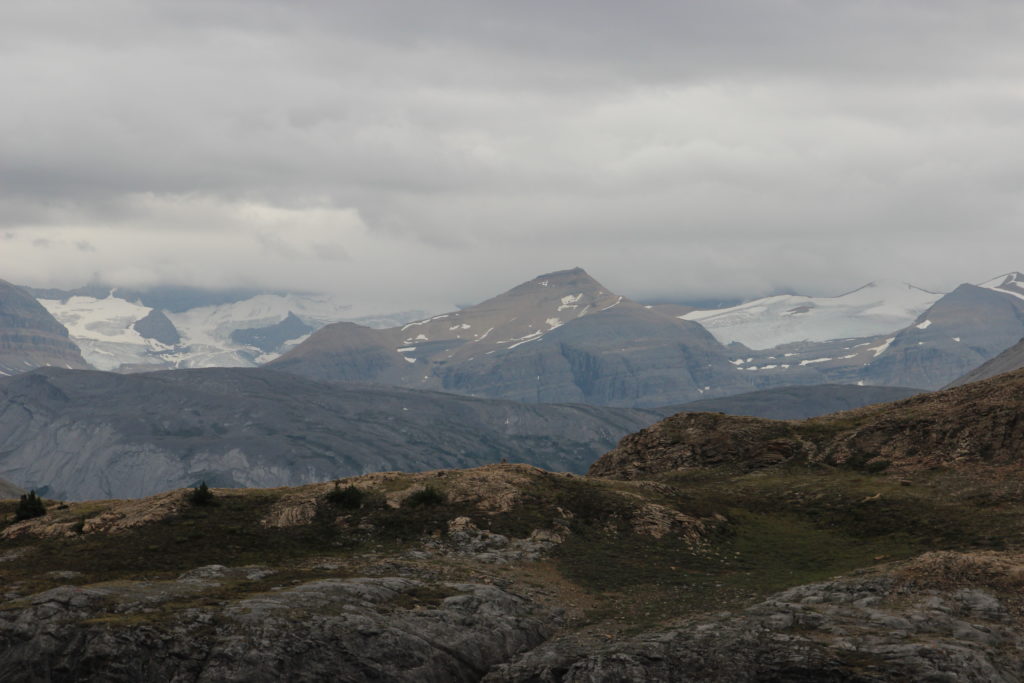 Four Points Campground to Trailhead
Distance 14.4km, 440m elevation gain, 490m elevation loss, 5hrs 55min
The clouds had lifted for the last day, revealing the mountain peaks. The final day is the reverse of day 1, a very easy day with no surprises, so we were not in any sort of rush.
The trail starts as a pleasant walk up the valley. Despite our relaxed mood, we were up and on the way early. We had a clear view up the valley to the ridge that was Nigel Pass.

The trail was a pleasant wooded walk , rising gently as it followed the Brazeu River back up its source.
We crissed crossed the stream as we headed to the waterfall at the head of the valley.
Our dinner companions passed us as we headed through the meadow as we approachedthe waterfall
The small islands in the Brazeau River had some intriguing white flowers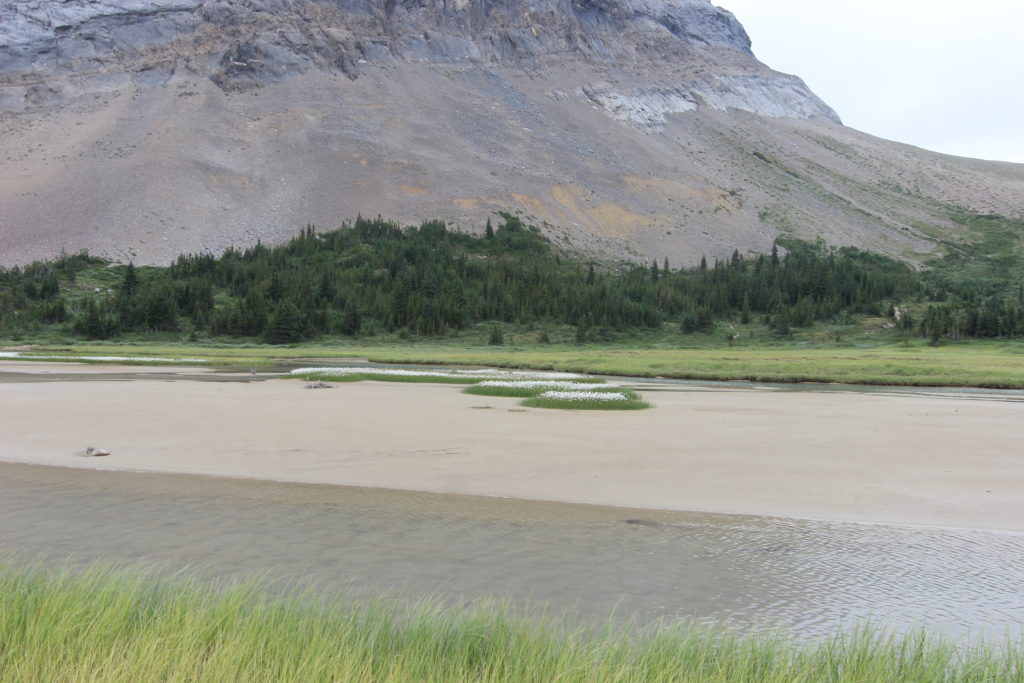 Once at the waterfall, since we were not in a rush, we scrambled down for a closer look and for me to shoot some photos.
After one final look down the valley, we started up the slope back to the trail to continue onto Nigel Pass.

As we hiked up the valley to the stream crossing at Nigel Pass, it was very evident that the steam runs down a fault, as the rock on the far side was a dark brown, trail side, the gray of limestone.
We gained enough height that the Columbia Icefields appeared over Nigel Pass, the clouds and the smoke had obscured the glaciers on day 1.

The geology was fascinating at the top of the ridge. Striations across the rocks indicated the effects of glaciation, sandstone boulders where mixed in with limestone, and there was lots of rubble to hike over and around.
A quick stream crossing led up to the top of Nigel Pass, and time for lunch with a view of the Icefields.
After lunch, the hike was a simple walk back to the car following the well graded trails of day 1.