Proving that a trip that does not work out can work out great.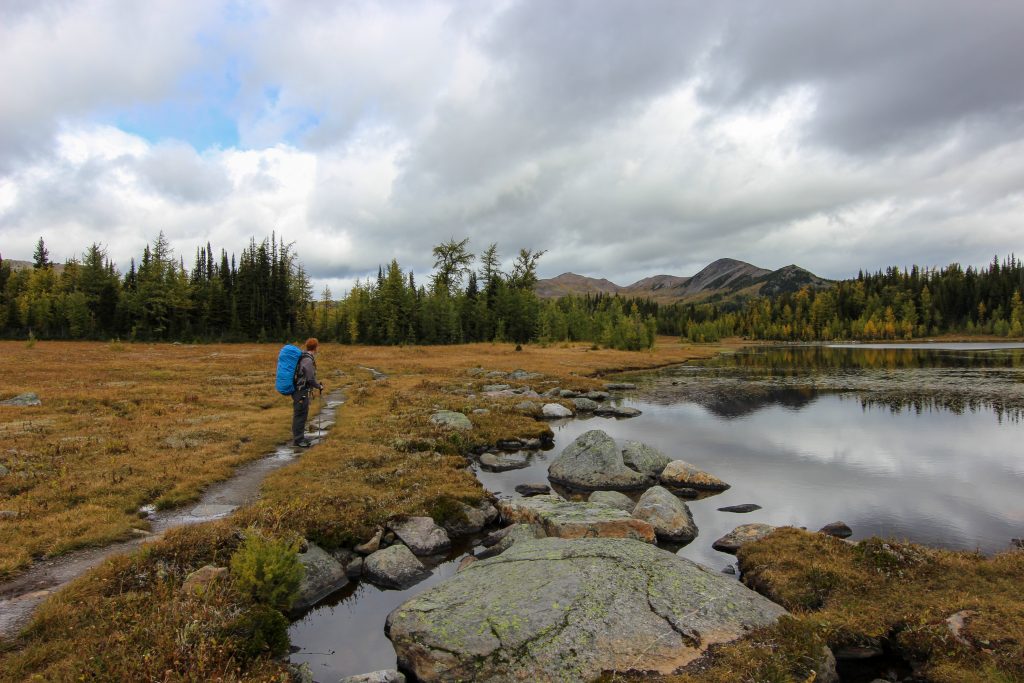 Sunshine Village Parking Lot – Healy Creek Campground – Simpson and Healy Pass, September 16 – 17, 2016.
After doing a number of one and two day backcountry camping trips it becomes almost routine to put a trip together on short notice. Micah suggested mid week that we should go on a camping trip preferably a two night trip. With it already being September I was coaching speed skating after school on Fridays so this limited our options of where we could drive to for a short hike to a campground when leaving Canmore after 5 pm. I booked night one at Healy Creek a distance of just over 5 km from the Sunshine Village parking lot and night two was to be at Egypt Lake in Banff NP.
The additions to day hiking for an overnight trip are simply cooking equipment, sleeping gear and more food. Since it was going to be short hiking days we could err on the side of extra weight in terms of gear and food. When you are not concerned about weight it is simple to throw enough gear into the pack.
One of the challenges would be what to eat Friday night. We would be hitting the trail right at dinner time and with the shorter September days I was not excited about arriving at camp and setting up then making dinner. The solution was store bought frozen lasagna. I walked to speed skating practice and Micah went to school to pick up my car. Micah then headed home to get get the lasagna which Laura had put in the oven to cook. Micah ate their fill of the lasagna then drove to the arena to pick me up from practice. I sat in the passenger seat and ate the rest of the lasagna while Micah drove the 30 minutes to the trailhead. The meal was rated for four people but we had no way to keep any leftovers so I finished off the entire lasagna. It was good to hit the trail with a happy full tummy.
The first half of the trip went great but the weather people had been calling for snow Saturday night. When we arrived at Healy Pass on day 2 the weather was cloudy and threatening. Micah asked if I was adverse to calling it a day and heading back to the car to go have dinner at the Sandtraps Restaurant at the Canmore Public Golf Course. I thought that was a great idea so we waved goodbye to Egypt Lake and headed back the down the trail. The next morning we heard that it had snowed a foot at Egypt Lake. We are really not prepared to go winter camping so we were very pleased with our decision to come home early.
While we did cut our trip short we had a fantastic time exploring the area around Simpson and Healy Pass and we felt that the trip was a great success.
What we learned:
Be prepared to change your plans. Just because you did not set out to do what you intended does not mean the trip cannot be a great success.
Always interesting who you may meet wandering around the backcountry. It is a small world and always fun to unexpectedly run into friends while exploring.