Making a lollipop out of Mt Assiniboine.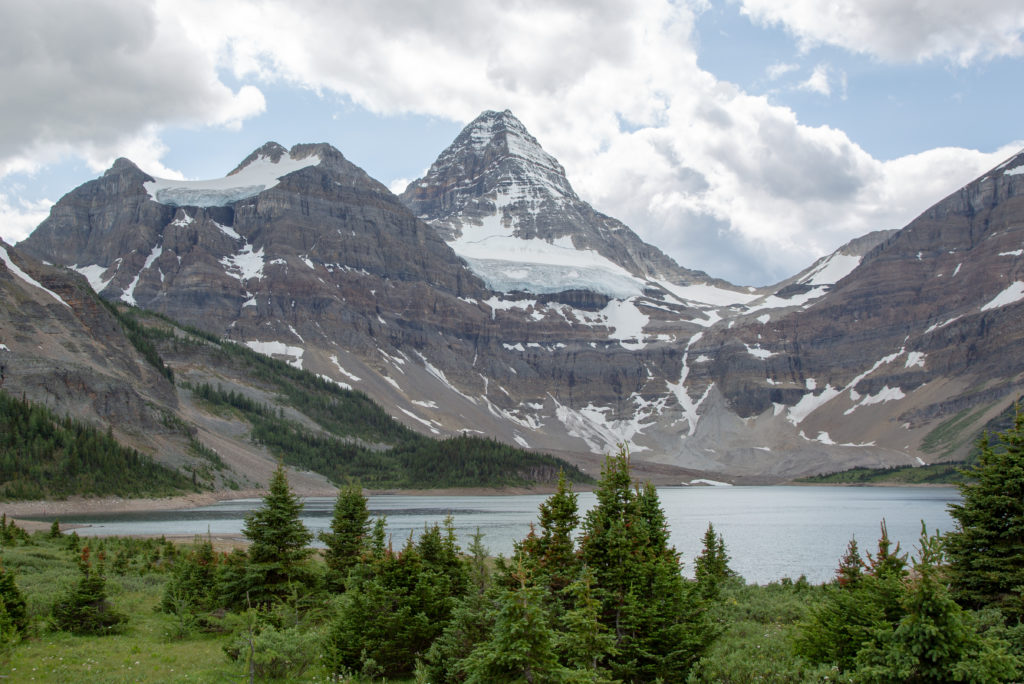 Mt Shark Parking Lot – Mt Assiniboine – Mt Shark Parking Lot, August 1 – 3, 2019.
Mt Assiniboine is one of the iconic peaks of the Canadian Rockies. But getting to Mt Assinboine to see it is not easy, you must travel either by foot or by helicopter, no easy roadside viewing. We made a quick three day trip to the Mt Assinboine area. We nicknamed the trip the "the Lollipop", since our route when viewed from above on a map, looked like a lollipop.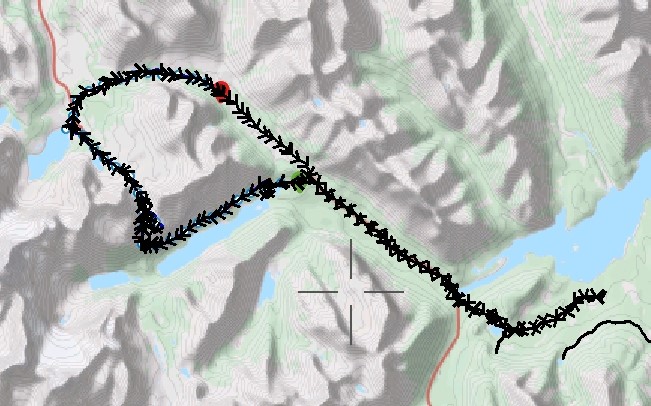 It was going to be a quick trip, we only ended up looking at Mt Assiniboine for 20 minutes, as we had to do it on Micah's work weekend. So we started the hike after Micah finished work on Thursday evening, then hiked Friday and Saturday. We were doing a rushed three day hike.
The original plan that we booked was to hike from the Mt Shark Parking Lot to McBride's Camp, then hike along Marvel Lake, up over Wonder Pass to Mt Assiniboine, continuing to Allenby Junction Campground for the evening. Then hike back to the car. I wanted to be closer to Marvel Lake, so I kept checking the online reservation, and an opening at Marvel Lake Campground came up, so I changed locations for the first night. I was hoping to be closer to Marvel Lake to capture nighttime photos of the lake. One thing I have learned is that just because Parks Canada put the word "Lake" in a campground's name, it still may be a 10 – 15 minute walk to the lake, which is a long way in the dark in grizzly country.
We also planned to take Volcano with us. The trip was too far for Links but despite being three days was not significantly further than our Mystic Lake trip, so we thought it would an appropriate trip for Volcano, who is getting to be an old lady, turning 12 a few days after we got back.
Like many trips in the Canadian Rockies, the bulk of the trip is summarized in Graeme Pole's book "Classic Hikes in the Canadian Rockies". The trail is well marked by Parks Canada, so we did not actually take the guide book with us. One small addition we made, is to take the time to hike to an overlook just before reaching the top of Wonder Pass. This is marked nicely on the Gem Trek Maps and was on my Viewranger App, and provide an excellent lunch spot, with a view of the turquoise colours of Gloria Lake.
What we Learned
Campgrounds marked as "Lake" by Parks Canada, may be 10 – 15 minutes from the lake
If it is a clear night, get out of the tent and view the night sky, if in grizzly country, just make some noise
If interested in the night sky, check the internet for interesting astronomical events before heading out, the possibilities of viewing a meteor shower can add motivation to get out of the tent
should plan to spend at least a day in the Mt Assinboine area if possible, there is so much to explore
Day 1 Mt Shark Parking Lot to Marvel Lake Campground
Day 2 Marvel Lake Campground to Allenby Junction Campground