Spring of 2016, a 4 day/3 night hike, Hermit Rests to South Kaibab Trailhead, camping at Hermit Rapids, Monument Rapids and Havasupai Gardens.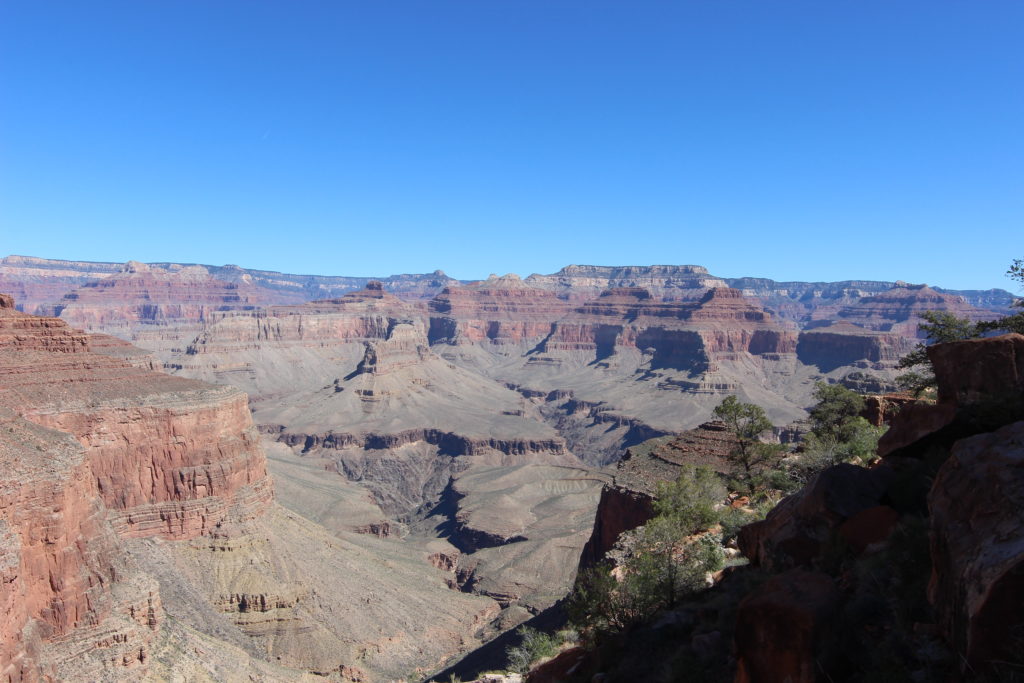 After our eye opening trip to the Grand Canyon, I knew we would have to go back for more.
After having such a successful trip in 2011, and several more years of hiking and backpacking, we decided to be more adventurous and tackle some more remote sections of the canyon. This trip would be just Micah and me.
From the National Park Service Tonto Trail description "Because of its length, most hikers approach the Tonto Trail not as a single unit, but rather as a series of installments, breaking the route down into four or five sections defined by rim-to-river trails and the natural lay of the land. A notable lack of reliable water makes most of the Tonto Trail a daunting, possibly dangerous, proposition, but the section between Bright Angel Trail and the Hermit Trail is blessed with three water sources hikers can count on. As a result, this segment of the Tonto Trail offers a degree of civility not found elsewhere along the trail, and it is here that most hikers get their first exposure to the unique nature of this singular transcanyon route." I could not agree more with this statement. Micah and I would like to hike the Tonto Trail from end to end, but in sections. Plus, I picked this section for its access to water. Will tackle the drier sections as we gain experience.
While the off corridor trails (anything not named Bright Angel or South Kaibab) are challenging, they are not necessarily remote. Going away from the corridor trails, means less people, less access to water, and generally more challenging conditions. For this this, I was careful to select a route that had access to water at each campsite, and there were always other people in the campsites or on the trail. At one campsite, there was only two other people, but we never did camp along. So, it was removed from the crowds, but you were never truly that far from people or help if you needed it. Preparation is the key to a successful trip into the Grand Canyon. The canyon should be respected, but not feared.
How We Prepared for Grand Canyon Hermit – South Kaibab
Our Plan for Grand Canyon Hermit – South Kaibab
Lessons Learned Grand Canyon Hermit – South Kaibab
Getting to the Grand Canyon Hermit – South Kaibab
Day 1 Hermits Rest to Hermit Creek
Day 2 Hermit Creek to Monument Creek
Day 3 Monument Creek to Havasupai Gardens