Revisiting a Canadian Rockies Classic. A sunny day, the Milky Way, the Aurora Borealis, and two thunderstorms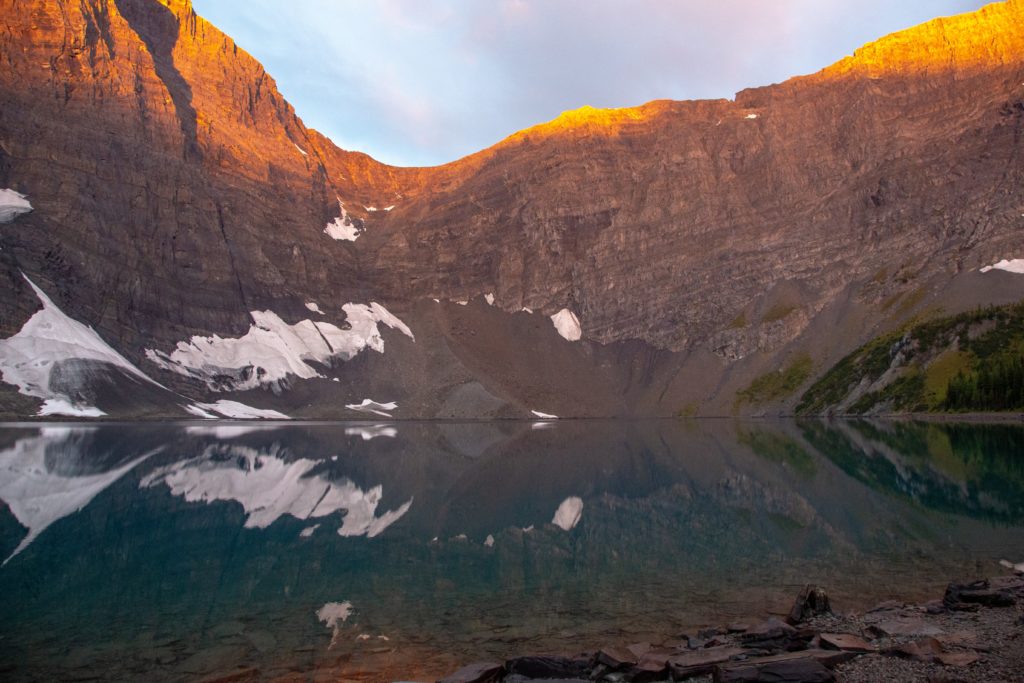 Floe Lake Parking Lot – Floe Lake Campground – Floe Lake Parking Lot, August 30 – September 1, 2019.
Floe Lake is a special place, as it was the first backpacking trip I did in the Canadian Rockies in 2011. It is an excellent choice for a spectacular destination. You can continue onto longer hikes, 3 to 5 days, along the Rockwall or make the trip an out and back. With the bridge still out just before the Numa Creek Parking lot it is not possible to do a two day point to point trip, this trip was to be an out and back.
I was looking for a trip that would combine a relatively short approach with maximum views for a visit from my daughter Siobhan at the end of the summer. Keeping the hike on the shorter side would maximize the enjoyment or the trip, and enable us to take both the dogs, which I was sure would make Siobhan happy. Links is getting a bit older and slower. The hike to Floe Lake is only about 11 km and can be completed in about 3 hours or so, depending on breaks. Just perfect for Links.
Floe Lake is a very popular destination. With the Parks Canada online reservation system making booking so much easier, Floe Lake books up very fast. When I started to plan for this trip there were no spots open at Floe Lake. I kept checking every couple of days and I could see that at various times during the summer spots would become available at Floe Lake. Due to returning to work and the timing of Siobhan's visit I had a narrow window in which to visit Floe Lake. As luck would have it a spot came open on the weekend we were available. So without actually asking Siobhan I booked the campsite. When I told Siobhan about the hike and the destination she was excited to join the adventure.
With this being a relatively short hike, weight was not a overriding factor. We packed a couple of extras, some beverages for our afternoon, and while we were eating dried food, we brought some sausages to add some flavour.
Bringing both dogs, Links and Volcano, adds about 7 – 9 lbs (3 – 4kgs) of weight to the trip, food, water, sleeping pad and blankets. The trail spends most of its length hiking alongside Floe Creek, but there is limited access to the creek to allow the dogs to drink. On the way to Floe Lake, there are three good water access points, so maybe I did not need a litre of water for the dogs, but the water access is not well spaced. I am happy to carry the water so that the dogs can drink in the dry middle section..
Because of the extra weight I did decide to not bring a tripod and my night time photography lens, a Irix 15mm, f2.4. This was a big mistake, but I got lucky in that Siobhan brought her camera which had my old Tokina 11-23mm f2.8 lens. While the Tokina is a cropped sensor lens, it did work just fine on my full frame camera and I was able to capture some great images of the night sky.
What we Learned
When in the alpine, and a thunderstorm is rolling in, if still in camp, just head back into the tent and wait it out. Most thunderstorms in the alpine do not last long, and it is safer in the tent than being exposed on the trail.
Umbrellas combined with rain skirts are fantastic in moderating temperature and staying dry
Bring the photography gear on all trips, never know when the opportunities for enduring pictures will arise.
Day 1 Floe Lake Parking Lot to Floe Lake Campground
Night Time at Floe Lake Campground