7 day trek to the roof of Africa, a family hike to the top of Mount Kilimanjaro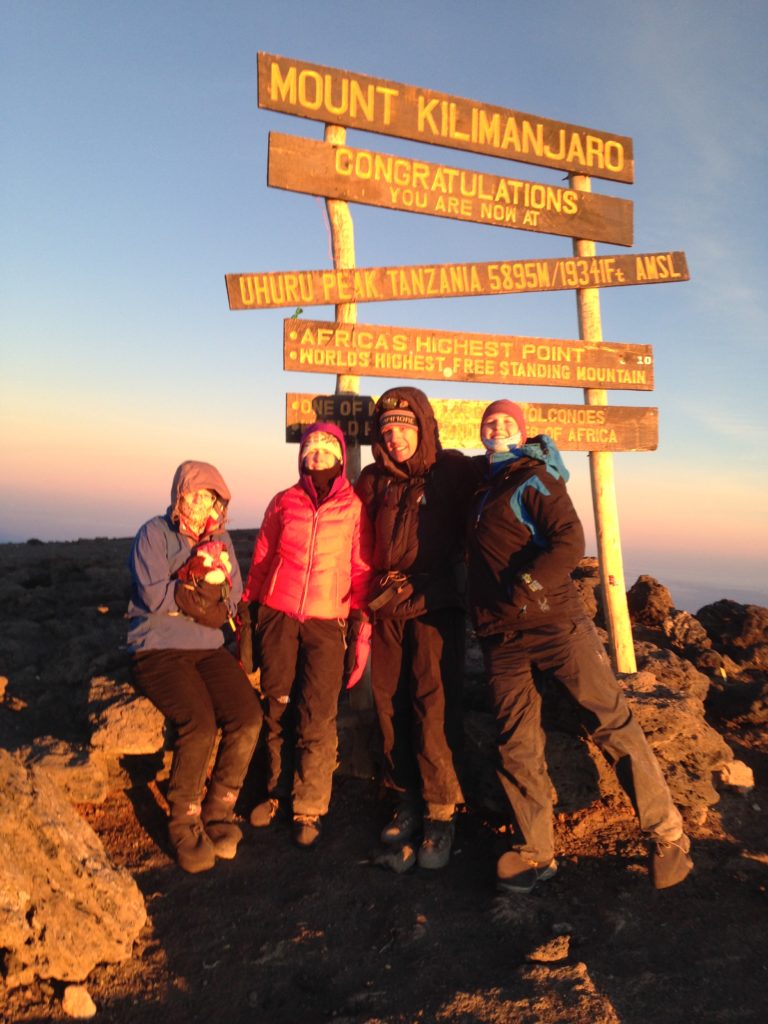 In August 2015, Laura, Siobhan, Micah and I were fortunate enough do a trip of a lifetime to Tanzania. After an amazing 5 day safari that had us camping on the Serengeti we hit the slopes of Mt Kilimanjaro for a 7 day adventure to the summit.
I remember watching images of the wilds of Africa on tv as a child on Mutual of Omaha's Wild Kingdom. The tv and later the Toronto and Calgary zoos were about as close as I had come to Africa. The seeds of the trip were planted in 2014 when a fellow teacher told me about a safari that she had just done with her two adult daughters (both of whom I had taught). With my kids getting older, I knew that the opportunities for family trips would become more difficult as time went on.
I had just received a small inheritance from my mother's brother and it was enough money that I could realistically think about taking the four of us to Africa. I did some searching on the internet and found the company Shadows of Africa, which could provide both a safari and an expedition up Mt Kilimanjaro.
I contacted Shadows of Africa just before Christmas 2014. I gave the girls the trip to Africa as a present with pictures and itinerary in a duotang. Needless to say they were excited.
It took about a month emailing back and forth to get an itinerary that would work with our schedule. We contemplated both an August trip and a December trip and finally finished with the following:
Aug 11 – arrive to Arusha late evening. Transfer to McElly's for overnight stay
Aug 12 – Lake Manyara NP. Game drive. Overnight Eileen's Trees Inn
Aug 13 – Oldupai Gorge stop, Serengeti NP – game drive. Overnight Camping Camping
Aug 14 – Serengeti NP – game drive. Overnight camping
Aug 15 – Serengeti NP To Ngorongoro Crater Rim- game drive. Overnight Eileen's Trees Inn
Aug 16- Ngorongoro Crater – game drive, afternoon back to Arusha, McEllys
Aug 17 – start of Machame route at Machame Gate (1790m) – Machame Camp (3010m)
Aug 18 – Machame Camp (3010m) – Shira Camp (3845m)
Aug 19 – Shira Camp (3845m) – Barranco Camp (3960m)
Aug 20 – Barranco Camp (3960m) – Karanga Camp (4040m)
Aug 21 – Karanga Camp (4040m) – Barafu Camp (4640m)
Aug 22 – Summit Day: Barafu Camp (4640m) – Uhuru Peak (5895m) – Mweka Camp (3080m)
Aug 23 – Descend: Mweka Camp (3080m) – Mweka-Gate (1680m). Overnight McElly's Mc-Ellys Hotel
Aug 24 – Depart Arusha.
For our route up the mountain we chose the 7 day itinerary. This would give us the best chance to acclimatize and highest probability of success. When you look at the map of our route we would go up quickly over two days, then spend three days walking around the mountain going up and coming back down. One big push up to the summit and two days to come down.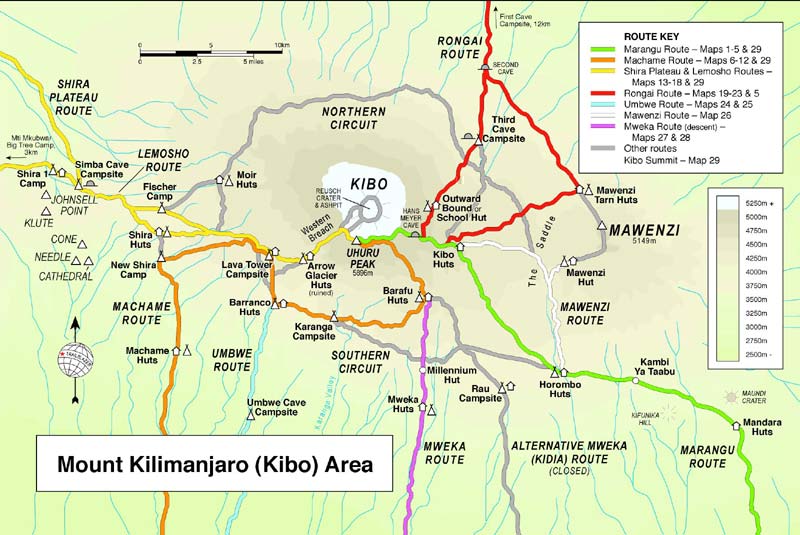 We tacked on a quick trip to England to see my cousin and his family, so we departed from Calgary Airport on August 6th. The entire trip was August 6th to the 24th. The climb up Mt Kilimanjaro was from August 17th to 23rd.
After a lot of searching and with the help of a local travel agent we ended up with quite reasonably priced flights on KLM. We flew from Calgary to Amsterdam, then to London for our England visit. Then we flew back to Amsterdam and on to Kilimanjaro International Airport, Tanzania. The return flight was simpler as we flew from Kilimanjaro Int'l Airport to Amsterdam with a stop in Kigali, Rwanda, and then from Amsterdam to Calgary.
Now that the trip was all planned it was time to prepare.
How We Prepared for Mount Kilimanjaro
Day 1 Machame Gate to Machame Camp
Day 2 Machame Camp to Shira Camp
Day 3 Shira Camp to Barranco Camp
Day 4 Barranco Camp to Karanga Camp
Day 5 Karanga Camp to Barafu Camp
Day 6 Barafu Camp to Mweka Camp