Barranco Camp (3960 m) to Karanga Camp (4040 m), 6 km, elevation 337 m, 3 hrs 40 min. Total trip distance so far: 33.2 km, total elevation 3177 m, total hiking time 19 hrs 5 min.
The main feature of today's hike was ascending the Barranco Wall. The Wall is an imposing, if not overly tall, cliff of volcanic rock. Imposing, at least, when looking from below: Barranco wall is 257 m high (or 843 ft).
The Barranco wall is not a technical climb. No equipment is required. It would be best to categorize the wall as scramble. We did need to use our hands on several occasions and there was some exposure.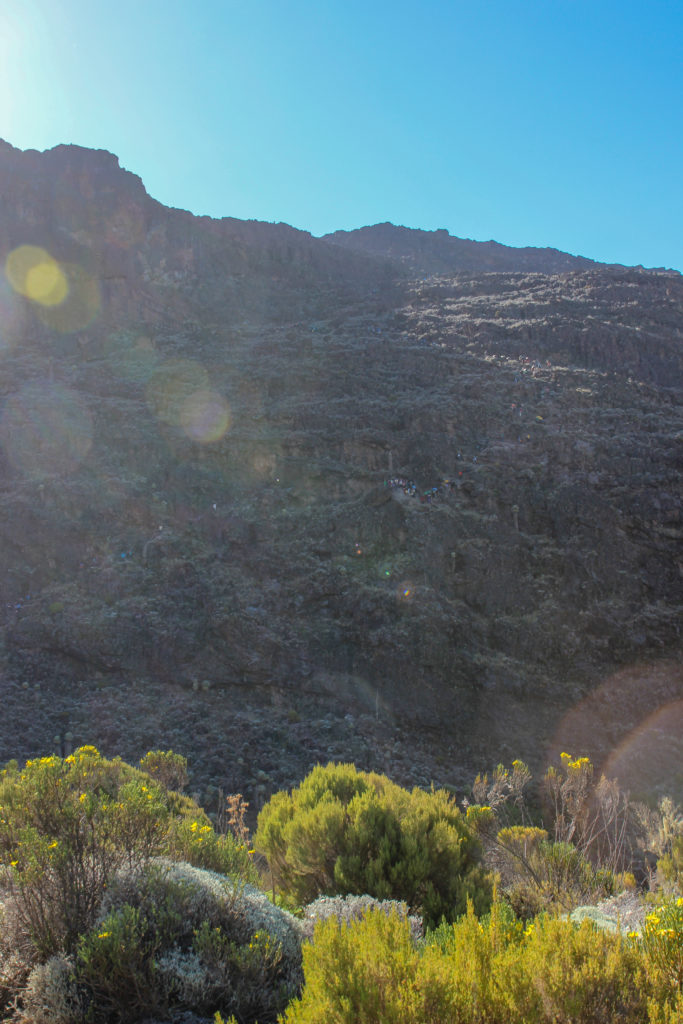 We woke to the wondrous sound of "knock knock tea". Micah ate a full meal at breakfast for the first time, a good sign. We packed up our tents and were on the trail by 8:50 am. As usual we were one of the last groups to leave camp.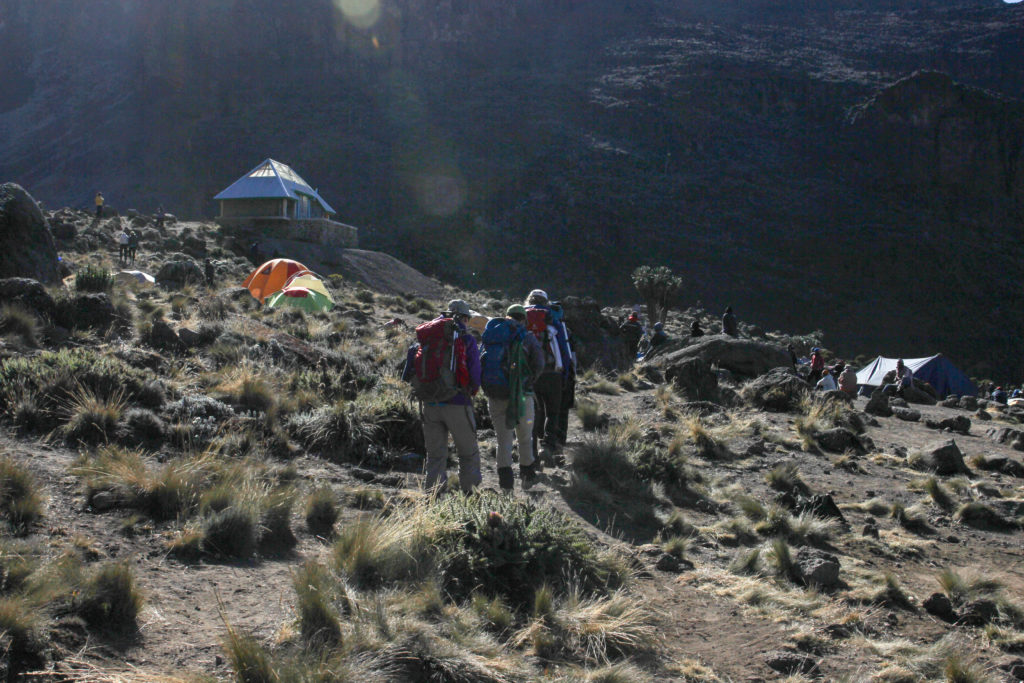 The trail heads downhill for short time, bottoming out at a stream before making its way over to the base of the wall where the scrambling begins. We made our way up a little ways before dropping down a tight crack back to wide path.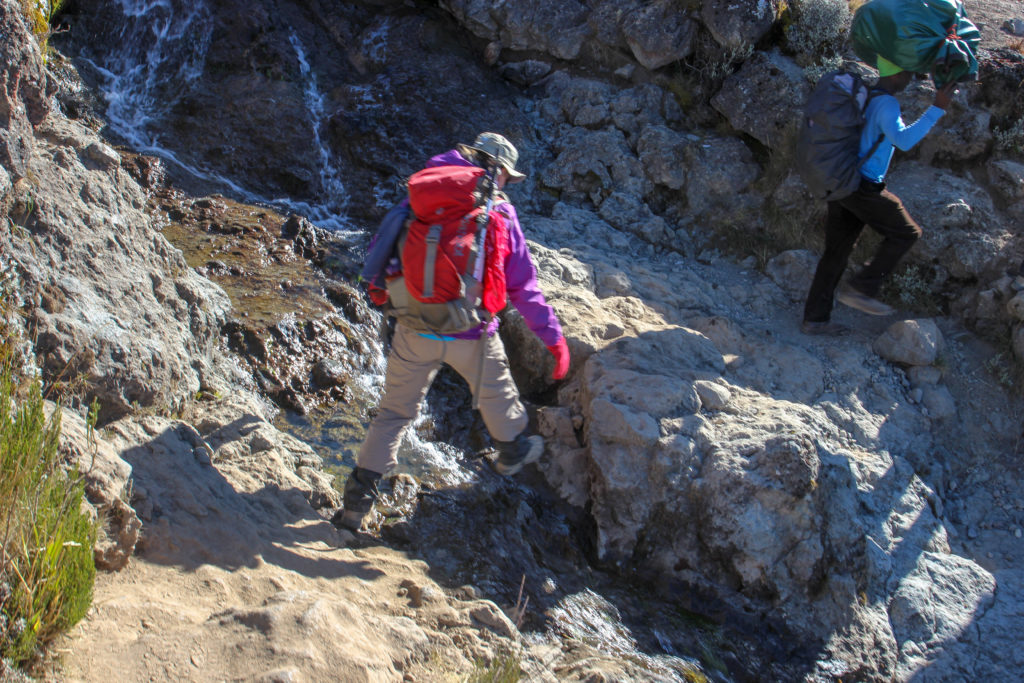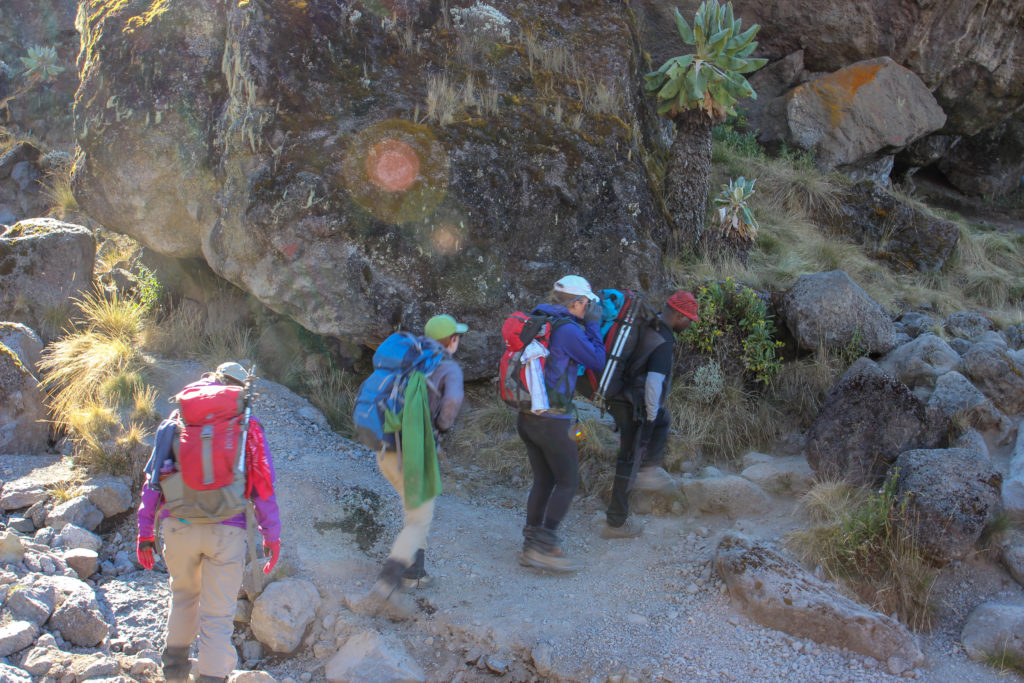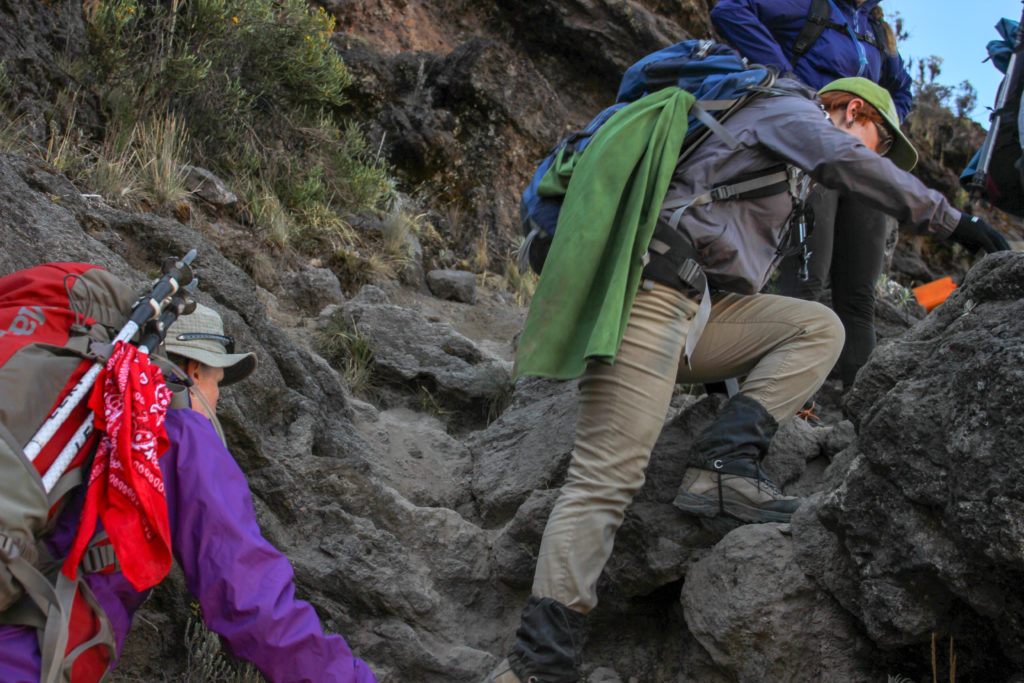 The volcanic rock provided good hand holds. Just after the steep descent we had our first uphill scramble, about 30 minutes after we left camp. There was a little overhanging ledge to get over and it was a bit tricky. We were patiently waiting our turn when a porter steamed by with a pack on his head. He kept his speed up and with two steps hurtled over the ledge and continued on his way. We all watched in amazement but did not try to emulate the porter. Siobhan went up first, then Micah, Laura and myself. Amiri was on the ledge to provide support to us as we made our attempts. Siobhan and Micah cleared the ledge without assistance. Laura had the least experience scrambling and found scrambling up the wall to be a somewhat nervous exercise. To make it easier for her, Amiri carried her pack for the remainder of the ascent up the Barranco Wall.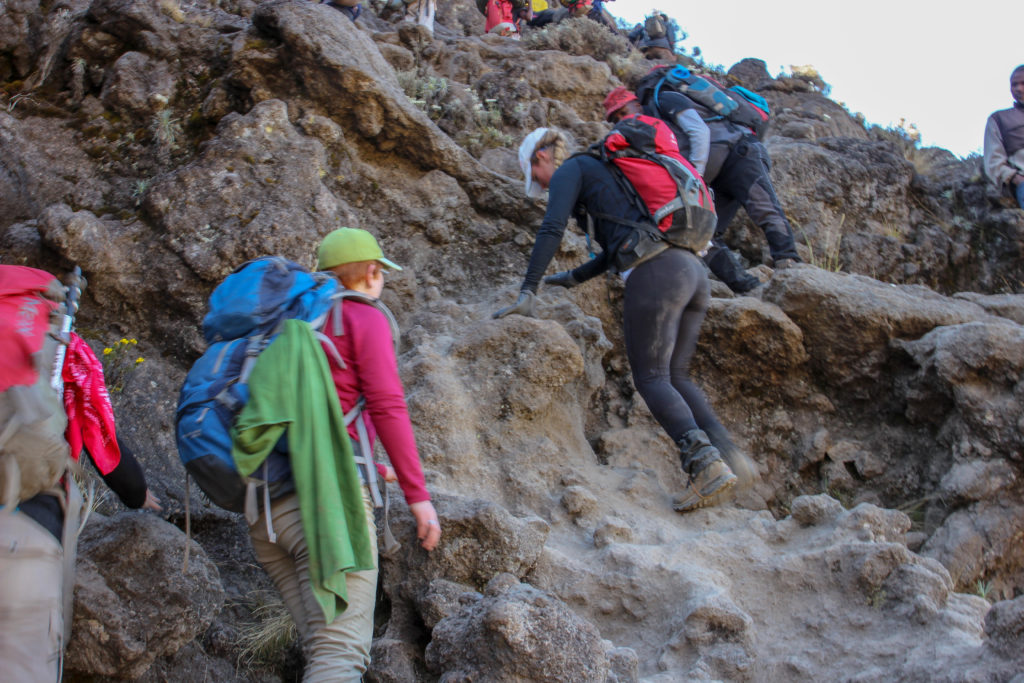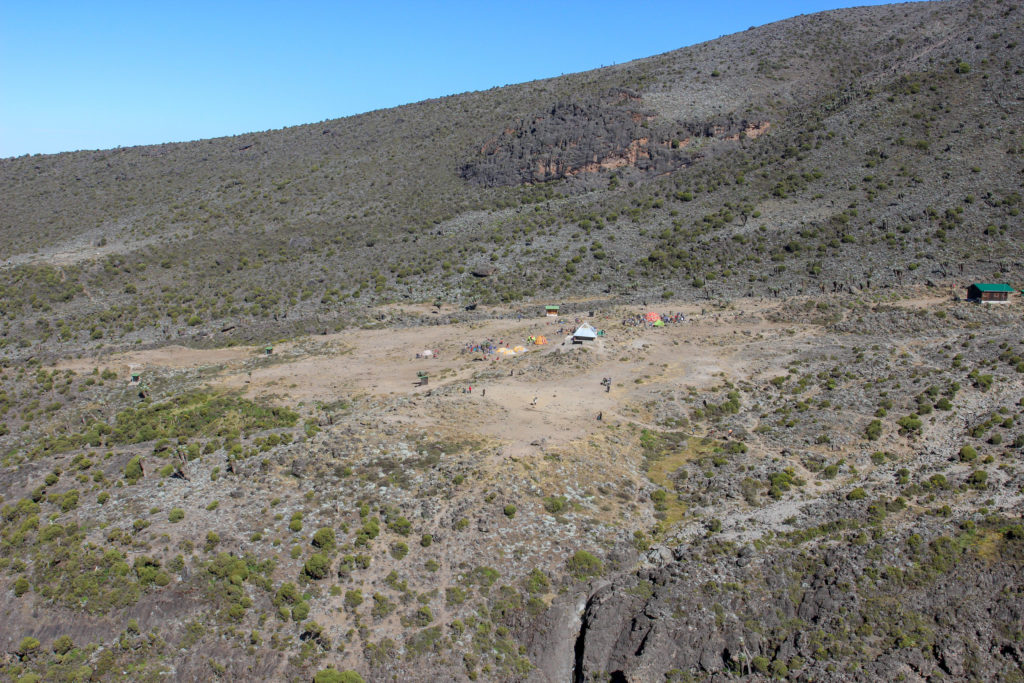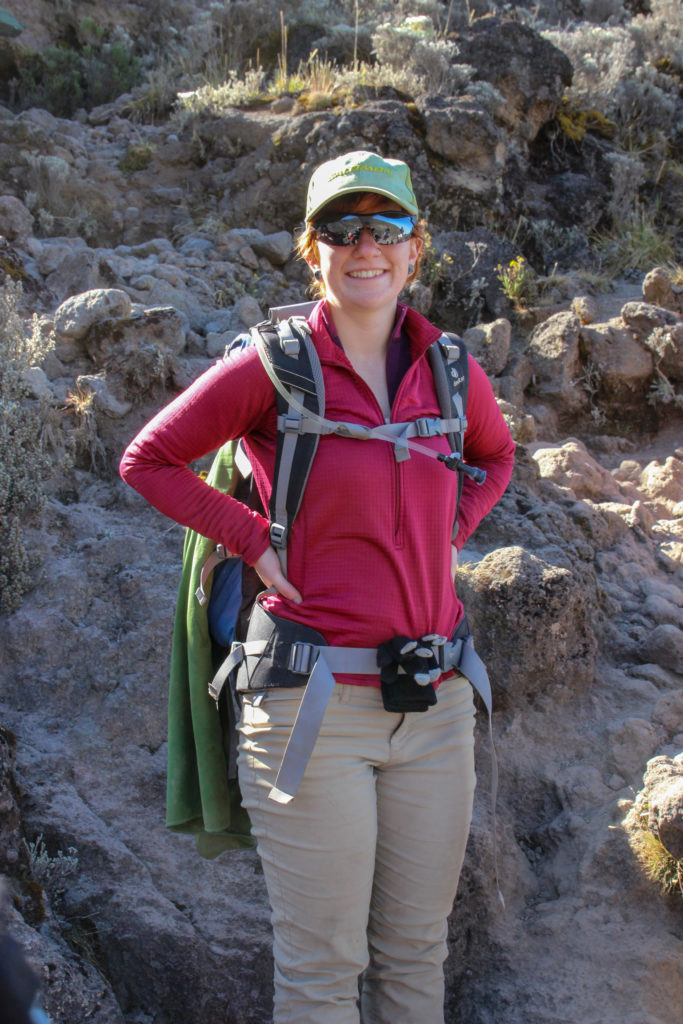 As we moved up the wall we stopped to rest frequently. There were many good places to sit and a few nice wide terraces so that we could keep away from the edge. At times, though, the terraces were very narrow and the drop very steep over the edge.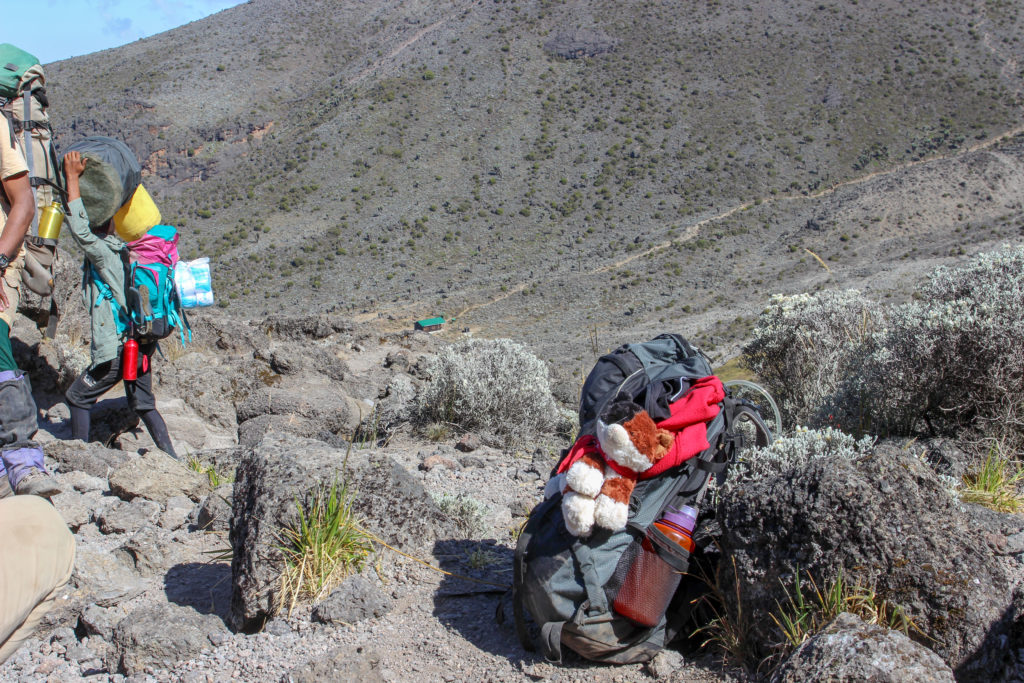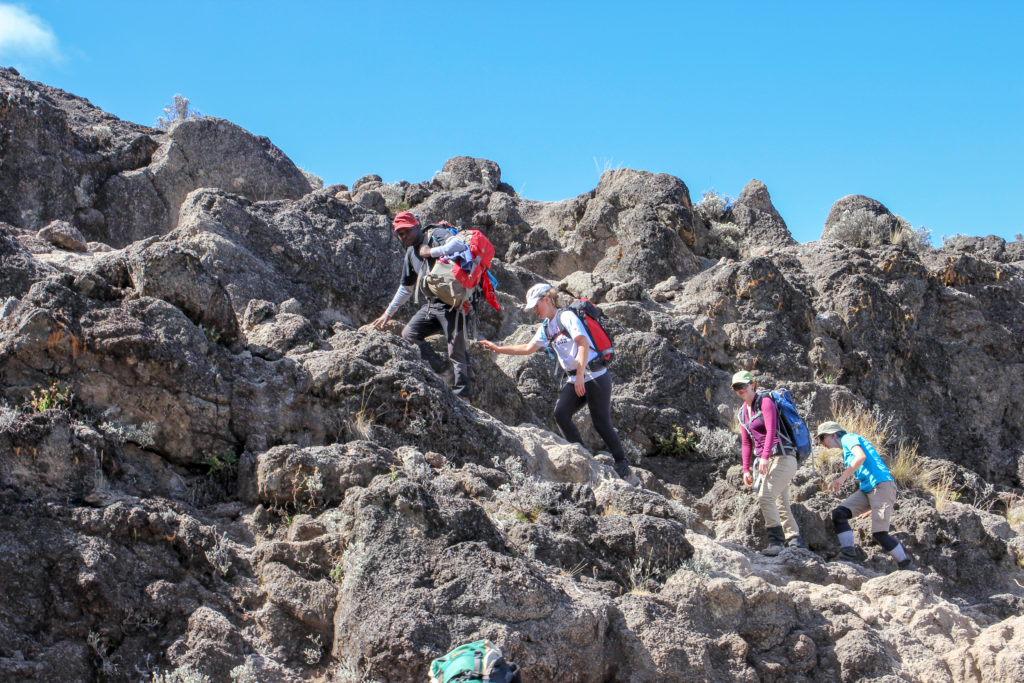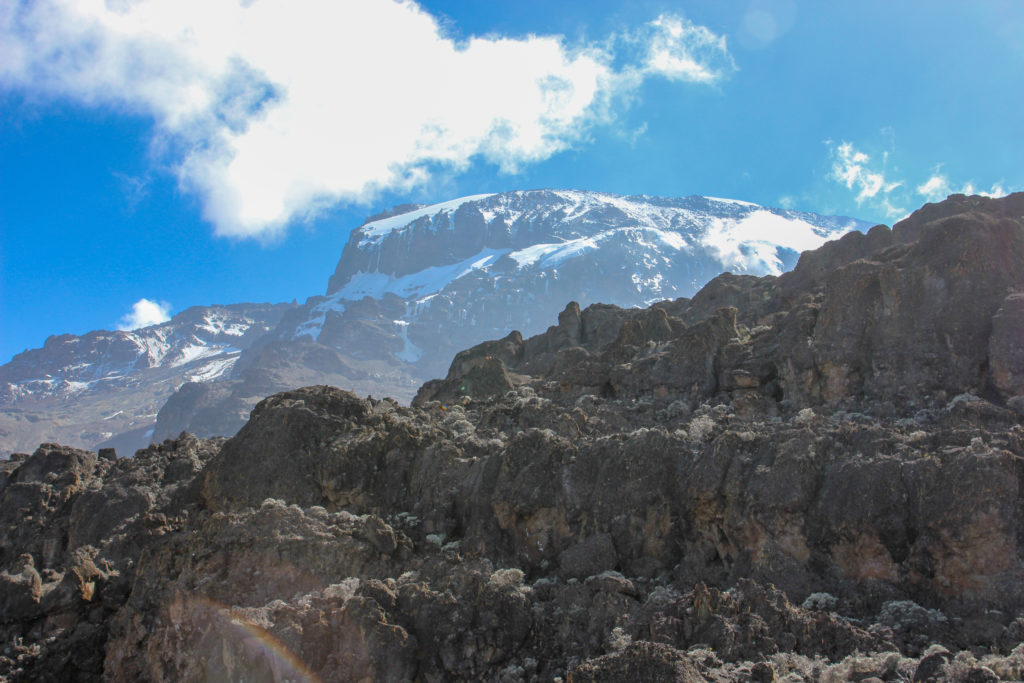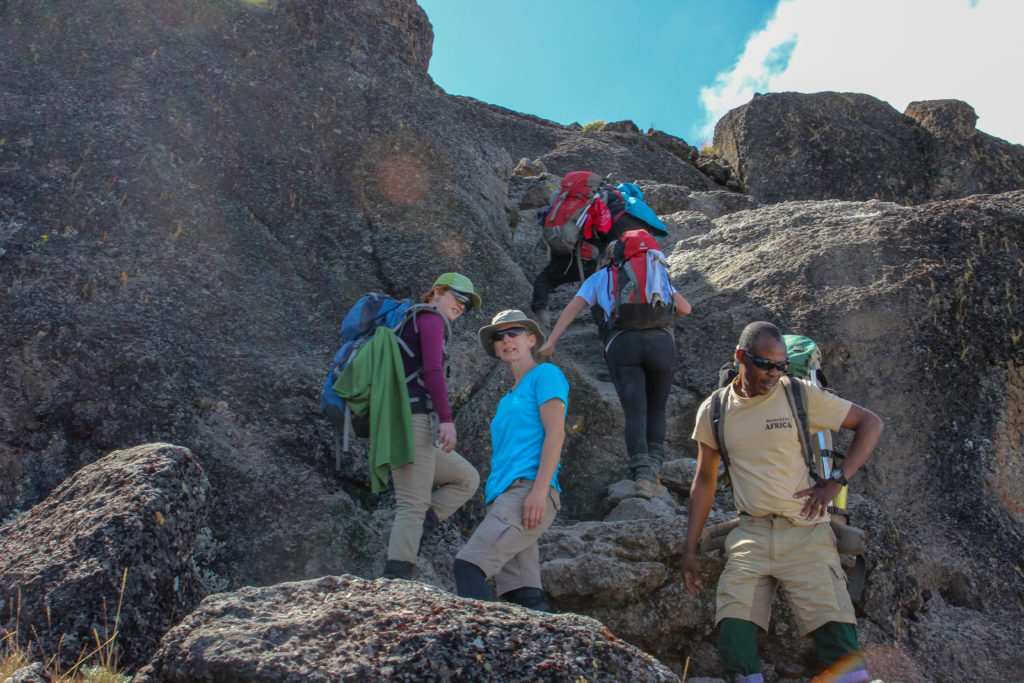 We crested the top of the wall at 10:20 am, one-and-a-half hours since we left camp. We celebrated by taking some photos of ourselves with the full grandeur of Kilimanjaro in the background. After a few minutes' rest we continued on, heading downhill through a rocky and dusty landscape.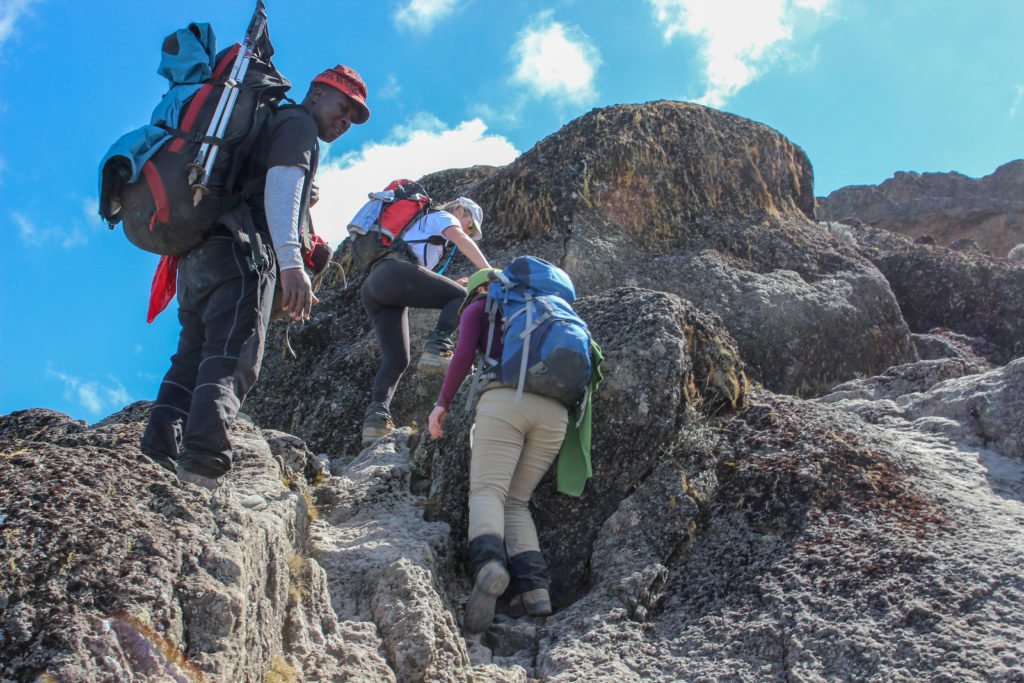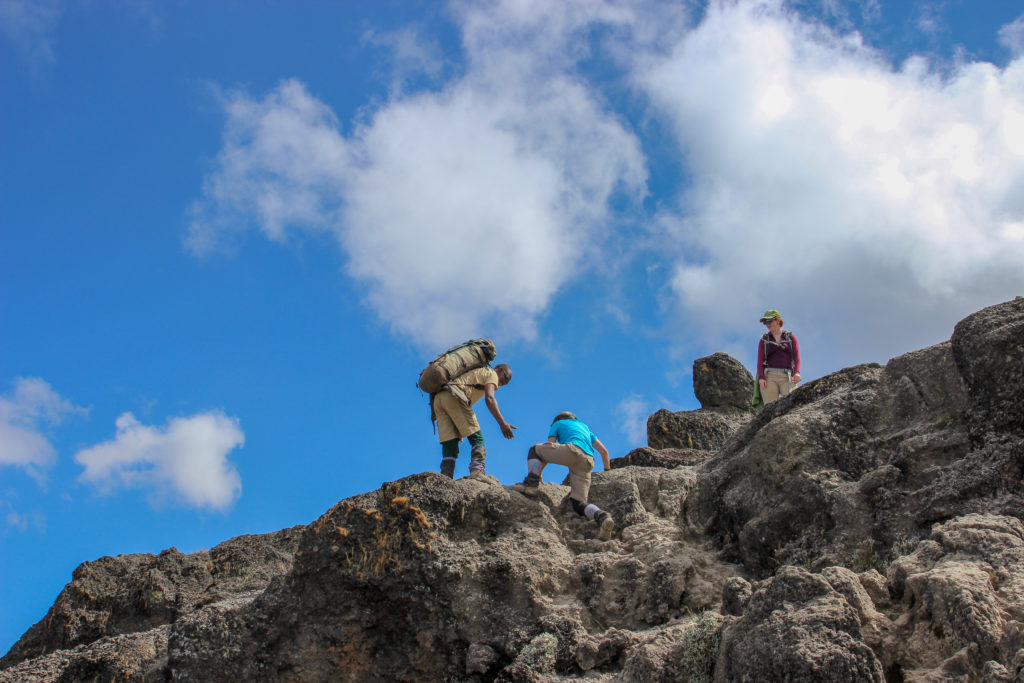 The trail was very sandy. The going was quite easy as we went up and down small rises. The lack of vegetation and better weather meant that we could see the trail well into the distance and knew where we were headed.
It took just under an hour to hike up onto and across the plateau. We hike with our mascot Frosty Paws, a stuffed cat, hanging off my backpack. What was fun about our hike up Kilimanjaro was that we were not the only group carrying a stuffed mascot to the top. We had heard of a group with a penguin and caught up with them as we hiked across the plateau. They were a group of three, a mother and her two 20-something daughters. We had a pleasant conversation with them and the next day I would spend a good deal of the hike chatting with the mother.
We had the camp in sight and thought our day was almost done. As we got closer we reached a large valley, Karanga Valley, that we had to scramble down and back up before arriving at camp. We arrived at Karanga Camp at 12:30 pm, 3 hrs and 40 min after we had left Barranco Camp. We were doing the seven-day hike up Kilimanjaro so were stopping at Karango Camp. Hikers doing the six-day trek would continue onto Barafu Camp and begin their summit attempt later that evening. Taking the extra day would give us more time to acclimatize and hopefully increase our chances of a successful summit.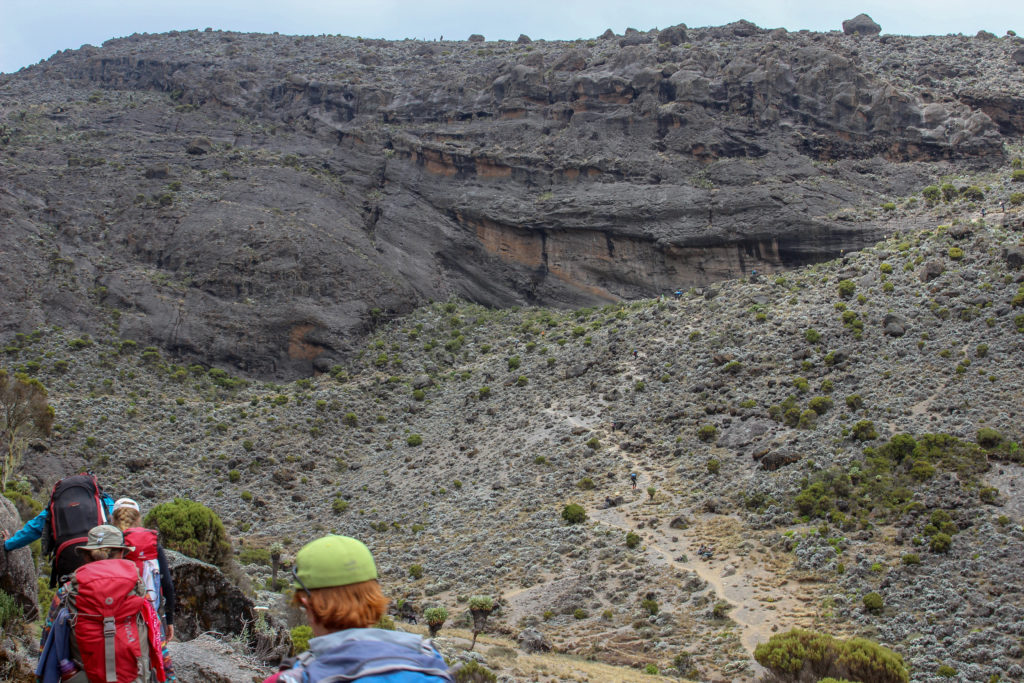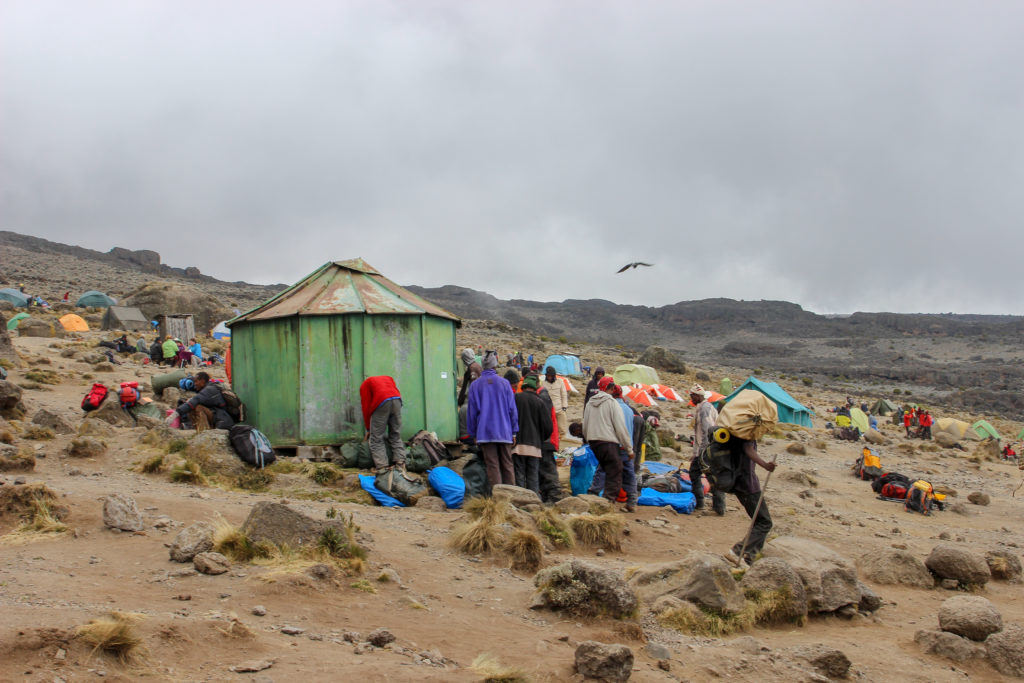 We relaxed for a bit in our tents. Our porters brought us the hot water that we used primarily to wash our faces and feet. We had a hot lunch of goulash with a potato/banana thing (possibly plantains?). It was delicious and was good to see Micah eating a full meal again. Fog rolled in cooling the temperatures down so we all relaxed in our tents for an afternoon nap.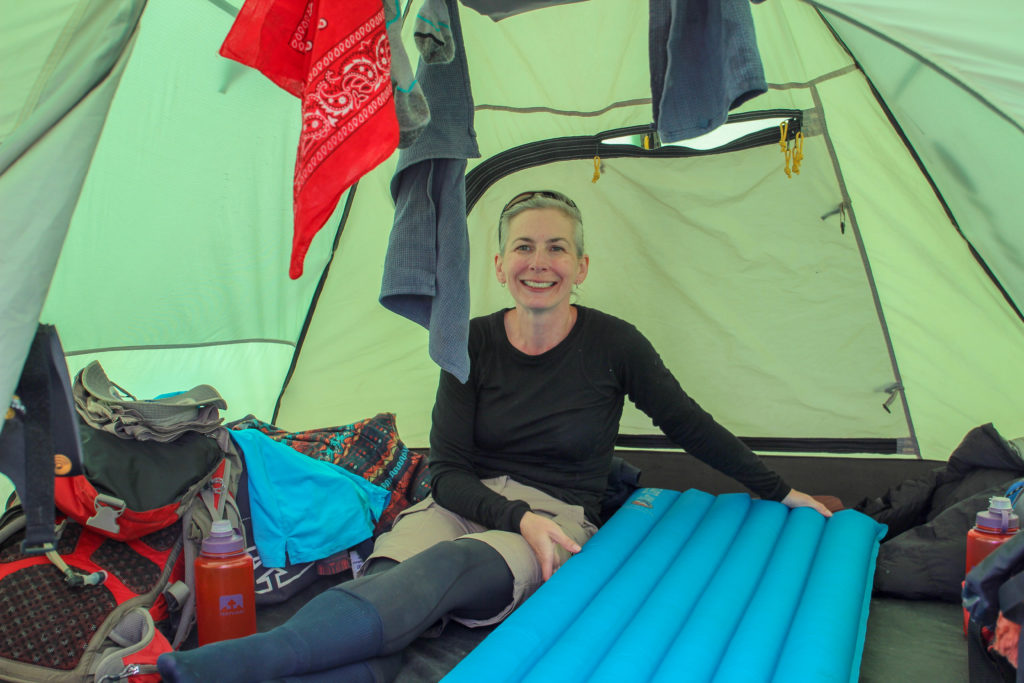 Before dinner we went for an acclimatization walk up the hill. The theory is to hike high, sleep low. I led our walk as we went without a guide but with the strict instructions to go for 45 minutes and hike "pole pole". The fog had cleared off, leaving us with warmer temperatures and views all around. We had dinner after returning from our little walk. The evening was cool but pleasant and we wandered around the campsite. The twilight offered lovely colours over the mountain.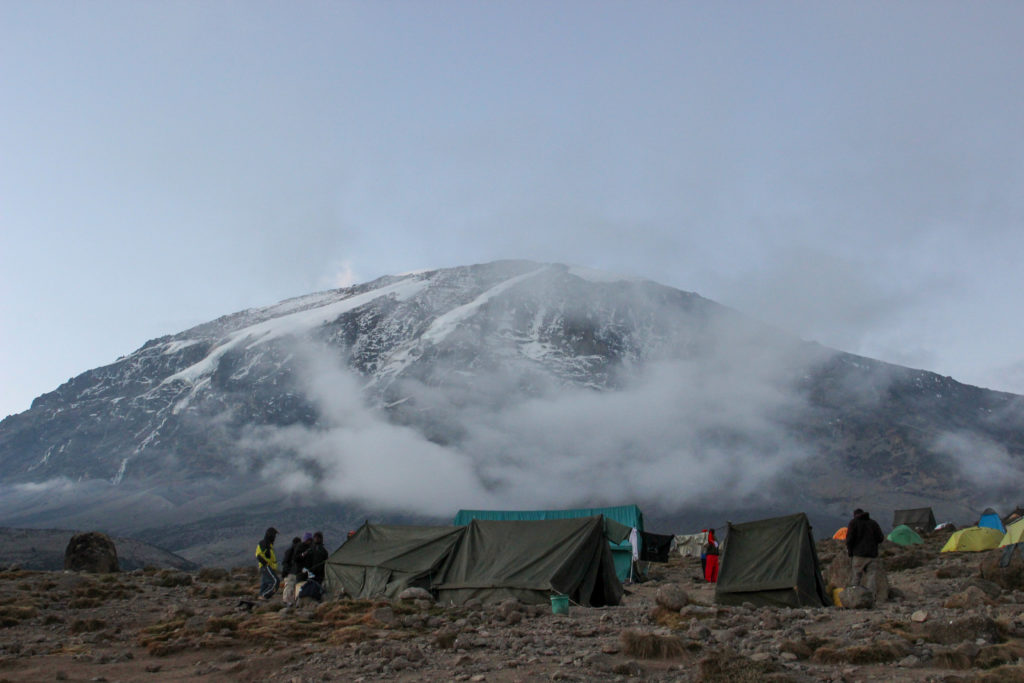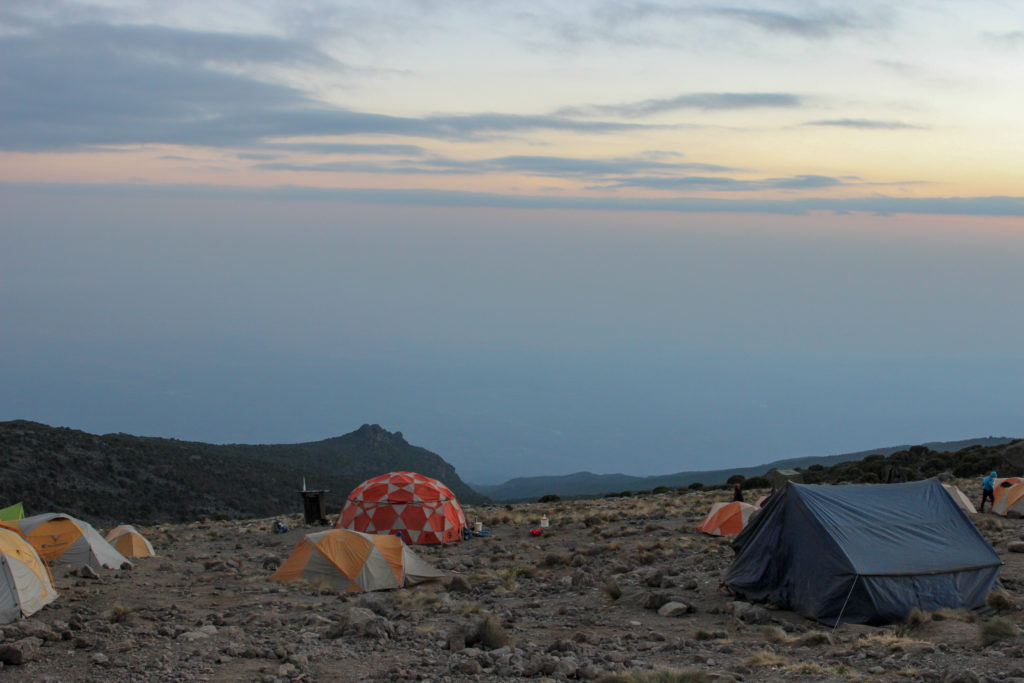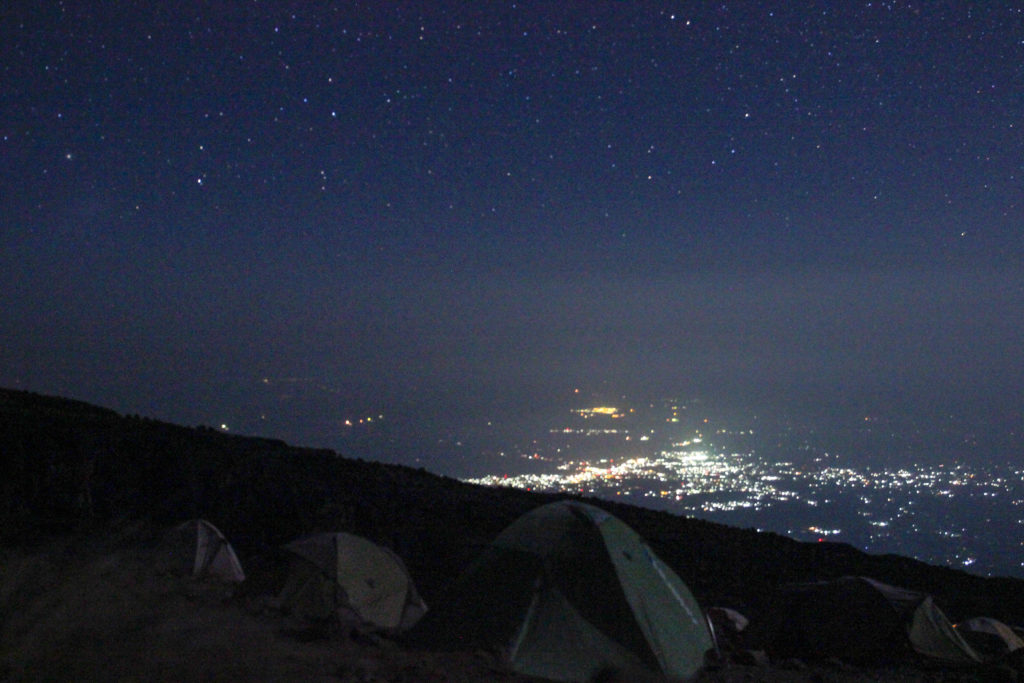 In the evening the porters get to relax and many of them carry small radios. As in many places in the world the sport of football (soccer) is a major form of sporting entertainment. The porters often listened to play-by-play action of football games. To keep the radios charged up some of the porters had small solar panels attached to their backpacks.
Our evening entertainment on hiking trips is Daddy reading a story aloud. On this trip, with us being in different tents, I had to project my voice further while reading. The novel was a Dick Francis mystery novel involving a horse. I wonder what the people walking past our tents thought? Tomorrow would be a short day followed by a nap and then the summit push starting in the late evening. It was important to get a good night's sleep tonight.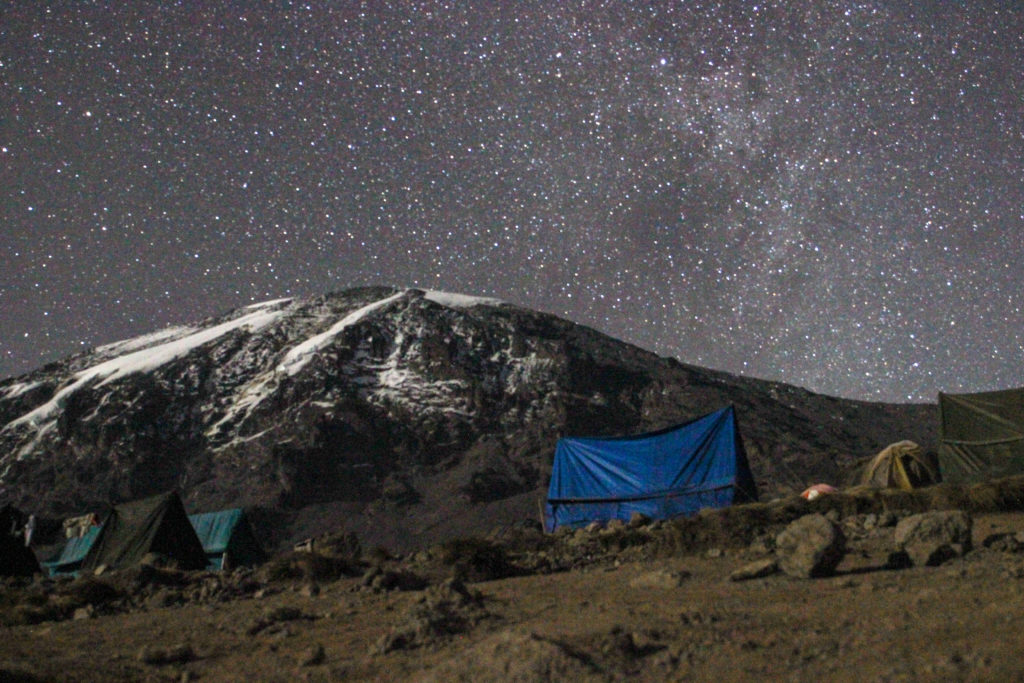 Day 5 Karanga Camp to Barafu Camp