Solo adventure with Volcano to a Canadian Rockies Classic.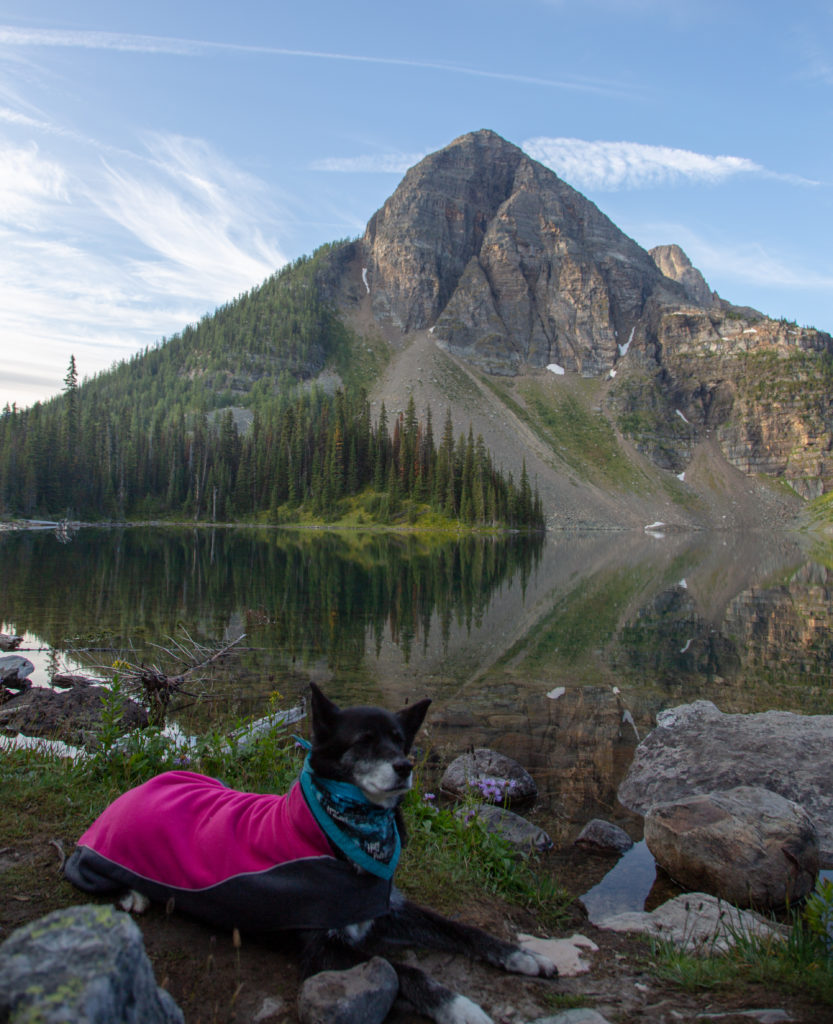 Redearth Creek Parking Lot – Egypt Lake – Redearth Creek Parking Lot, Banff NP, August 18 – 20, 2019.
Egypt Lake area is an area dotted with peaks and lakes. I have visited the area once in 1993 and had a tripped planned with Micah in the autumn of 2016 that was aborted due to snow. I wanted to try a solo trip, as it would allow me to be more flexible in my planning, so I booked a four day trip to the Egypt Lake area. It was not completely solo, as Volcano accompanied me.
My original plan was for a four day trip around the Egypt Lake area. Going from Redearth Creek to Egypt Lake, up to Balls Pass Junction, then past Shadow Lake and back to the Redearth Creek parking lot. I did not book the campsites until July, and as expected, Egypt Lake Campground was fully booked. My initial booking was a short 7 km day to Lost Horse Creek Campground, followed by another 7 km day to Pharaoh Creek Campground, then hike 16 km to Egypt Lake and up to Balls Pass Junction, ending with an 18 km day back to the car. A very unbalanced trip.
Similar to my Assiniboine trip, I kept checking the online reservations, and a spot came open at Egypt Lake. I quickly changed my itinerary to a longer day to Pharaoh Creek Campground, then short day to Egypt Lake Campground, another short day to Balls Pass Junction, ending with a long day to the car. I was very happy with this itinerary, as it allowed for time to explore the lakes of the Egypt Lake area. There is some easy scrambles to be had, but Volcano does not enjoy loose rock and scree, so we would stick to the lakes.
The trip went great, the weather was perfect, but on the morning of day 3 when we should have been heading to Balls Pass Junction, Volcano initially refused her breakfast. I had an idea from a past car trip that Volcano gets stressed when away from home for too long. I took her refusal of her breakfast as an indication that she was not 100% happy. So I made the decision to not continue to Balls Pass Junction, but head back to the car on day 3. It was a longish hike back to the car, just under 20 km, but with the promise of going home, we practically flew back to the car in under 5 hrs, including a 20 minute break for lunch. I am positive Volcano knew that we were heading home.
Hiking up to Egypt Lake from Redearth Creek is not as popular as coming over Healy Pass, but this makes it easier to get campgrounds on the way. You could easily day-trip to Egypt Lake from Pharaoh Creek Campground if not able to reserve at Egypt Lake Campground. The area around Egypt Lake and the trail up to Balls Pass Junction and to Shadow Lake is summarized in Graeme Pole's book "Classic Hikes in the Canadian Rockies". As usual, Parks Canada had excellent signage on the trails.
What was Learned
To minimize condensation in a single walled tent, have to keep the doors wide open, which makes sleeping much cooler.
Even when hiking solo, you are never truly alone, I had dinner companions on both nights.
Bringing a dog is enjoyable but adds some stress as your decisions impact the dog as well.
For next year, 2020, I will limit Volcano's adventures to three days.
Ending a trip early should never be considered a compromise if it protects the well being of all involved. There are no gold stickers for finishing a hike.
Day 1 Redearth Creek Parking Lot to Pharaoh Creek Campground
Day 2 Pharaoh Creek Campground to Egypt Lake Campground