Volcano's first backpacking trip. Lovely hike over a high mountain pass.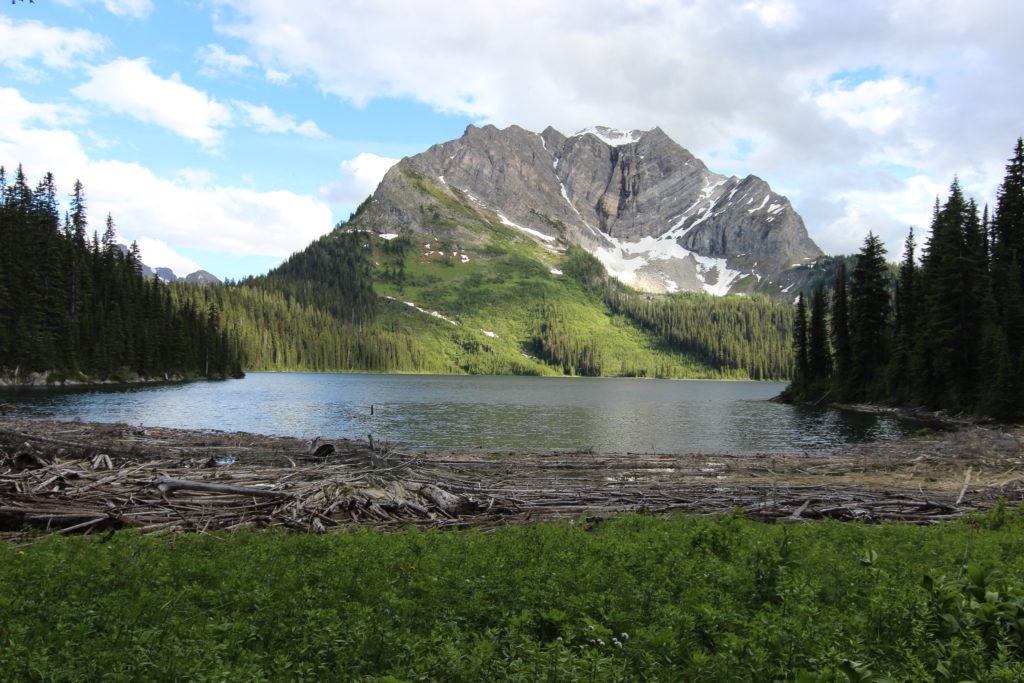 July 7th – 8th, 2018
This was our fifth backpacking trip in the Canadian Rockies and the fourth time the word "lake' appeared in the name of the destination campground. While the hike to the campground over Burstall Pass and across the Spray Valley was stellar the campground and Leman Lake were less so. The campground is located in a stand of trees and appears like it could use a refresh and Leman Lake was about a 15 minute walk from the campground and there was no actual access to the water. The campground is great for those people hiking the Spray Valley especially hiking the Great Divide Trail. The Leman Lake CG makes for an easy two day hike or relatively easy long one day hike to Mt Assiniboine for north bound hikers on the GDT
A hike is always about more than just the destination and in that regards this trip came up strong. This was our first backpacking trip with Volcano. Volcano is a retired sled dog and lived the first 10 years of her life in the dog yard with 200 other dogs. Living with us was been a big change for Volcano and she had all sorts of new experiences. We had already taken her car camping a couple of times but this would be the first time in our much smaller backpacking tent. We also had a lovely dinner with a couple from Calgary who generally prefer to kayak so had lots of stories to tell.
I had spent a great deal of time looking for a shorter trip for this year as Links was getting a little slower in his hiking and his front shoulders were giving him grief on descents. I thought this would be a good choice as it was just over 12 km in length and had about 600 m of elevation gain/loss each way. I think next time I am looking for a specific hike I will reach out to friends and ask for suggestions. It is hard to know sometimes what a trip will be just by reading about it.
All in all the trip does reaffirm that backpacking and getting into the backcountry is always a good idea.
What we learned.
Nothing better than waking up in a tent.
Campgrounds with the word "lake" in the name does not mean the campground is next to a lake.
Some trails are not accurately represented on maps or mapping apps. Neither the GemTrek map we were using or my Viewranger App correctly displayed the trail from Burstall Pass as it met up with the Spray Valley Trail. Have to have a little bit of trust that the trails will connect up and that Parks Canada will provide excellent signage at junctions.