Short steep hike to an alpine meadow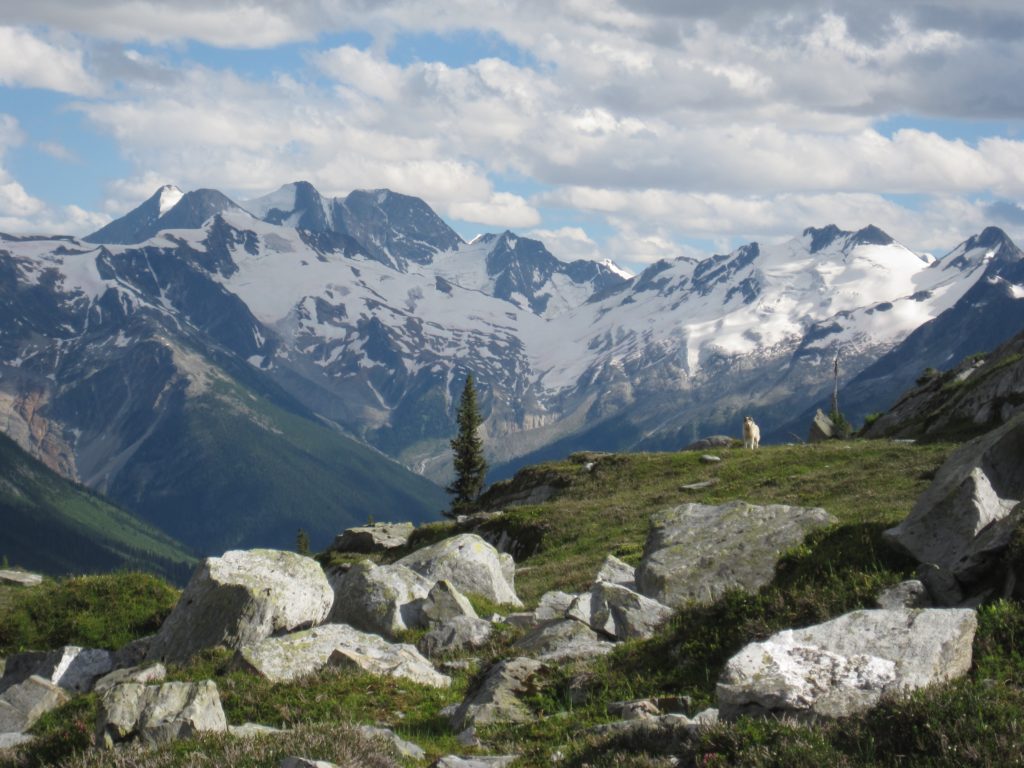 Hermit Meadows – July 2013
Day 1 3.2 km, 820m elevation, 2 hrs 50 min
This was our second foray into backcountry camping. We made one major change from our first trip, purchasing a good three-season tent. Our choice was the Big Agnes Lynx Pass 3, coming in at 4 lbs 10 oz. When we went to the store, they were good enough to set it up for us; we both lay in it to check dimensions and we brought Links' sleeping mat along with us. We had to make sure there was room for Links. This one purchase alone saved around 5 lbs. I notice in the pictures that I still had a hammer, but it was a much smaller hammer than before. So we had some significant weight-savings over our first trip to Floe Lake in 2011.
Our original plan was to do Yoho Lake Campground in Yoho National Park, starting at Emerald Lake. We had planned to do this trip in 2012, but by the time we reached the end of Emerald Lake, the snow melt water made crossing the alluvial fan impossible.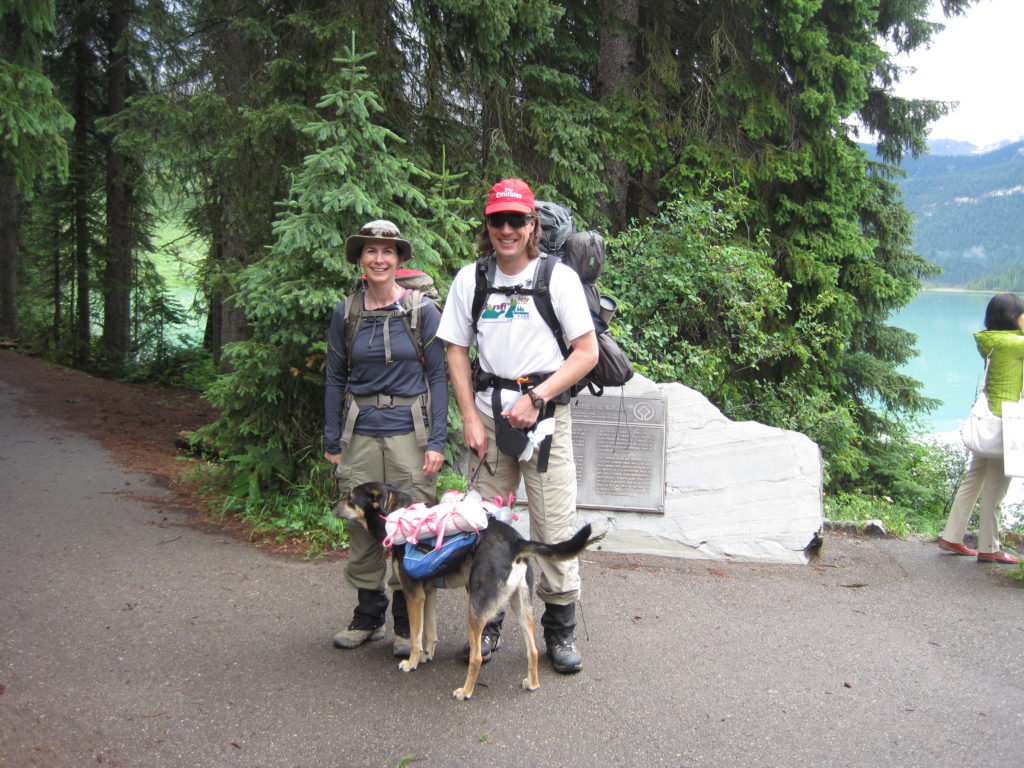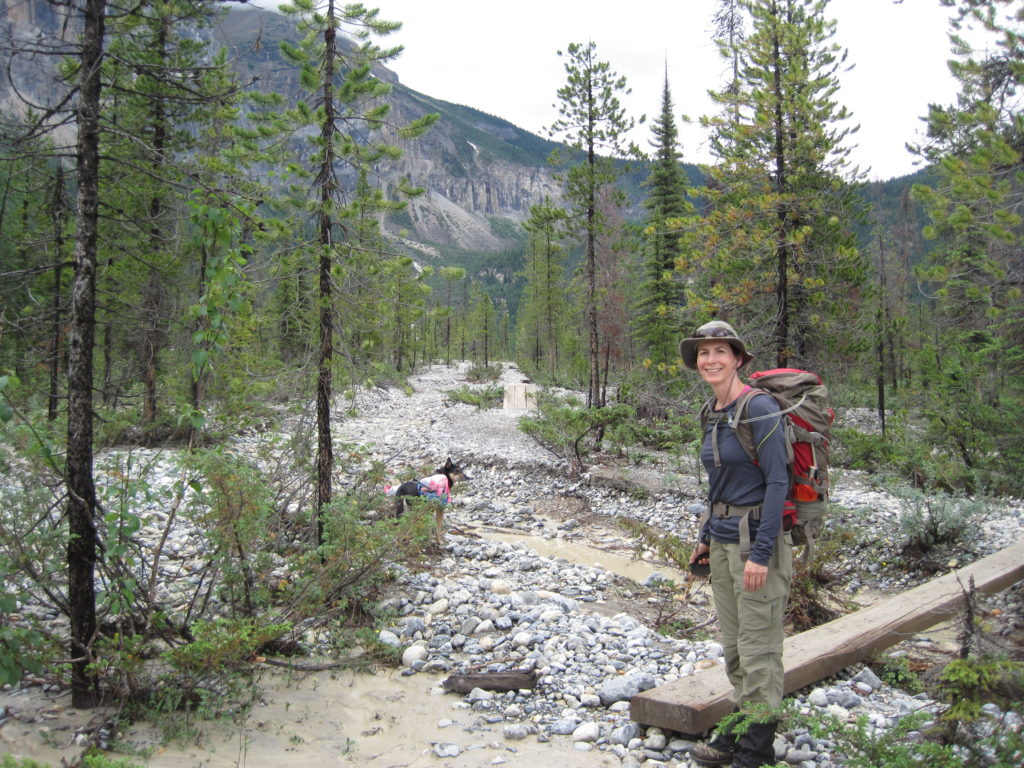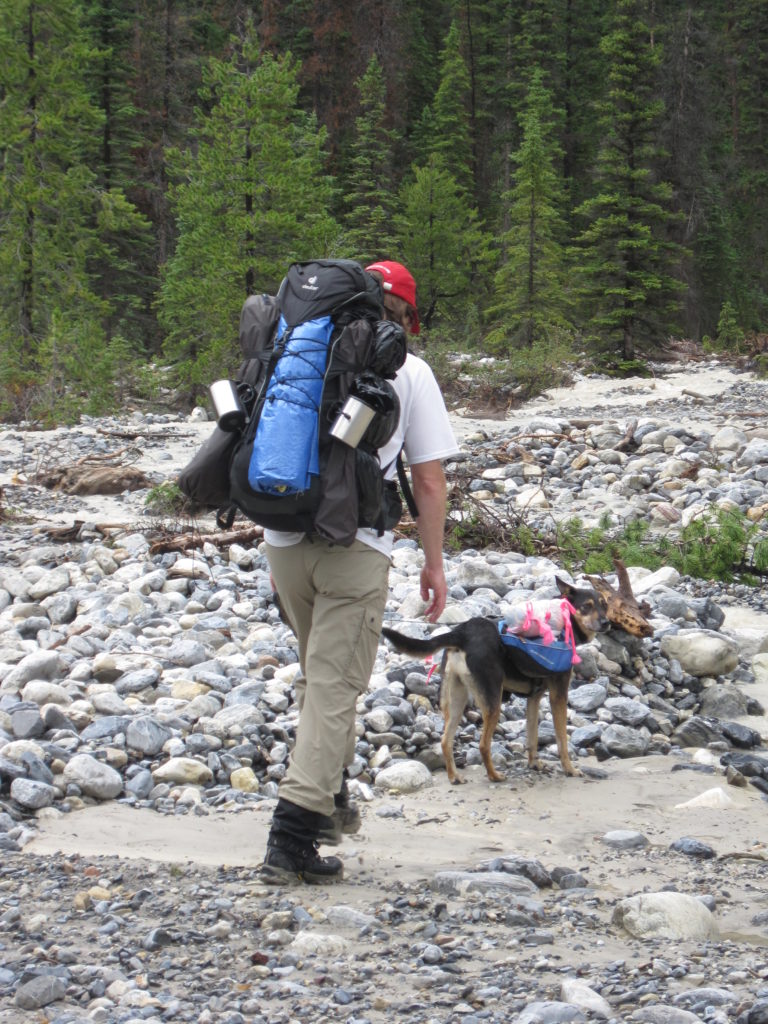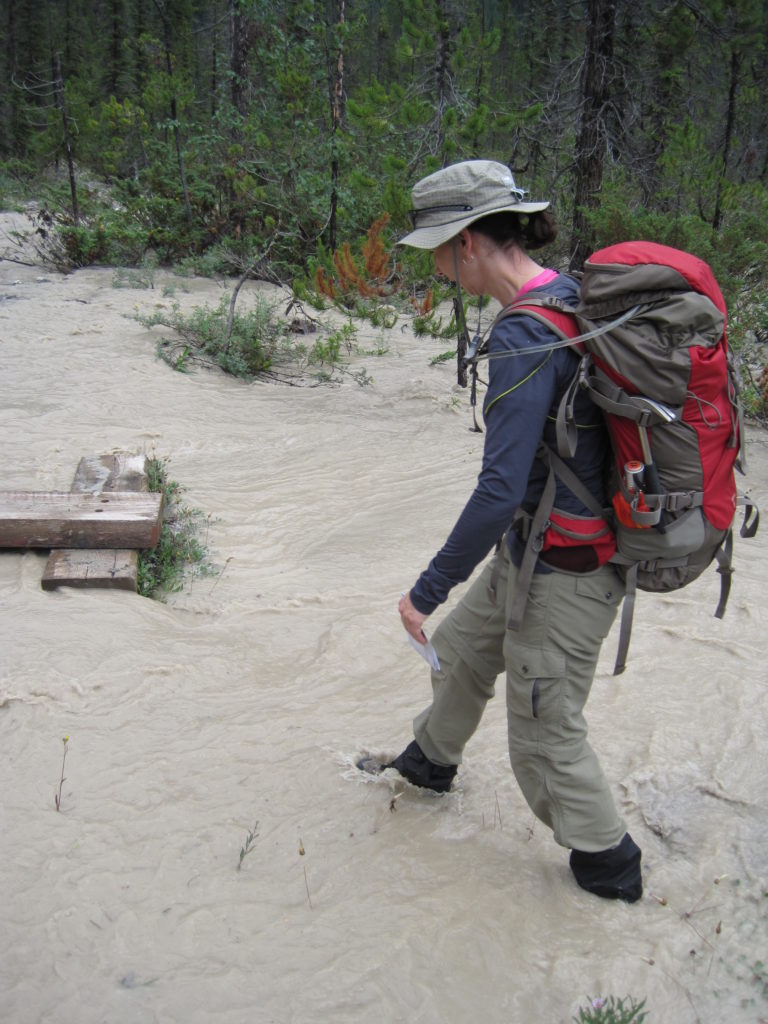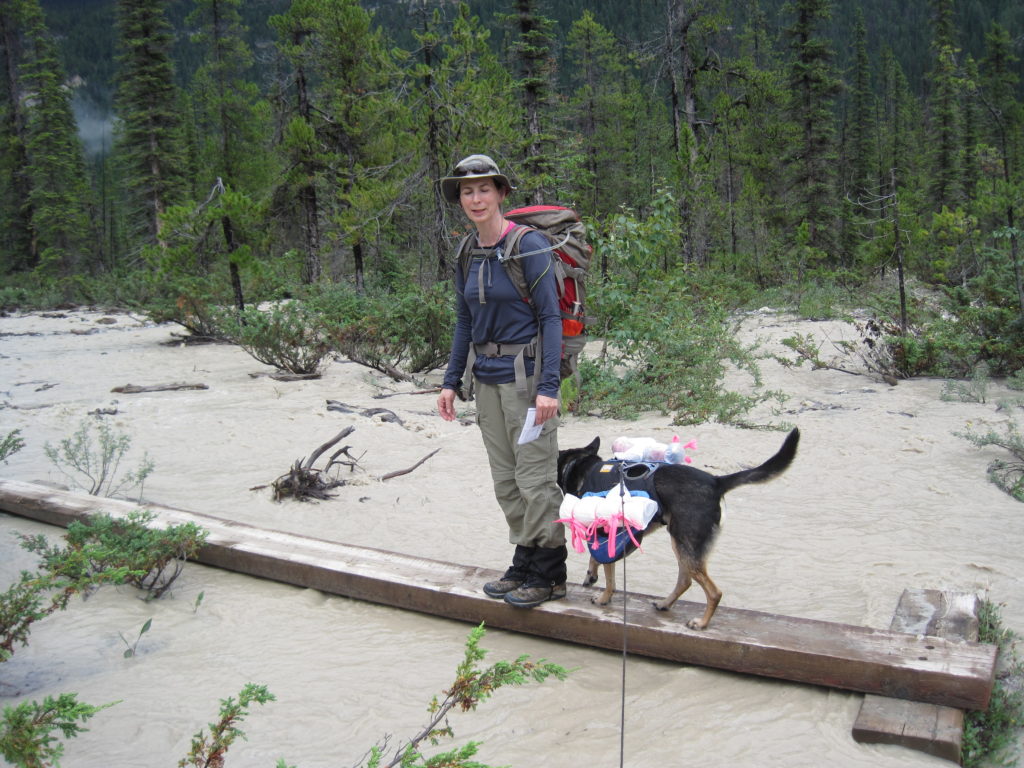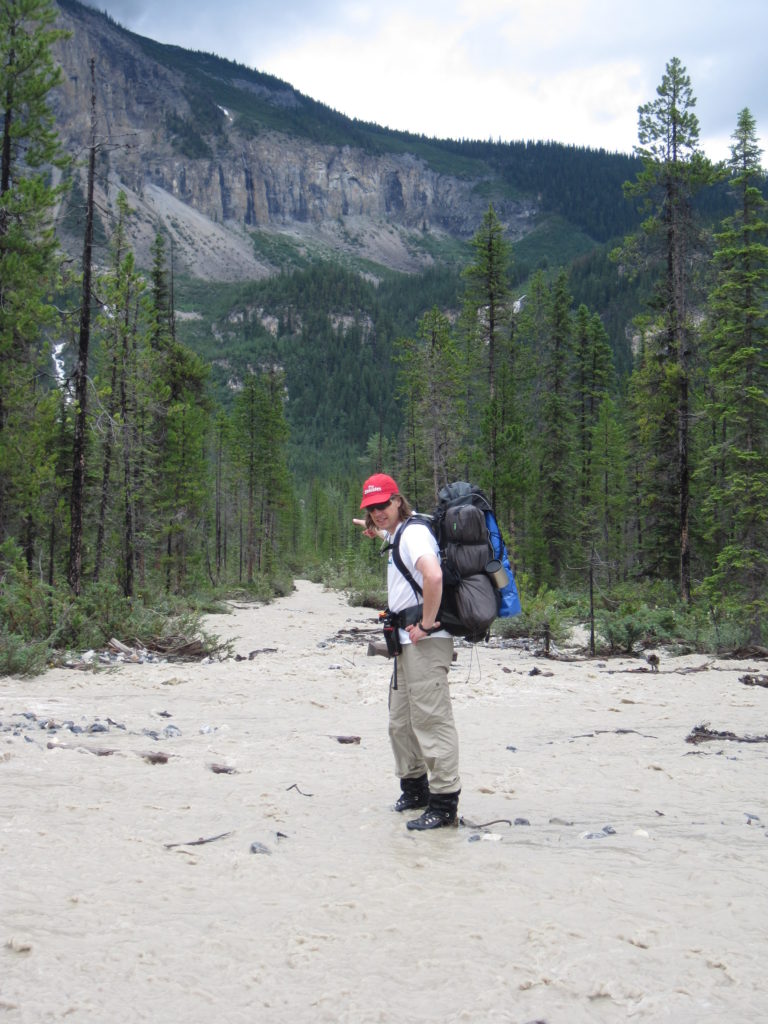 This time, we actually stayed overnight in Field, BC so we could get an early start. We had our permit all ready and headed out fairly early (for us). However, there was a threat of rain all through Banff, Kootenay and Yoho national parks, so we decided to take a risk and keep driving west, where it promised better weather. We arrived in Glacier National Park after about 1 hrs and 45 min of driving. We checked out the visitor centre and a few minutes later had a camping permit for Hermit Meadows.
Hermit Trail is described as follows on the Parks Canada website, "The Hermit Trail has the reputation of being the steepest trail in a park famous for its steep trails!" But we didn't know that, all we knew was the trail was short but steep and we had a camping permit, we were excited.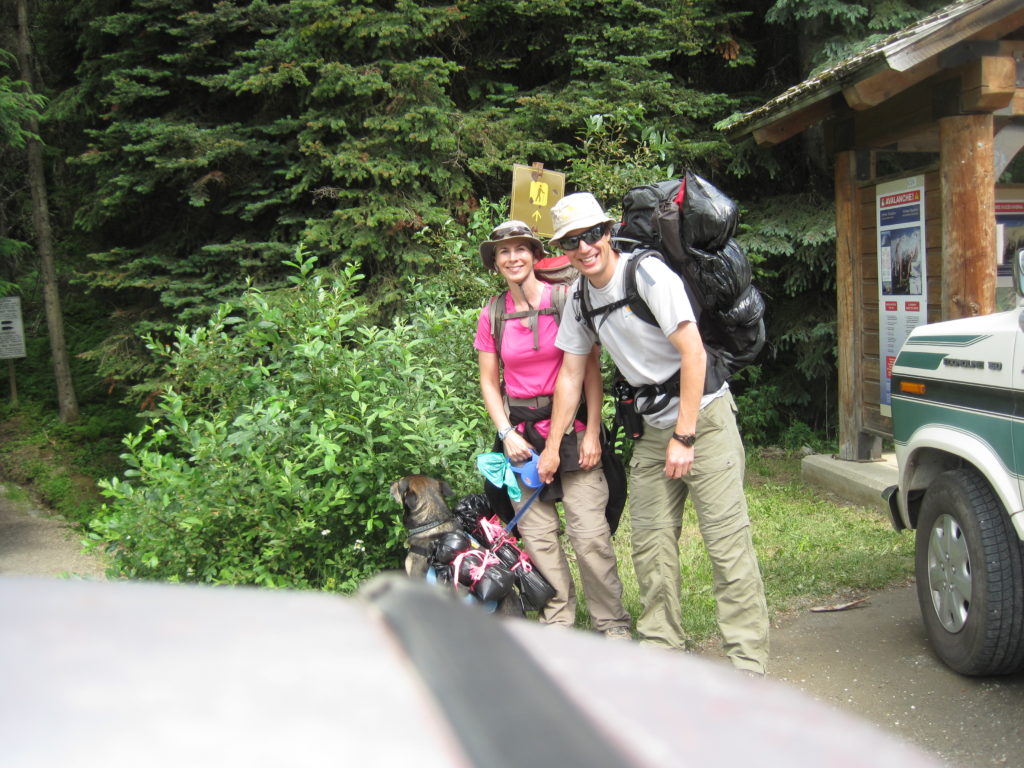 We hit the trail at 10:45 am. With all the driving and time at the visitor centre, it was a pretty reasonable start time. The trail descends momentarily before rising viciously for the remainder of the hike. The trail travels initially through thick forest. The trees slowly start to thin out.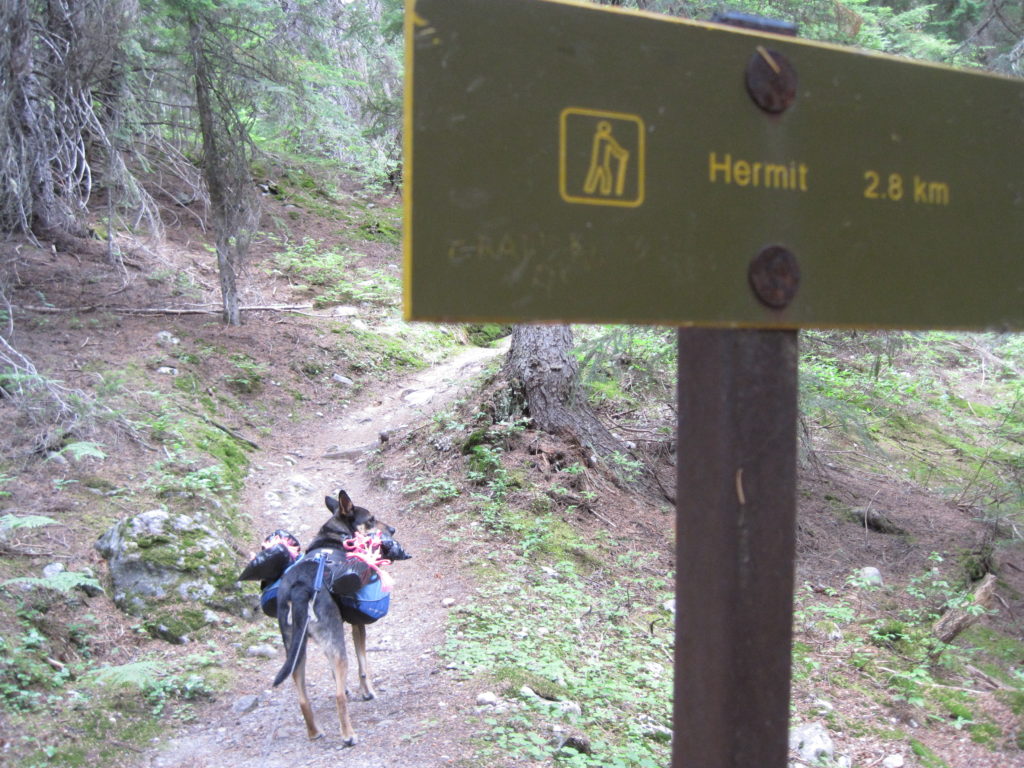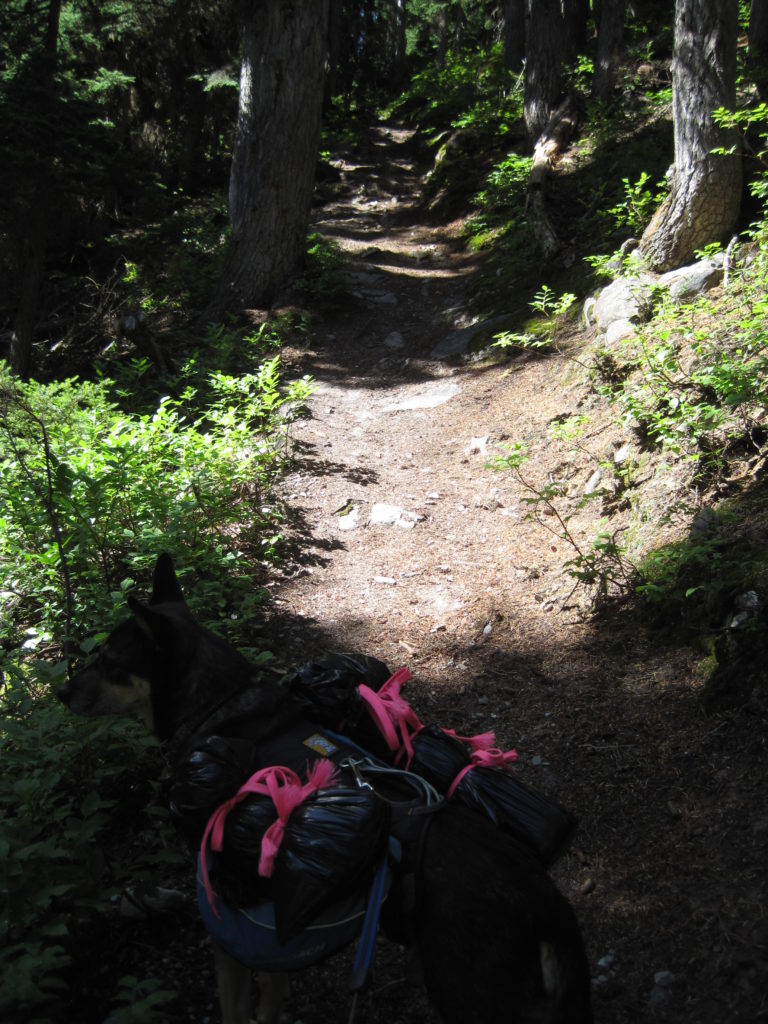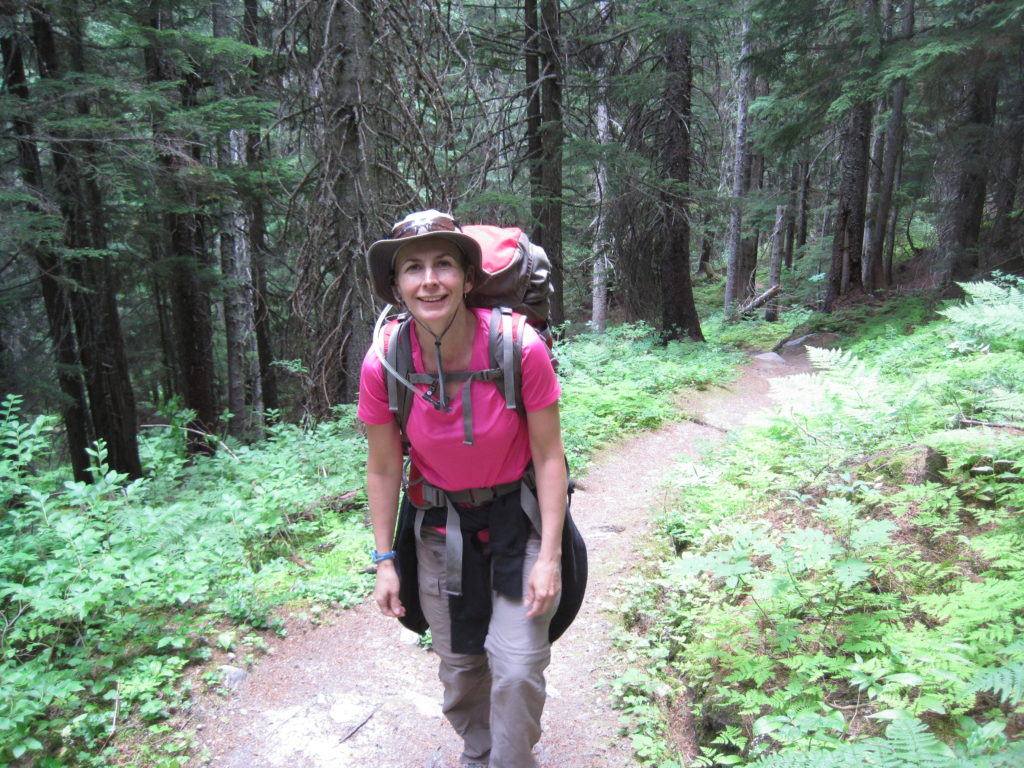 The first views of the mountains around us came at just under one hour of hiking, as Mt MacDonald came into view across the valley. Mt MacDonald is famous for the Canadian Pacific Railway Tunnels that pass through it. The tunnels were constructed between 1884 and 1889, and at 21 km (13 miles) long are considered the longest tunnels in the Americas, or a close second.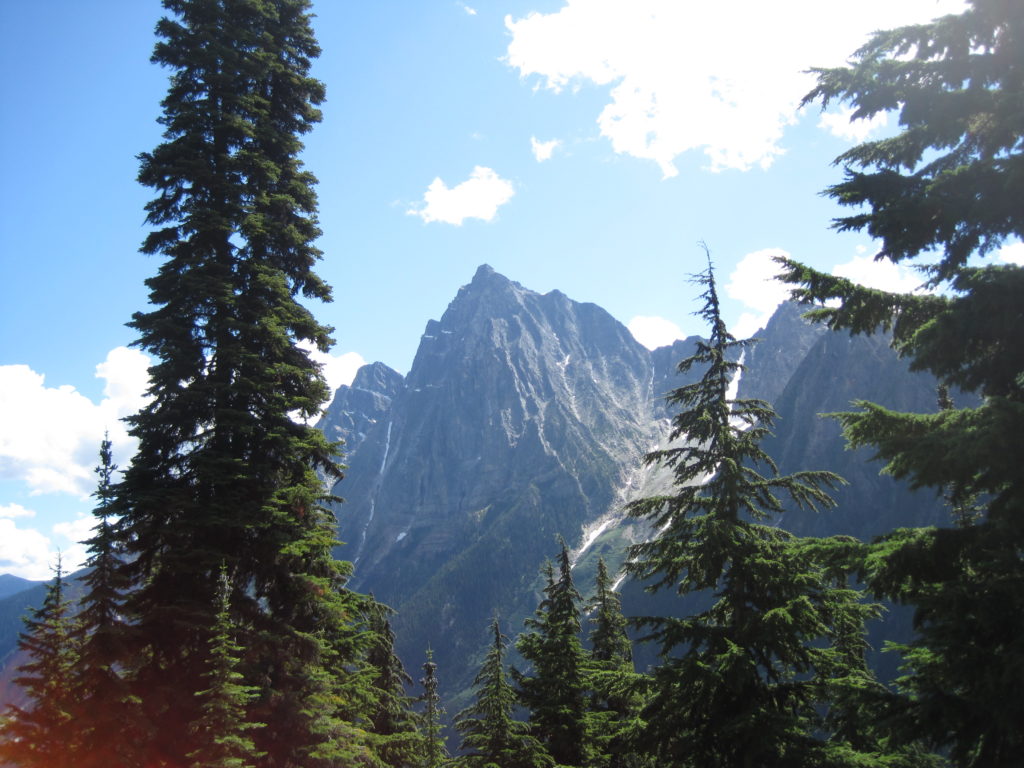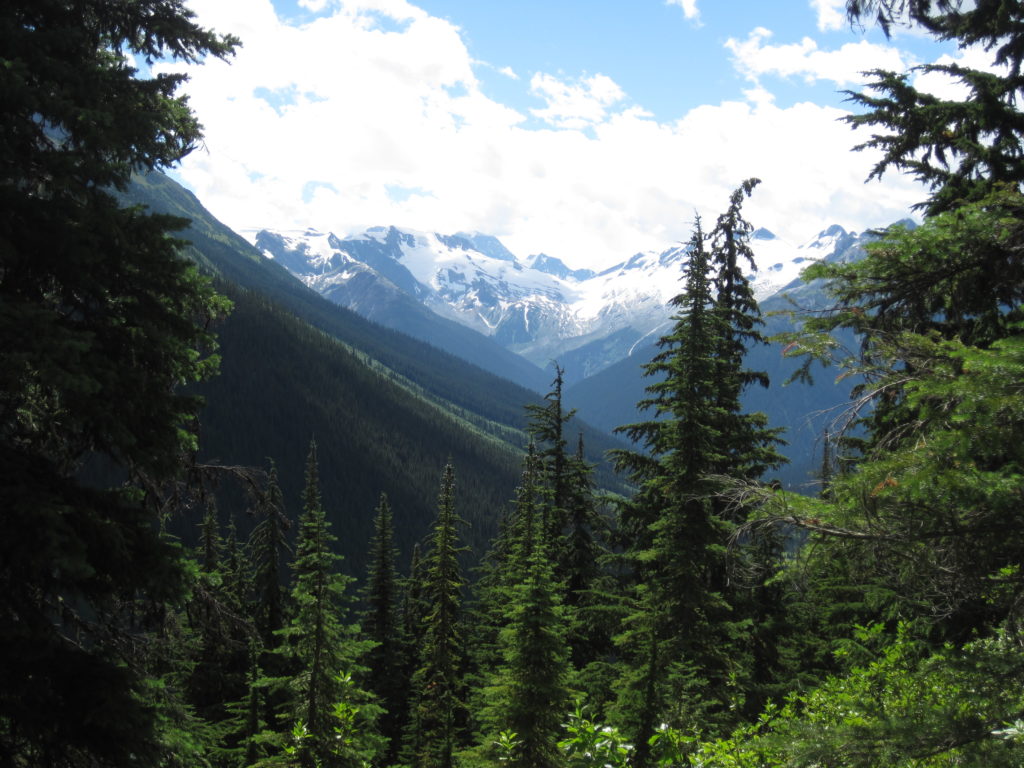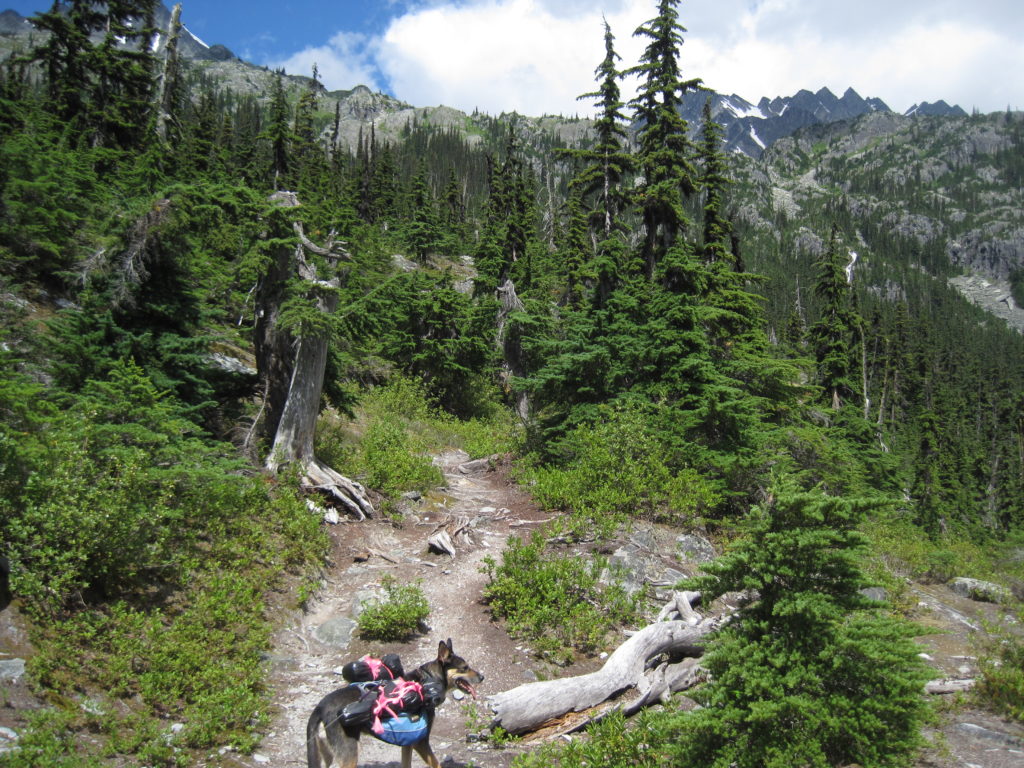 The trees continue to thin out, offering up views in all directions. We stopped for a snack after 1 hr 25 min of hiking. We gave Links a break and took his backpack off; everyone needs a good stretch in the middle of this hike.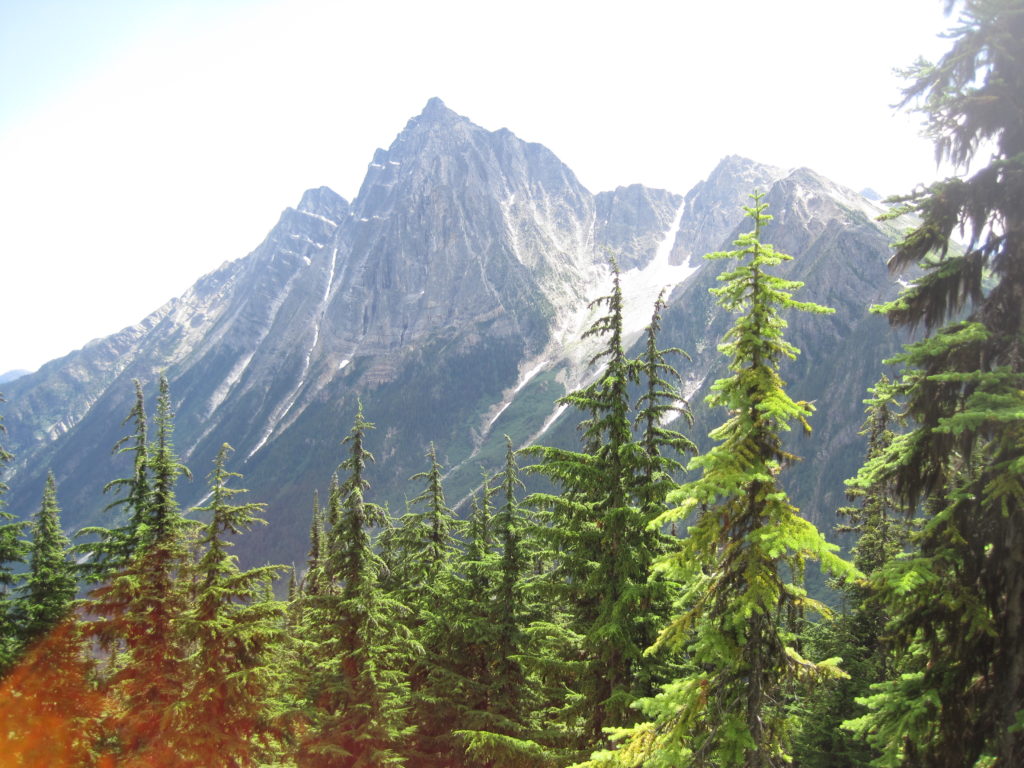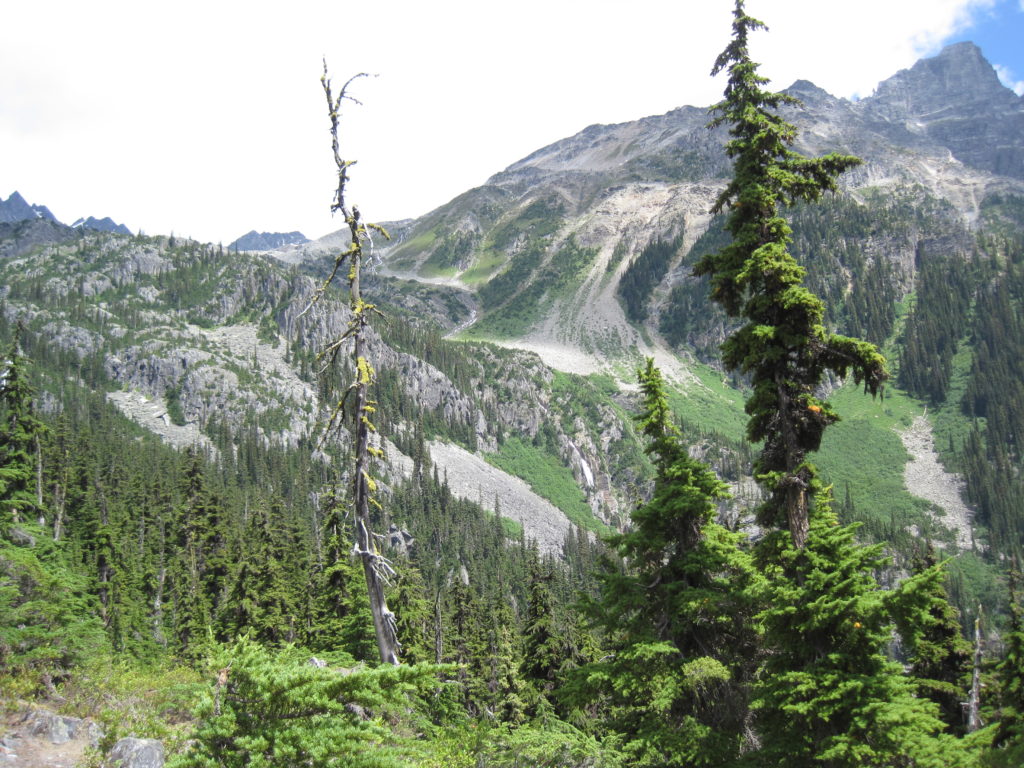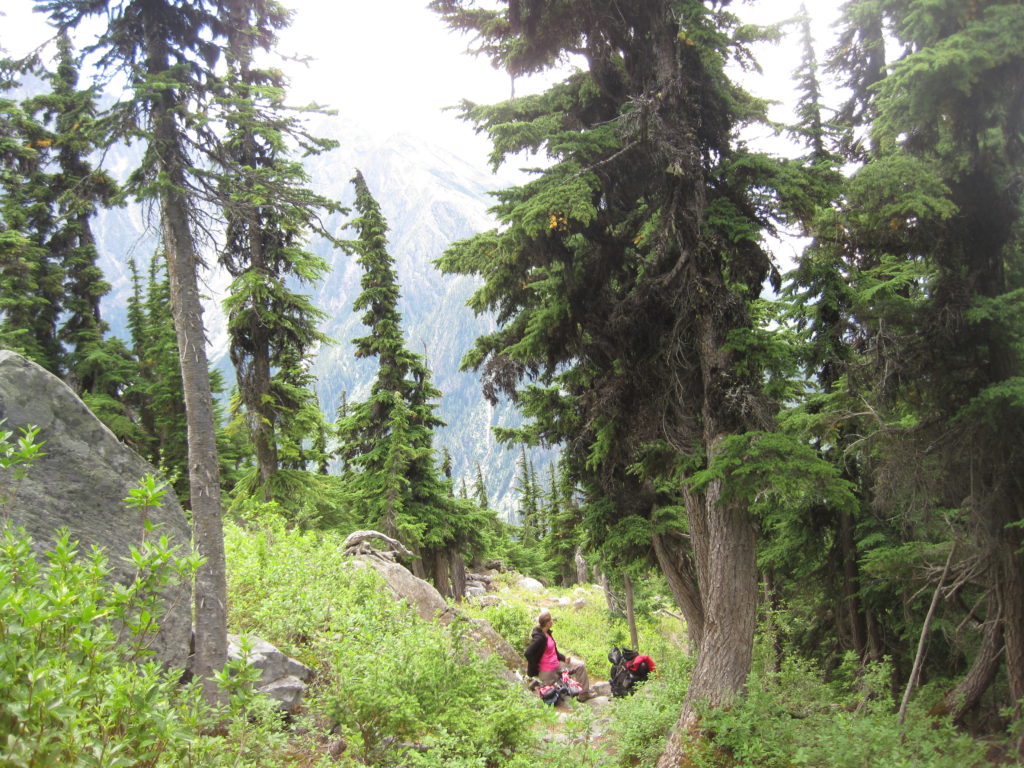 I had two small water bottles for Links and stopped at a stream to refill them. It probably was not necessary, as there was plenty of water available, but you never know.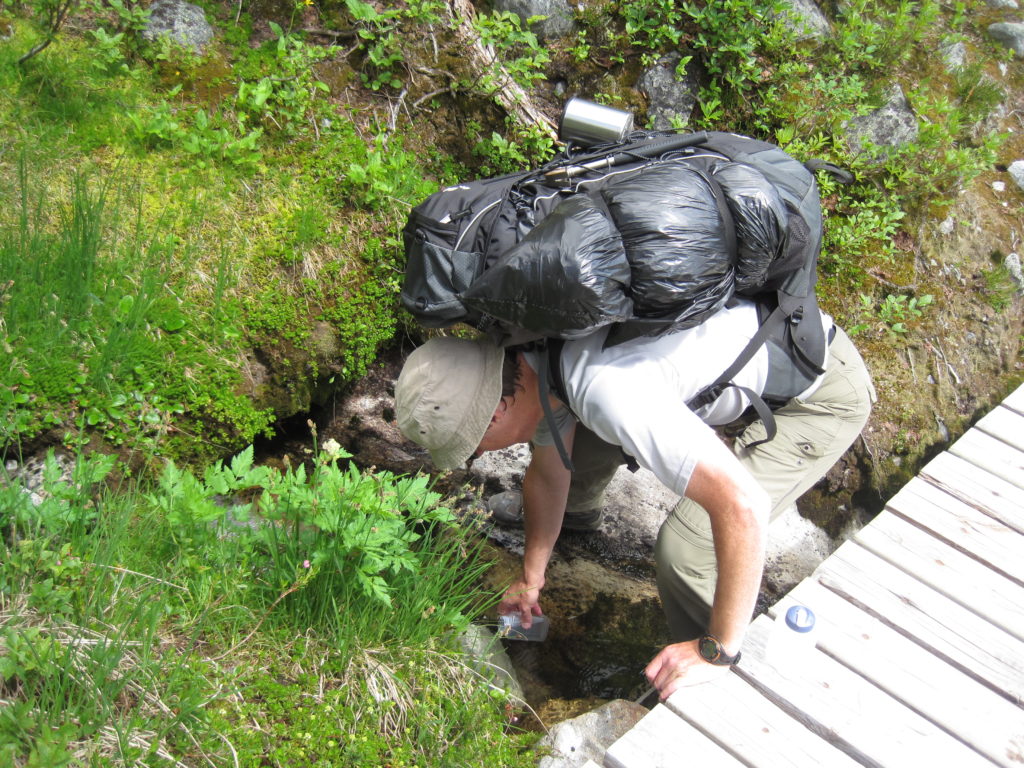 As we continued up, the trail transitioned from dirt to more rocks and slabs. Parks Canada has done some great trail work; in steep sections, steps made from large rocks are built into the trail. This helps prevent erosion.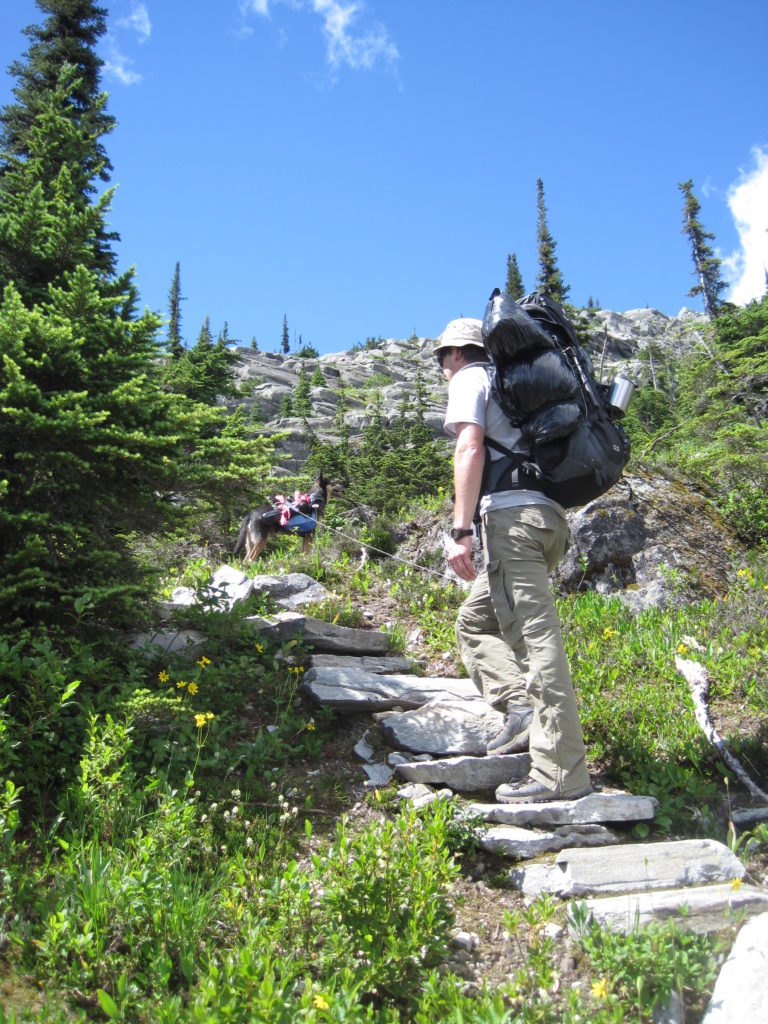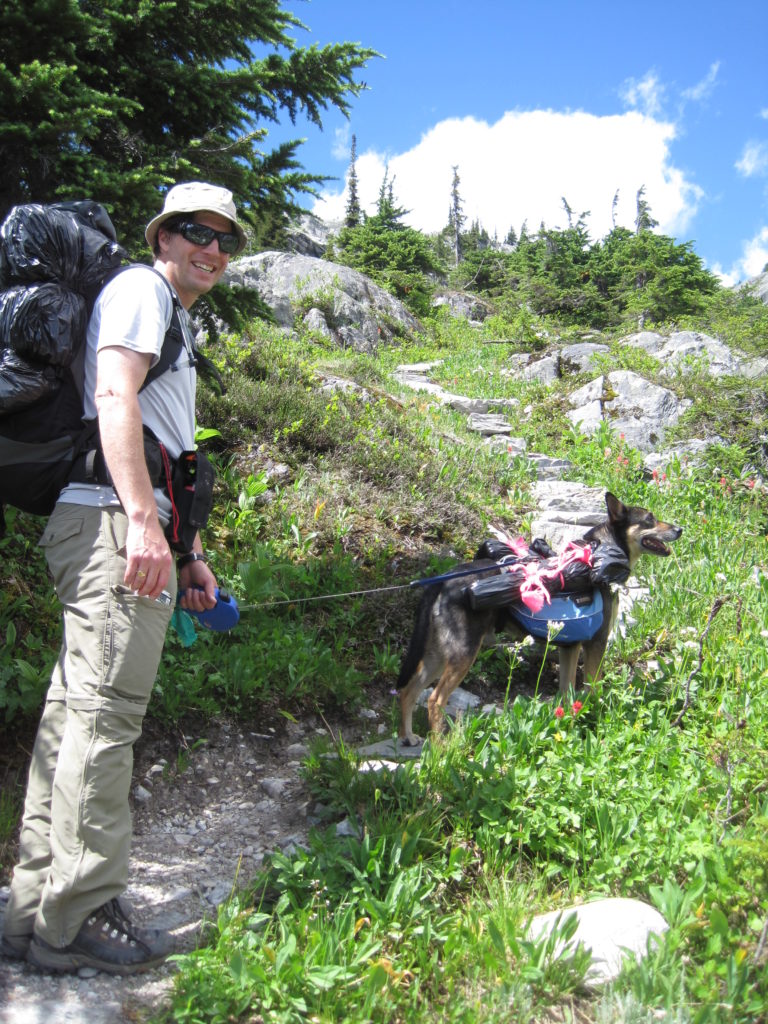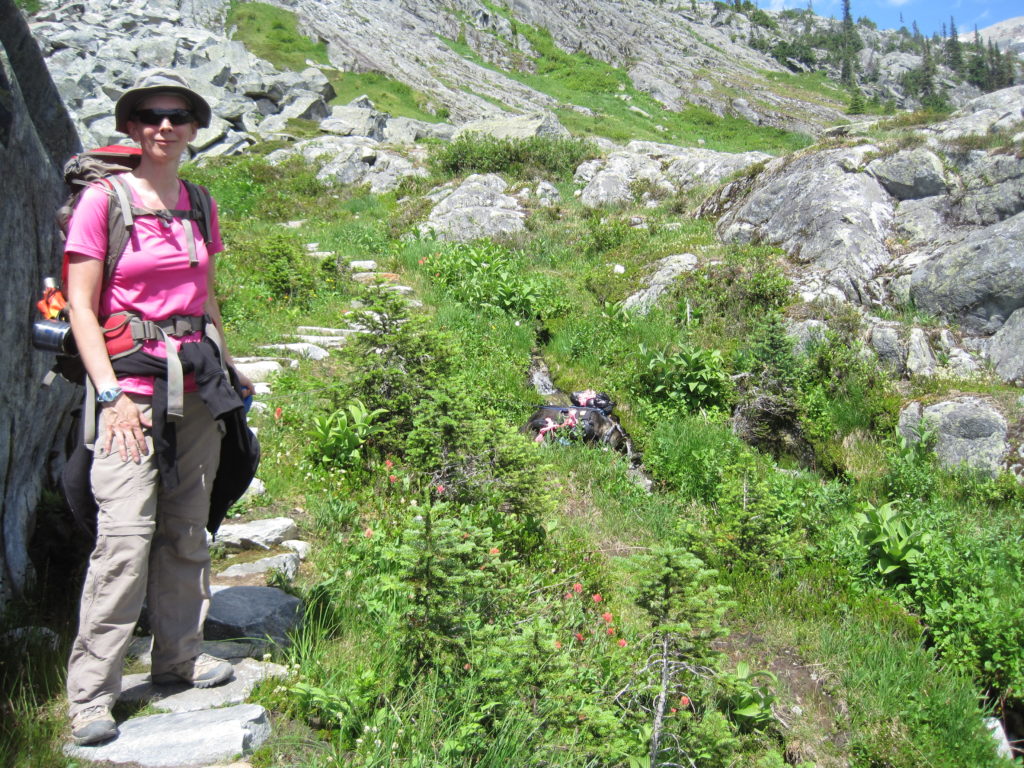 As we skirted a small cliff, we were accosted by a noisy marmot sounding the alarm of intruders (us). We continued on our way up the grassy slope. There was a small, tricky, rocky section to get over, and Parks Canada had placed a thick rope to help you haul yourself up and over.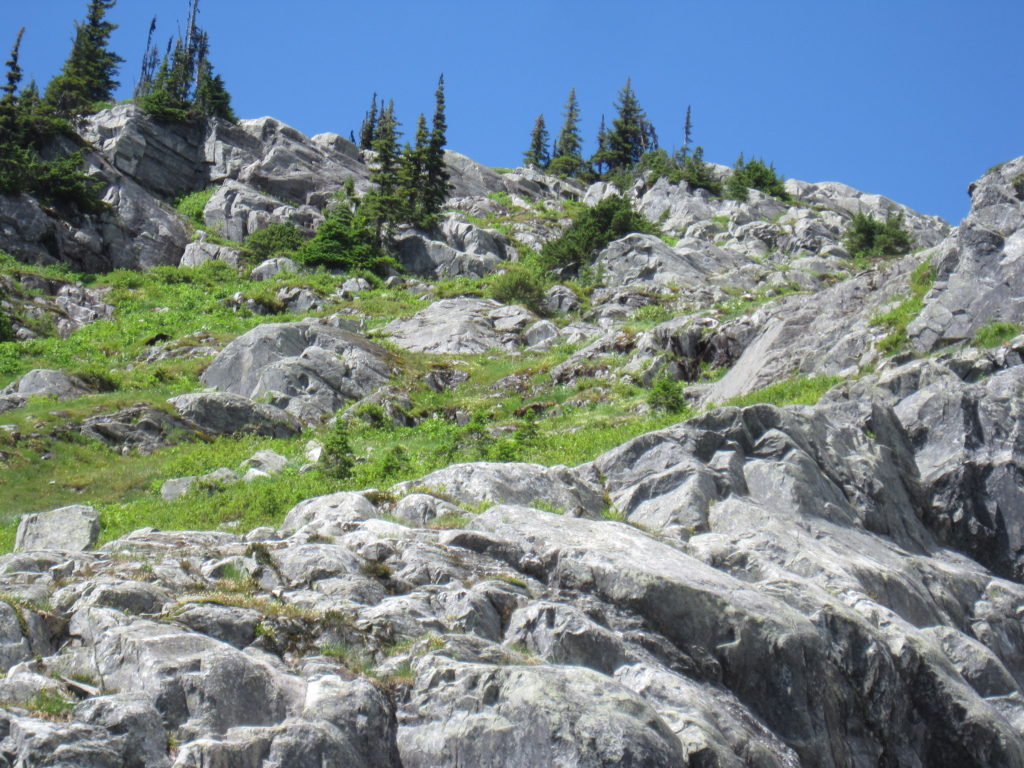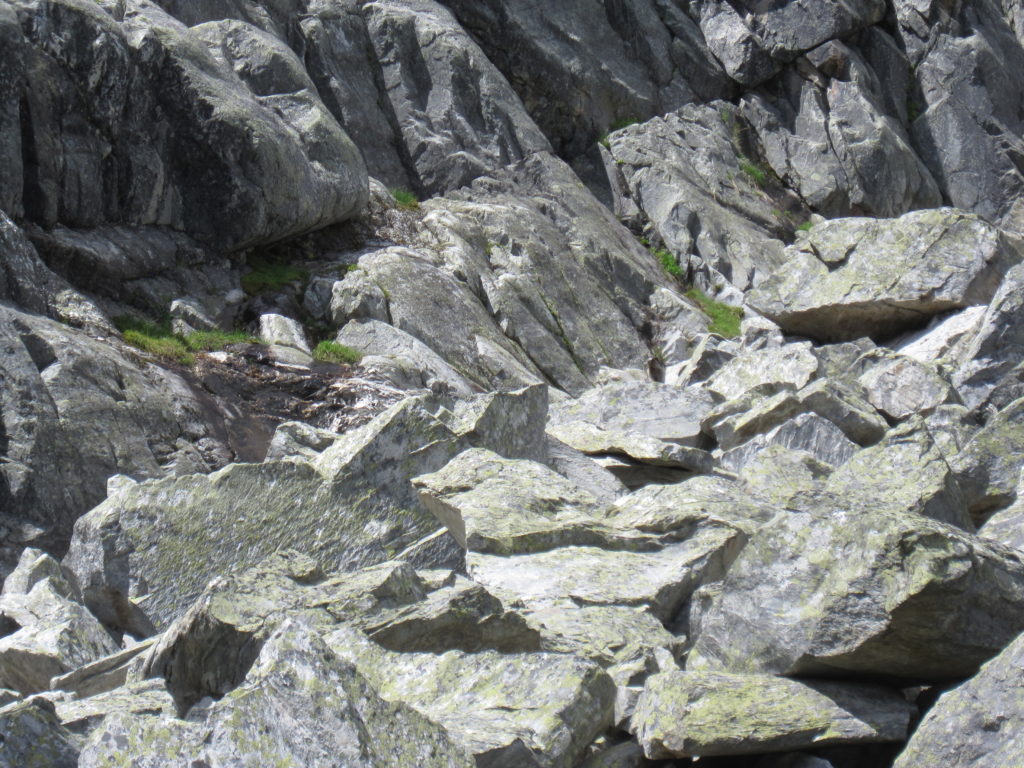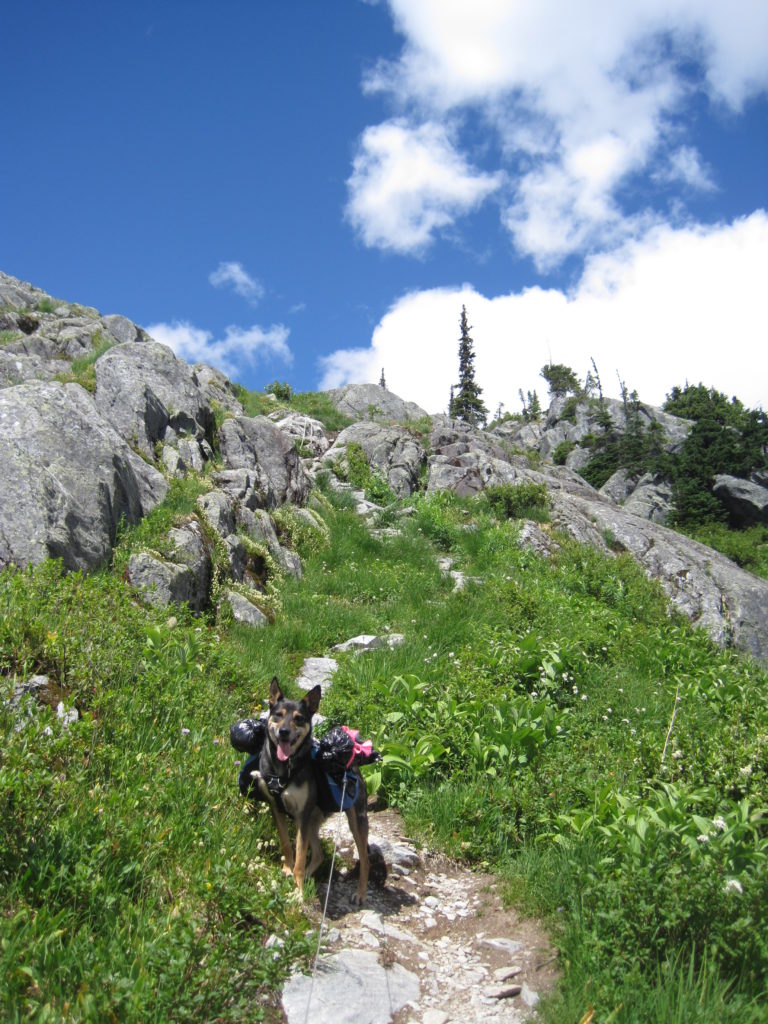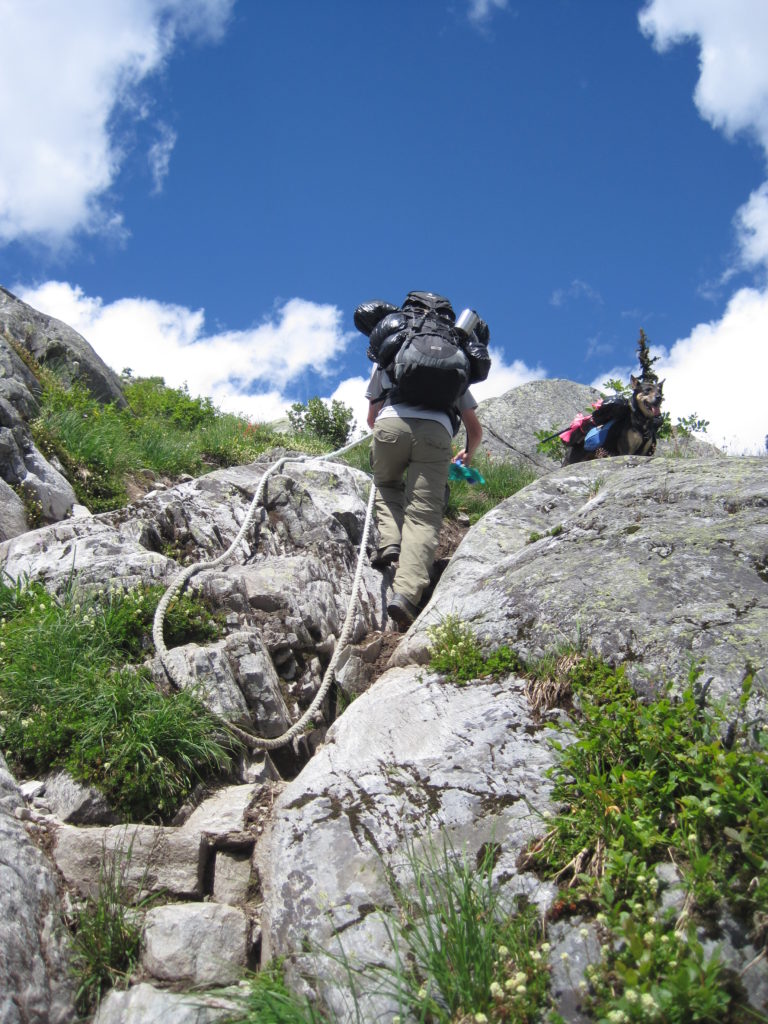 Ten minutes later the trail flattened out as we entered Hermit Meadows; this was the first relief from the steep climb we had since we started.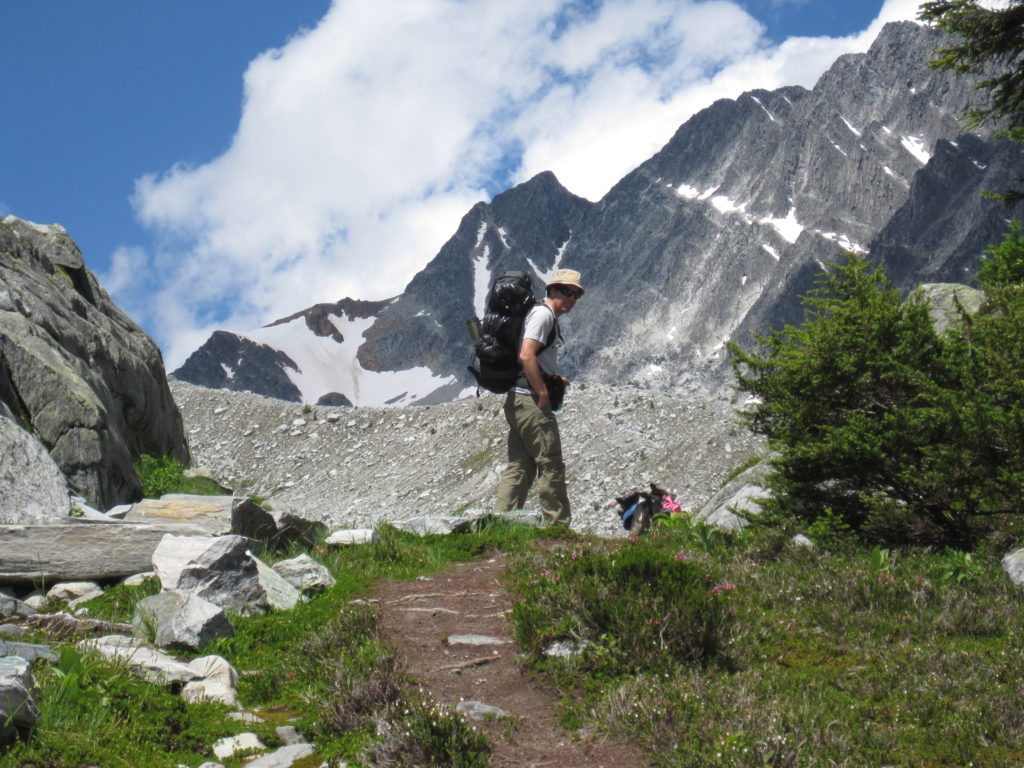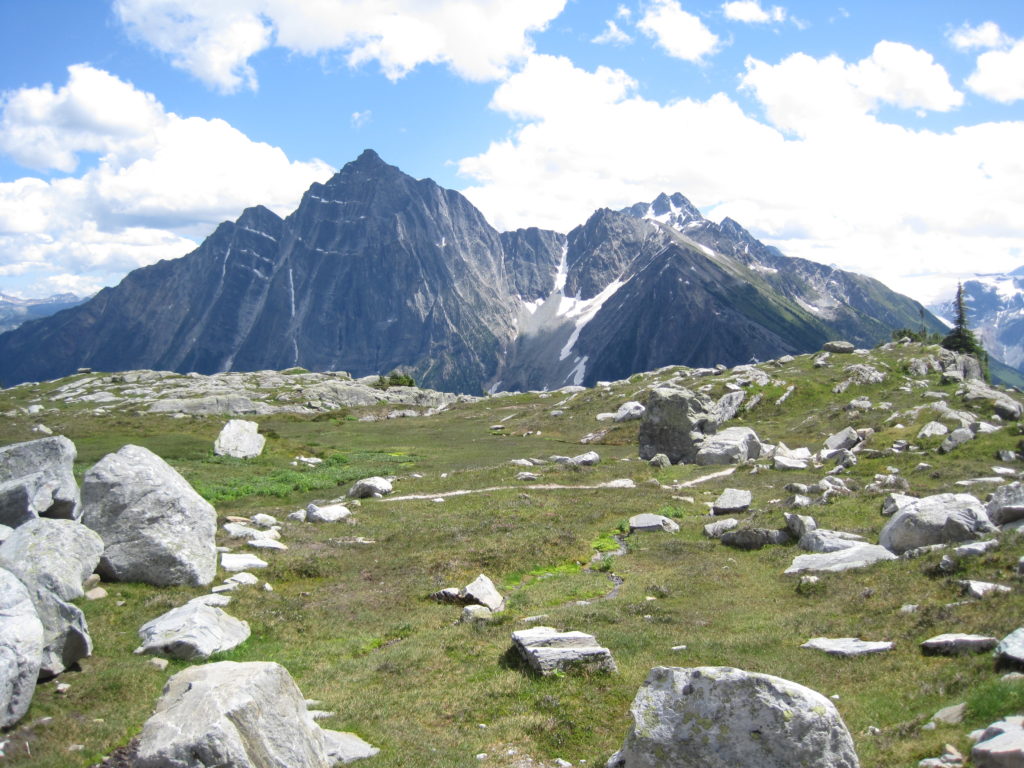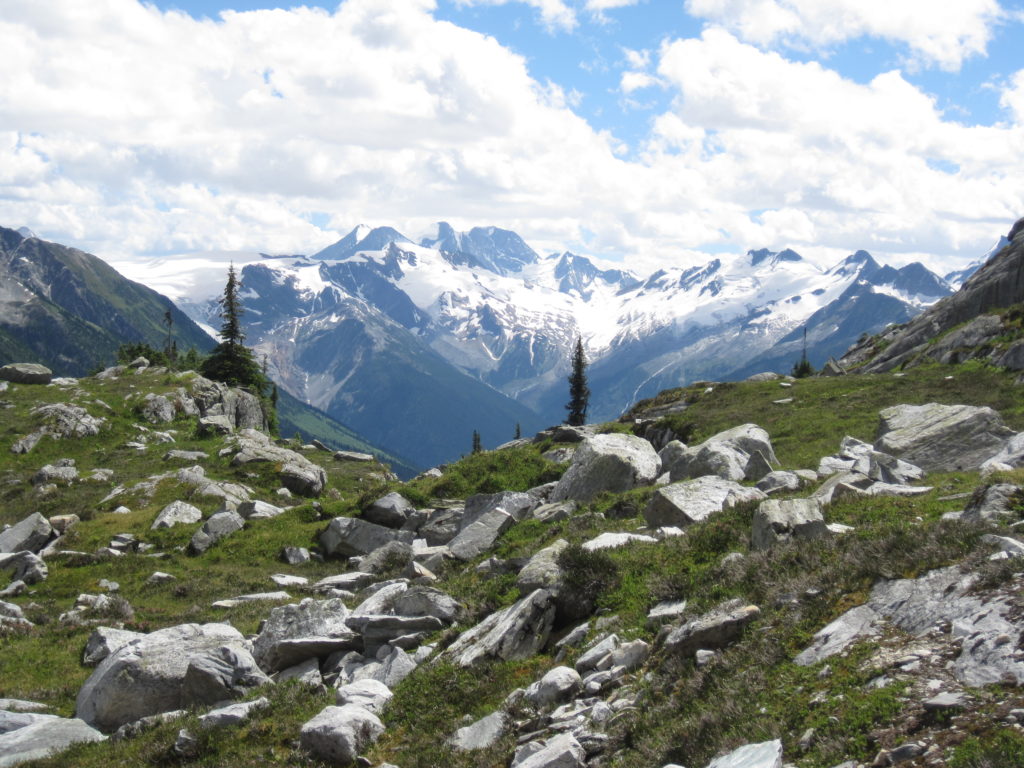 Hermit Meadows is a large flattish, rocky area. There are several wooden platforms set up for tents. We chose one up a small ridge that offered a view of the meadow below and easy access to water from a small stream. Using a platform makes it impossible to stake your tent. The platforms have hooks placed all around the edge, so that you can attach your tent lines to a secure the tent. The time was 1:35 pm, 2 hrs 50 min since we had left the parking lot.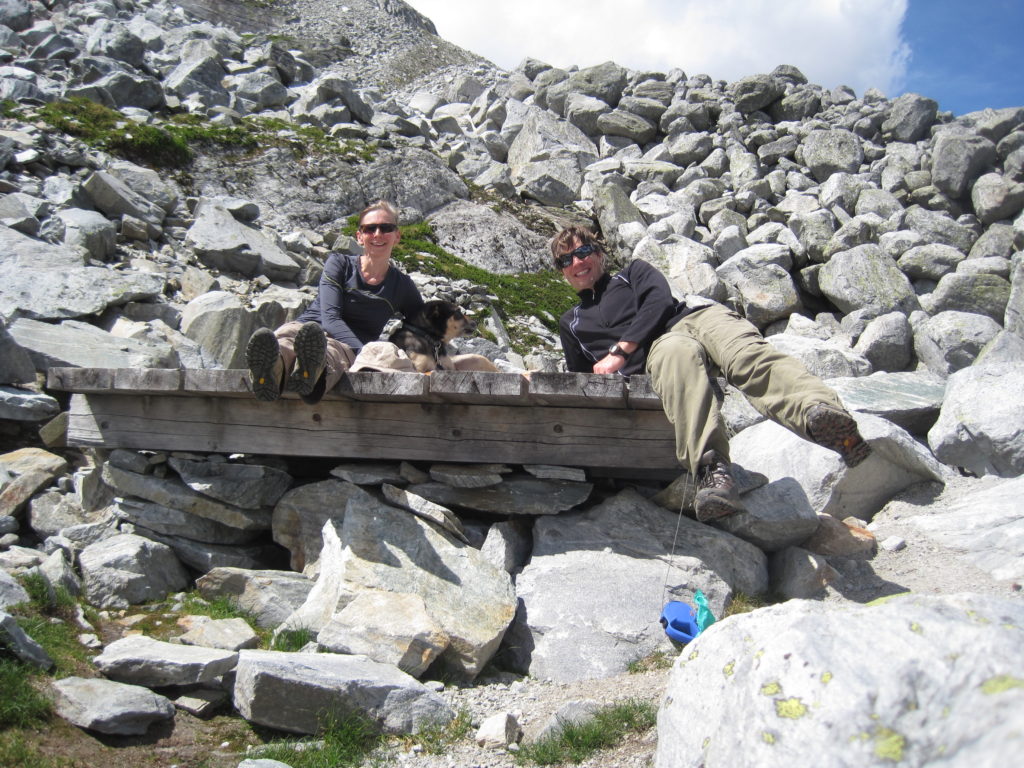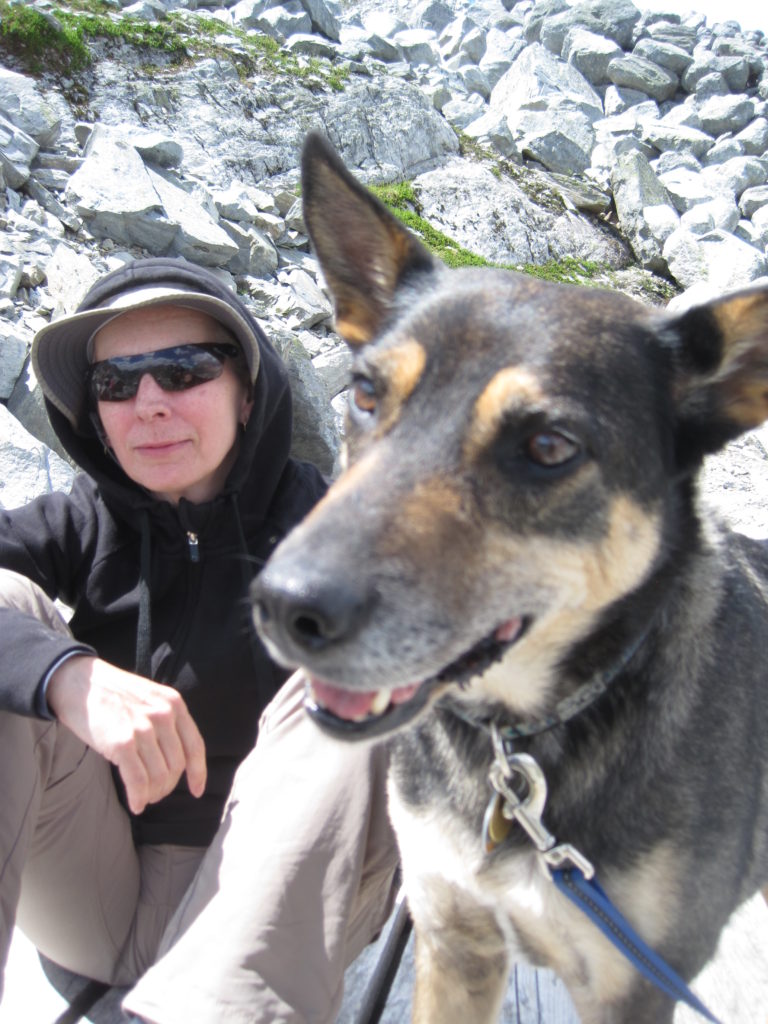 It was a relatively early arrival at the campsite. While the air was not overly warm (we are at an elevation of 2,112 m), the platform was a dark wood that absorbed a lot of heat, so we were all able to enjoy a short nap in the afternoon sun; even Links thought that this was a good idea.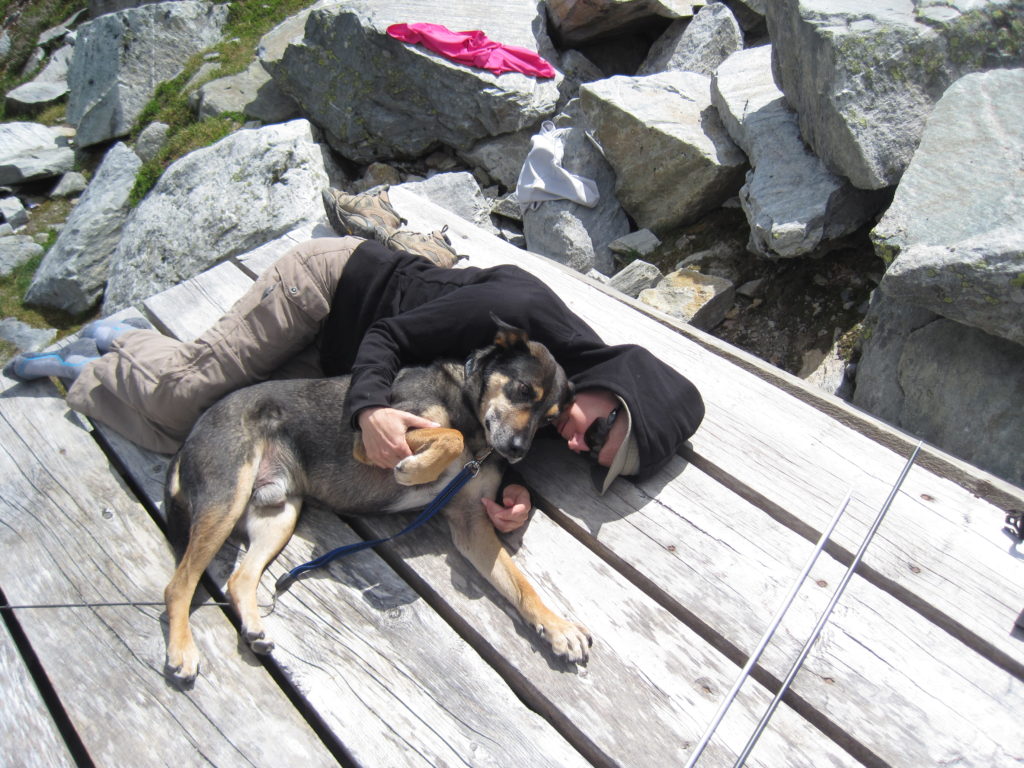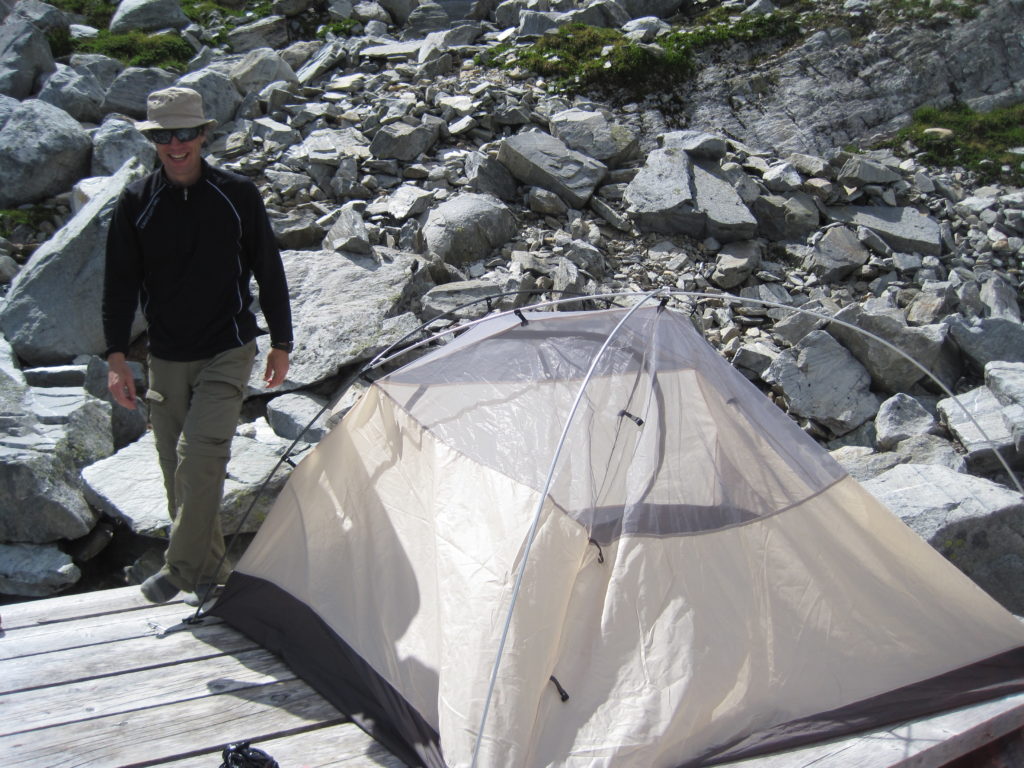 Later, we went for a short walk around the meadow. Other people did not start appearing until a few hours later. I remember one group passing on through, going to explore the tall peaks beyond. Another group with a dog turned up. I was concerned at first that it was a wolf, since it was off leash. They found a spot away from us, Links never seemed overly fussed.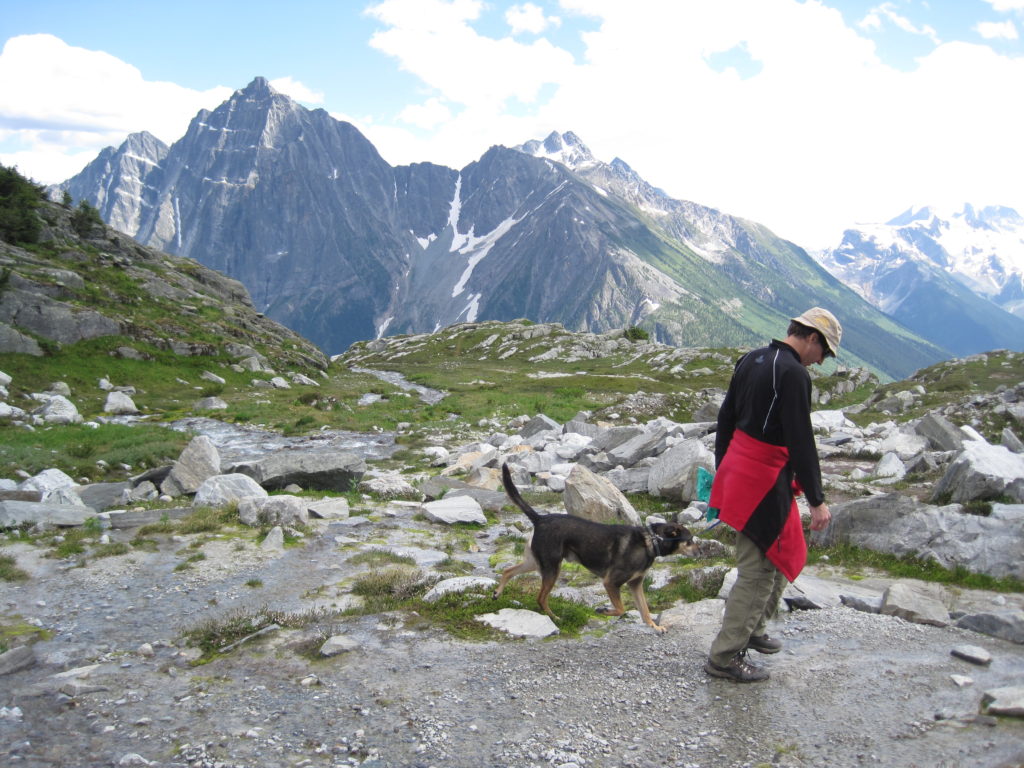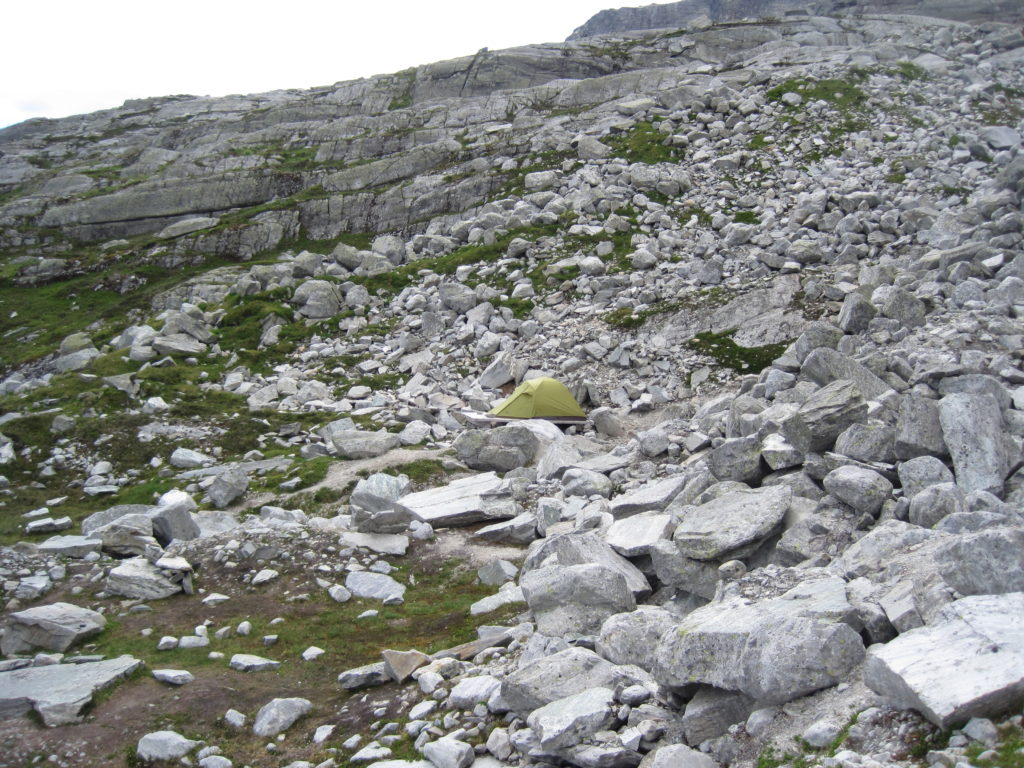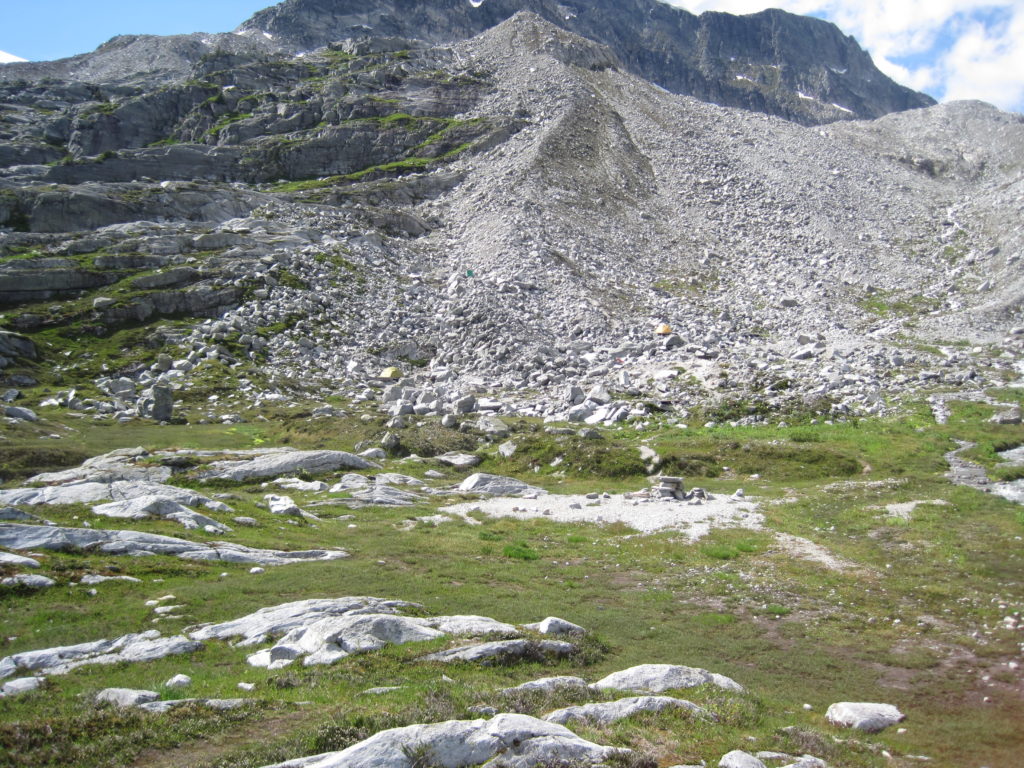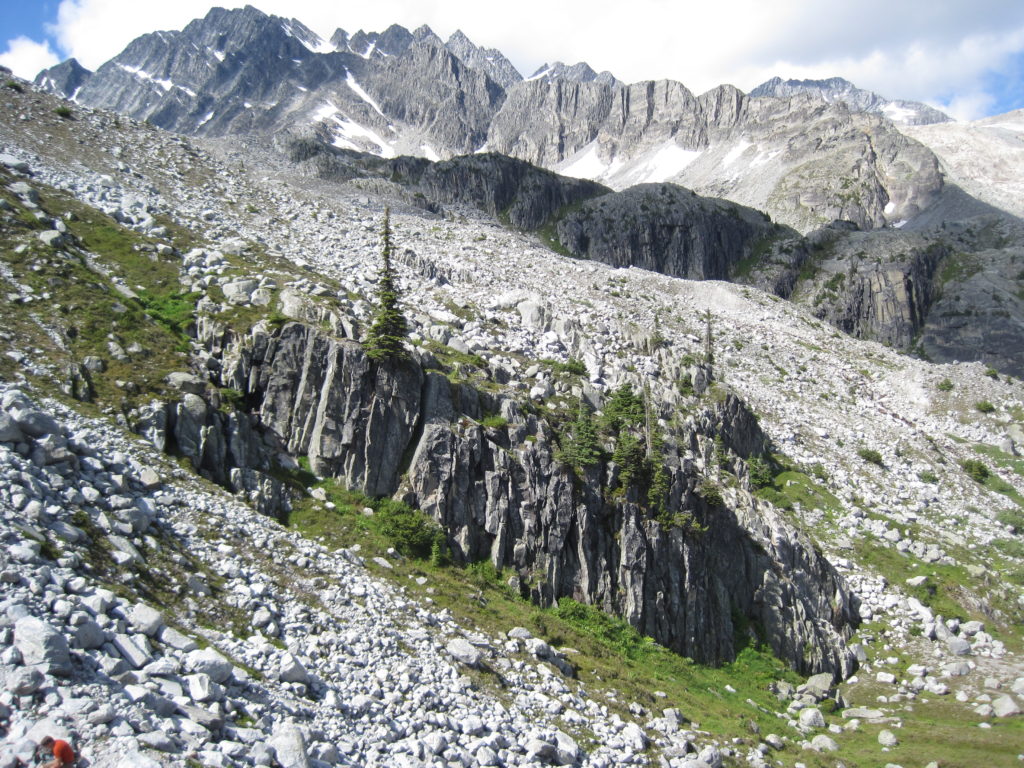 We had dinner around 5 pm. The temperature was dropping quickly, fleeces and toques were needed to stay warm.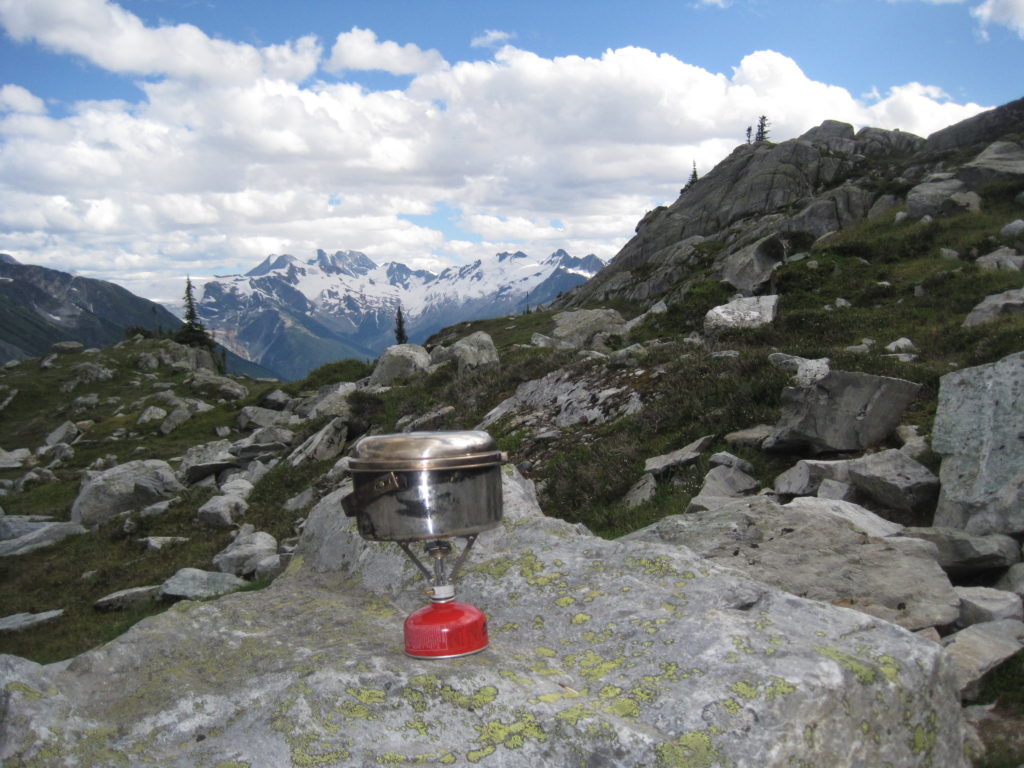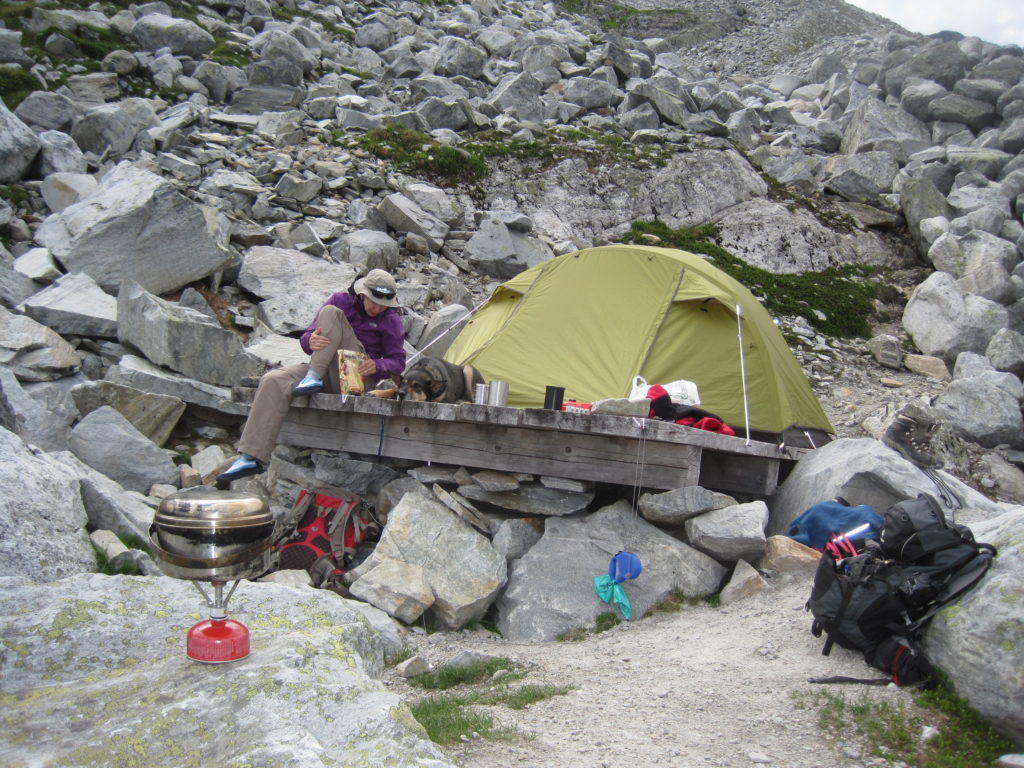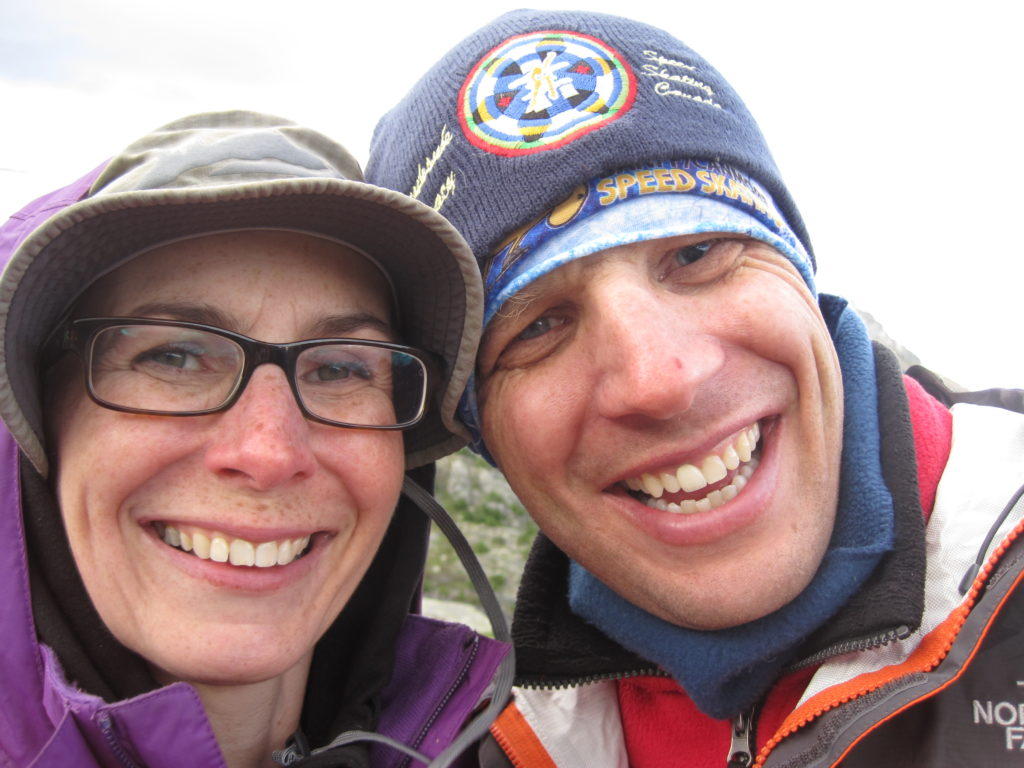 In the end, there were about four tents set up, not on platforms. My guess is that people did not have permits.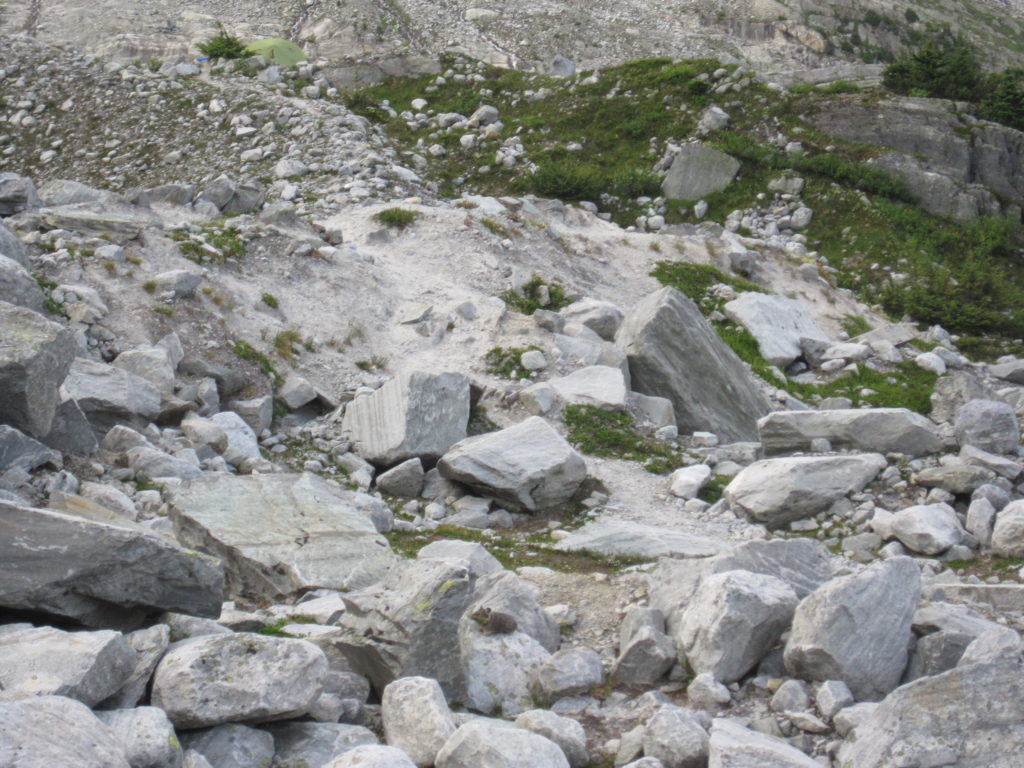 Day 2
The sun rose bright and flooded the tent with light, signalling the start to our day. We had the stove on and heating water for breakfast and coffee by 7:30 am. Breakfast was another glorious meal of Mountain House dried food.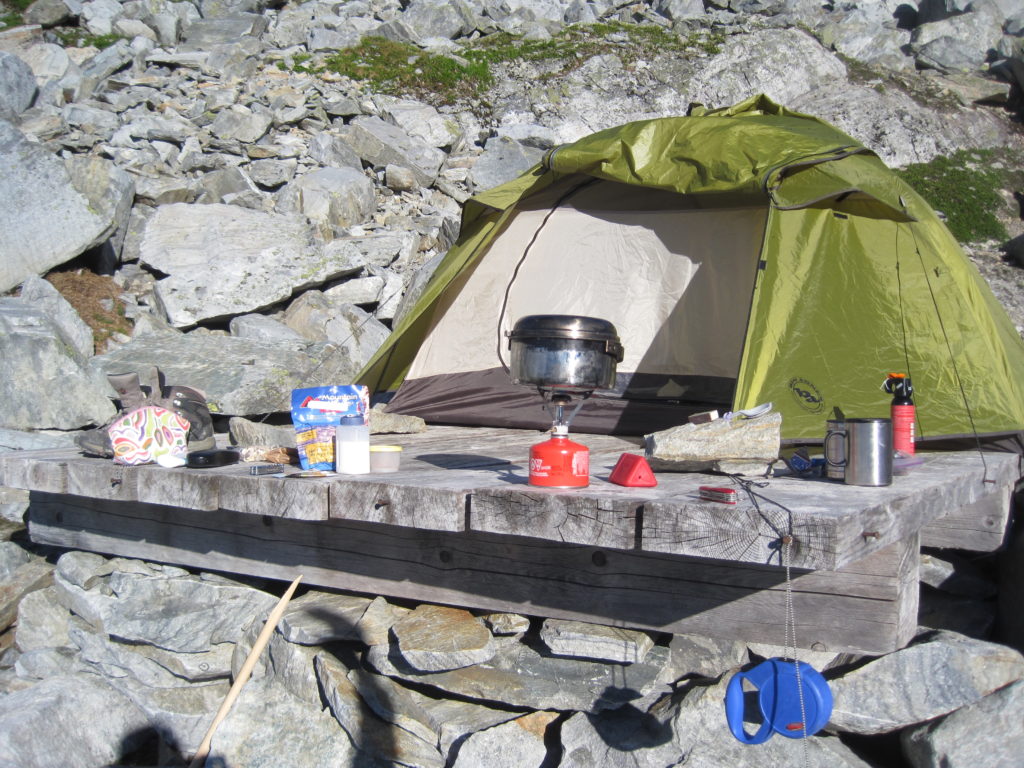 After breakfast, I made use of the outdoor biffy. Now, most people usually do not discuss the bathroom facilities at a backcountry campground, but I feel I must. This potty afforded some of the most spectacular views anywhere. High alpine cliffs and glaciers in every direction, just about worth the trip just to visit the loo.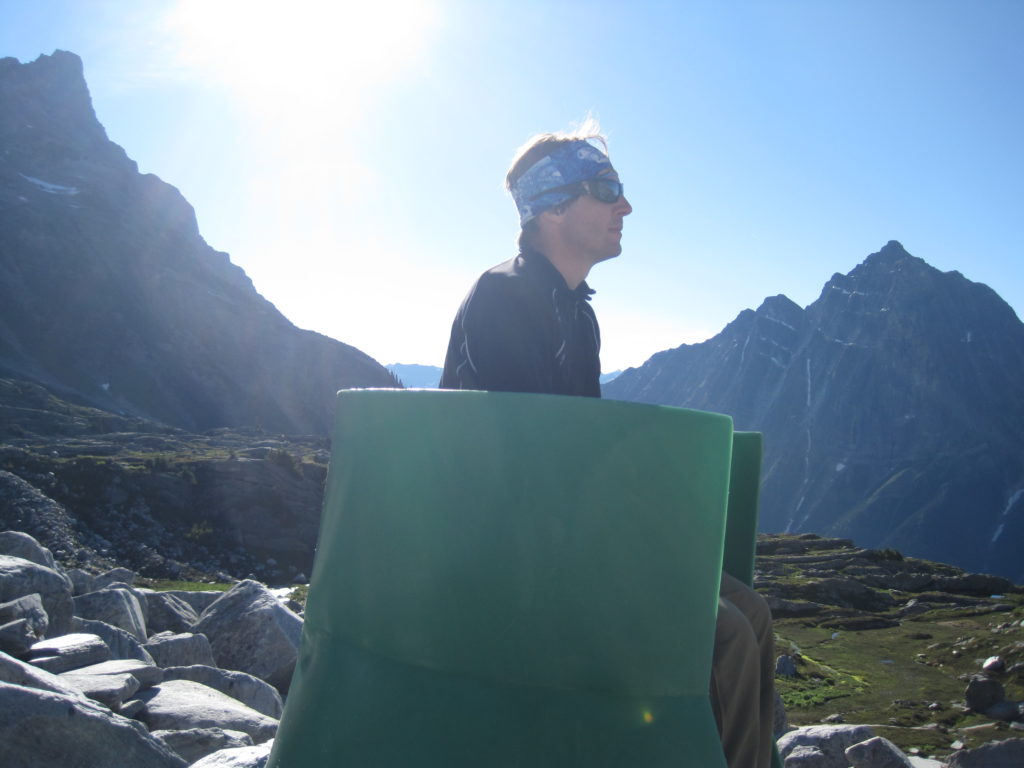 After breakfast, we packed up and then went for a short hike up a steep slope. This gave us a great view of Hermit Meadows and Glacier NP. Simply splendid.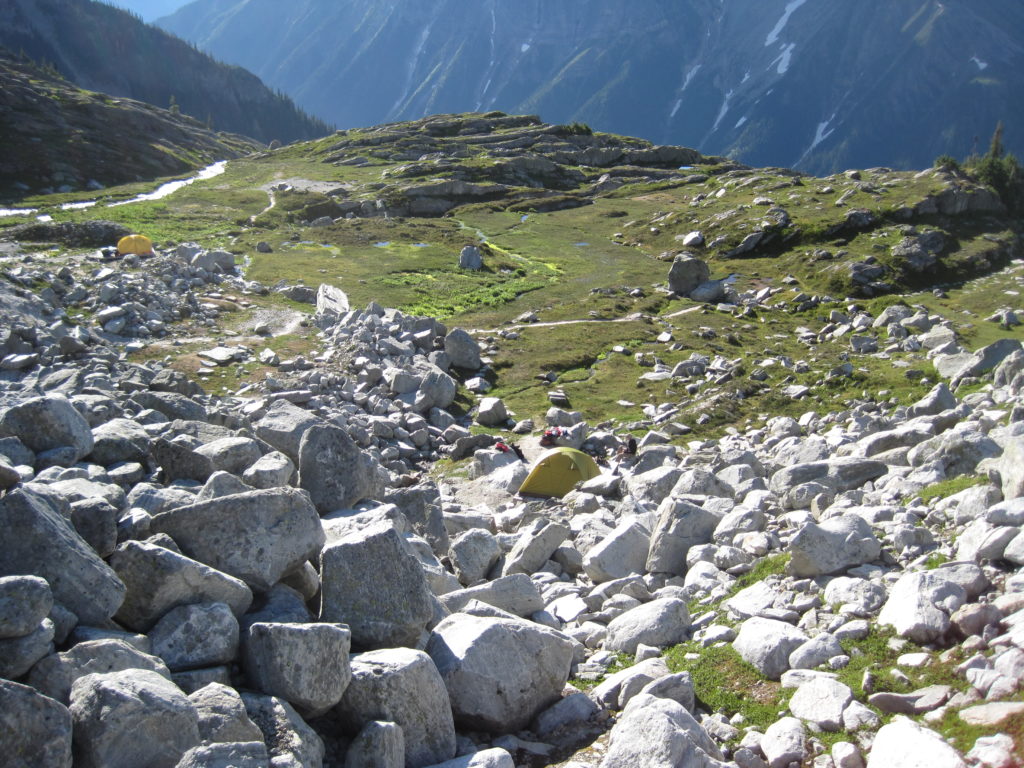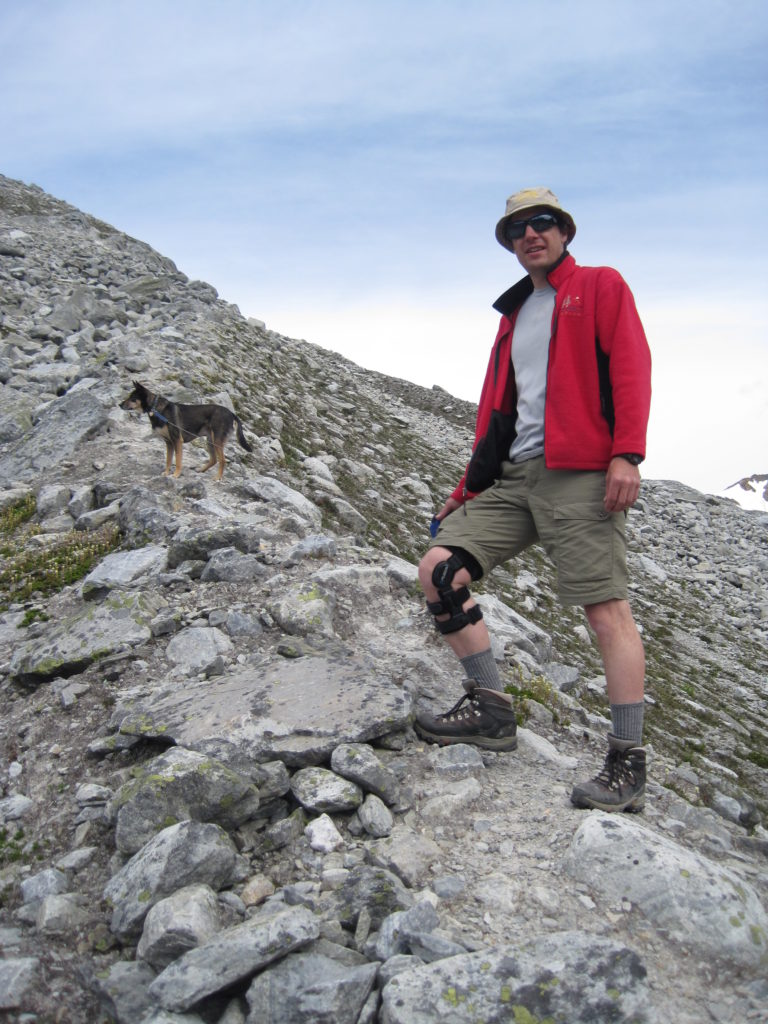 We headed down and grabbed our packs, loaded up Links and headed off on what should have been a simple retracing of yesterday's hike, but downhill.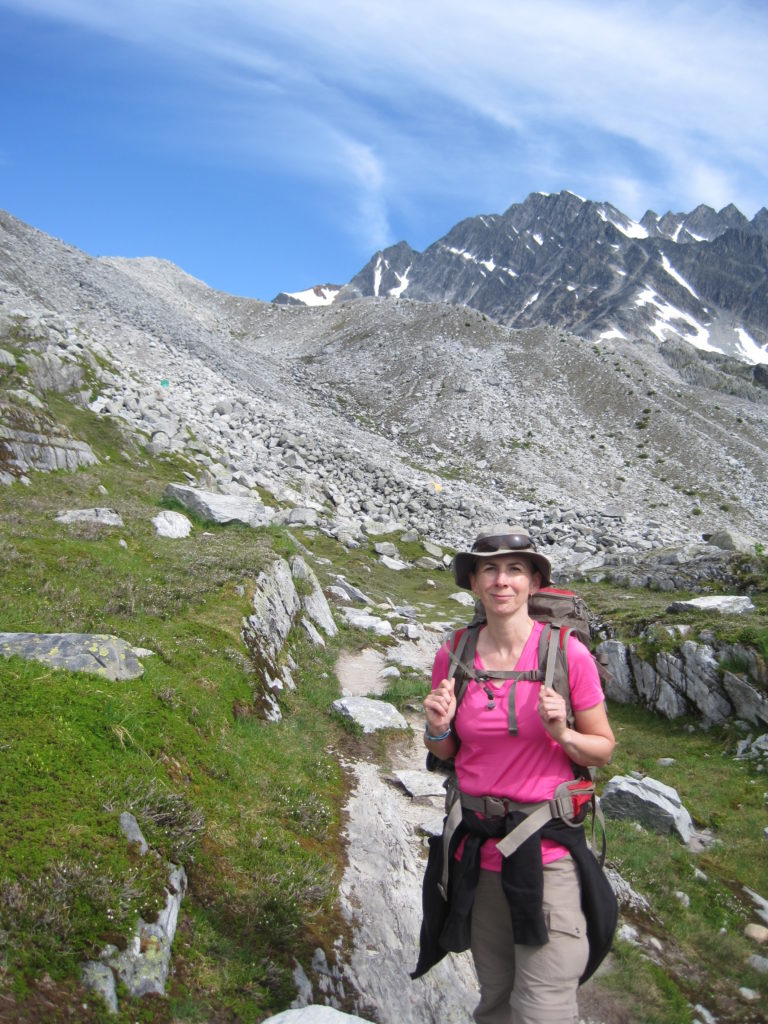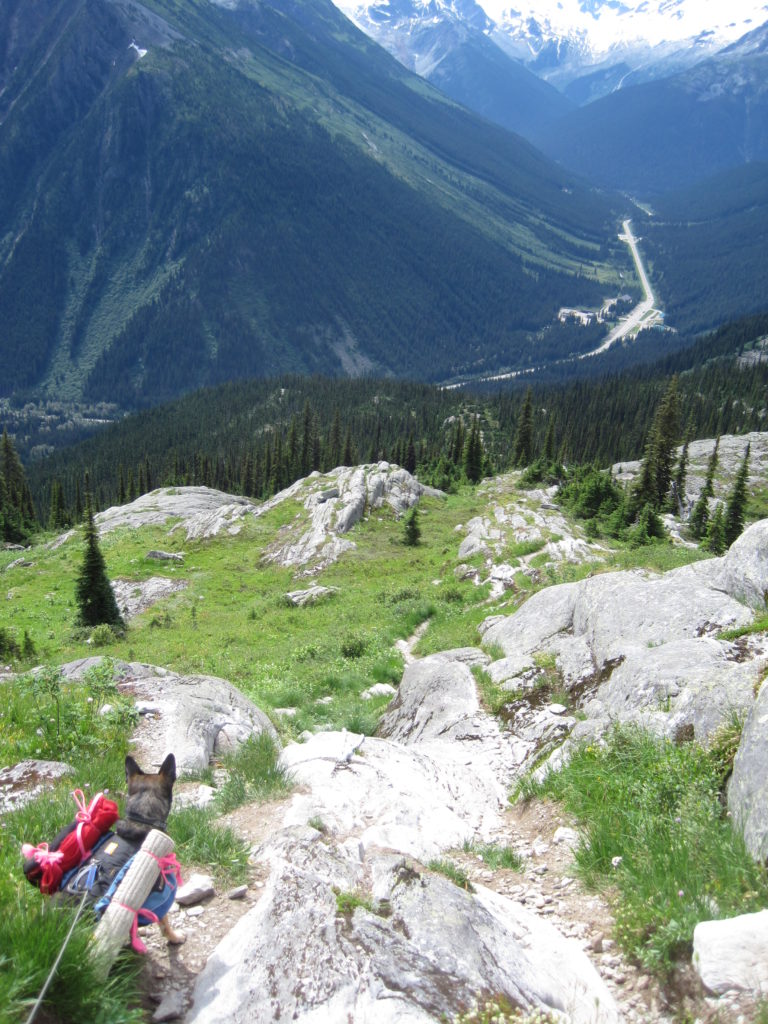 After about 45 minutes of hiking, Links started to pause and sit down. He had never done this before. While going downhill was not his favourite thing (he is generally happier going up), he had never stopped and sat down before. We were very puzzled at what was up. After this happened a few times, it appeared that Links was in a little bit of distress. So I took his backpack from him to ease his load. This was probably the last time Links carried a pack.
We slowly made our way back to the car, both of us concerned for Links. If you notice, there are no pictures of the end of the hike, as we were focused on Links, not the hike.
We had thought that maybe it was a reaction to apple seeds. We had made a habit of feeding Links parts of our leftover apples that we ate while hiking. Searching the internet (never a good source of medical advice, that is what your local veterinarian is for), we thought the problem was the apple, and decided to not give Links any more of our apples in the future.
Looking back on it now, we believe it was the onset of Links' arthritis in his front shoulders. He still loves to hike, but over the years, he has had obvious difficulty descending steep terrain (and Hermit Trail is steep). He repeatedly stops and sits down on descents. This has resulted over time in us having to pick our hikes and backpacking adventures to accommodate Links. Our vet believes that Links has arthritis in his shoulders, and has prescribed a doggy anti-inflammatory to reduce the pain. We have progressed from only giving the medication when hiking, to giving it prior to hiking, to now, he gets a dose every day.
It was a great hike and weekend adventure to an amazing place, Hermit Meadows is a must-do destination.
What we learned:
Not necessary to bring a hammer
Sometimes you have to be flexible in your planning.