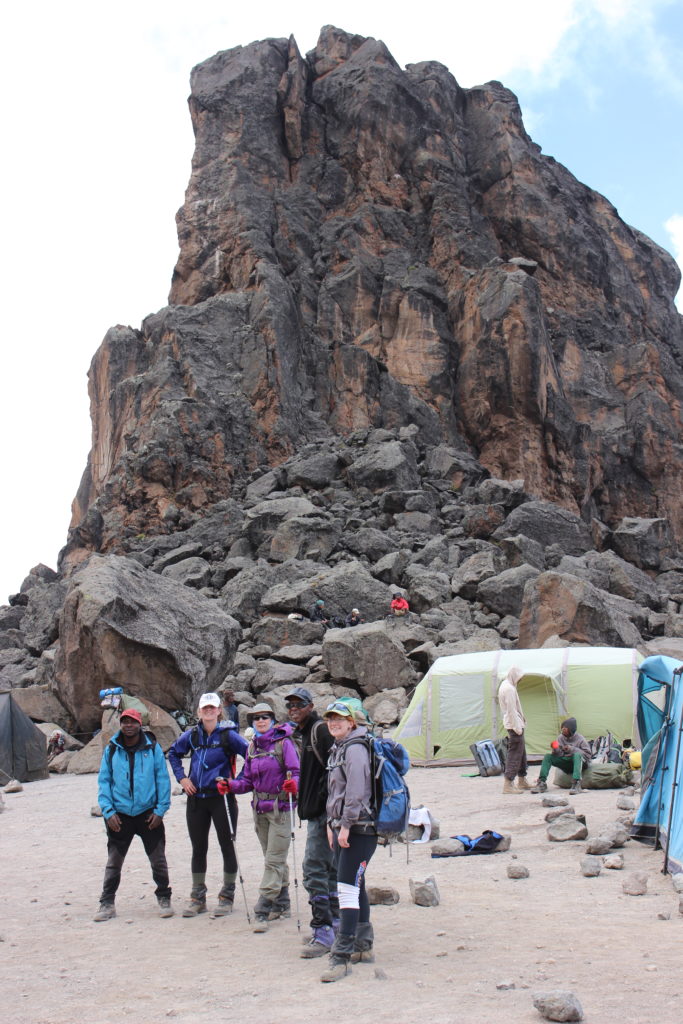 Shira Camp (3845 m) – Barranco Camp (3960 m), 10.7 km, elevation 785 m, 5 hrs 45 min. Total trip distance so far: 27.2 km, total elevation 2840, total hiking time 15 hrs 25 min.
Today's goal was acclimatization and a test of how we would do at high altitude. We would spend the first half of the day ascending to Lava Tower, where we stopped for lunch, so that our guides could observe how we were doing at an altitude of 4642 m (15,230 ft). The plan was to spend an hour at Lava Tower.
We woke up just after 7 am to the glorious sound of "knock knock tea". After a breakfast of millet porridge we all hurried to get out of camp faster, but still only hit the trail at about 8:50 am.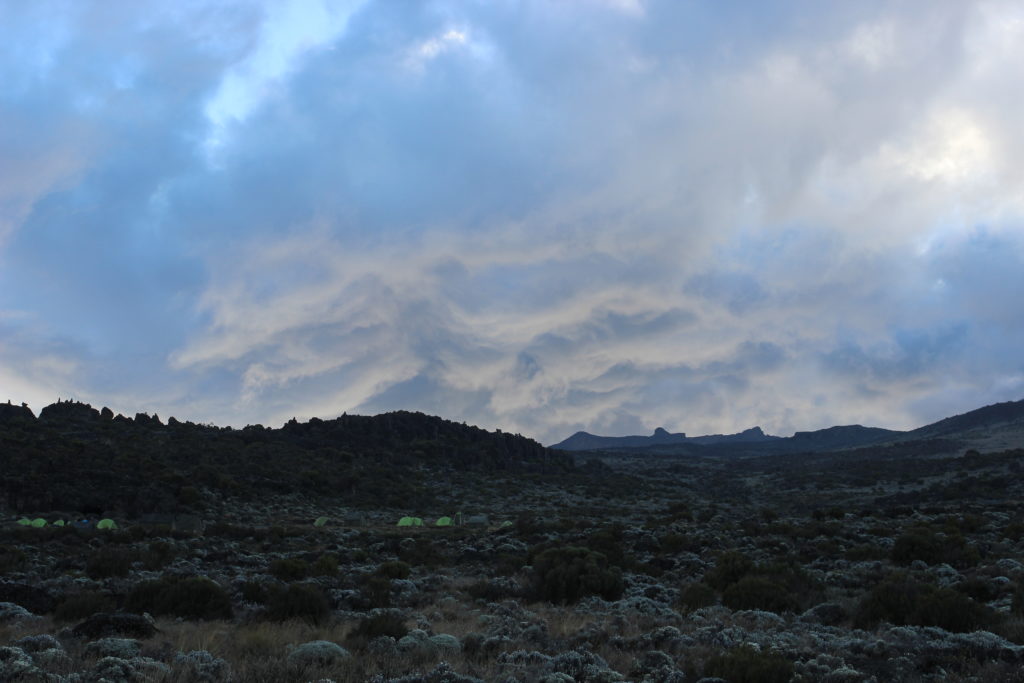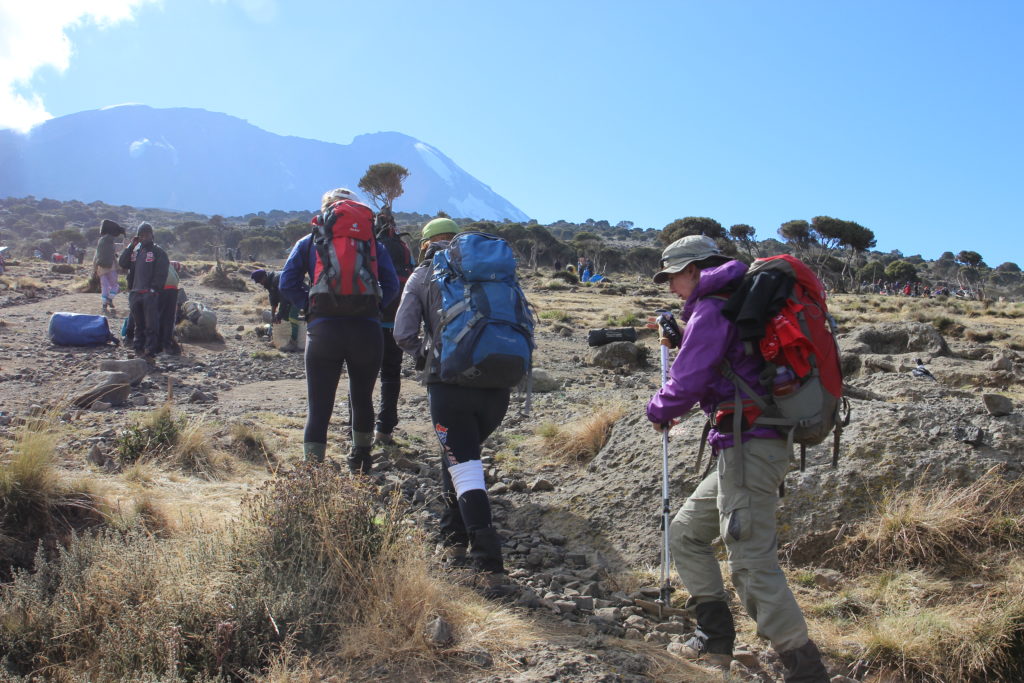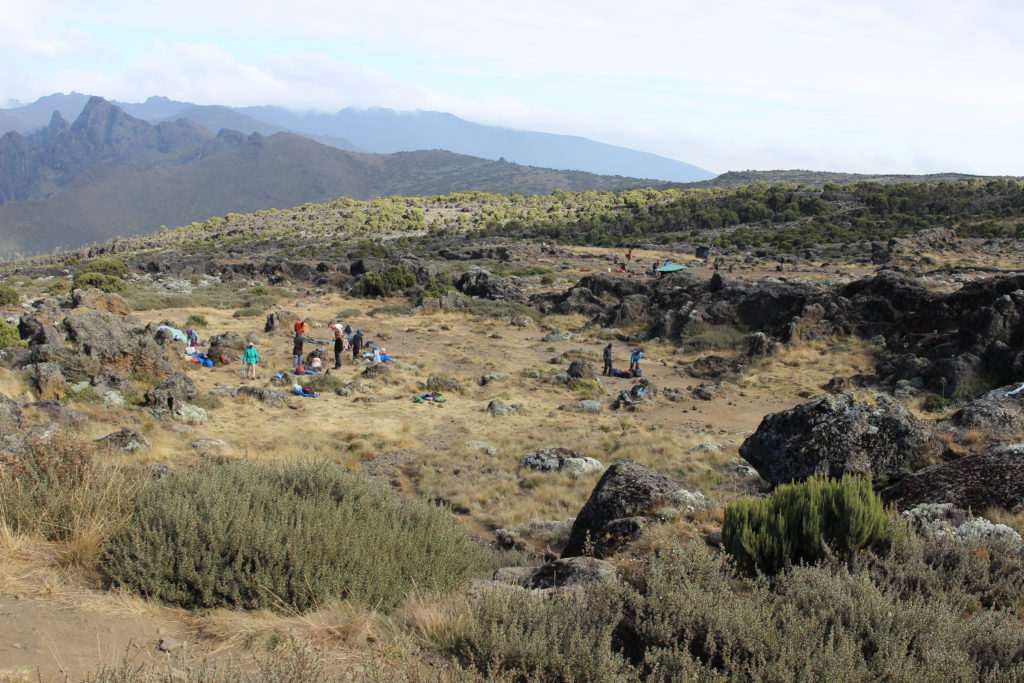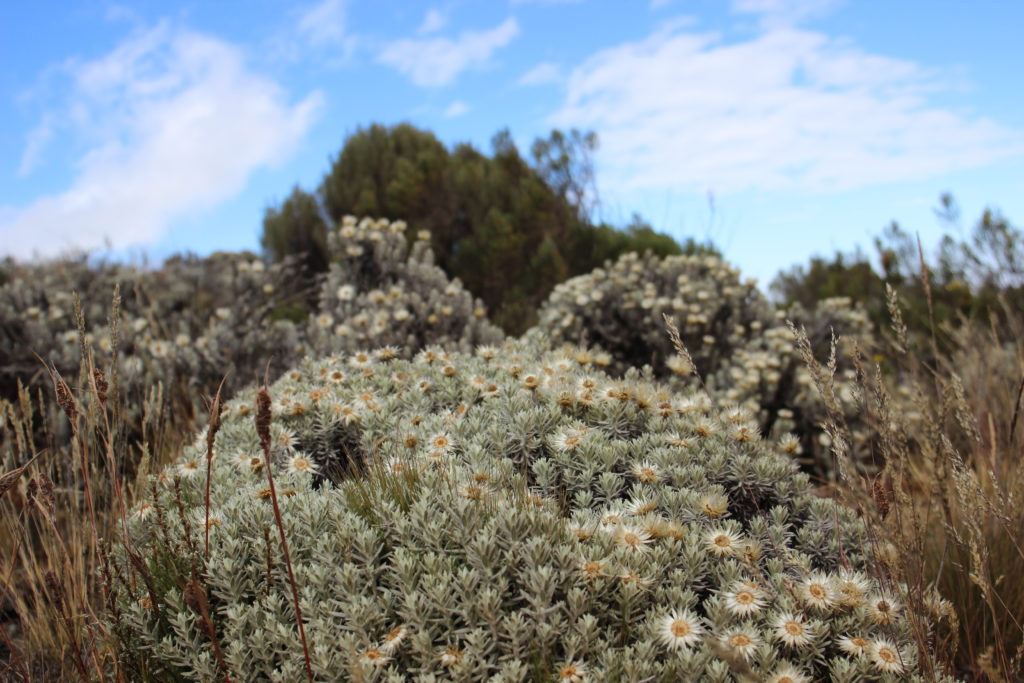 We headed out of camp with Amiri leading. It was a very long gradual uphill hike to Lava Tower. We would ascend 785 m today in about 7 km. The trail was well graded with a few small ups and downs but we never faced a very steep section. The lack of trees at the altitude we were hiking afforded excellent views of the mountain but made it difficult to judge distances. The trail was easy to follow but had become braided in many places where hikers had diverted from the main trail, probably to pass other hikers. With the thin soil and harsh climate it is easy to destroy the vegetation and difficult for the plants to come back and regrow.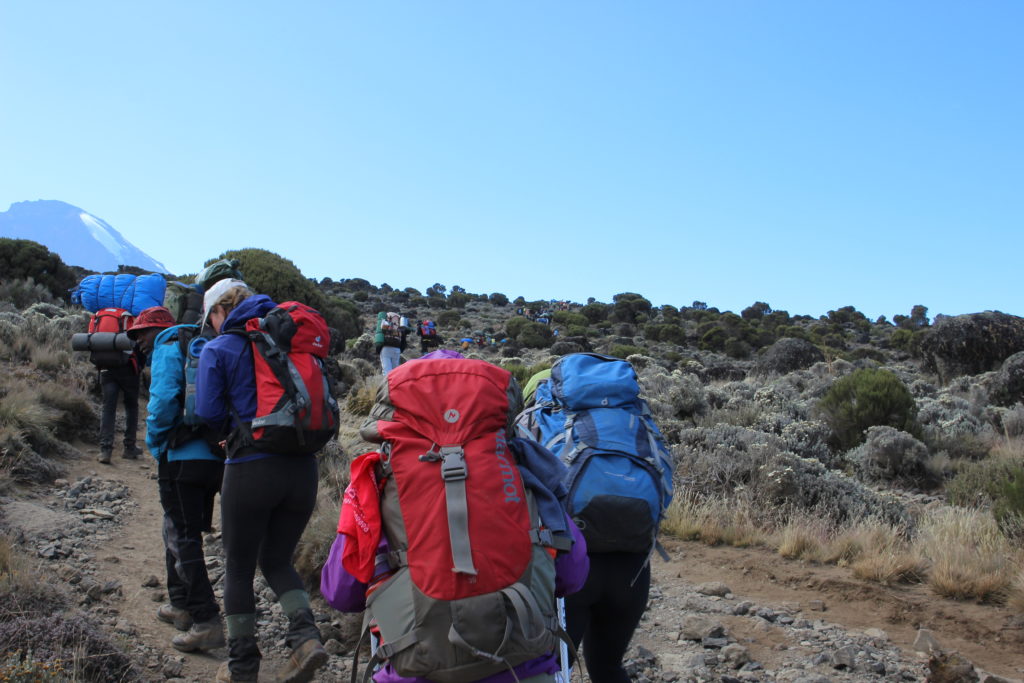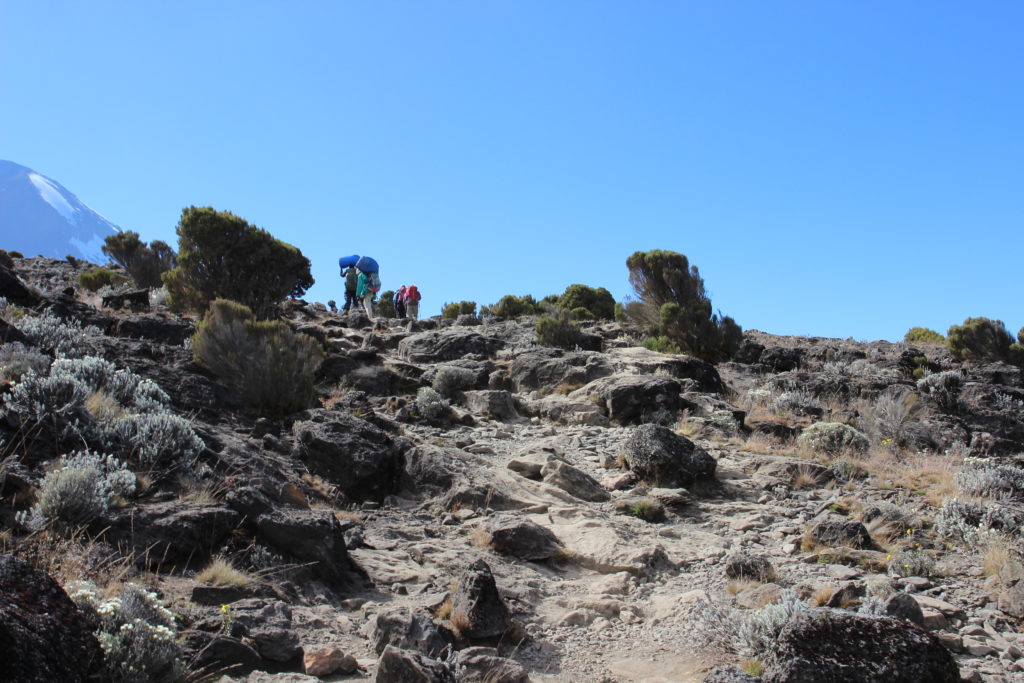 This was a difficult day for me. The hiking was pretty easy but something was not agreeing with me and I has having to frequently find a private place behind some rocks. Luckily my discomfort only lasted for one day. With the help of the antibiotics I started the next day back to normal. Luckily I had no issues with my energy level and was able to keep up with the group. Micah felt that the lava rocks made for a somewhat monotonous hike (they were still not feeling well), but we did come across a new plant that looked a lot like very large banana growing out of the ground, the lobelia deneckii. The lobelia deneckii is an amazing plant to look at but exists only within a narrow altitude range on the mountain, between 3800 m and 4300 m.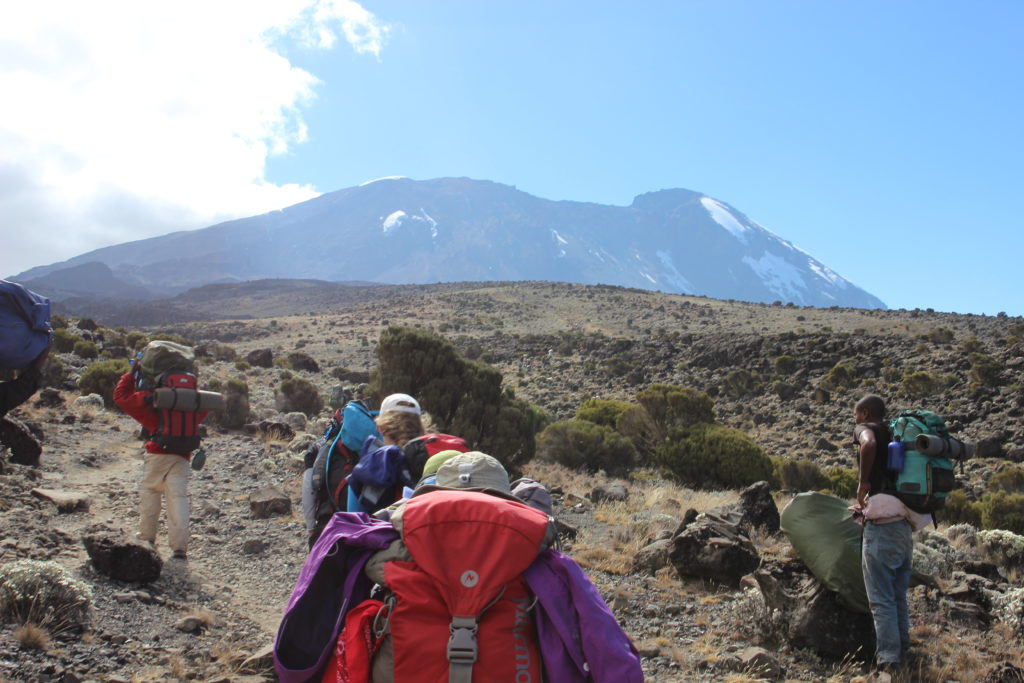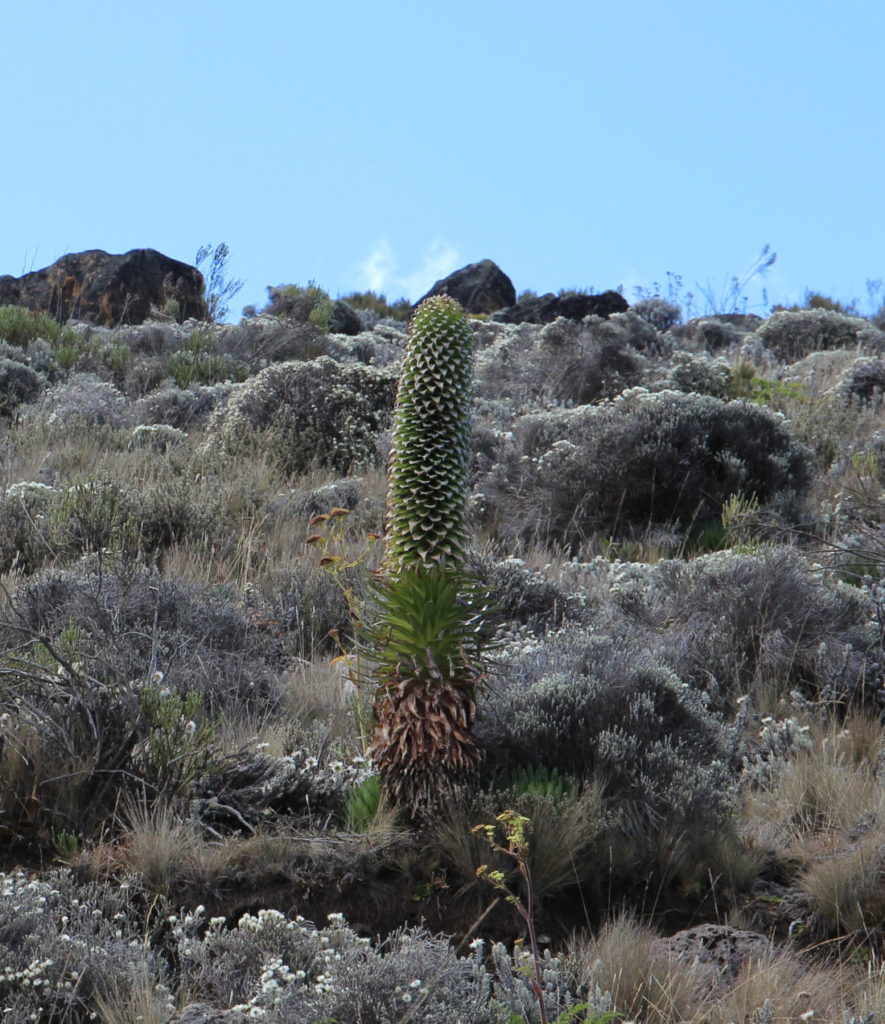 We continued on up, up, up the trail, weaving in and out of the lava rocks. The vegetation thinned the further we hiked. We started the day at 3845 m and the Alpine Desert zone begins at just 4020 m, so somewhere along this climb we transitioned to the desert environment; my best guess is that it was just before 11 am or after 2 hrs of hiking.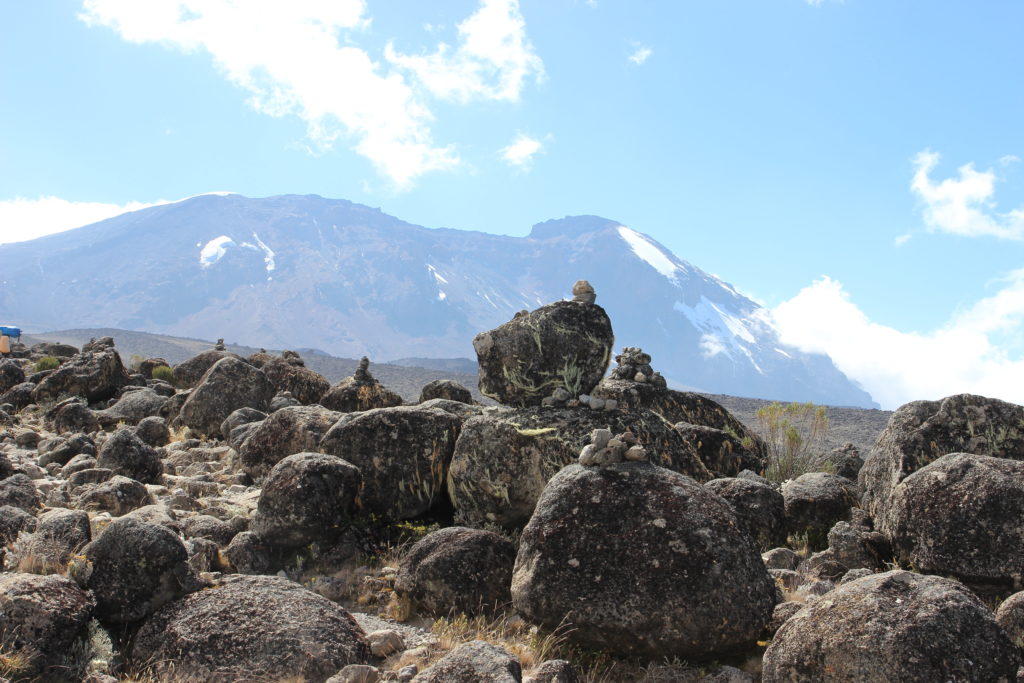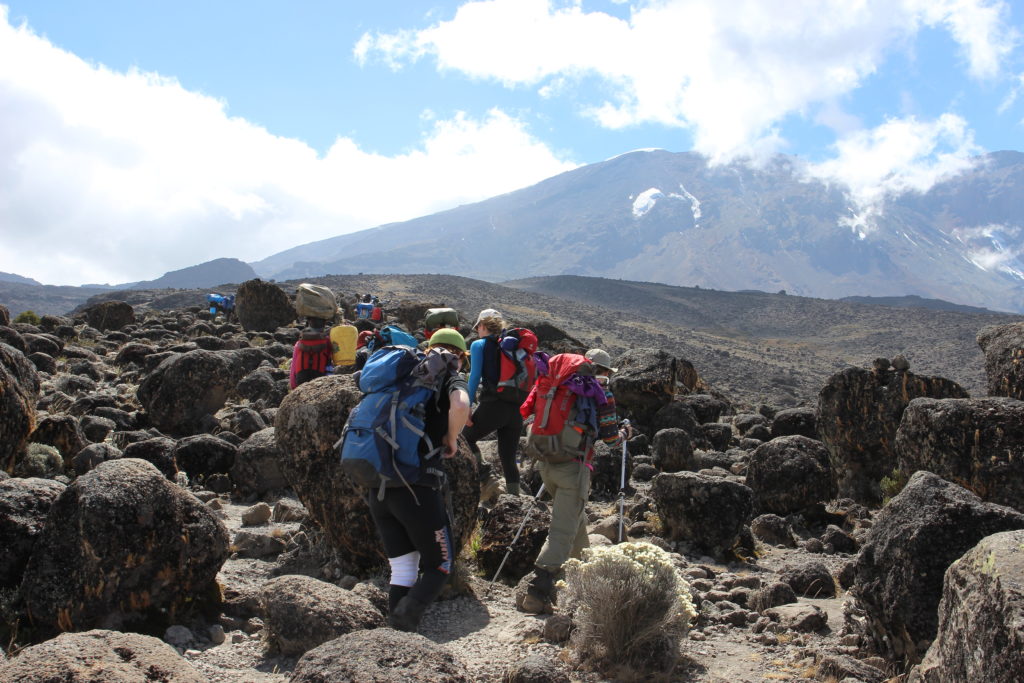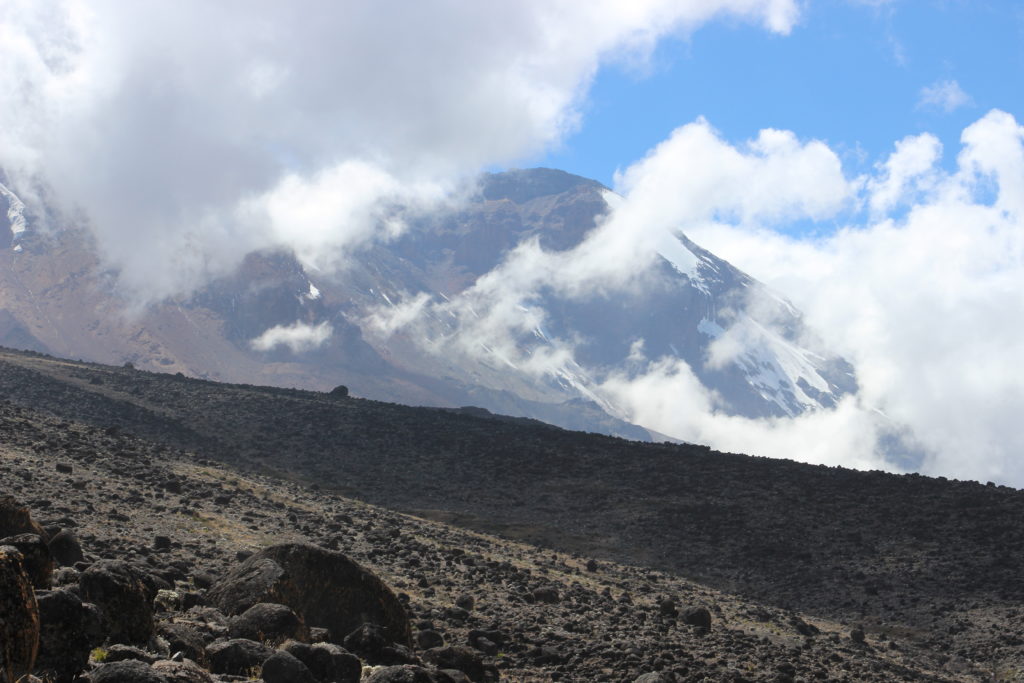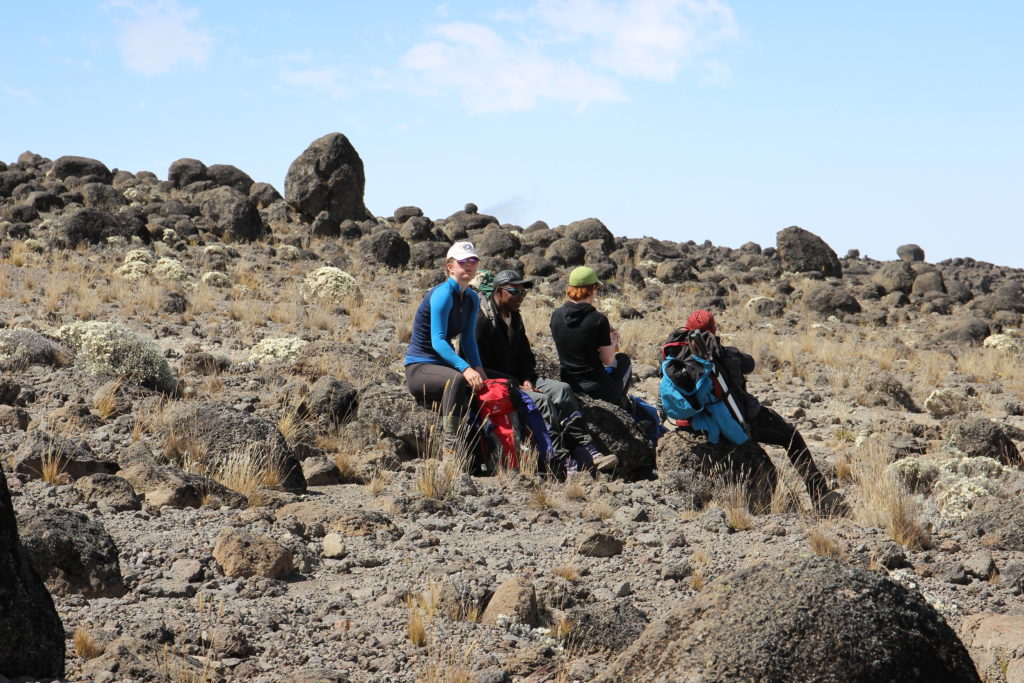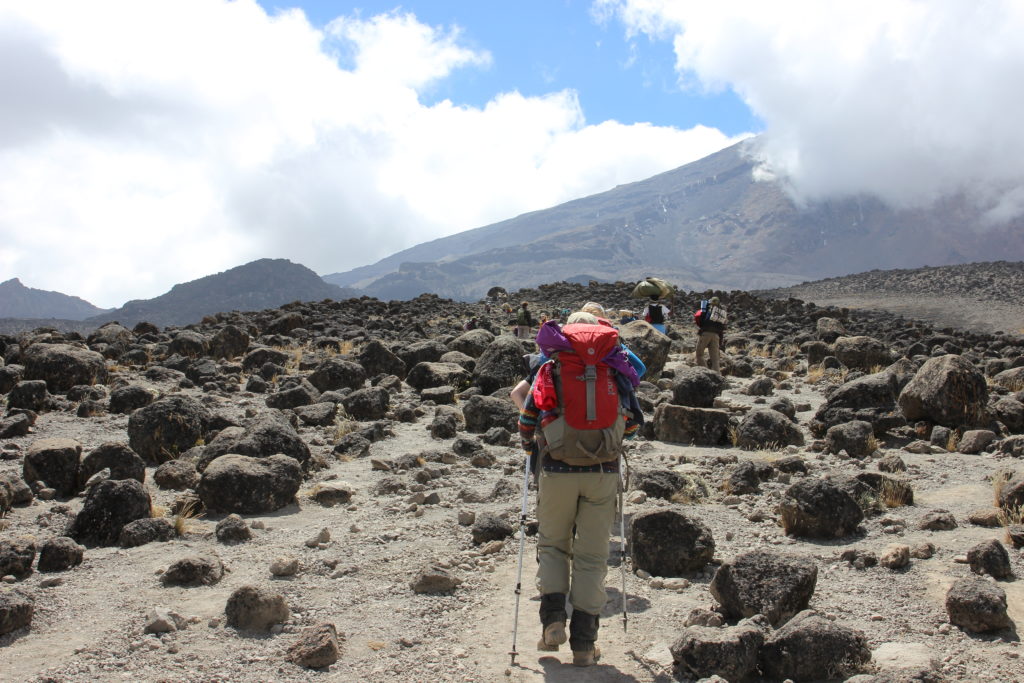 The Alpine Desert zone has been described as harsh and windy. This was a very apt description for our trek today. The rocky, barren landscape was almost devoid of colour and the wind was free to blow from any direction. Our weather was not fantastic, with a very busy and cloudy sky, but we had very little wind. I could easily imagine very tough, windy days on this section. Temperatures in this zone are limited to a high of just 15C during the day and lows ranging from 4C all the way down to -12C at night on the coldest days. Precipitation drops to just 200 mm per year in the alpine deserts of Kilimanjaro.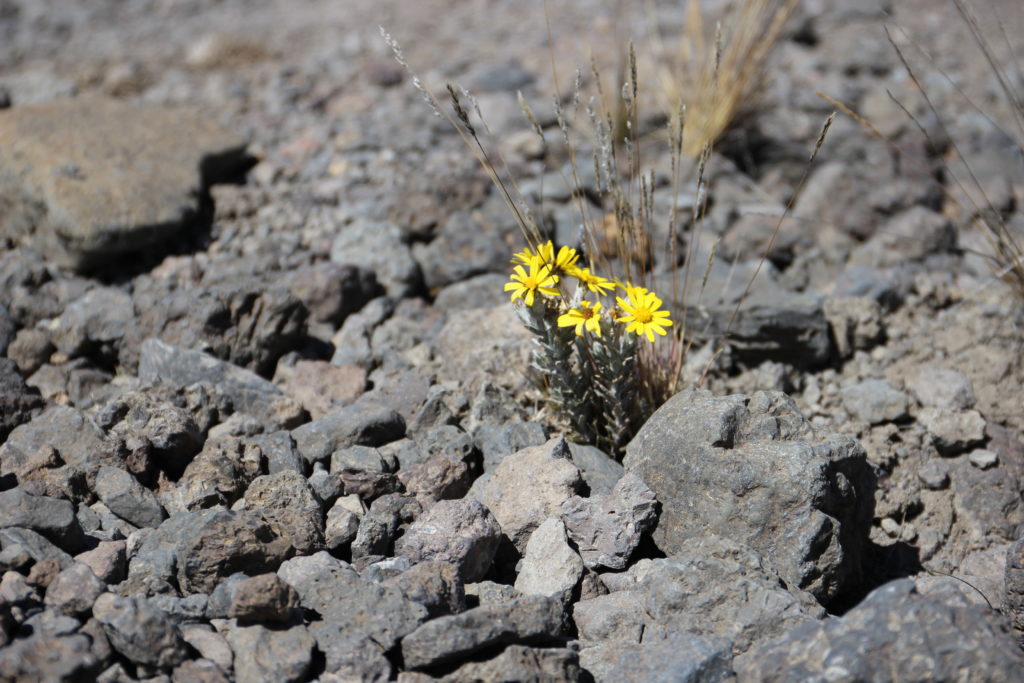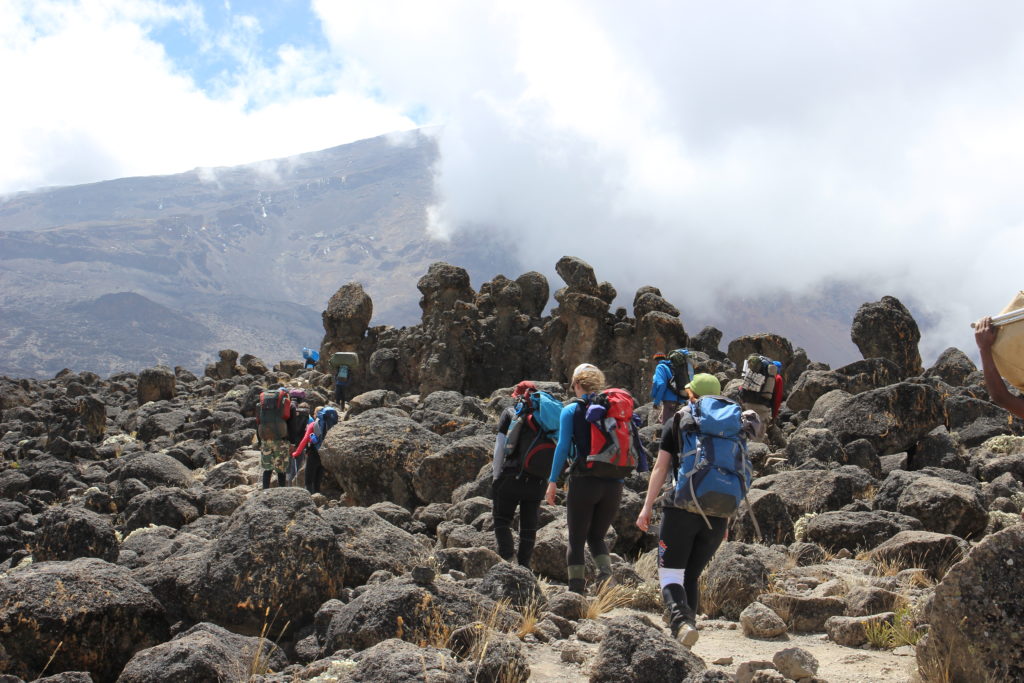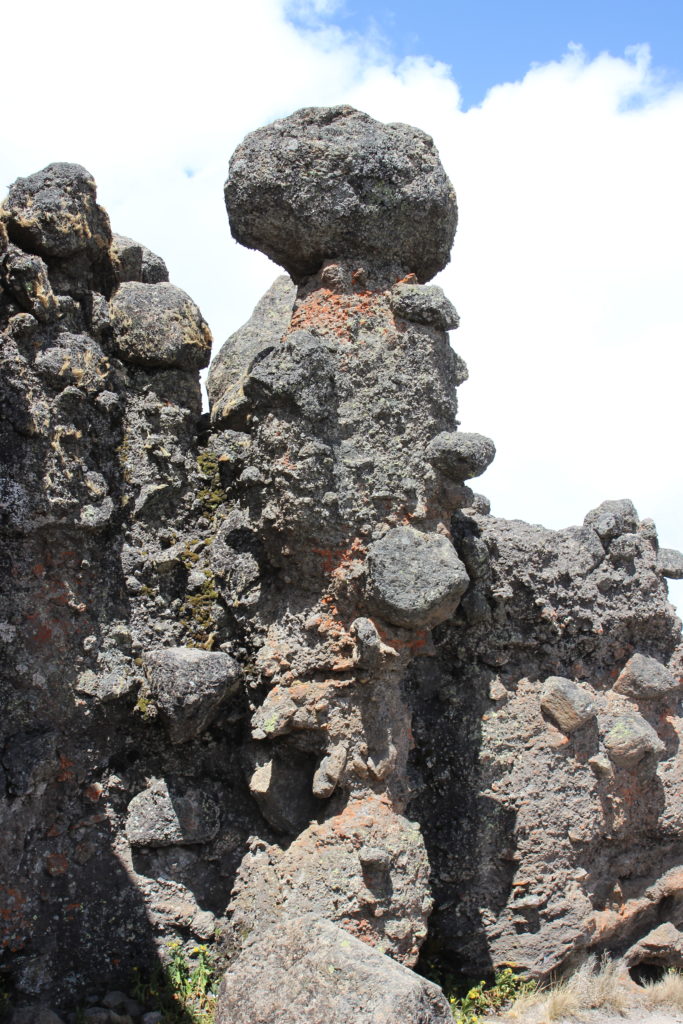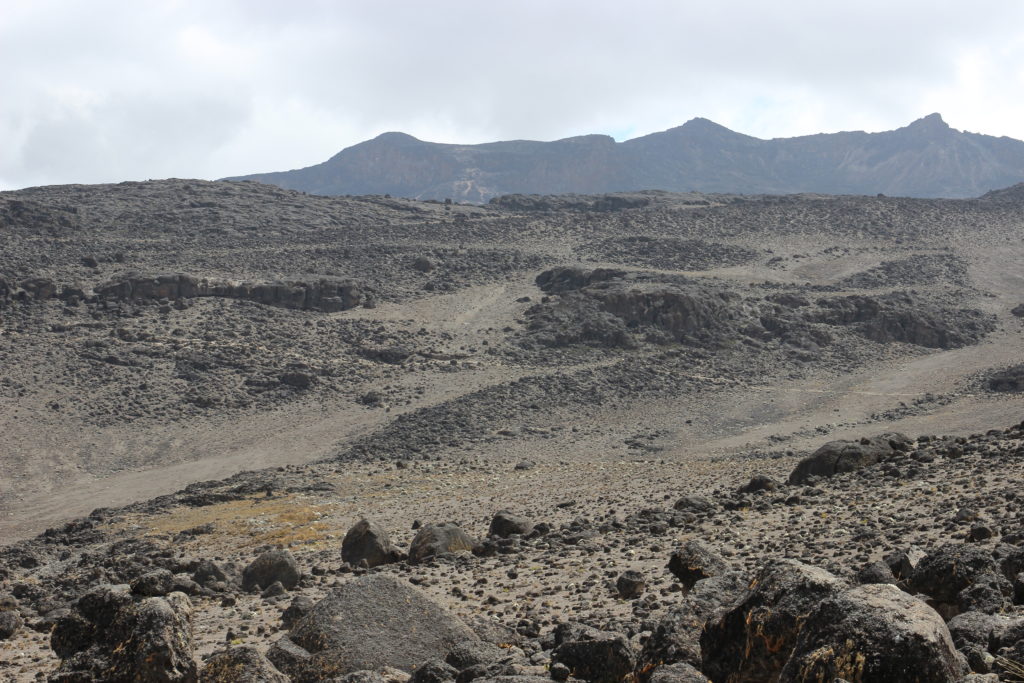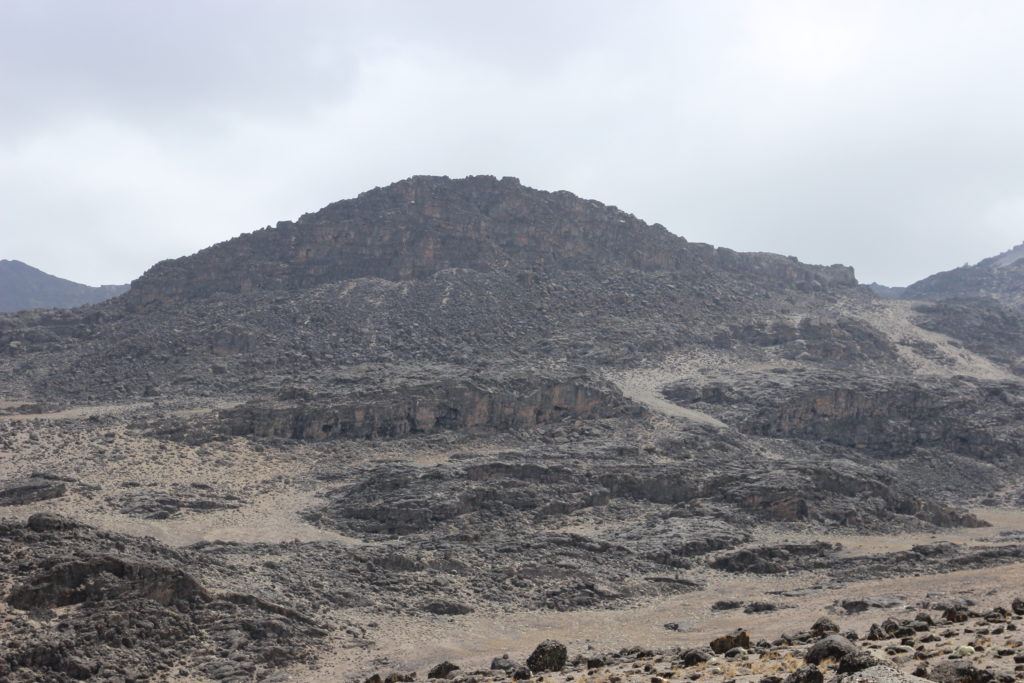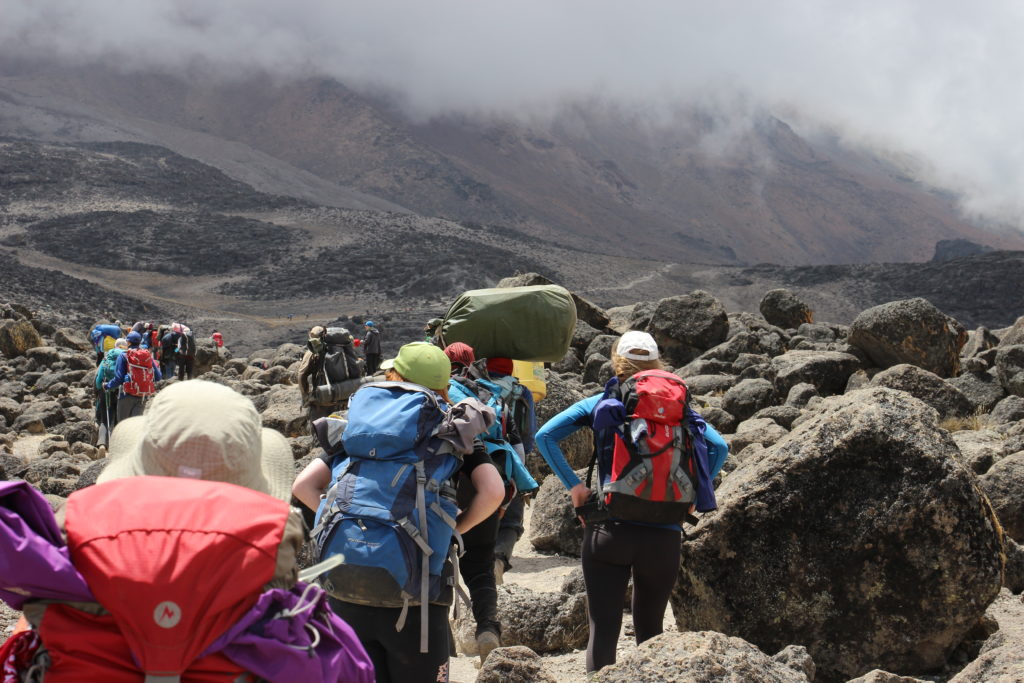 We joined up with the Shira Route and hiked east through a moon-like landscape. The long dusty trail made this section seem very long. It took just over an hour to reach Lava Tower from the junction. We grinded our way to the base of Shira Tower, and it was 12:30 pm when we took our group photo.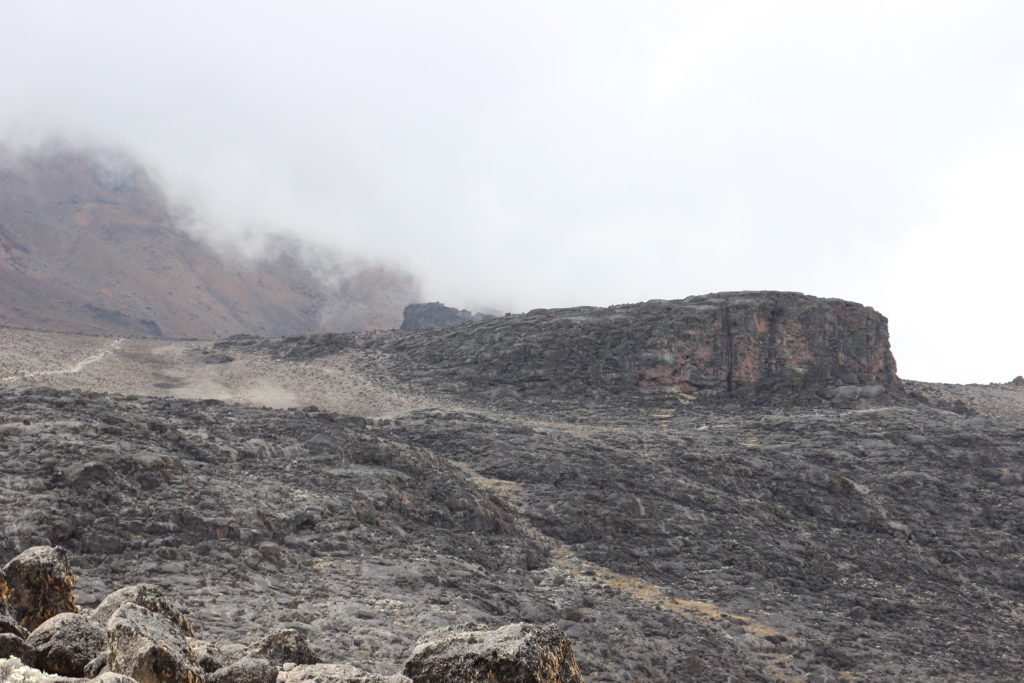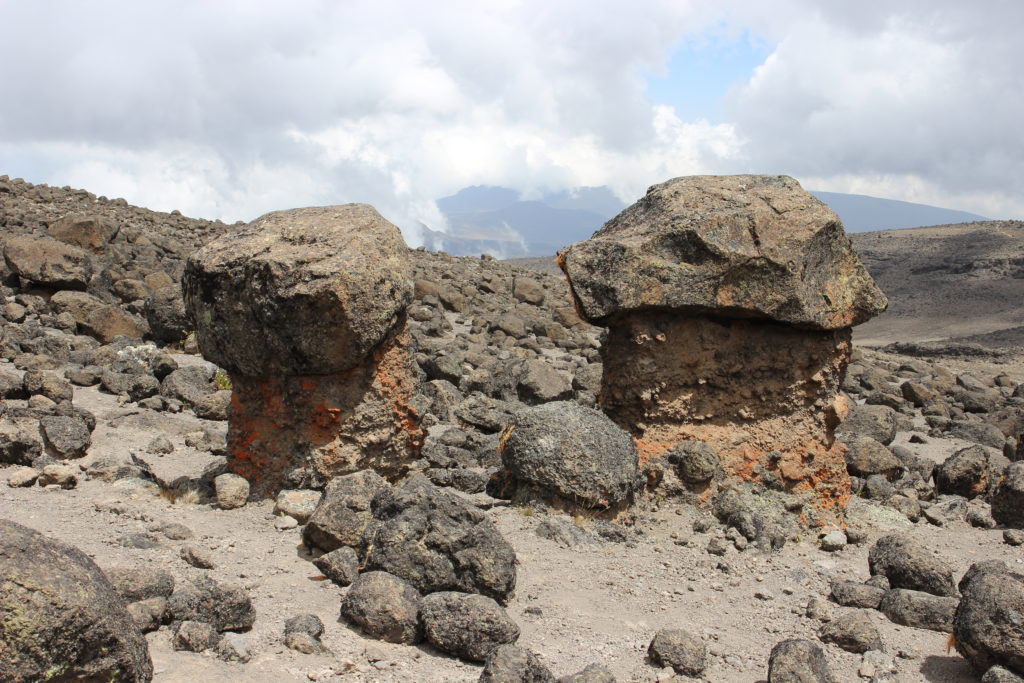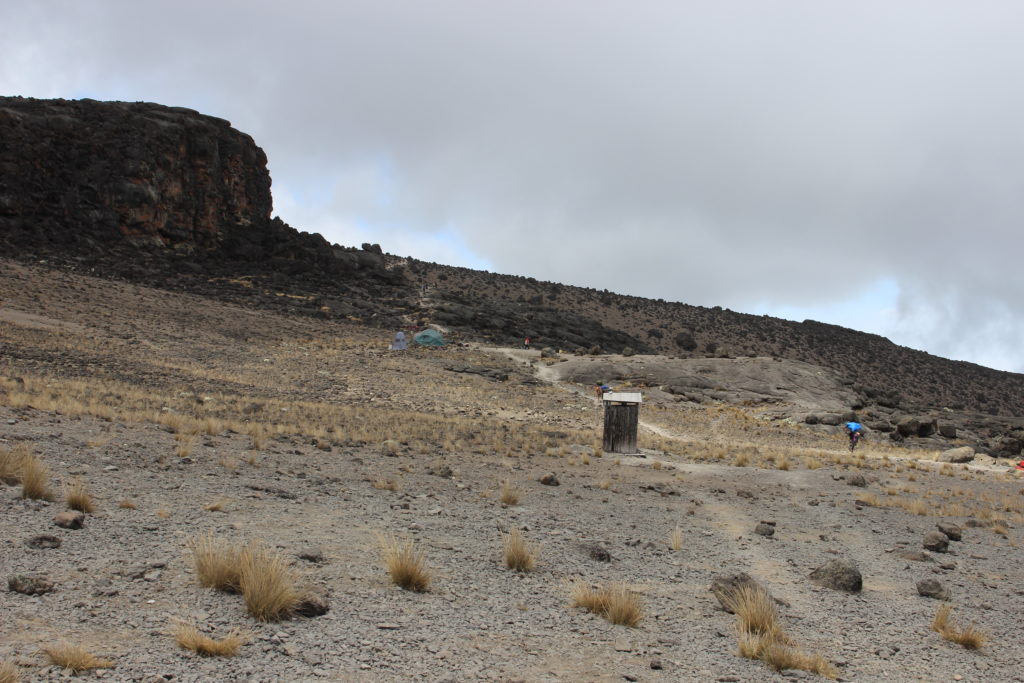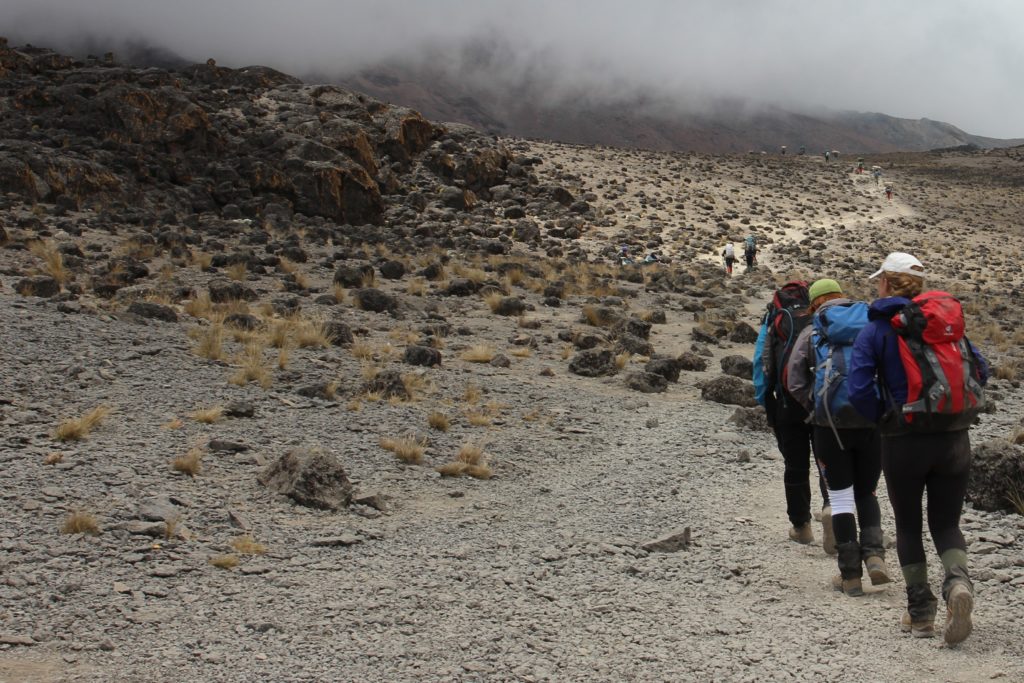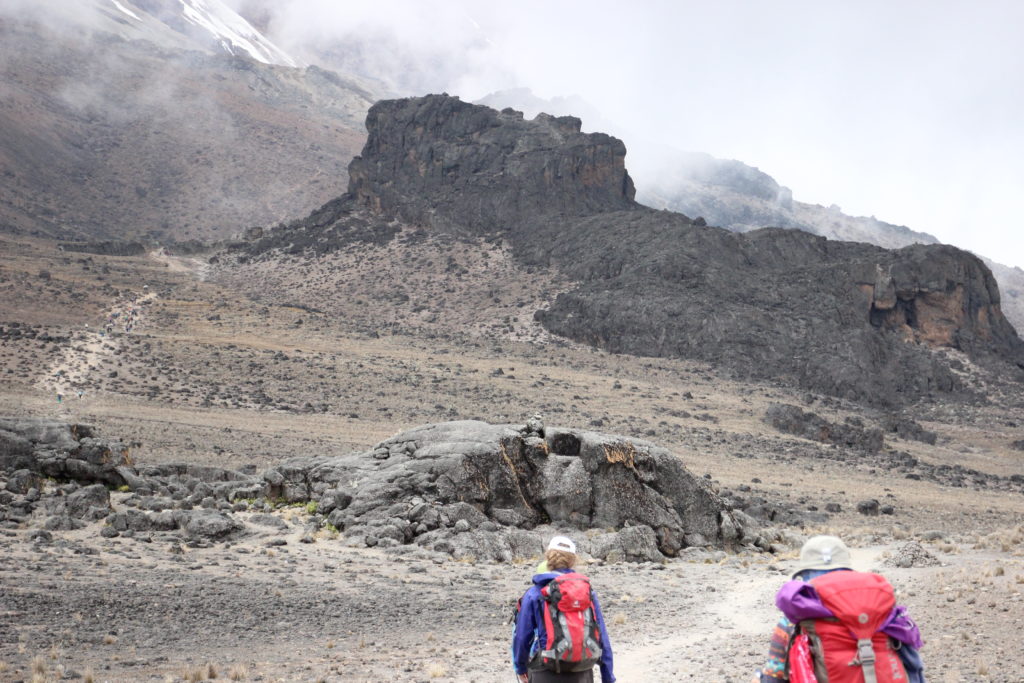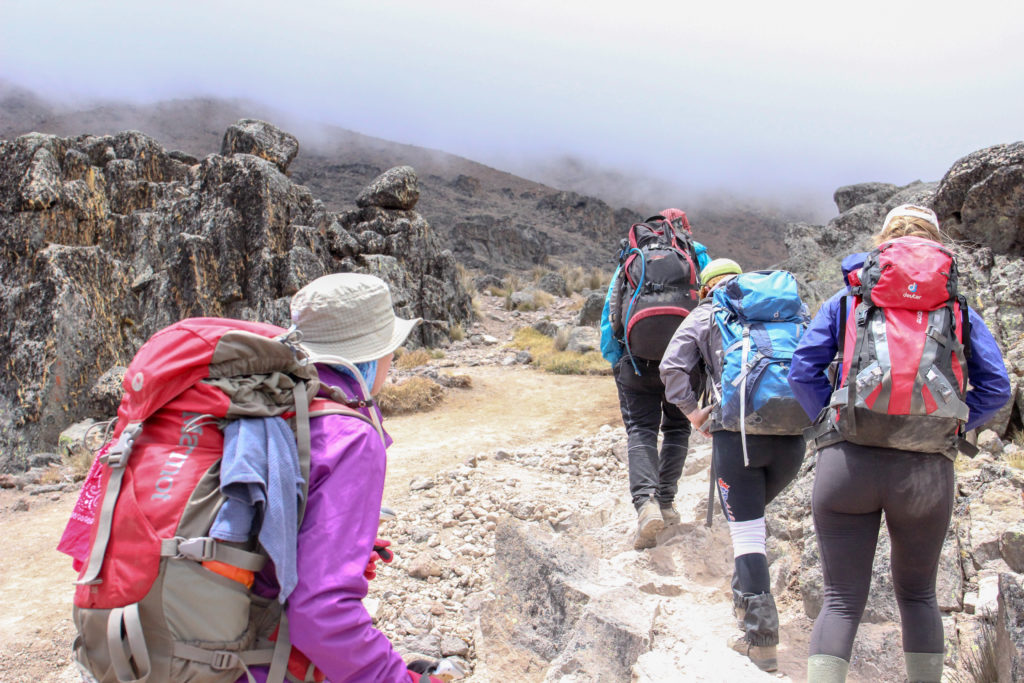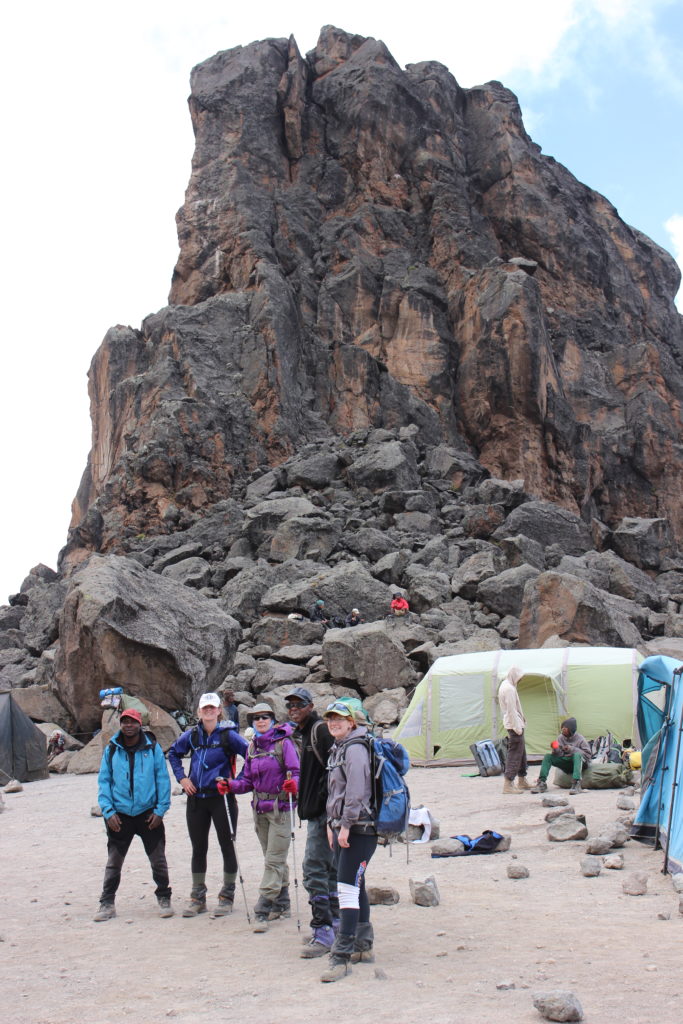 The purpose of visiting Lava Tower was altitude acclimatization. The intent was to have lunch and hang out for an hour or so. The guides were checking to see how we would react to being at altitude. We clambered around the rocks and perched ourselves into little nooks to eat lunch.
The weather, however, does not always cooperate when hiking. The clouds rolled into the lunch area at Lava Tower and the temperature quickly dropped. (Micah described the temperature using more colourful language in their journal). It was decided after just 35 minutes we would abandon our lunch spot. Laura wanted to use the available outhouse and in her haste she decided to jog across the small plateau. She arrived at the outhouse heart pounding and thoroughly out of breath due to the altitude of 4642 m (15,230 ft) at Lava Tower. This was a good little reminder of why the hike up Kilimanjaro is so challenging; the lack of oxygen makes everything difficult.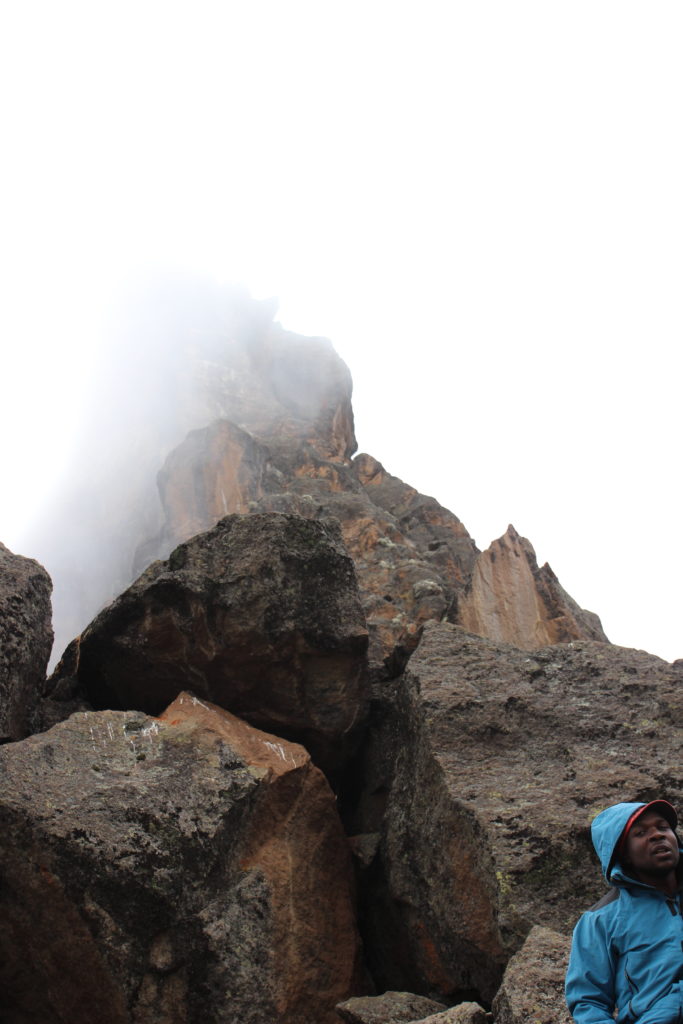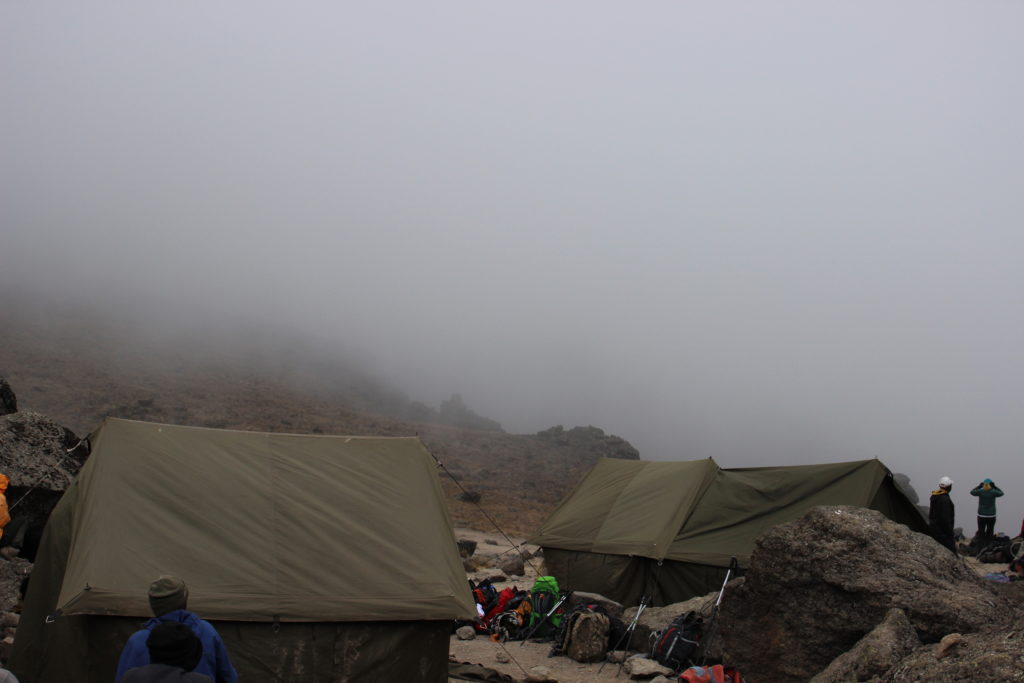 Once Laura returned we fled Lava Tower. The initial trail was very steep as we dropped quickly to the plateau below, where the trail mimicked the earlier trail but gently descending instead of ascending.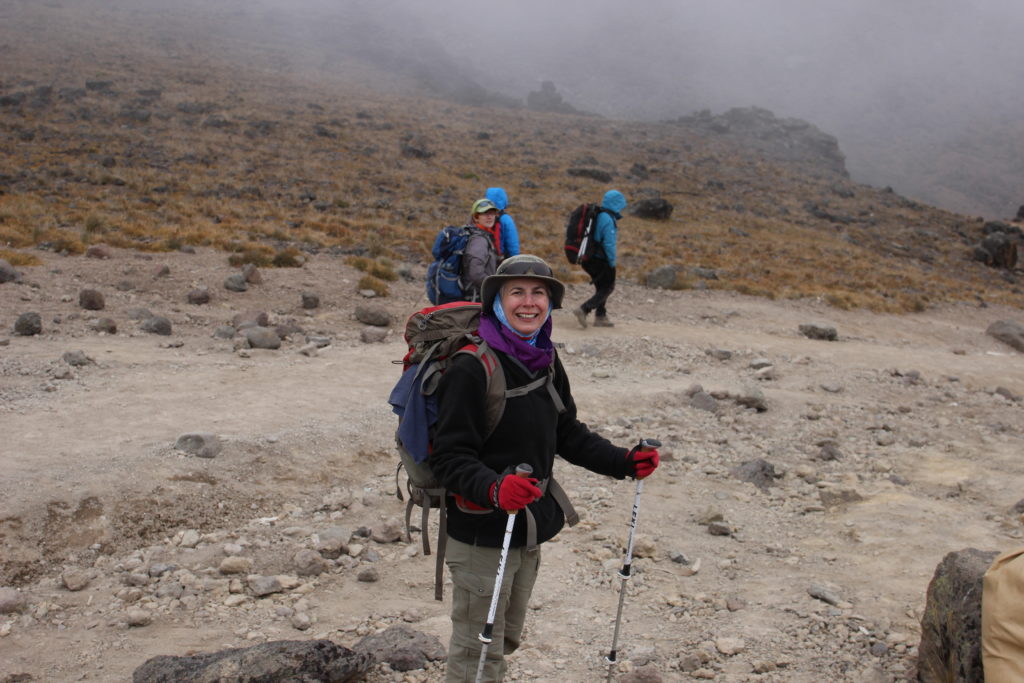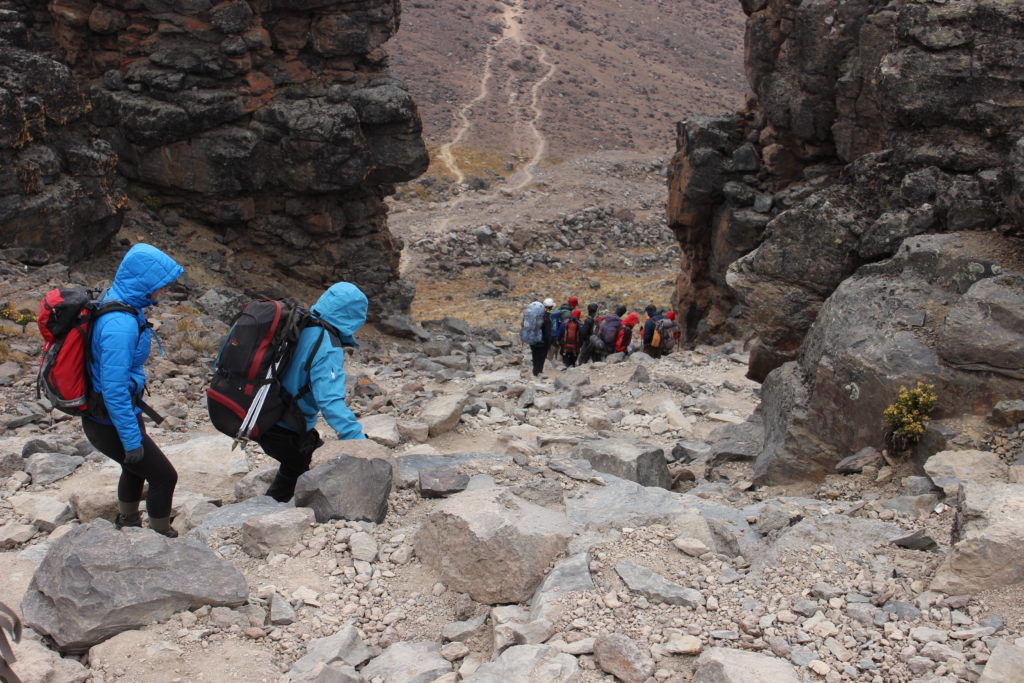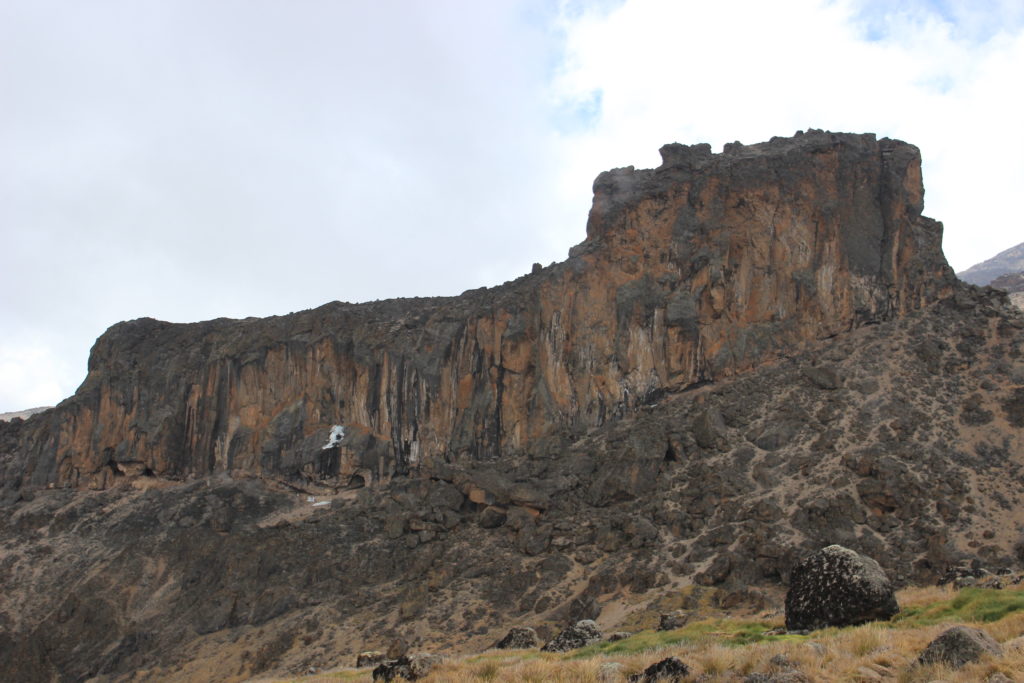 We hiked through the desert landscape for a bit over an hour, gradually descending through the rocky landscape. Amiri led us down, setting a quick pace that Laura and I were unable to keep pace with (we both have one wonky knee). August continued to descend with Laura and me, which is why there is always one guide per two hikers on the mountain. After a little while we came across Micah, who was still not feeling 100% and wanted to hike at our slightly slower pace. The clouds rolled in, removing any possibility of views of the mountain. The hike continued to be a bit of a grind as we worked our way down the mountain towards Barranco Camp.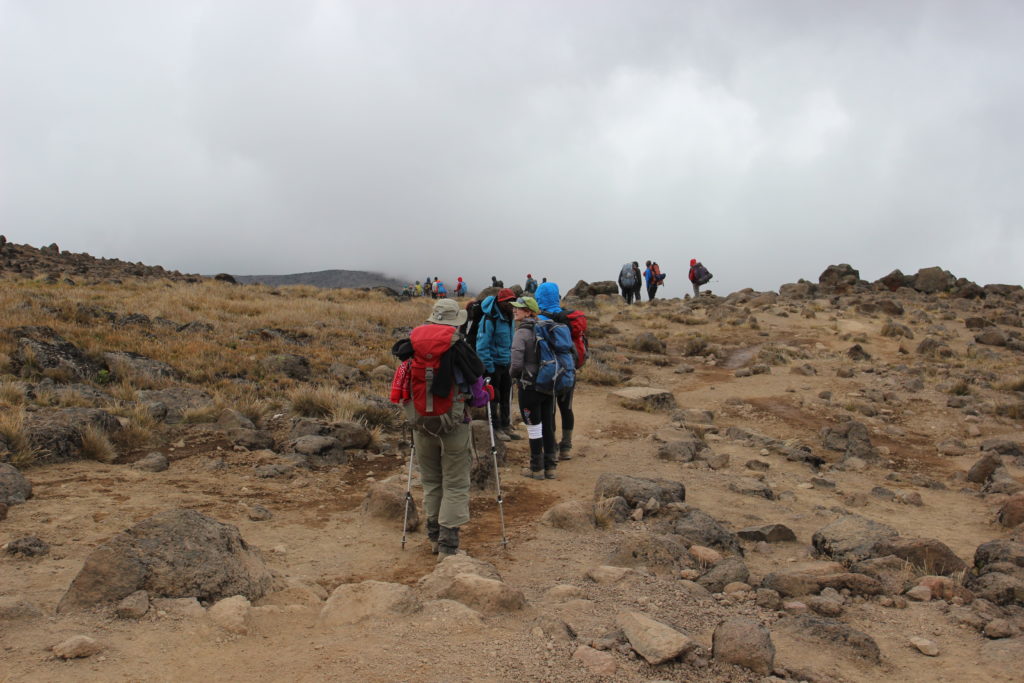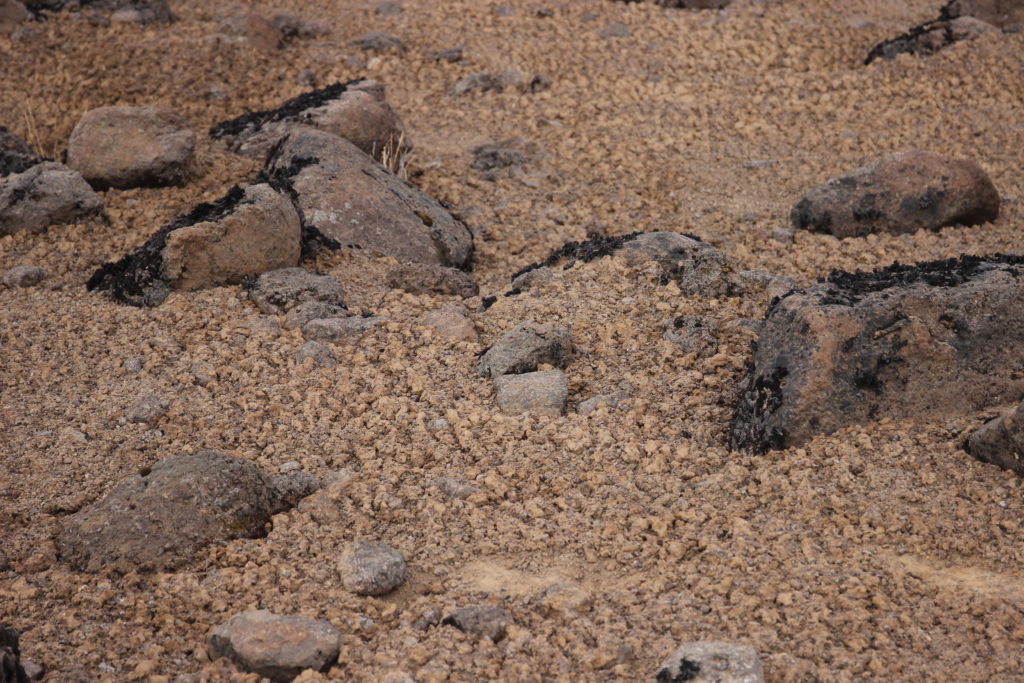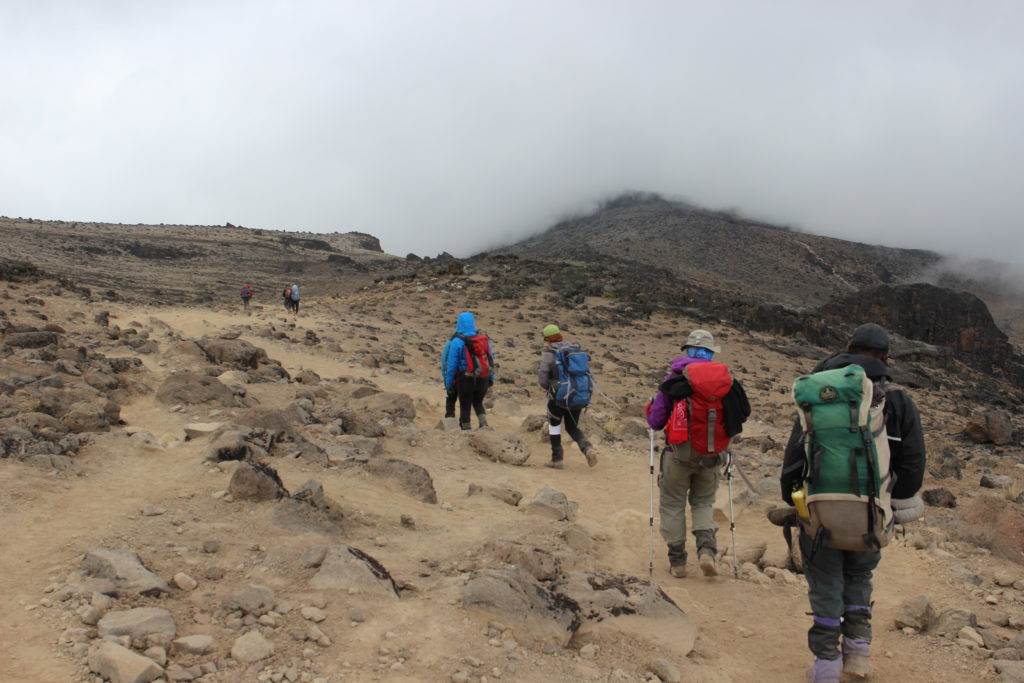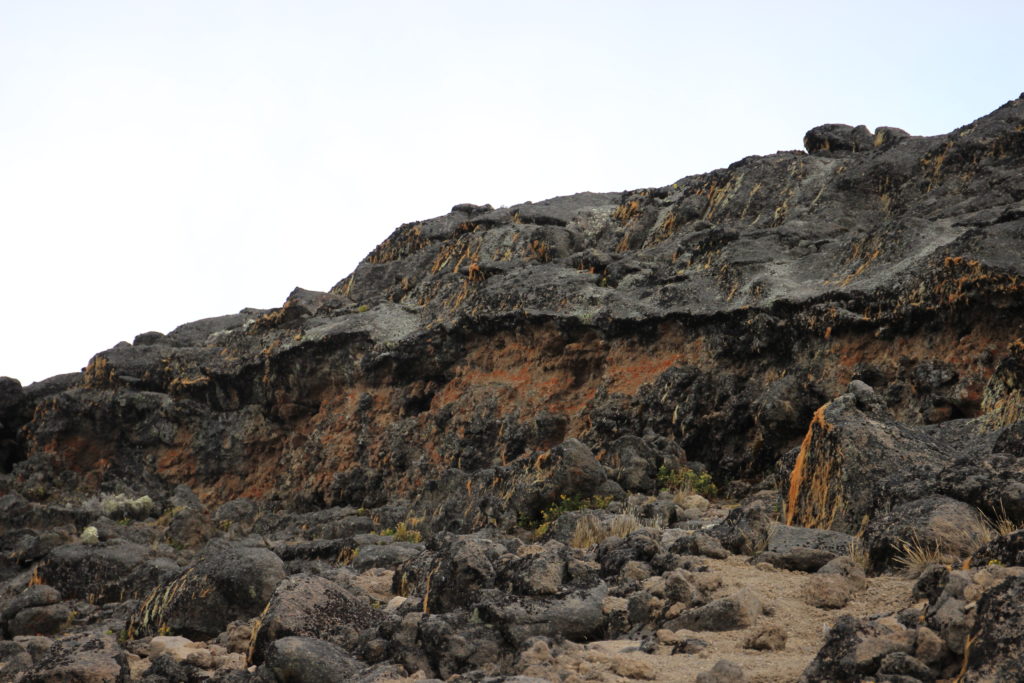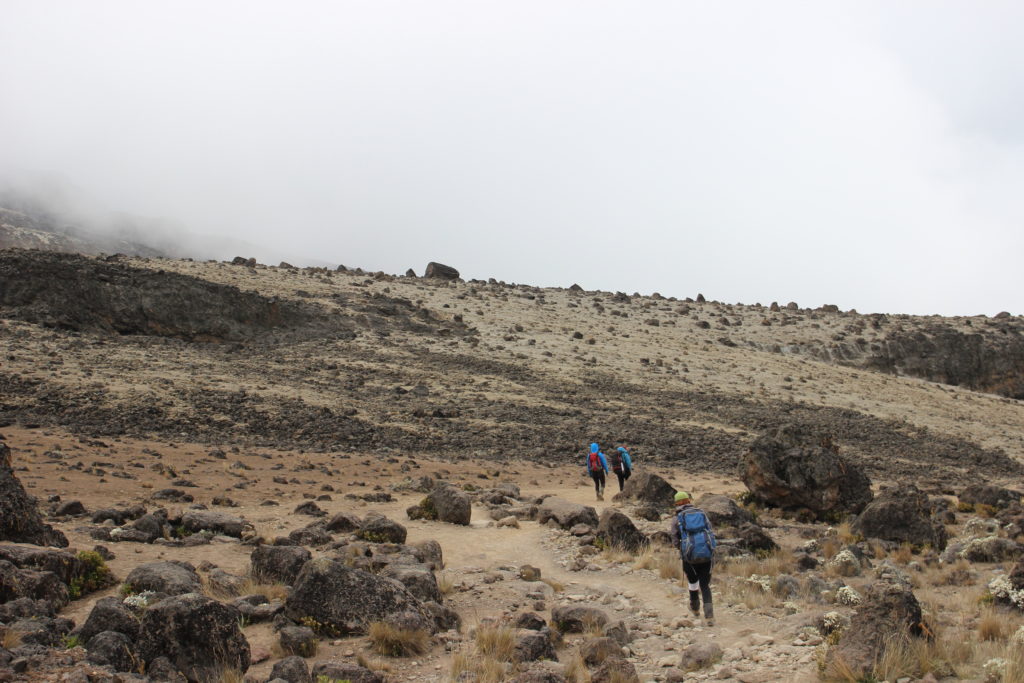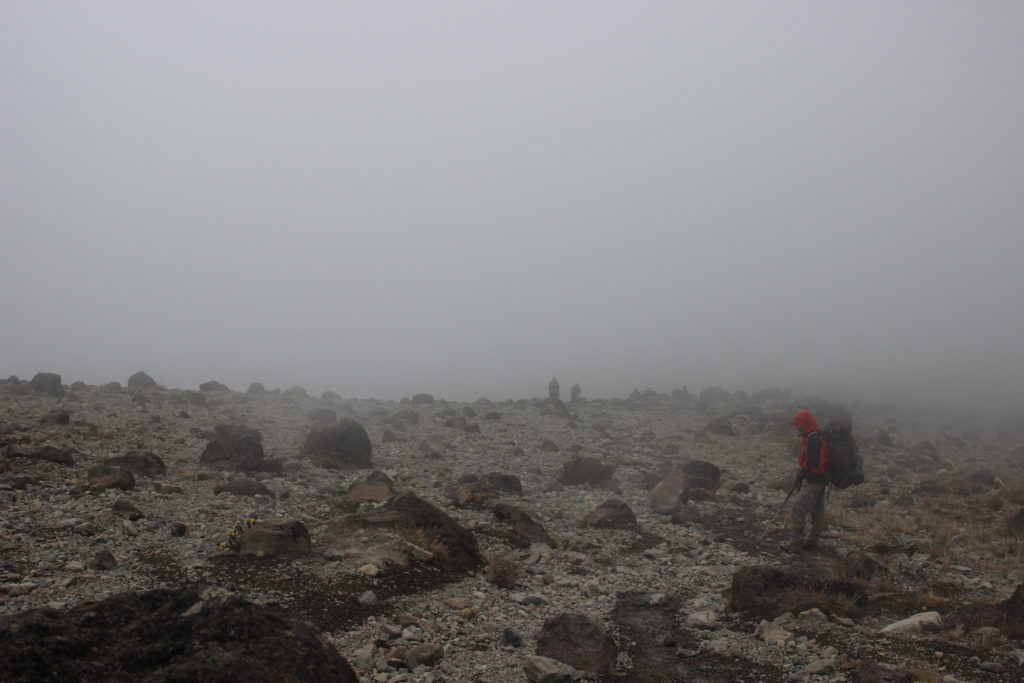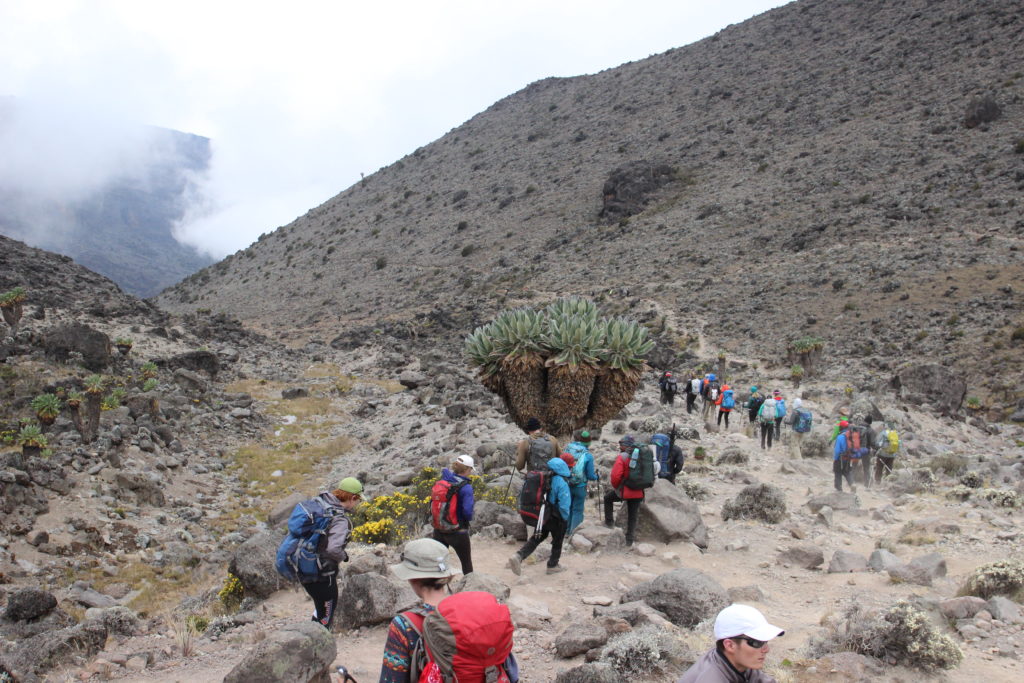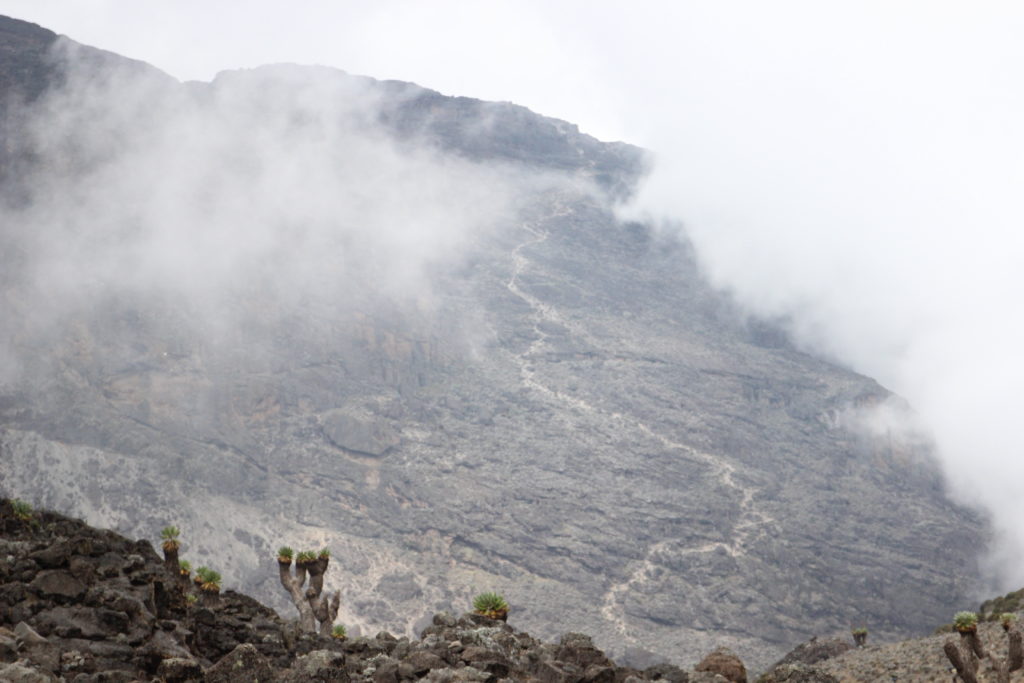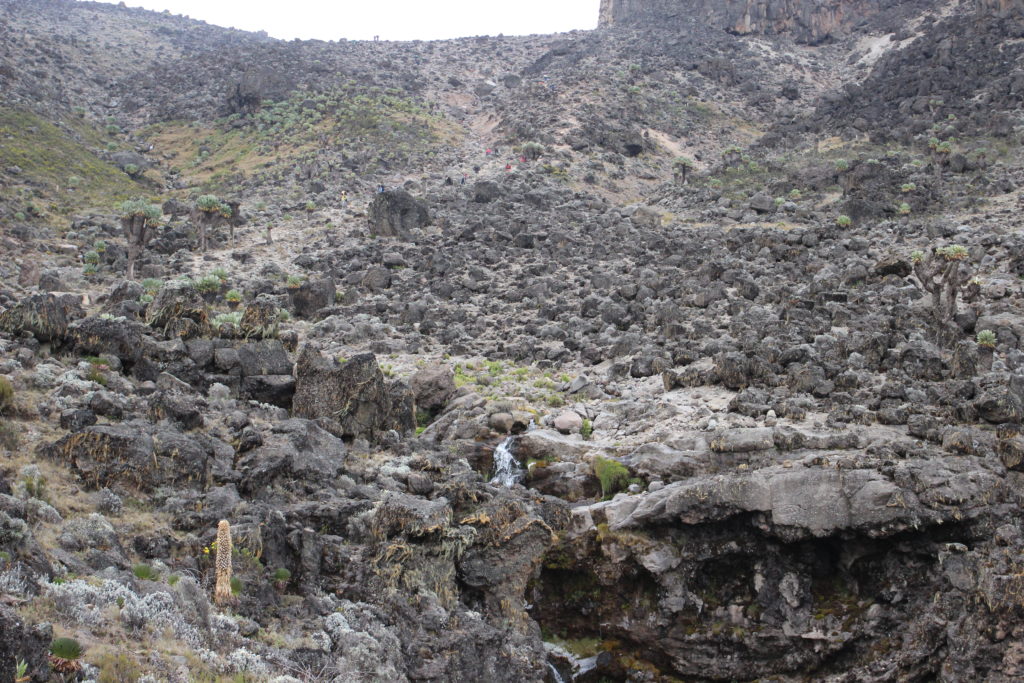 As we approached Barranco Camp the vegetation increased. There were small forests of Giant Groundsels and the ground was covered in grasses and small shrubs. Giant lobelia deckenii dotted the landscape. Barranco Camp was located at 3940 m on a small plateau above a steep cliff. The upper limit of the Moorland Zone is 4020 m so we were just at the upper limit of the Moorlands. We arrived in camp 5 hrs 45 minutes after we had left Shira Camp. As my stomach had not been happy all day this was definitely the hardest day of the hike for me.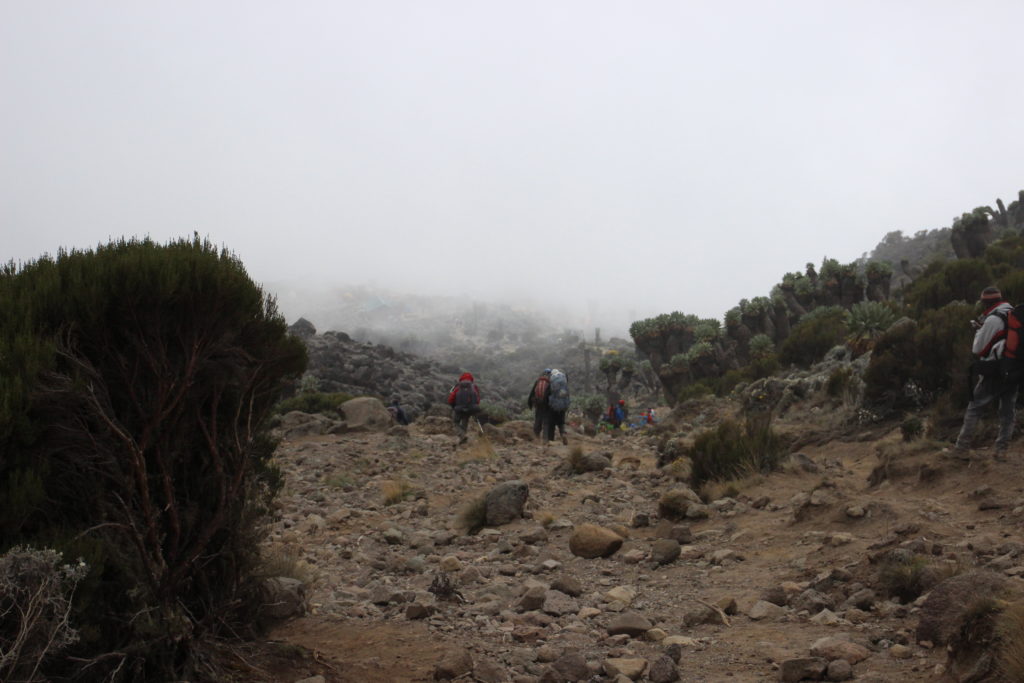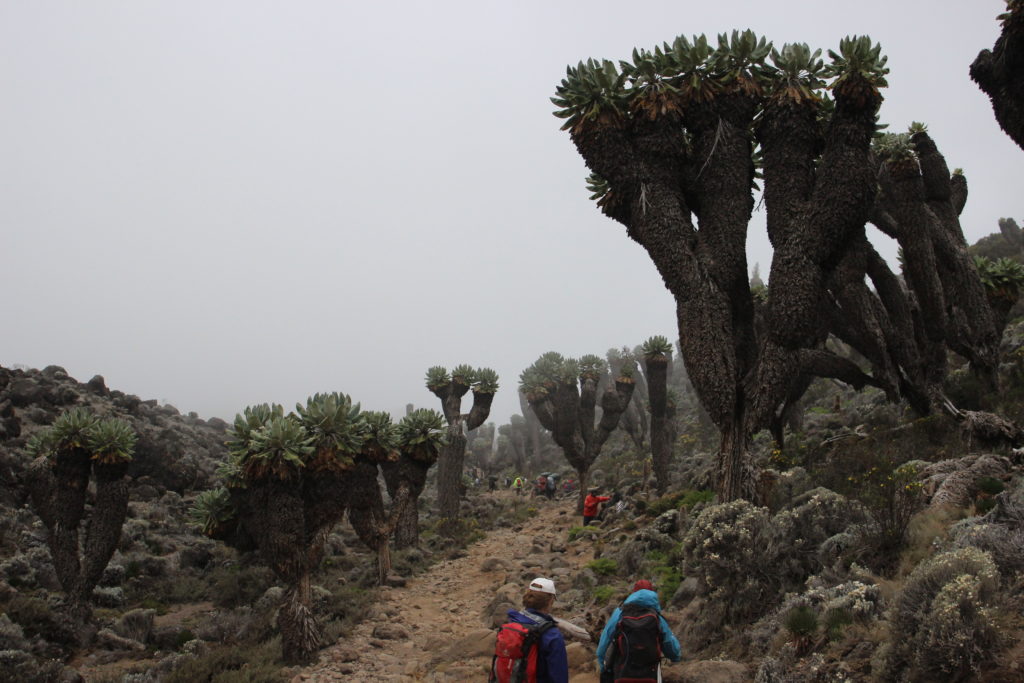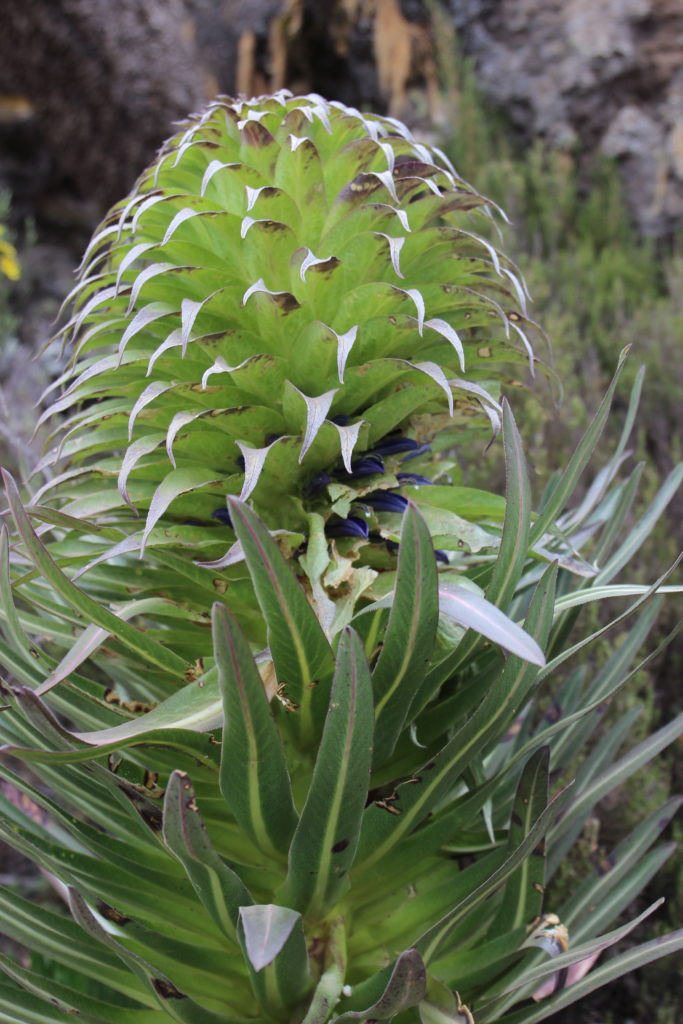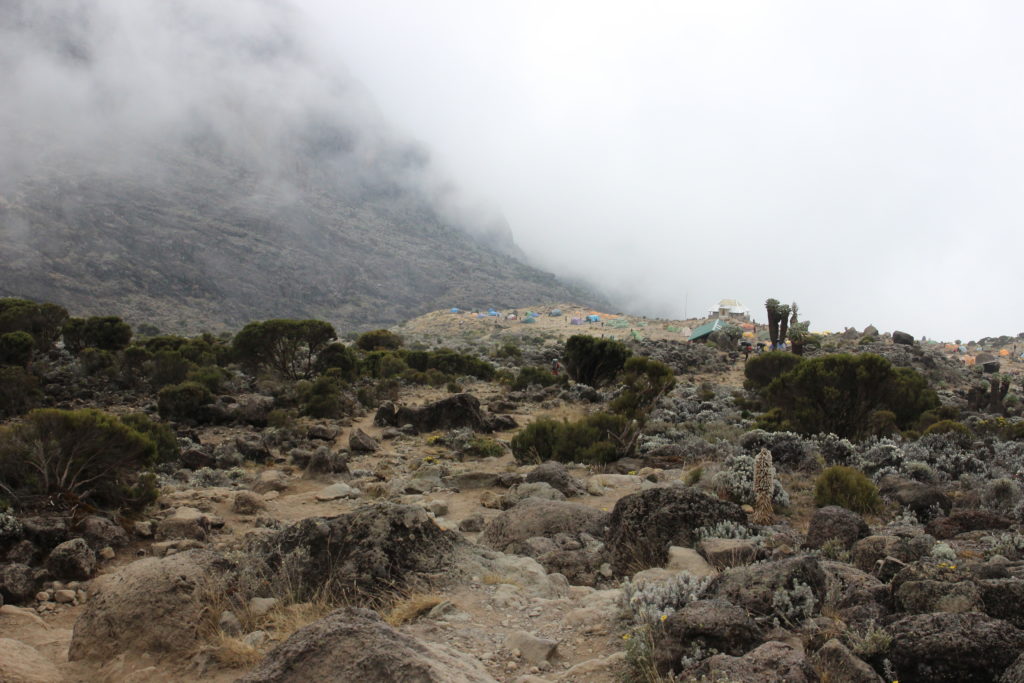 We washed up with some hot water; it was amazing how refreshing just washing your feet can make you feel. We had a nap and then dinner. Dinner was mac and cheese bolognese with spinach soup. It was interesting: before today there had been no talk surrounding how we would summit Mount Kilimanjaro. Now that we had gone over Lava Tower and had had no issues with altitude, talk of the summit was a major piece of the conversation at dinner, and it dominated the dinner conversations for the rest of the trip. The clouds stayed around all evening wrapping the camp in a velvety fog. We could just make out the lights of the city of Moshi far below in the distance. Tomorrow was going to be up the Barranco Wall. Hope to be feeling better.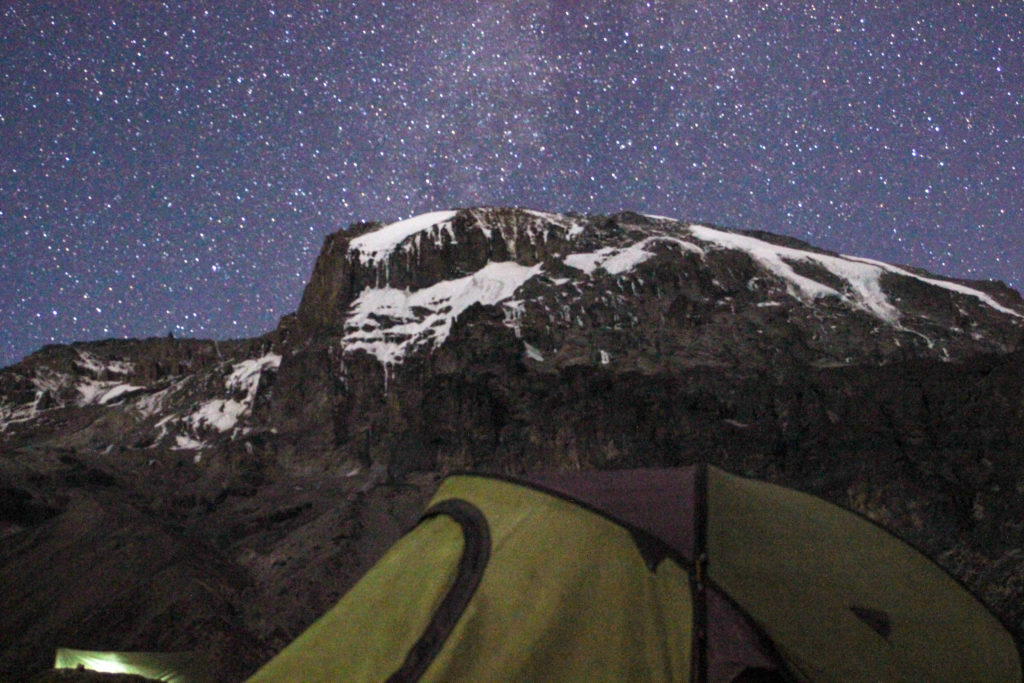 Day 4 Barranco Camp to Karanga Camp