A difficult journey.
It shouldn't have been an exciting day: land in Las Vegas, get supplies and drive to the Grand Canyon. I was already in Vegas, Micah was flying in. So I went to get our rental car from Fox Rentals. Fox was not at the rental depot, but offered a shuttle offsite. While the car turned out fine, it took over an hour to move through the very slow line to get it. This put us slightly behind schedule, as Micah had already landed, but the fun was just about to start.
Micah called me from the airport. The airline could not find our bag with all of our equipment: tent, sleeping bags, sleeping pads, first aid kit, water bladders and other items that could not be taken on the plane as carry-on. Now what to do. The airline had no idea where our luggage was; this was concerning. Normally the airline knows where your luggage is, since they have to scan the barcodes.
We had our permits for the hike, so we decided to bite the bullet and go to REI and purchase what we needed. While it was going to be expensive, after all the planning, it was the only way to proceed with the trip. Our salesperson at REI Henderson NV was amazing. He found a tent on sale and some sleeping pads that were returned and reduced in price. We also got a sleeping bag on sale. I did splurge on some hiking poles. I had not used poles regularly, but it was a purchase I had been thinking about. Micah and I each used one pole each, and by the end of the hike, we were both converts. To save money, since it is relatively warm in the inner canyon, we decided to use the sleeping bag like a duvet and share. This was not a great solution, but it did work.
Stopping in Henderson, we got our perishable food at Wholesale Foods. After these stops, we started our journey to the Grand Canyon.
Despite my long-distance hiking, walking around cities on concrete sidewalks is very hard on my knees. After walking around Vegas for the last couple of days, I woke up with a swollen right knee. We stopped in Boulder City for sandwiches, I got some ice and wrapped up my knee for the drive.
We played tourist and stopped and visited an old town along Route 66 and purchased a pink camo blanket for the trip (no idea what happened to that blanket).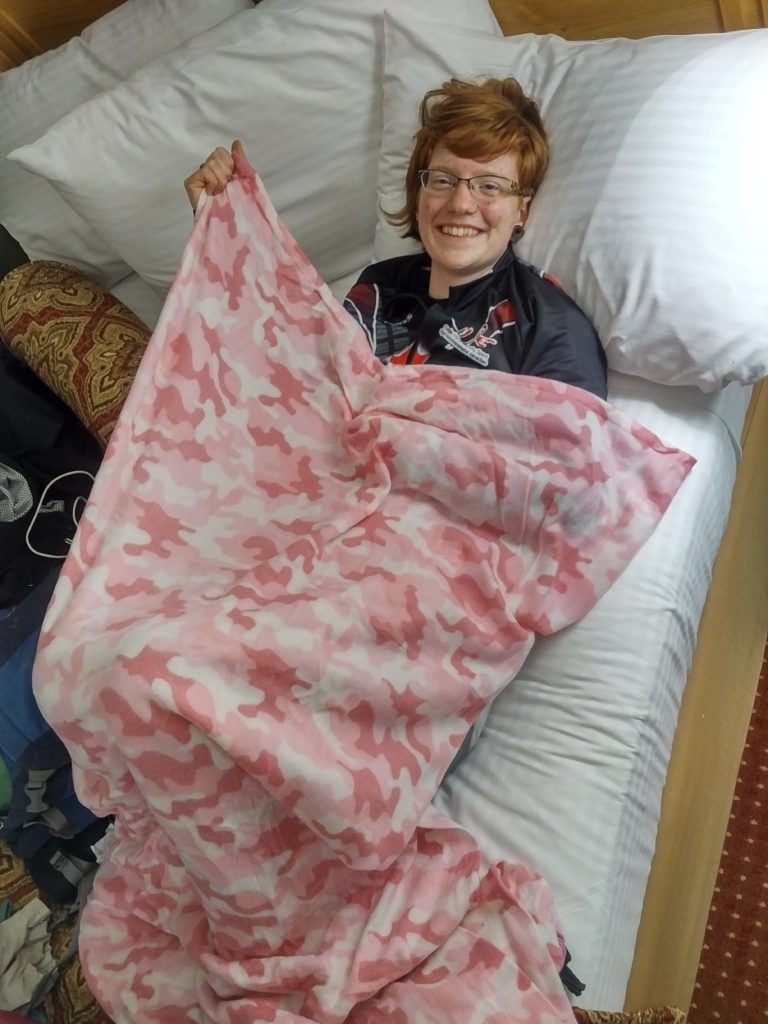 We arrived in the early evening at the hotel, went out for dinner and got to bed early.