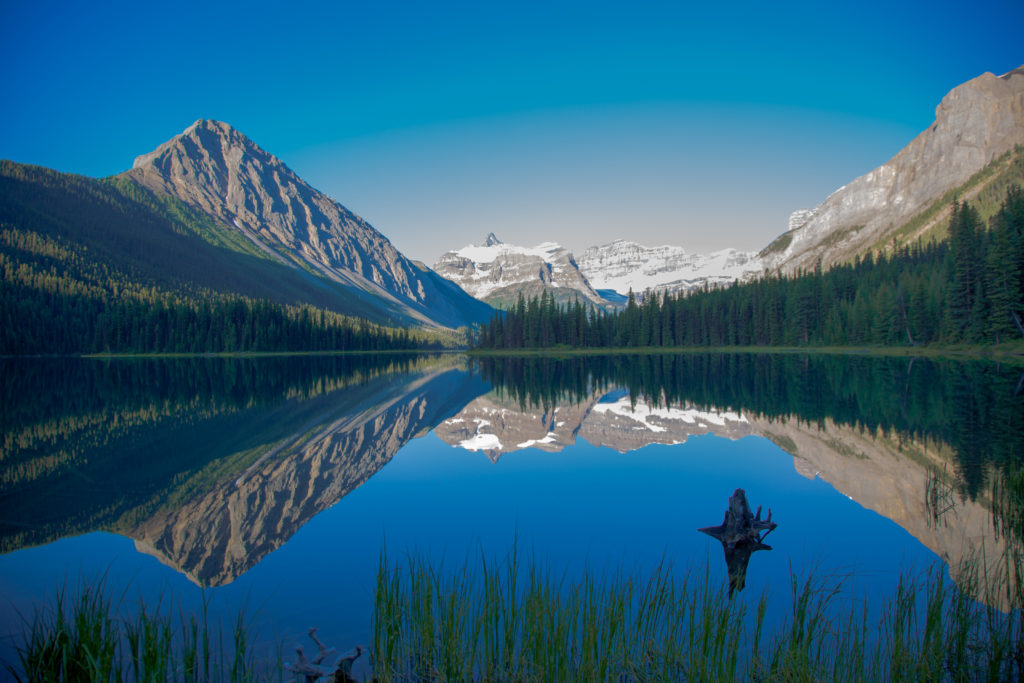 Day 2 Marvel Lake Campground to Allenby Junction Campground, 22.9 km, 750 m, Elevation Gain, 810 m Elevation Loss, 9 hrs 33 min.
Micah This was the feature day of the trip. It was a long day from beginning to end, but we stopped for extended periods of time at Marvel Lake, the overlook of Lake Gloria and at Mt Assinboine. There are places worth lingering, and these three locations are at the top of the list. I had a stroke of genius in the morning. I suggested, and Micah agreed, that we should pack up quickly and have breakfast at Marvel Lake. Breakfast for us is a 110 g of Logan Bread and a coffee, so it was really just making the coffee at Marvel Lake. We packed up quickly and left the campsite at 7 am.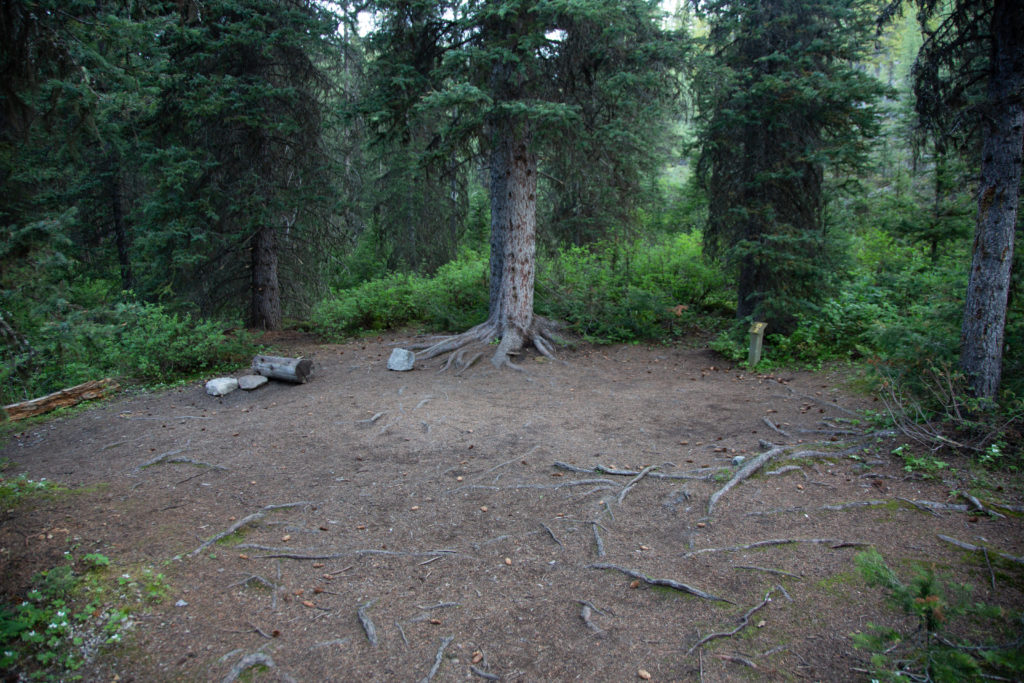 The trail leaves the campsite and quickly crosses a bridge over Bryant Creek. The bridge is much simpler than the ones that we crosses yesterday, but is more than adequate for the job. The bridge appears to be new, and remnants of an old washed out bridge was nearby. Obviously in the not so distant past there was a severe flood in the area.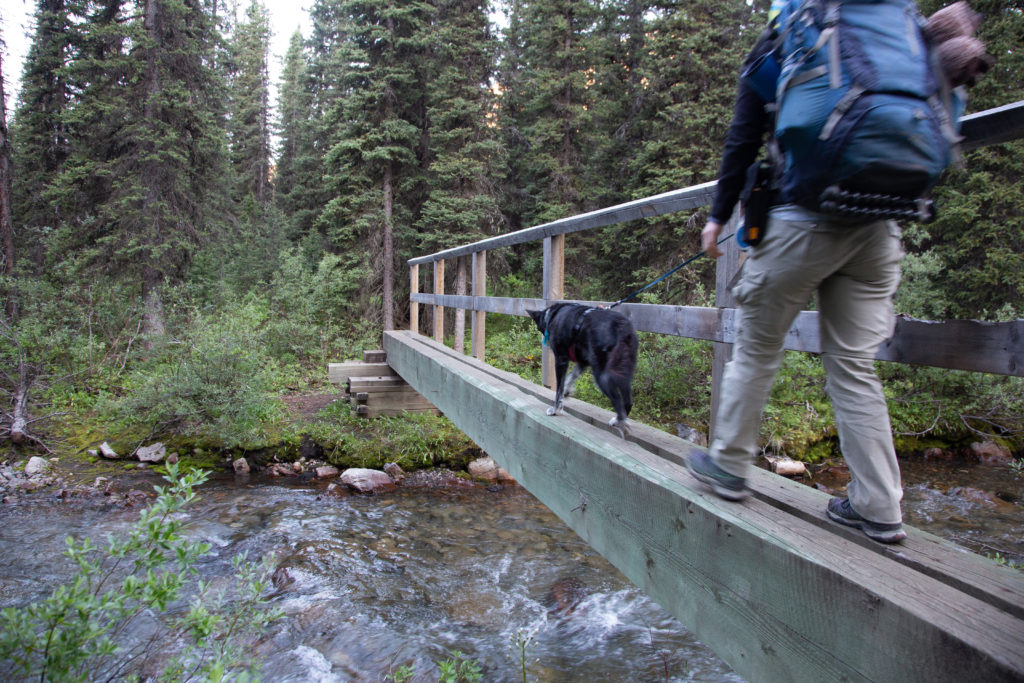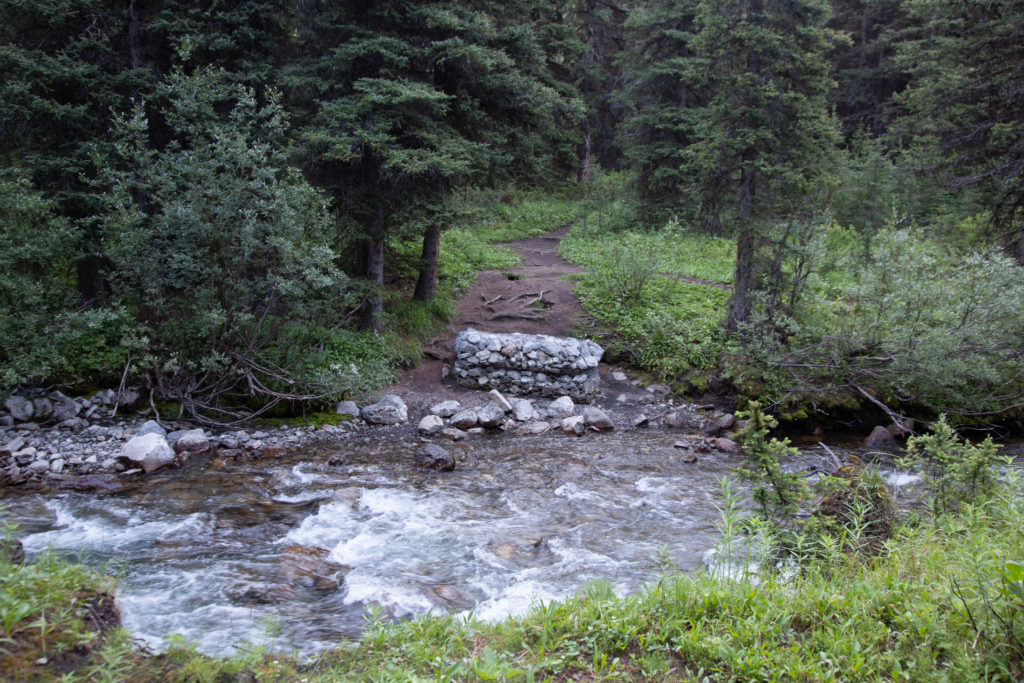 There is a small pond just east of Marvel Lake, we took a quick detour to check out the pond. The early morning reflections were glorious.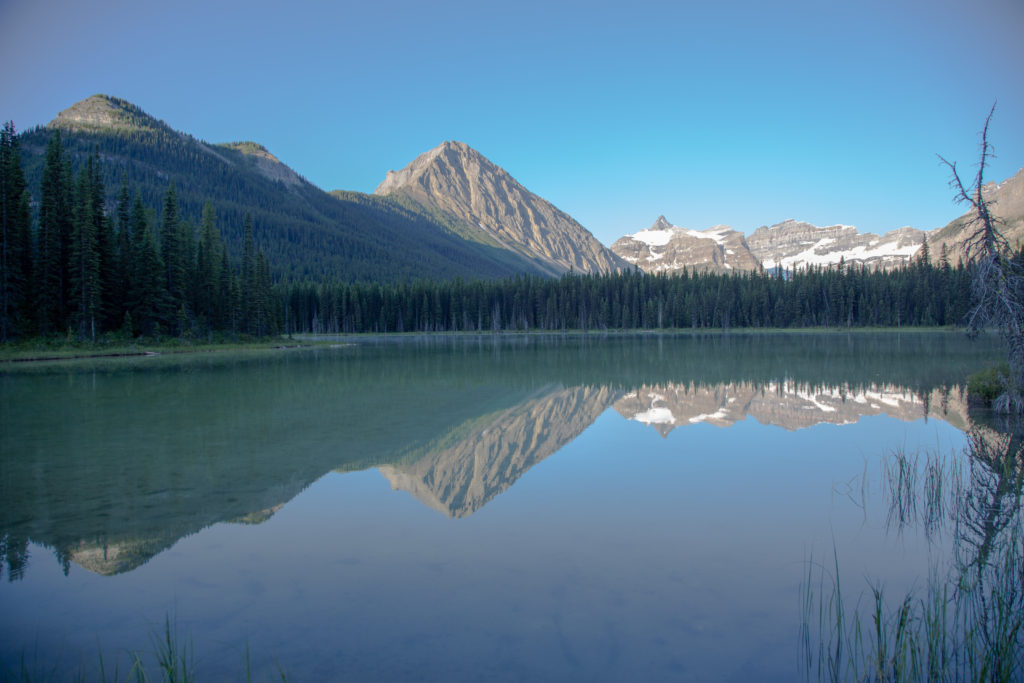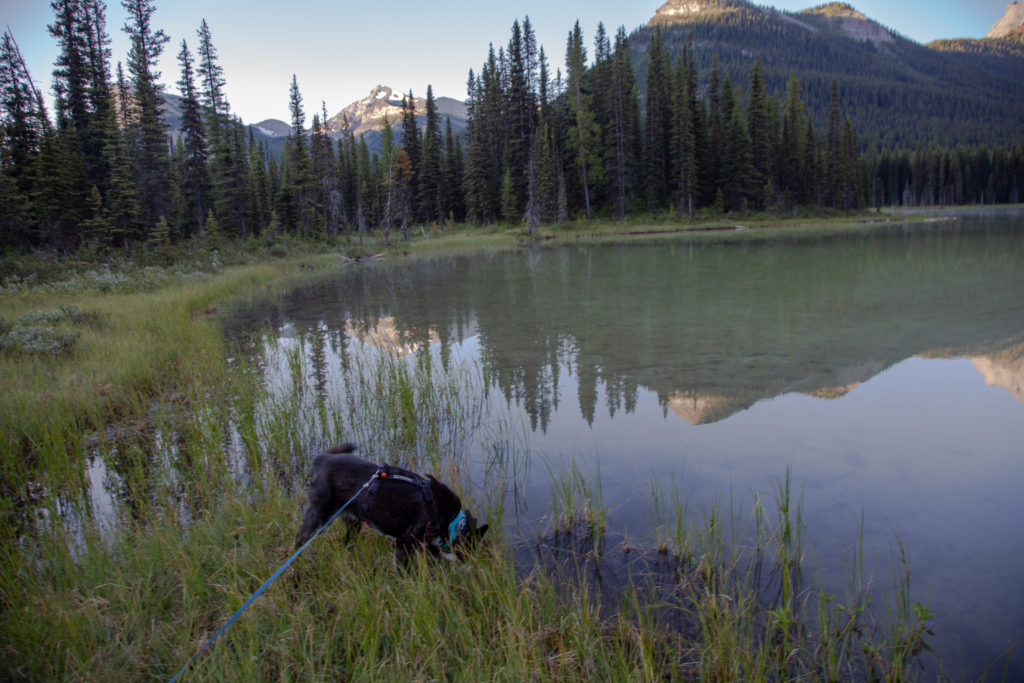 We only stayed at the pond for a couple of minutes, as the true prize was Marvel Lake (plus a coffee). We arrived at Marvel lake, and walked along the shore to find a nice view for breakfast. It had been 30 minutes since we left camp before we stopped to make coffee. Time for coffee and breakfast for us and Volcano.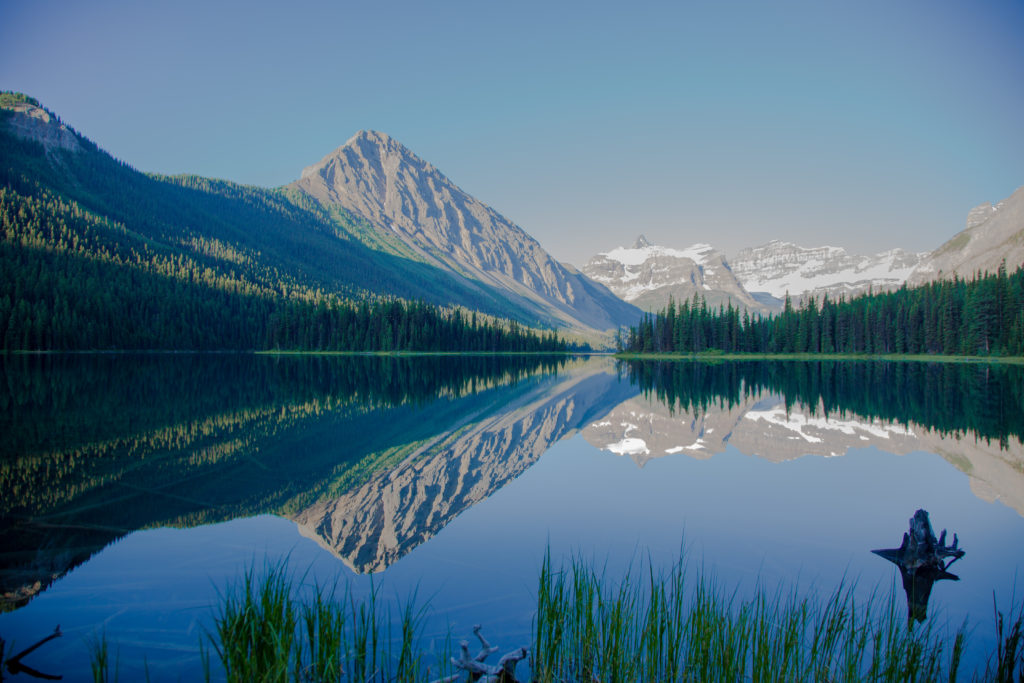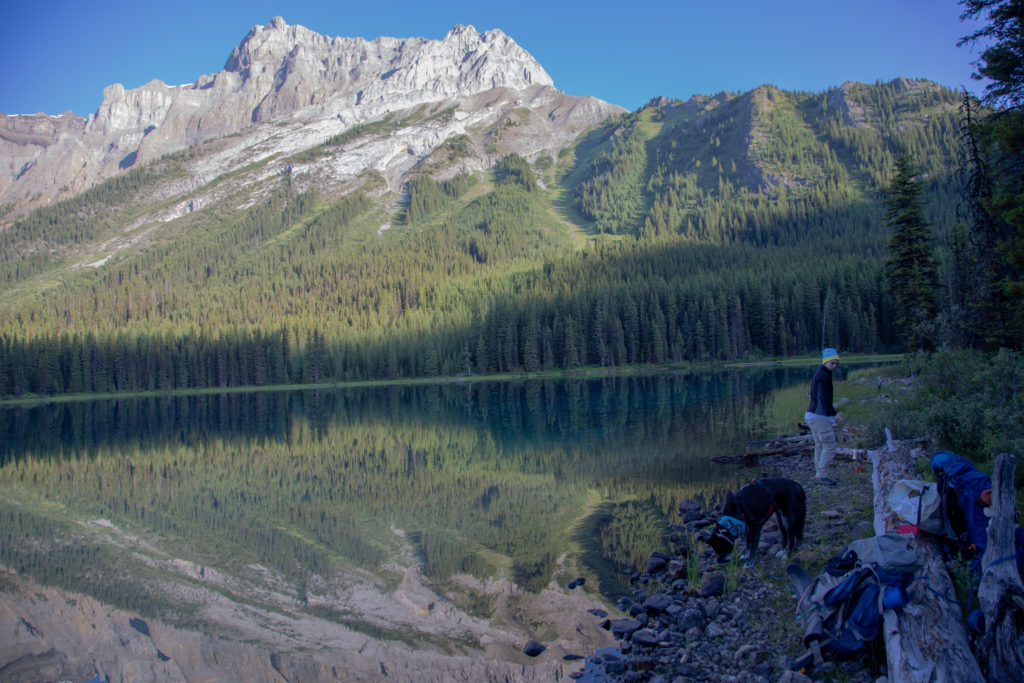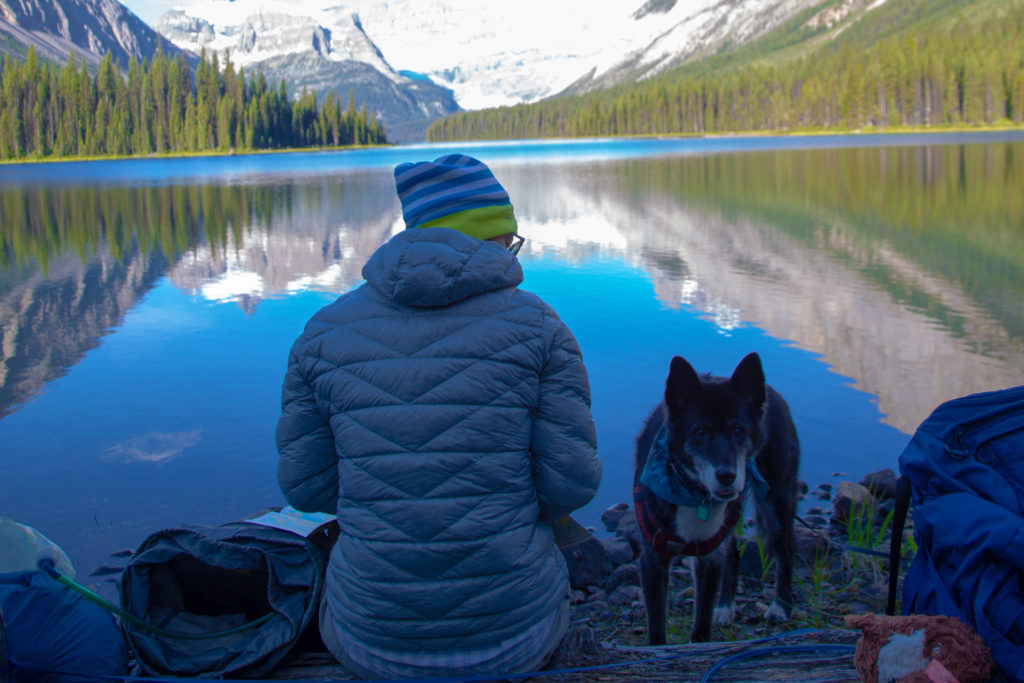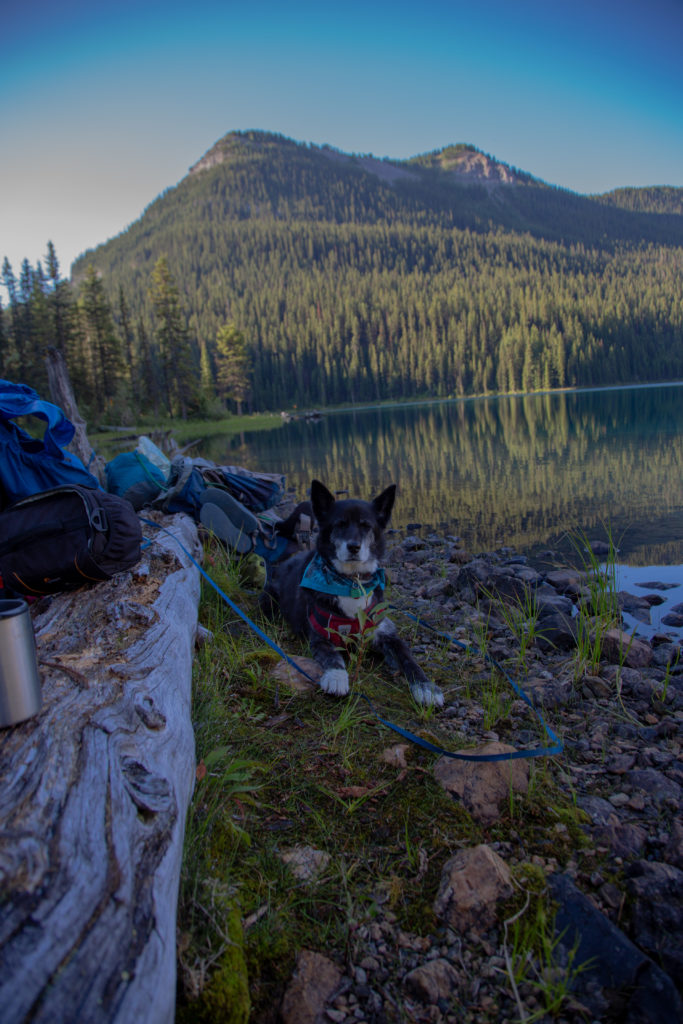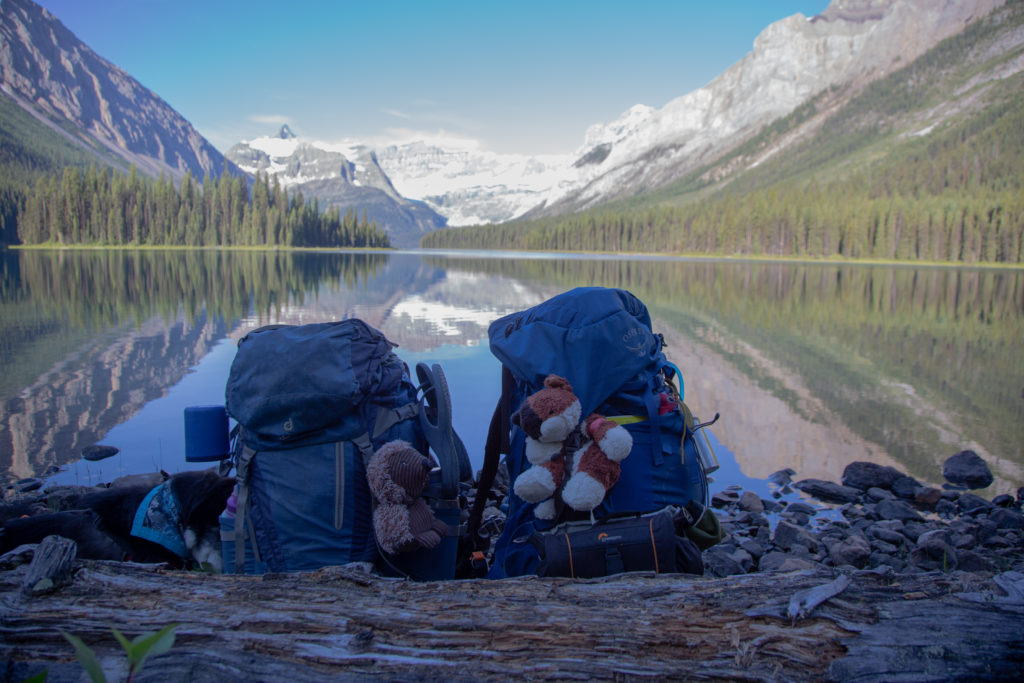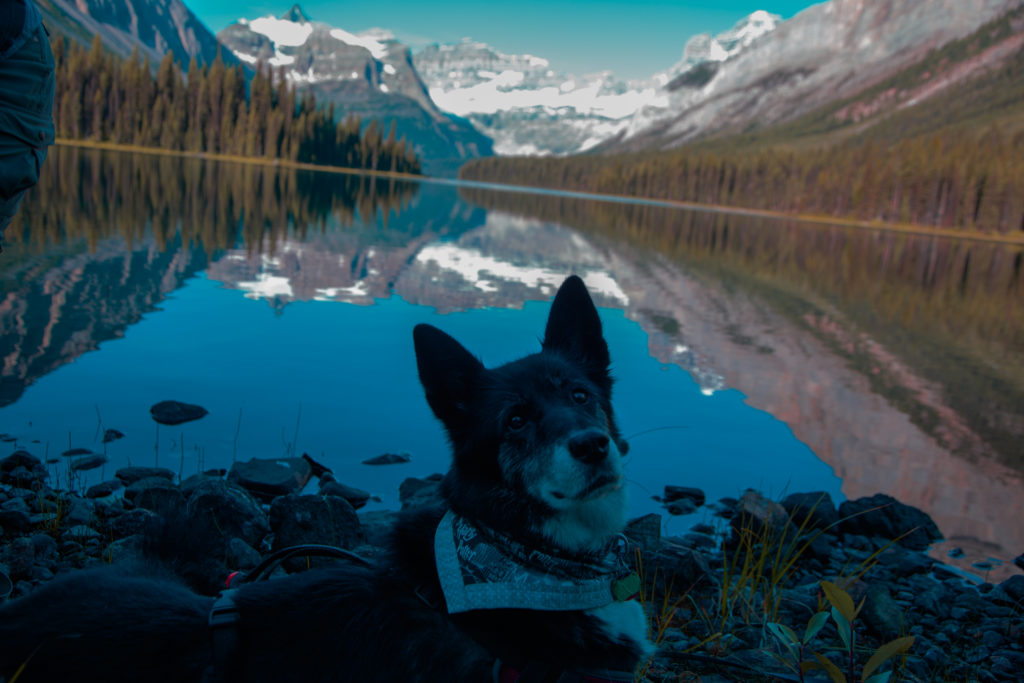 We stayed for about 55 minutes, before figuring that we had a long way to go and other natural wonders to see. It was a glorious way to start the day. As we came to the end of the lake, there was an old boat and a house/shack thing, looking a little worse for wear. We also saw signs prohibiting camping at the lake, totally understandable, but a pity. It was about 800 m from breakfast to the intersection with the Marvel Pass Trail, which would take us to Wonder Pass. Arriving at Marvel Pass Trail, it had been 1 hr 35 min since we left the campsite, and we had traveled all of 2.7 km.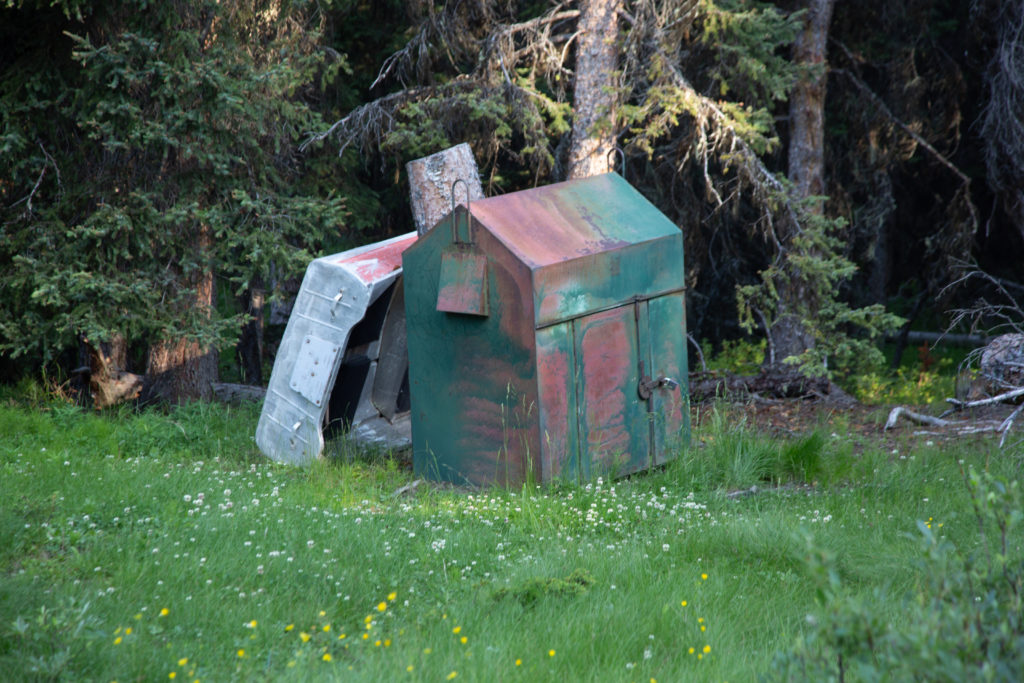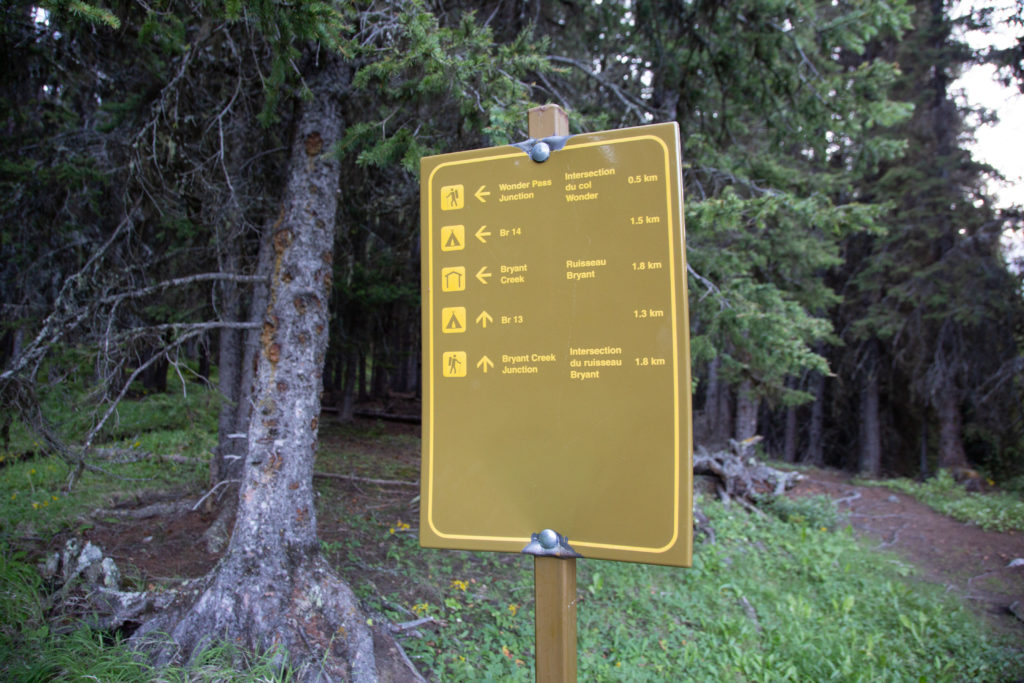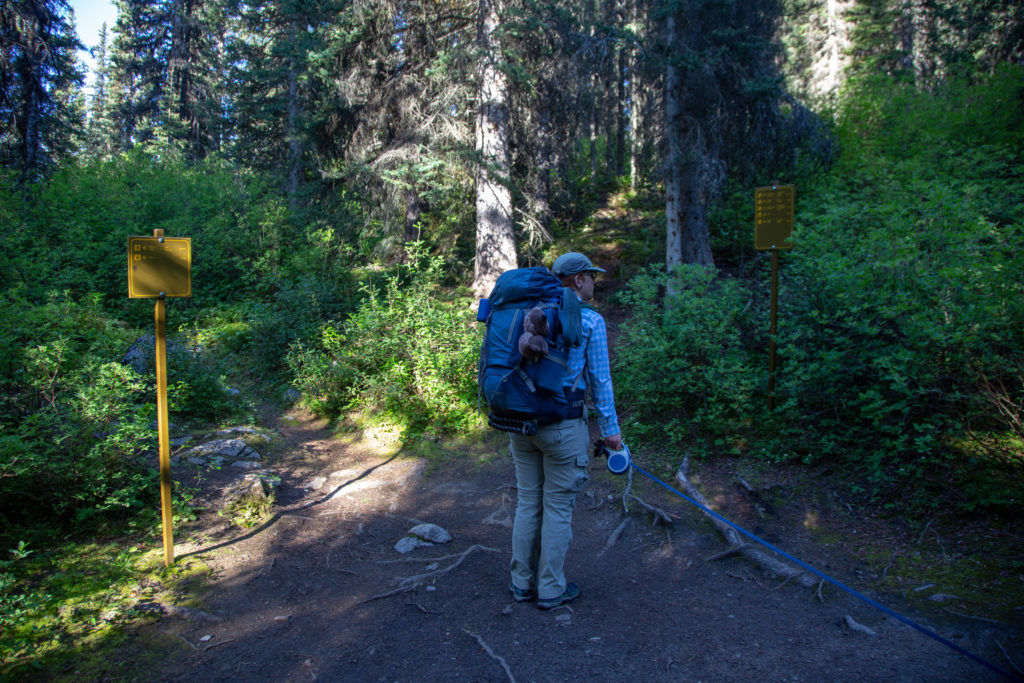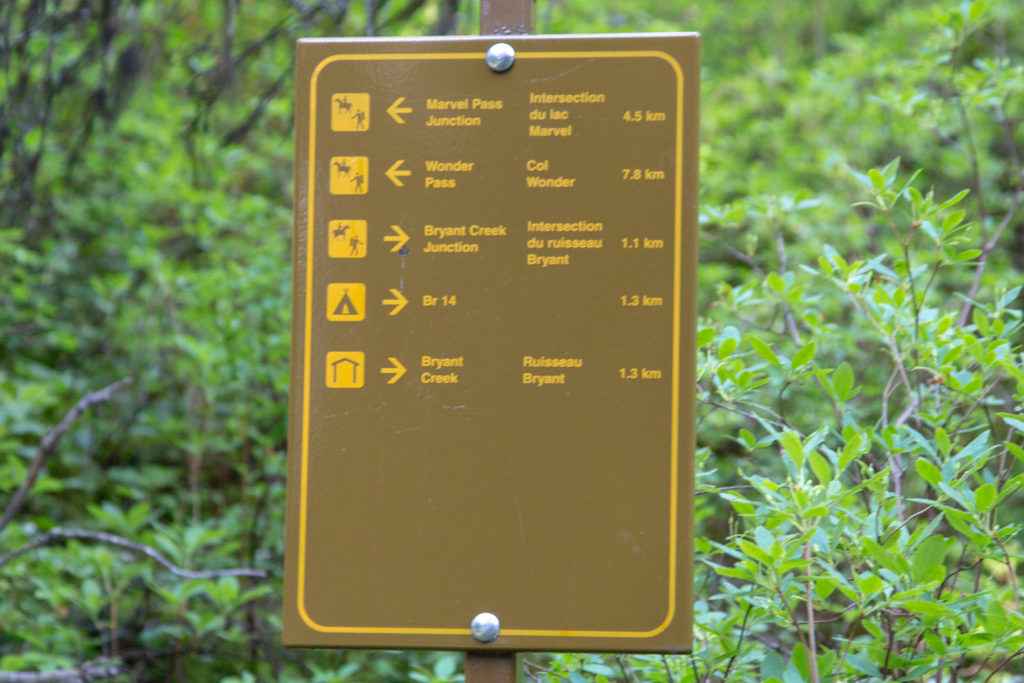 The trail continued as a forested walk. While a bit narrow, the trail was very good and gradually gained elevation as we walked above Marvel Lake. We emerged from the forest to an avalanche slope after about 25 minutes, which provided our first elevated view of Marvel Lake.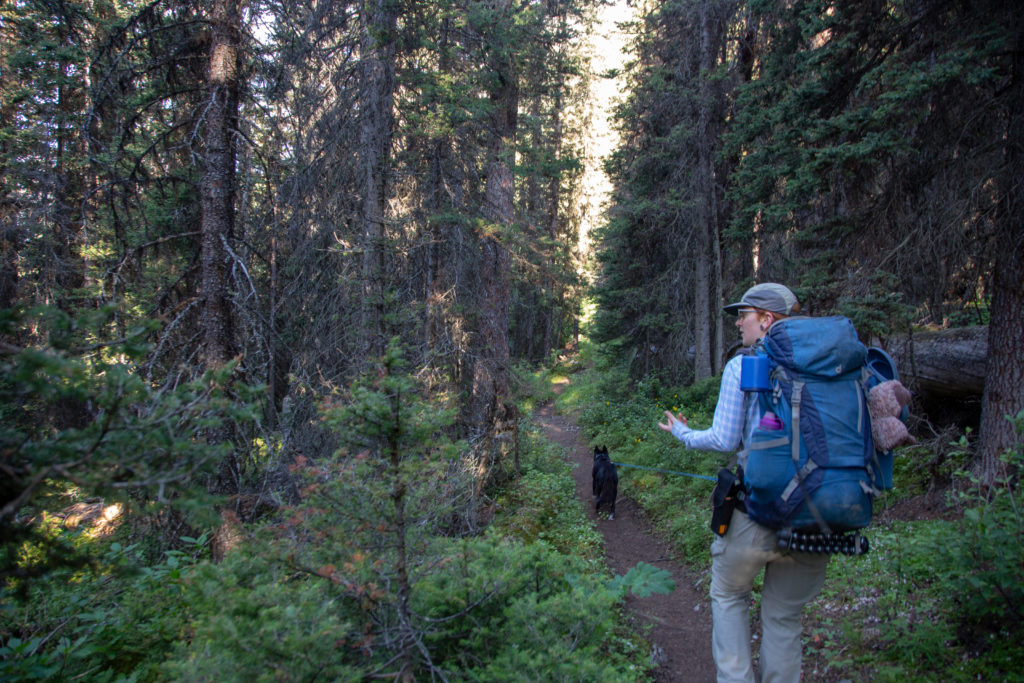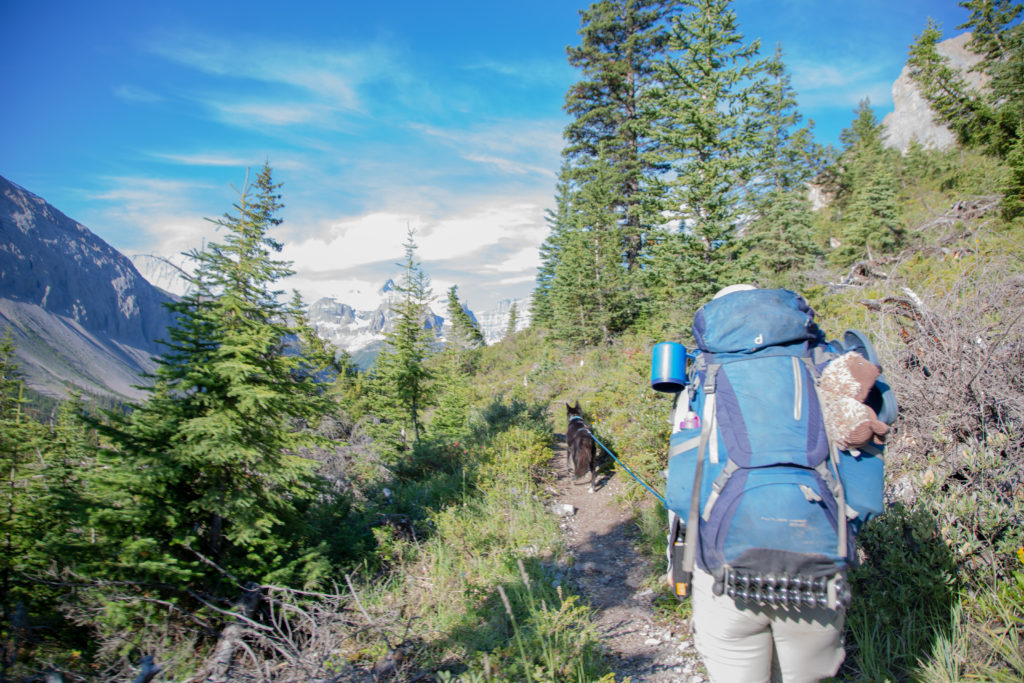 It was a nice trail to start the day, never too steep, lots of view in all directions. We crossed several avalanche paths and had to negotiate a couple of very eroded dry stream beds. We chatted all the way, discussing matters of great importance such as current state of pop culture. We arrived at the junction for Wonder Pass, having covered the last 4.5 km in 1 hr 15 min. It is now almost 10 am, we have been up for 4 hours, and have covered just 7 relatively easy kilometers.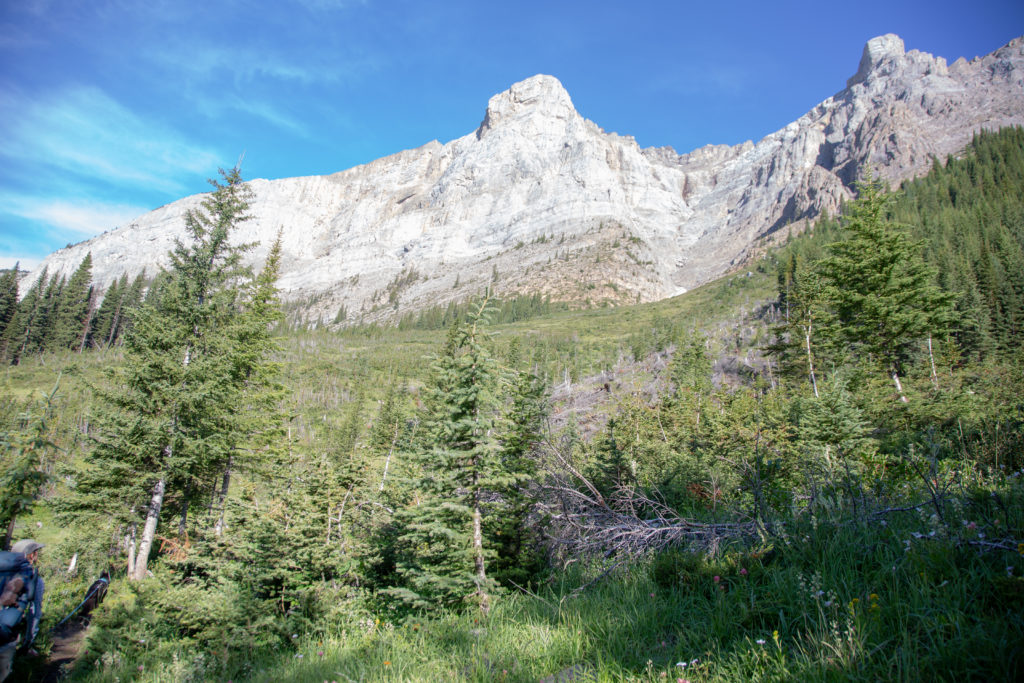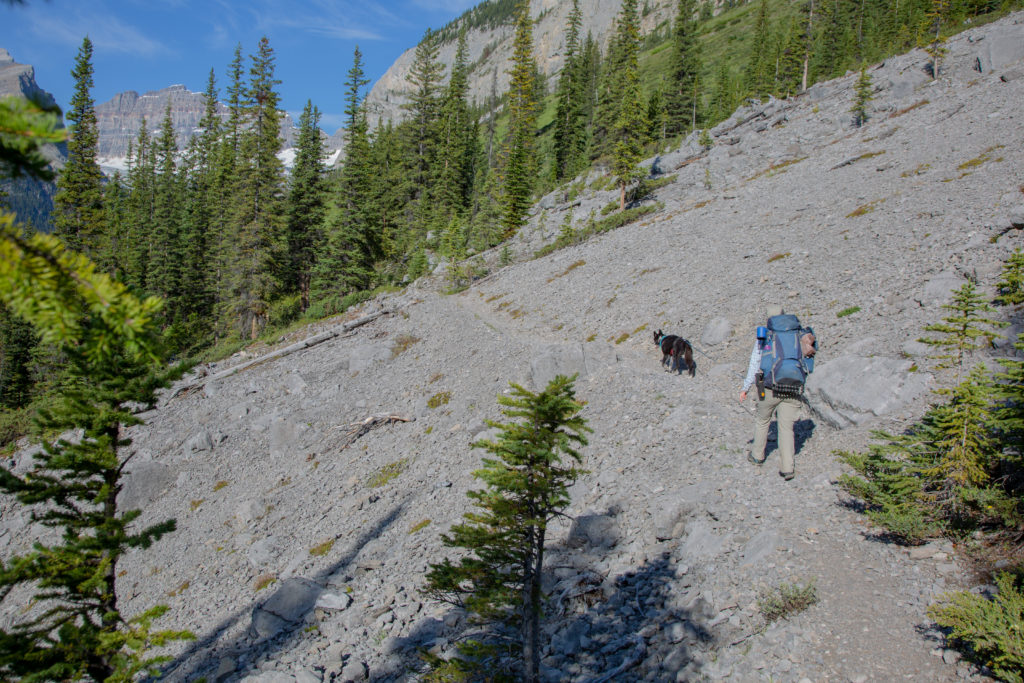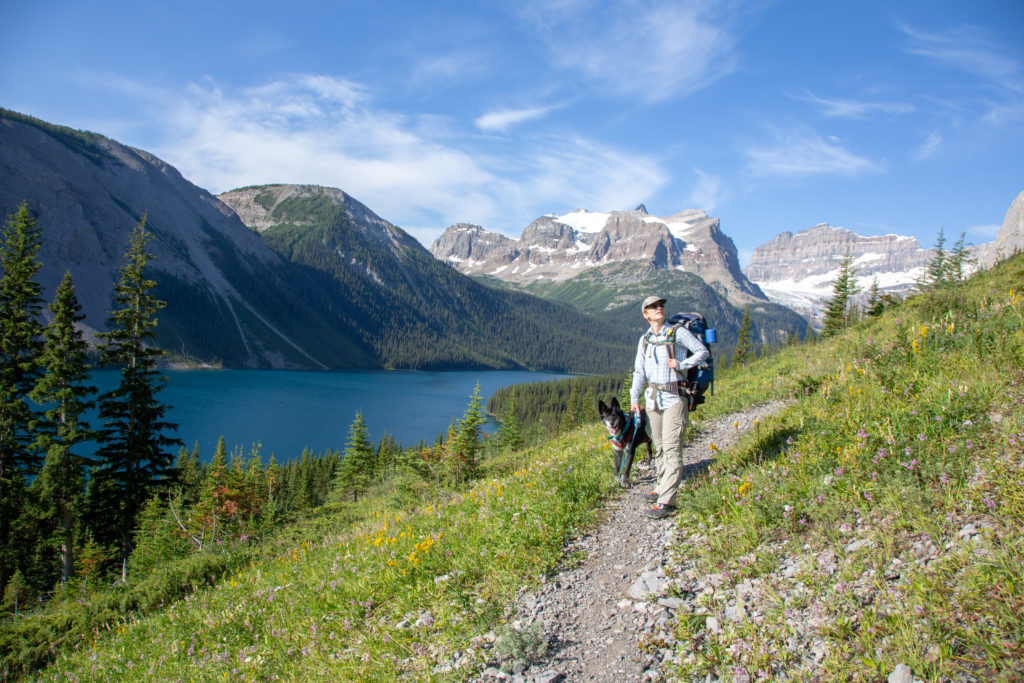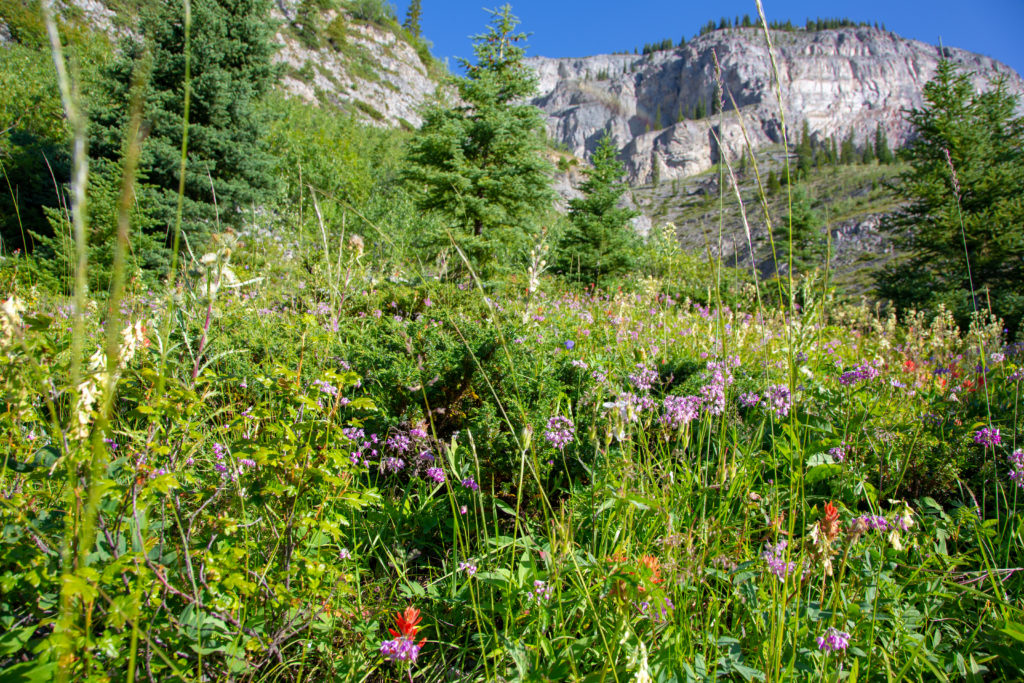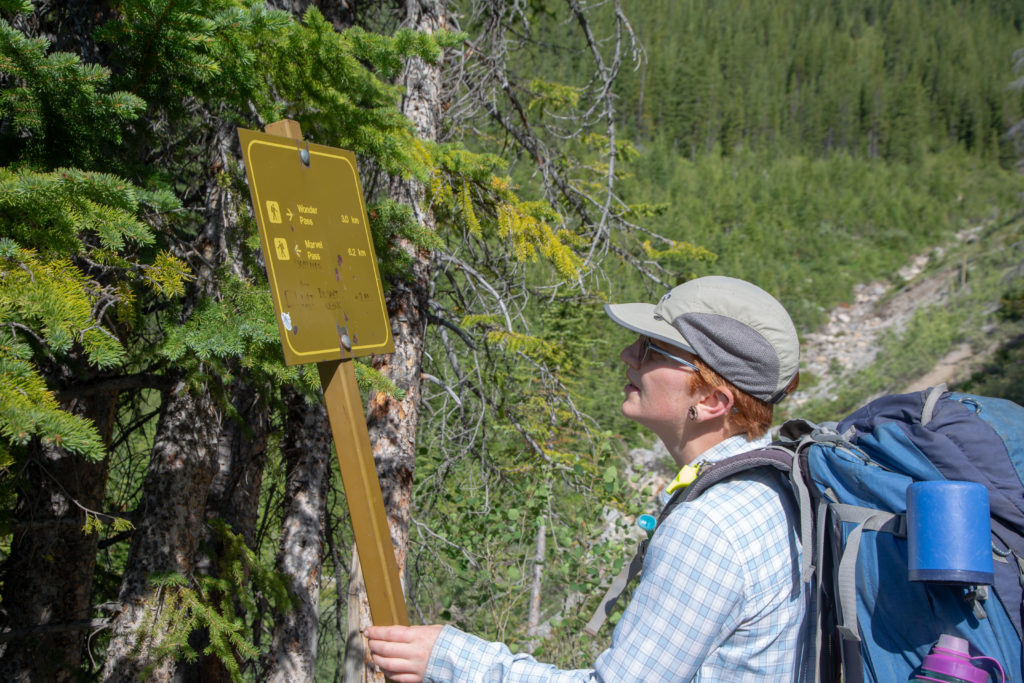 We are not going directly to Wonder Pass, but taking a side trip to an viewpoint for Lake Gloria. After a quick down and up, we started up Wonder Pass. The first part was defiantly the steepest section, rising 130 m in just 0.5 km. I was suffering somewhat on this part, luckily the trail actually flattened out for a bit before making a steady rise to our next junction.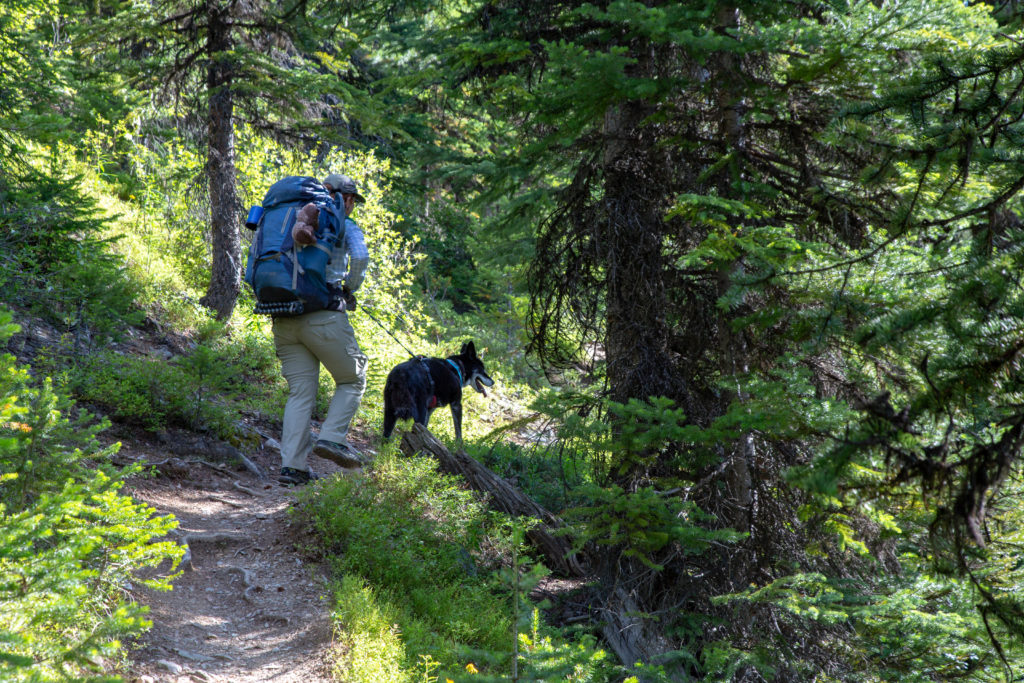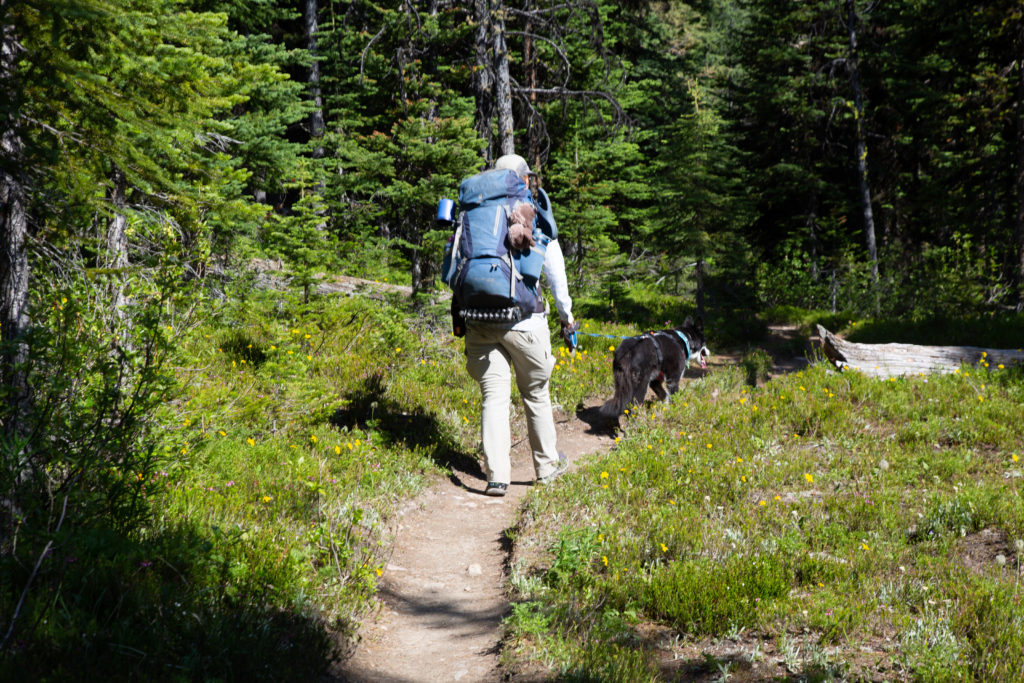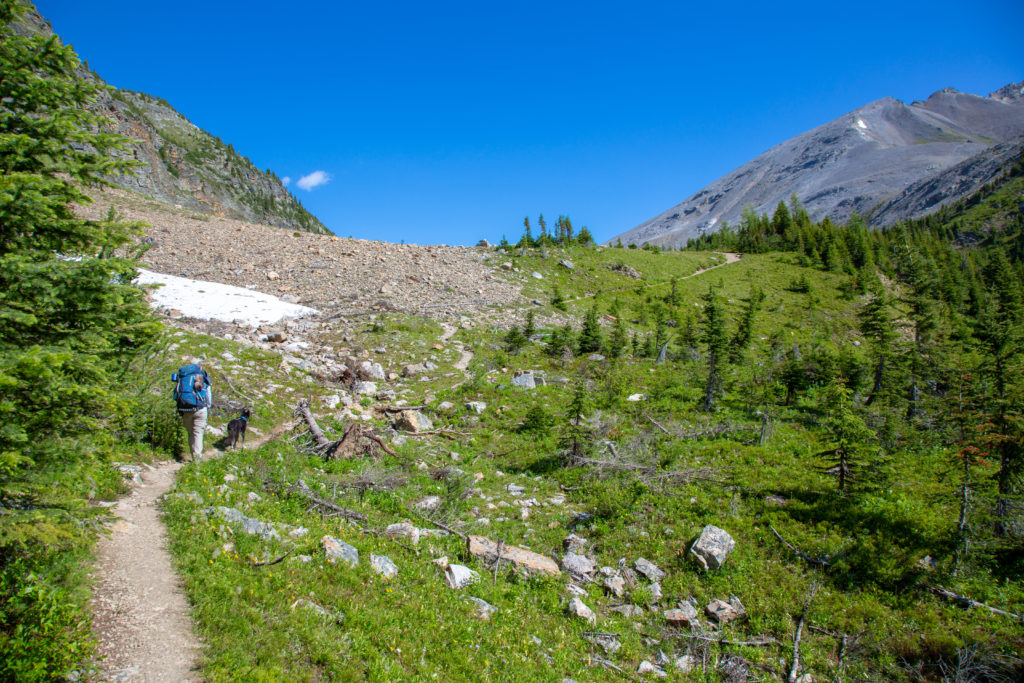 As we left the forest and came to the higher alpine region of the pass, we passed a small snowfield still surviving this late into summer. Volcano having worked as a sled dog for most of her life has a great affinity for snow, and loves to have a good sniff and chomp at any snow we come across on our hikes.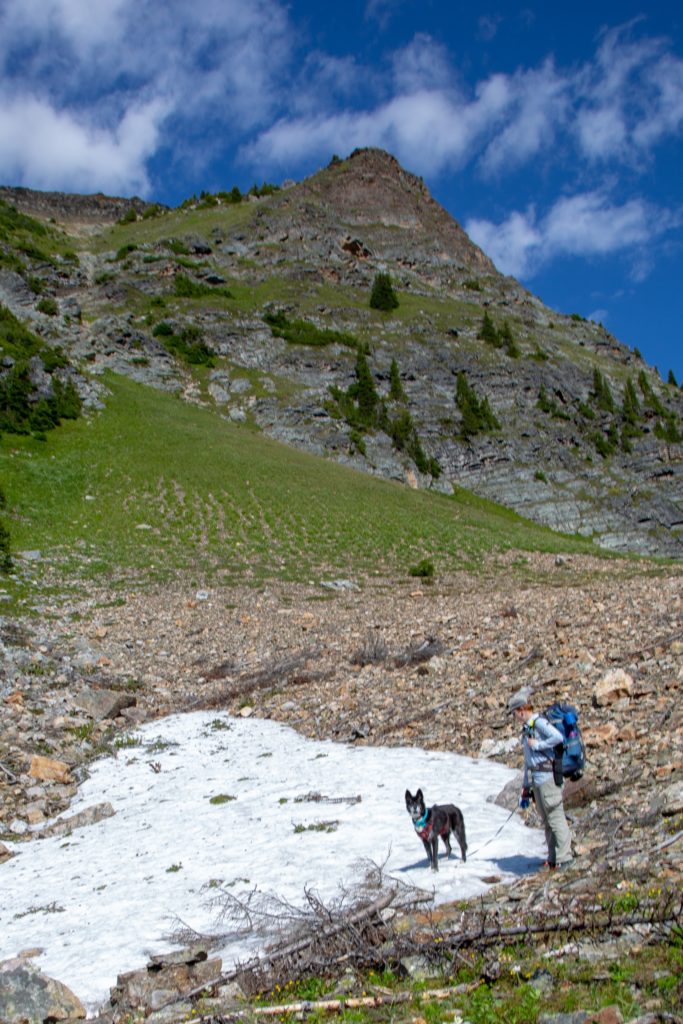 Volcano had a drink at a small creek draining Wonder Pass. One of the most exciting events on the trip happened. I spotted a lynx running in the distance. It had probably been hiking from us, but as we came closer on the trail, it bolted. We were never very close, probably at least 200 m away. yelled and grabbed my camera. Unfortunately in my excitement, I was never able to convey to Micah where the lynx was. She somehow did not find my repeating of "Over there, over there" to be very helpful. My camera was also set up for landscape photos, which is very different than what is required for fast moving objects. Alas, my photos are a little fuzzy, and Micah never saw the lynx.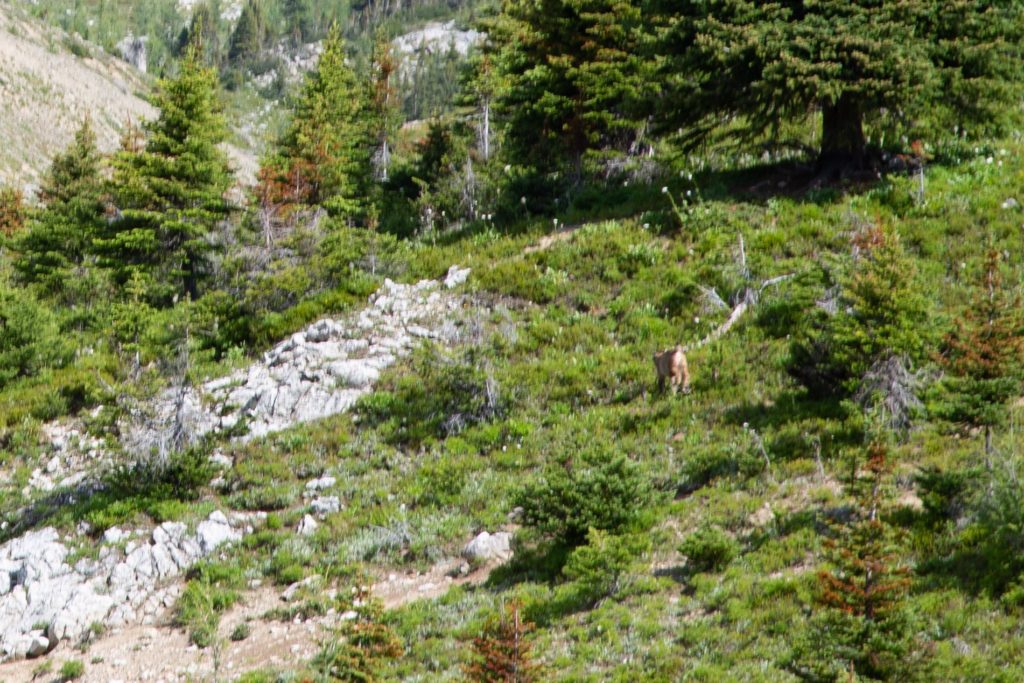 We arrived at our junction 10 minutes after the lynx, it was informally marked by a stick and a cairn. We headed back to Marvel Lake on a elevated trail. Initially our view was of Penny's Peak As we continued down the trail, Mt Gloria and its glacier came into view. We were beginning to wonder where the overlook was, as the trail was diverting from what my app showed. We did persist and came to a wonderful open area with a view of the turquoise waters of Lake Gloria. I celebrated by tripping over a small stump and doing a complete roll over my backpack, luckily I did not hurt anything other than my pride.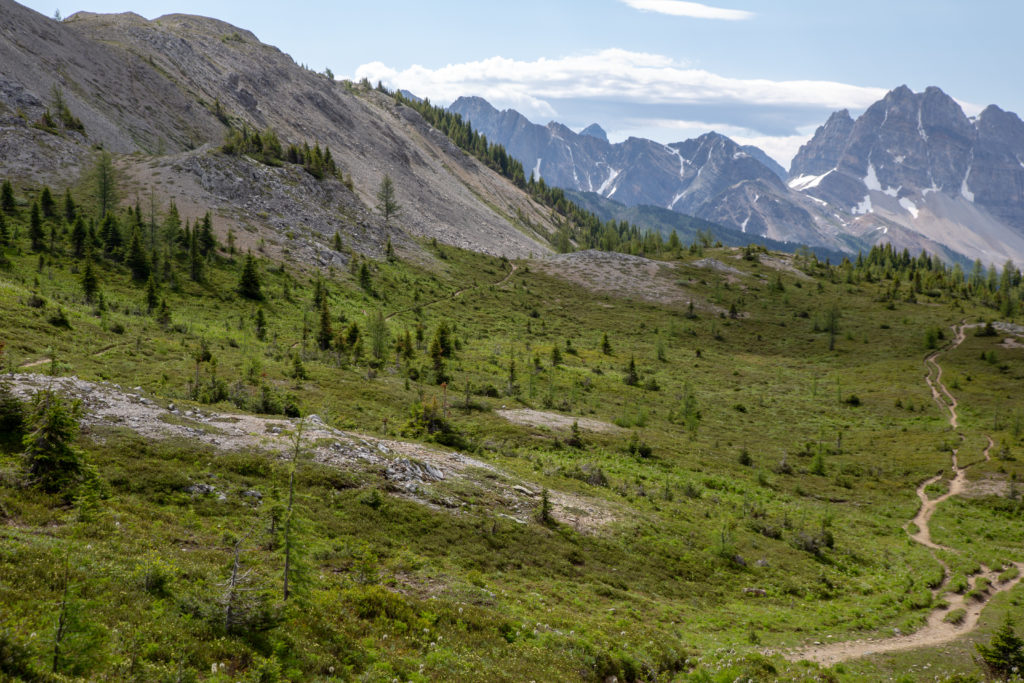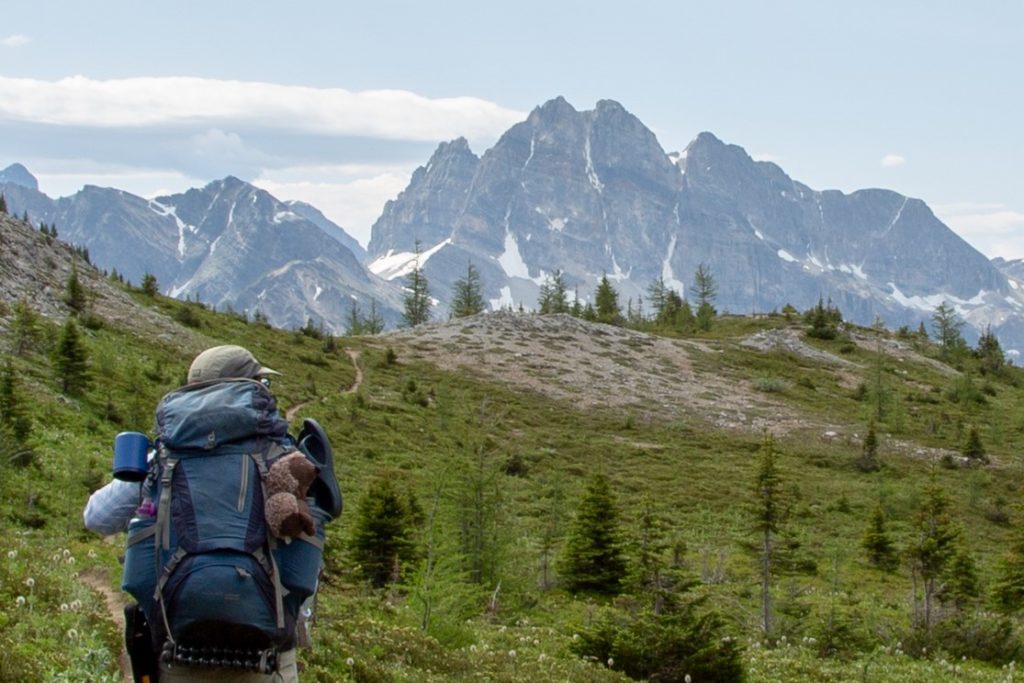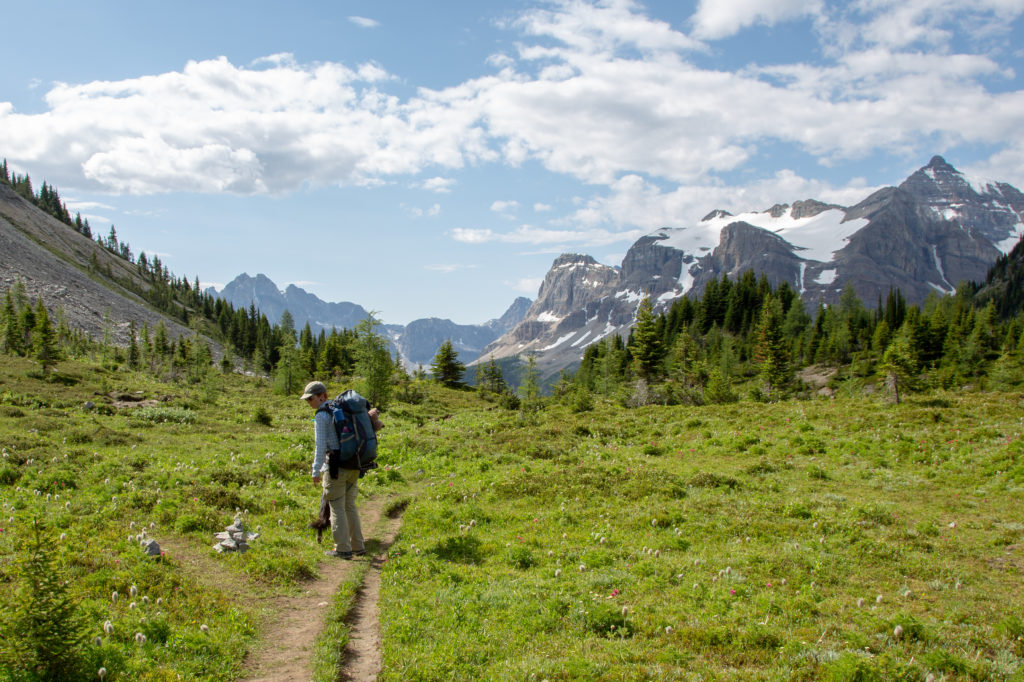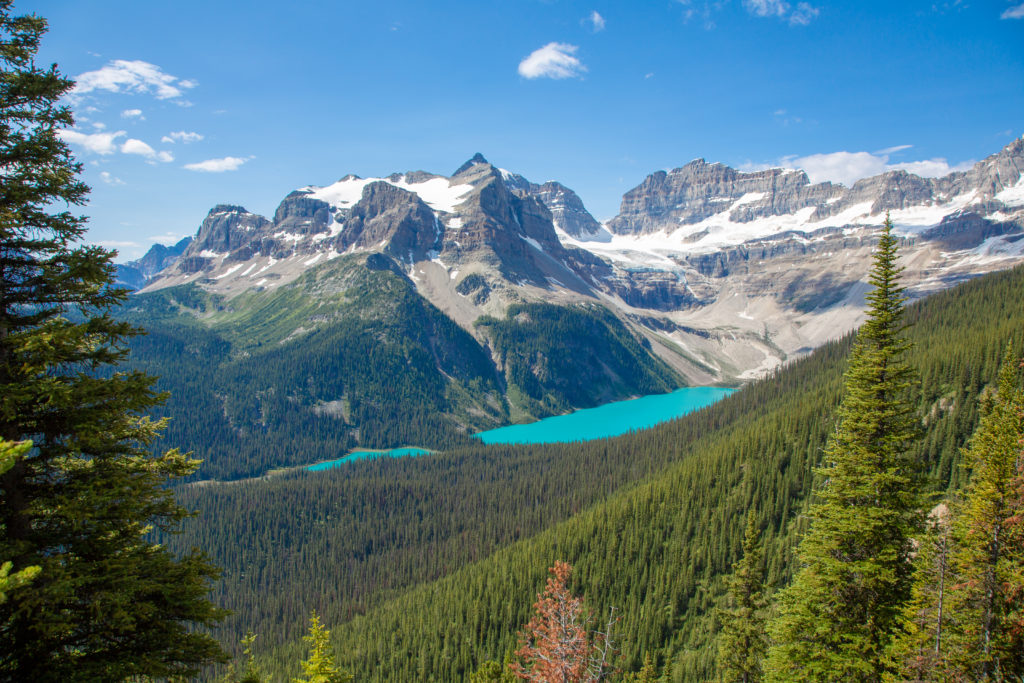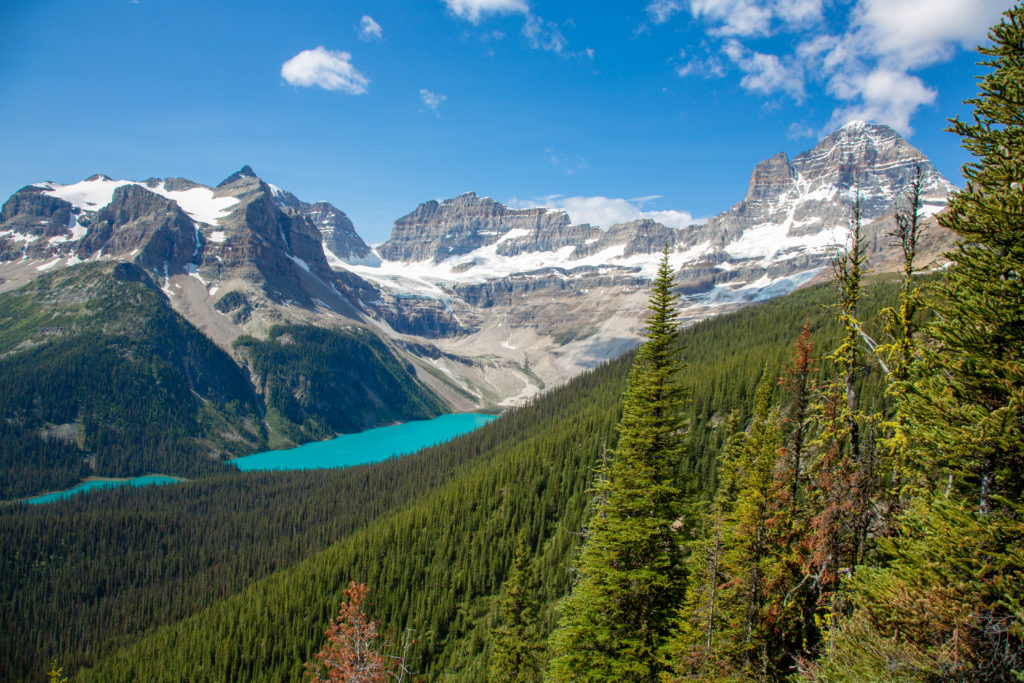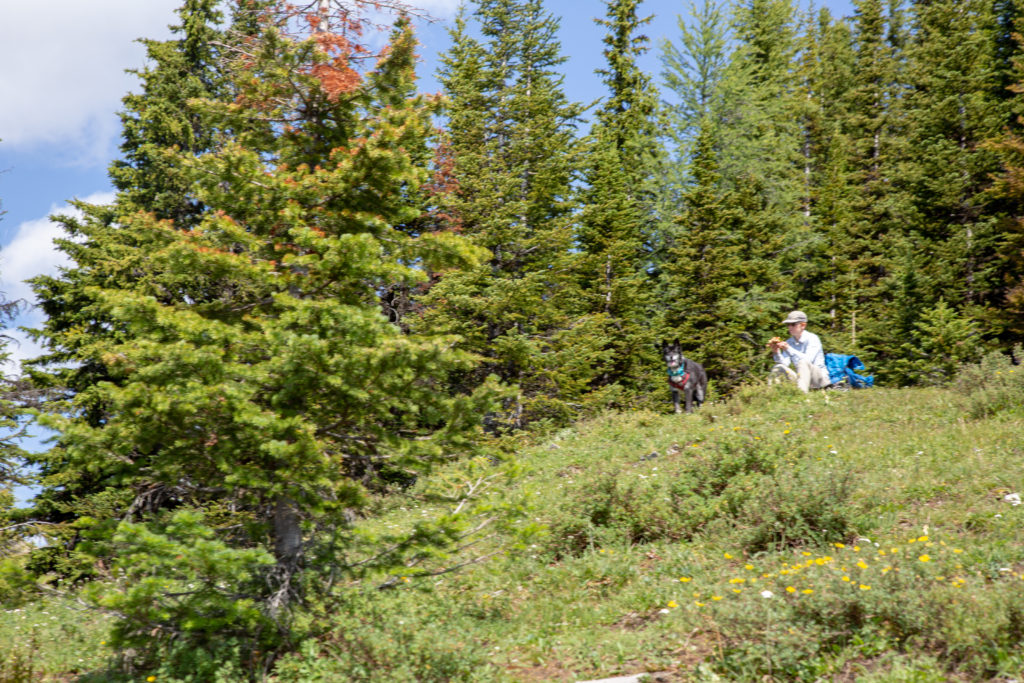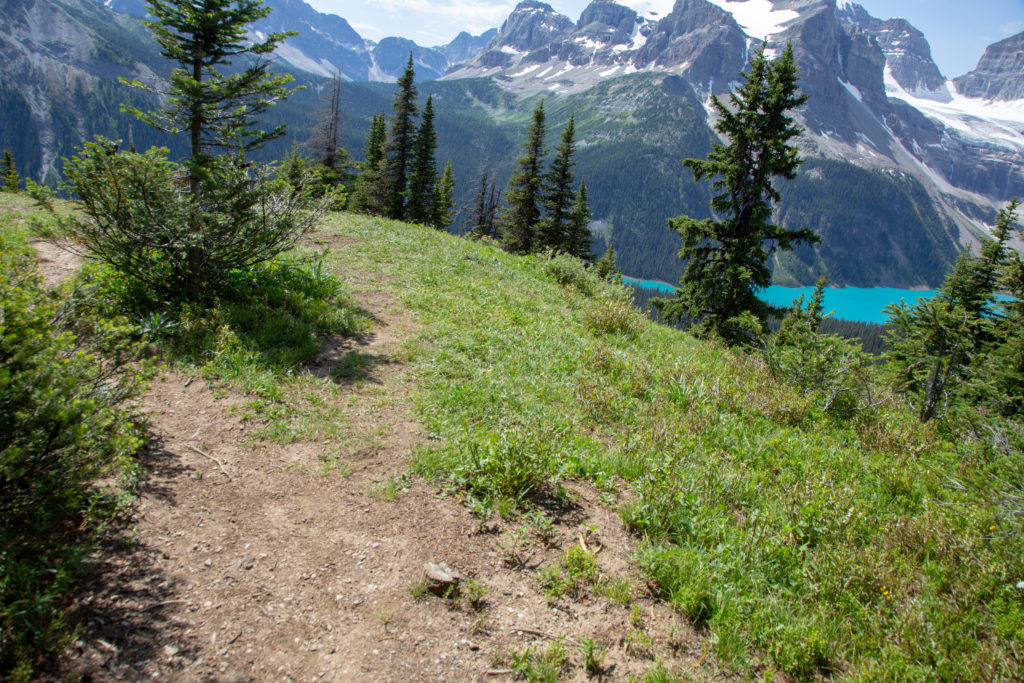 We stayed to eat our lunch and enjoy our view for 40 minutes. It was then time to continue our trek, as we still had quite a way to hike and see, and it was now 12:20pm. We headed back along the way we had come, and rejoined the main trail. We stopped for a chat with a family who were hiking out to Mt Shark. They had come into the Assiniboine area from Sunshine Village and had stayed for a couple of days at Lake Magog. As we came to the top of the pass the vegetation thinned out, the landscape was dominated by grass and stunted trees.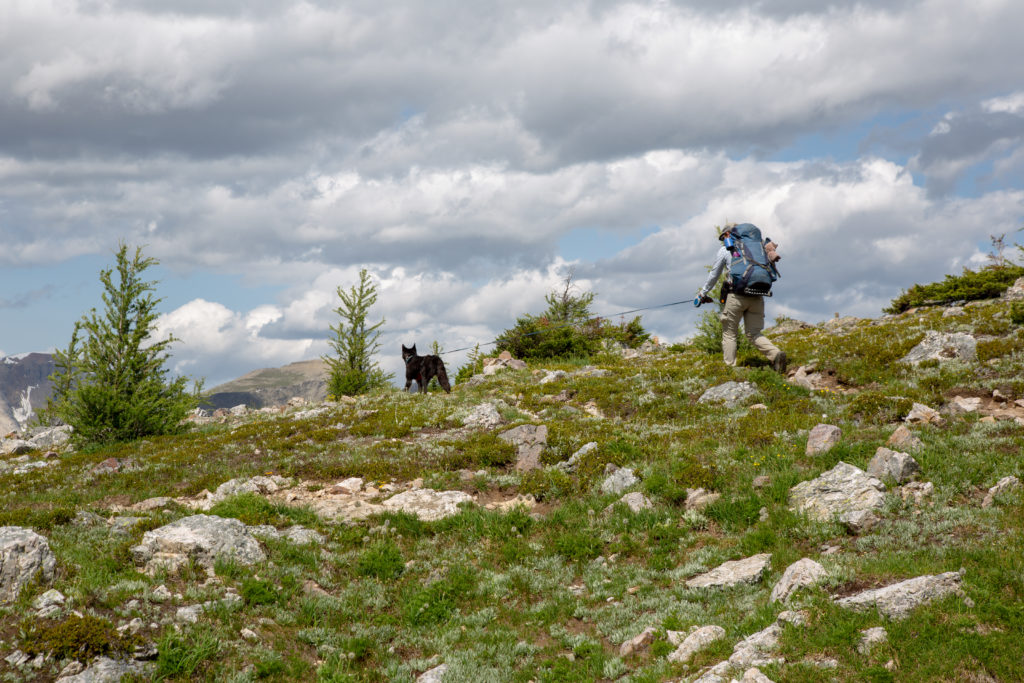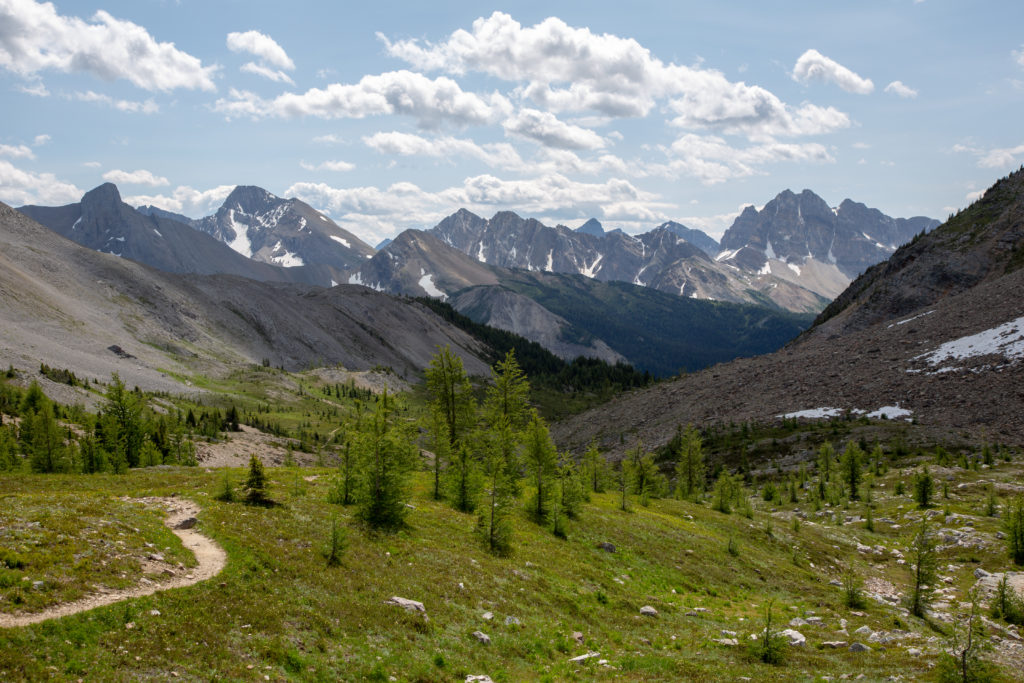 We went over Wonder Pass at 1 pm, a whole new valley appeared before us. Accoriding to the sign, it was 5.5 km to Assiniboine Pass, which was halfway to our campground. We are entering Mt Assiniboine Provincial Park, and there was quite a bit of signage.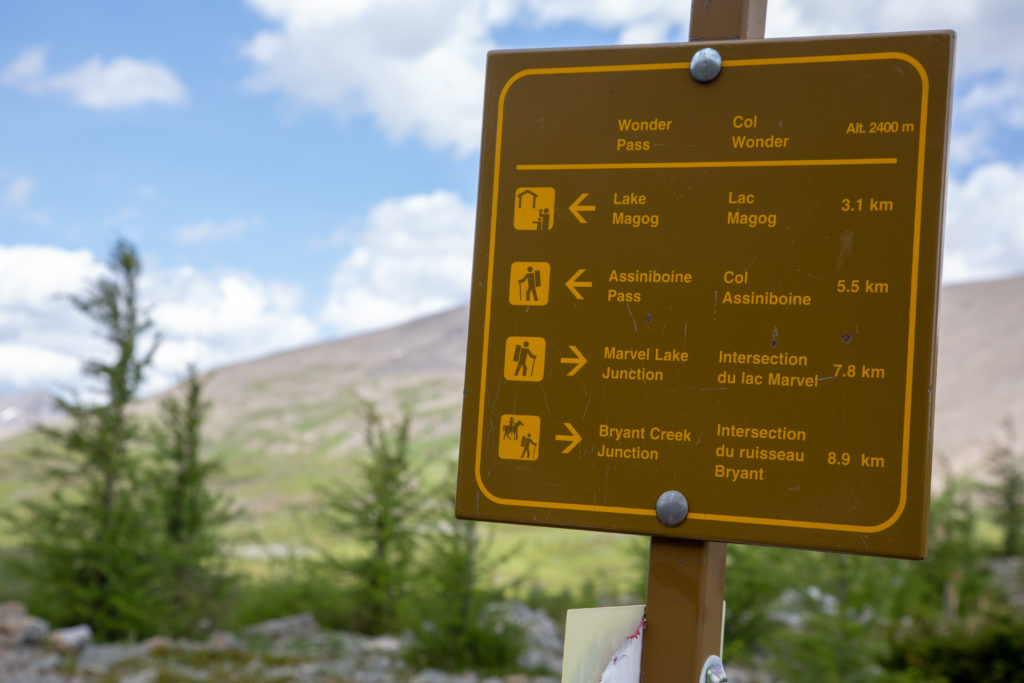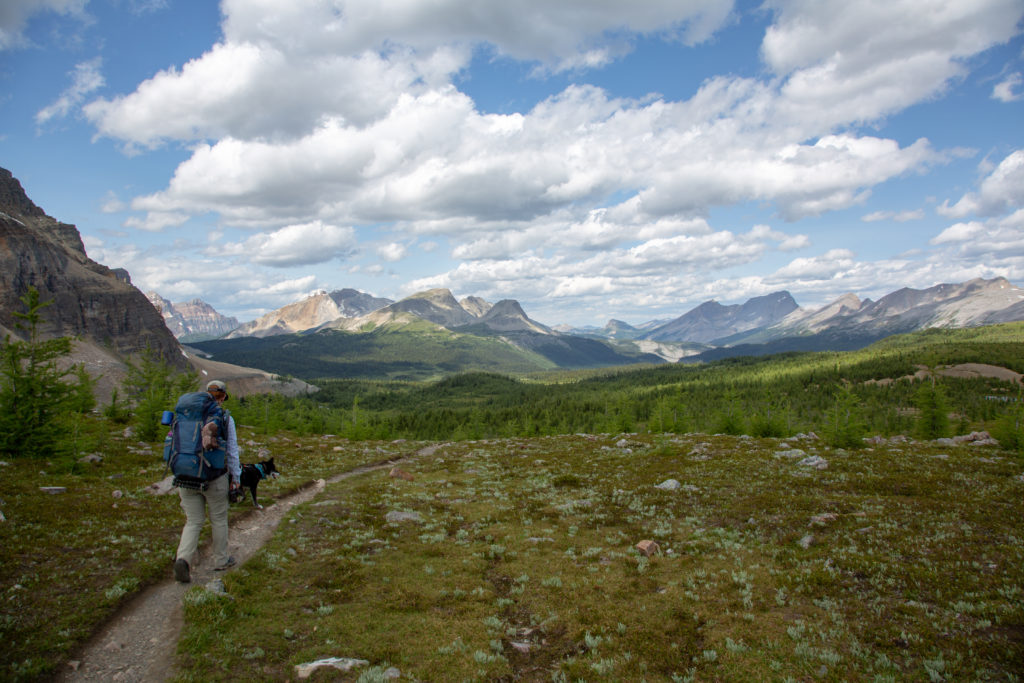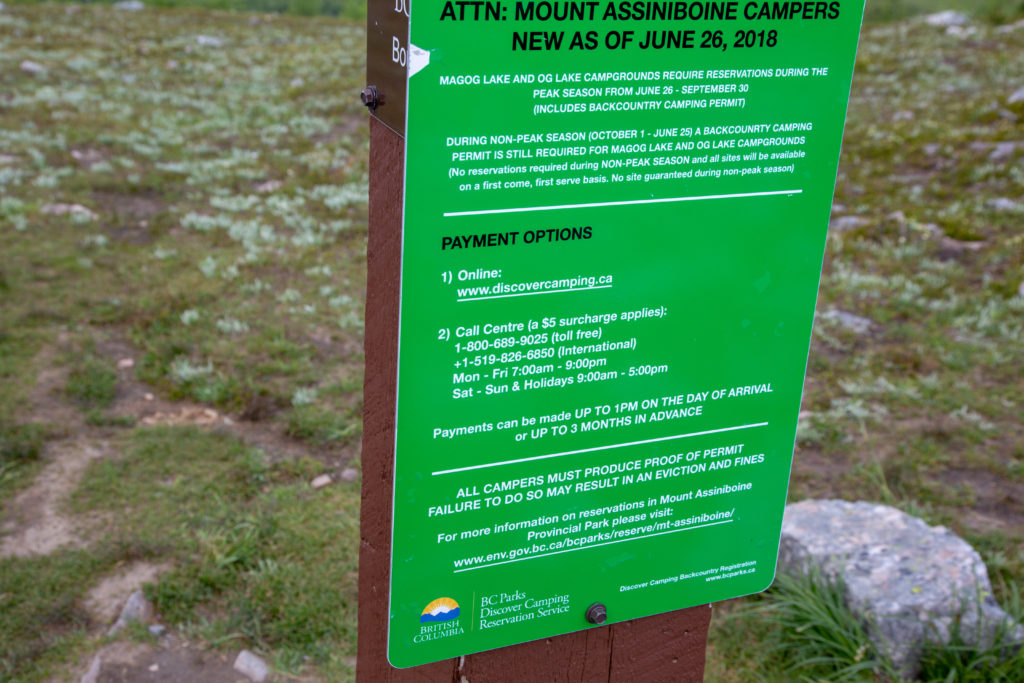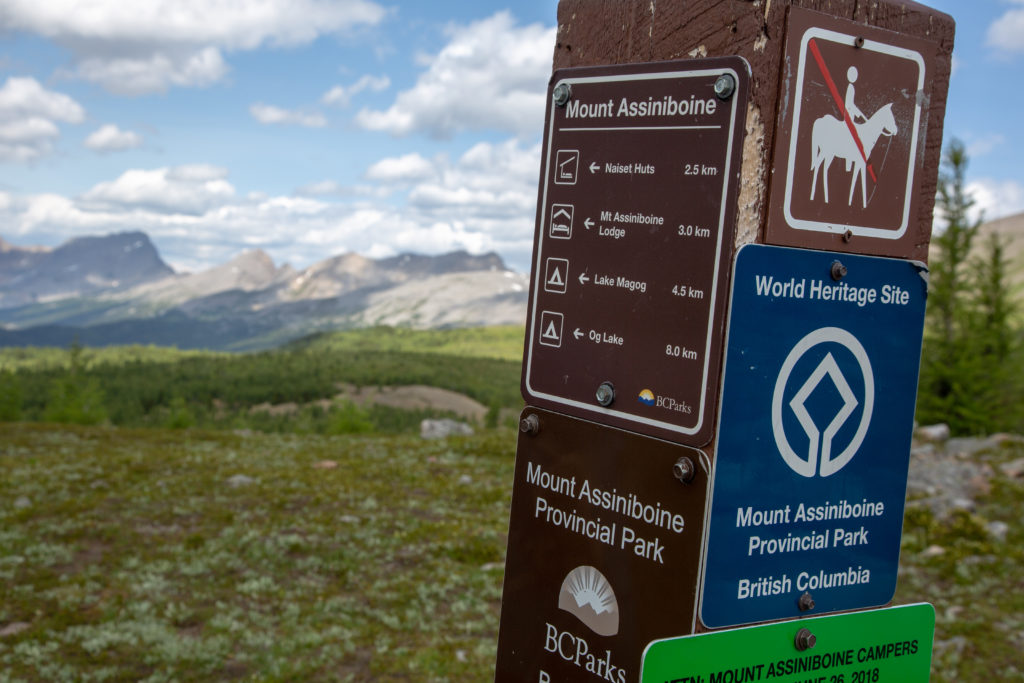 We head down towards Lake Magog. It was interesting how the trees return so abruptly as we descend, there is quite a define line where the trees come back. The trail is very well graded and the landscape is very pretty, meadows, flowers, creeks, waterfalls, it was a very pleasant stroll.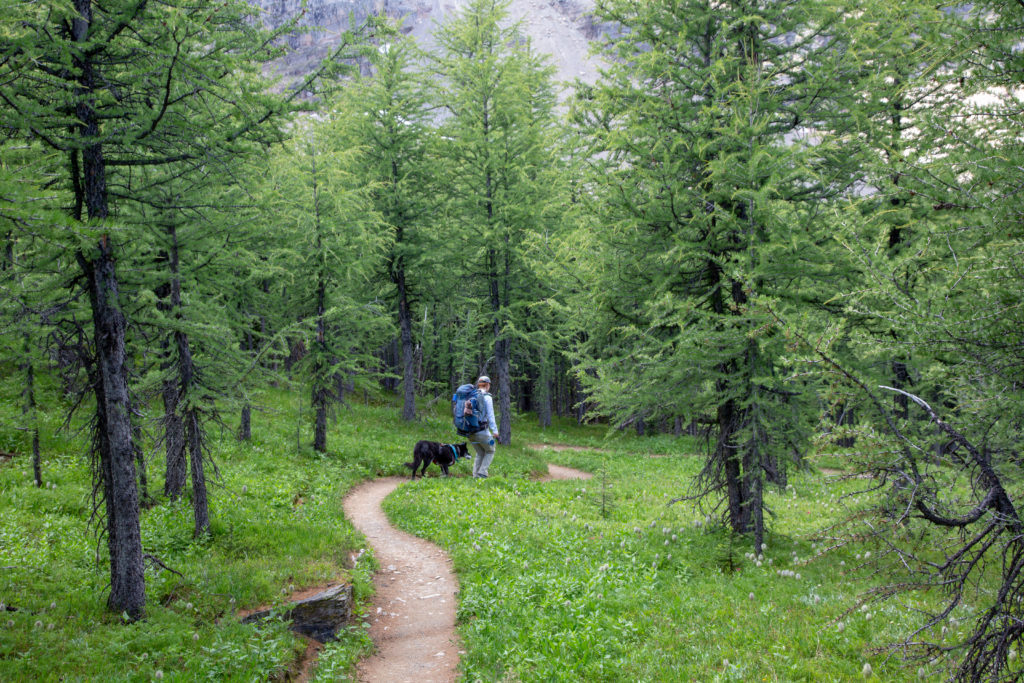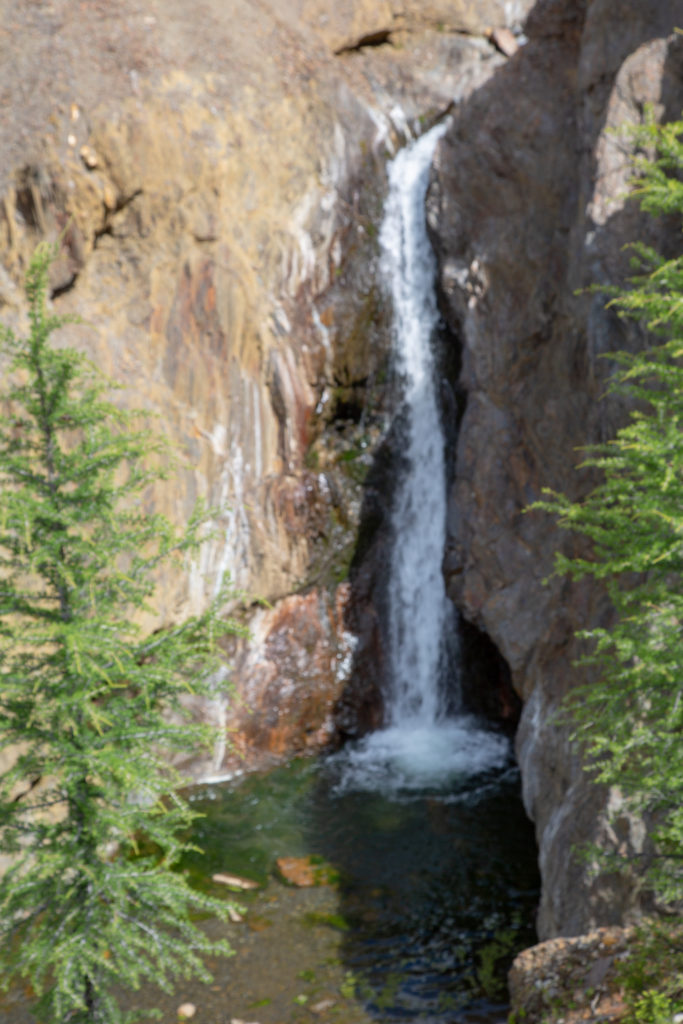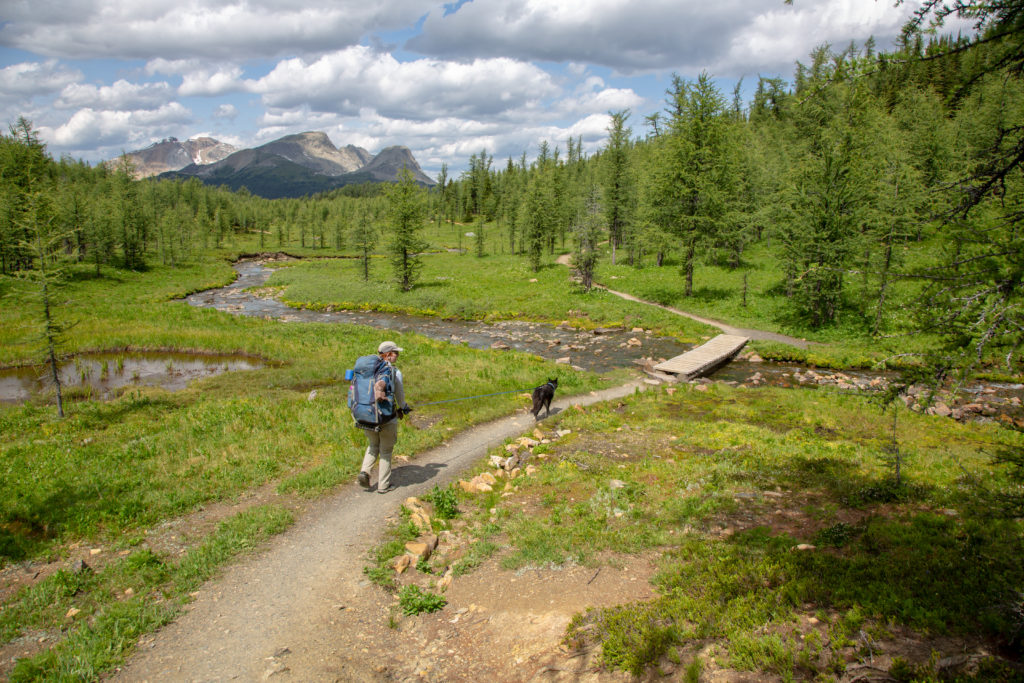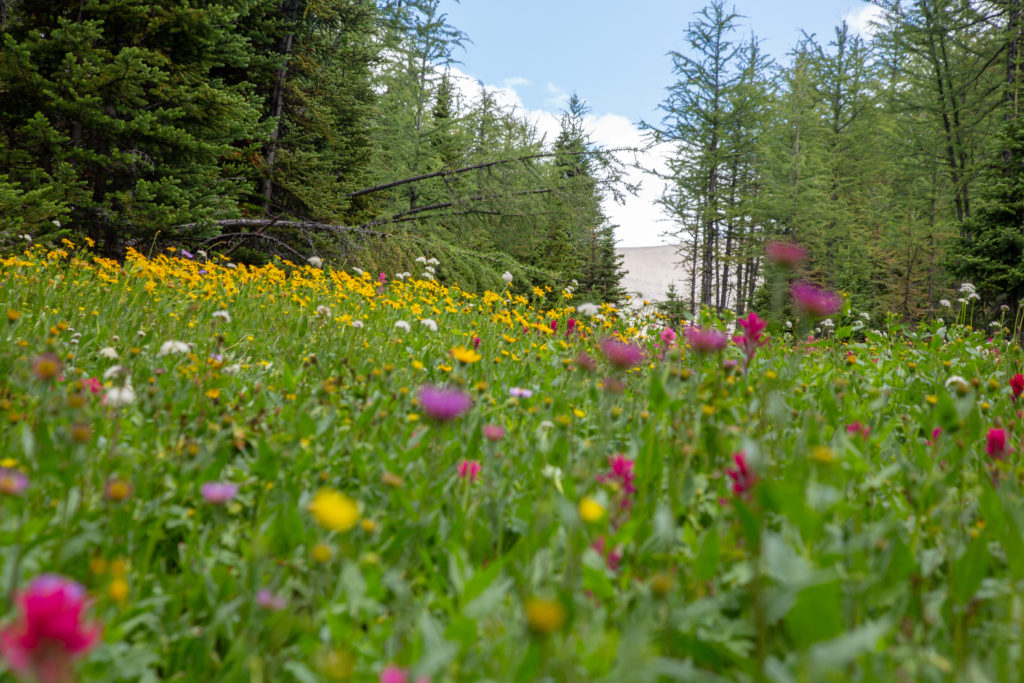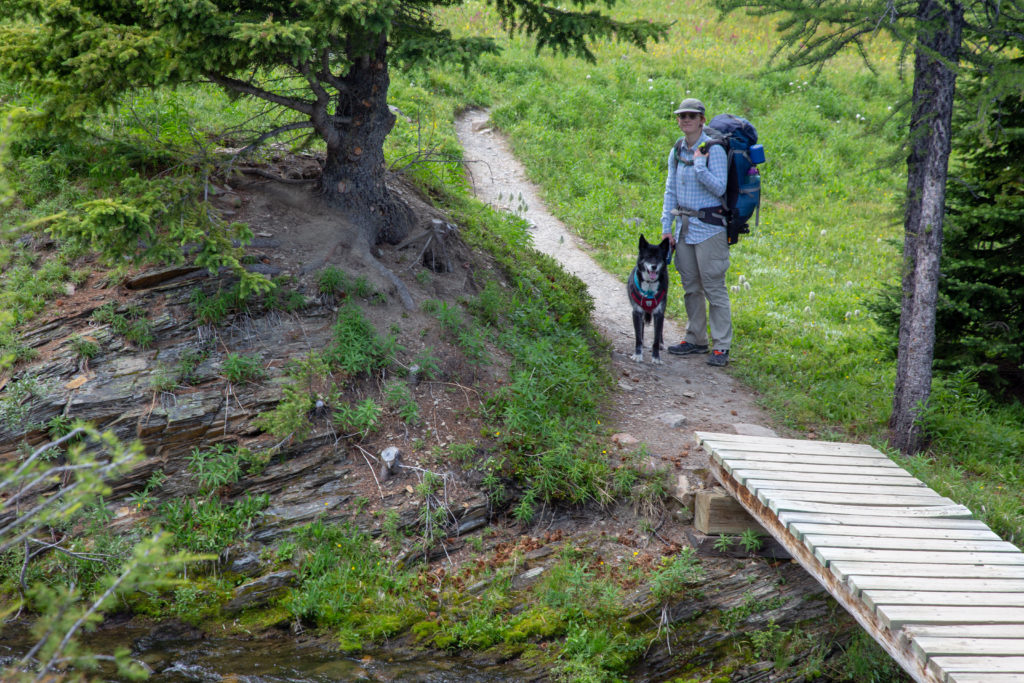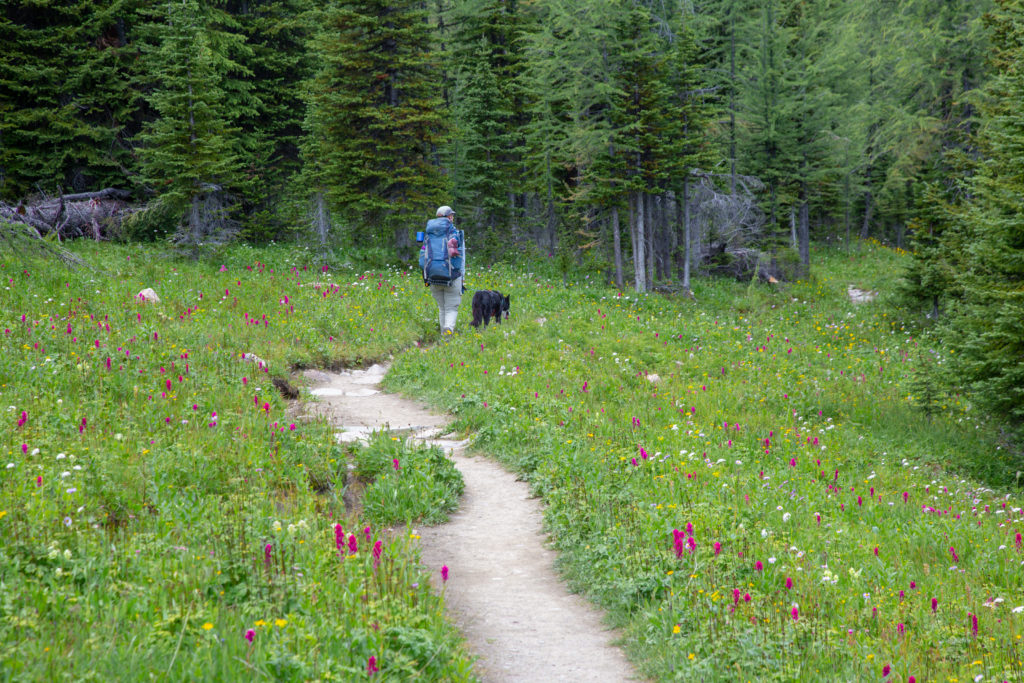 A final boardwalk over a wetland brought us to the Naiset Cabins. we passed by quickly to get some face time with Mt Assiniboine.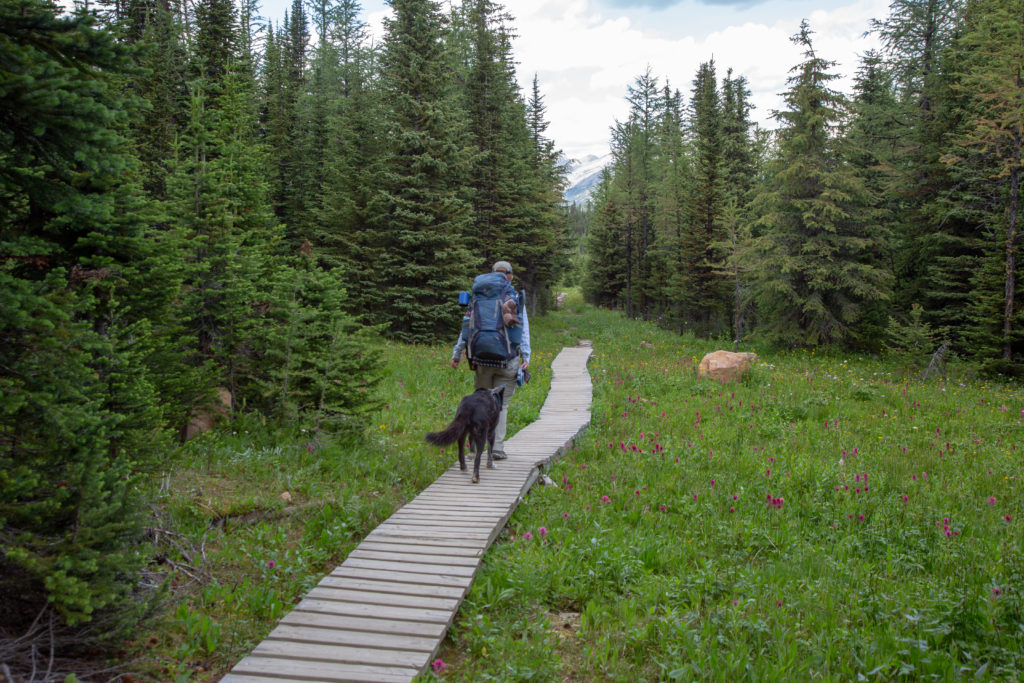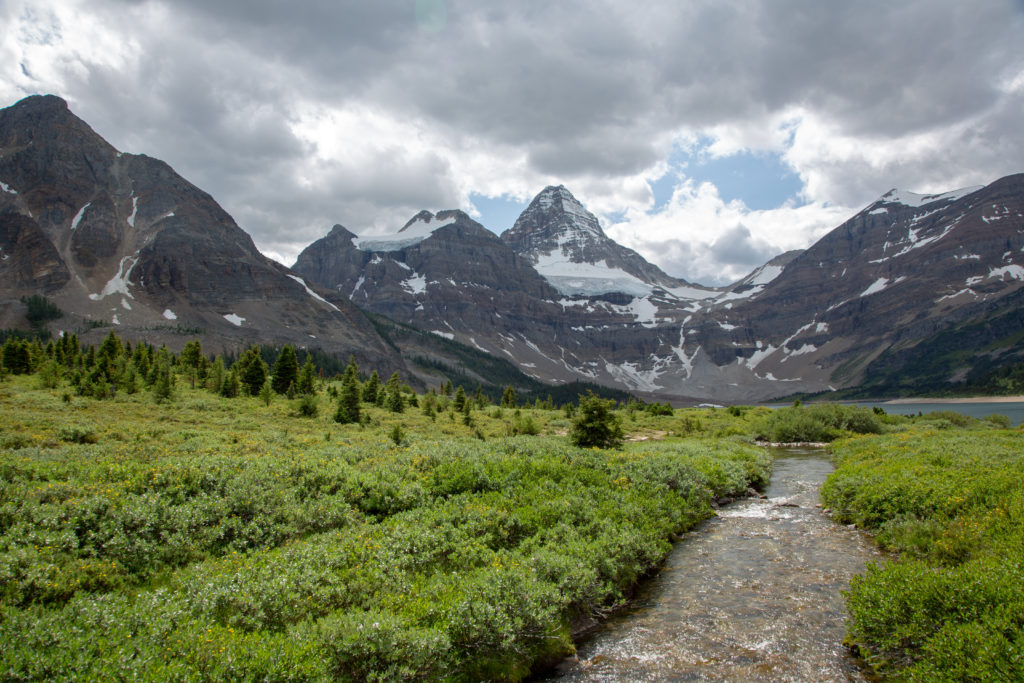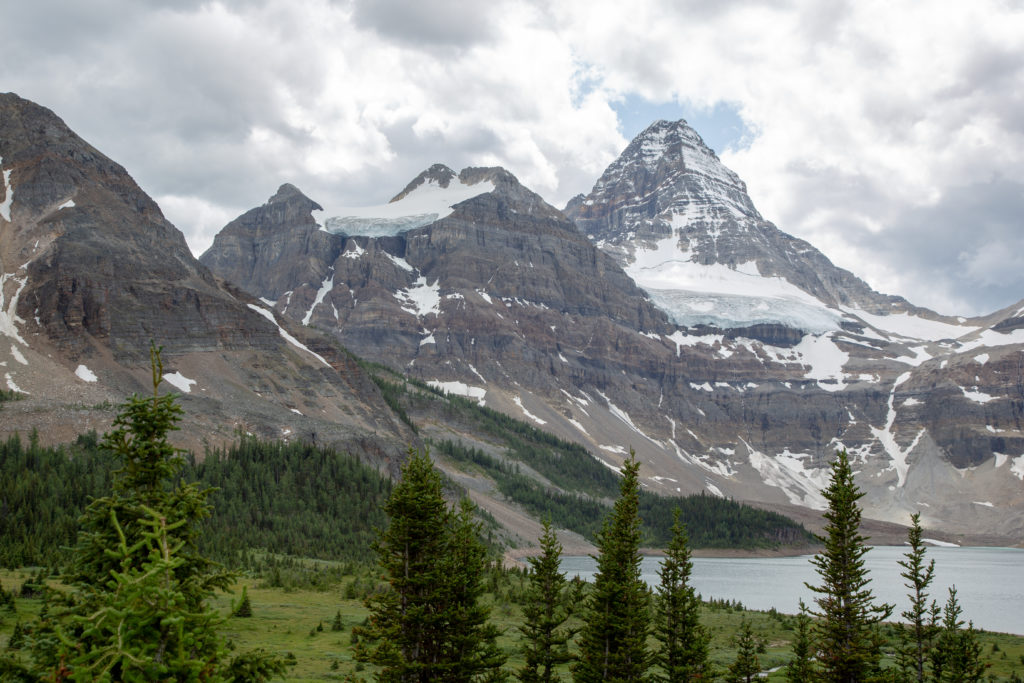 Lake Magog campsite was visible on the far side of the lake. It was simply too far to walk to. It was 2 pm, we still had a bit over 6 km to hike after already hiking over 16 km. Volcano was amazing on this trip, but she was turning 12 years old, and I really did not think the added distance was worth a slightly better view. So we had a 20 minute rest, snacking while taking in the view of Lake Magog and Mt Assiniboine. The weather was very unsettled, so we decided we should get a move on to our campsite.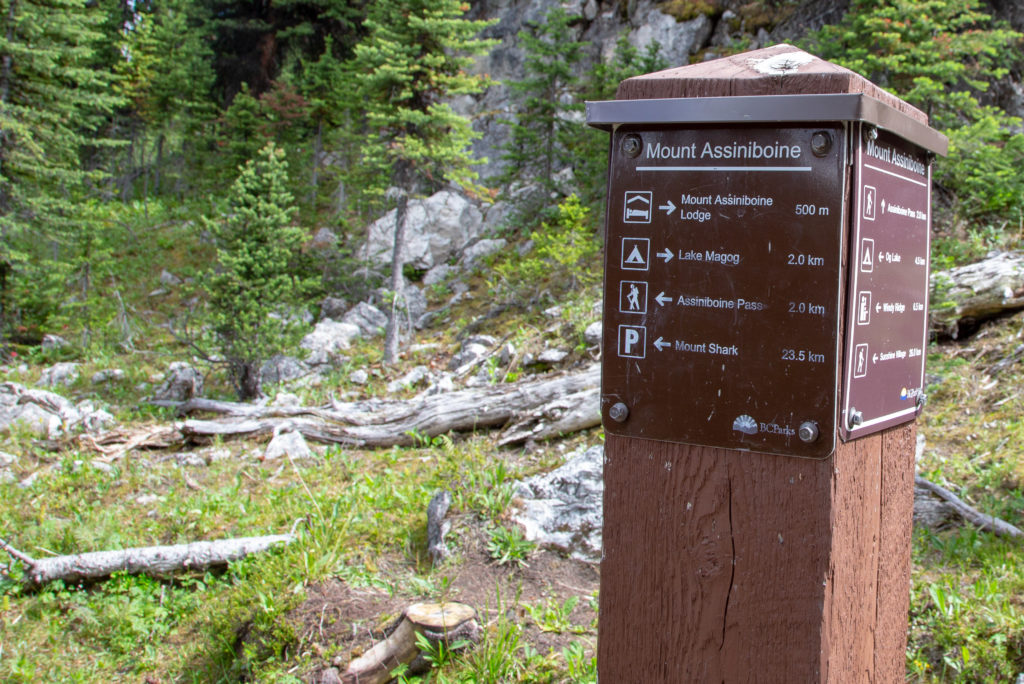 The trail system in the Mt Assiniboine area is very busy, but BC Parks has sign posts at the major intersections. The trail was smooth and weaved in and out of trees and past through a number of large meadows, and had a couple short hills to keep the feelings in our legs fresh.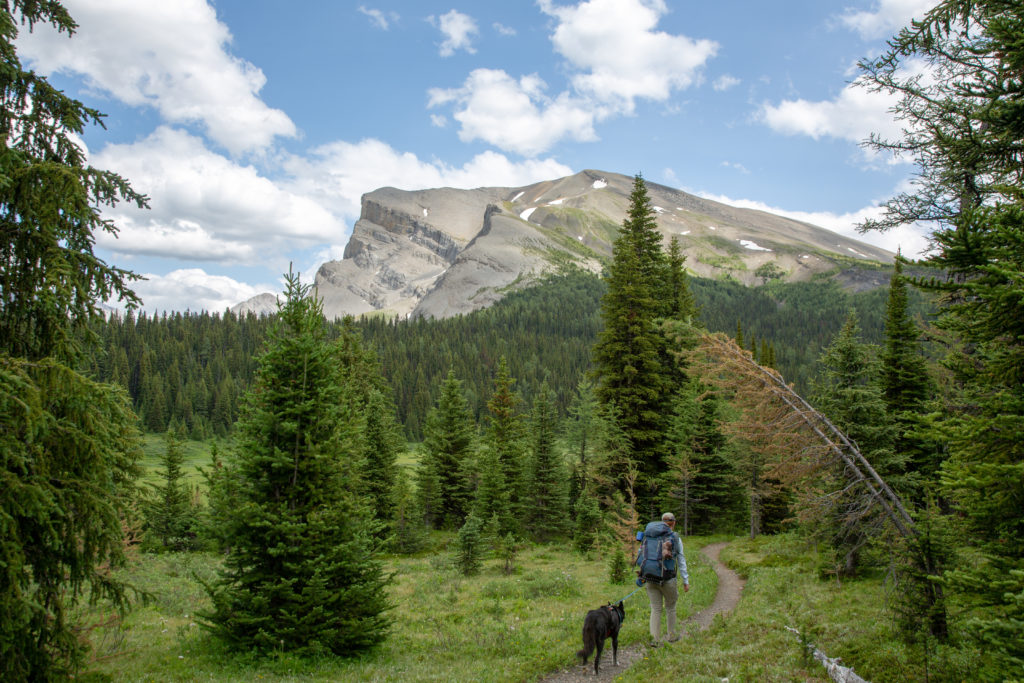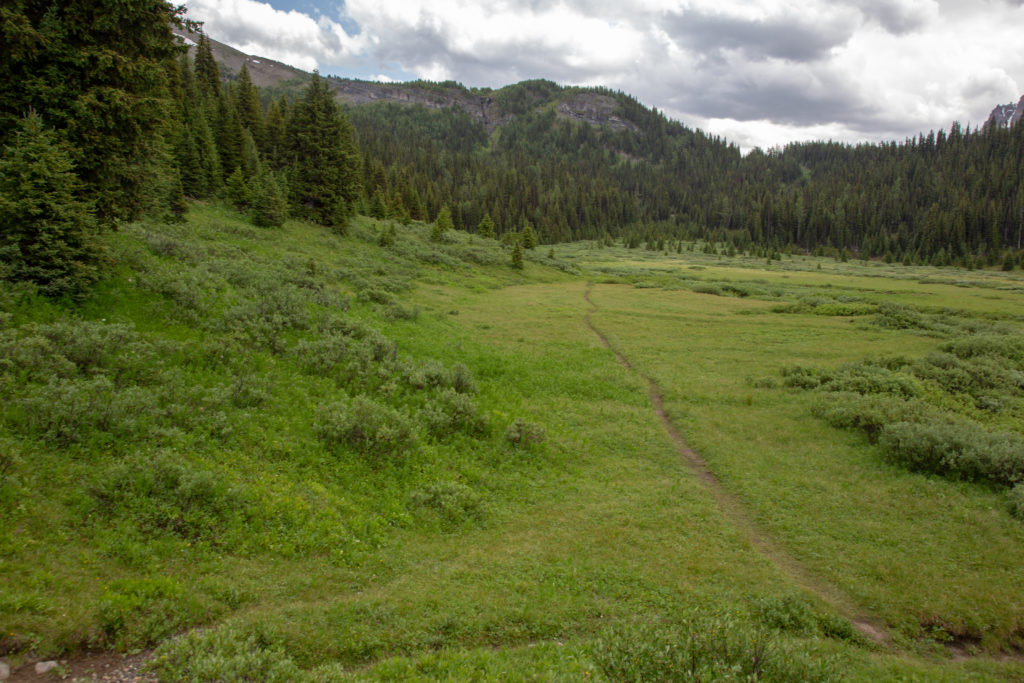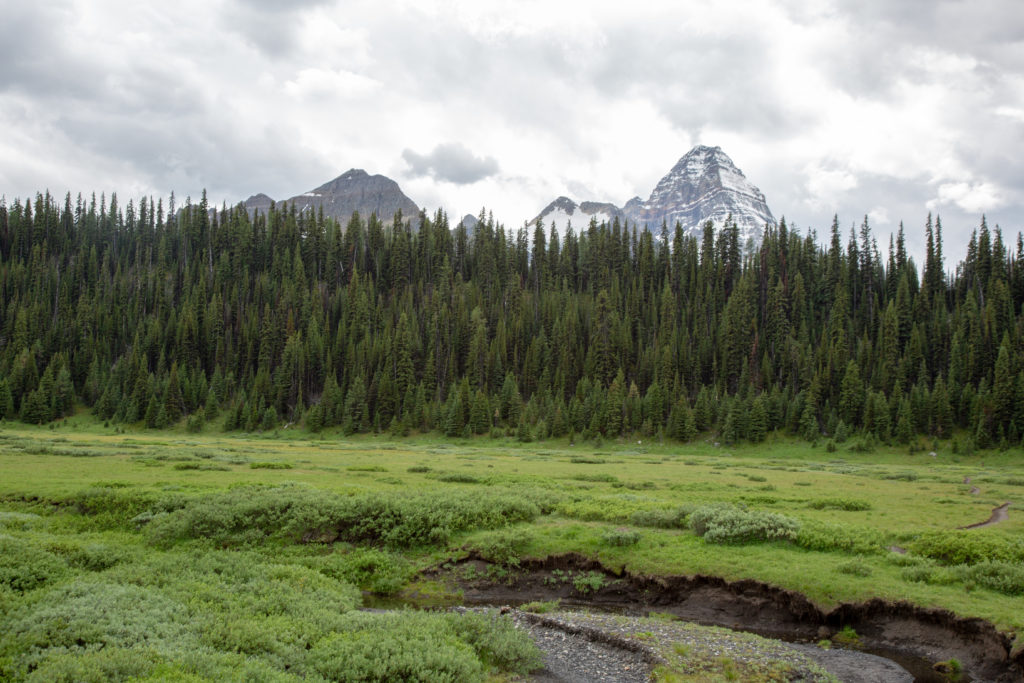 A short rise takes us to Assiniboine Pass, just under 10 minutes since we left O'Brien Meadow and about 40 minutes since we left our bench overlooking Mt Assiniboine. Mt Assiniboine Pass is nothing like Wonder Pass. It is heavily treed area, and there is nothing remarkable about Assiniboine Pass, other than being the high point between two valleys. We paused for a couple minutes to read all the information on the sign board, started our descent to Allenby Junction Campground.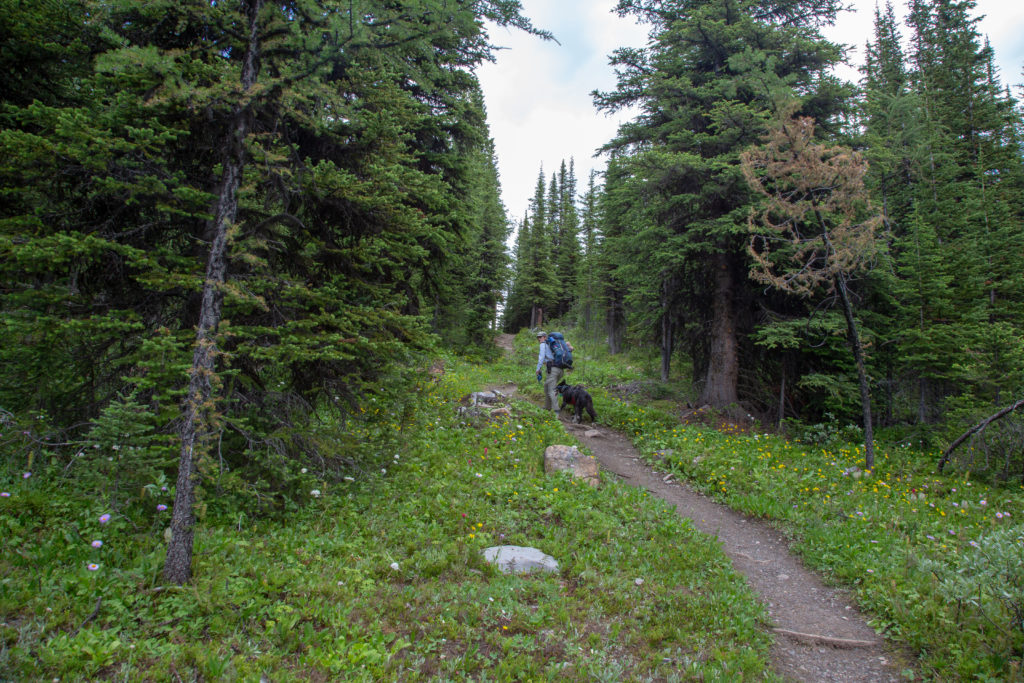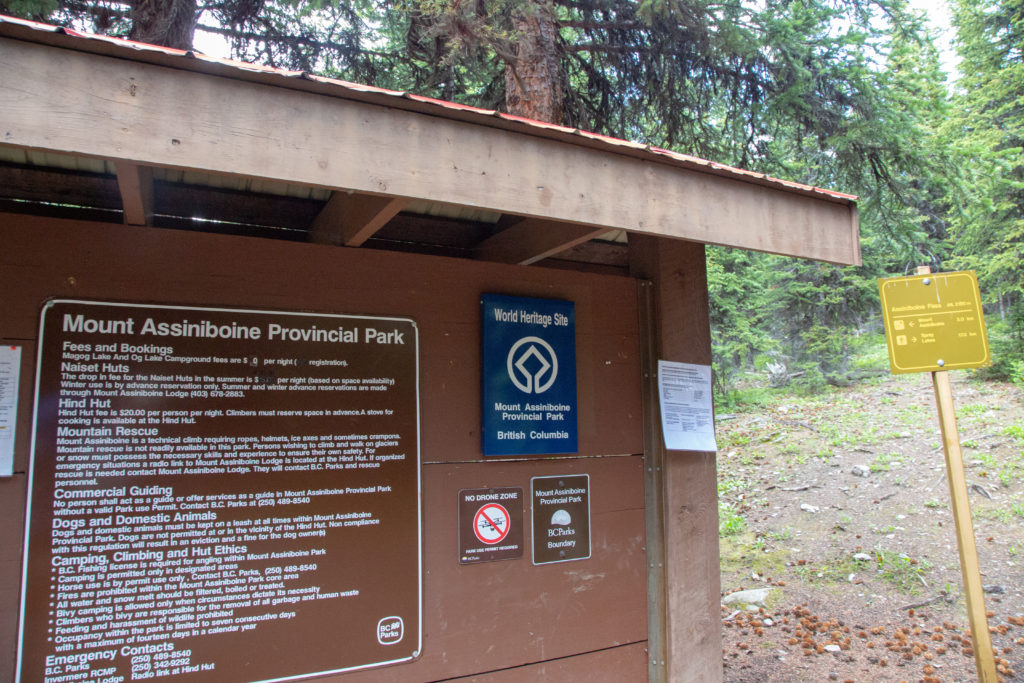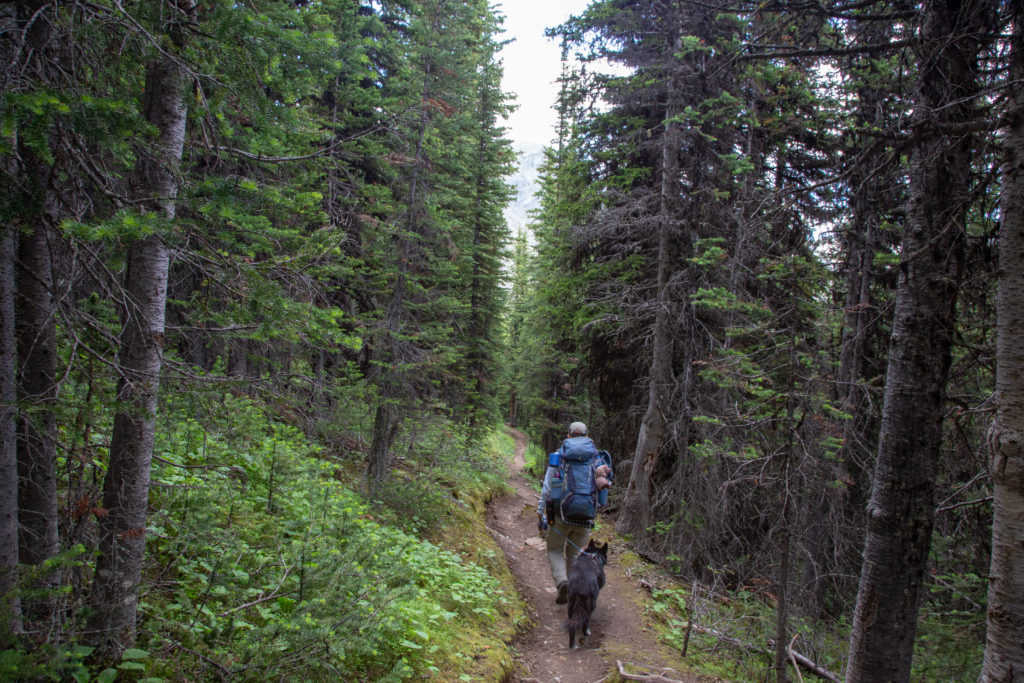 After a couple of minutes we come to a junction in the trail, hikers are directed to the right, nice Grizzly Bear warning sign! We pass a trail junction that leads to the Allenby Pass area. A large area north of were we are camping, including Allenby Pass is closed August 1st to small groups and to dogs.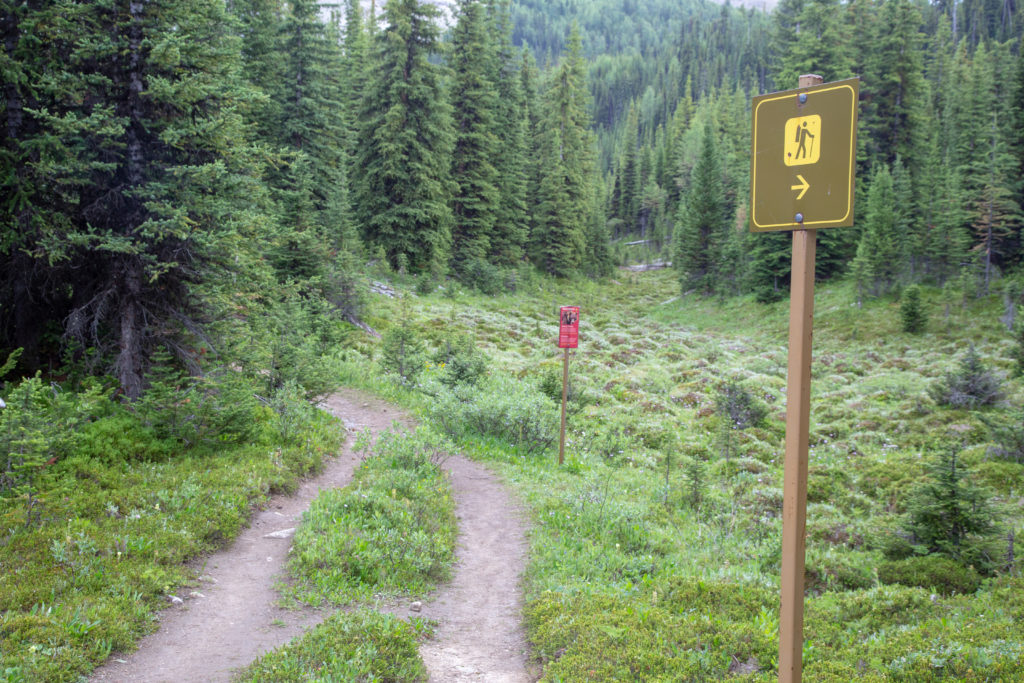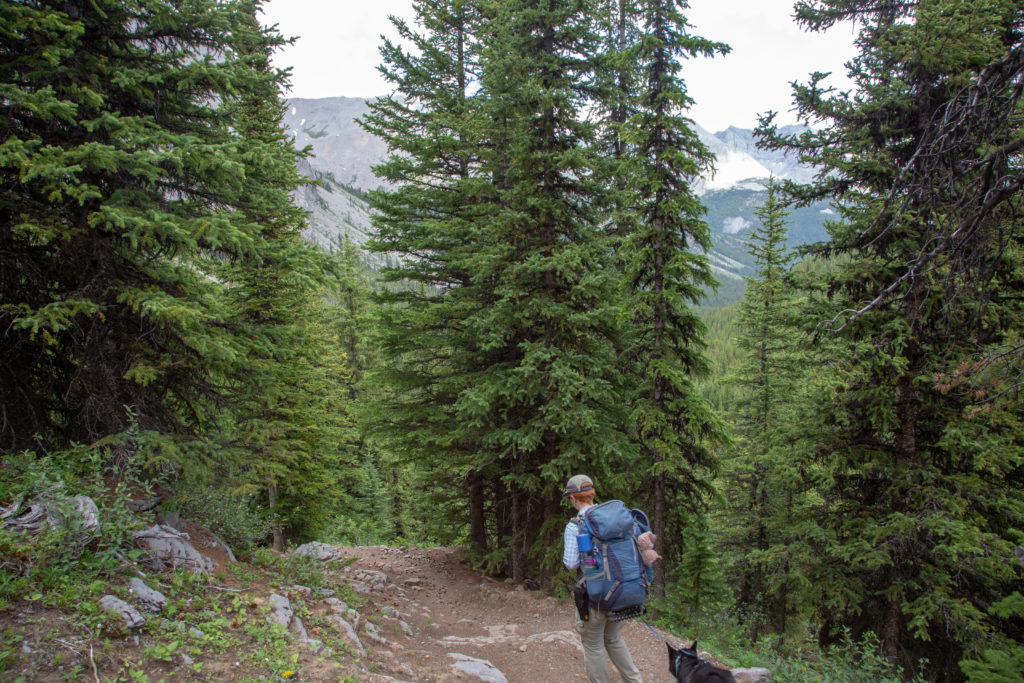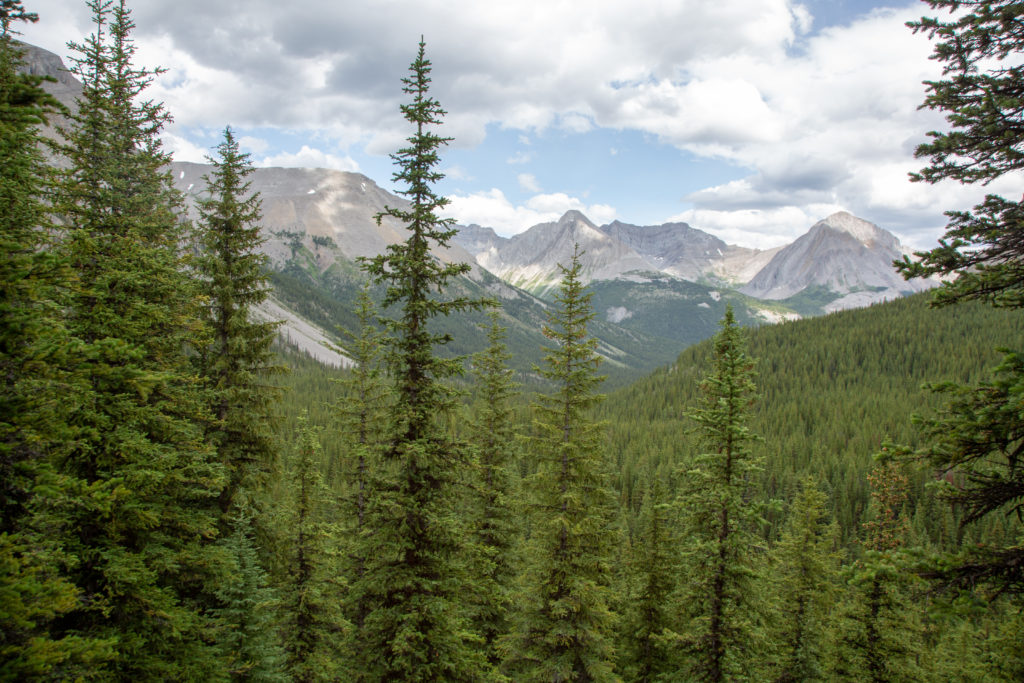 As we near the valley floor we begin to cross over many small creeks, keeping the feet dry becomes a challenge. We skirt along the edge of a lovely little canyon. A family of about 12 passes by us heading up the trail. They have small day packs, with the time of day, we figure that they are staying at the huts at Assinboine. At the back was the mother and two teenage girls, the girls did not look very pleased, and they were just beginning the climb to the pass.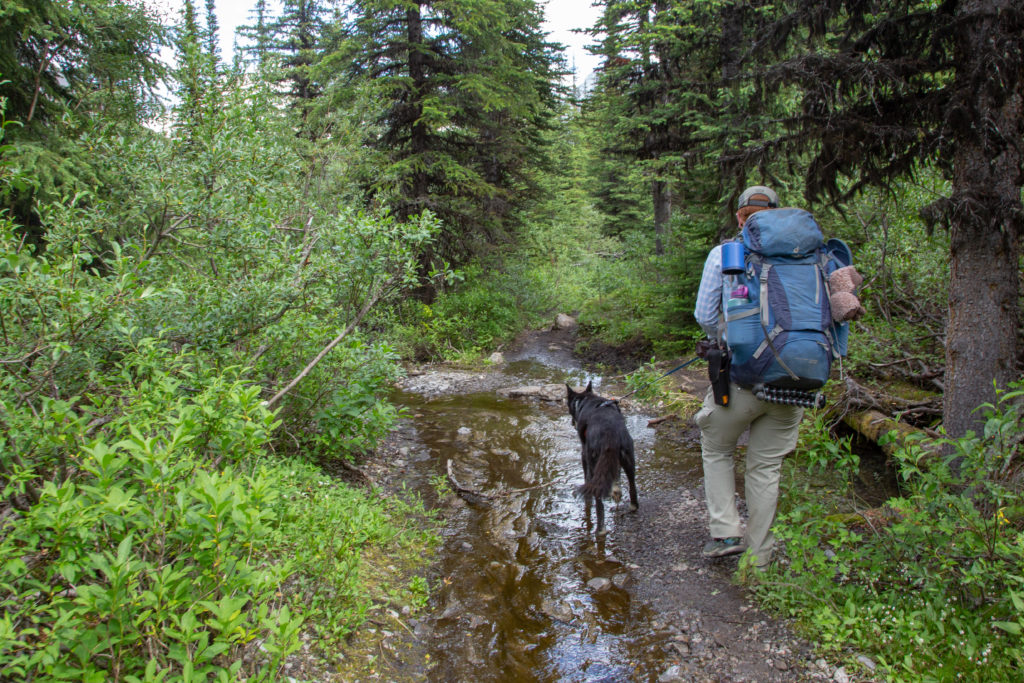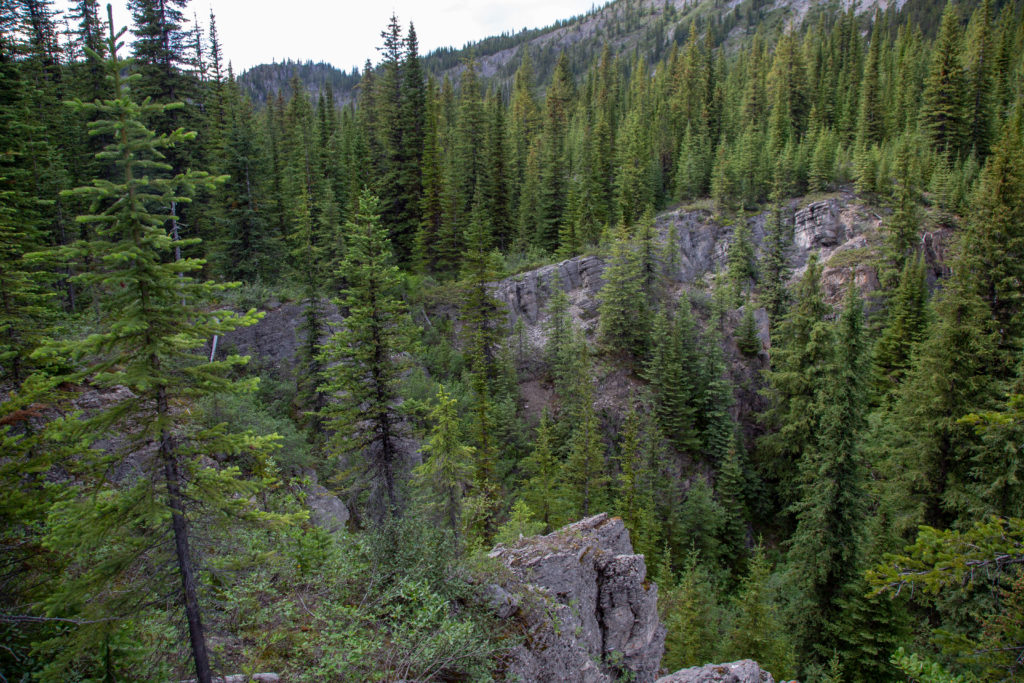 After negotiating a small flooded area, the trail flattens out. We come to a nice meadow which offers 360 degree views, we pause to take in the scenery.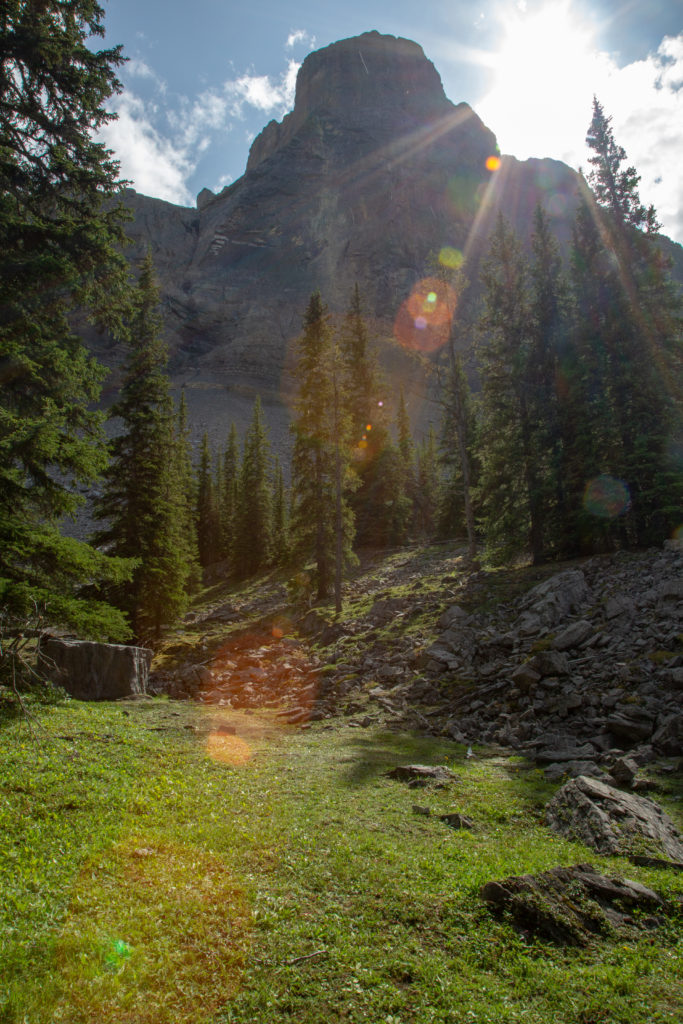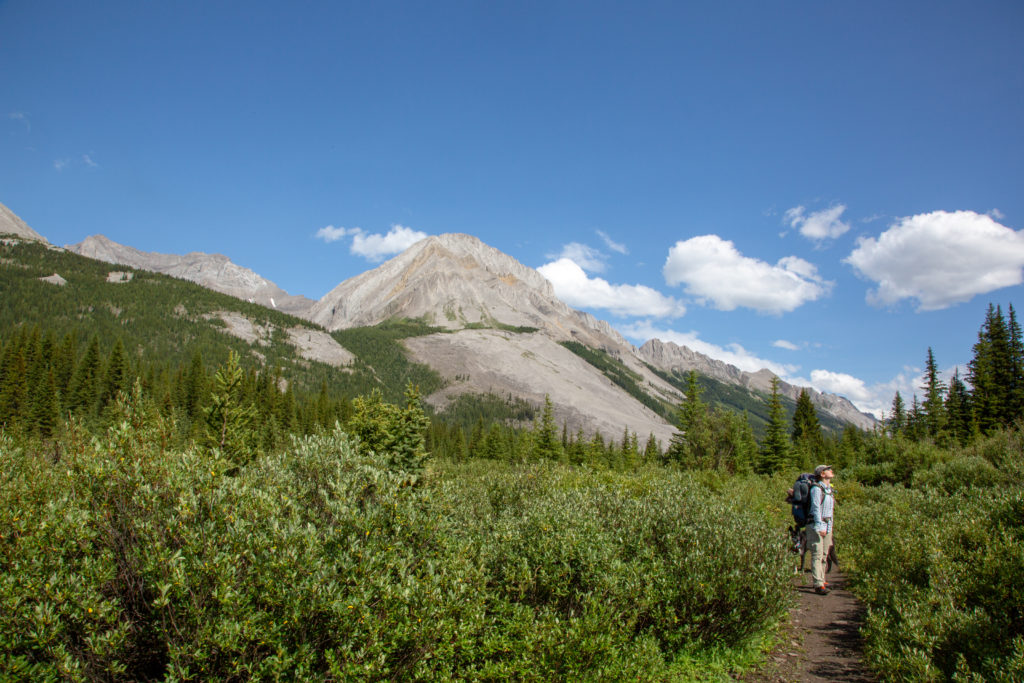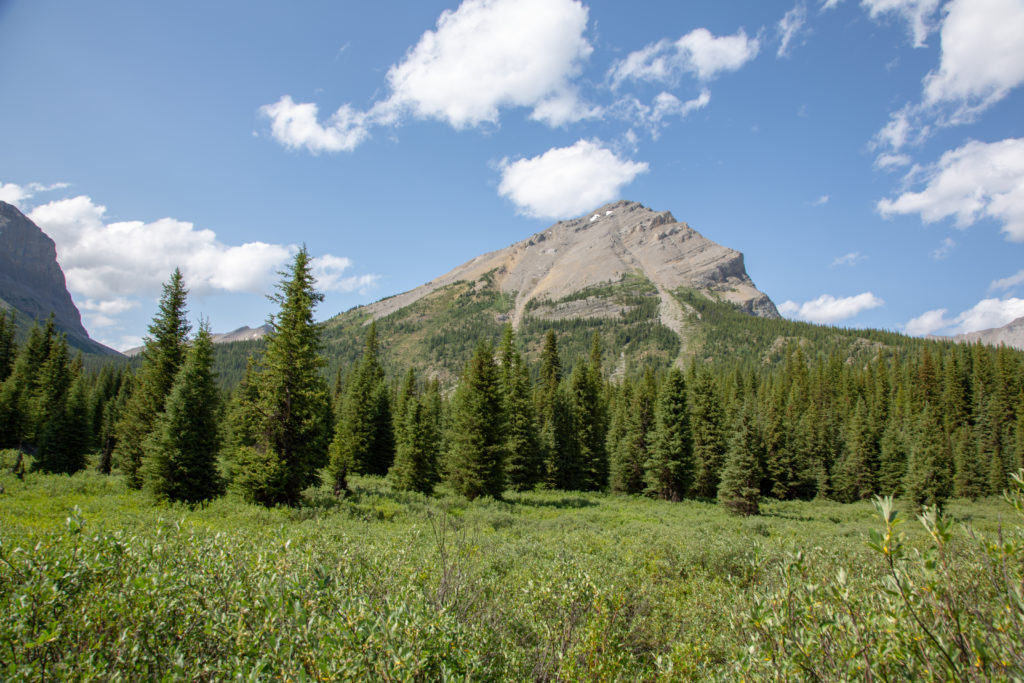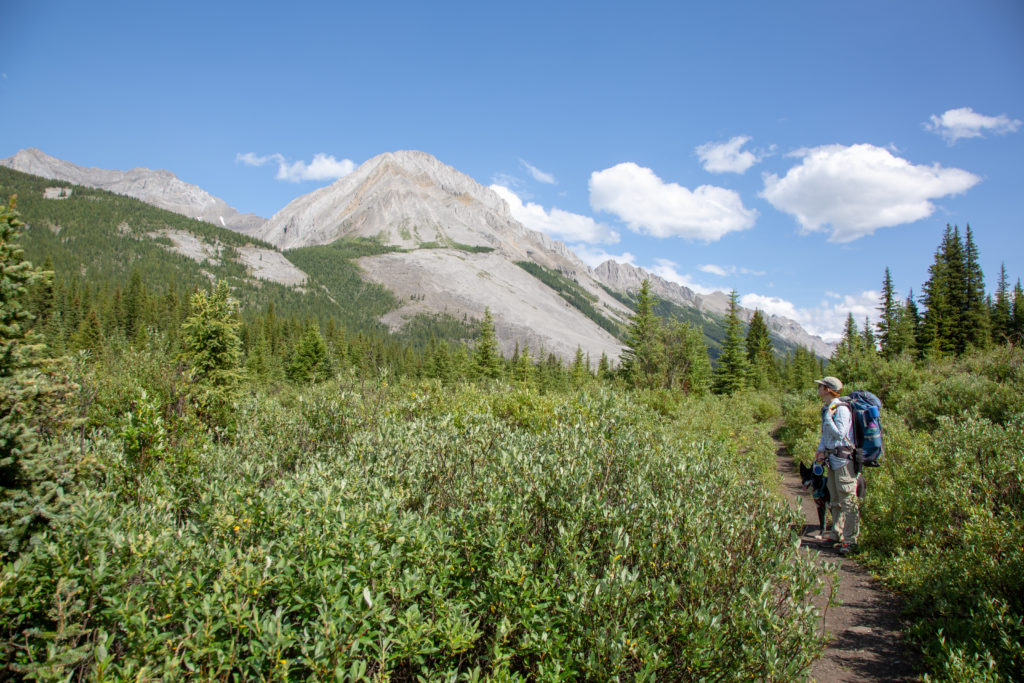 Five minute later we cross a cute little bridge and another 5 minutes has us arriving at Allenby Junction Campround, the time is 4:33 pm, so 9 hours 33 minutes after we left Marvel Lake Campground.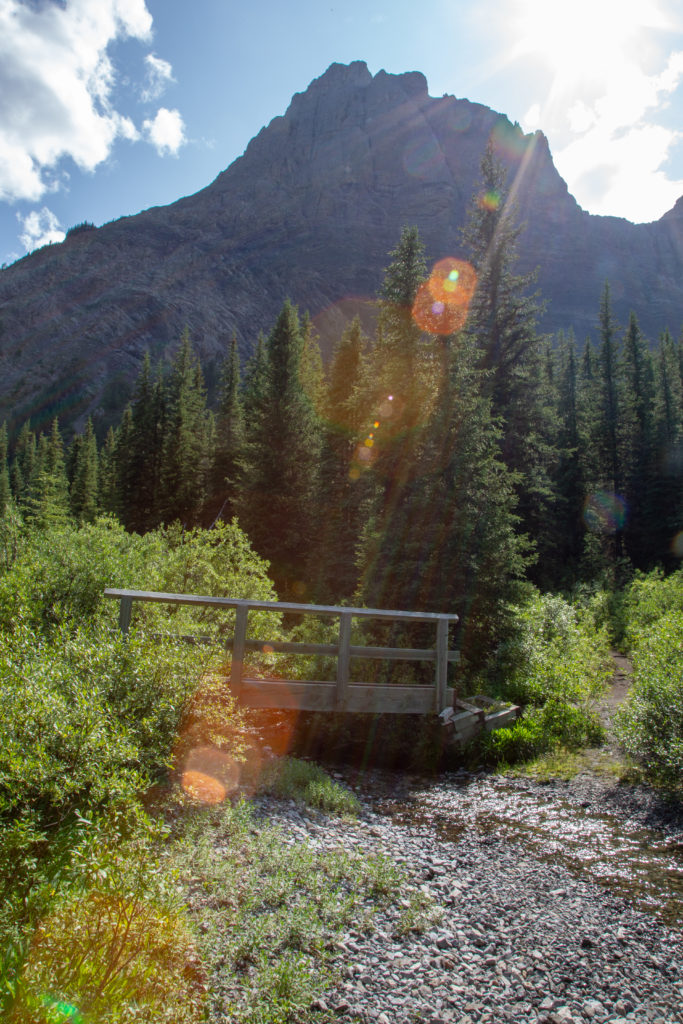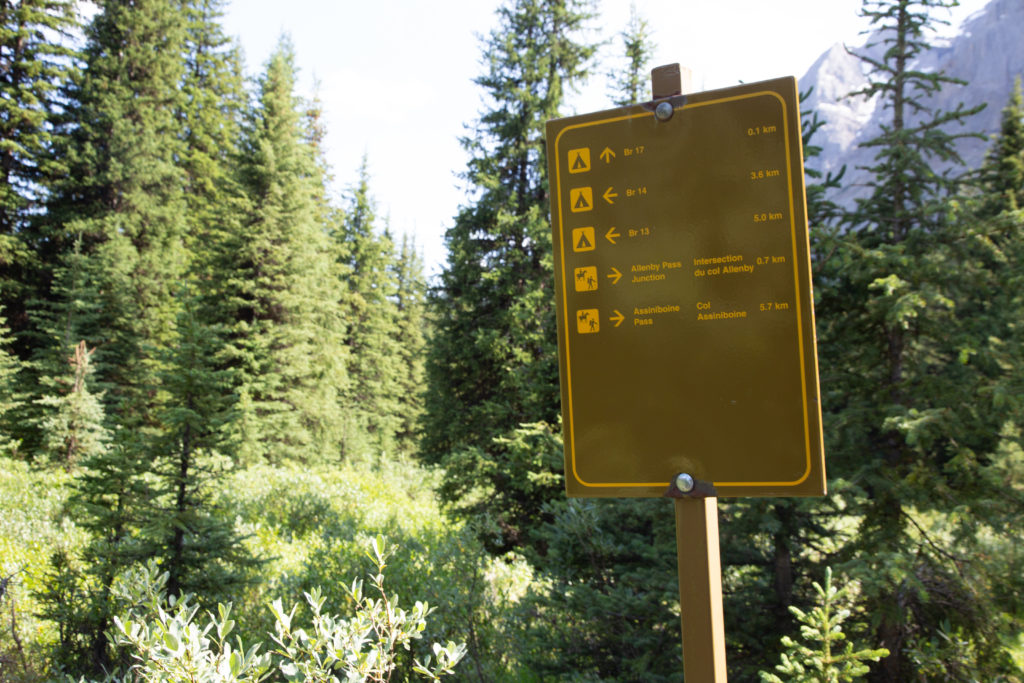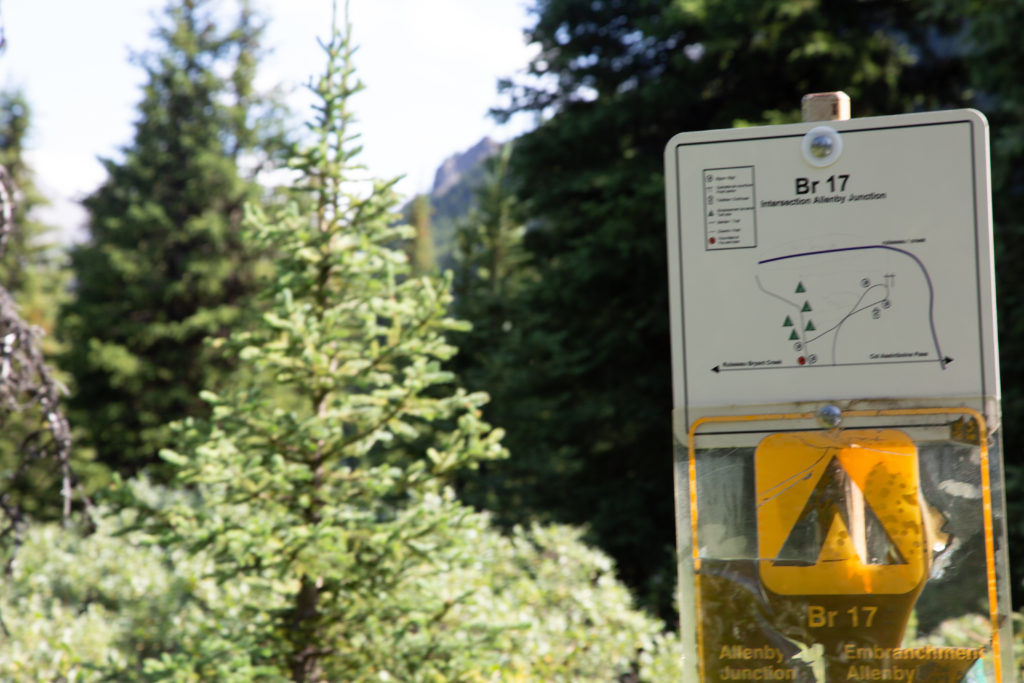 There are suppose to be five tent sites at the campground. Some of the designated sites had no space for a tent. Similar to Marvel Lake Campground, this is not a great example of what most Parks Canada campgrounds are like. There was evidence of work being done at the campground, and it did have brand new bear lockers. We chose a site slightly off the path. Micah and I set about putting up the tent while Volcano rested.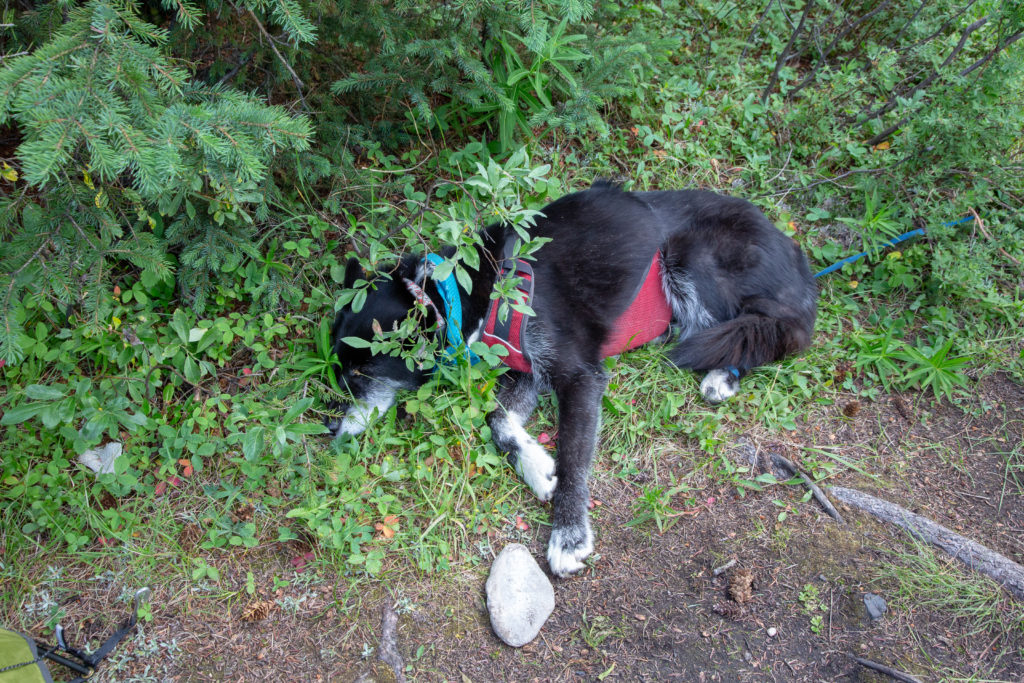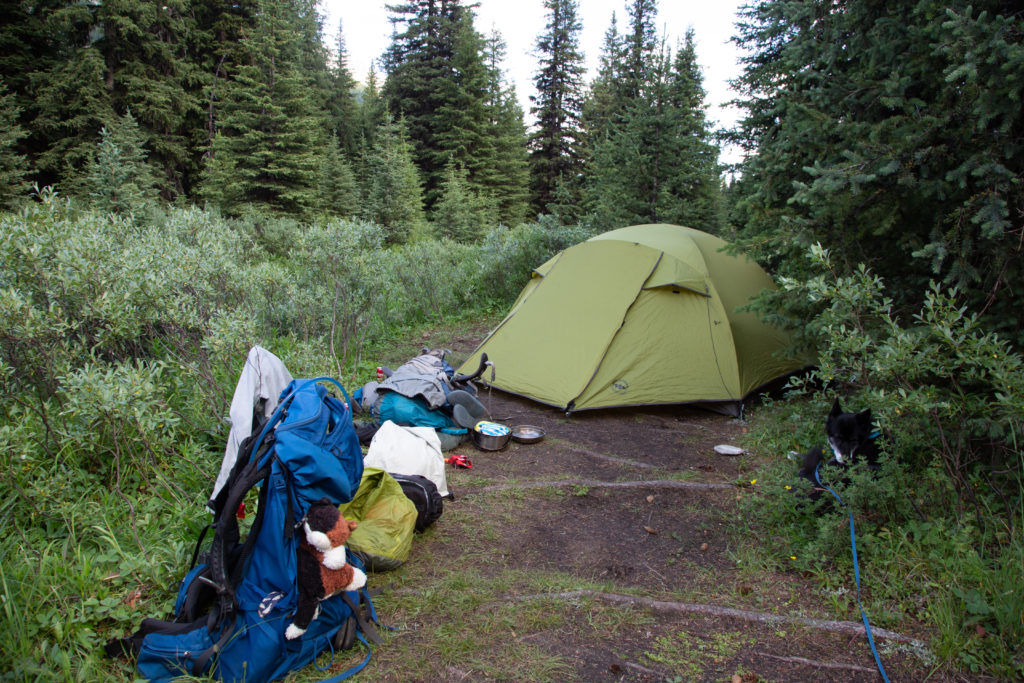 We explored the area a little, Bryant Creek runs nearby and made dinner at about 6 pm. Micah played a podcast about a South Pacific island that had its animal life destroyed by rats brought by explorers, and how a specific type of stick bug, that is found no where else, and was thought to have been extinct, as then found living on some tower rocks many miles away. Quite interesting. There were suppose to be other campers at the campground, but no one came, we owned the whole place. I tried to read, but I am not very good at it off the tablet, I kept closing my eyes. Micah read and wrote in their journal for while before calling it a night.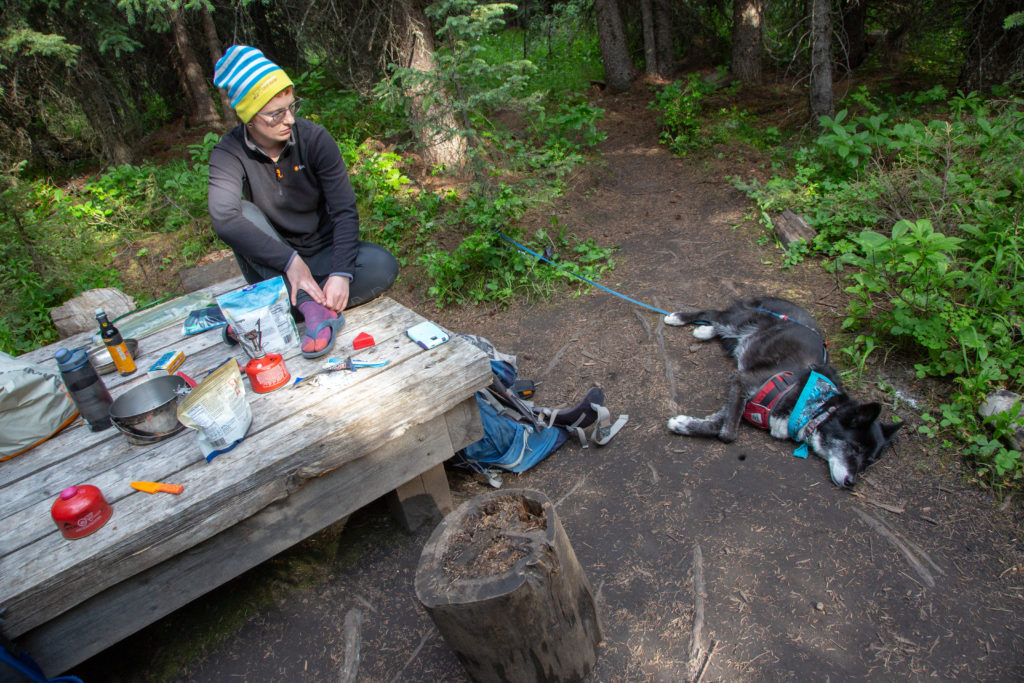 Good night from Allenby Junction Campground.