Wild Camp Slopes of Picketpost Mt (-111.16689, 33.26252) to Picketpost Trailhead, 2.0 km, 10 m Elevation Gain, 145 m Elevation Loss, 29 min, Passage 17.
Hiking wise this was going to be a very easy day. Most of the day would be spent driving back to Las Vegas to fly home the next day at 6:00 am. There are a couple ways to drive to Las Vegas from Phoenix so I gave Micah the low down on the choices and let them decide. We were in absolutely no rush in the morning. I got out of the tent at 7:25 am and took photos of the morning sky. Water was on the boil about 7:45 am for the morning cup of coffee.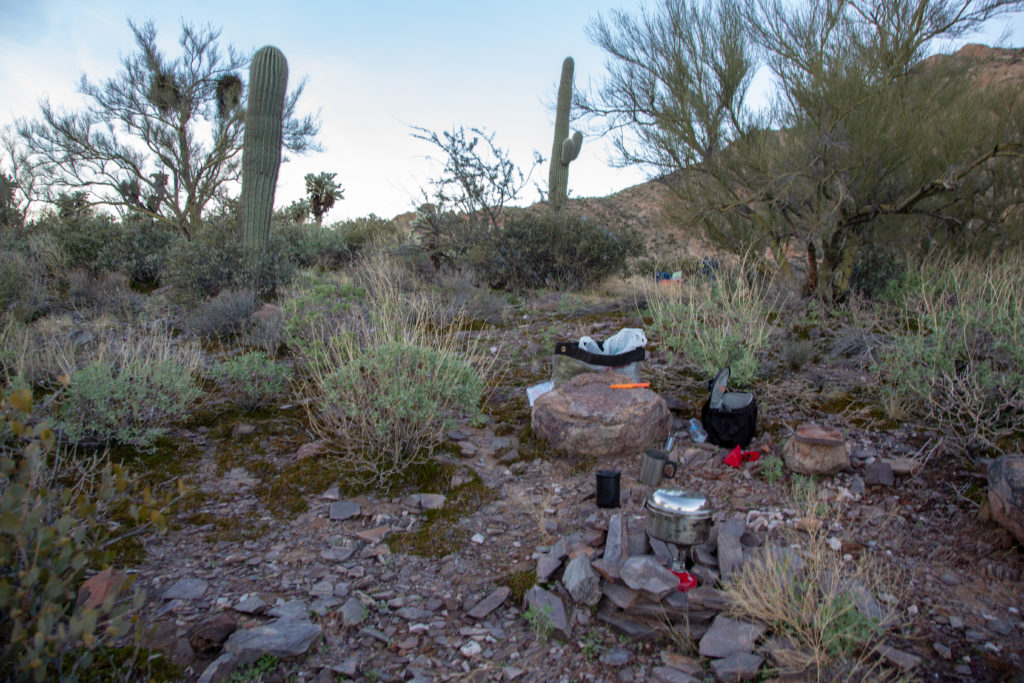 We packed up the campsite but there was not a lot of urgency in our movements. Even though we did not work that hard to leave quickly we must have been more efficient as we left the camp less than an hour after I got out of the tent.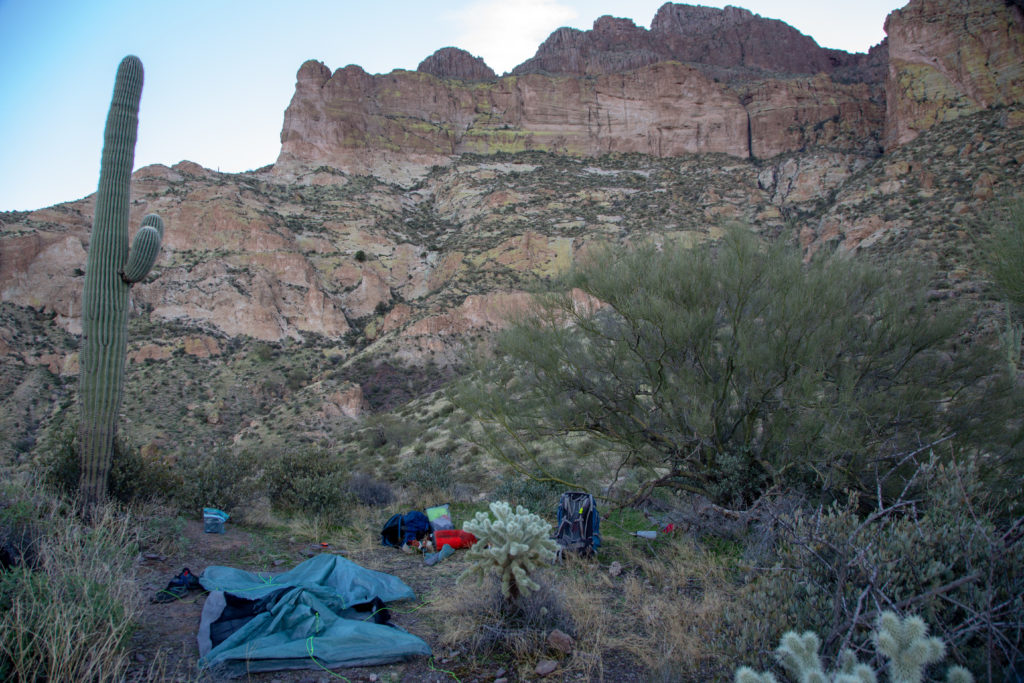 We headed back down the trail back towards the Arizona Trail (AZT). It took only 20 minutes to rejoin the AZT and less than 15 minutes to arrive at the parking lot for Picketpost Trailhead. We met a crew of 10 – 15 AZT volunteers heading out to do some trail maintenance. They had a lot of shovels and a couple of wheelbarrows. Not sure what needed that much attention as they trail was in excellent shape. We chatted for while and I thanked them for a wonderful trail that we had enjoyed for the last few days. When we arrived back at the car we were greated with a couple of cm's of snow on the back window! It had been a chilly night but I did not think it had been that cold.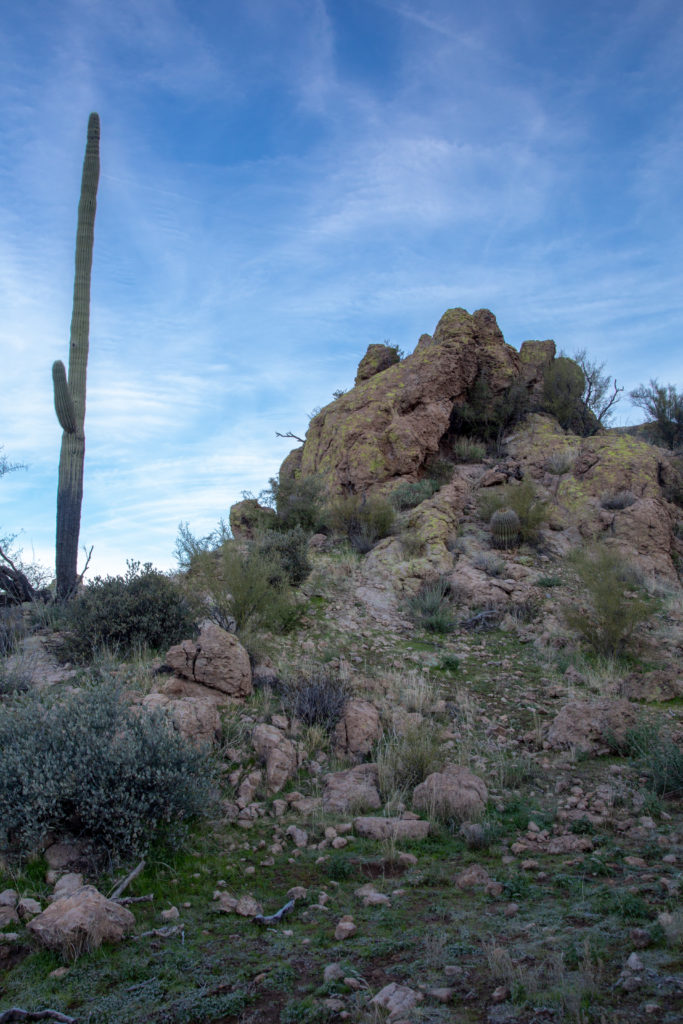 We changed into our traveling shoes. As much as a I love my hiking shoes I was glad to slip my feet into some new socks and my sandals. Micah decided that we would drive up through Sedona and Flagstaff on our way back to Las Vegas since we had so much time. We drove through Sedona and up Oak Creek Canyon. We stopped at the top of the canyon at the viewpoint where we were standing in about foot of snow. After leaving Oak Creek Canyon we only stopped for gas and to get submarine sandwiches that served as both lunch today and a snack for traveling the next day.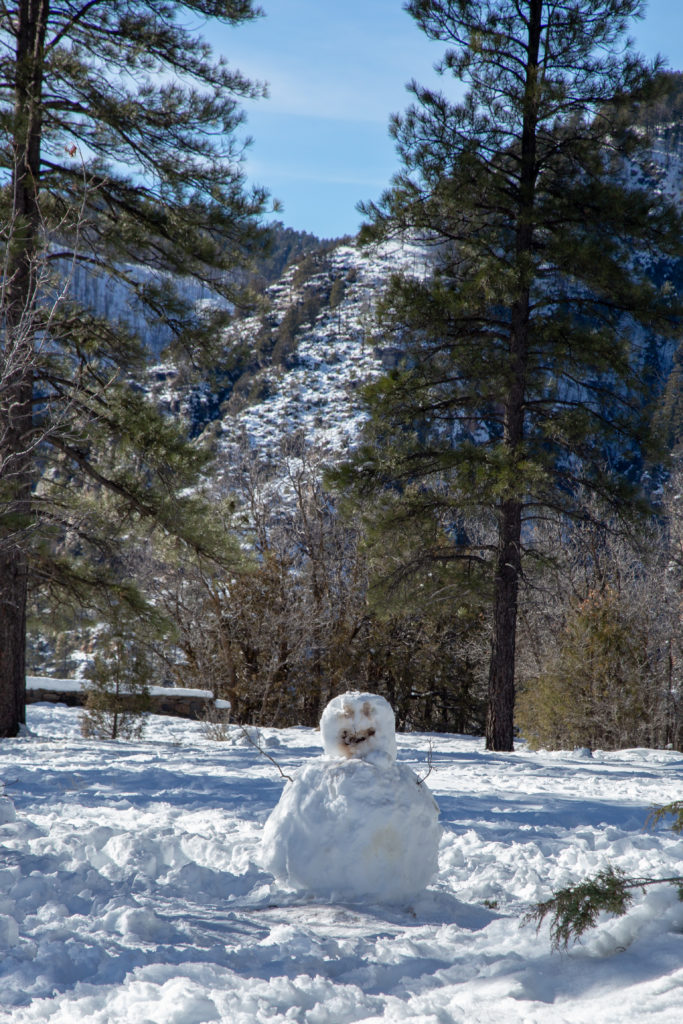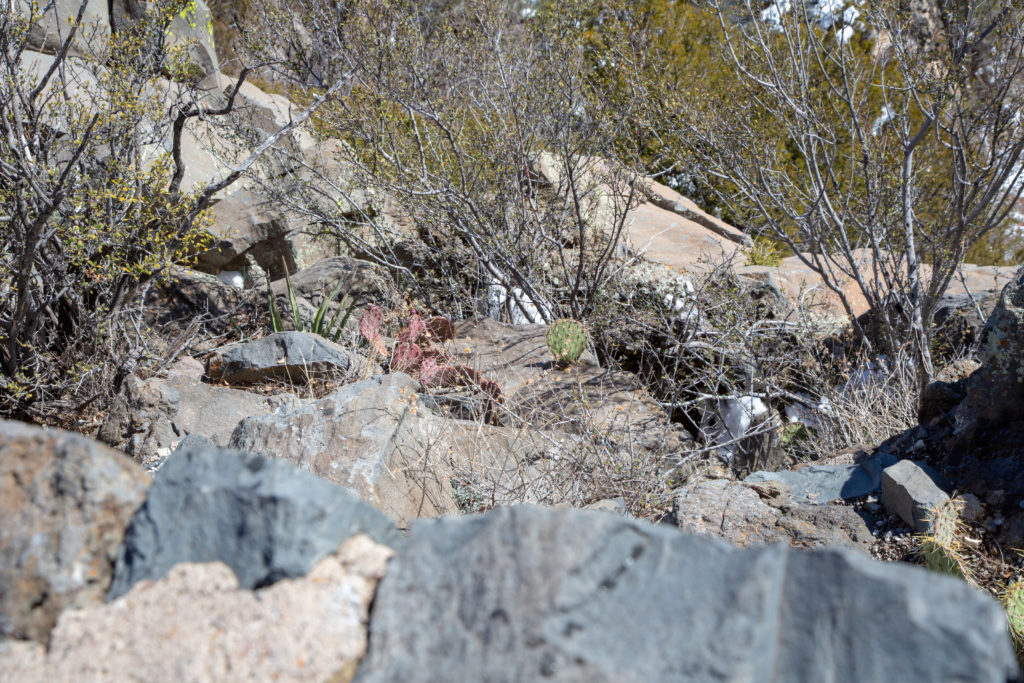 The Arizona Trail was a great experience and I am so glad that we were about to get just a little taste of it. Later while musing about future trips I told Micah that I was considering doing the first 4 passages of the AZT. Micah asked nicely but firmly that they would appreciate it if I did not hike the AZT without them! High praise for the trail.