Day 6, August 16th, Four Points CG to Waterfalls CG, 27 km, 811 m elevation gain, 800 m elevation loss, 9 hrs (Segment 26).
Slept great with the soothing sound of rain on the tent. The morning was cold and damp but it was no longer raining when I got out of the tent. We had a relatively big day ahead of us at 27 km but all on good trail so we didn't feel we had to rush out of bed to get an early start. I was up first and had coffee ready by 7:25 am. No one else was stirring in the campground so we got ready quietly and were off down the trail at 7:45 am.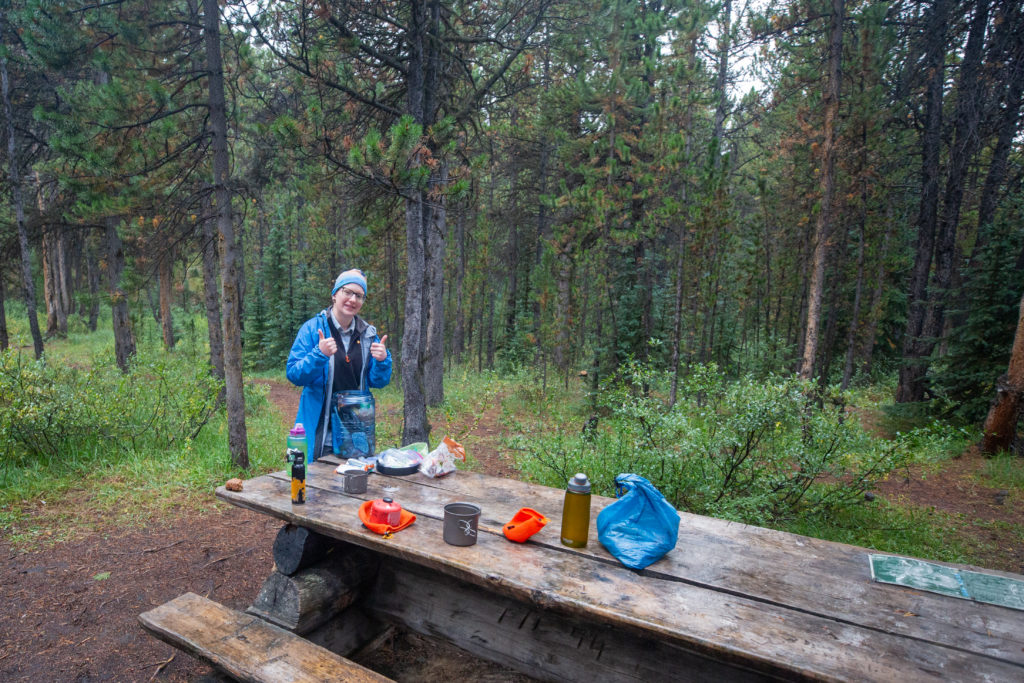 I had hiked most of the trail that we would be on this day back in 2017 when I spent 5 days hiking the Brazeau Loop. During the hike in 2017 there was a solar eclipse visible over Western Canada. Today the same conditions were exactly the same as that summer, both smoky and rainy. Needless to say we did not see the eclipse back in 2017.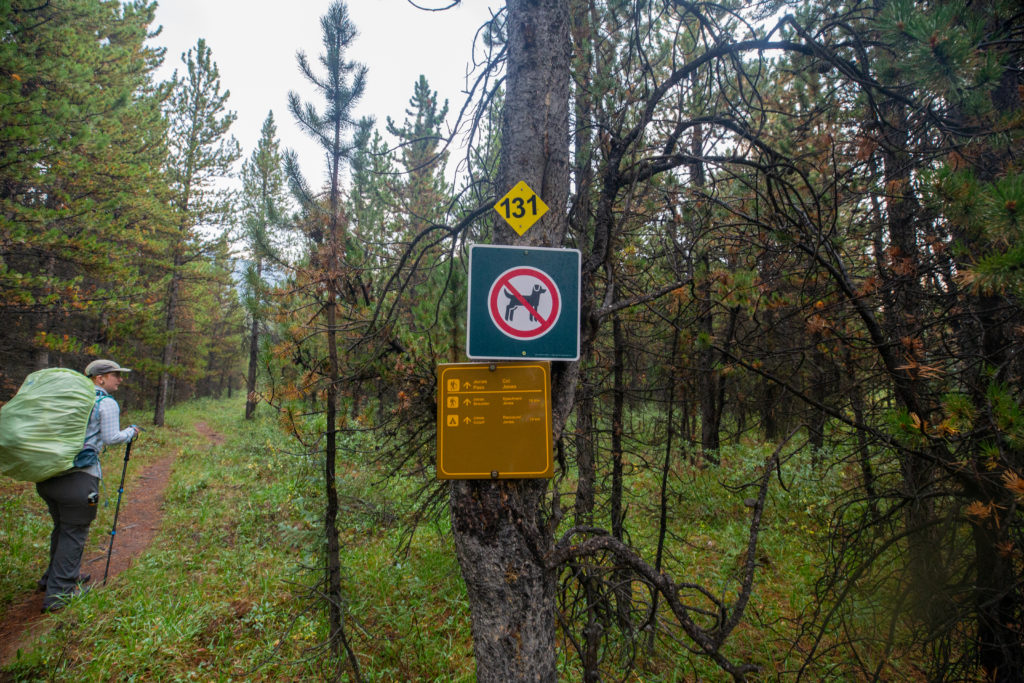 The two climbs on this day were up and over Jonas Pass and then Jonas Shoulder. Jonas Pass and Jonas Shoulder were both named by geologist Arthur Coleman for Chief Jonas Goodstoney. Chief Jonas provided Coleman and his survey party with detailed hand-drawn maps that they used to access the mountains and complete their survey in 1889. The trail goes up sharply for the first couple of kilometres before settling into a very easy grade for the remainder of the 9 km to Jonas Pass. With the hiking being quite easy there was plenty of conversation, which contrasted sharply with the mostly silent hiking I had experienced on the first five days. There were a few small water crossings but we kept our feet dry for the most part.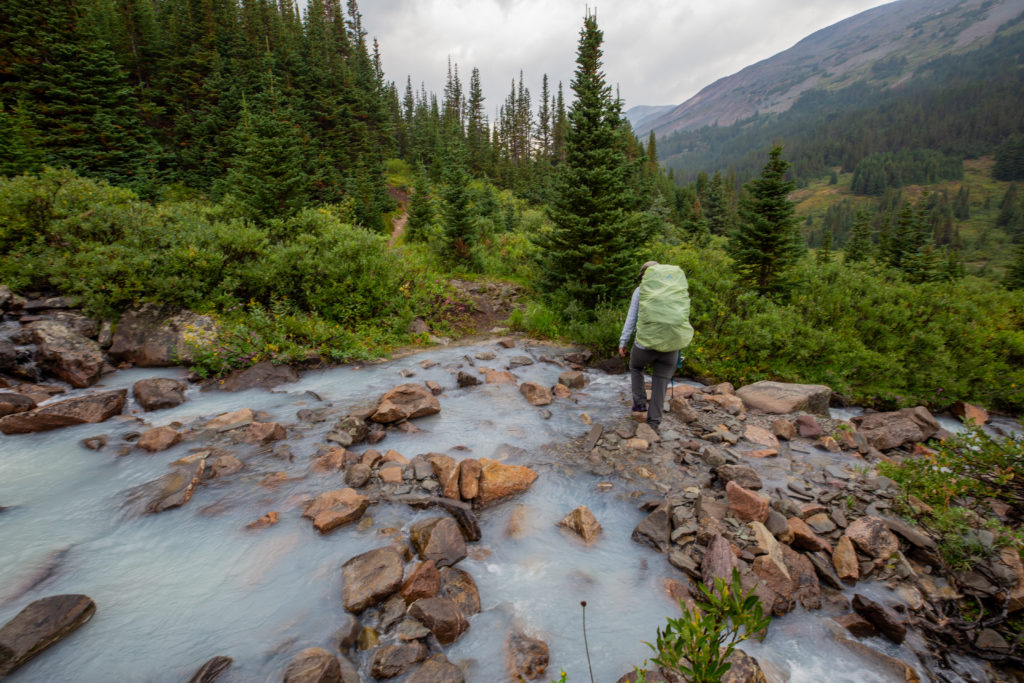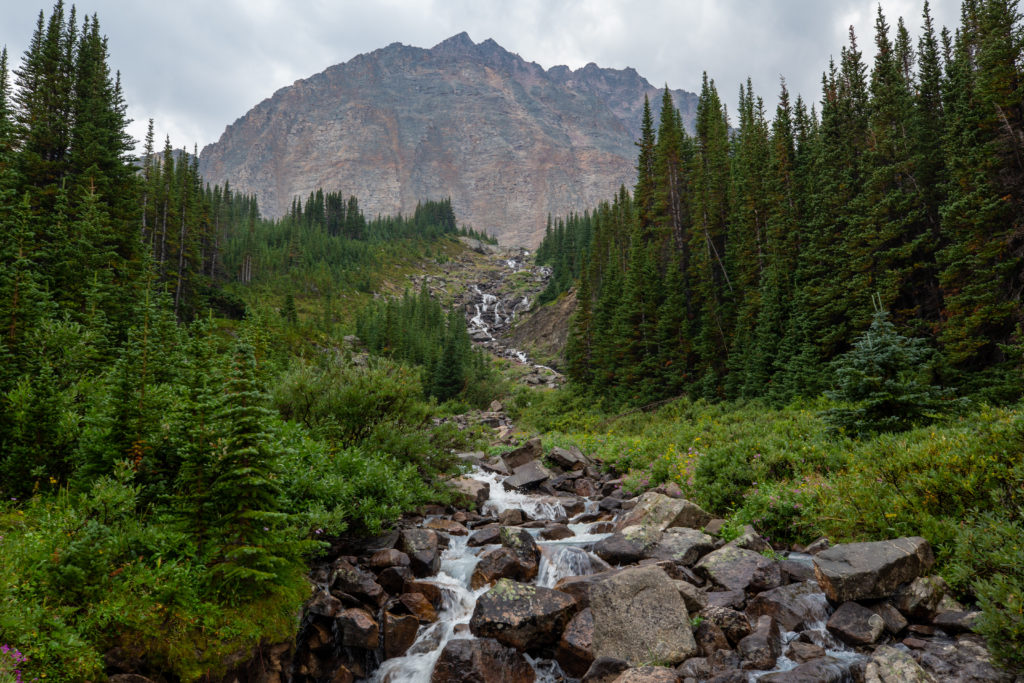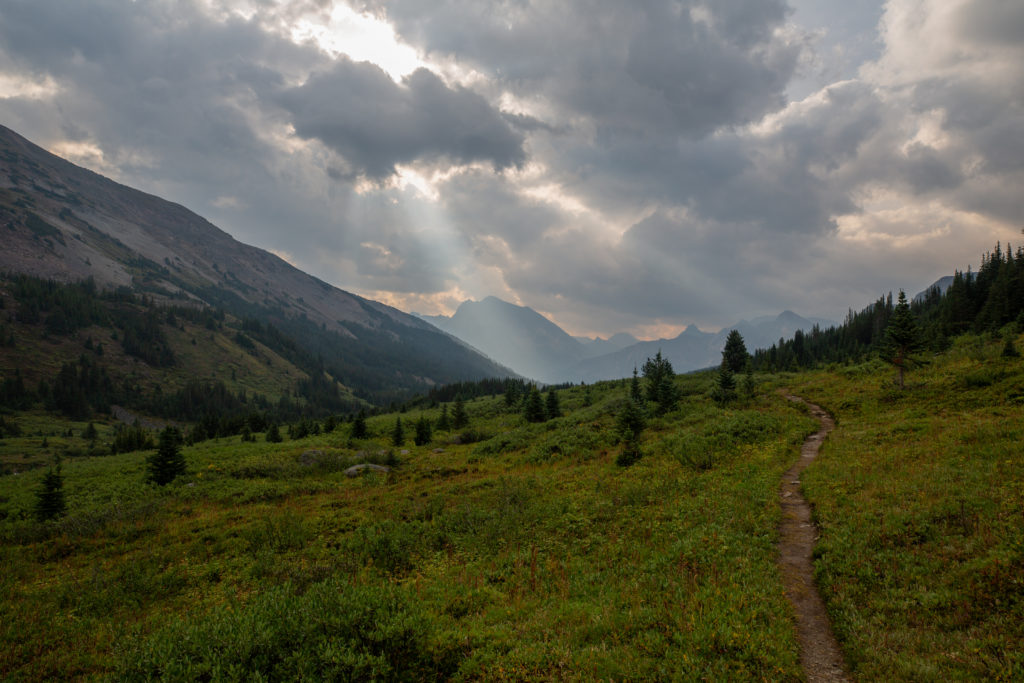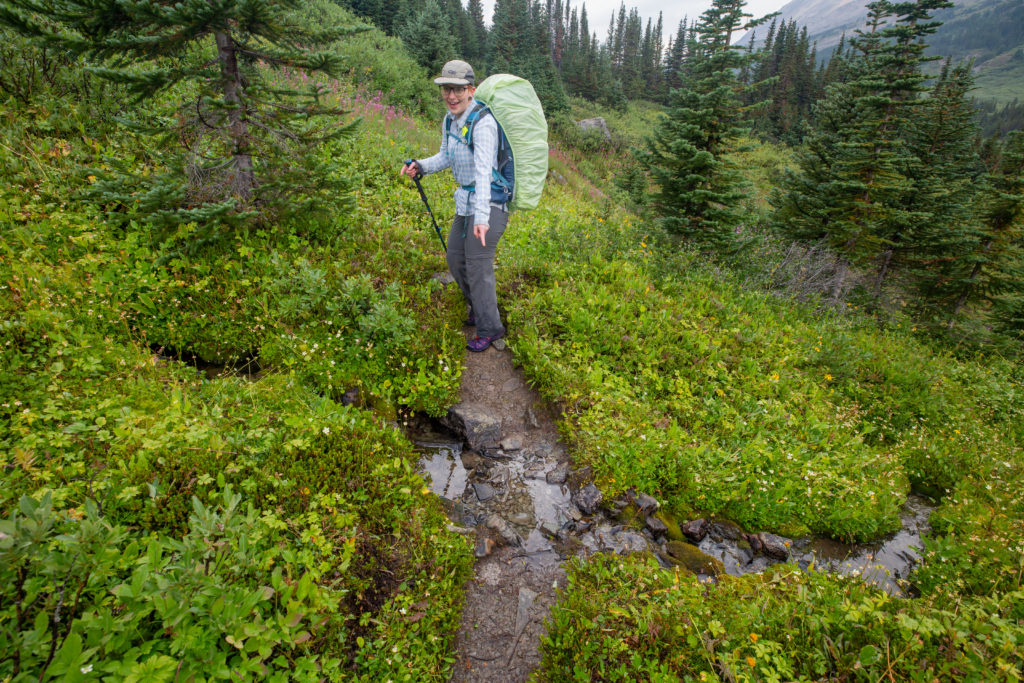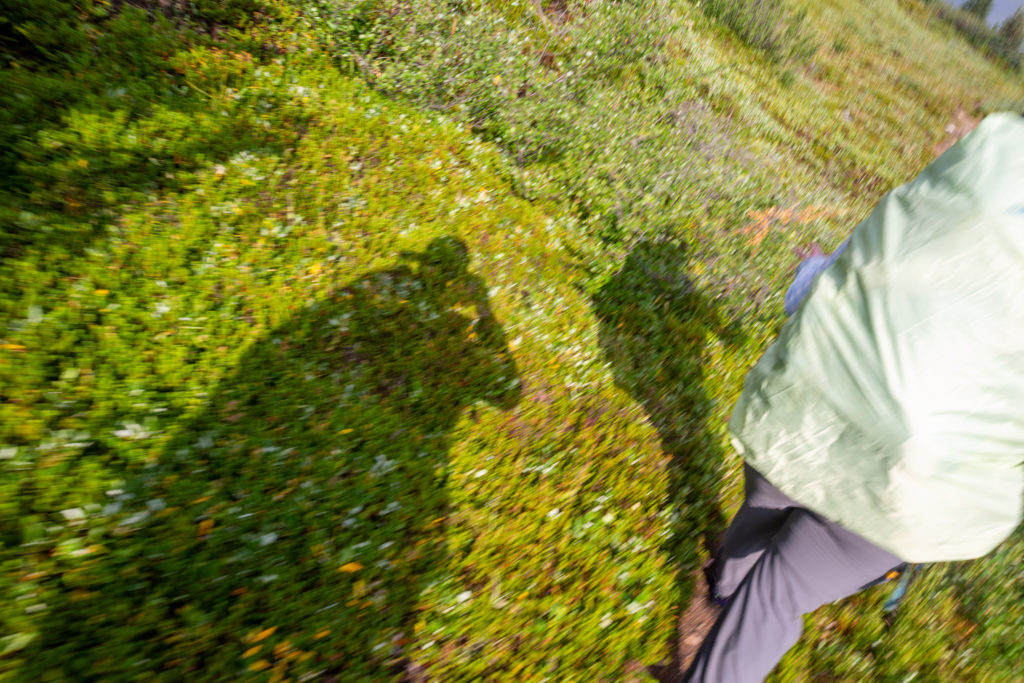 With the almost nice weather and the easy trail, spirits were high as we climbed up into the subalpine. With the trees receding, the views were opening up on all sides.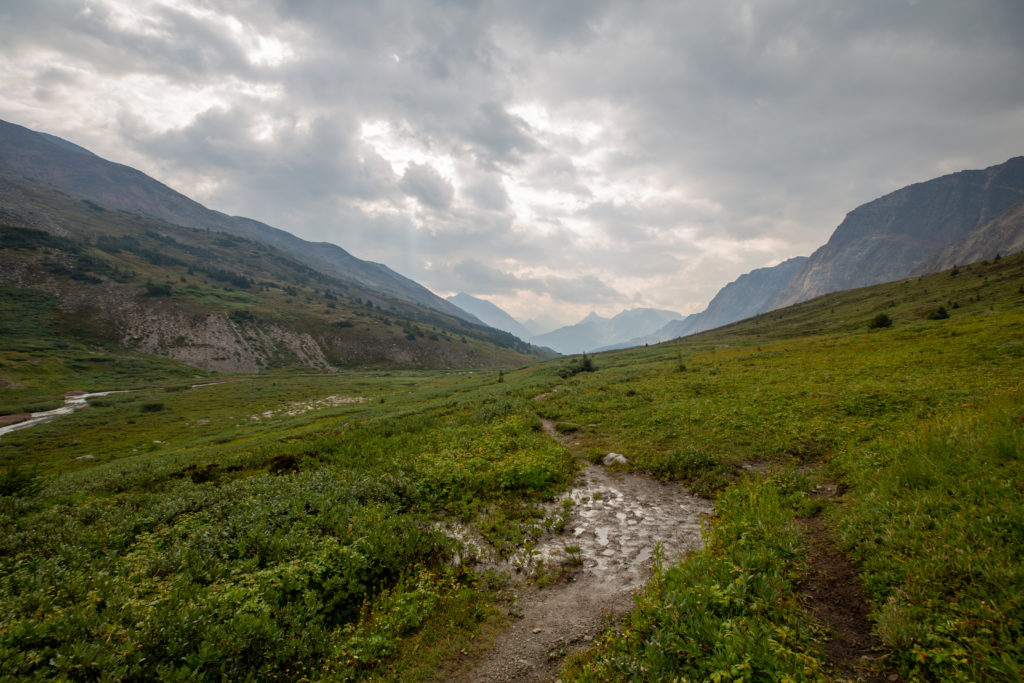 At 10:30 am, a short but stiff storm blew in. This was when I discovered I had packed my gloves inside my backpack. Normally I keep my gloves in a side pocket of my camera bag. After unsuccessfully looking for them, I just started hiking with my one hand wrapped in my buff to keep it warm and the other hand just getting cold. The wind blew the rain in hard for a few minutes. By 11 am, just as we arrived at the pass, the storm ended.
It had taken us 3 hours 15 minutes to hike the 9 km from Four Points CG to Jonas Pass with an elevation gain of 450 m. We would now drop a hundred or so metres before heading up 250 m over 3 km to Jonas Shoulder. On the elevation chart the climb to Jonas Shoulder appears much steeper than the climb to Jonas Pass but it was quite easy on well-graded trail. Heading over Jonas Pass we left Four Points Creek, which drains the pass to the south-east, and walked alongside the infant Jonas Creek draining the pass to the north-west.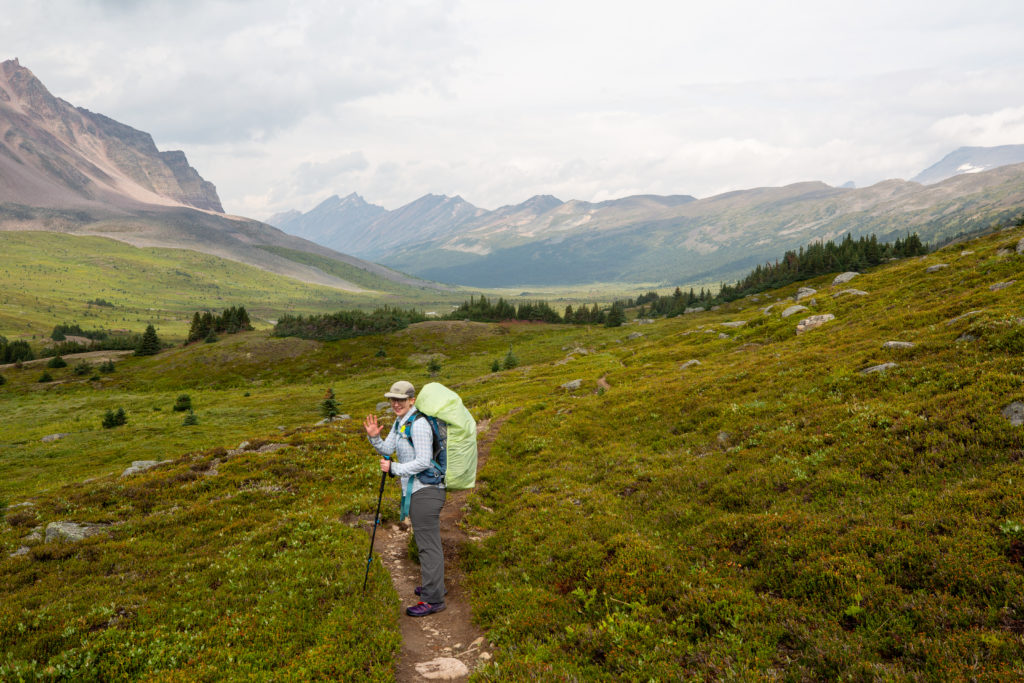 Jonas Shoulder is not classified as a pass but it could be. A pass is a low point on a ridge connecting two high points, usually mountains. Jonas Shoulder is on a ridge connecting the southeast end of Waterfall Peak and the unnamed mountain we have been traversing under for the day. The lowest point on the ridge is about 100 m further north than where the trail crosses so I think that qualifies Jonas Shoulder as a pass.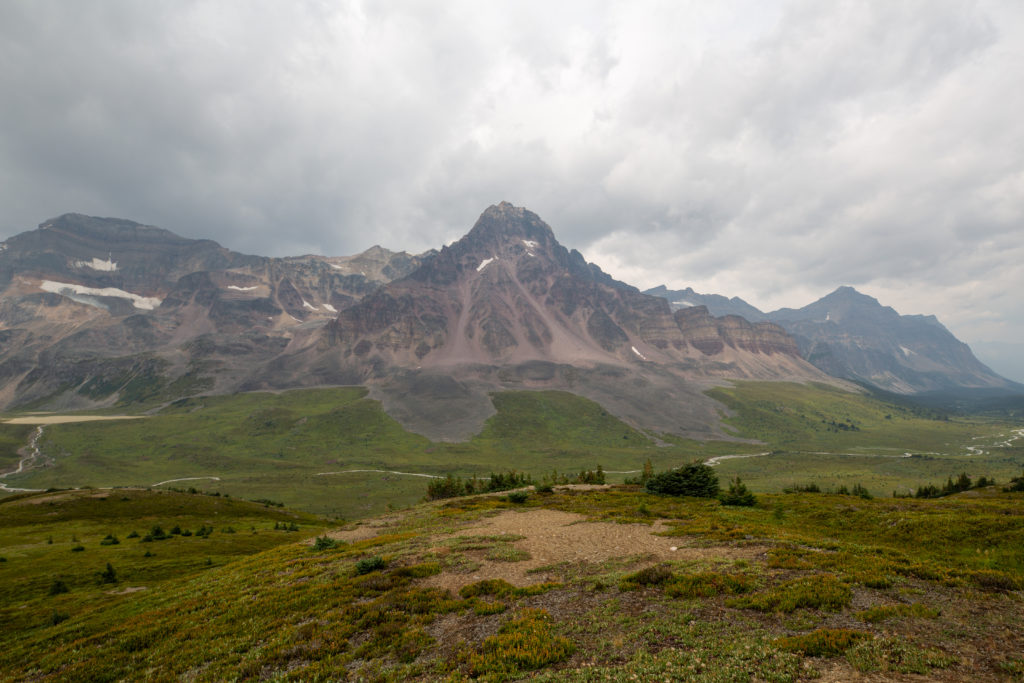 As we left the valley and started up towards Jonas Shoulder there was one short nasty section of switchbacks but for the most part the trail climbed at a nice grade.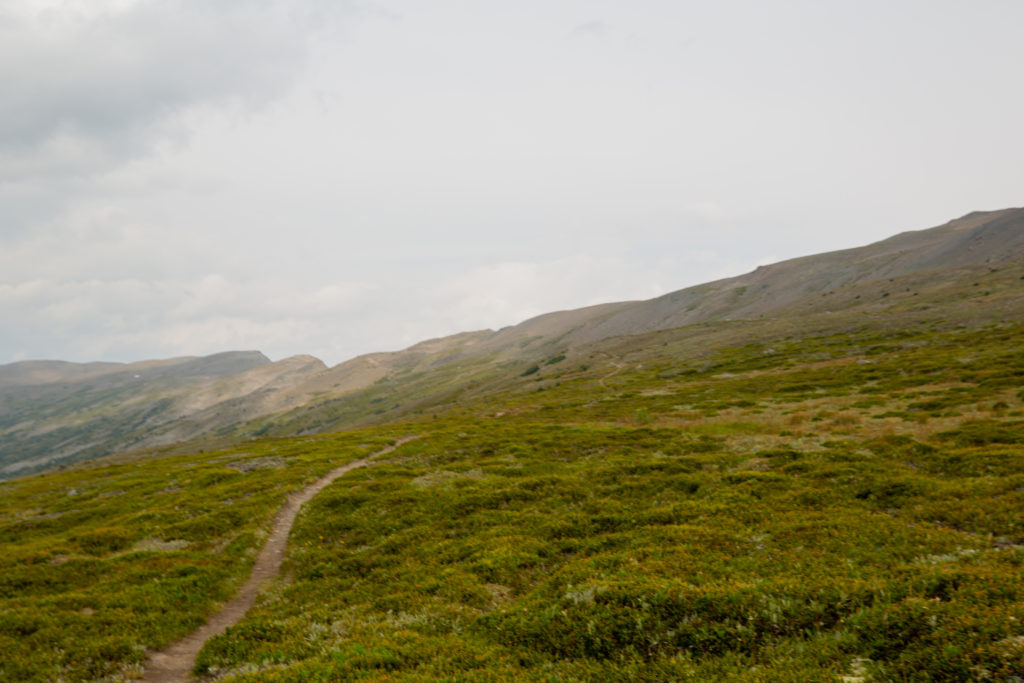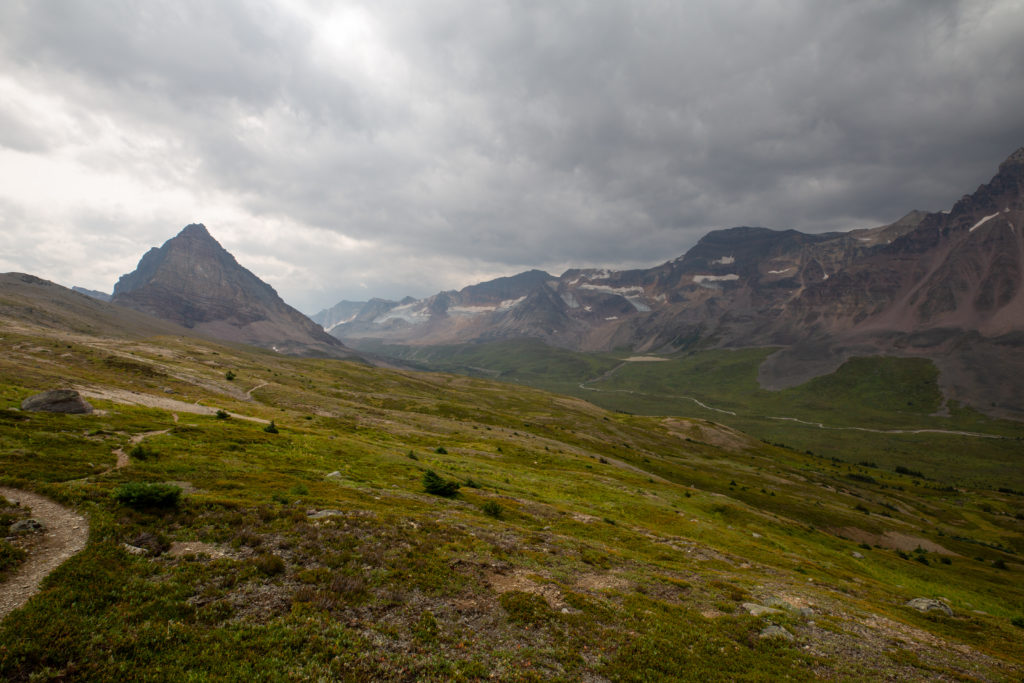 We arrived at Jonas Shoulder at 12:55 pm. It was all downhill to our camp so we were feeling pretty good. We took sometime to celebrate our arrival at our high point of the day with some silly photos.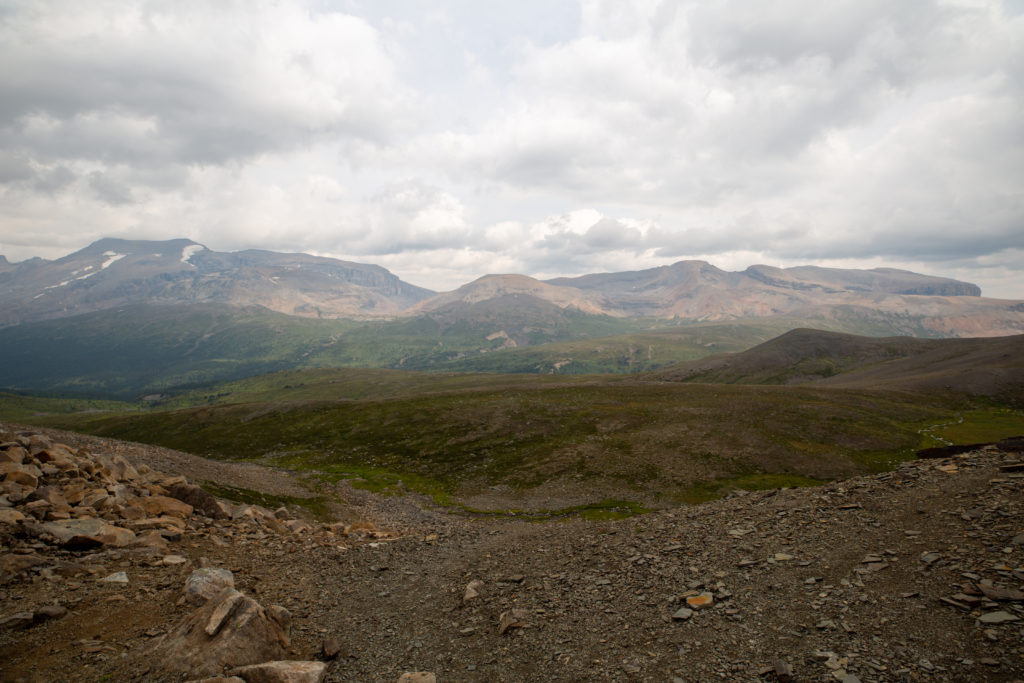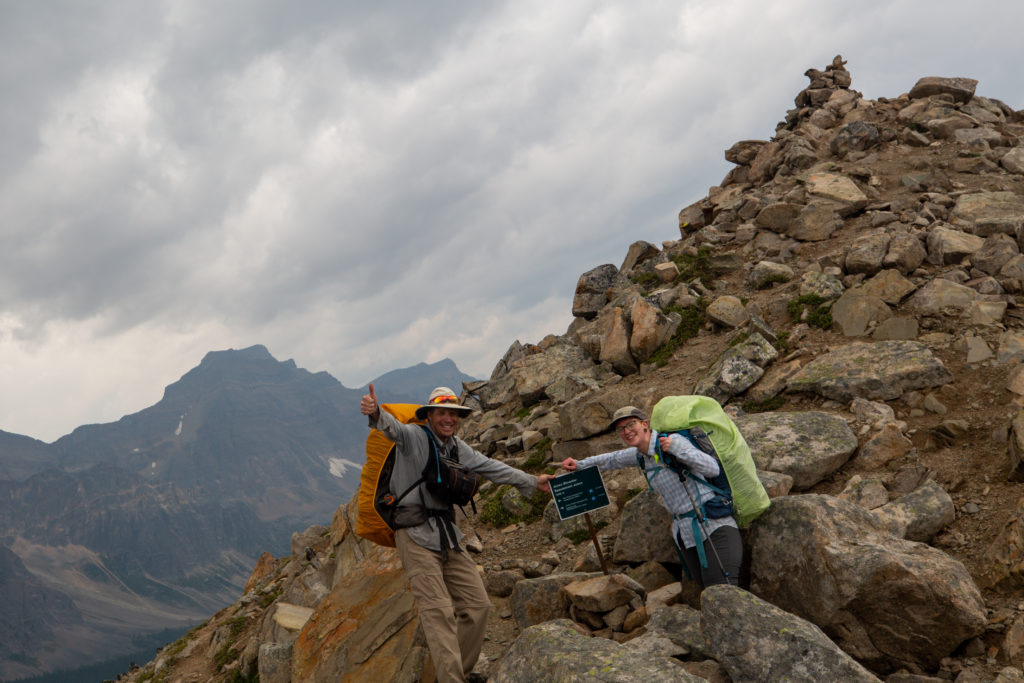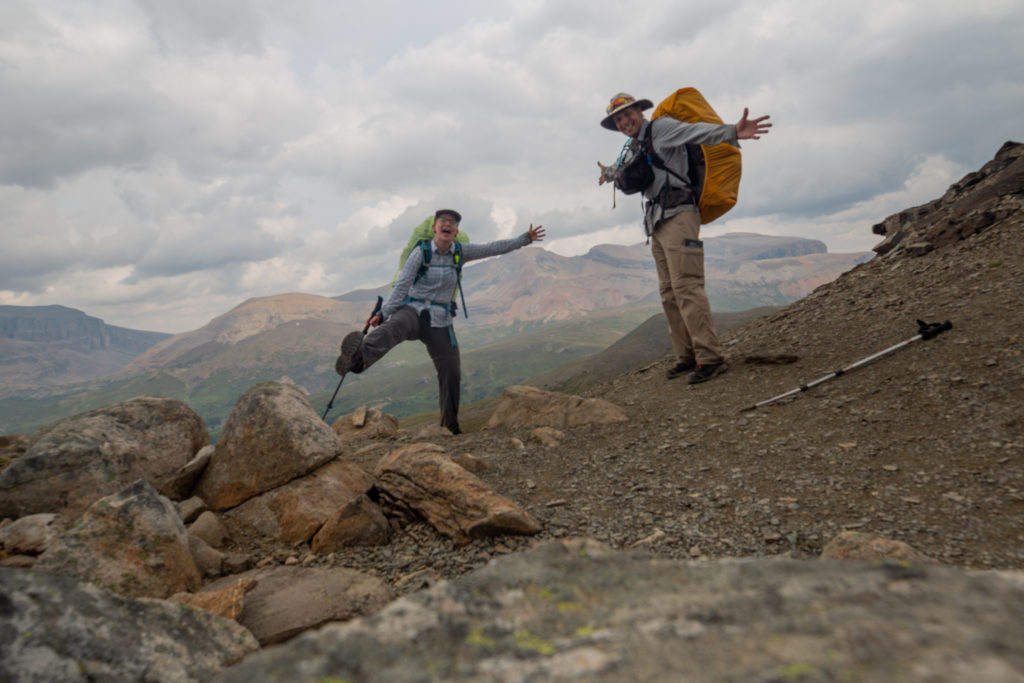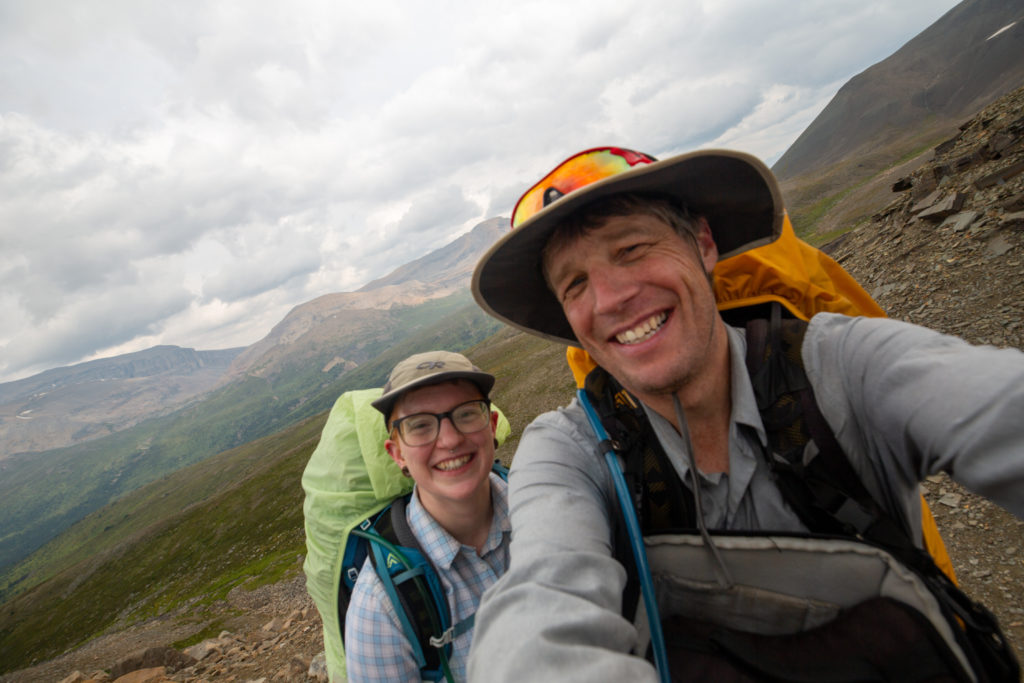 It was almost 1 pm when we left Jonas Shoulder and our plan was to have lunch at Jonas Cutoff CG which was a little under an hour away. Lunch was going to quite late and I really was not fueled up to go so late into the afternoon. My routine was to eat a 100g of Logan Bread for breakfast then while hiking I would eat a 50 g bar of Logan Bread and a 50 g piece of a Latte Bar, plus a 68 g Builder Bar and 20 slices of dried banana. I was frequently hungry on the trip and did end up losing a couple of kilograms by the time we finished in Jasper. I think next time I will have a increase my breakfast Logan Bread to 150 g and pack a couple of bonus meals.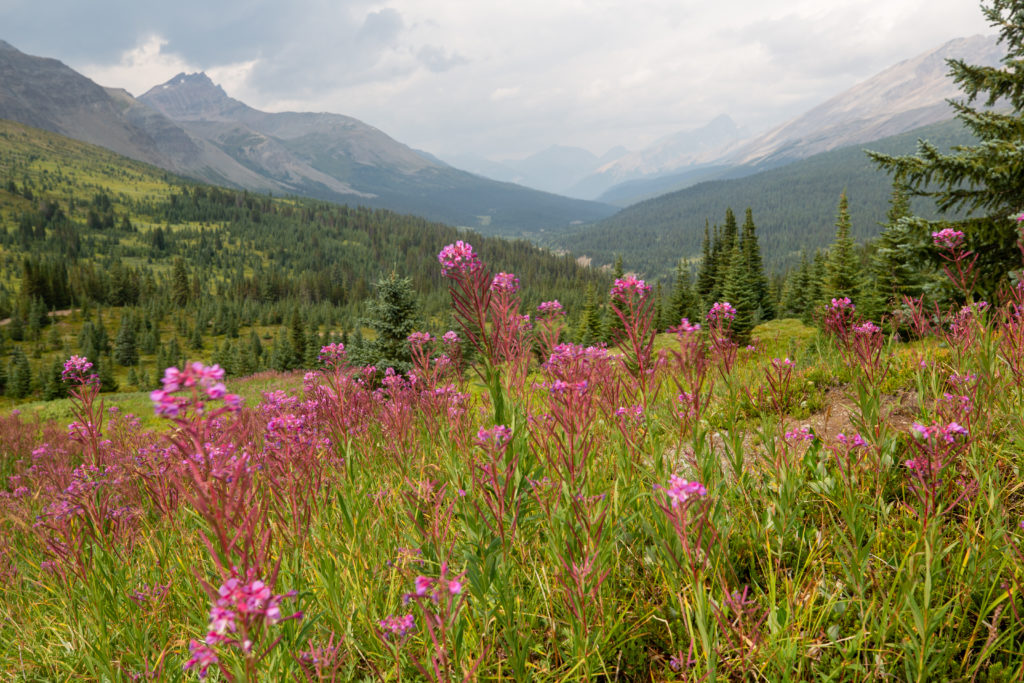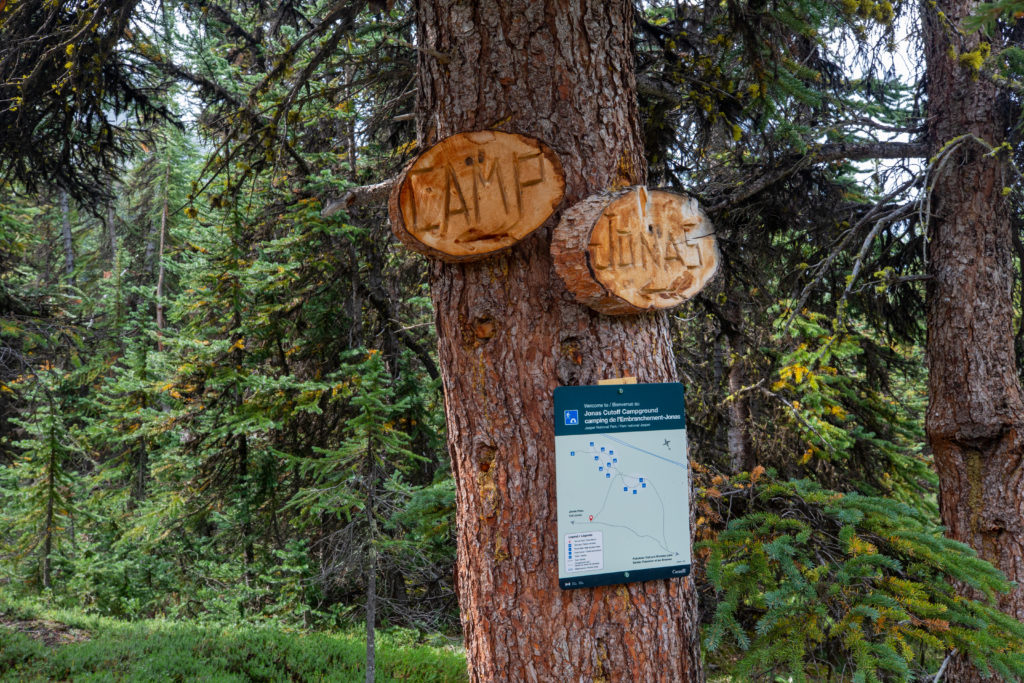 We completed the mostly downhill hike to Jonas Cutoff CG in 45 minutes. The campground was completely deserted so we made our way to the eating area to have our lunch. We took advantage of our break to dry out the tent and get our feet out of our damp shoes.
Micah chose to change their socks to keep their feet on the drier side for the remainder of the day. Lunch was not overly relaxing as we were pestered by the local mosquito population. After 30 minutes we called an end to lunch and headed out on the last leg of the day a 9 km downhill hike to Waterfalls CG. There was a nice bridge over Poboktan Creek just a couple hundred metres from the campground. We met a group there comprised of two families, one a father/daughter duo and the other was mother/father/daughter trio. The two girls were probably around 15/16 years old. The group had hiked up from Poboktan Campground which was 4 km passed where we were headed at Waterfalls Campground. They asked about the possibility of hiking up to Jonas Shoulder. We did our best to be non committal and vague. The group had already hiked 13 km to arrive at the bridge and it was another 3 km uphill to Jonas Shoulder then they would have to hike back again. The total distance for the day would be about 32 km which is a big day even for day hiking. Looking at their body language we were both pretty sure that the teenagers were not overly enthusiastic about going further but the two dads were all excited to extend the day. We wished them luck and headed off. I have no idea what they did as we never did see them again.
We made good time hiking on good trail for the first few kilometres. We came across McCready Horse Camp about 30 minutes after leaving the bridge. The campground is not available for hikers only for horse parties. On this day there did not appear to be anyone staying. Never did see a horse on the entire trip.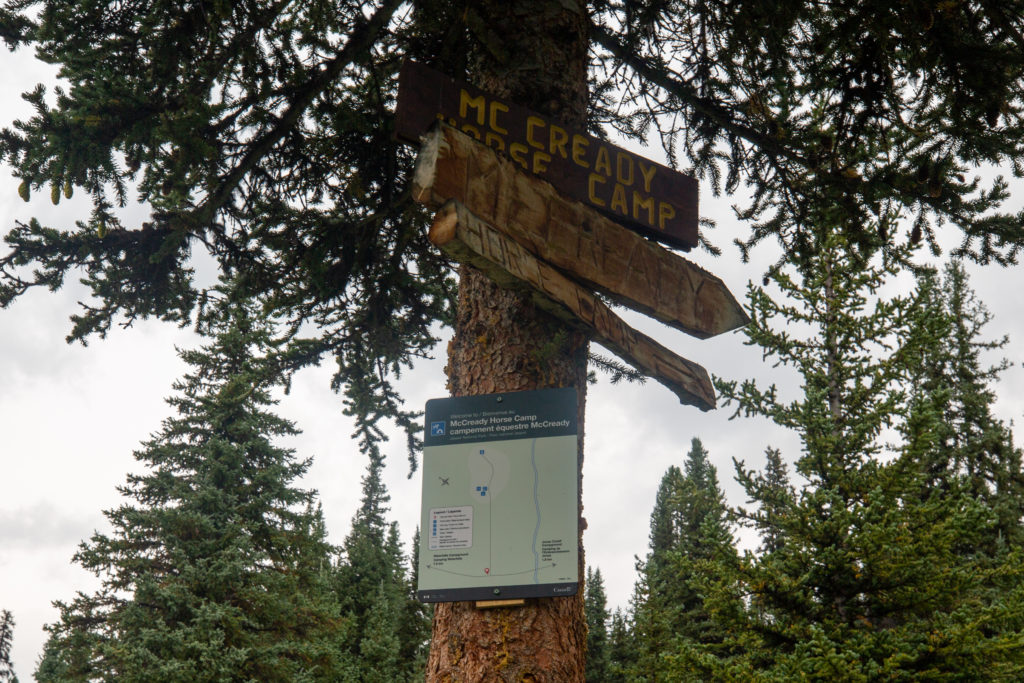 Shortly after the horse camp the trail got a little sloppy with some muddy sections that were hard to avoid without going off trail. The horse trail diverges from the hiker trail for a short while and when the trails come back together the trail became wider and firmer. At 4:45 pm two and a half hours since we had left Jonas Cutoff CG we arrived at Waterfalls CG.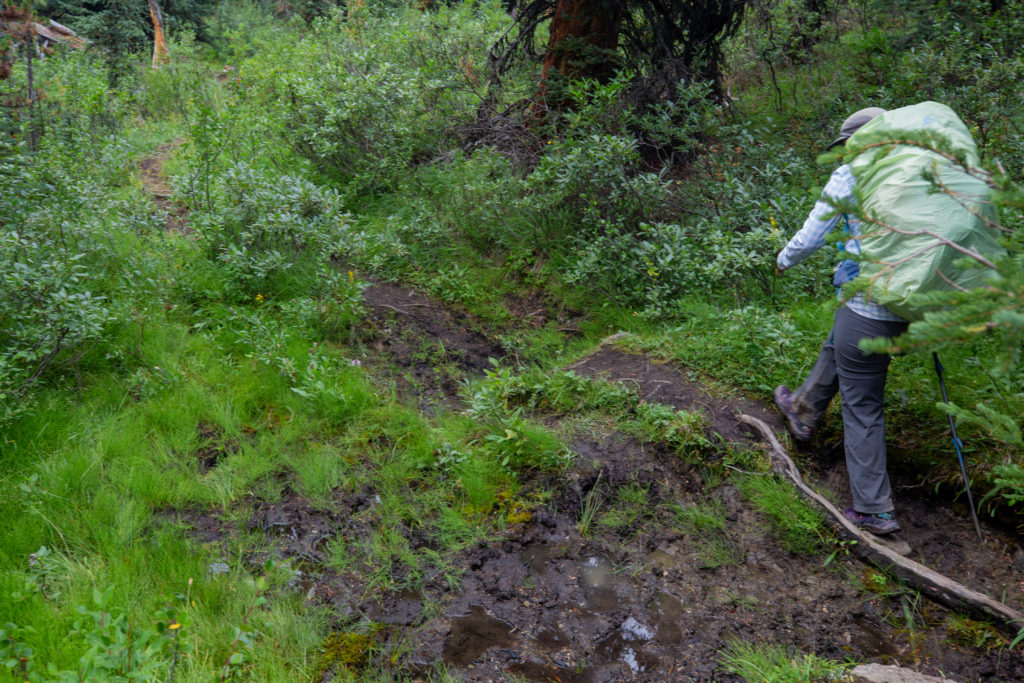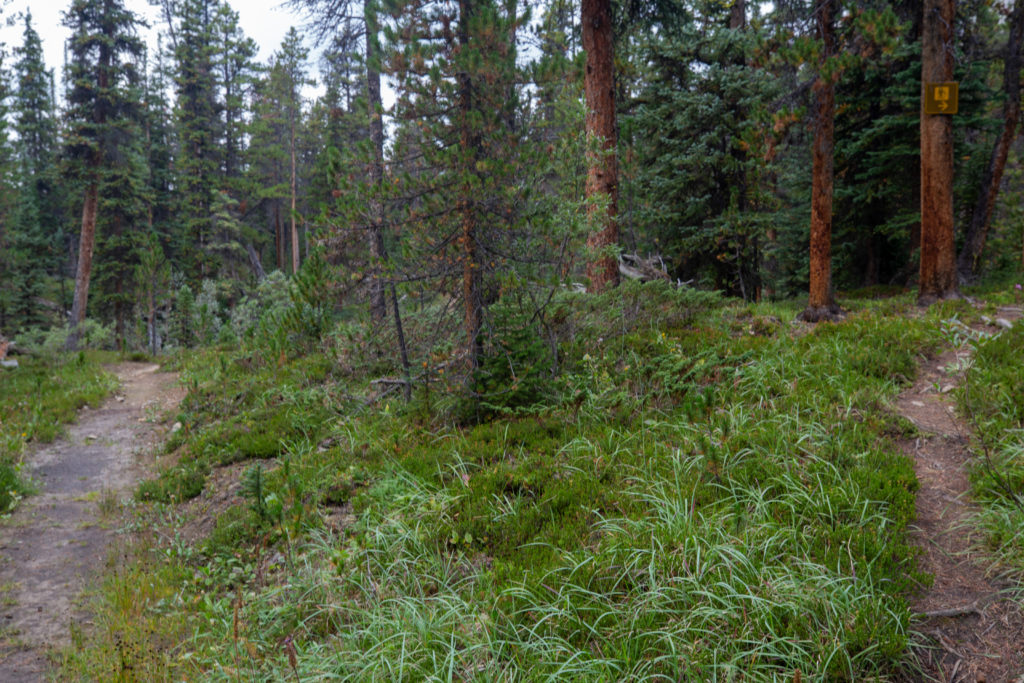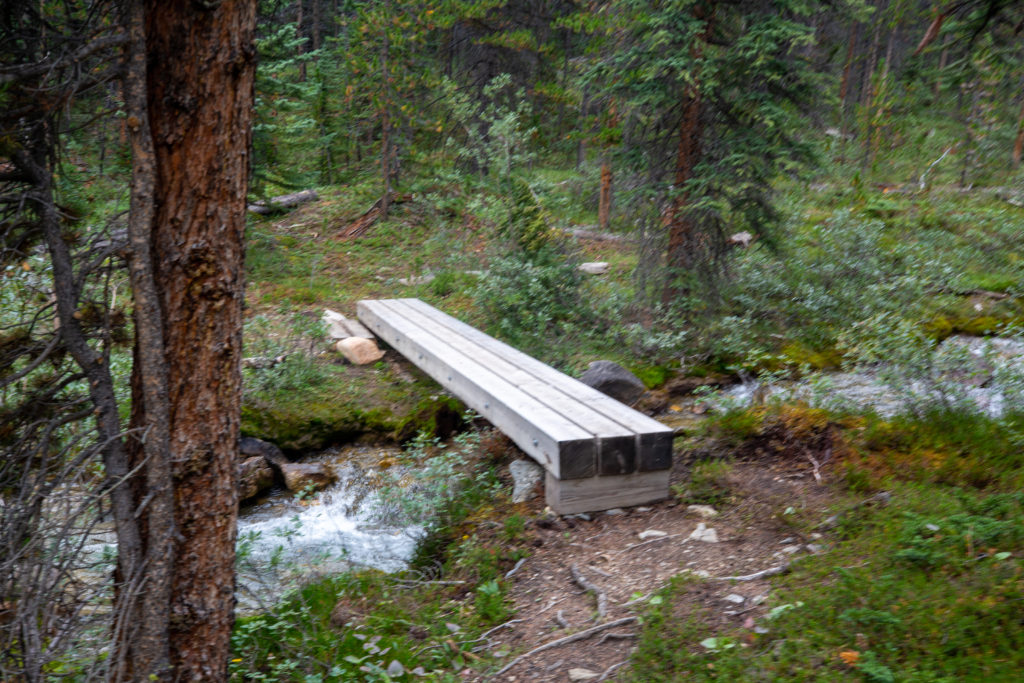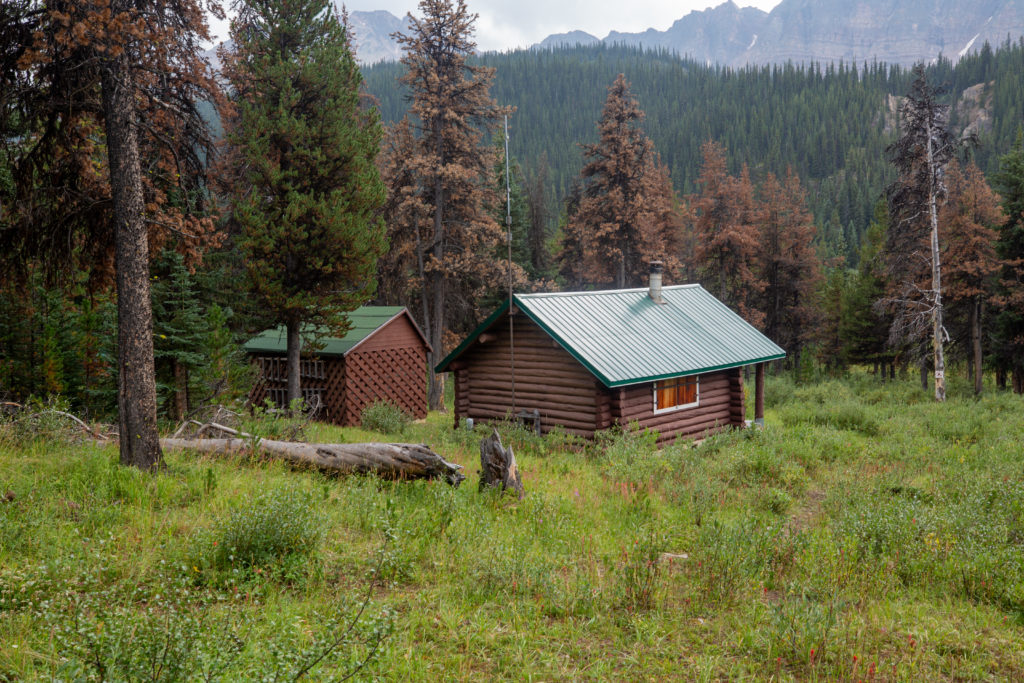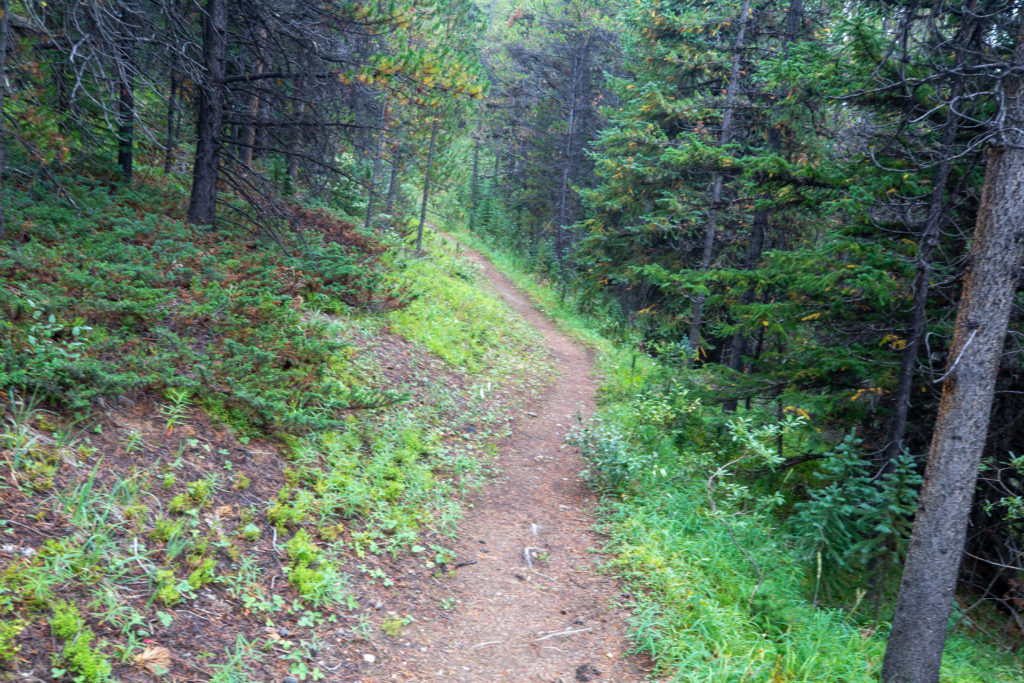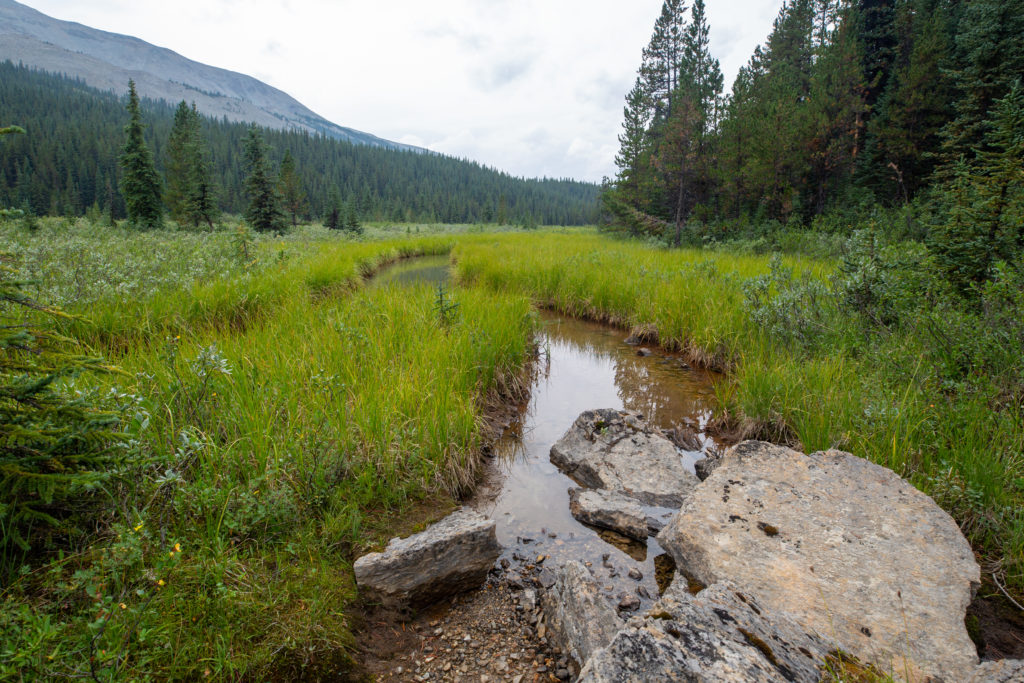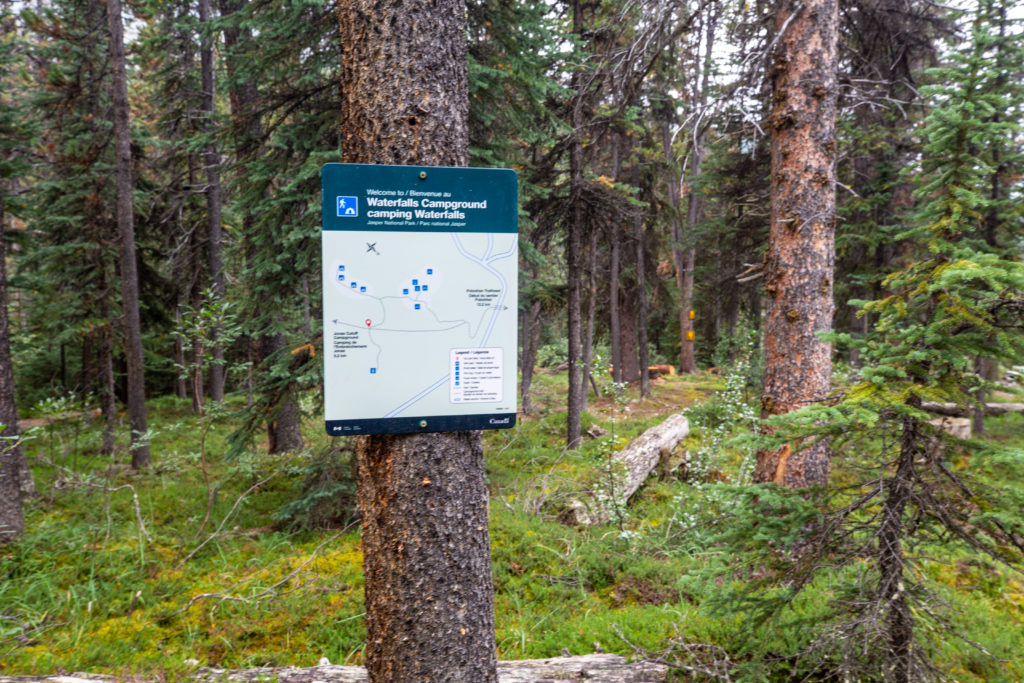 Waterfalls Campground is located on a plateau across from where the Poboktan Creek tumbles down a rocky outcrop creating a cascading waterfall. The campground really could not be more beautiful. The eating area has a lovely unobstructed view of the waterfalls. After quickly exploring the campground we dropped our packs at the picnic table with the best view of the falls. I was getting some sore spots on my toes so took the time before dinner to wrap them in tape. While taping my toes I discovered a toenail that was digging into its neighbour. I quickly snipped the offending nail with the nail clippers which made the toes much happier. At this point I think I had eight toes wrapped in tape but no actual hot spots anywhere on the feet.
We relaxed for a little bit before making dinner and getting our water and snacks ready for the next day's hike. We were just on cloud nine at the campground and were in complete relax mode. Micah stayed at the picnic table and journalled while I scrambled down to take photos of the waterfalls.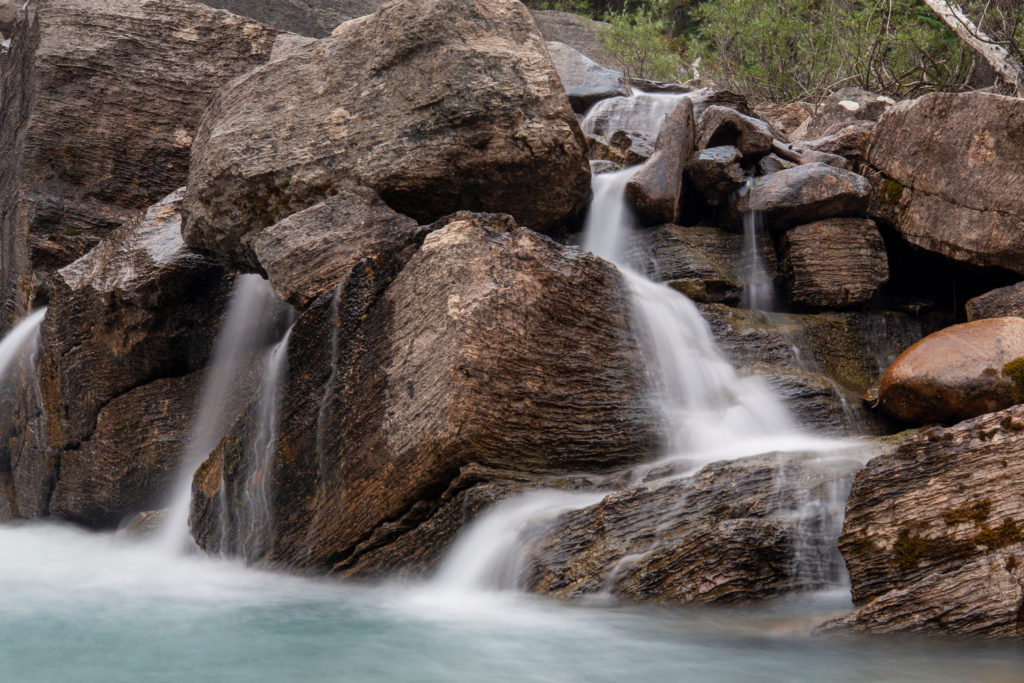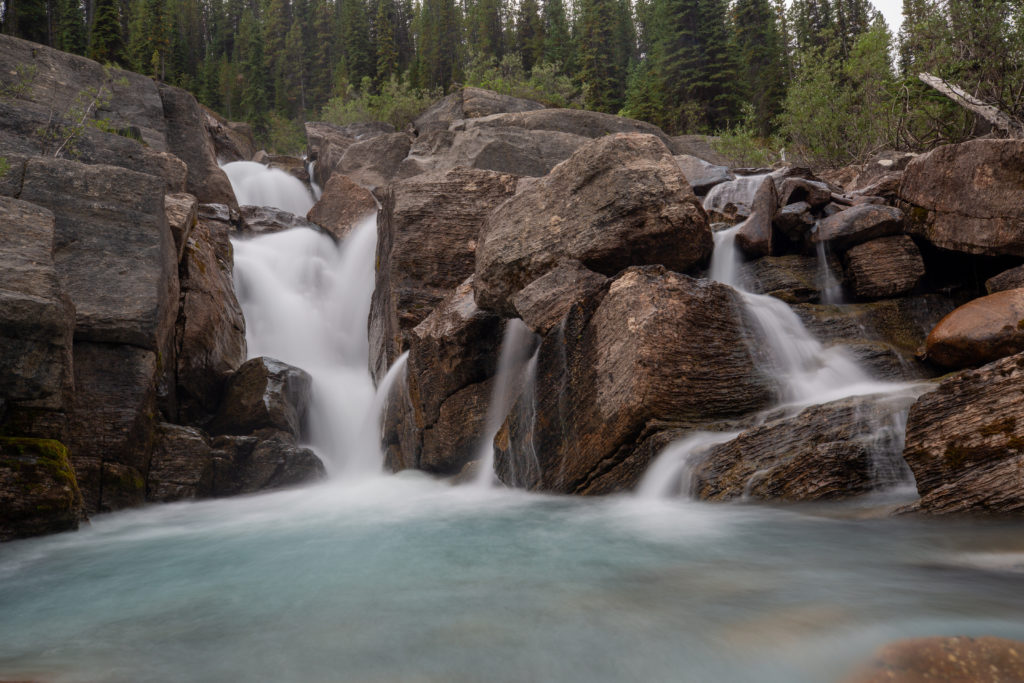 Maybe we should of had some cares as while we were relaxing it started to rain and we had not set up set up the tent yet. It was now 7 pm and we had been in camp for well over two hours and just had not got around to setting up the tent. It was not raining hard and we quickly had the tent set up and everything stashed away inside or in the bear lockers located by the eating area. We did have a good laugh about our oversight as it really was a rookie mistake not setting up the tent on arrival at camp.
It appears as though Waterfalls CG has been downsized. There were only 5 campsites available but the campsites that were available were numbered 6 – 10. We did some exploring after the rain stopped and could find no evidence of other campsites. It was while we were exploring that we saw the female hiker from Four Points come striding past. It was quite late, at least past 8 pm,. so we figured she was headed for Poboktan CG which was just another 4 km away. We would actually meet her the next day while having lunch at Maligne Pass. I think that Waterfall CG is one of the prettiest campgrounds on the trail and it is a real shame that more people do take advantage of the campground. The rain started up again so we headed to bed just before 9 pm. We would sleep with a steady rainfall for the second consecutive night.