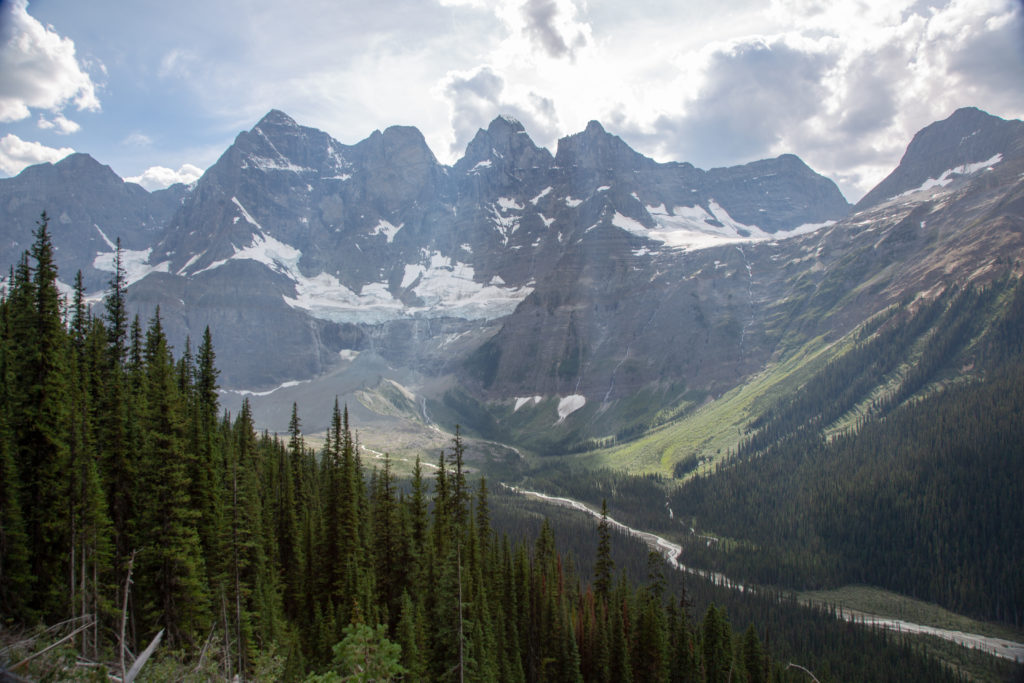 August 19th, Tumbling Creek CG to McArthur Creek CG, 27.5 km, 1103 m elevation gain, 1484 m elevation loss, 9 hrs 20 min (all distances and elevation are as per the guide book, we did extra distance as we took a detour to have lunch at the base of Helmet Falls), Section C Segment 19 and 20.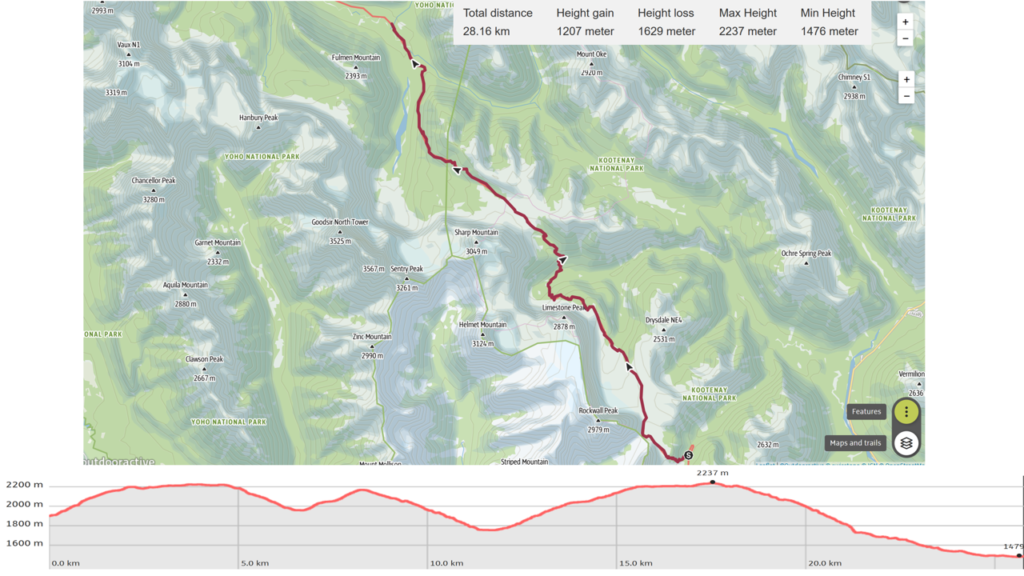 We allowed ourselves to sleep in a bit but we got ready quickly as we had another big day ahead of us. We had a little be of stress from another one of my confounding decisions. For some reason that made sense at the time I opted to no bring the map of this section with me. I had hiked most of the Rockwall and had seen the junction to Goodsir Pass on my trip in July. So really we did not need a map but we were heading off onto a section of trail that is not well traveled and there could have been old side trails that could have distracted us. A couple had let us look at their map the night before and we had taken photos but we should have had a map. Micah I both agreed that it was less than ideal to be traveling without a map. There are a great set of maps of the GDT by Ryan Silk available off the GDT website that we both agreed we would utilize on our next trip. I only took a few morning pictures. The sun was shining reflecting a golden glow off of Tumbling Glacier. We were on the trail by 7:50 am.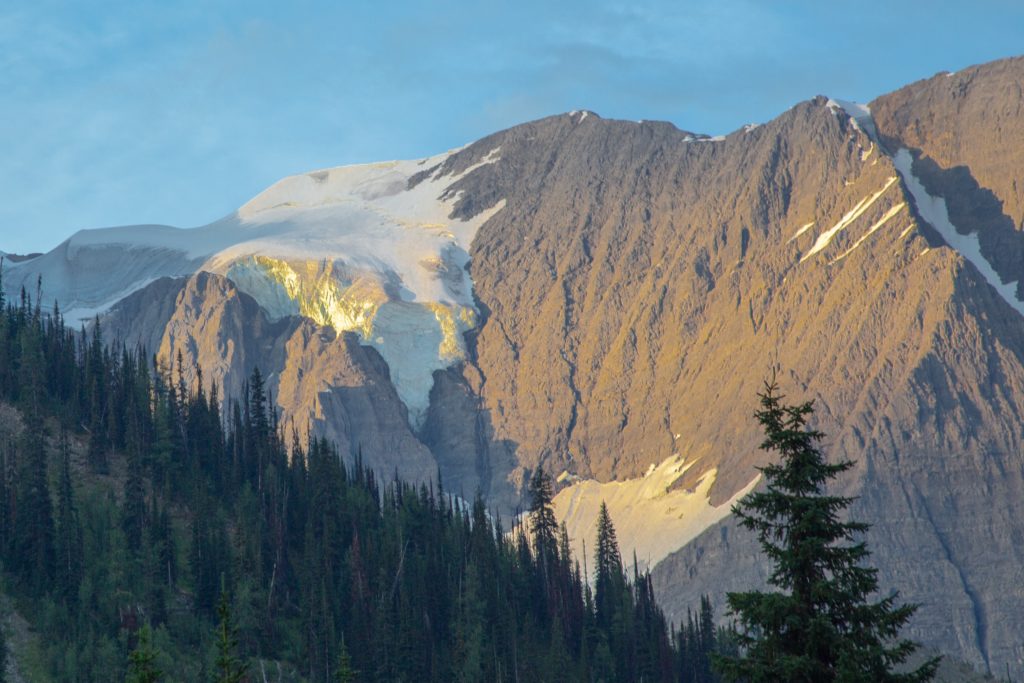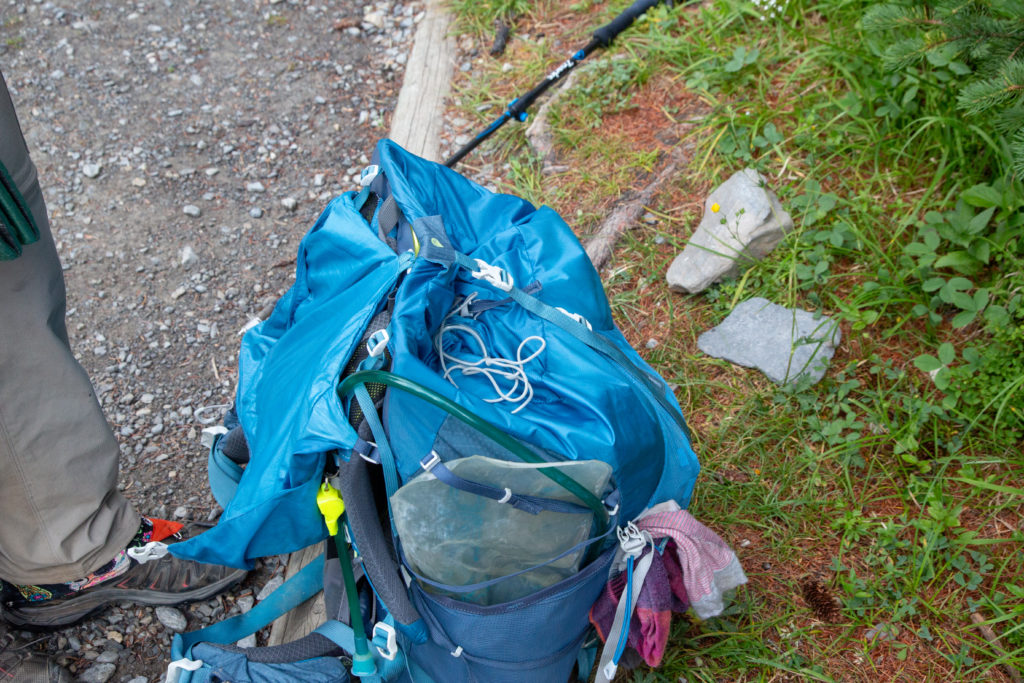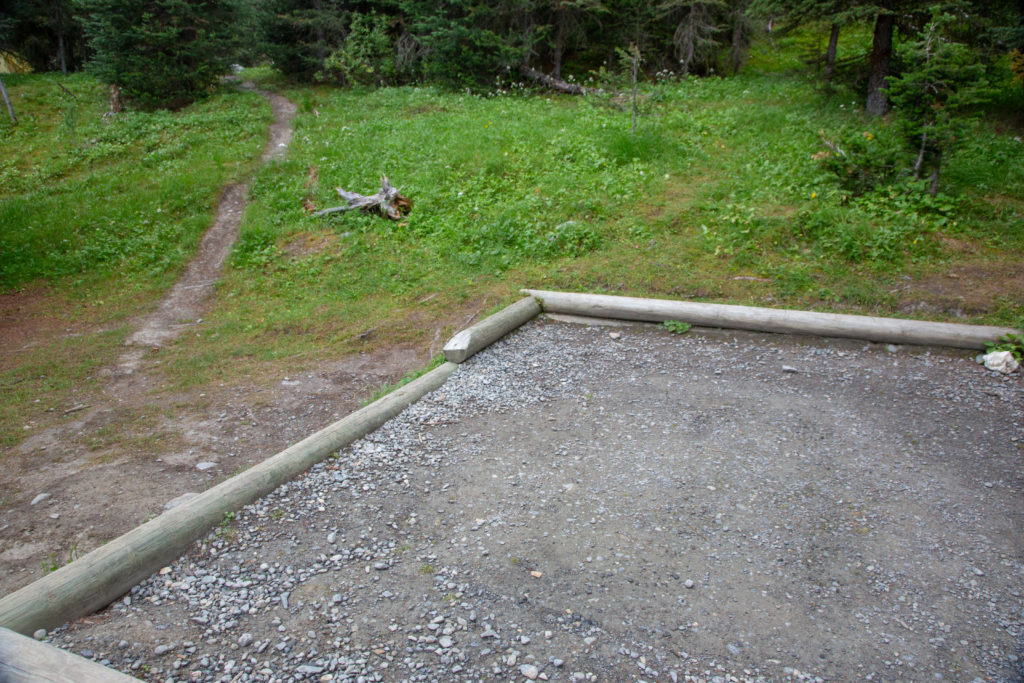 We already knew that we were starting with a stiff uphill grind to the Rockwall Pass gaining 300 m in first 2.5 km. Our warm up was hiking across the campground then it was onto the hill. The hill was not as tough as I thought it would be. The switchbacks were well graded and our packs were light. We covered off the bulk of the elevation to the pass in about 40 minutes which included a few minutes when we stopped and took in the view of Tumbling Peak and Glacier.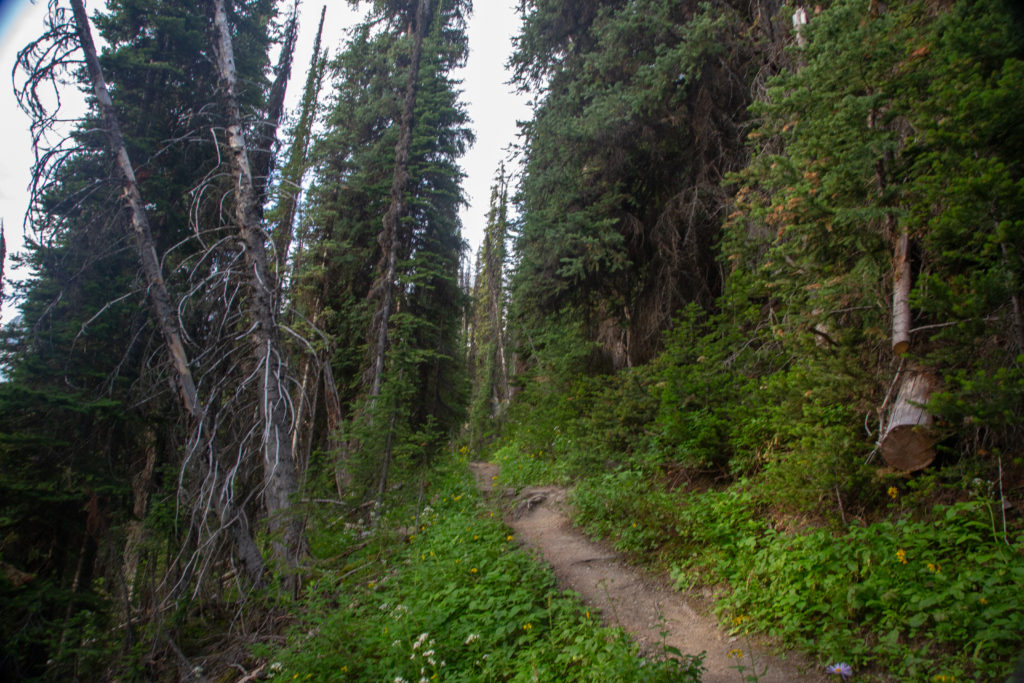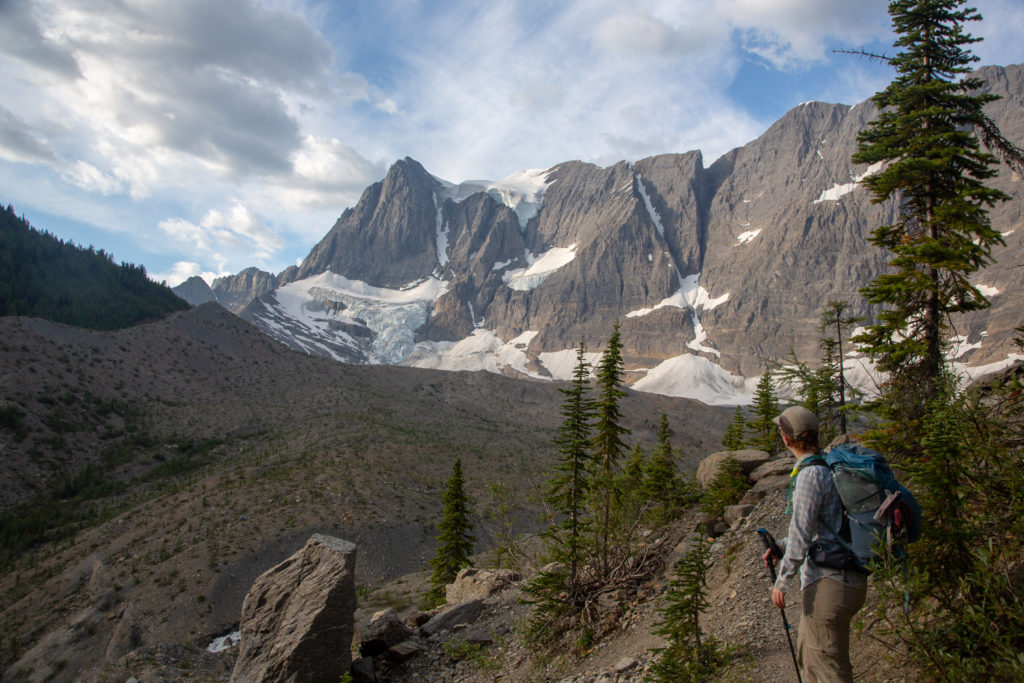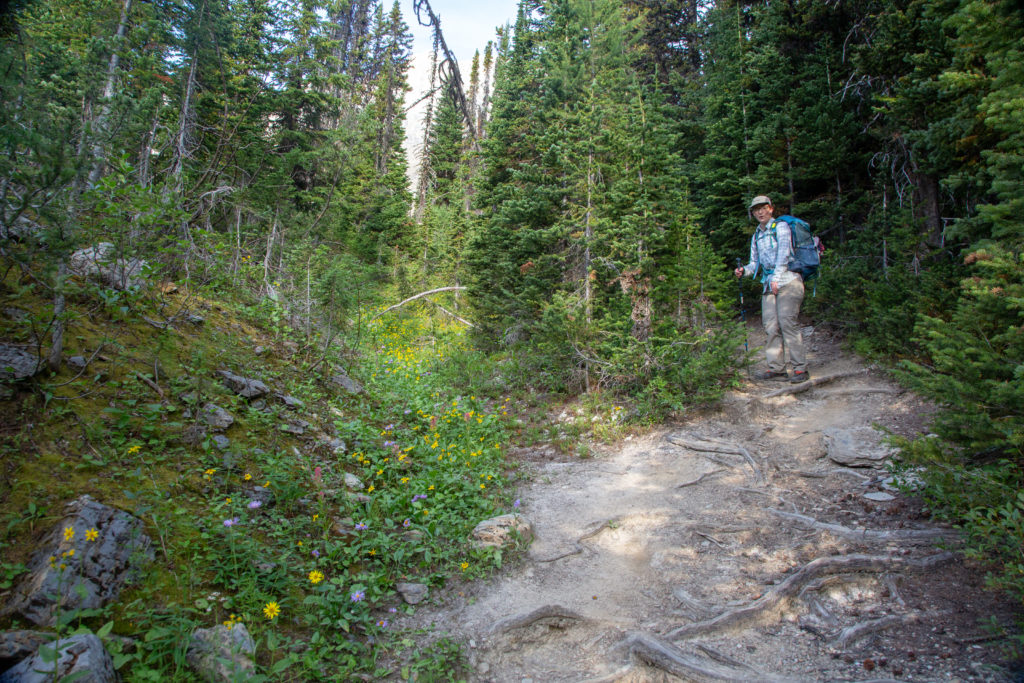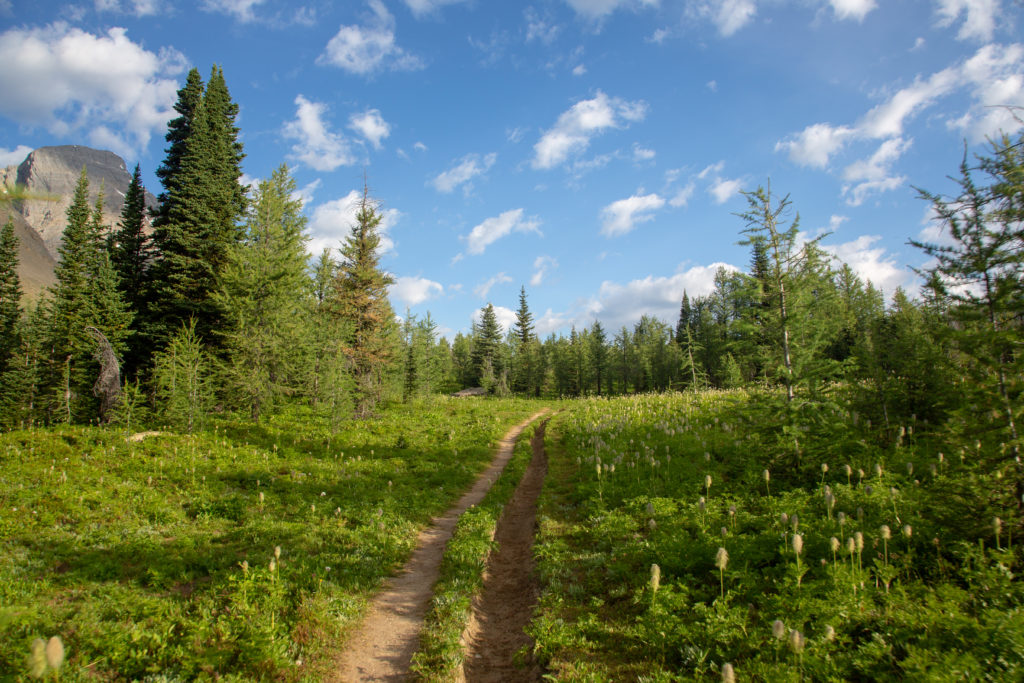 Once the trail levels off it is still 2.4 km to Rockwall Pass. As we come up to Wolverine Pass we briefly discuss going for a look. I had been on my previous trip and was not all that impressed so Micah vetoed the diversion. We had along way to go on this day. We cruised over Rockwall Pass our first of three passes for the day. We did not pause much on this pass maybe it was too early for Micah or just that the views in all directions were so incredible they could not decide where to look.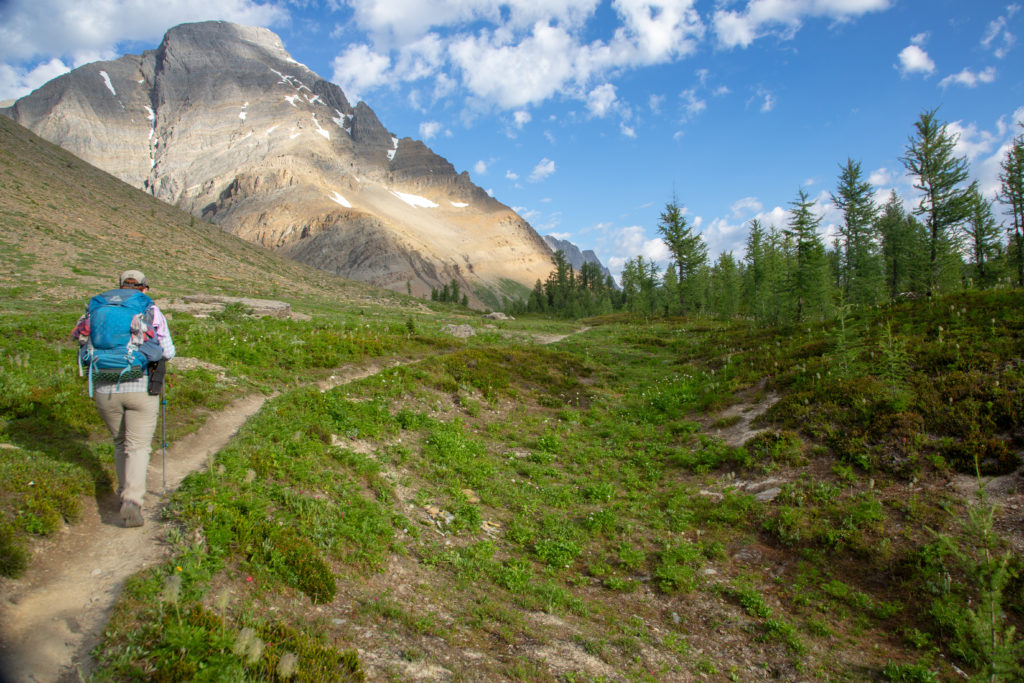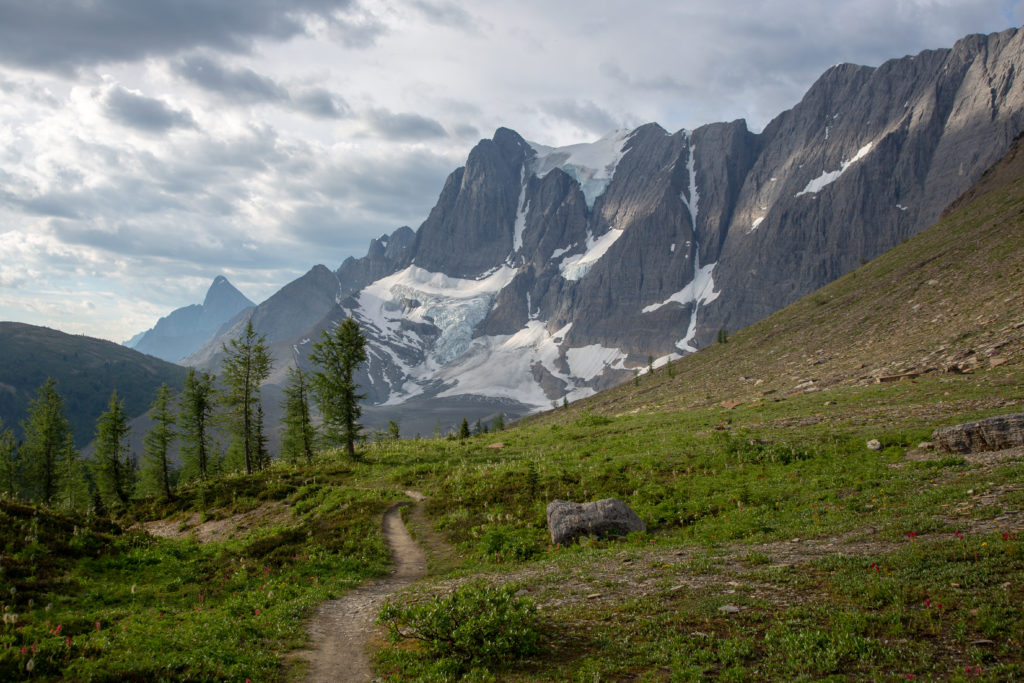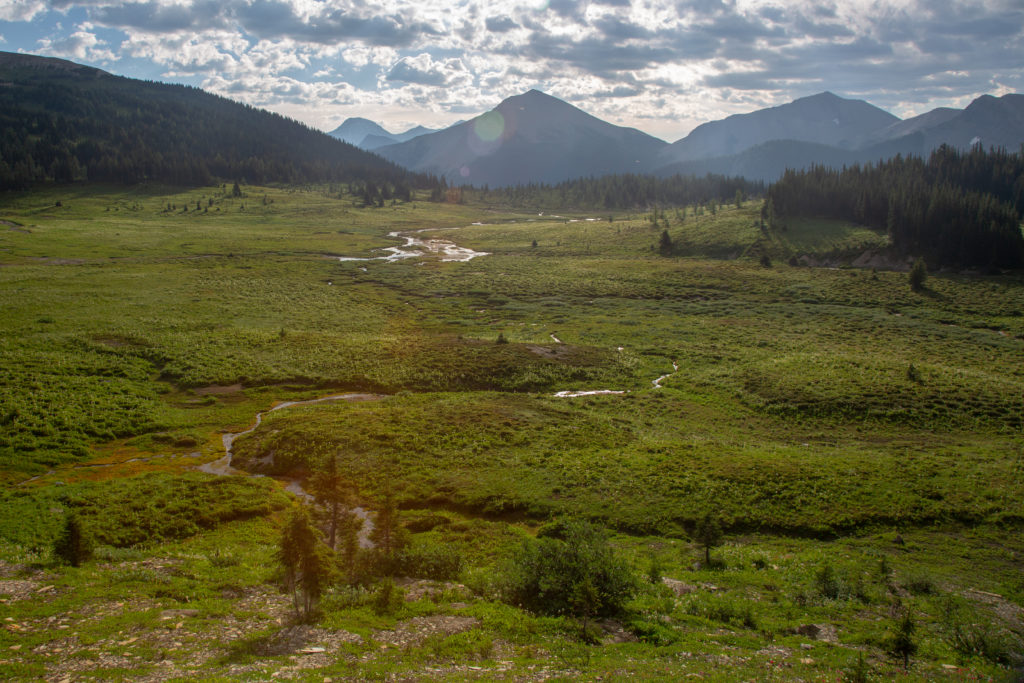 Coming over Rockwall Pass we were presented with one of the grandest views you can find anywhere. A 4 km wall of limestone rising 1000 m runs the length of the next valley connecting Mt Drysdale and Limestone Peak. I do not know for sure but this must be what inspired the name "Rockwall".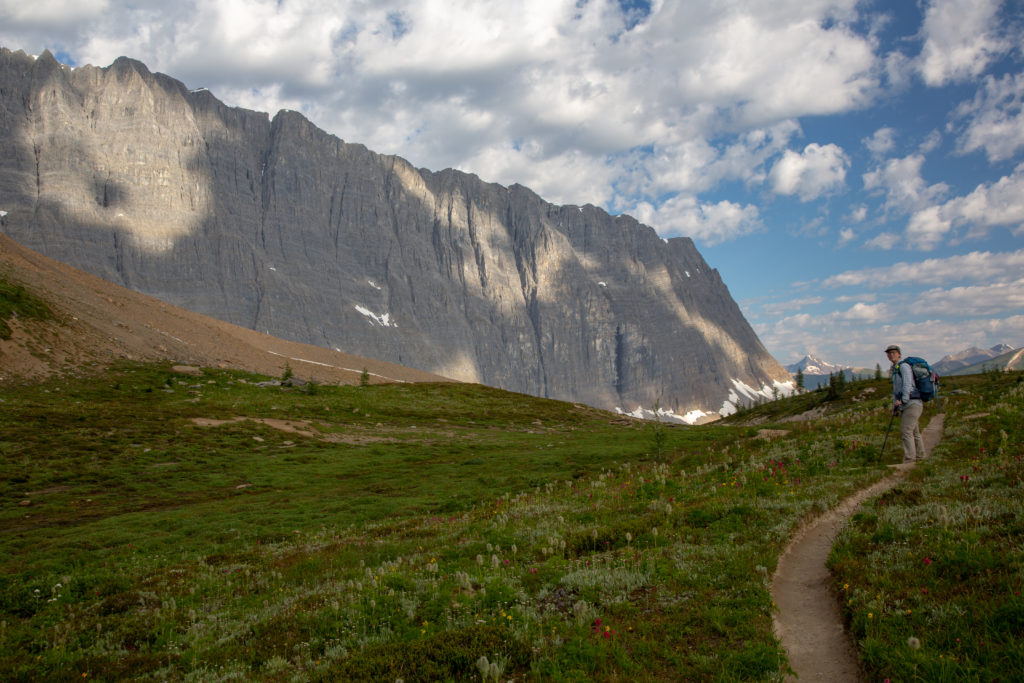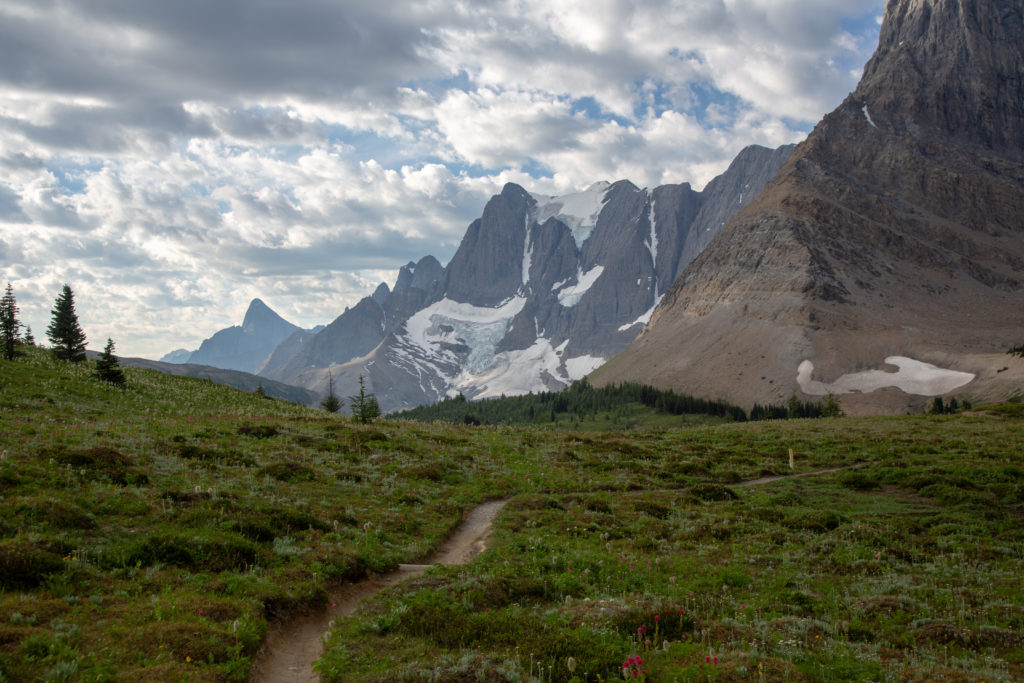 Descending down from the pass was quick on good trail. When I was here in July we needed to use GPS apps to stay on the trail as the landscape was snow covered. Today a nice dry trail snaked across the landscape but we did find a patch of snow hiding in a gully.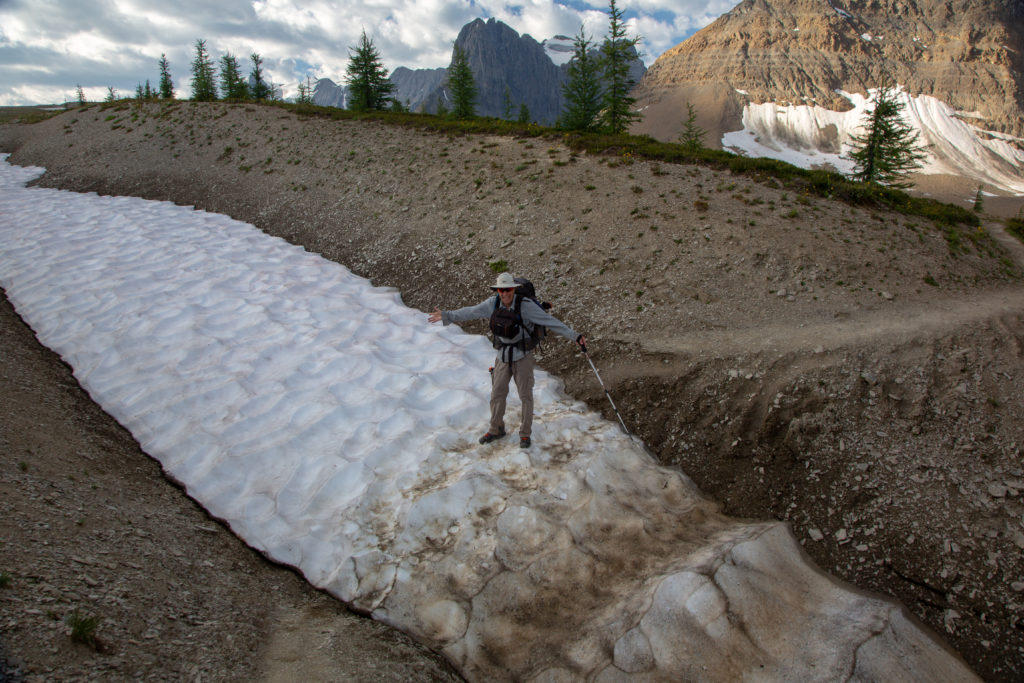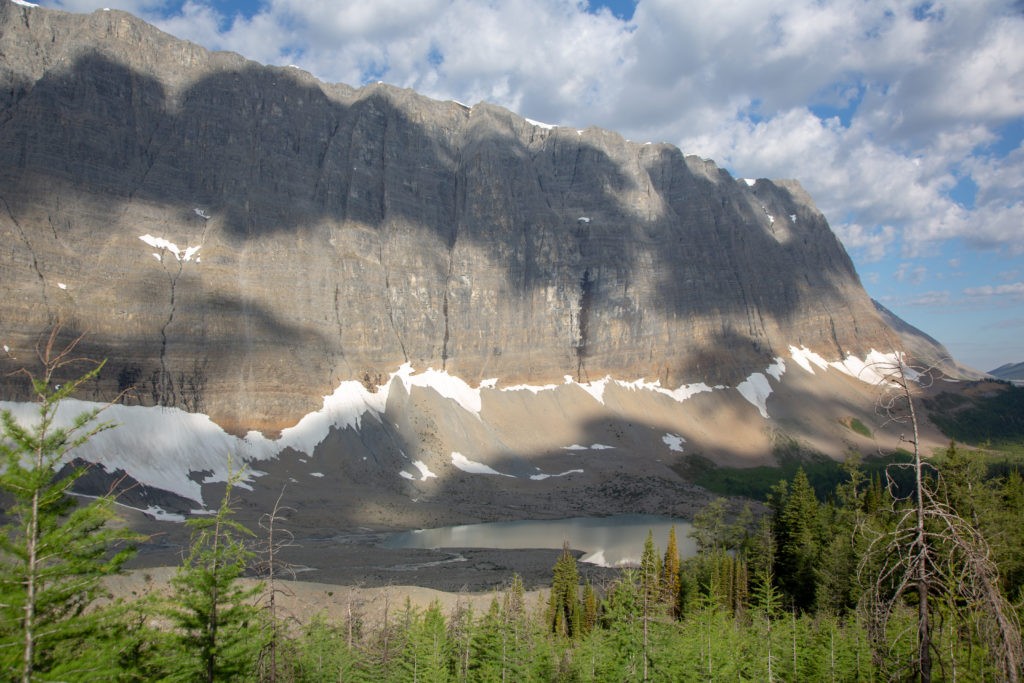 Going downhill on dry trail we passed from the upper alpine meadow onto a forested trail. We spend just over one kilometre in the forest before we cross a small stream bounded on one side by the forested slopes and the other by a lateral moraine. I stop to take some photos but we are quickly back going. We arrive at the bottom of the valley at 10:05 am just over an hour after crossing Rockwall Pass. We have covered 7 km in just about 2 hrs 15 min.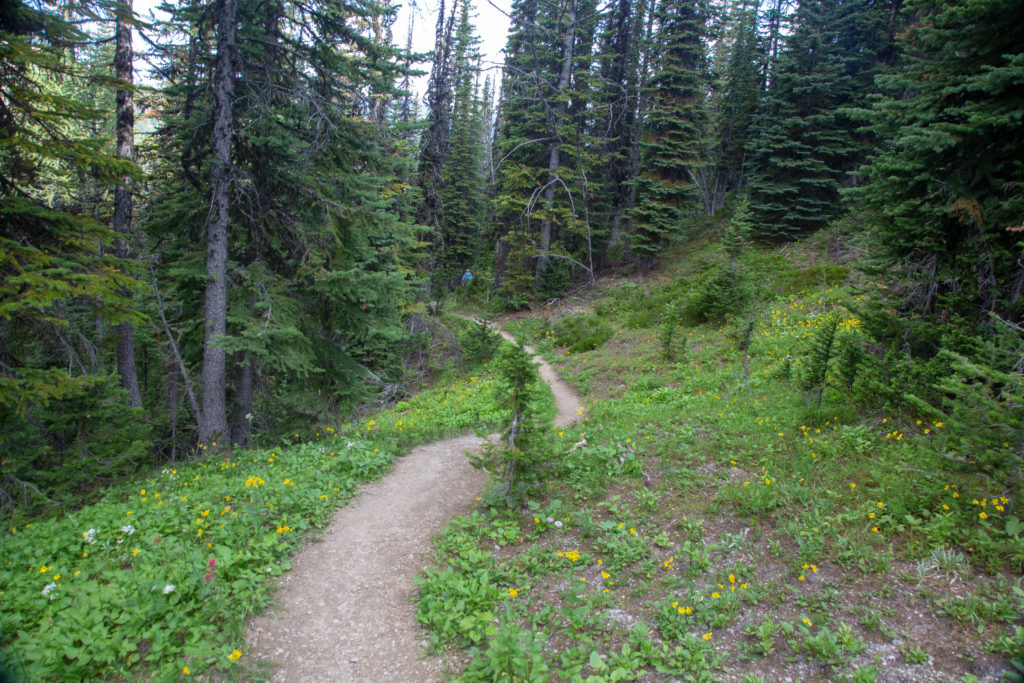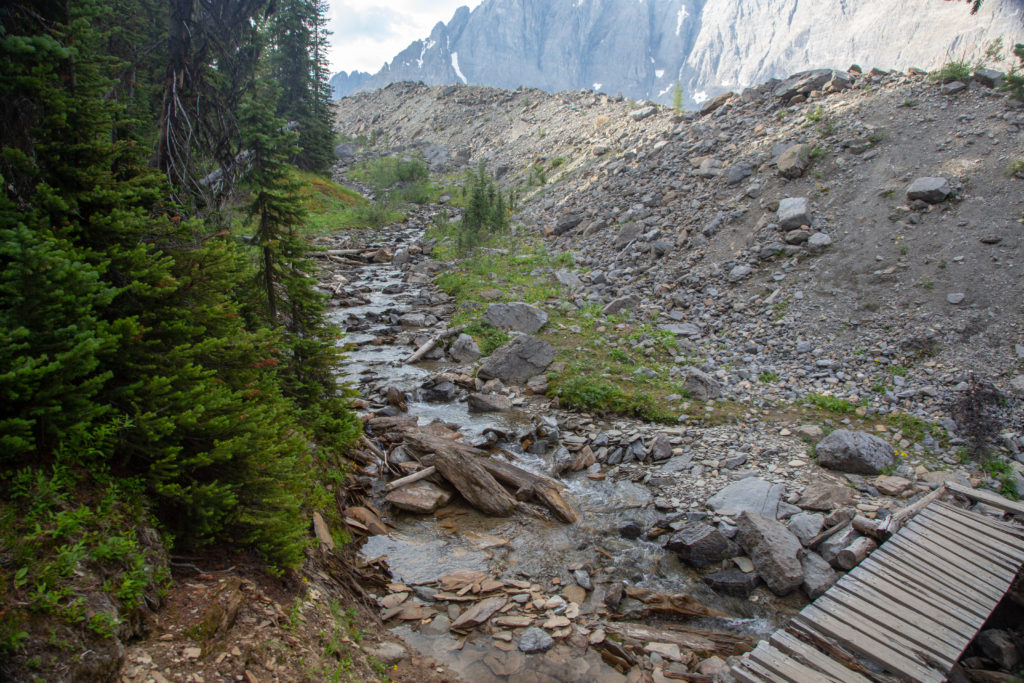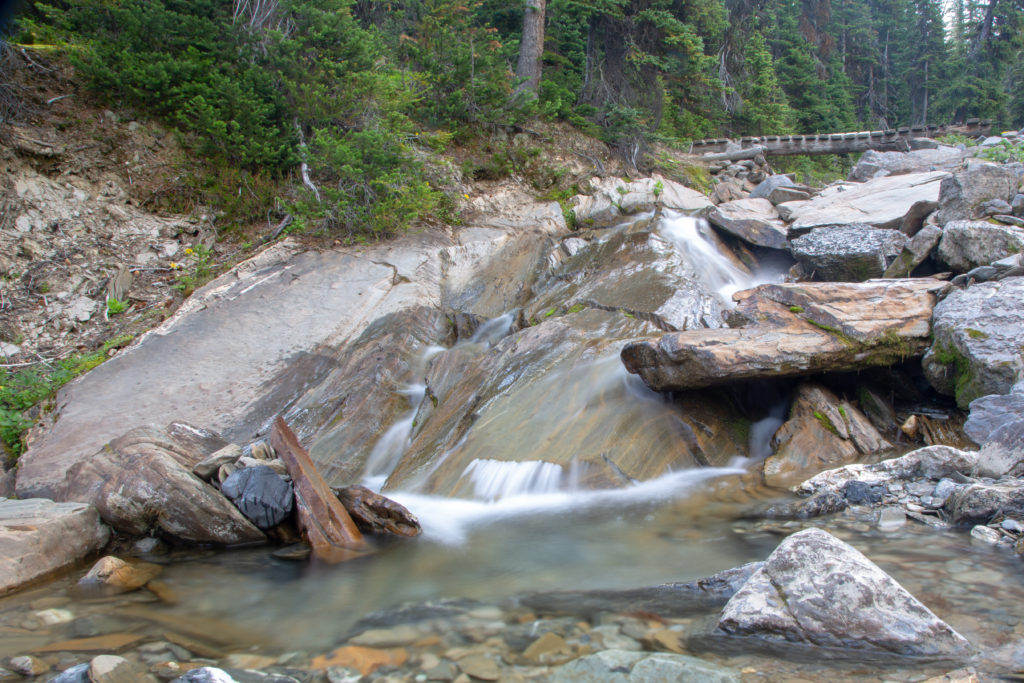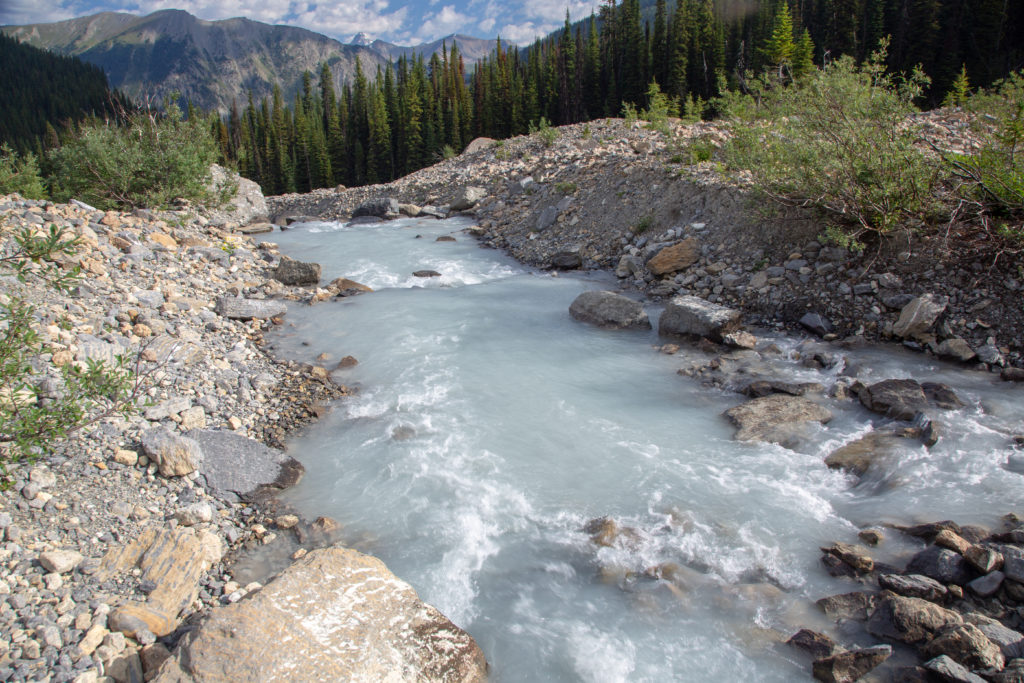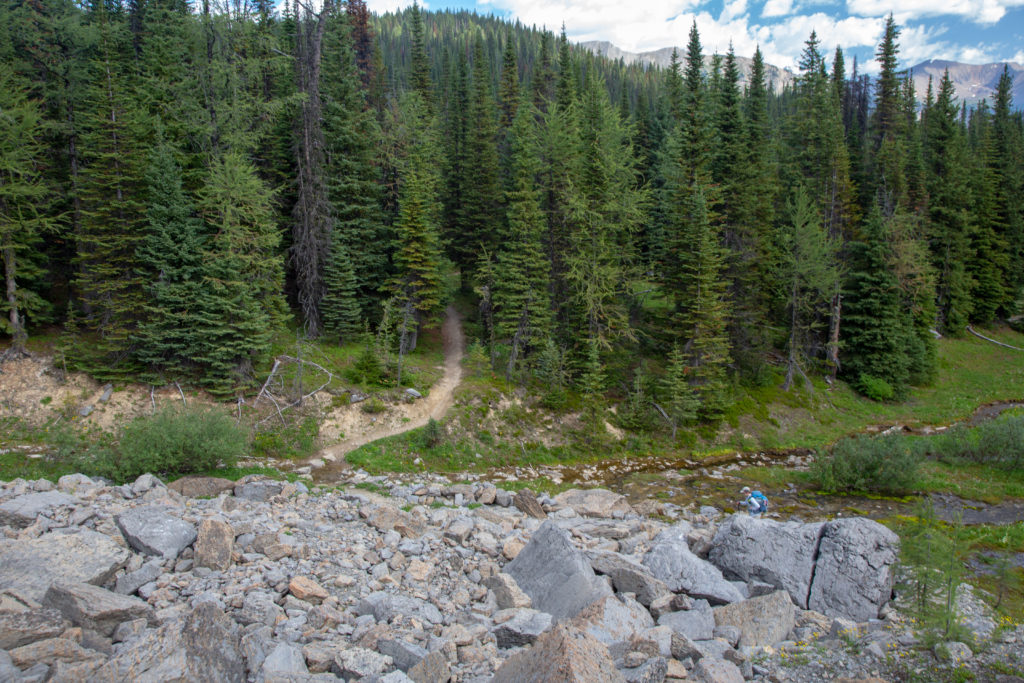 Our next destination is Limestone Summit a distance of 1.6 km and an elevation gain of 210 m. Limestone Summit is a strange name as it is not a summit in any sense and neither is it a pass. Limestone summit is a relatively flat spur off of Limestone Peak. The hike up to the summit goes up through a dense forest then flattens out over a long wet meadow before climbing a wide grassy hill to the plateau that is the summit. Micah lead the way up and we arrived at the summit in workman like 35 minutes. It is a must when traveling northbound to stop at the summit and look back south along the Rockwall. The view down the Rockwall extends all the way to Foster Peak at Floe Lake. When you leave Limestone Summit you will saying goodbye to the Rockwall so take the time to have a long good look.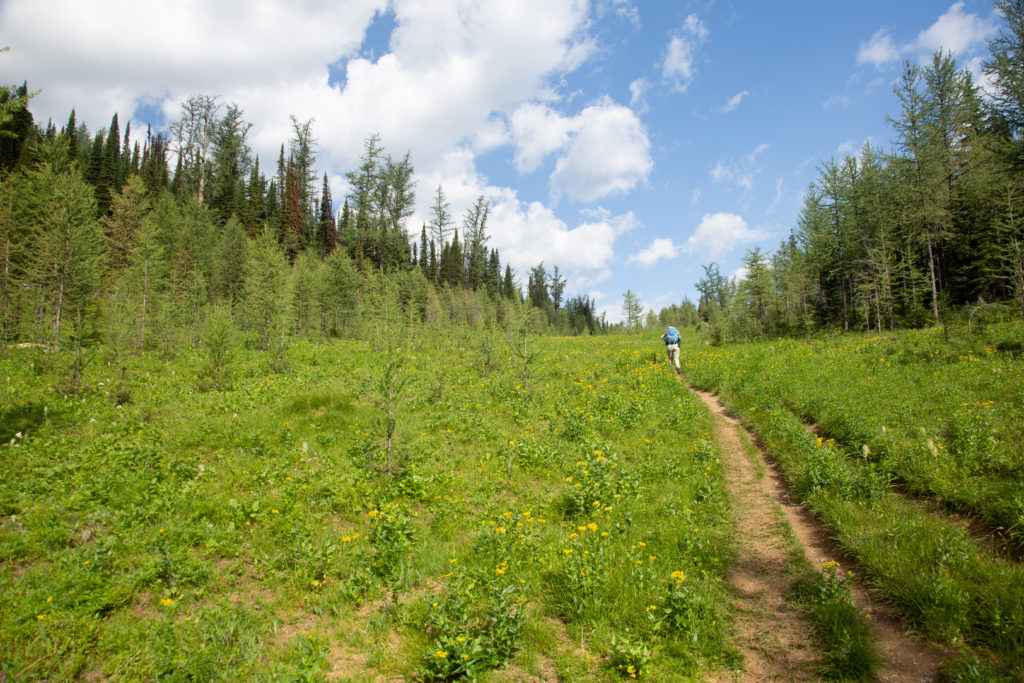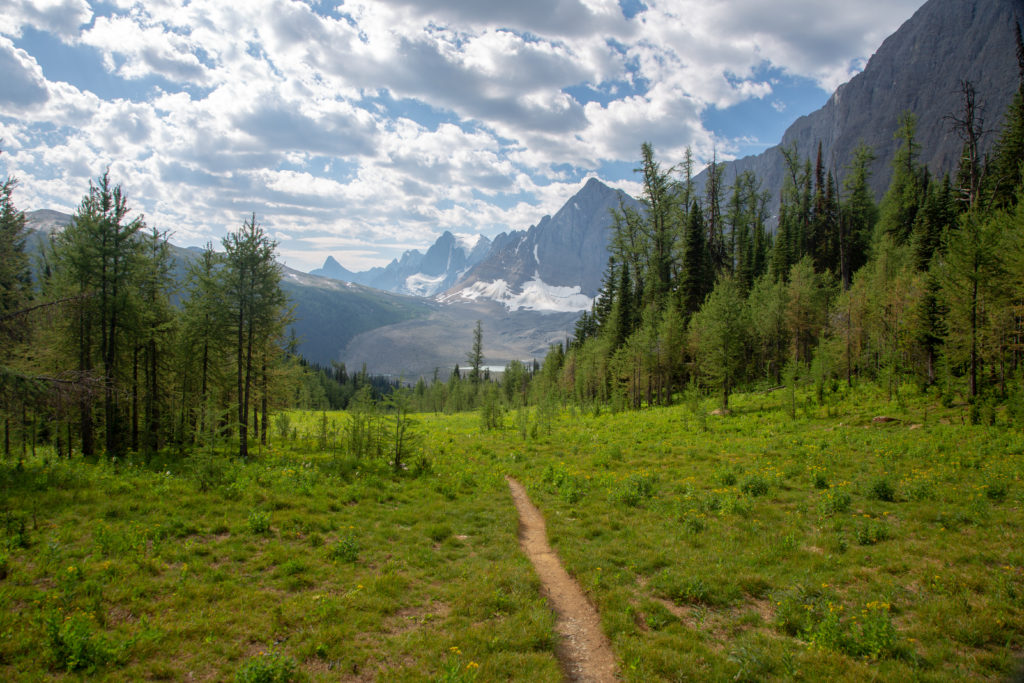 On leaving Limestone summit it is about 3.8 km to the north fork of Helmet Creek adjacent to Helmet Falls CG. Our plan was to have lunch at Helmet Falls which would be a 2 km detour. We had an eventful little trip to Helmet falls. First we ran into a family I knew from back in Canmore. They were three kids in the family and I had taught two of them and would teach the third kid during the upcoming school year. We stopped and talked for a good 10 minutes. Afterwards Micah I both had noticed that the three kids where all wearing shorts and were doing a constant dance swatting at mosquitos swarming about their exposed skin. The rest of us, the older people, had on long pants and seemed much more protected from the aggressive forest dwellers. Shortly after saying our goodbyes we ran into a young family having snacks off the side of the trail. In addition to the two adults there were two kids about 5 and 7 years old and a 14 year old dog. The father was very talkative and wasted no time in telling us his son had completed some amazing hike (I have forgotten the details). I got the feeling that it was very important for the father to have us know what an accomplished hiker his kids were. We gave them some bug spray to use and when it seemed like we had listened a polite amount we said our goodbyes and wished them the best on their trip. I never regret talking to people on the trait and there is always time to have a polite exchange. We upped our pace as we still had a long way to go. We arrived at Helmet Falls at 12:10 pm. We had covered 13.4 km in 4hrs and 20 min.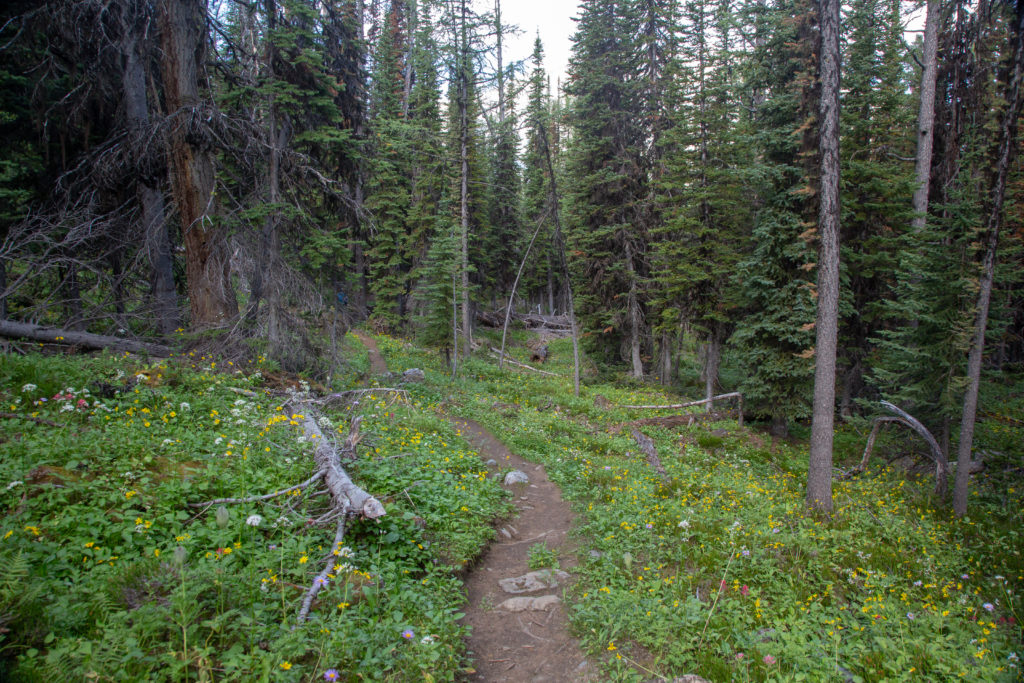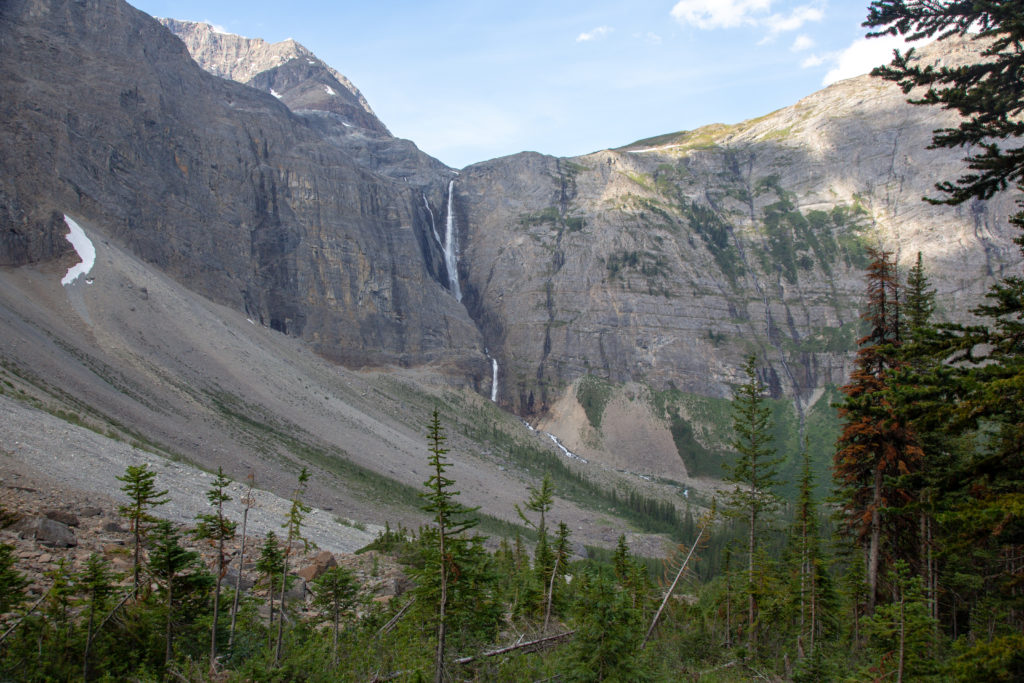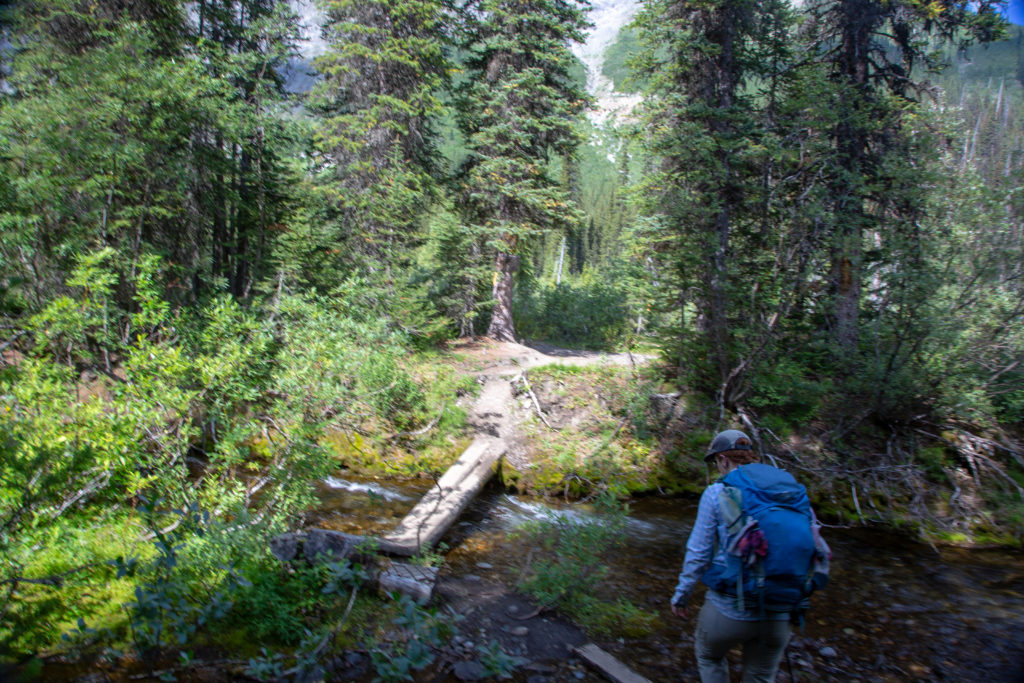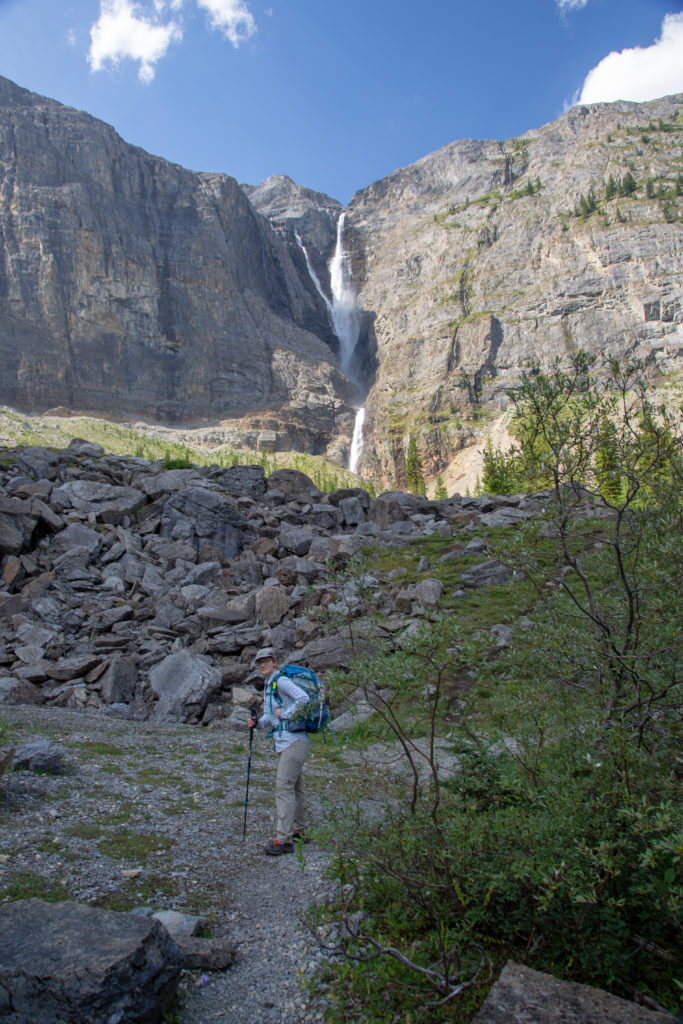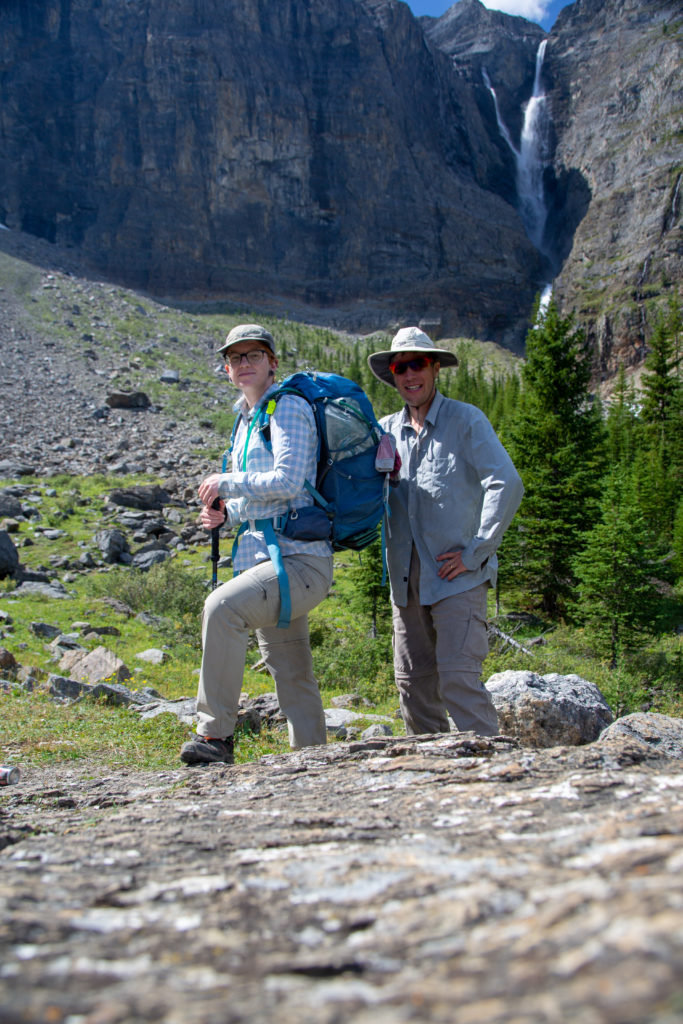 After the great days I had enjoyed the previous two days today was not so good for me. For some reason my feet were feeling hot and uncomfortable after we left Limestone Summit. I took my shoes and socks off during lunch in an effort to air things out. I had a hot spot on one of my toes on my left foot and even had Micah look at it but everything was fine. We headed out after lunch and stopped at Helmet Creek to refill water. I was not very comfortable during this break and it was another missed opportunity where I could have done something that would have saved the trip. I had my strapped sandals with me which as I had switched for my flip flops at the resupply. I had in the back of my mind that I could switch to my sandals for a few hours. I had two reasons why I thought that sandals were a possibility. First I already hiked in shoes so I knew I did not need the ankle support. The second reason is that Parks Canada trails are very good and conditions were excellent so I was not like I was going to have to hike through mud or scree on the next section. I waffled on my decision and headed down the trail after Micah . The irony is that I would hike over 20 km with my left sandal on after I blistered. Moving forward I have asked Micah to take the time to ask me how I am doing. I may lie to myself that everything is OK but I will be more honest with my hiking partner.
After hiking through a quiet Helmet Falls CG we passed the shuttered Warden's Cabin and found the junction to Goodsir Pass. We would be leaving the crowds behind now. Goodsir Pass is definitely not a popular trail despite the dramatic alpine vistas that it provides. The trail heads up through a series of switchbacks and I remember Micah setting a brisk pace. As I had thought the trail was very good underfoot but there was a bit of deadfall that we had to negotiate.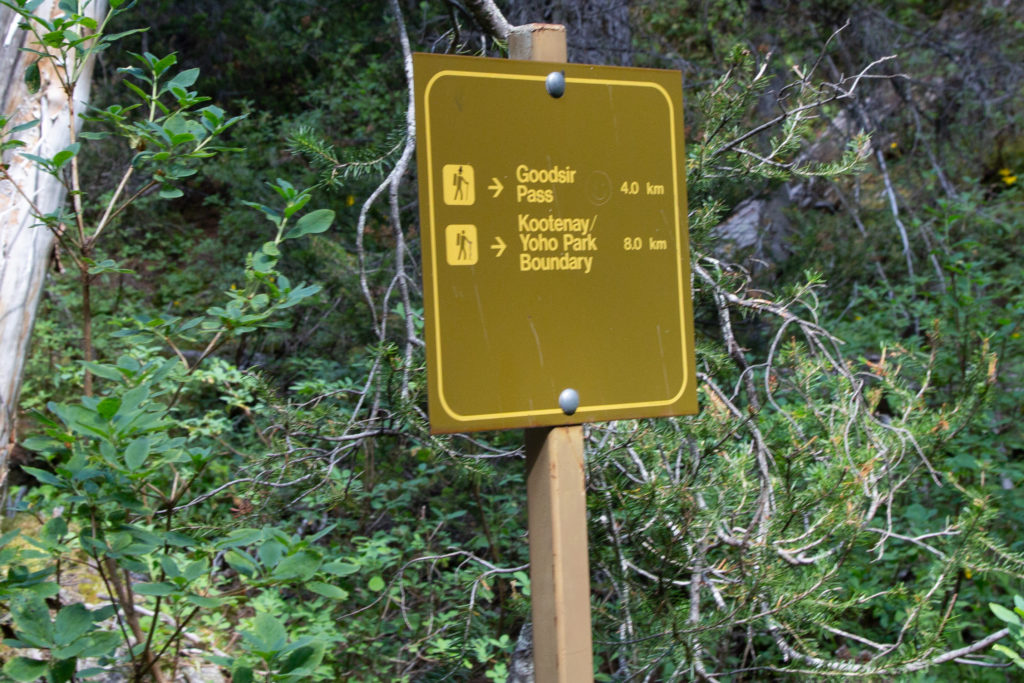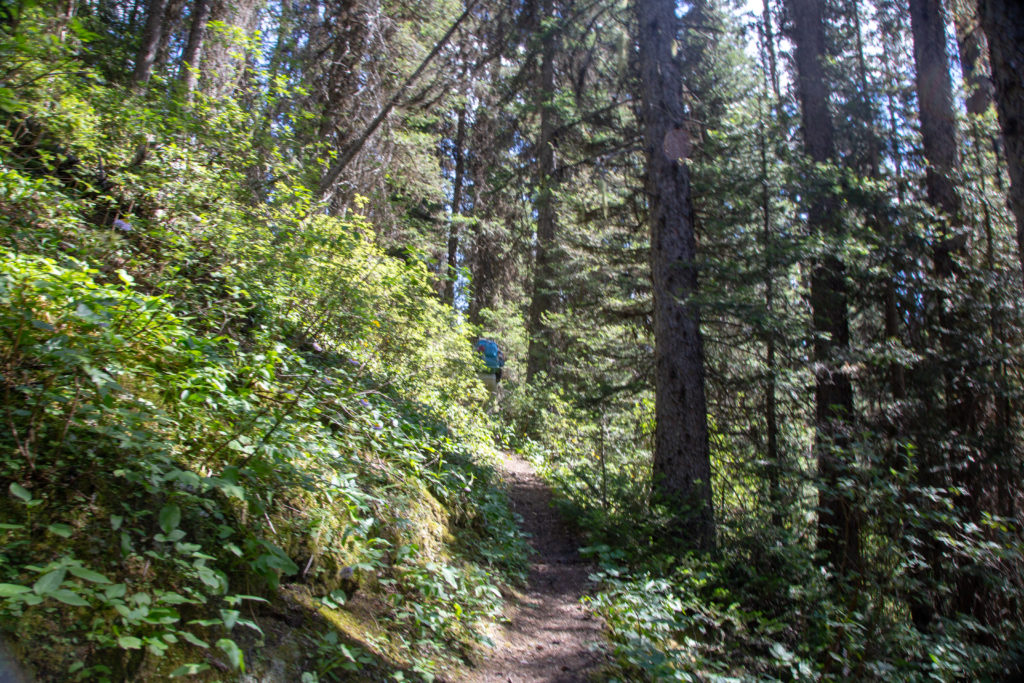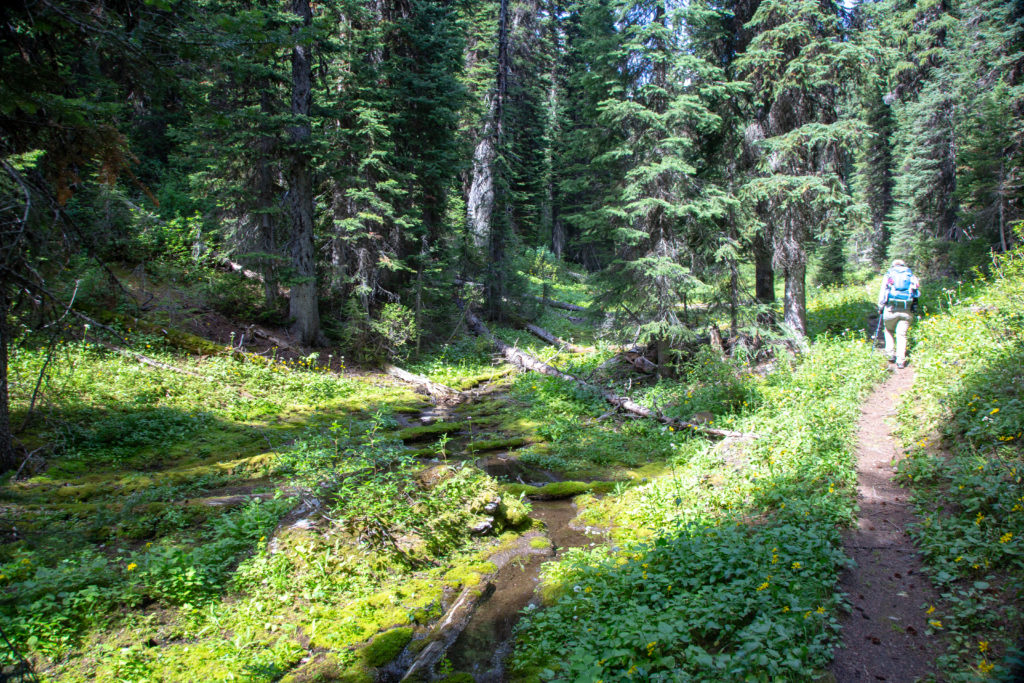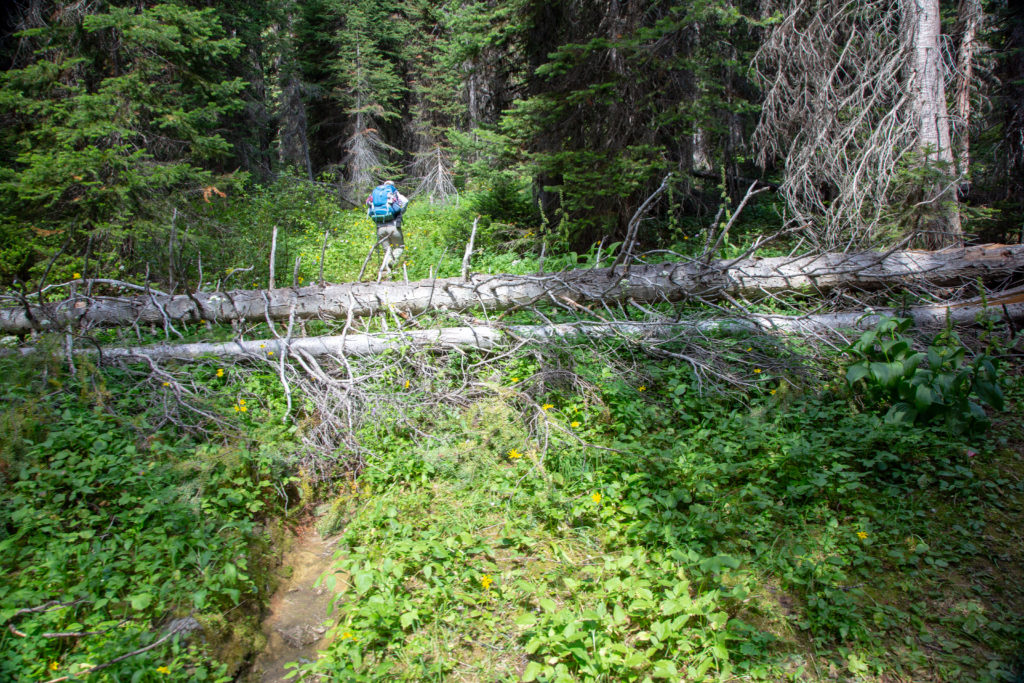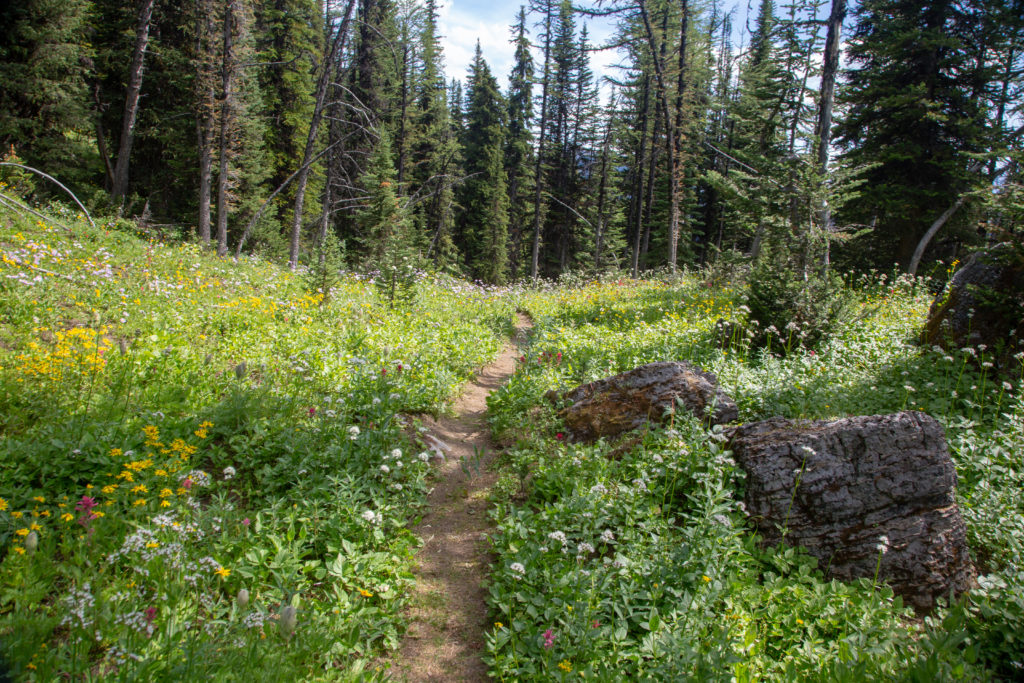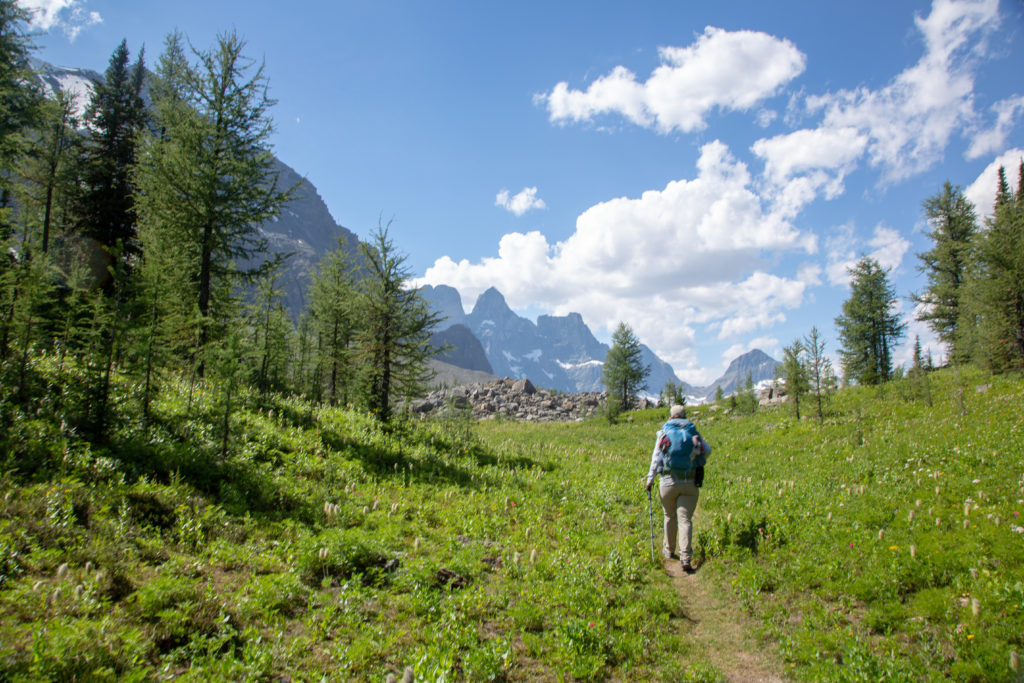 It is too bad not many people make it to Goodsir Pass as the view ranks with the best there are in the Rockies. We stayed for a few minutes to take in the view before starting the long descent.
The rest of the day is a long slow decent to the Ottertail River. We were both a little on edge as we did not have a map and did not truly know how far we had to go. Micah made a prediction that we would arrive at 5:00 pm, we'll see. My foot was definitely uncomfortable as we left the pass but I did not call a time out for another 20 minutes. By the time I got my left shoe off I had a nice large blister on the front of the middle toe. I did a poor job of popping the blister and tore quite a hole trying to get the fluid to drain. After taping up my toe I put my sandal on and got ready to continue. The trail descended slowly while contouring around a small unnamed mountain. We could see Goodsir Creek far below but the trail was taking its time getting there. There are just a couple of switchbacks in the middle of the descent to gives a change in direction. Parks Canada does not spend a lot of time clearing avalanche paths on this trail and we were frequently climbing over and around downed trees.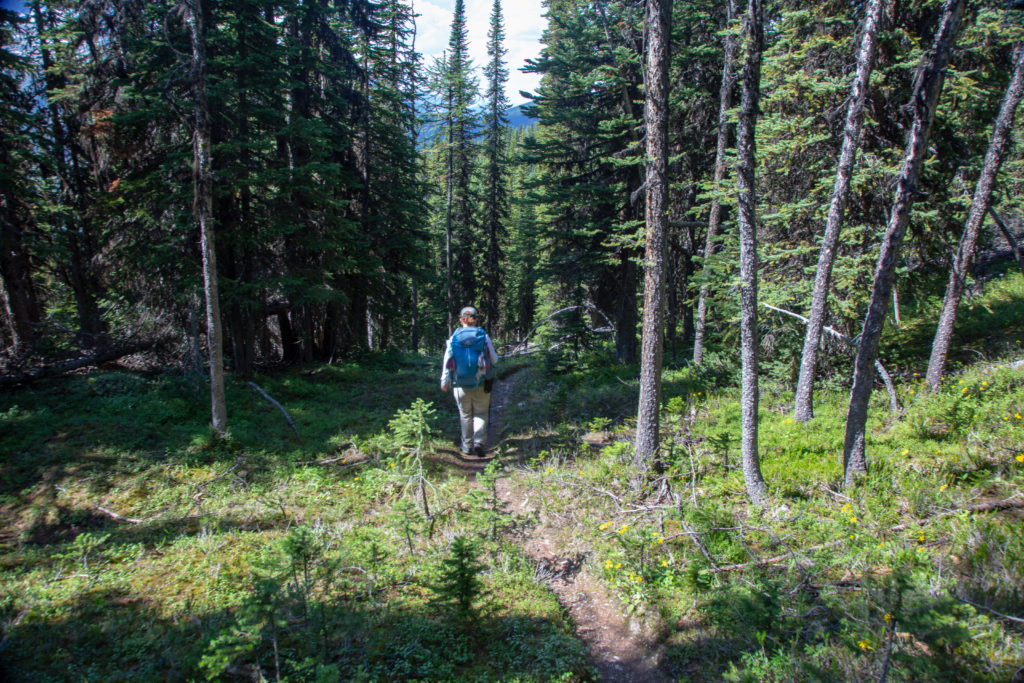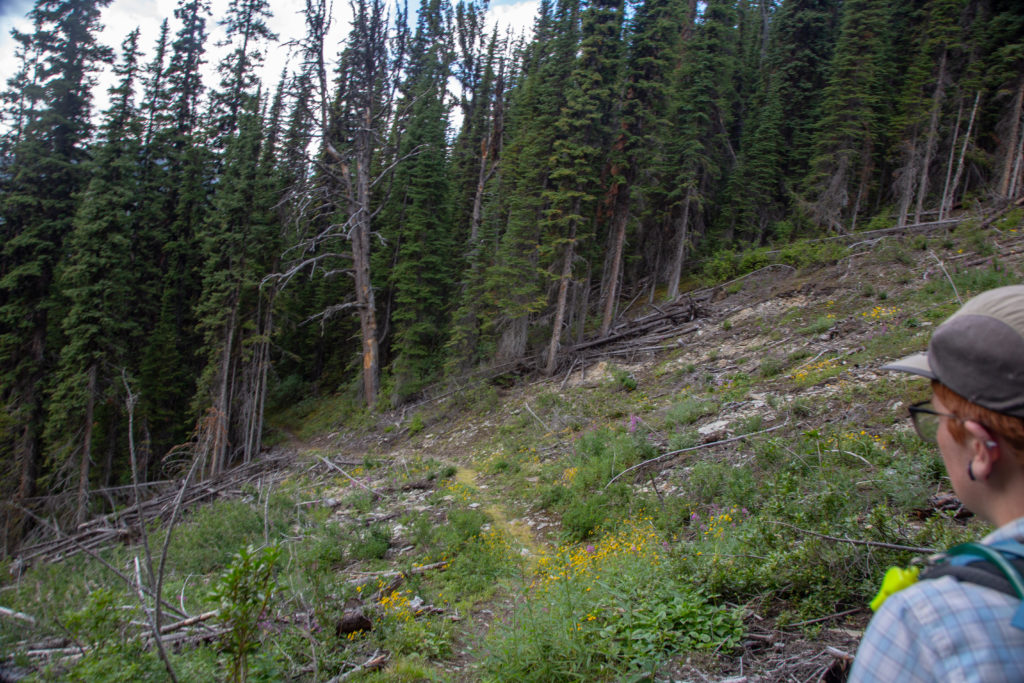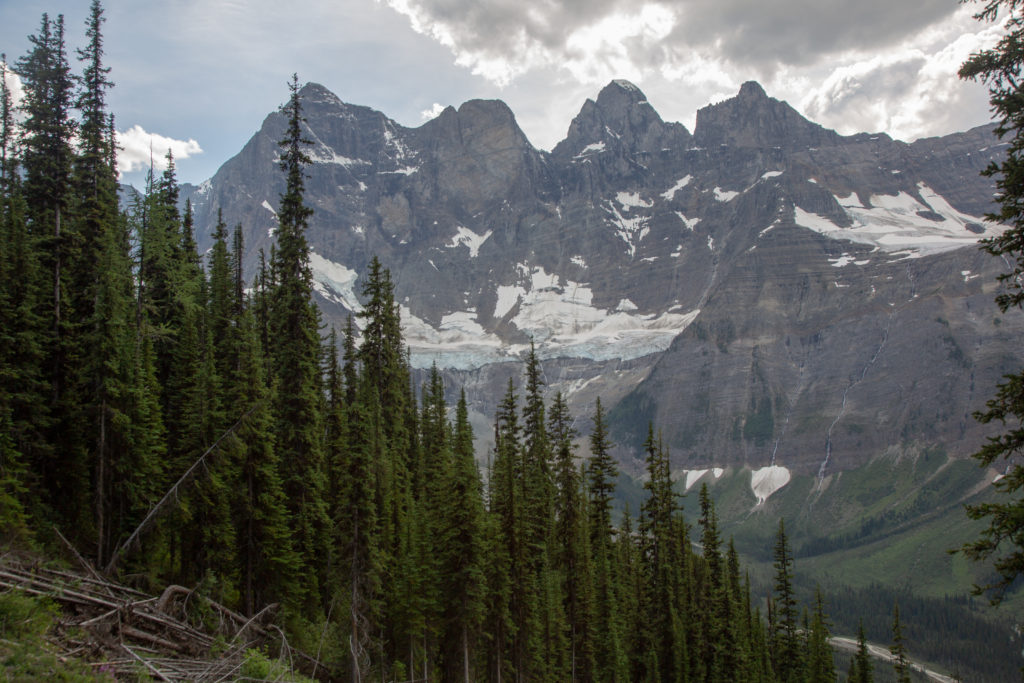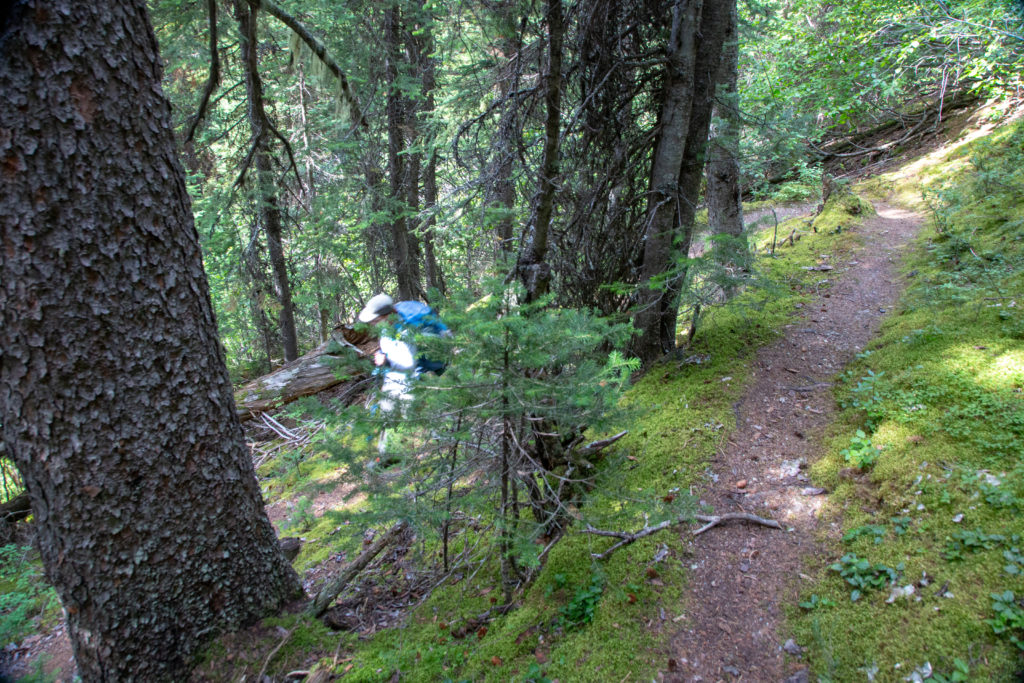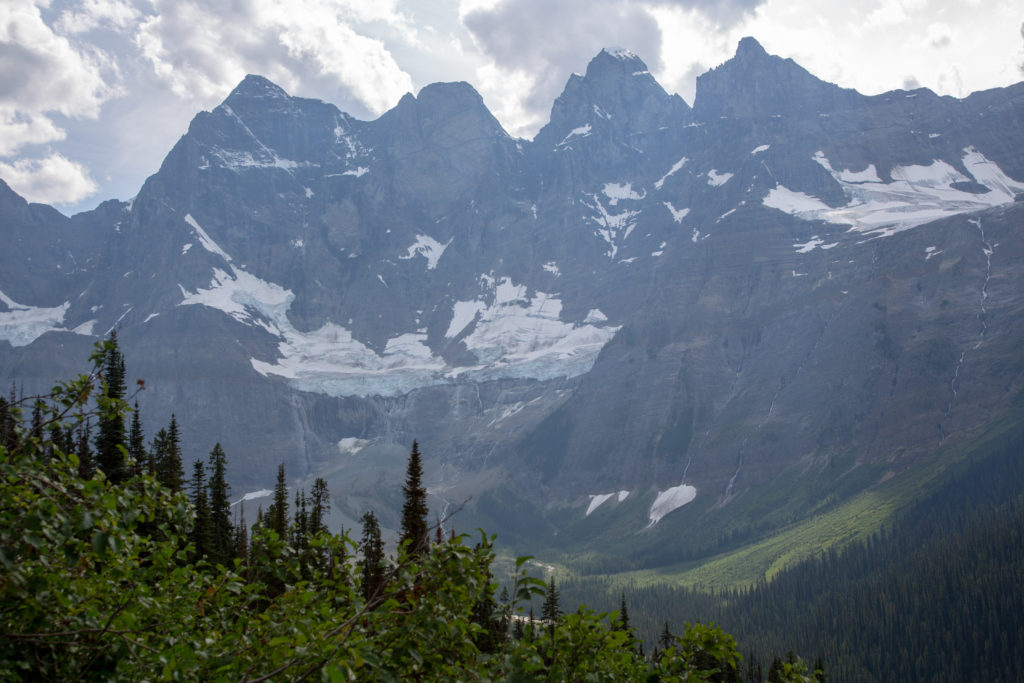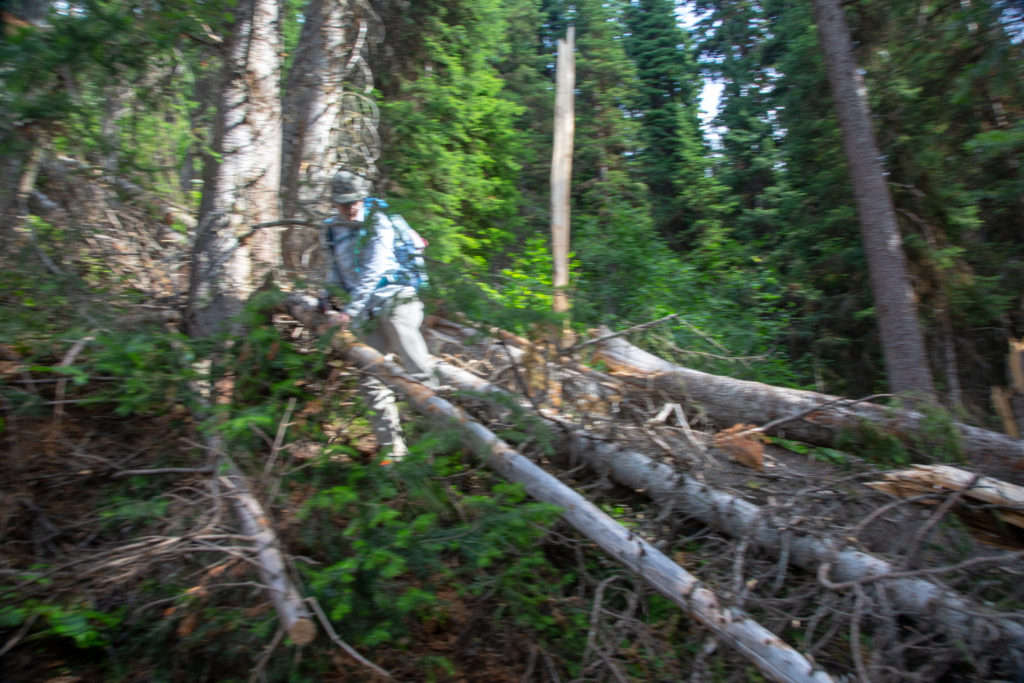 We knew we were getting close to end when we passed a unction with a Parks Canada sign for Goodsir Pass and Ottertail Pass. As the trail flattened out there were actually waterbars across the trail for erosion mitigation a clear sign that this area is or once was more important than the trail from the pass. We came across a very rough bridge across McArthur Creek. The iffy bridge crossing was followed by plenty of hurdling of deadfall and suddenly we came to an open meadow with a Parks Canada Patrol Cabin. We had made it. It 5:00 pm just as Micah had predicted and they were quite smug about it.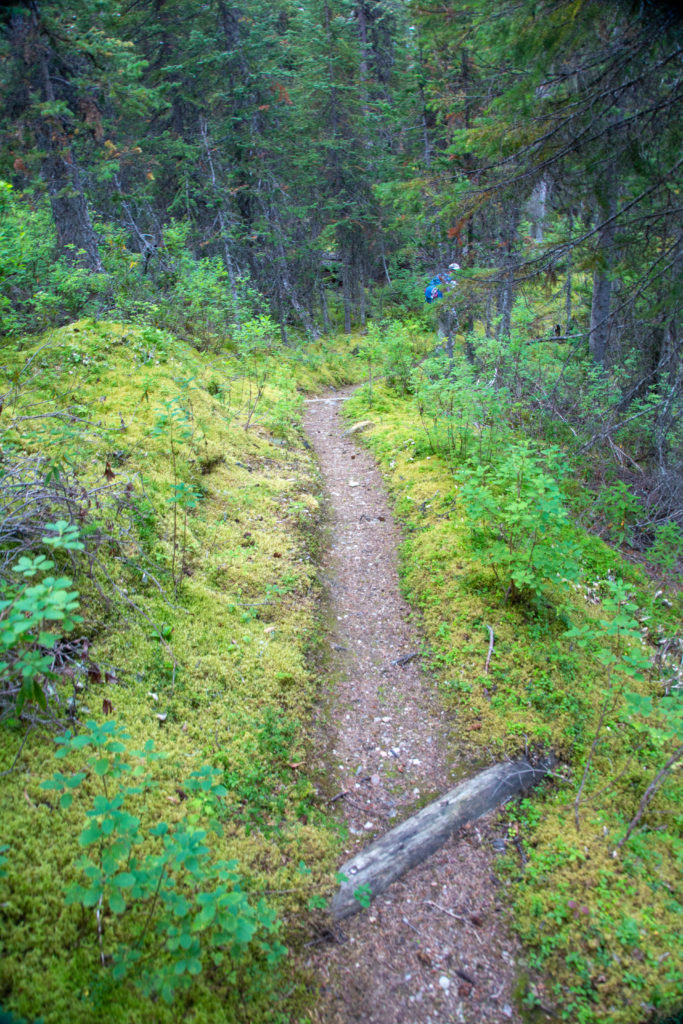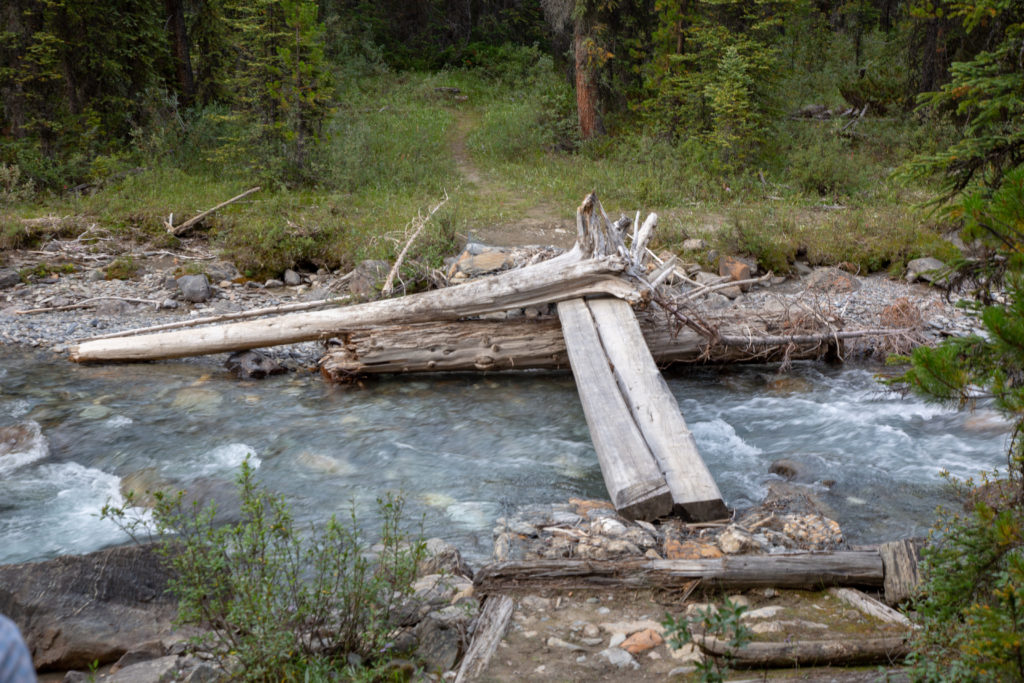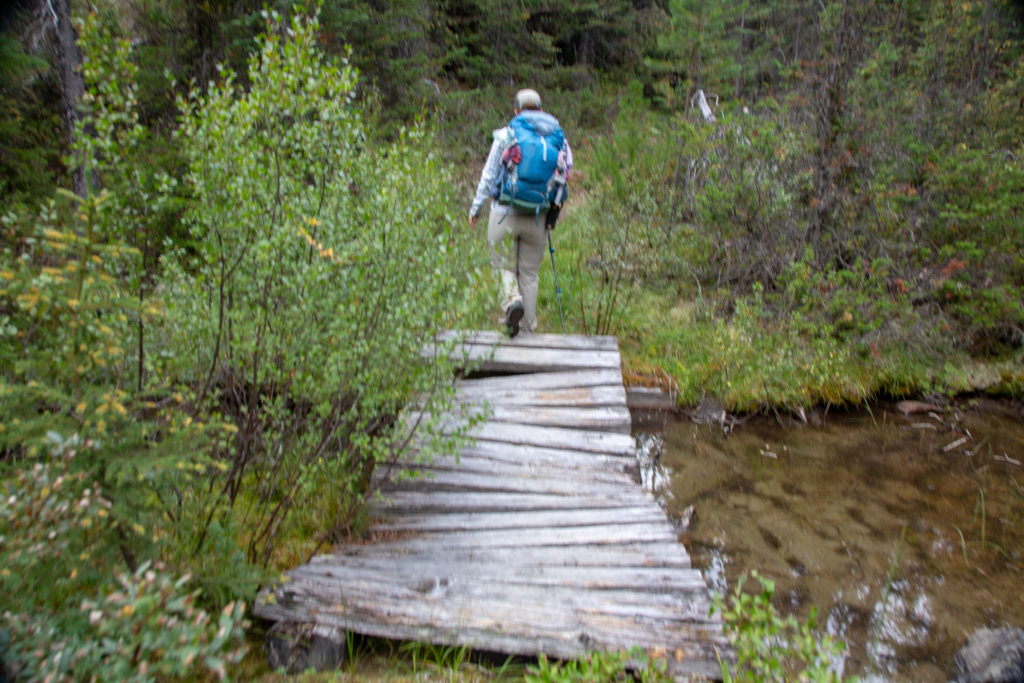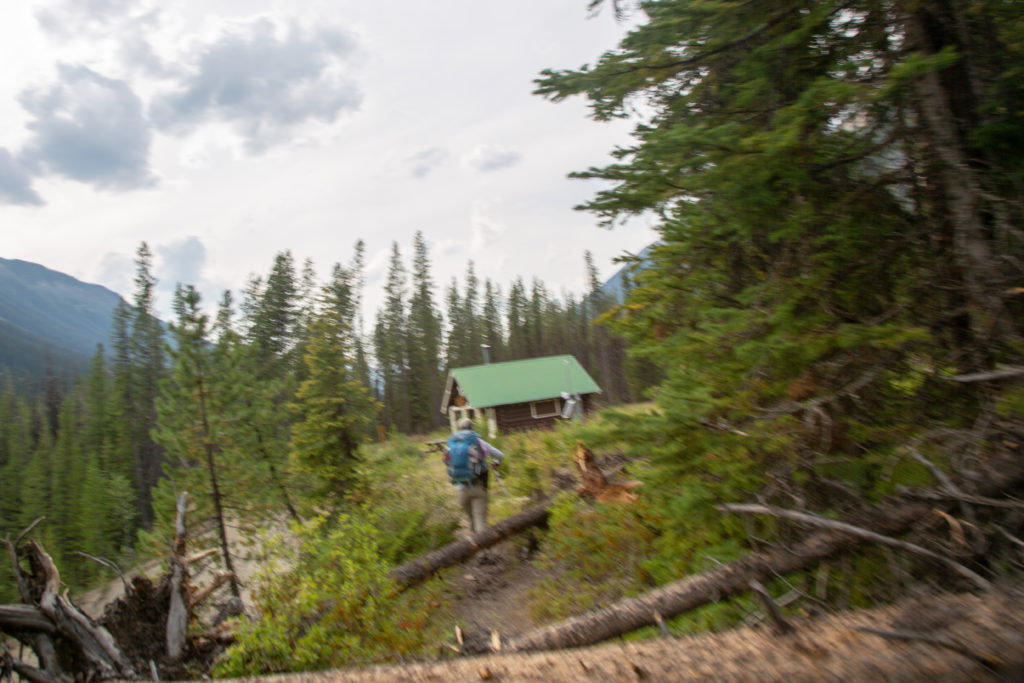 The campground was in a wooded area just past the Patrol Cabin. Upon arrival at the campground the reason for the trail closure we had seen at the Floe Lake parking lot was clearly evident. The majority of the trees in the area of the campground are dead and apparently there had been a massive windstorm that had blown many trees down. Parks Canada had done a yeoman's job clearing the campground. All the tent pads were clear of debris and there was wood stacked everywhere. Despite the great job that the Parks Canada employees had done I did not have good feeling about staying in the campground. There were plenty of dead trees still standing and I knew I would not sleep well if it was windy. After a very brief discussion we both agreed that it would be best to camp in the lovely meadow adjacent to the vacant Patrol Cabin. We did store our food in the lovely bear lockers.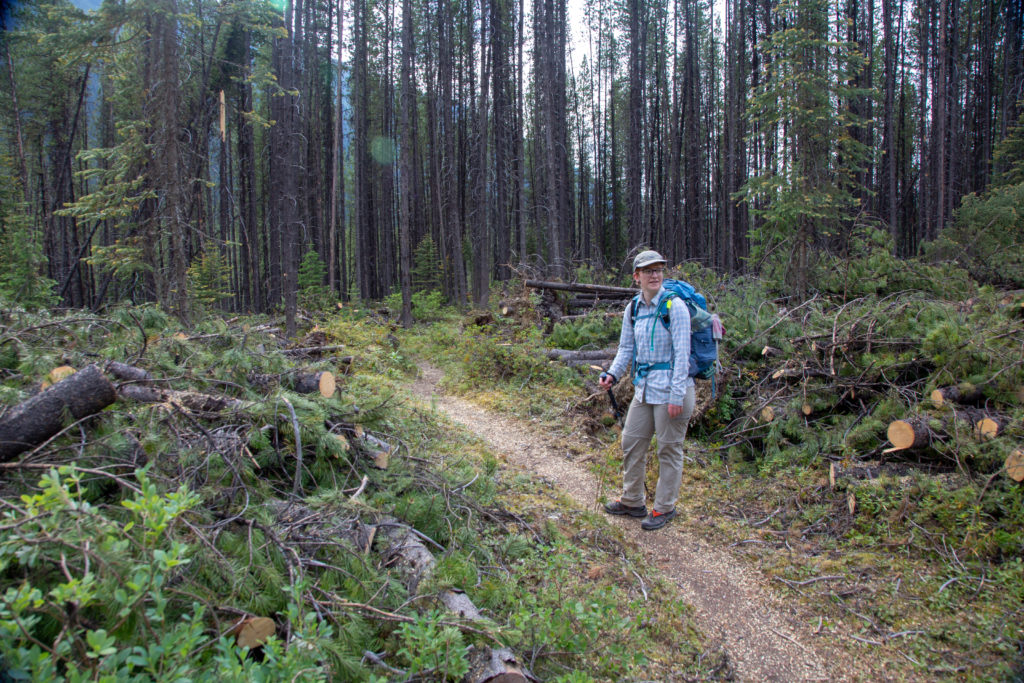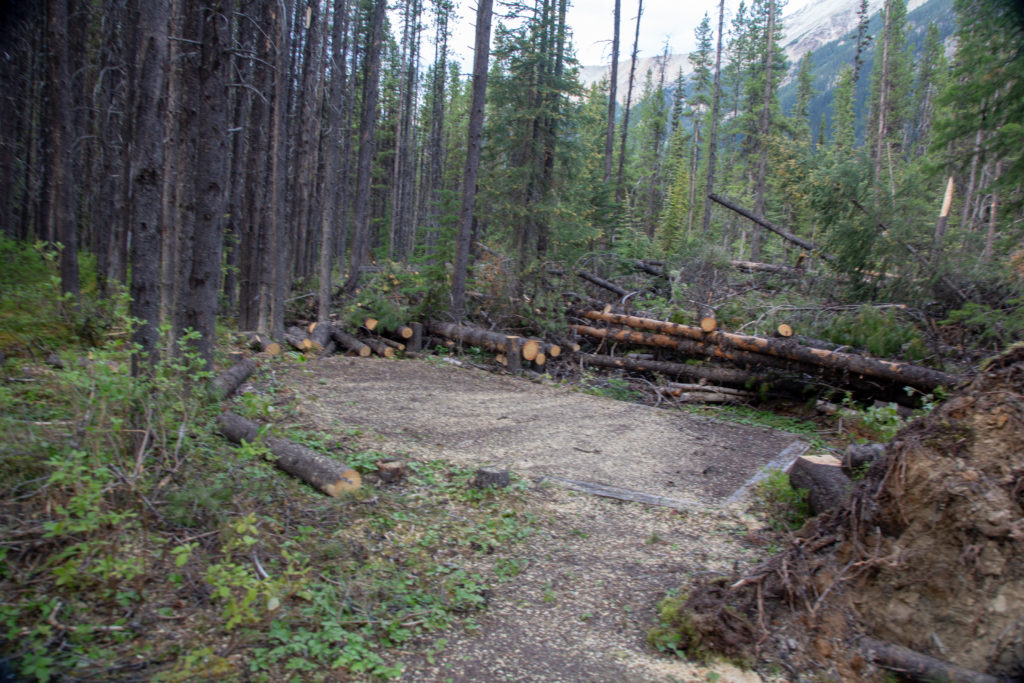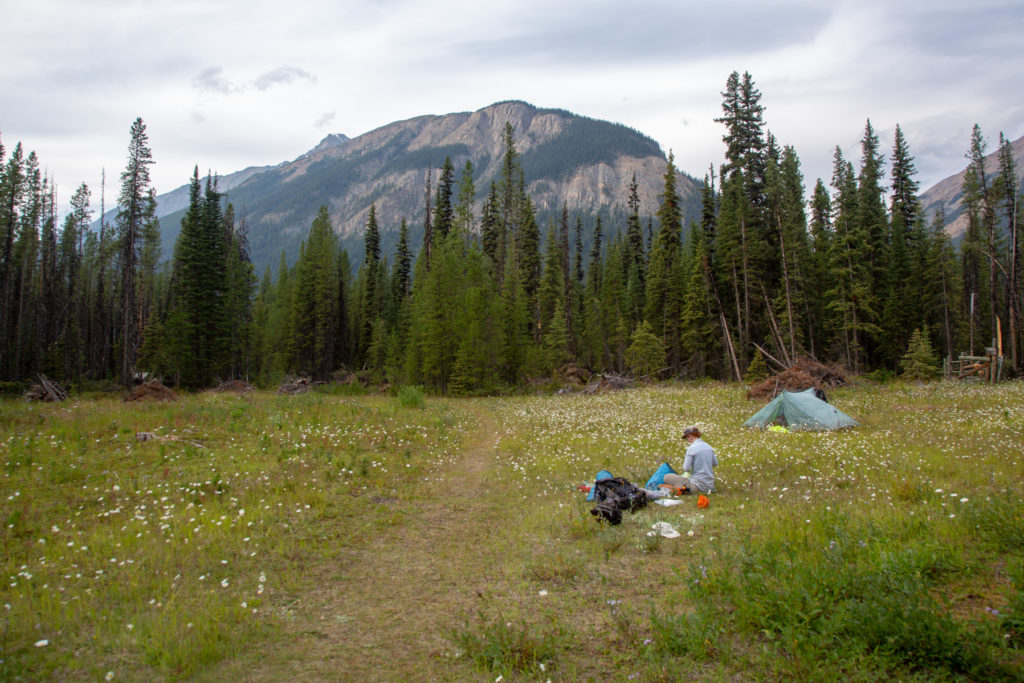 I did contact Parks Canada and commend them for the great work they had done but suggested that they abandon the campground and move the tent pads to the meadow where in my opinion everyone would be safer. They thanked me for my suggestion. There are three creeks draining the surrounding mountains Goodsir, McArthur and Ottertail. The creeks come together just upstream of the campground and for some reason they became the Ottertail River. The river was our water source and the flow from the glaciers on Mt Goodsir gave the river a heavy silt load. This would not be the cleanest water we had on our trip. It was a little scramble down a steep slope to get the water. With no one around we carried our bear spray everywhere.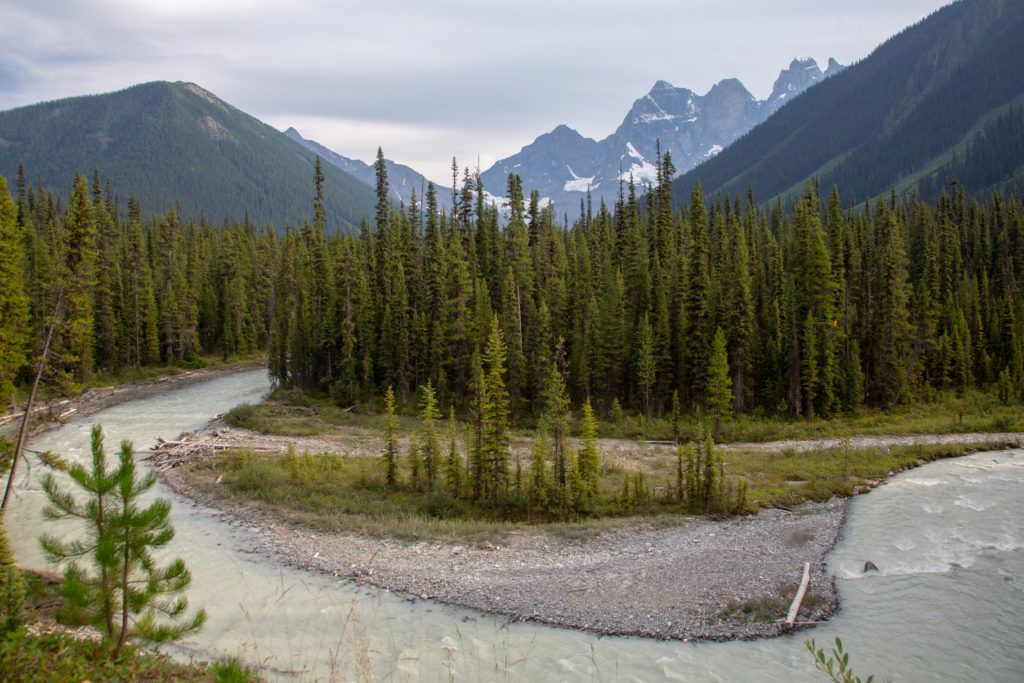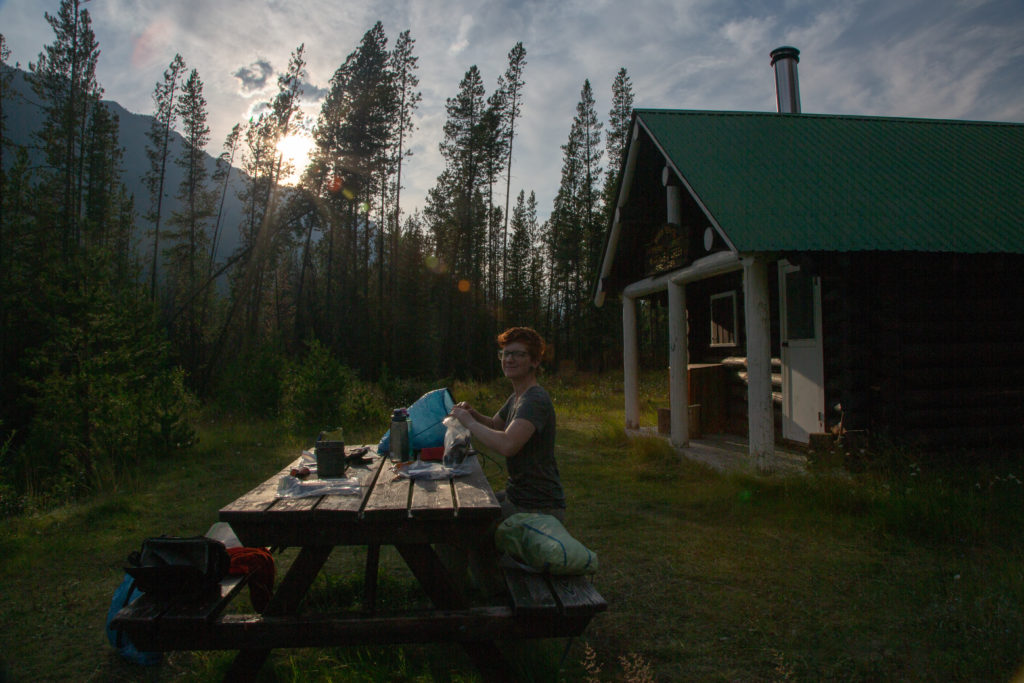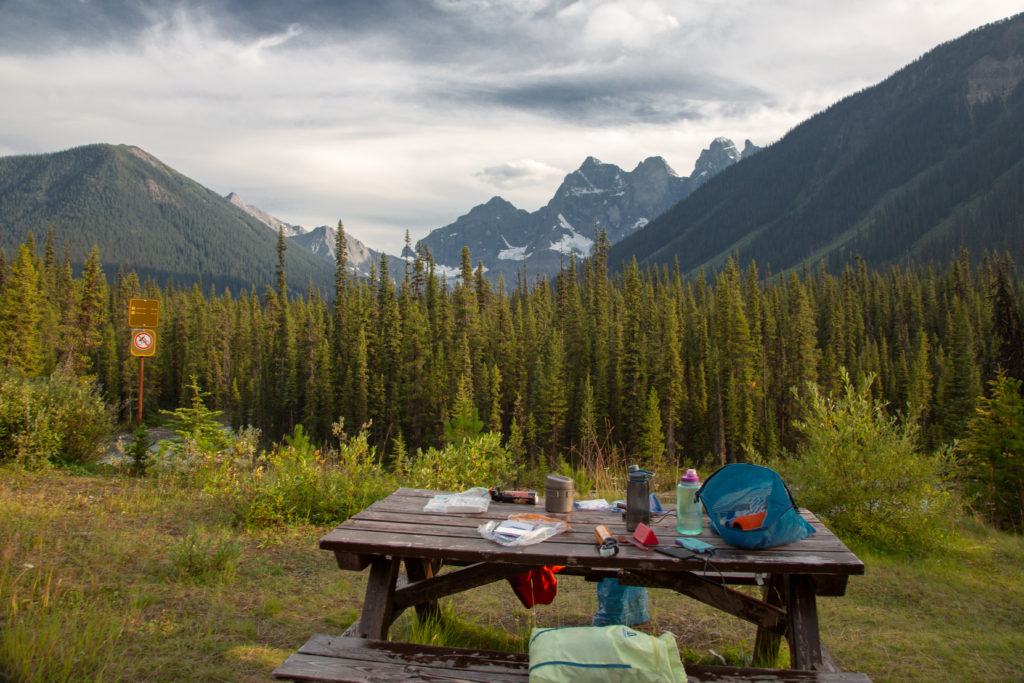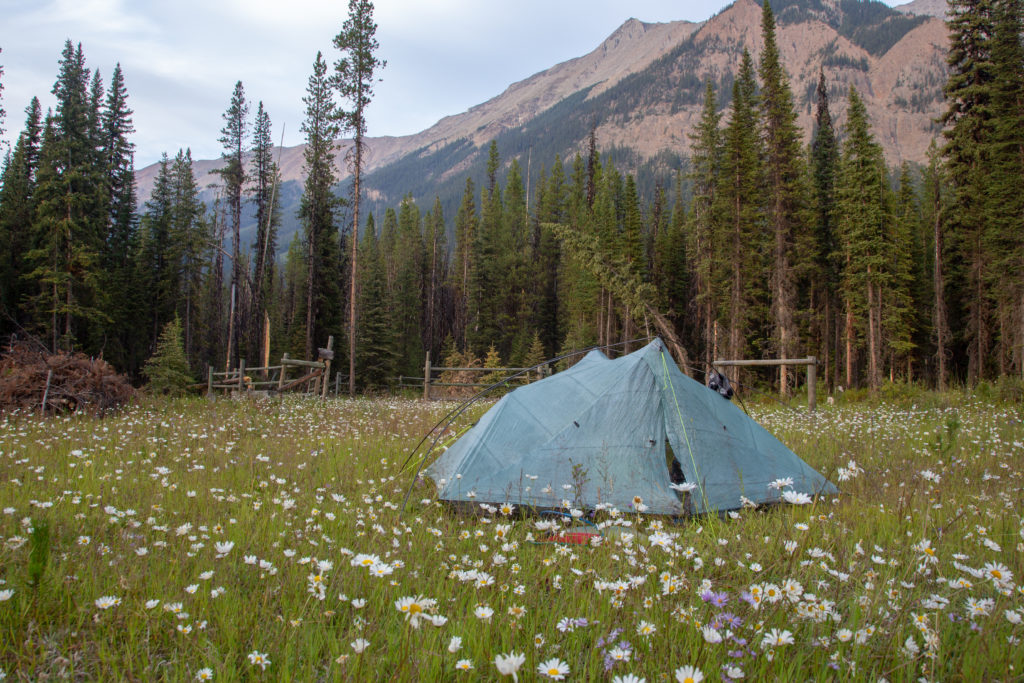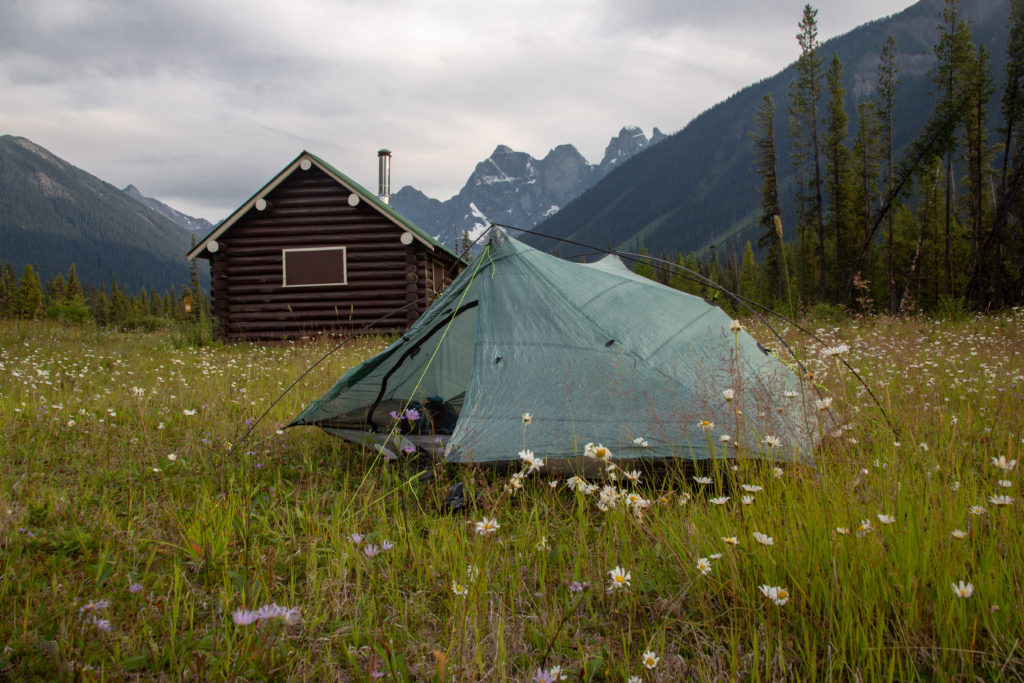 As there was no one else in camp Micah played some music from their phone. We do not normally play music at camp but once every 9 days seems to be a good compromise. We spent a good chunk of the evening reading our book Massive. We had made quite a dent in the book over the last several days.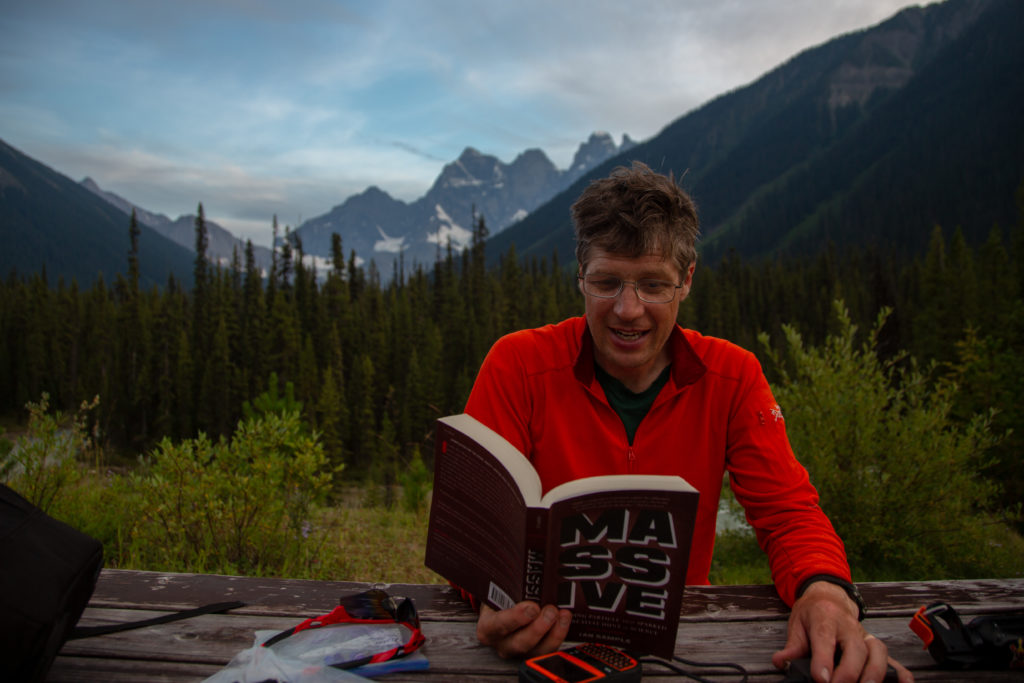 During the night I woke up and looked outside. It was suppose to cloudy by the sky was clear so I took some astrophotography pictures. I was surprised how well the photos worked as I only had my general purpose lens. Like many a night recently this would be a long night of tossing and turning vainly trying to get comfortable.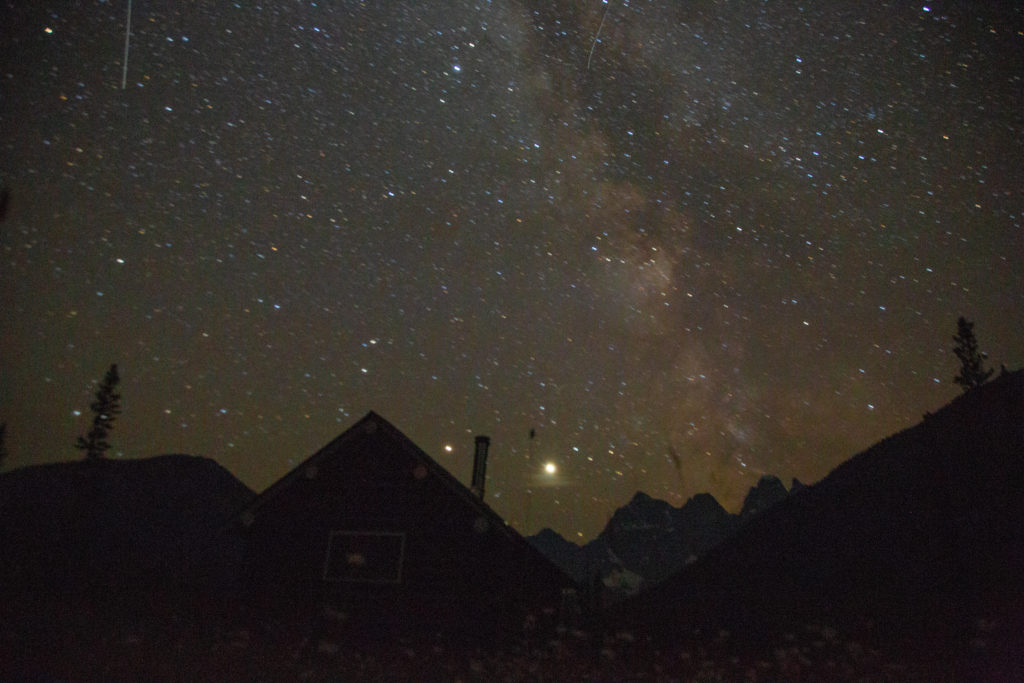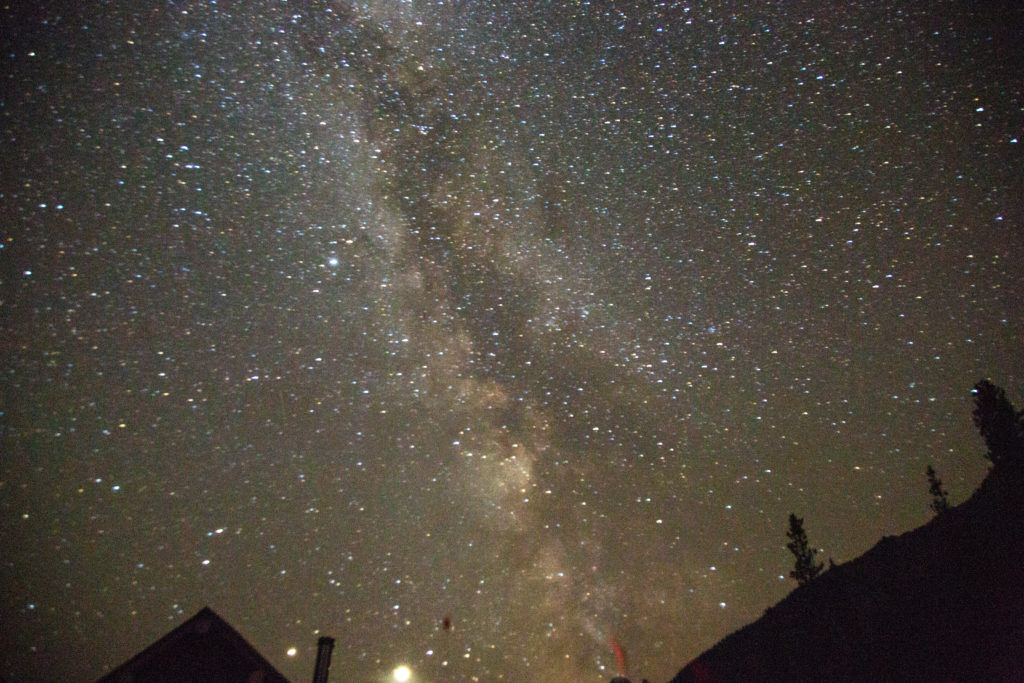 Day 10 GDT Hike Section C 2020