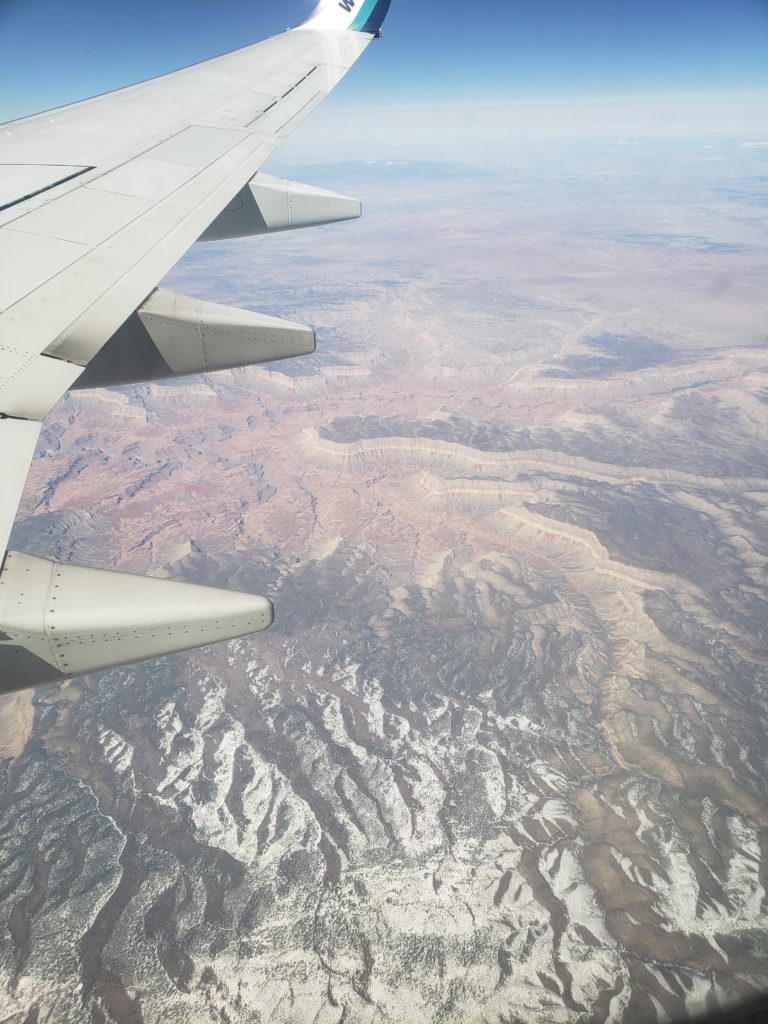 April 1, 2023
Normally a travel day is pretty straightforward. There are flight delays that can come up but other than the rituals of being herded onto a flying bus most travels days are hectic but uneventful. I was up at 4:35 am, fed Margaux and had my own breakfast. I made a coffee but put it into a go mug wrapped in a mitten to keep warm for drinking after I was 30 minutes down the road. This strategy allows me to make it to the airport without a pit stop. I left the house at 5:25 am.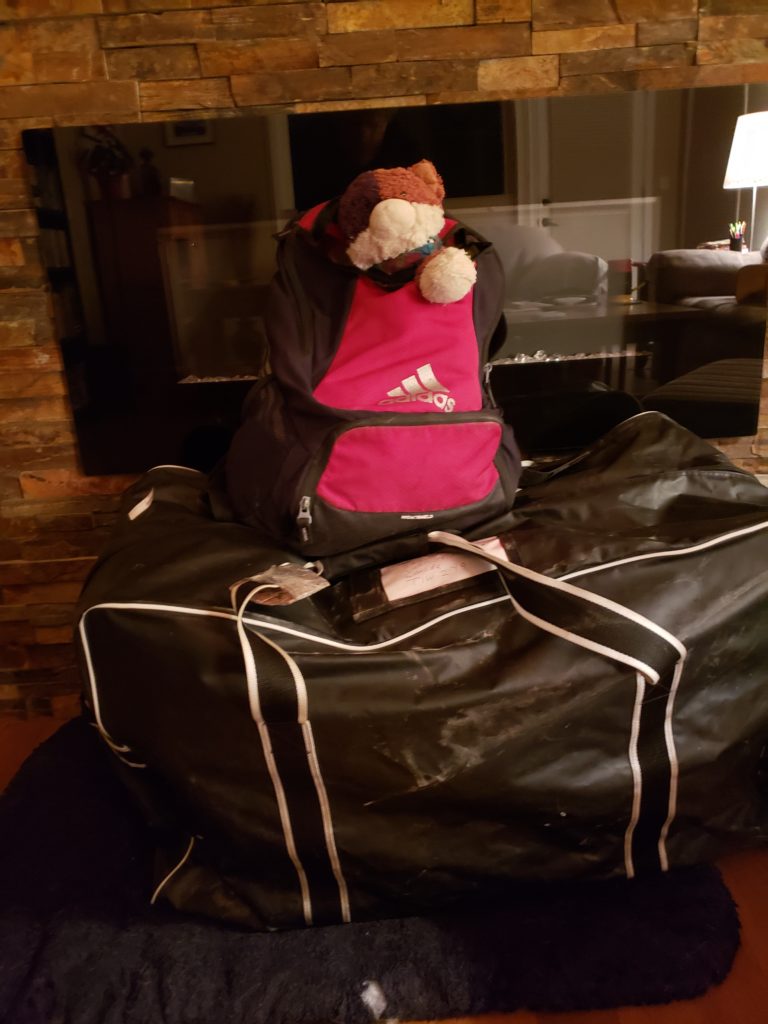 I arrived at the Park and Fly parking lot at 6:40 am. It was very busy with travelers heading out for Spring Break. I had to wait for the third Park and Fly shuttle to come by before I was able to snag a seat. The people on the shuttle were headed to Cuba and were very excited and happy to talk about their trip.
The bag drop was slow but at least it did not jam this time. It is an automated system and the WestJet employee asked us to stand away from the machine while it was trying to scan the baggage tags and it did seem to make the machine work better.
As I went through security I was chosen for either the physical pat down or the full body scan. I went with the scan and they found no issues. Going to the U.S.A. you go through customs before departing on the flight. As I waited the customs officer called a women in a different line up. She was busy talking on her phone and was slow to respond. After finally coming forward the customs officer sent her back and called me up in her place. I was threw customs at 7:35 am. While I did have just under 90 minutes before my flight. I felt it was a little tight consider things had gone very smoothly. I had left home 3 1/2 hours before my scheduled departure. Next time I travel I feel I will leave a little earlier maybe 4 hours before my flight.
With everything going so smoothly something was bound to go sideways at some point Just as I was on the plane and getting ready to switch my phone off I received a text from my Trail Angel to say that they had arrived at the trailhead. I sent a quick text to say that I was still in Canada and they quickly replied and I could tell that they were not happy. With the plane taxing towards the runway I asked if it was possible if it was possible if they could pick me up tomorrow. Once in flight I scanned through my emails I found that we both were to blame. My original email clearly said I was in need of a ride for Sunday April 2nd. The confirmation email from my Trail Angel confirmed that they would pick me up on Saturday. So we had both screwed up. The blame is squarely on me because I did not read the confirmation email carefully enough. Most people who know me would not be shocked at my lack of attention to detail. I spent the entire flight no knowing if I would have a ride to the trailhead. Once I got service at the Phoenix airport I received an email from the Trail Angel that they would indeed pick me up on Sunday. Disaster narrowly averted 🙂
It took me so long to connect to the airport wifi and confirm my plans that I was so late going to get my baggage carousal that the airport staff were preparing to take my luggage.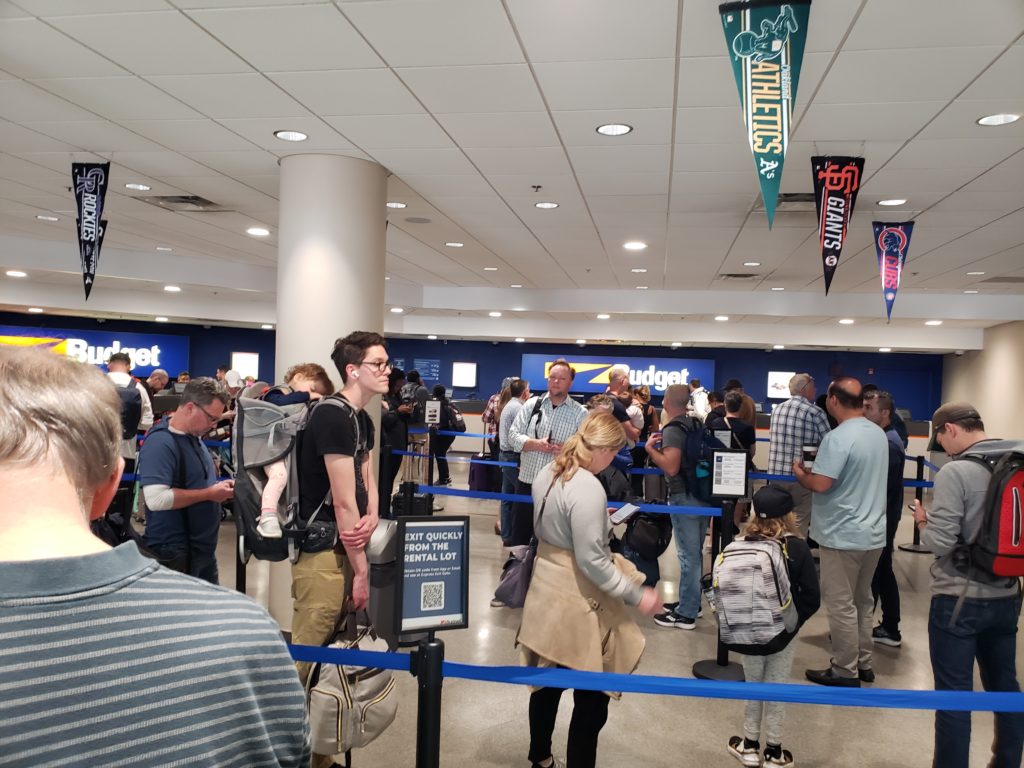 A quick train ride had me at the car rental centre where it took me over 45 minutes to negotiate the line to get my car. It was very busy but the guy at the desk was super pleasant. The drama continued in the rental car parkade. First just after joining the long line of cars trying to escape the parkade someone almost backed into me. I had to lay on the horn to make them stop. I am quite sure that their car had a backup camera so I have no idea how they could not have seen me. Then just as I was going through the last checkpoint the guy stopped my car and pointed to the writing on the rear window. The car was to be sold at auction so I was not suppose to have been given the car to rent. They upgraded me for free and waived the filling the tank fee. I left the parkade with nice new Chevy Malibu.
I had preset certain locations in mapping app, Here We Go, which made for easy navigation first to REI and Target for supplies and then to Superior where I would be spending the night. I do have a note in my journal that all the staff at Target were very helpful. I got a little concerned about the temperature as I drove to Superior. I had been hiking in snow just a few days ago and now the temperature was 85 F.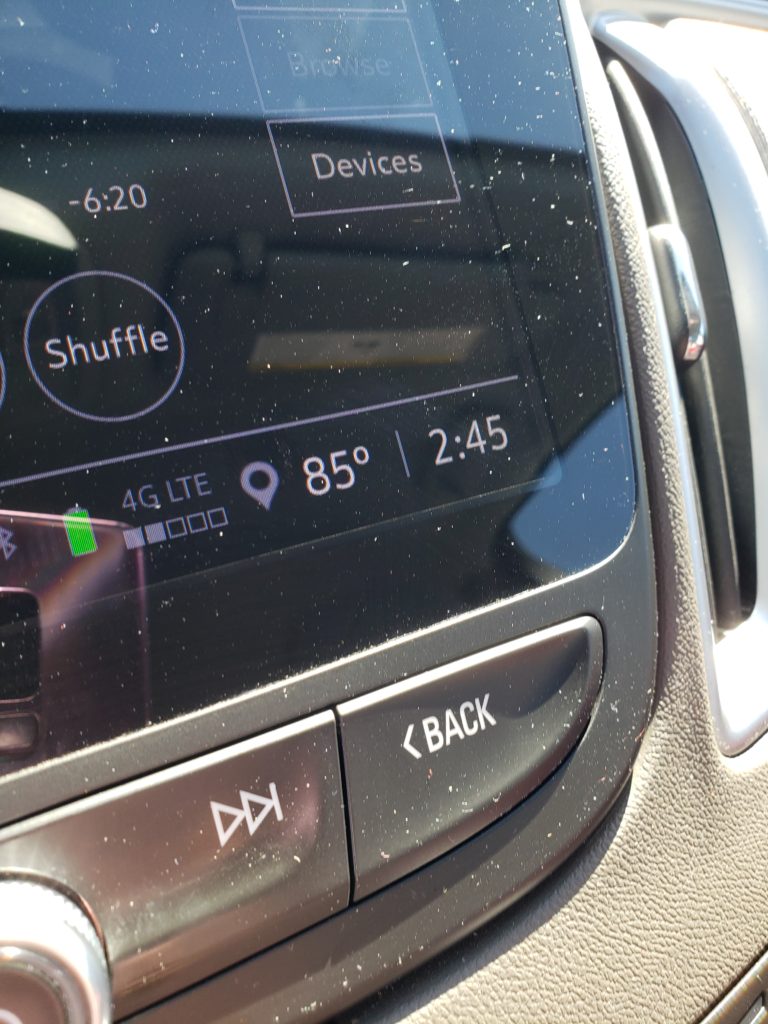 On the way to Superior I passed by a Renaissance Festival. There where a lot of people heading in and out of the festival which could have been a lot of fun to have checked out but it was too late in the day for me as I had final preparations to take care of once I arrived in Superior. Arriving at the Copper Mt Motel I got a different room than in January. The room was smaller but it suited me just fine. I had ordered some photography equipment from BH Photgraphy in New York and the the motel had been happy to receive delivery and hold the package for me until my arrival. I do enjoy the service provided by small establishments.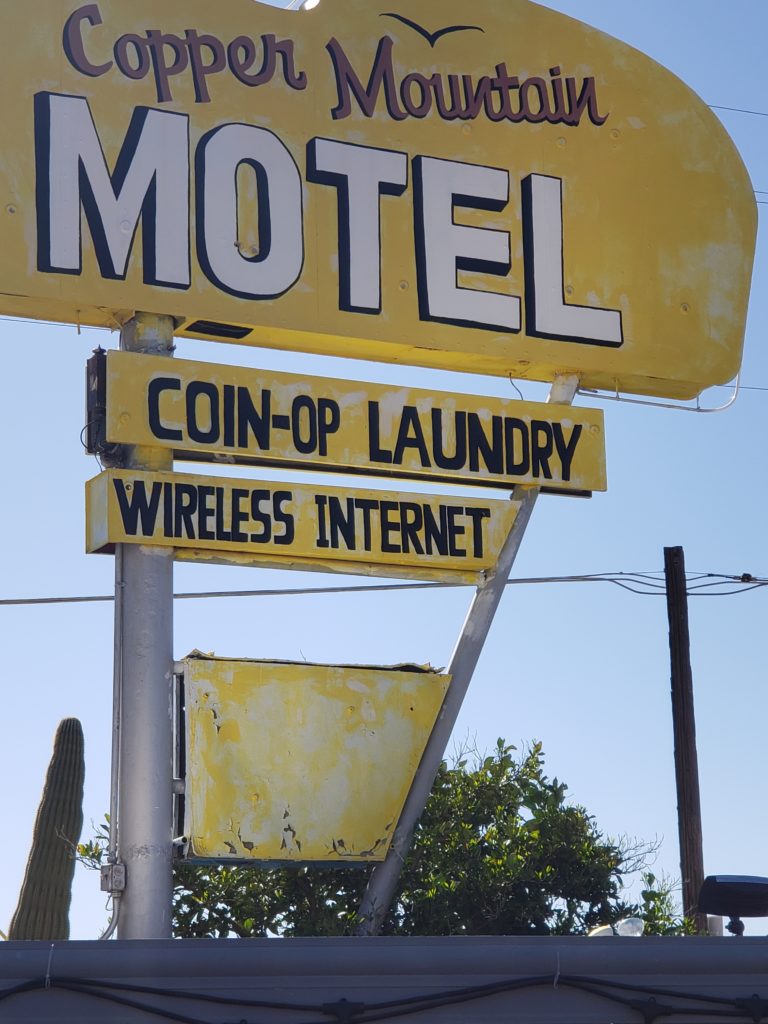 The guy in the room beside me was on his porch filling out what looked like a trail journal. He was finishing up the last couple of passages of his AZT thru hike. He had started his AZT thru hike last September at the Utah border heading southbound but it became too hot to continue hiking past Superior so he abandoned. He then returned to the trail in mid March and started at the Mexican border to hike northbound to complete his hike. He now had only three days left to complete his hike of the AZT. He had previously hiked both the AT and the PCT but said that his wife was not very happy with his long distance trips so this would probably be his last long hike. He talked very positively about the AZT. He said the AZT had good trail towns and highlighted the pizza place in Kearney.
I had been undecided as to whether I should hike in shoes or boots. The guy recommended shoes saying boots where necessary on the passages I would be doing. This decision would have a huge impact on my trip.
The weather was suppose to be good for my trip. On this day the temperature had been 85 F in Phoenix but had dropped to 77 F in Superior. According to the forecast the weather was suppose to be a little cooler during my hike. I was still debating on whether I should do the hike in 4 or 5 days. I decided I would aim for Antelope Peak to camp on Day 2 and evaluate my options then.
I headed to bed early to get a good night sleep with the plan for an early breakfast before heading to the trailhead to catch my ride.
Good night from Superior, Arizona.