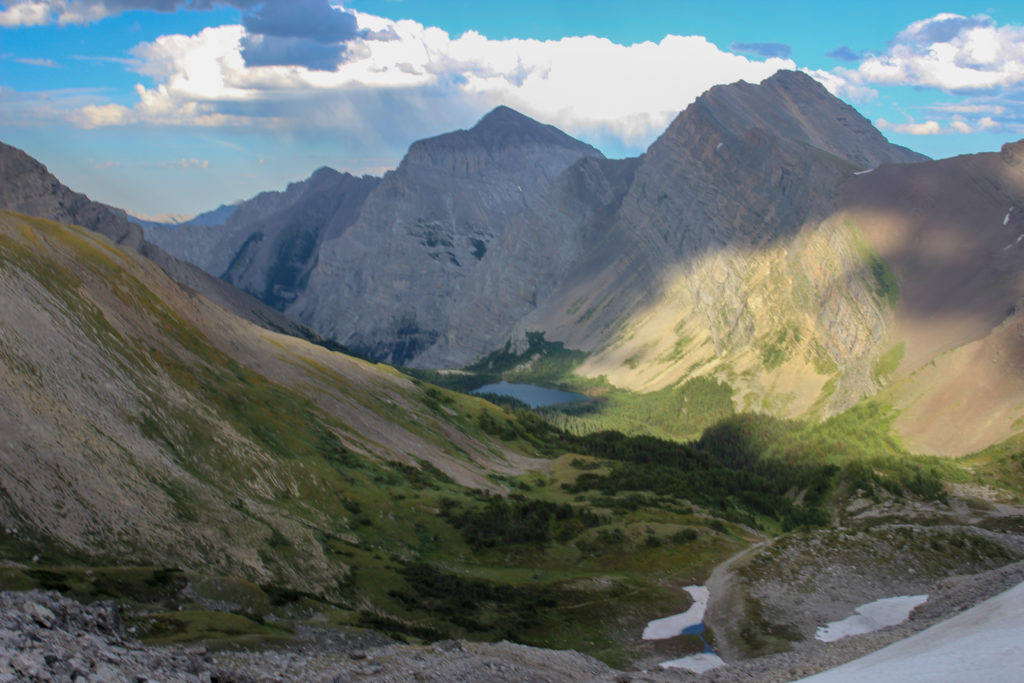 Day 1 Buller Mt Day Use Area to Ribbon Lake Campground 10.2 km 691 m Elevation Gain, 369 m Elevation Loss, 4 hrs 8 min.
After leaving summer school late (normally I am done by 1 pm), we got ready as quickly as possible and drove the 45 minutes from our home in Canmore to the Buller Mt Day Use Area located near the end of Spray Lakes on the Spray Lakes Road (Hwy 742). We started hiking just after 4 pm.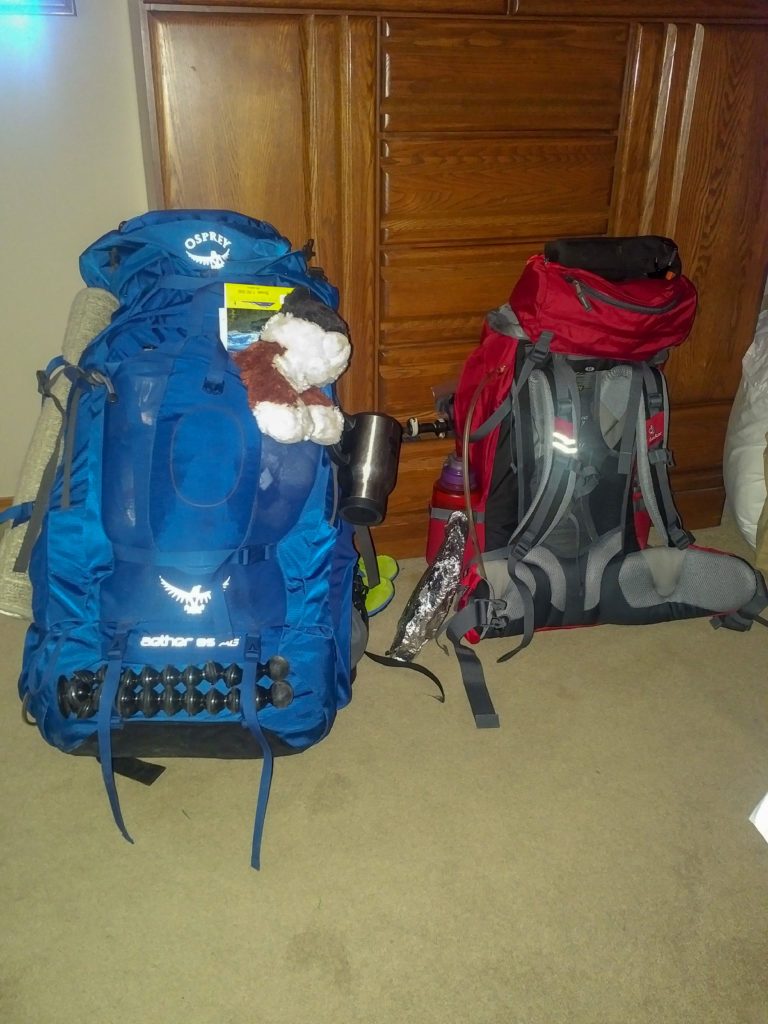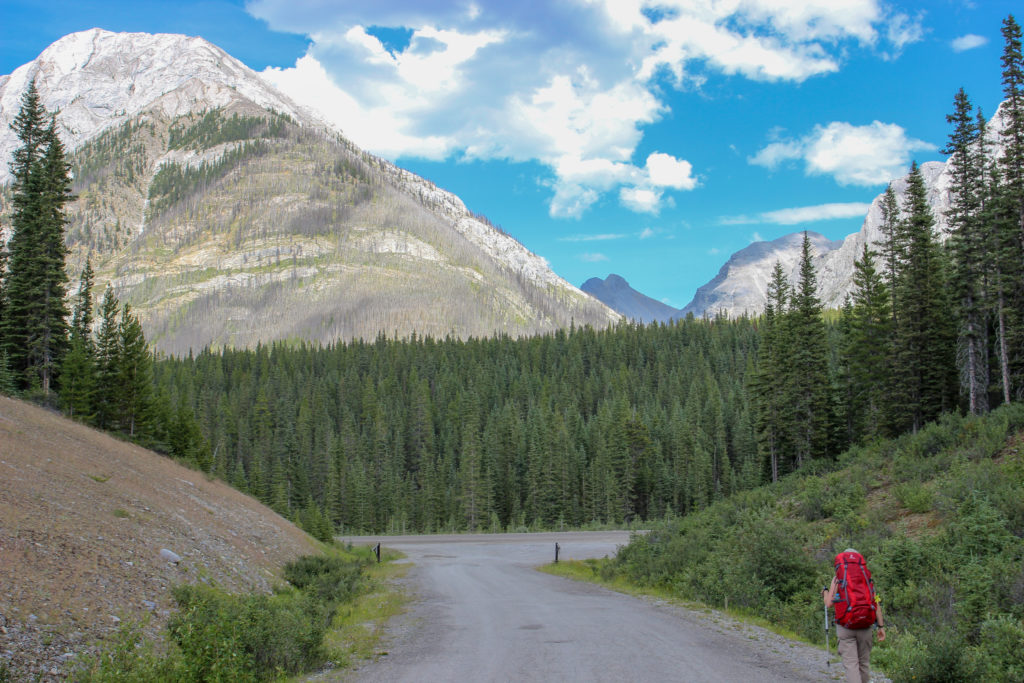 We hiked out of the parking lot and across the Spray road and down over a nice bridge over a small creek. The initial part of the trail was through very dense forest. The first trail junction is with a trail that heads to a scramblers route up Mt. Engadine. Shortly after we came to another trail junction where we joined the High Rockies Trail. The High Rockies Trail is a portion of the Trans Canada Trail, also known at the Great Trail, which runs between the Goat Creek Day Use Area in Spray Valley Provincial Park and the AB/BC border in Peter Lougheed Provincial Park. We crossed another bridge at the 1 km mark and immediately split from the High Rockies Trial. We headed up a short steep climb away from the creek and then the trail levelled off as we hiked up the valley between Mt. Buller and Mt. Engadine, much of the time through an old burn left by a prescribed fire in 2011.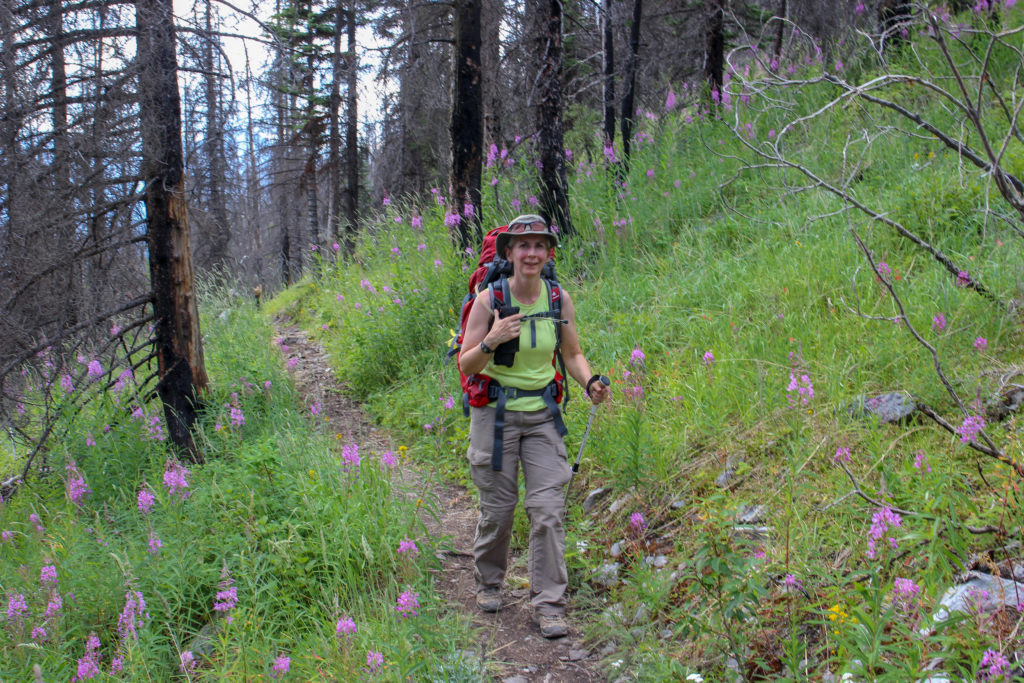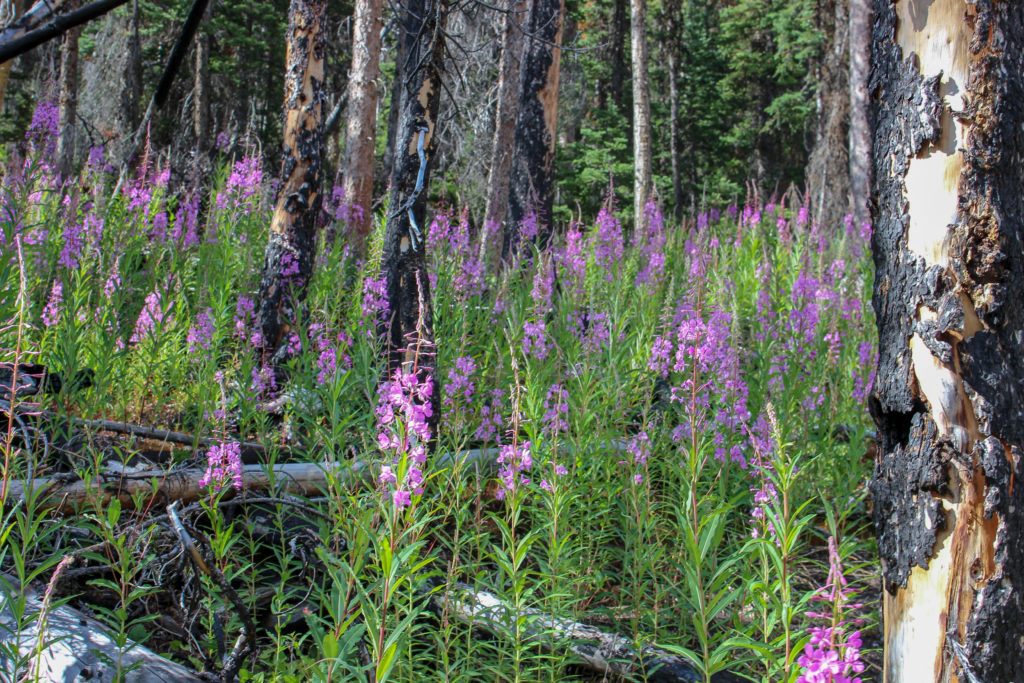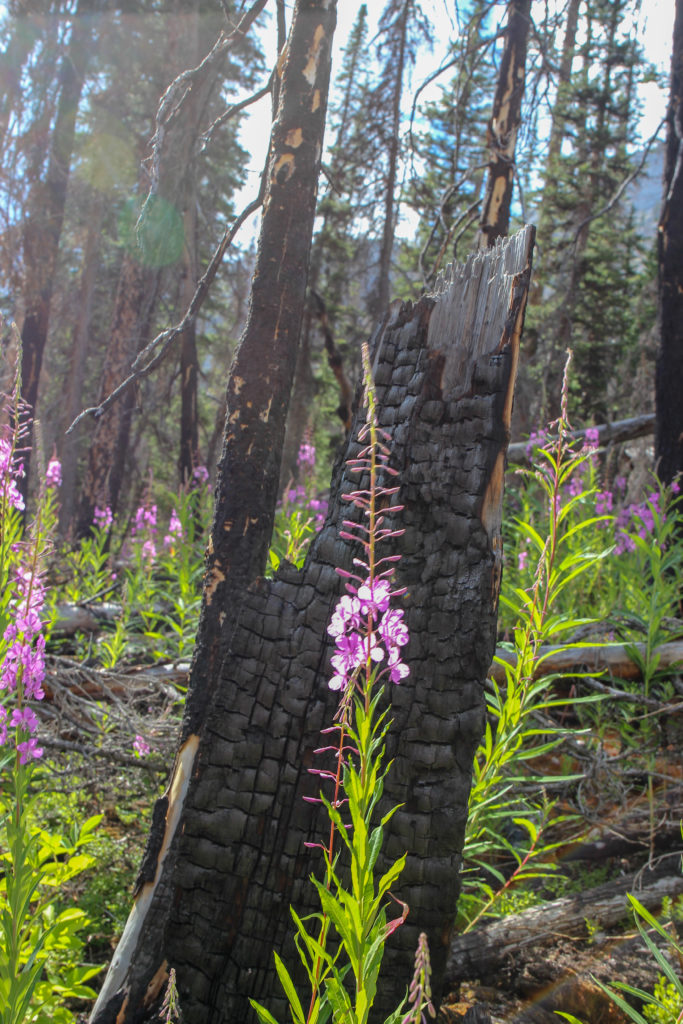 We climbed a steady 220 m over the next 3 km, when we reached the confluence of Buller Creek, which we had been following, and the creek draining Mt. Engadine. A few metres past the confluence we came to a trail junction with the North Buller Pass trail. We turned to the right (southeast) away from Buller Creek and continued up the valley with Mt. Engadine to our right and Buller Pass Peak to our left.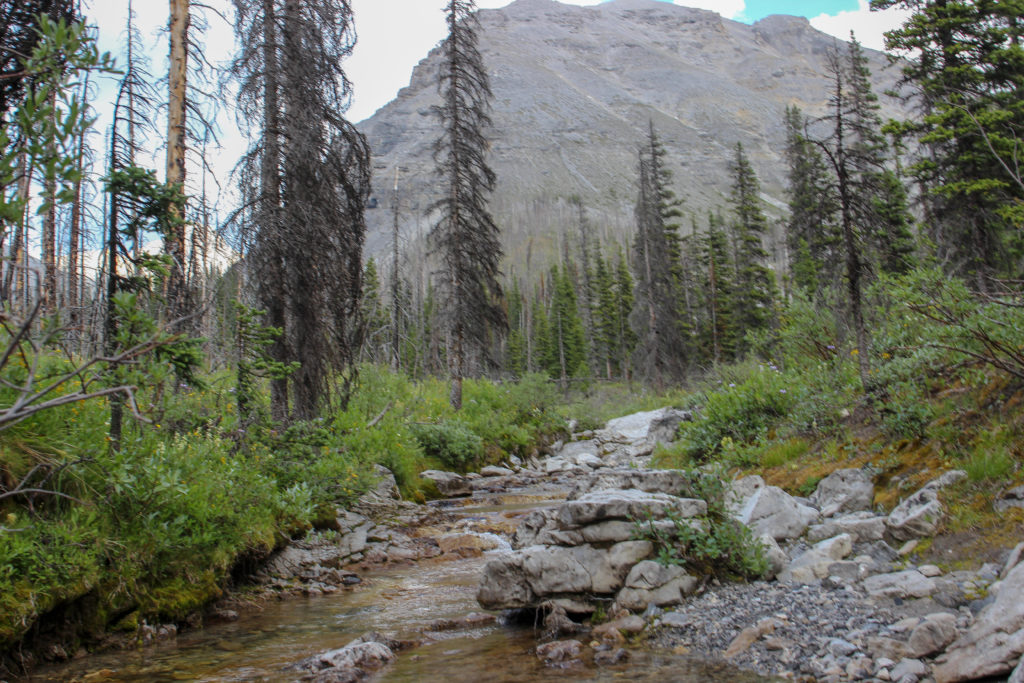 We hiked along, continuing at the same steady uphill pace. Just before the 2-hour mark, at just over 5 km, the trail cut hard up to the left. It was not a long climb, just a sudden change of pitch. This led us to a high alpine bowl. Trees were thinning out and we left the last of the burn. We had done half the distance in 2 hrs and had climbed 435 m.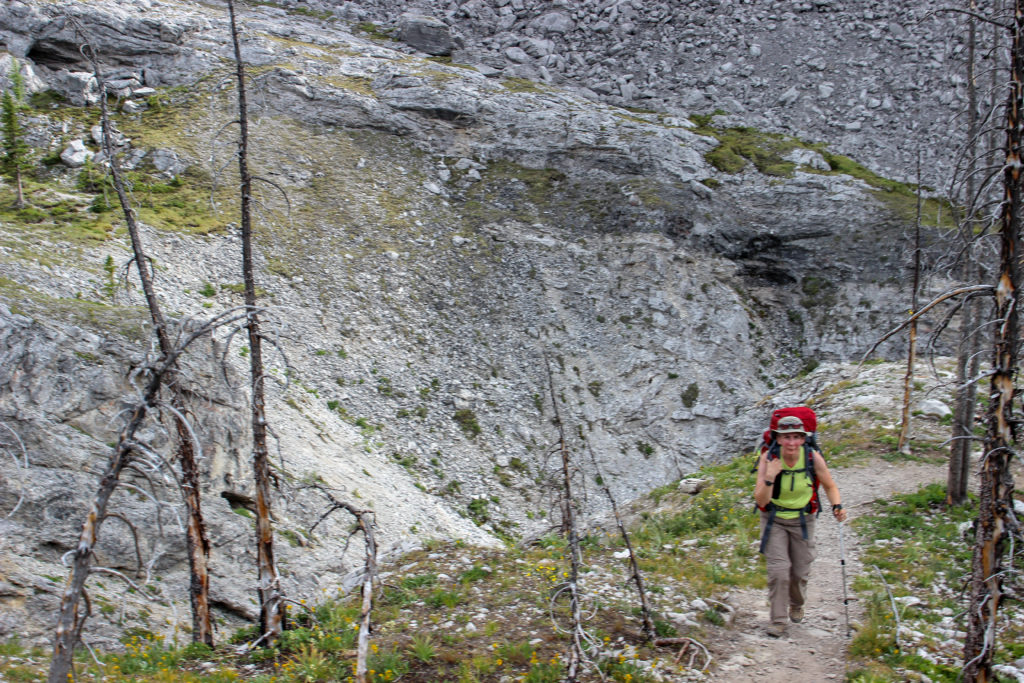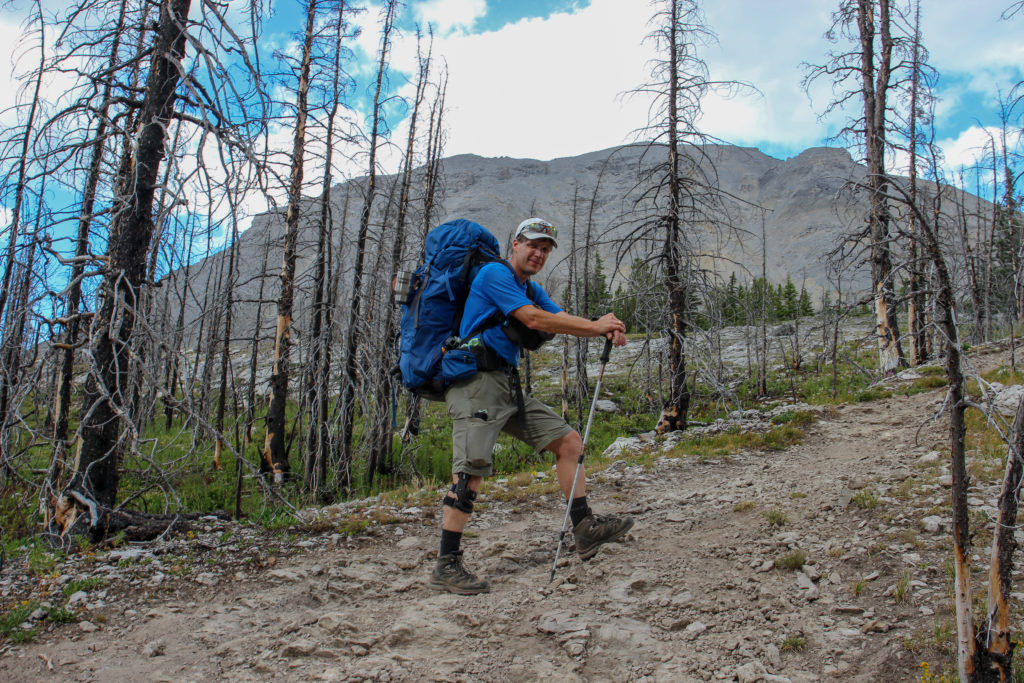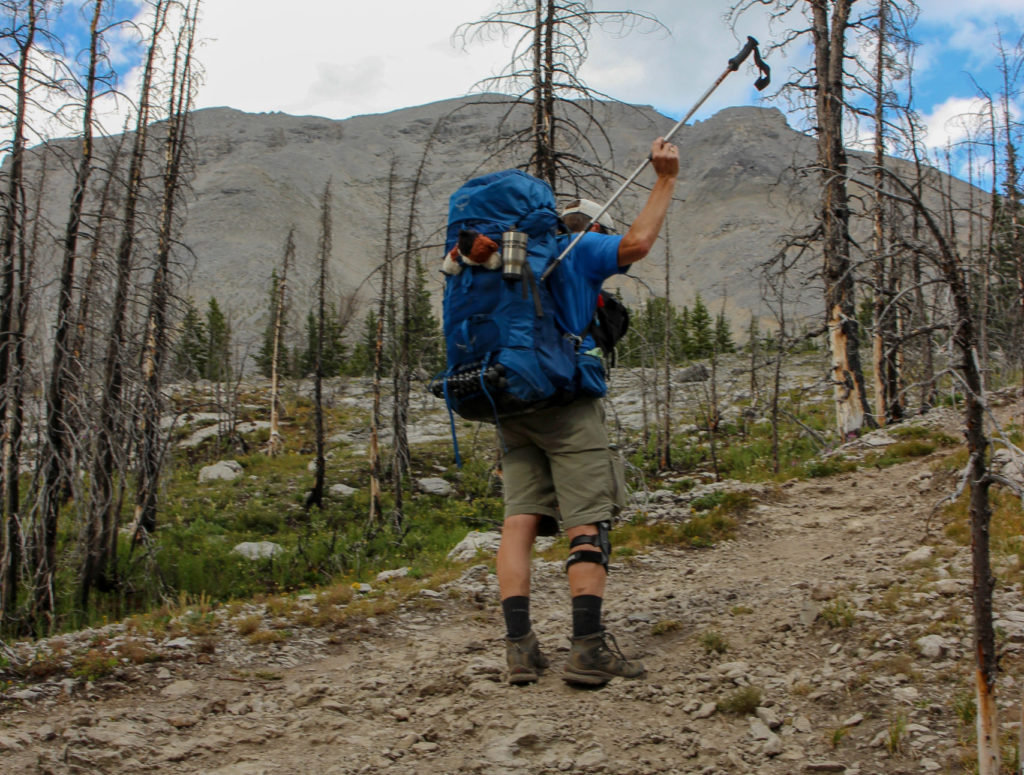 We curved around Buller Pass Peak, changing from southeast to northeast. We were in quite a flat valley that would lead us up to the climb over South Buller Pass.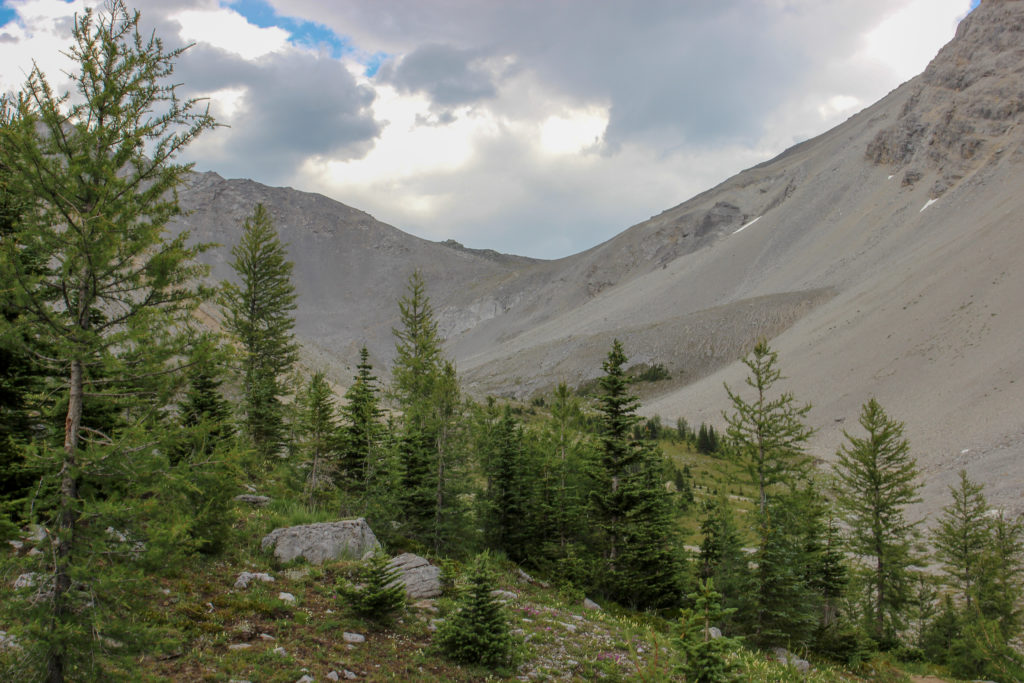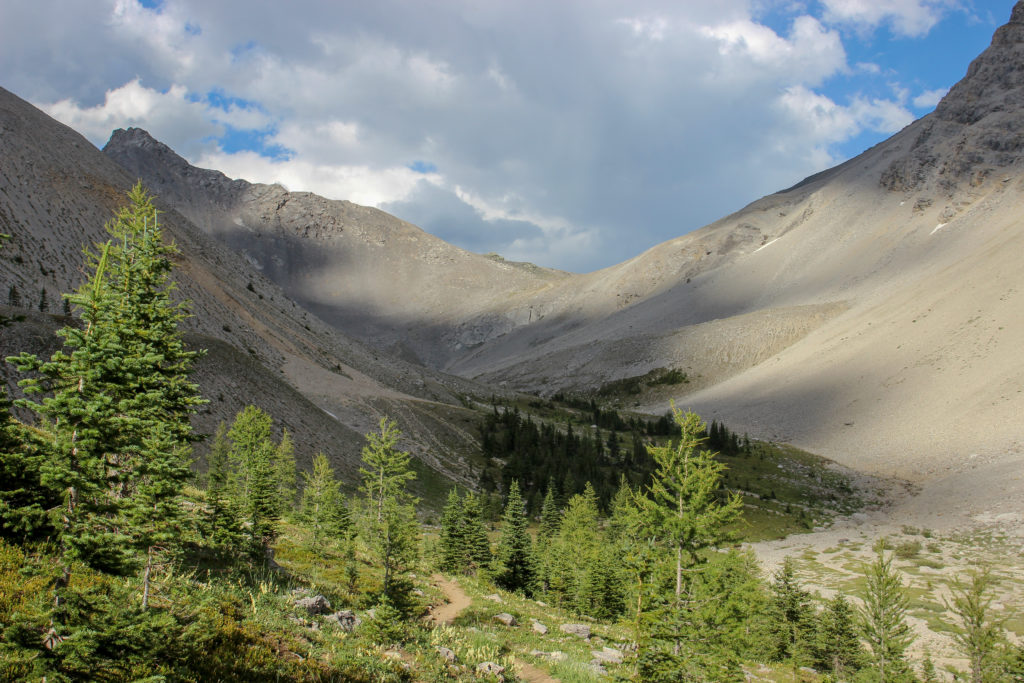 After the nice trail trail over the high alpine landscape we transitioned onto a more gravelly surface for the hike up to South Buller Pass. The trail rose 240 m over the next 1.2 km. The lack of vegetation made judging the distance challenging. We made a bet on how long it would take to get to the top. I think I said 20 min, Laura 30 min. It took almost 40 min from the point we made our bet to stand atop South Buller Pass.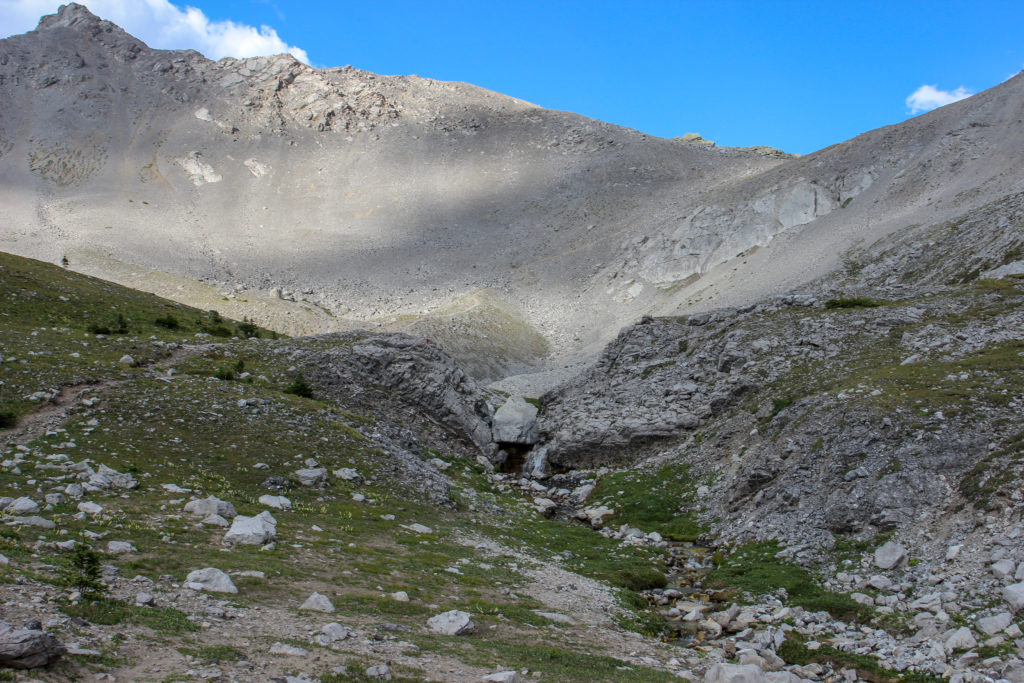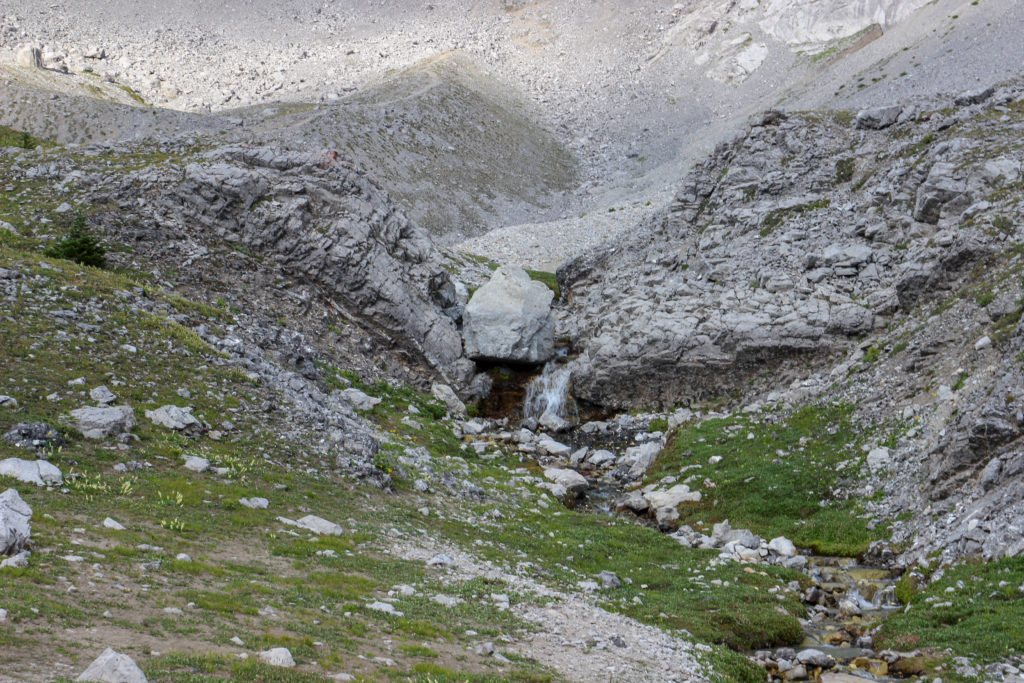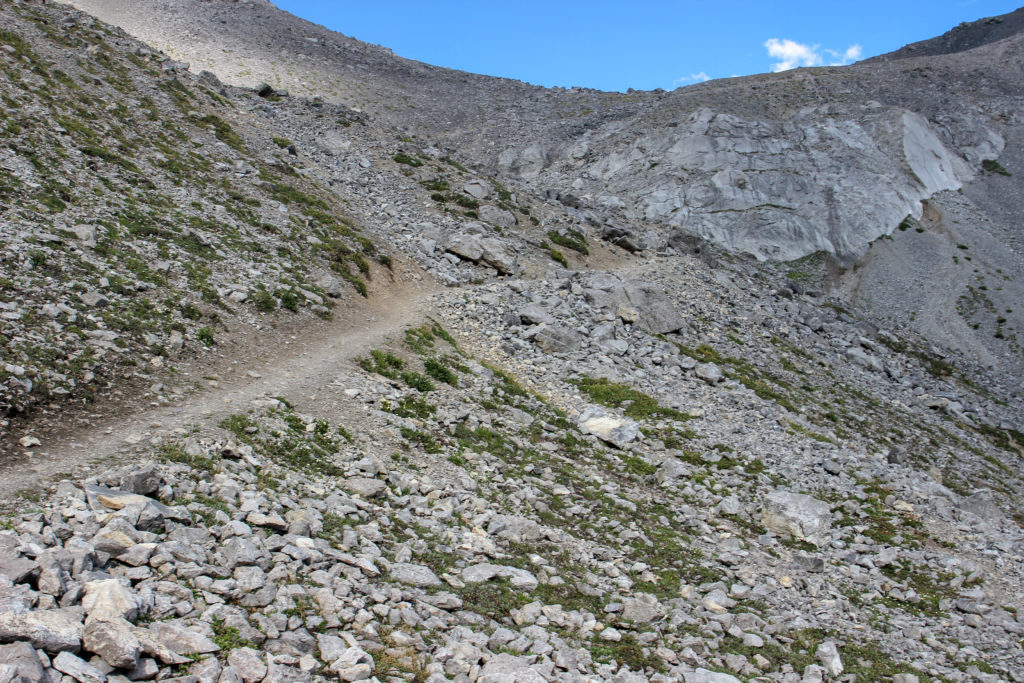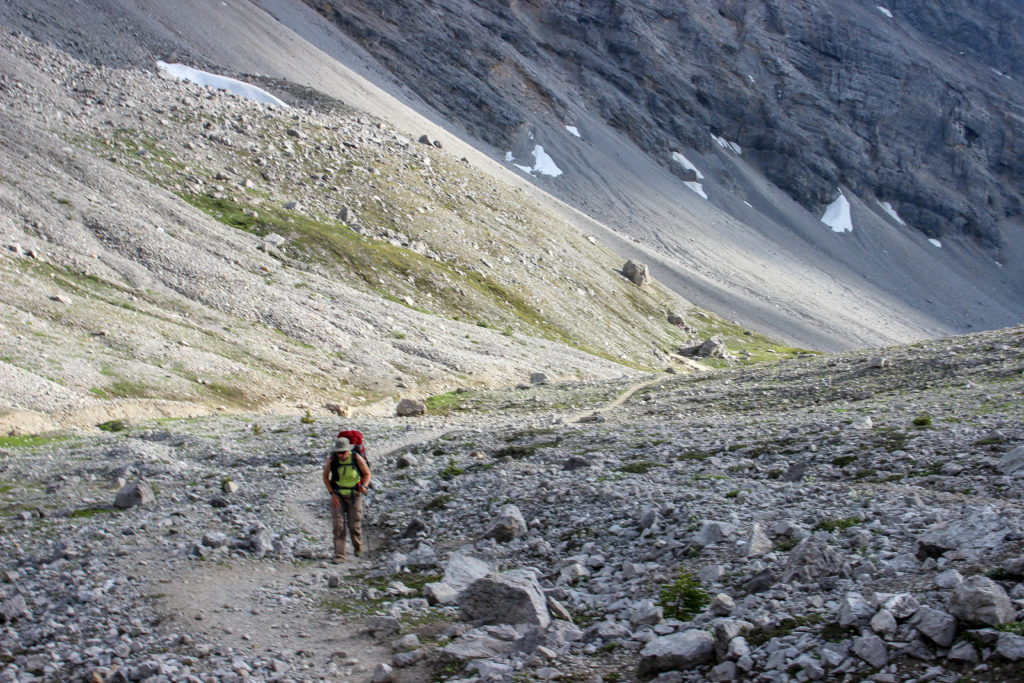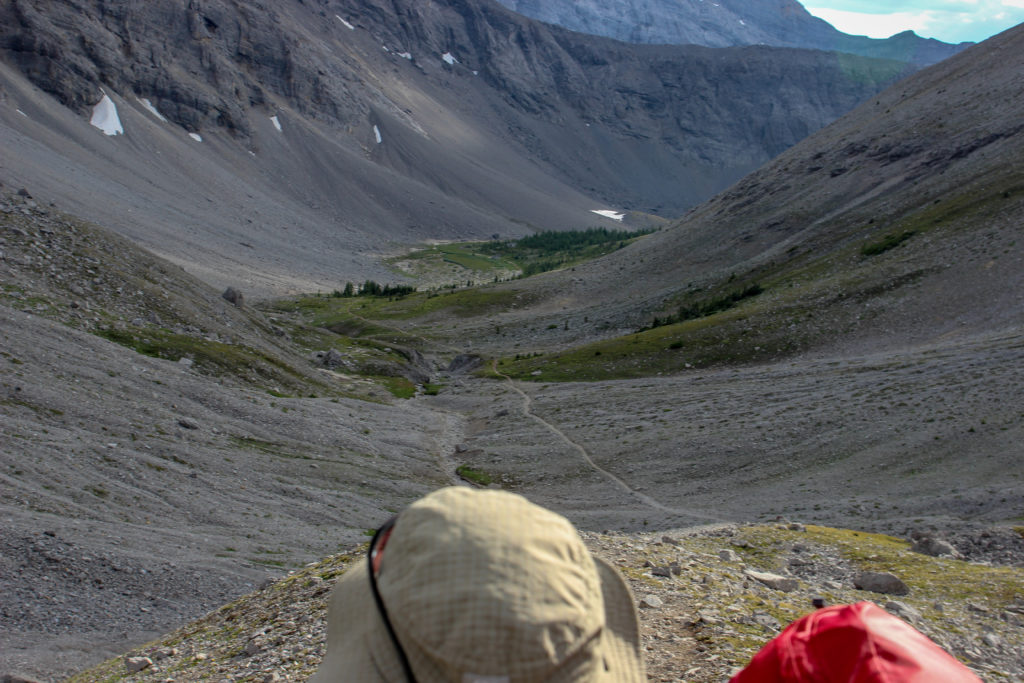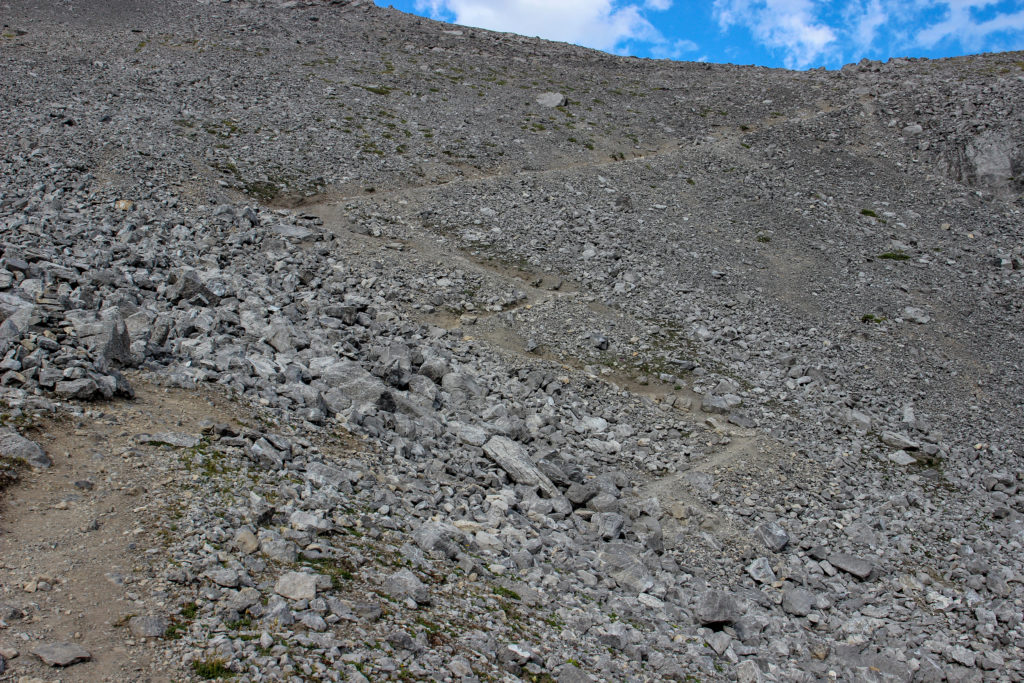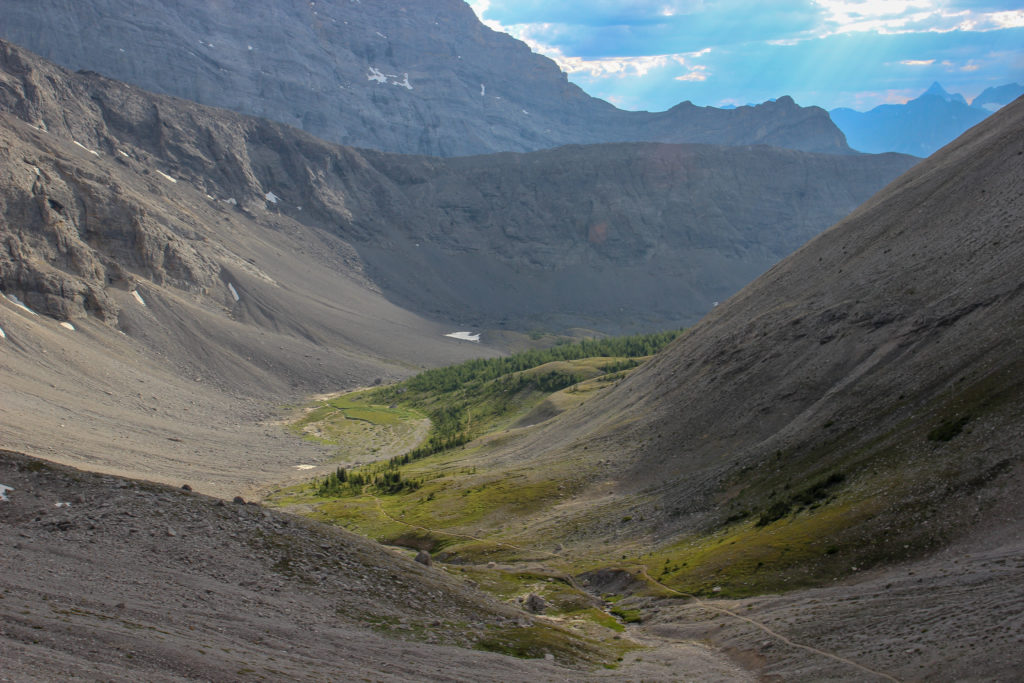 It had taken us about 3 hrs to reach South Buller Pass. We had covered a distance of 7 km but still had a little over 3 km left to get to Ribbon Lake. It was 7 pm and we had not had dinner yet so we could not dally and take in the views. Quickly looking west I could make out Mt Assiniboine towering over the surrounding mountains and looking east over the pass we could see our destination, Ribbon Lake.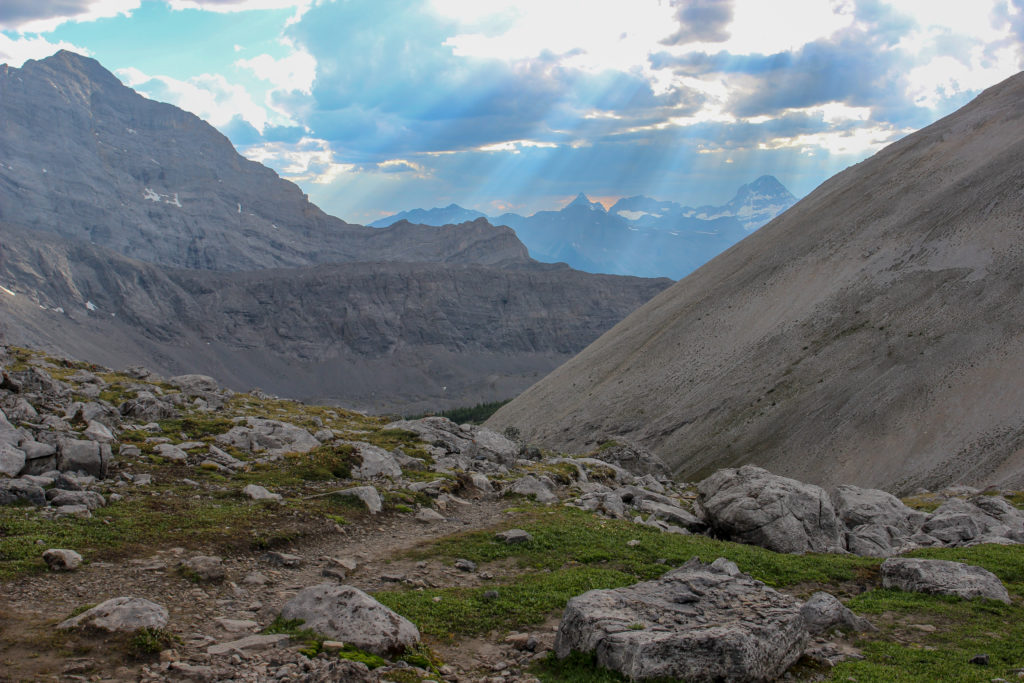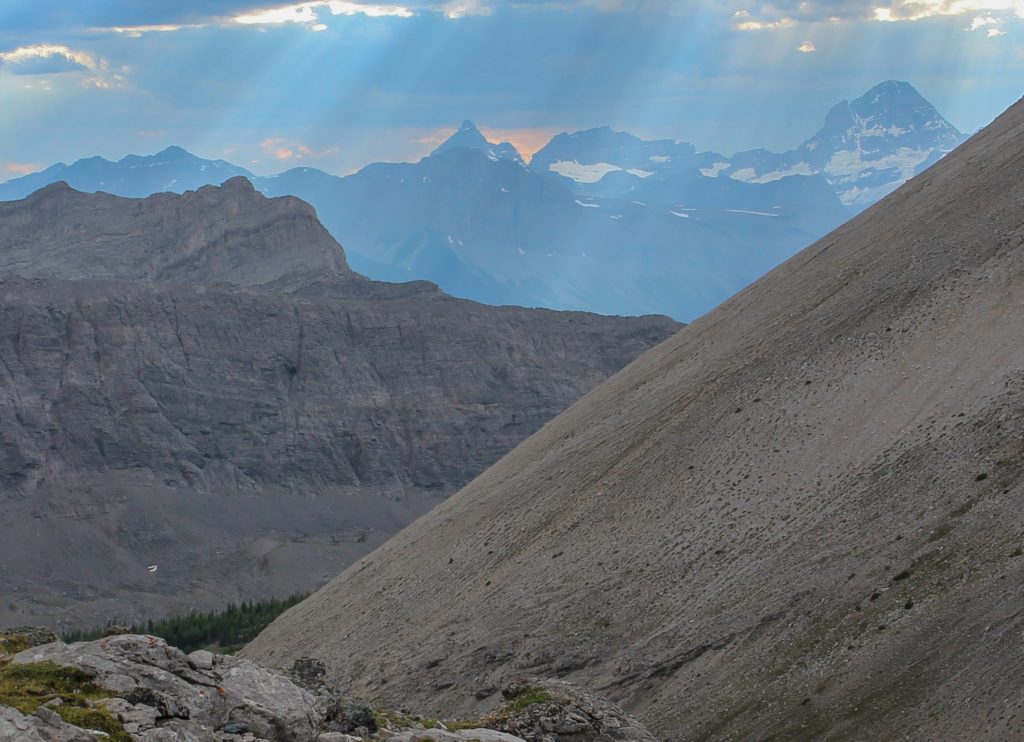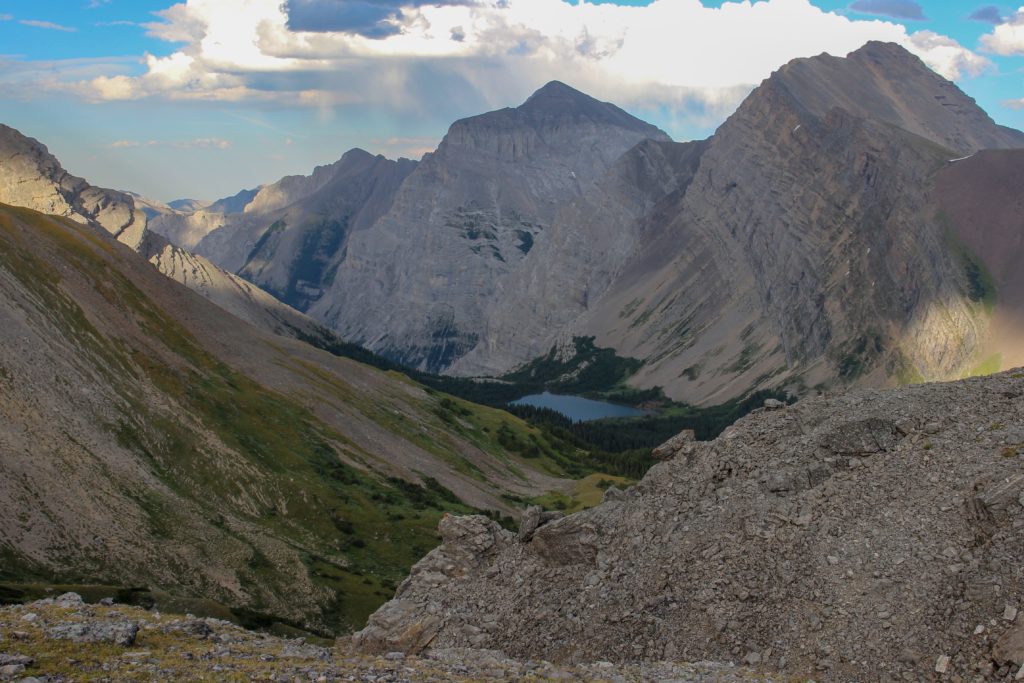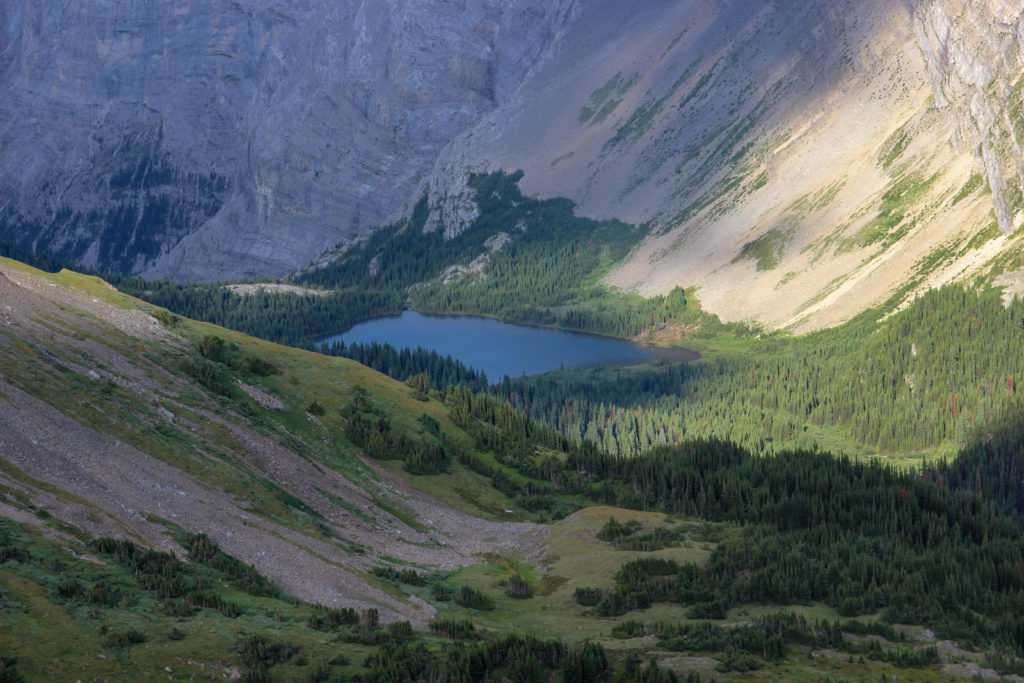 The trip down was very straightforward. After negotiating scree and a rocky tread for 25 minutes we came to an alpine meadow. The trail became softer and flowers bloomed all around. A very beat-up sign gave directions at a junction. I snapped photos along the way and Laura kept up a good pace, forcing me to play catch-up.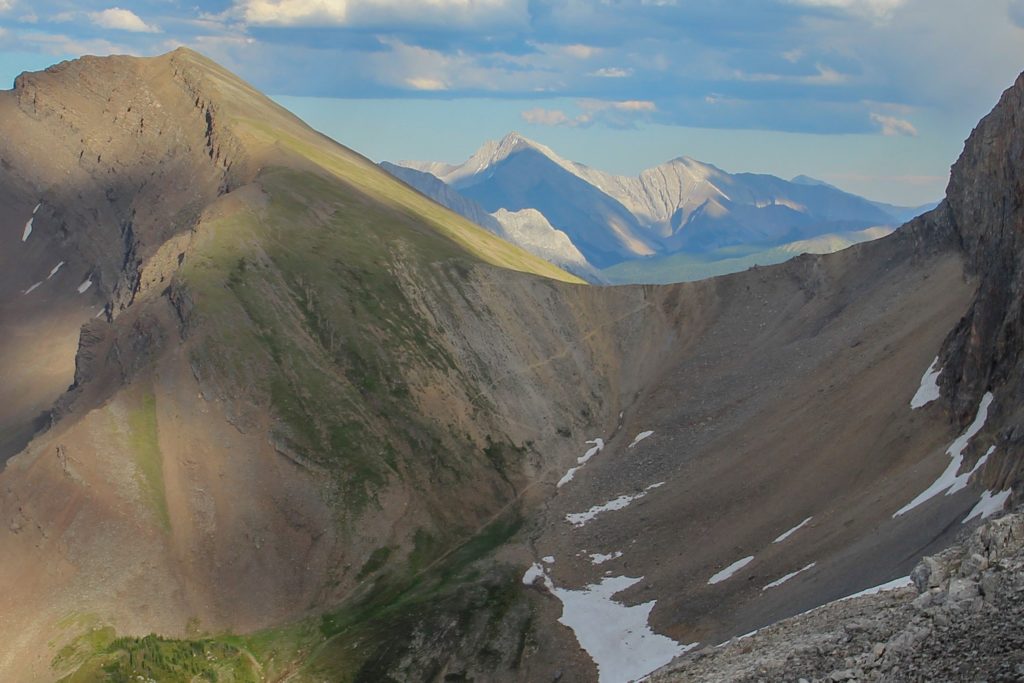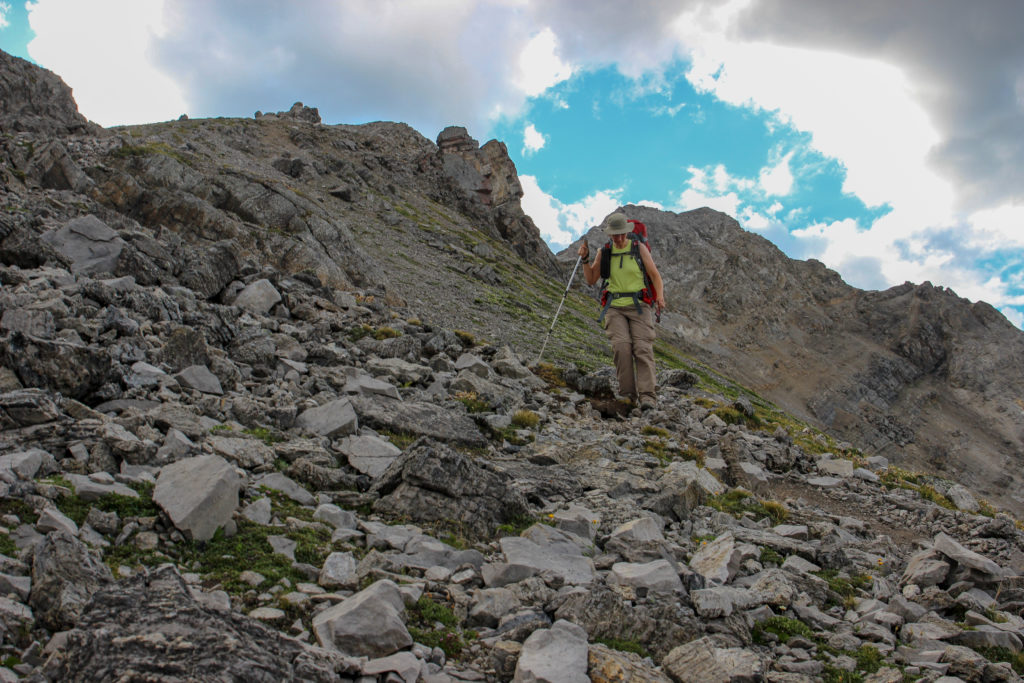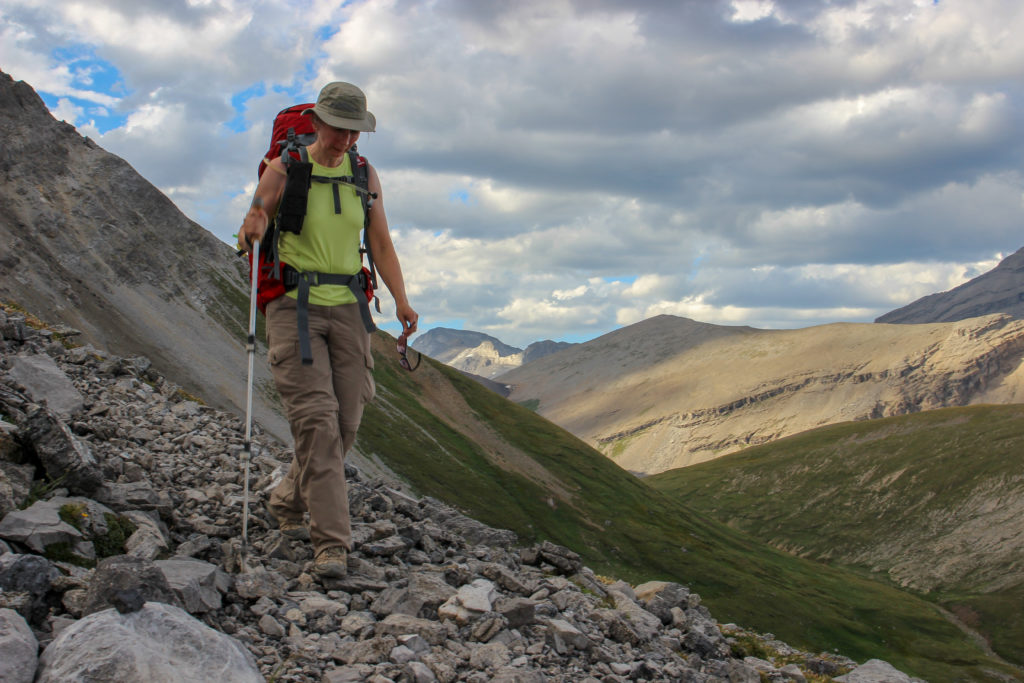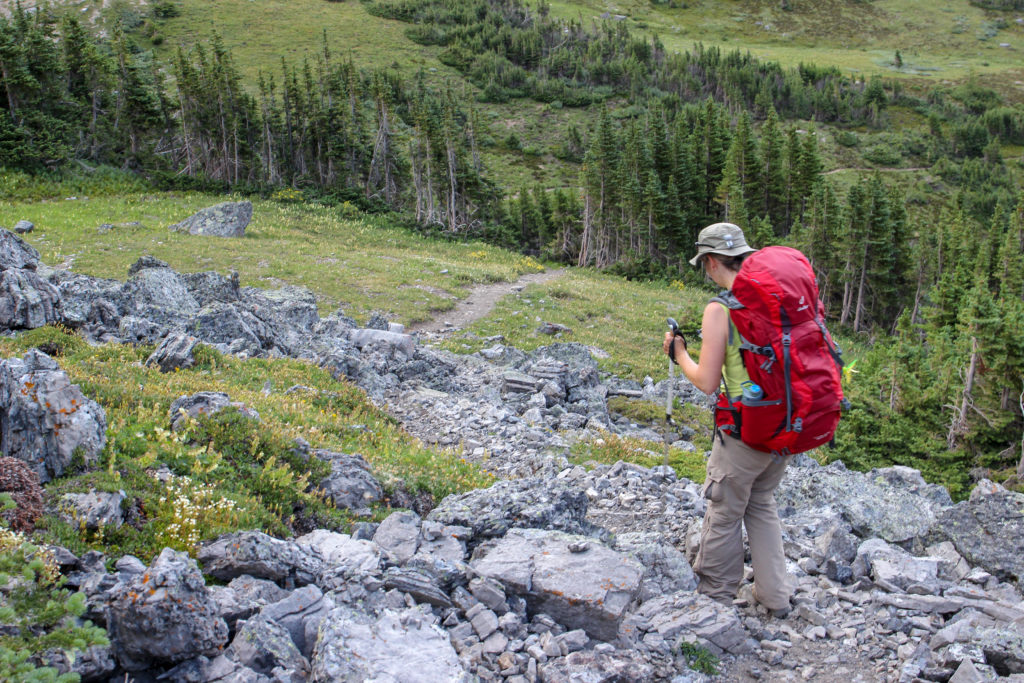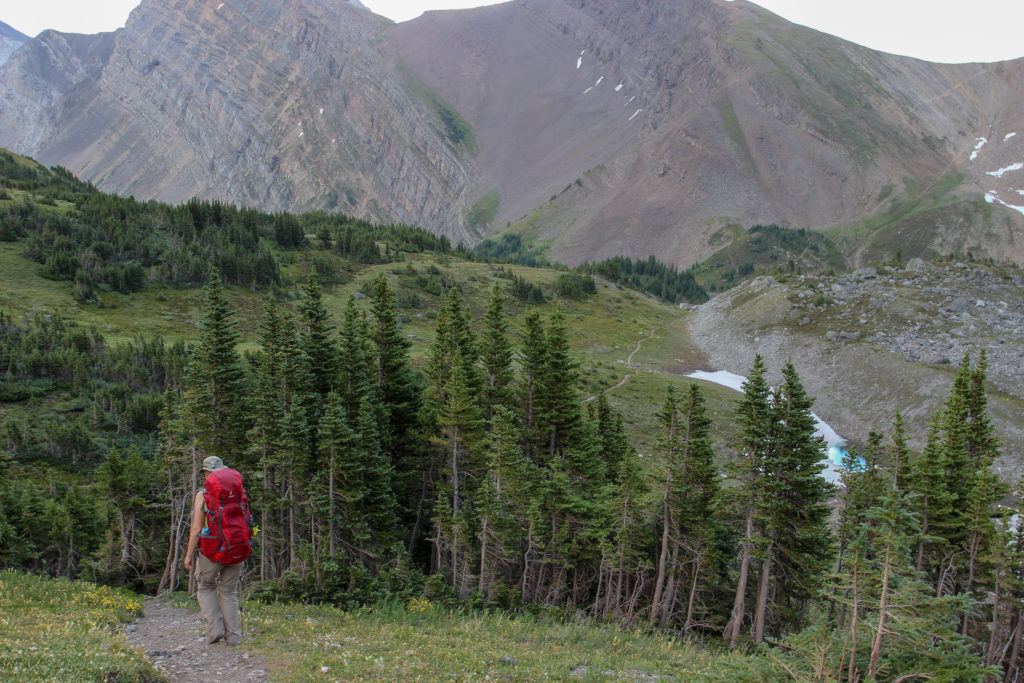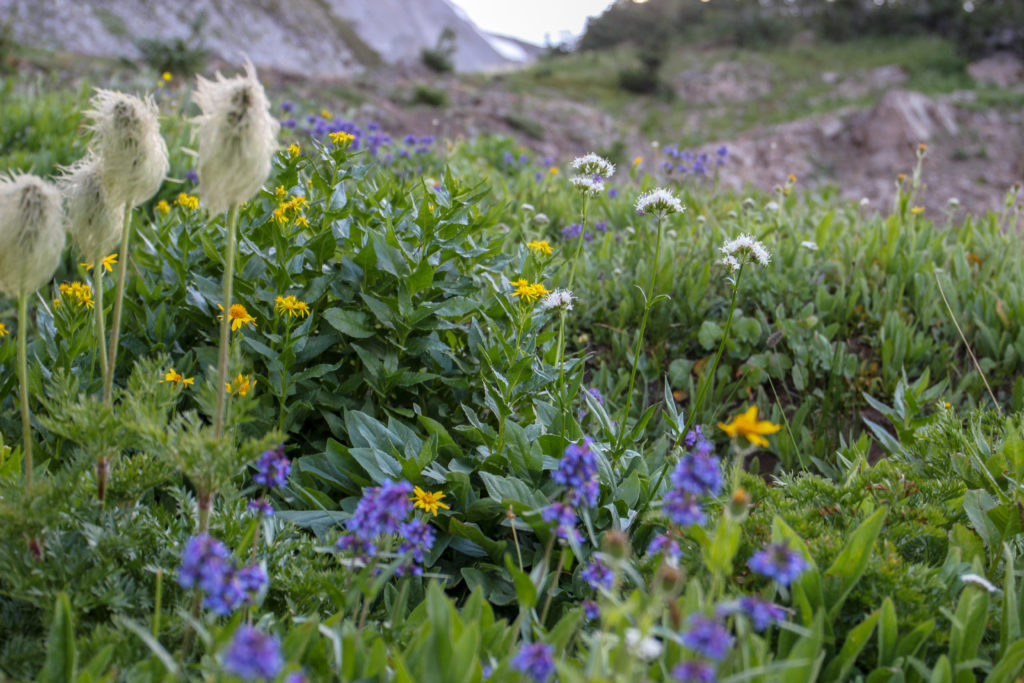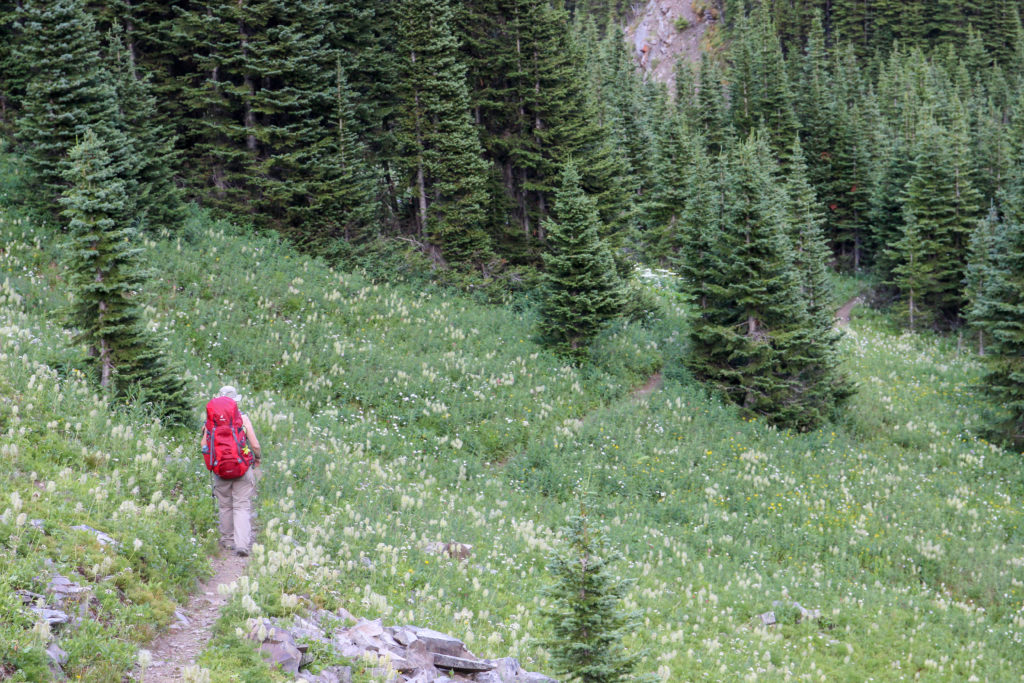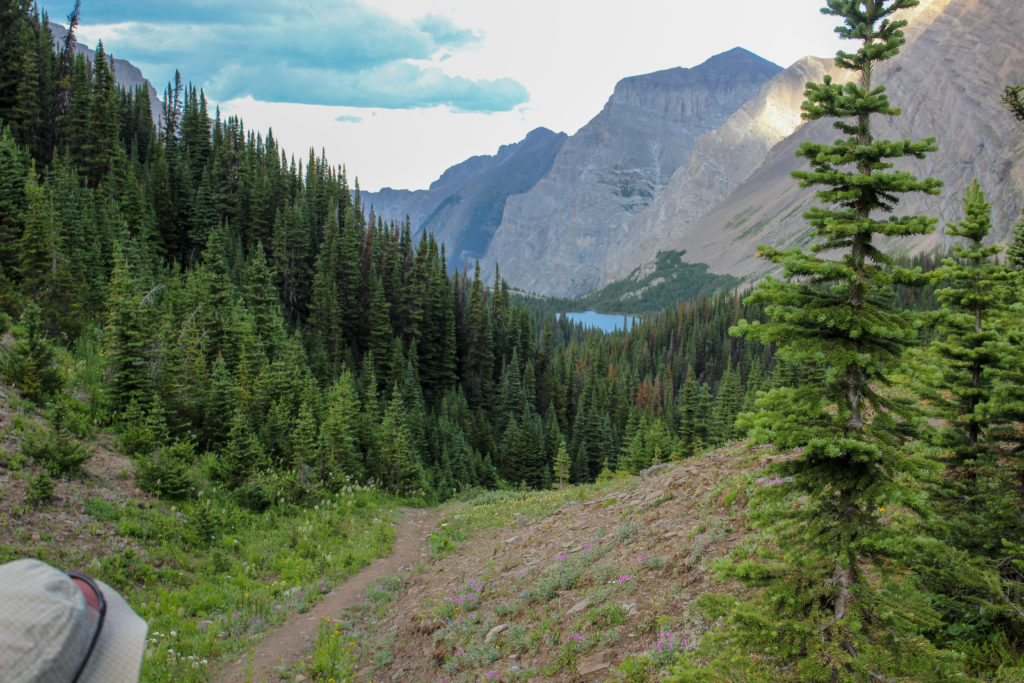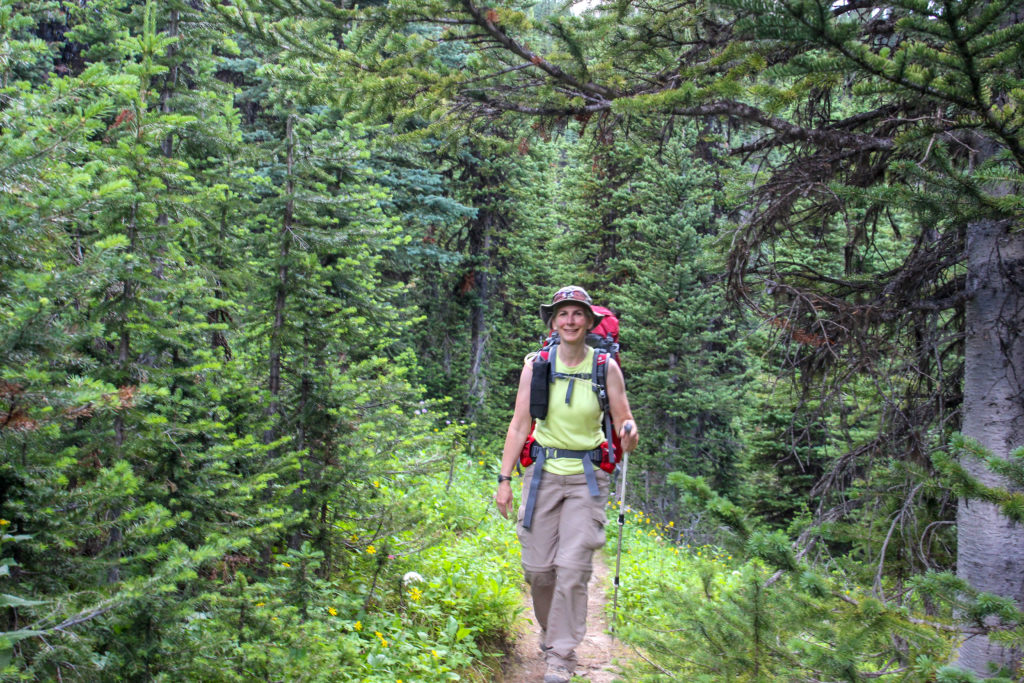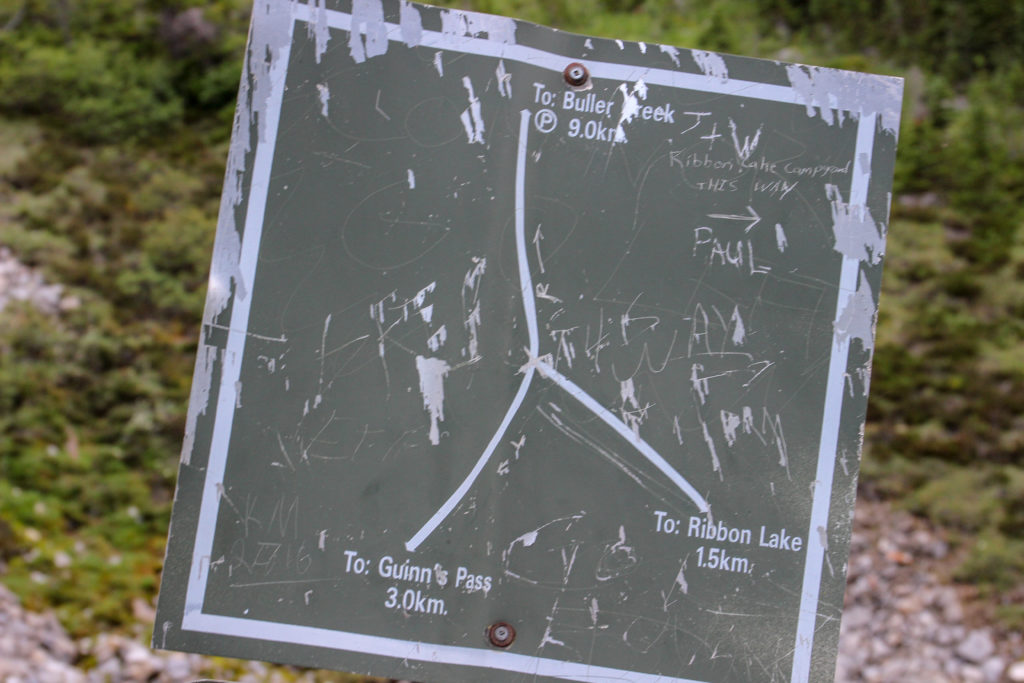 From the sign we headed down a steep slope, paralleling a nice tumbling waterfall. The surface was pretty loose so we had to watch our footing. Across another field full of flowers then through some trees and we arrived at Ribbon Lake about 8:10 pm. I was pretty happy with a four-hour trip but we had to set up camp and have dinner in the already quickly fading light.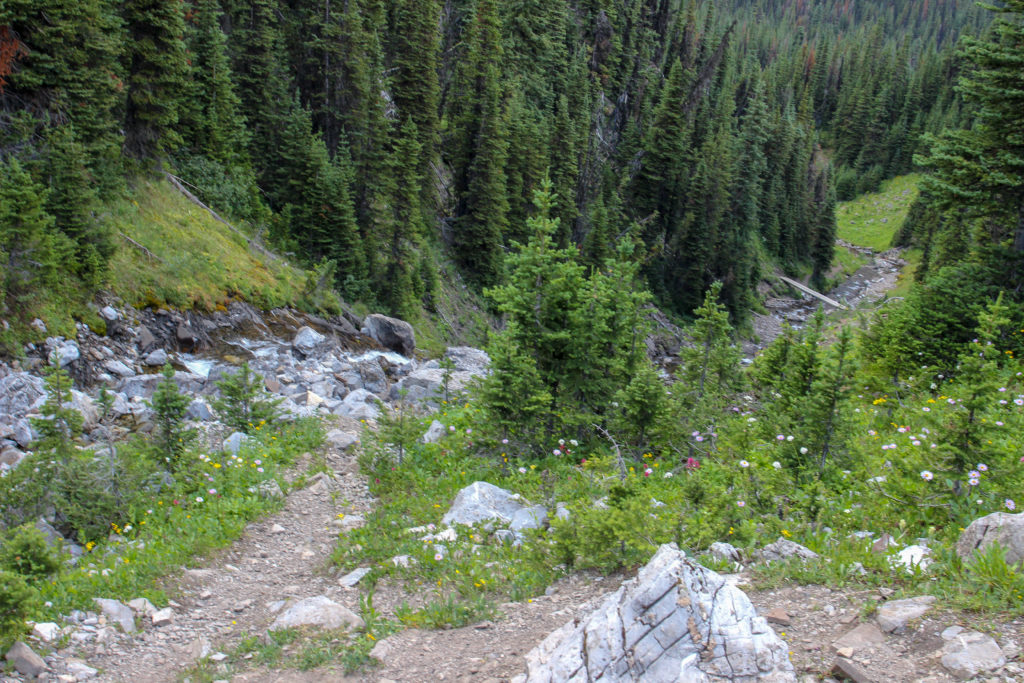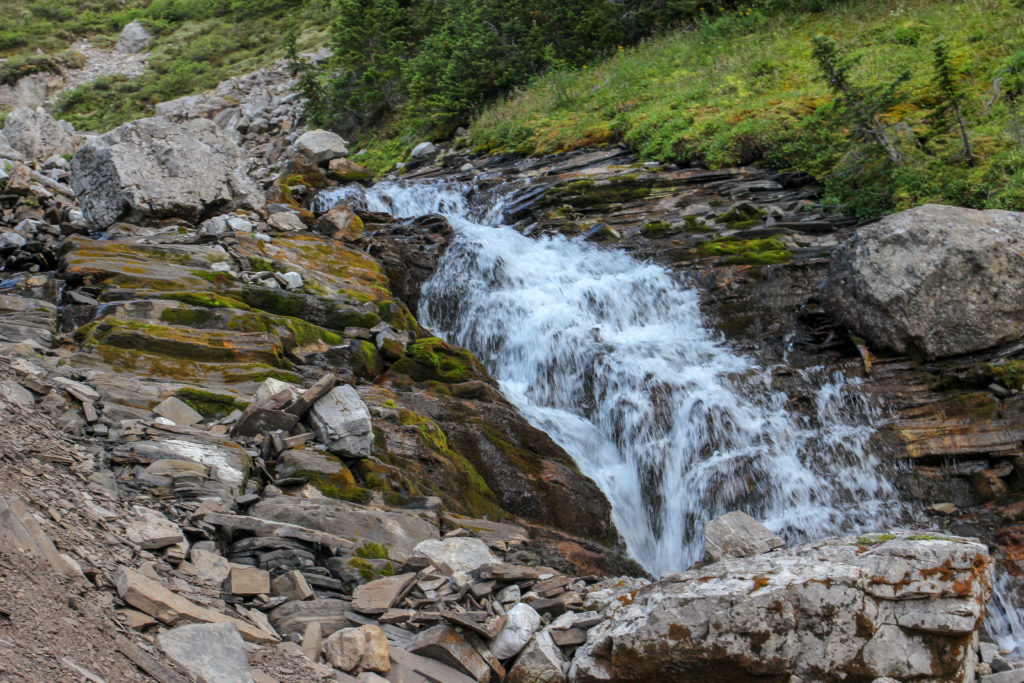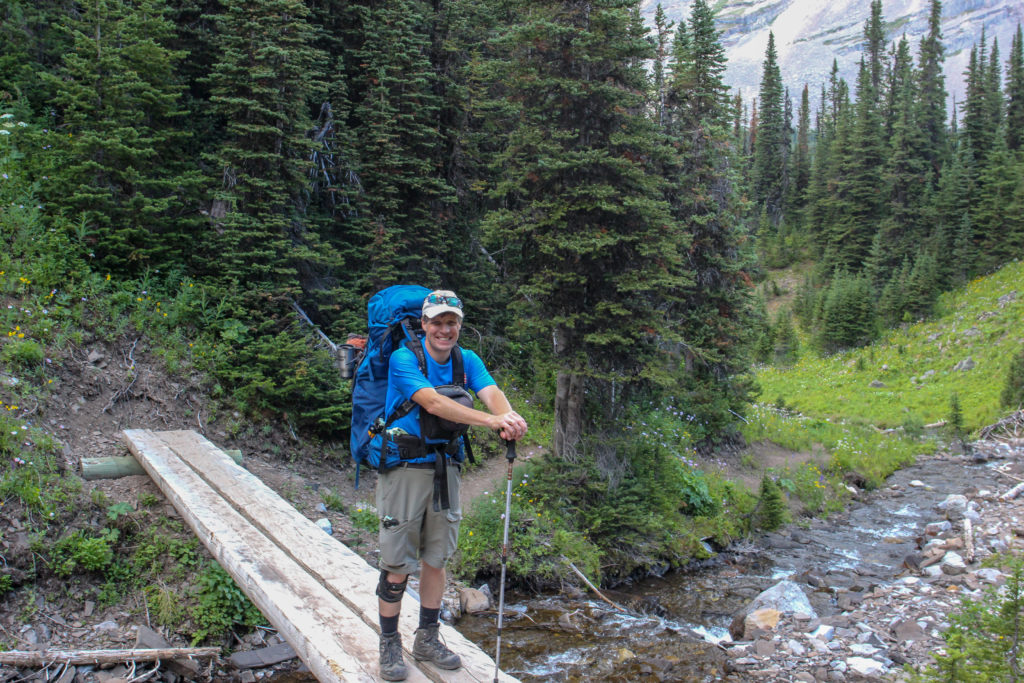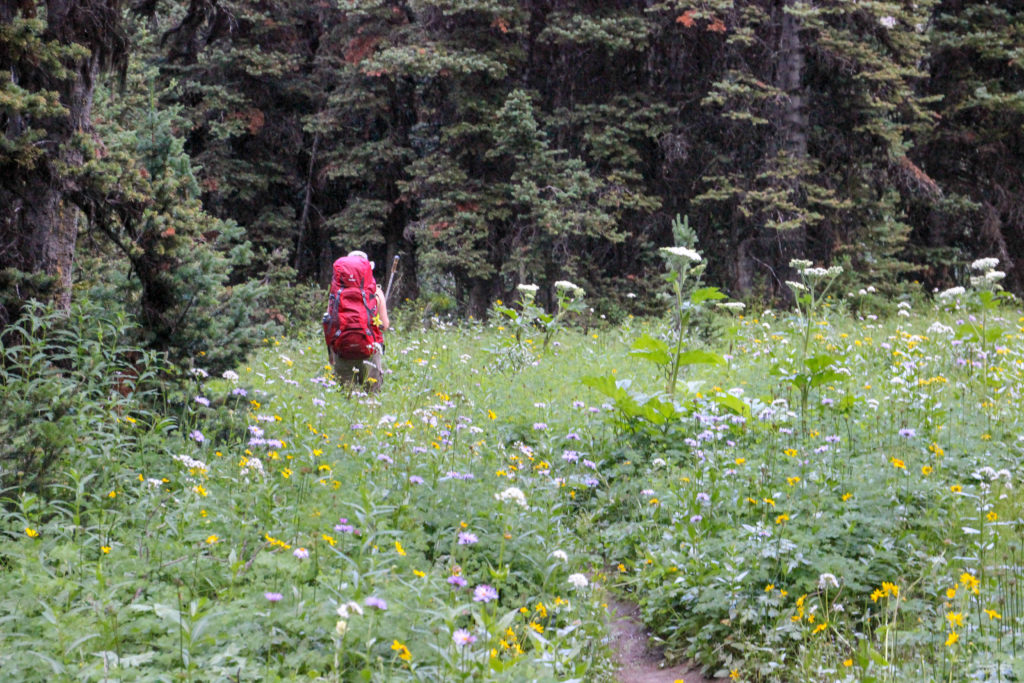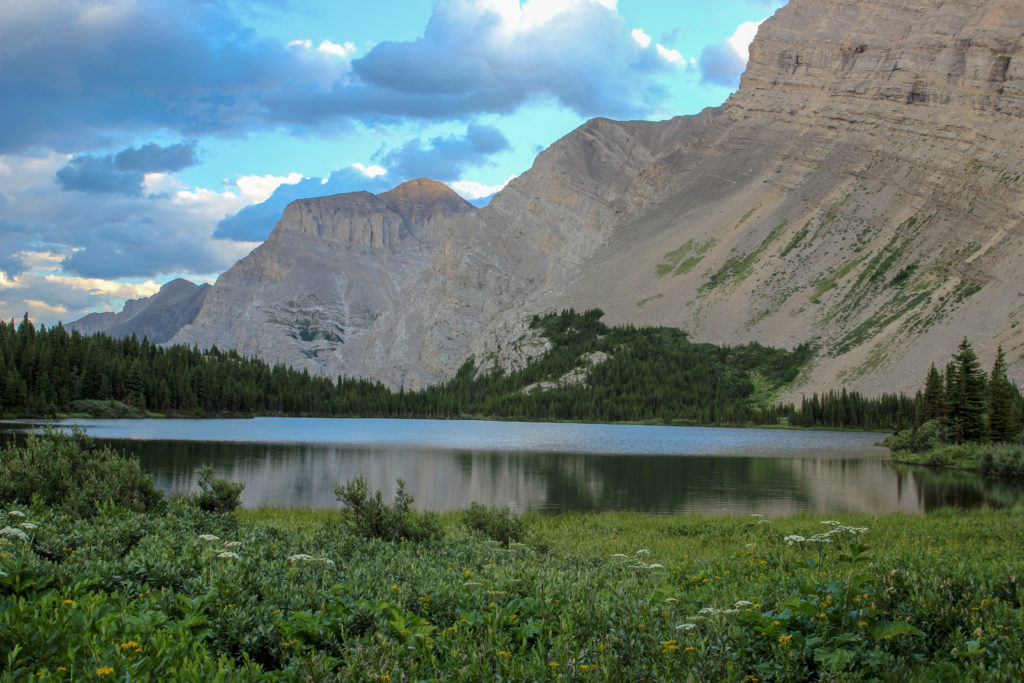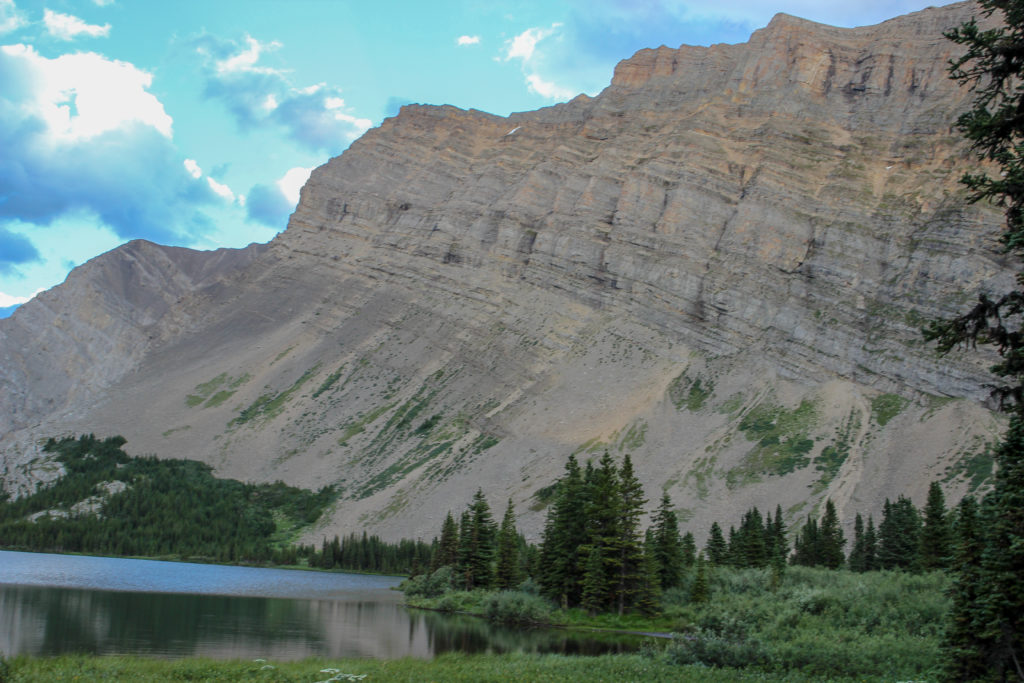 When Micah I came to Ribbon Lake in 2017 the campground was full. The eating area was a beehive of activity and there was fire going in the firepit. This time there was only one other tent in the campground and we did not see the couple anywhere but at their campsite. We first quickly set up the tent and then headed to the eating area for dinner. It was 8:40 pm when we had all the the stuff out for dinner so I hurriedly set up my stove to cook the pizza.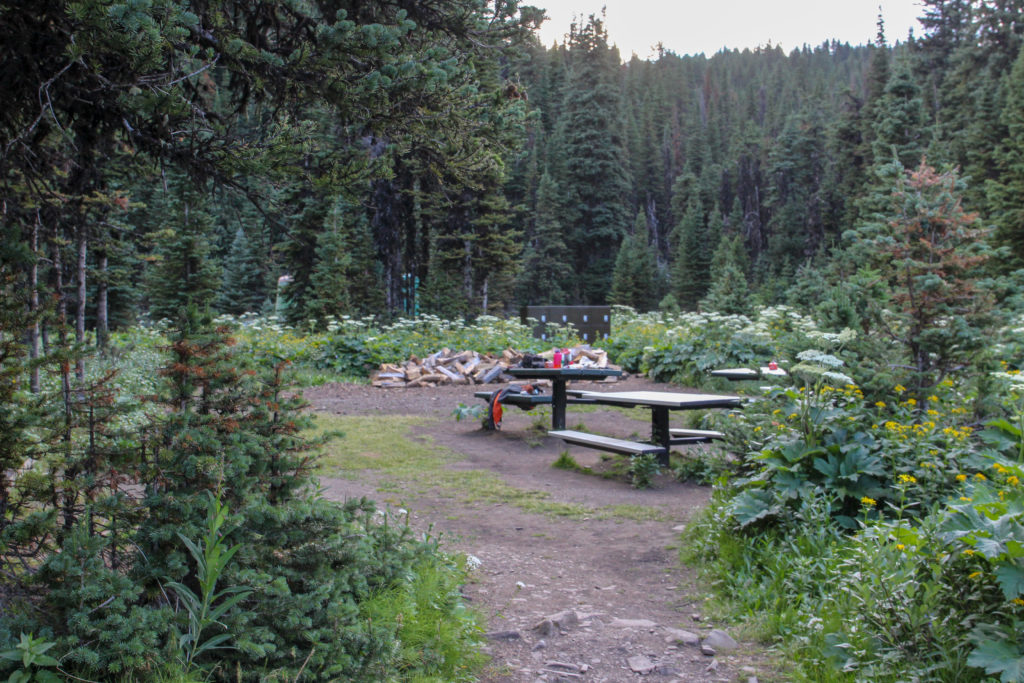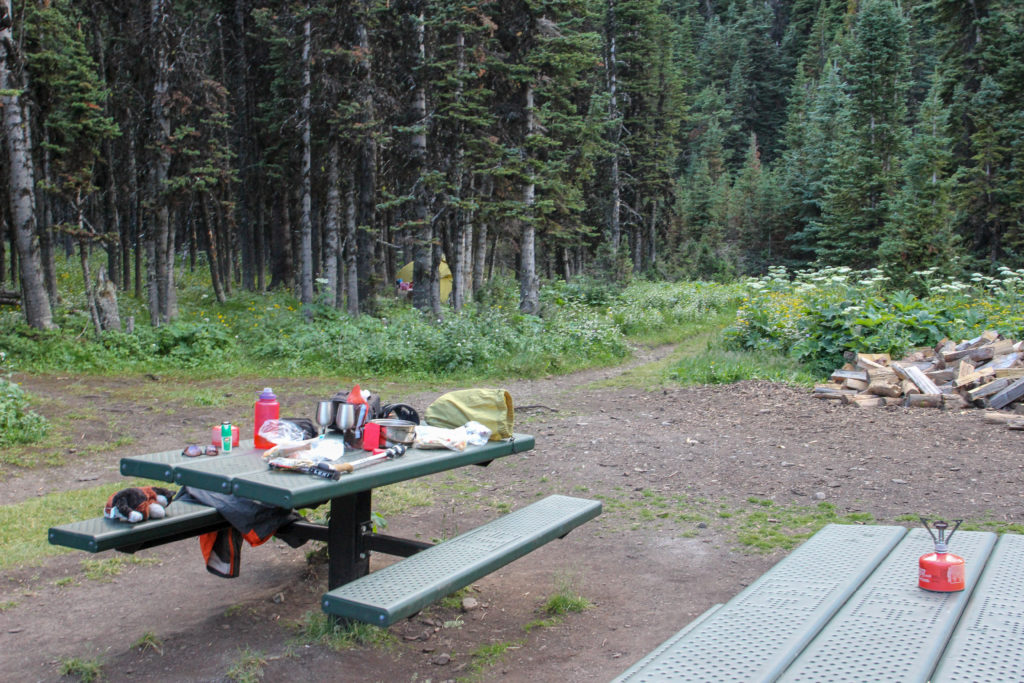 It was going to take some time to heat the pizza so I pulled a special treat for us out of my backpack, ice cream! It was getting a little cool for ice cream but we did not have time for it during our hike due to the late start. Coupled with wine the ice cream made a great start to dinner!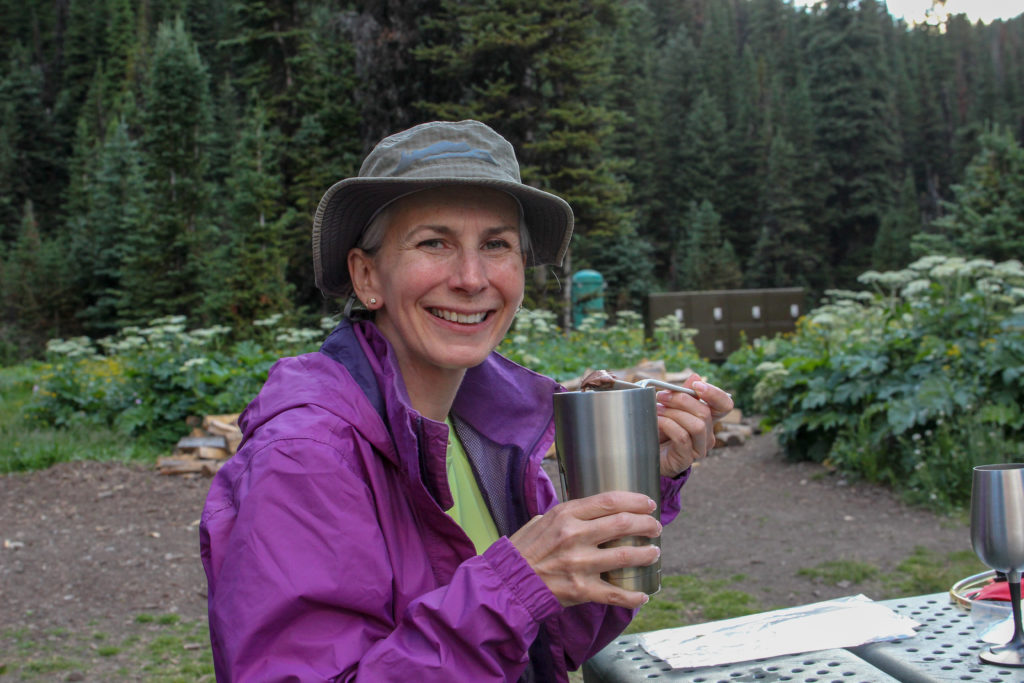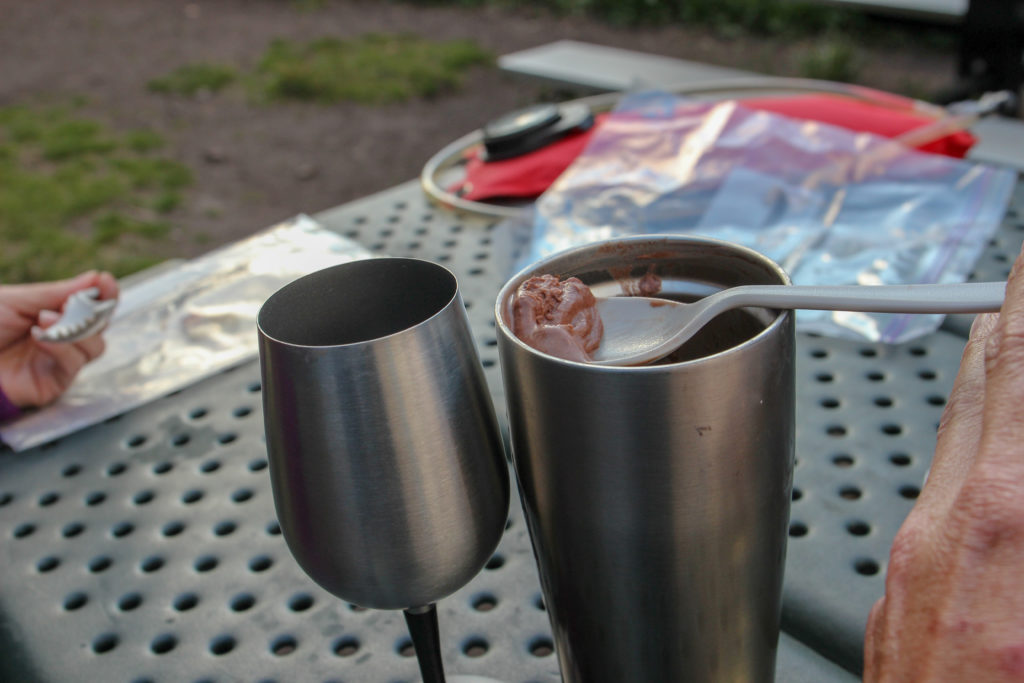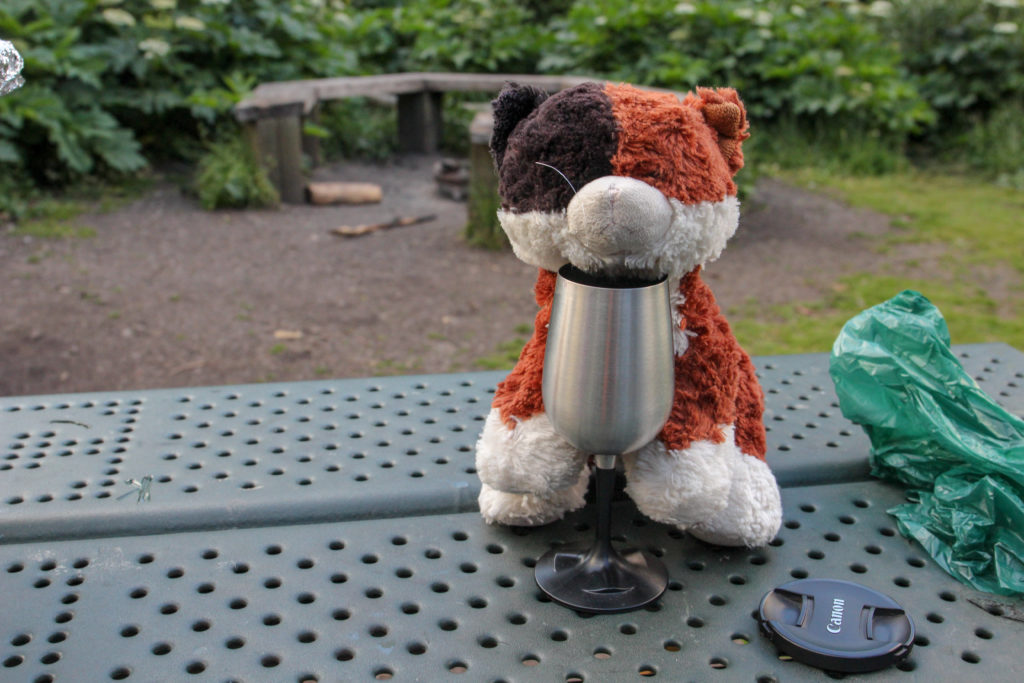 We gave up waiting for the pizza to heat up after 20 minutes. It was getting dark and we were hungry. The pizza was no longer cold but was definitely not hot. I give the effort a C-minus. Should have done some testing at home.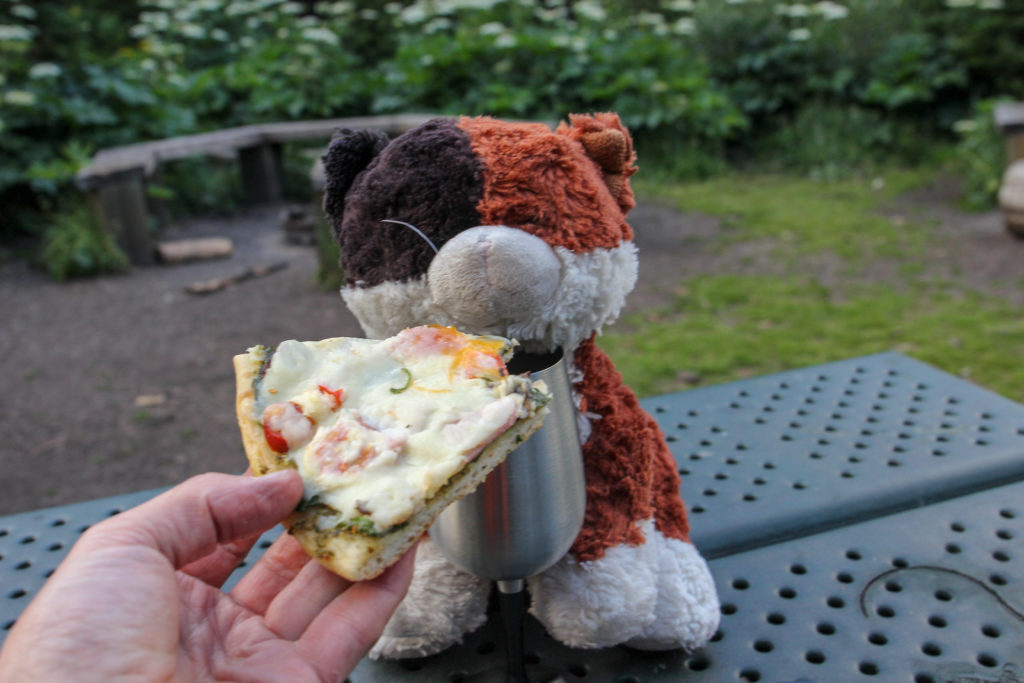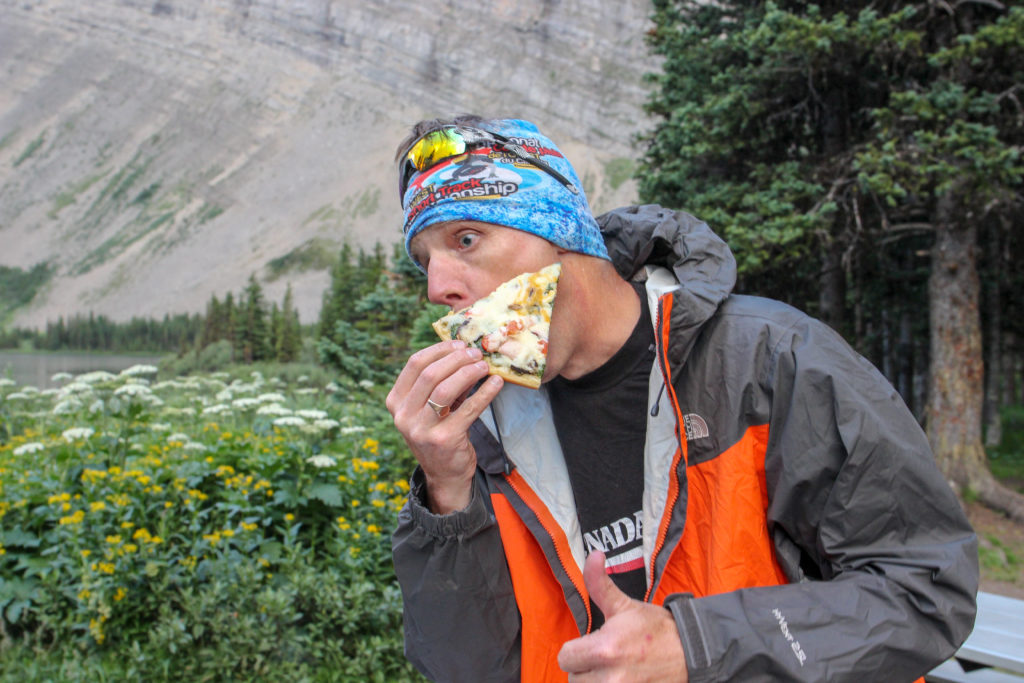 After putting everything away we got ready for bed. Just before heading into the tent we were visited at the table by a member of the local wildlife. We spent a few minutes watching the little fellow before he hopped away and we likewise headed to our tent.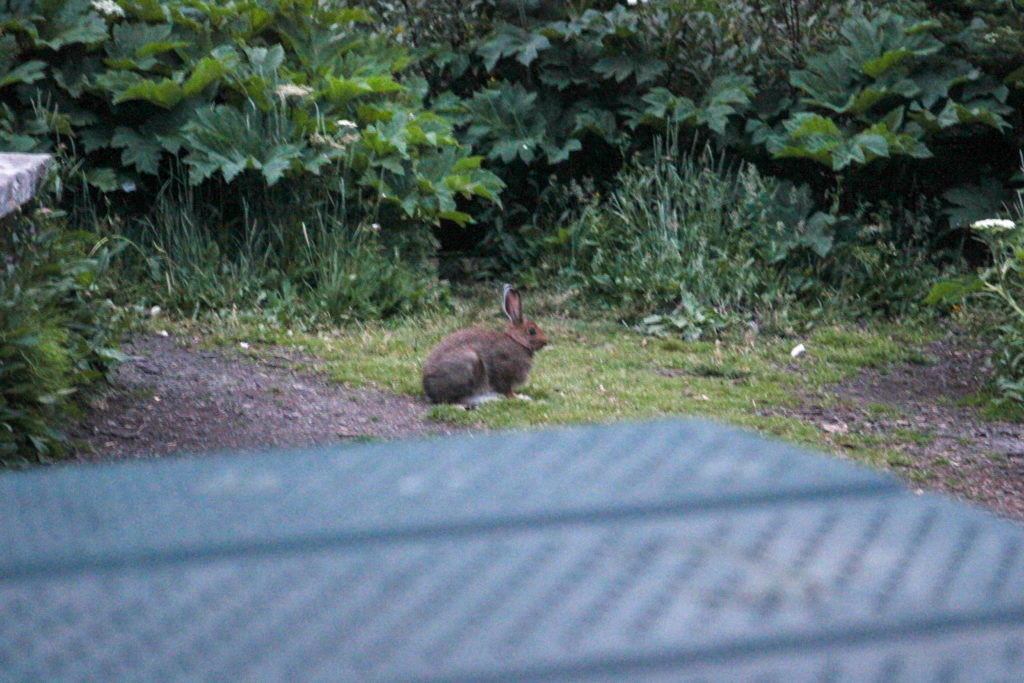 I read for a few minutes before we headed off to sleep. We had to be home the next day by early afternoon so we needed a good sleep to get an earlyish start.