August 20th, Paint Pots Trailhead to Helmet Falls CG, 15.3 km, 486 m elevation gain, 157 m elevation loss, 4 hrs 41 min.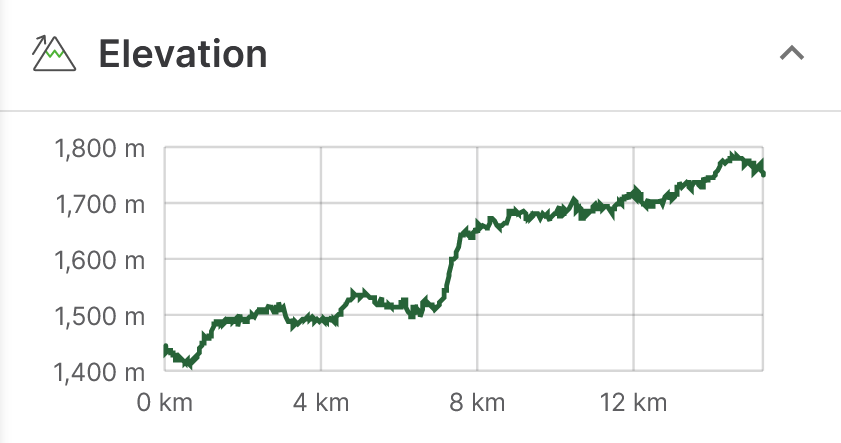 It was about a 55 minutes drive to the Paint Pots trail head in Kootenay NP. We left Canmore around 8:15 am and had a pretty uneventful drive to the trailhead. I dropped off Siobhan with the backpacks as planned and then drove down the highway to the Numa Creek Trailhead to drop off the car. It only took me about 12 minutes to ride my bike back up the highway to where I had left Siobhan. We locked up my bike and helmet to the Parks Canada sign and just a little after 10 am we were on our way down the trail.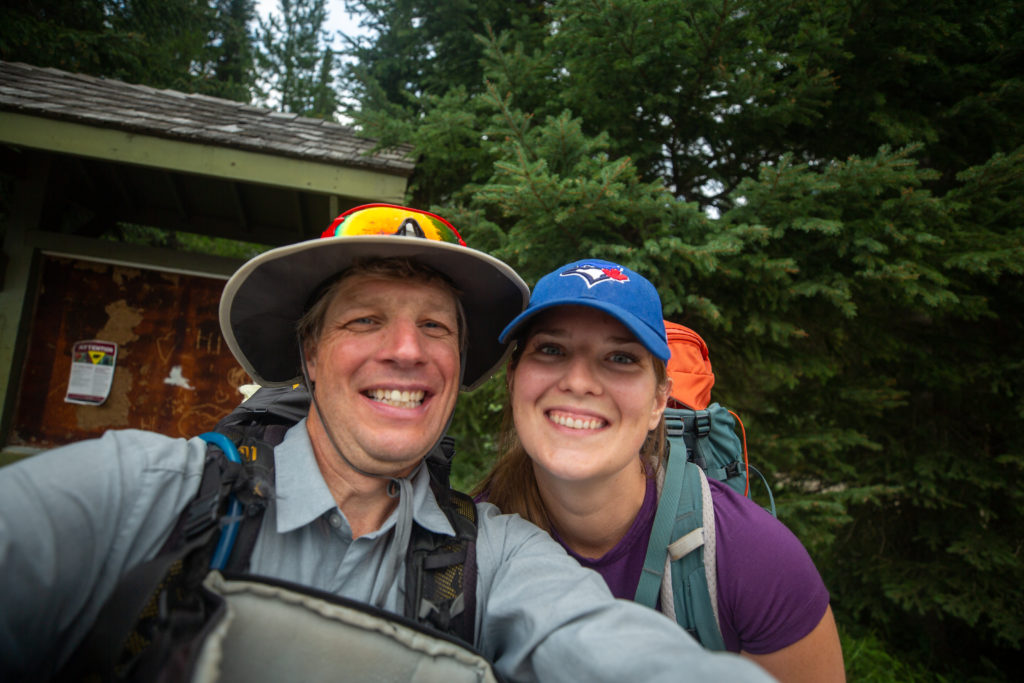 I have in my journal that we left a little behind schedule. Not sure why would be behind schedule leaving at 10 am on a 15 km hike. There were a few other hikers heading down the trail. One group had a very happy dog with them. There would be plenty of dogs on the trip to make up for leaving Margaux at home. The Paint Pots are a very interesting place and make for a great family hike. The source of the Paint Pots are iron rich mineral springs that bubble up to the surface. The water then spills over the top of the "pots" and paint the surrounding area with a deep ochre colour. The Paint Pots are considered a sacred site by the Ktunaxa First Peoples of Columbia Valley so it is considerate if visitors look but do not disturb the pots and the ochre. At the top of the Paint Pots there were a group of people staring intensely into the woods. A very large bear was making its way through the forest and away from us. We stayed to look for a few minutes and while we did see the bear there was no good opportunity for a photo.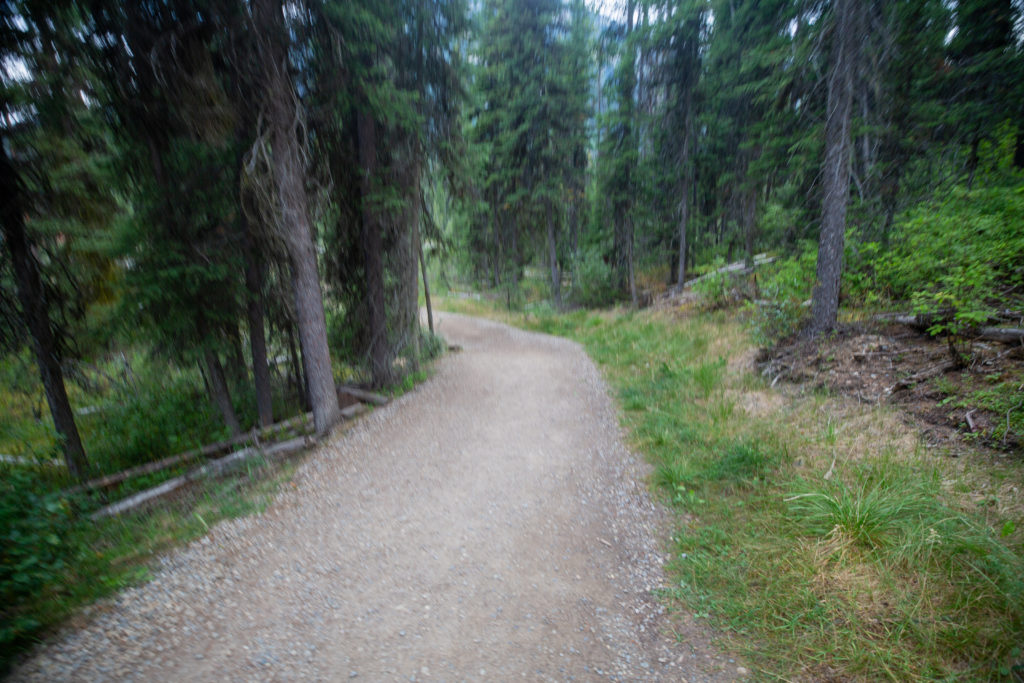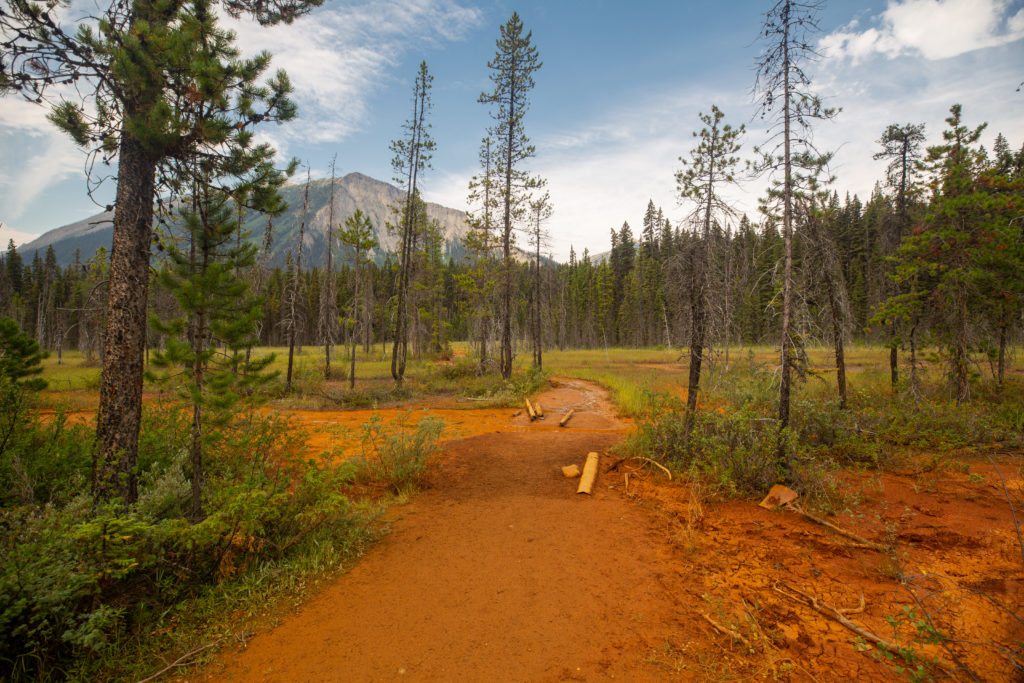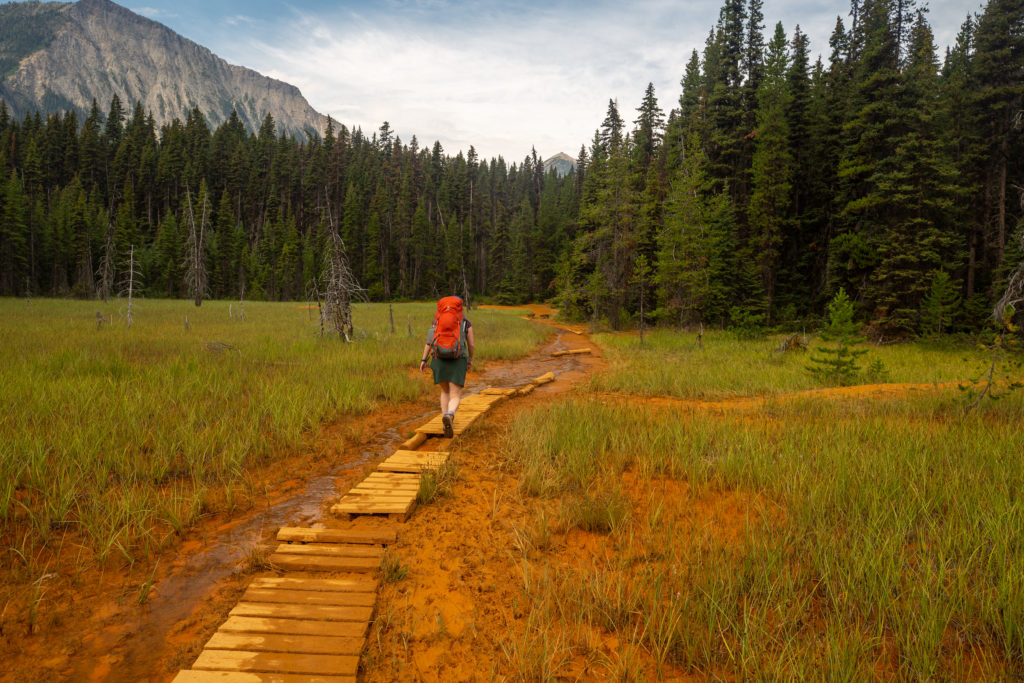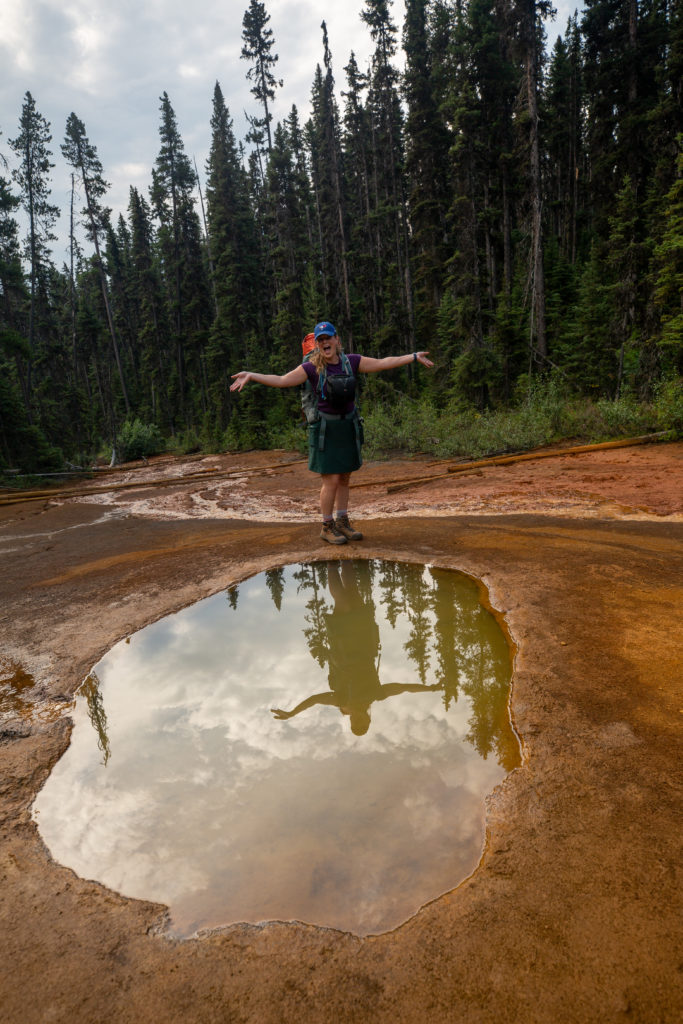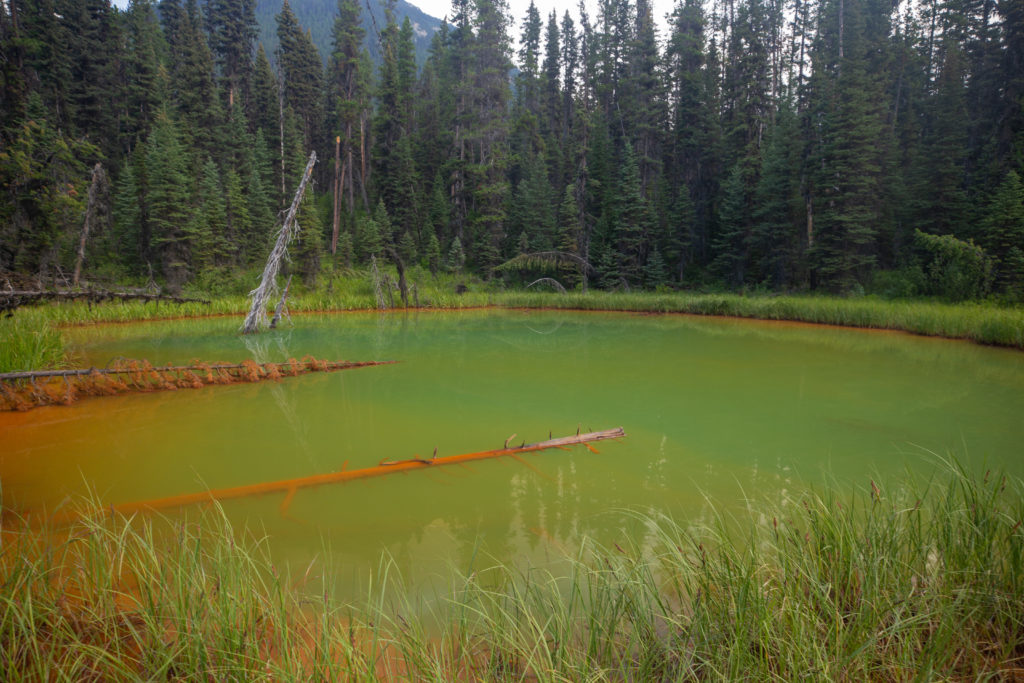 After watching the bear for a few minutes we set off down the trial. I still did not have any pep in my step after a week of recovering from my recent trip on the Great Divide Trail Section D which was frustrating. We soon came upon an older couple moving slowly down the trail. The man did not notice us coming behind him and after a few minutes of following Siobhan subtly scuffed her boot hard on a rock to alert him to our presence. They politely moved to the side to let us pass. We would see them repeatedly on the trip and have a nice conversation with them at Tumbling Creek CG, they are a really cool couple.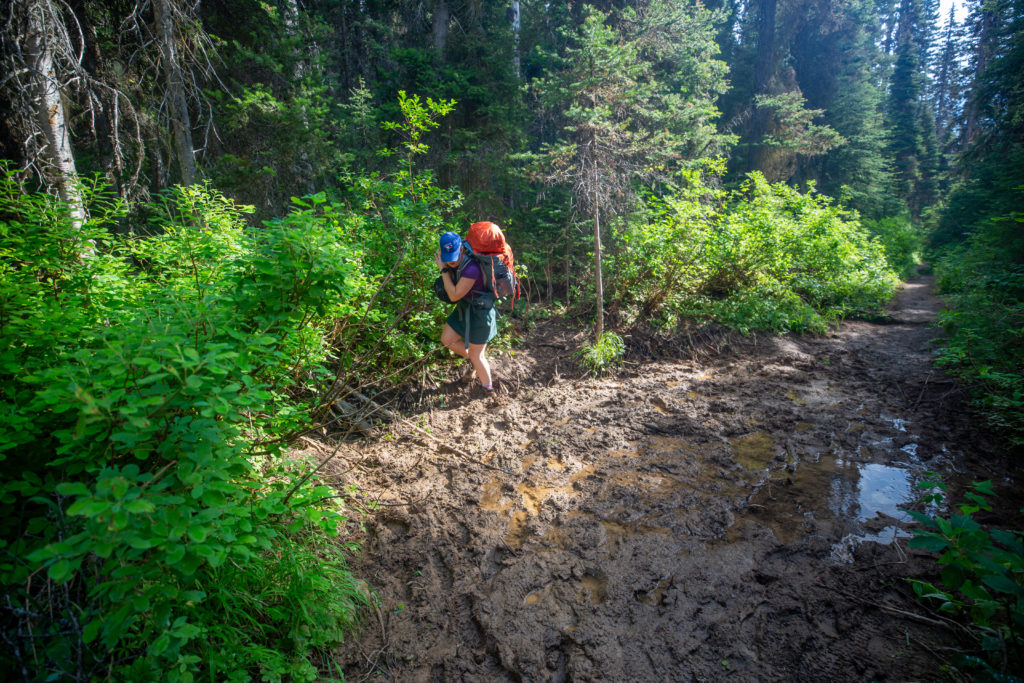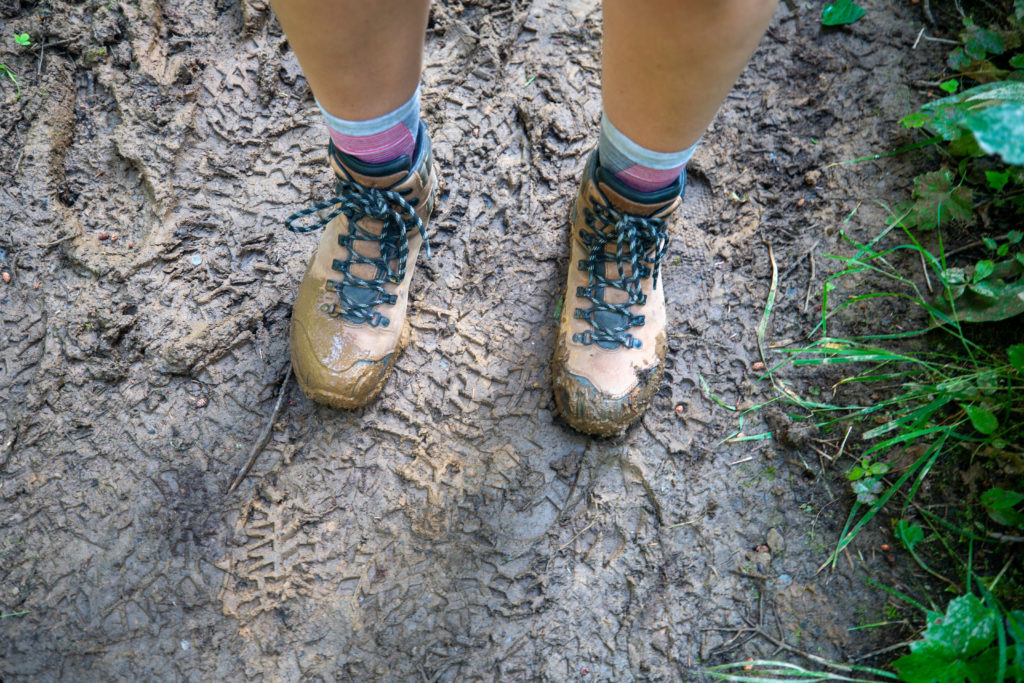 We made excellent progress down the trail. We had hints of blue skies above. It was mostly cloudy skies but no smoke. We soon arrived at Helmet/Ochre Junction CG and decided it was a good time for an early lunch. It was 11:45 am when we dropped our packs. We had covered about 6 km in 1 1/2 hours.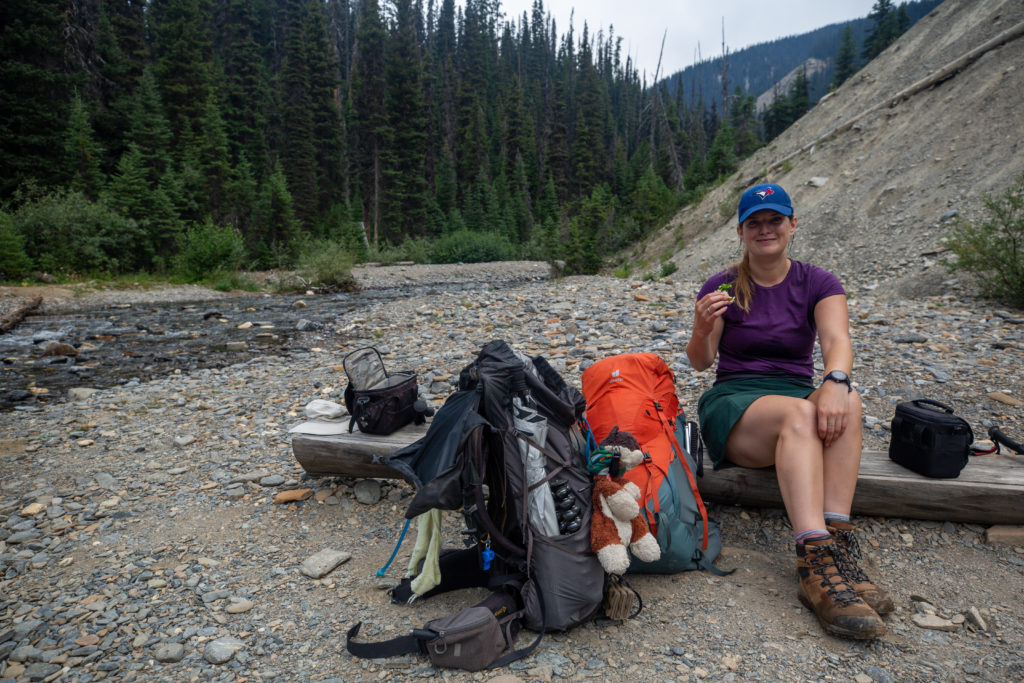 We enjoyed our lunch on a log across a couple of women and their lovely dog a Duck Tolling Retriever. Our lunch consisted of bagels, cheese, some veggies and spinach. Good hearty lunch and a great way to make the pack lighter. The women were from Vancouver. They asked if the trail got any steeper as they found the first part a little steep. The steepest part was yet to come and was a short section staring just the other side of the campground. I wondered if they were suffering from the effects of the altitude coming from Vancouver as Siobhan had done on our hike last year to Egypt Lake when she had traveled the day before from Victoria. While we were packing up after lunch the old couple passed us but we were hot on their heels through the campground and passed them back. After passing through the campground the trail goes over a very nice bridge and then starts heading uphill in earnest.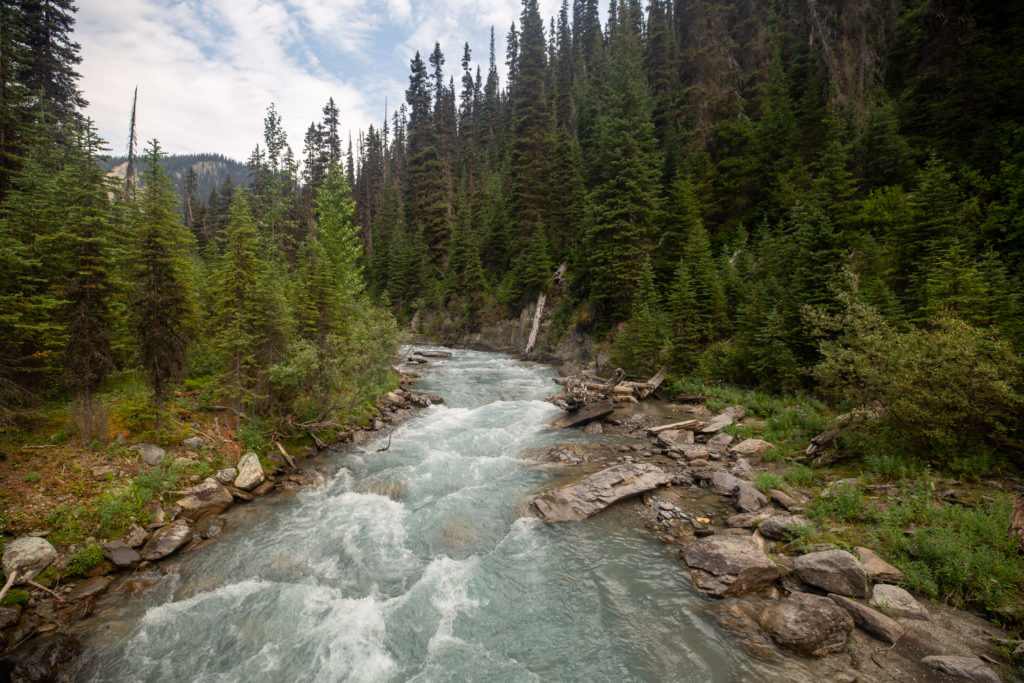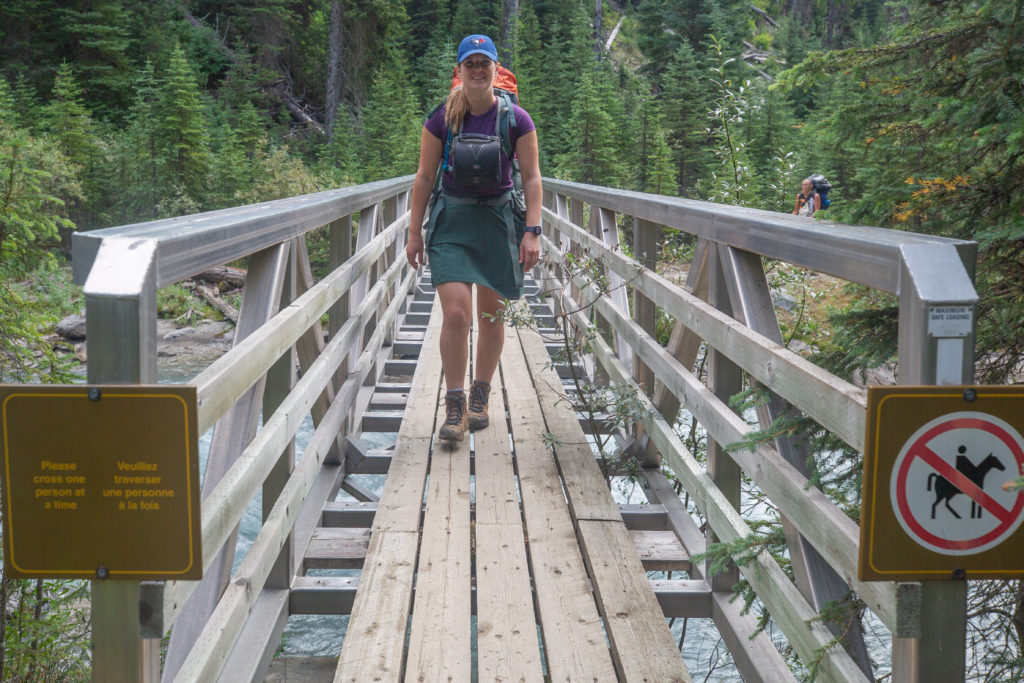 The trail would gain 170 m of elevation over approximately 1 km through a series a switchbacks. We were passed by several groups coming down the trail. We always got out of the way even though uphill hikers are suppose to get the right of way. We were not really in that much of a rush so we took the initiative to be polite. The last group to come by was two Parks Canada employees who stopped us to check to see if our names were on their sheet as having a reservation at Helmet Falls. My name was of course on the sheet but I had my paper copy of the reservation handy. We had a lengthy and pleasant conversation. They told us that Parks Canada was stepping up compliance checks. Not sure if the system is working. Later a group camping at Helmet Falls told us that they did not have a permit but lied to the Parks Canada employees and told them they had booked a last minute site that morning and forgot to print it off. It was not a big deal at Helmet Falls CG as there would be numerous empty sites despite the campground being fully booked. As we left the Park Canada employees they told us we only had two switchbacks to go. Time to keep pushing on.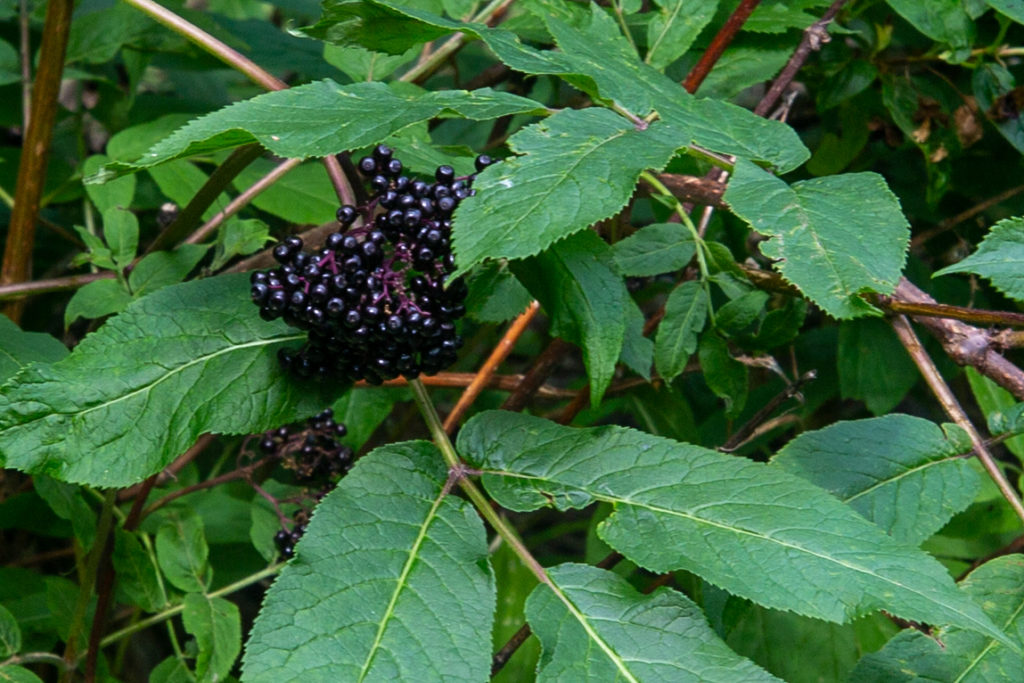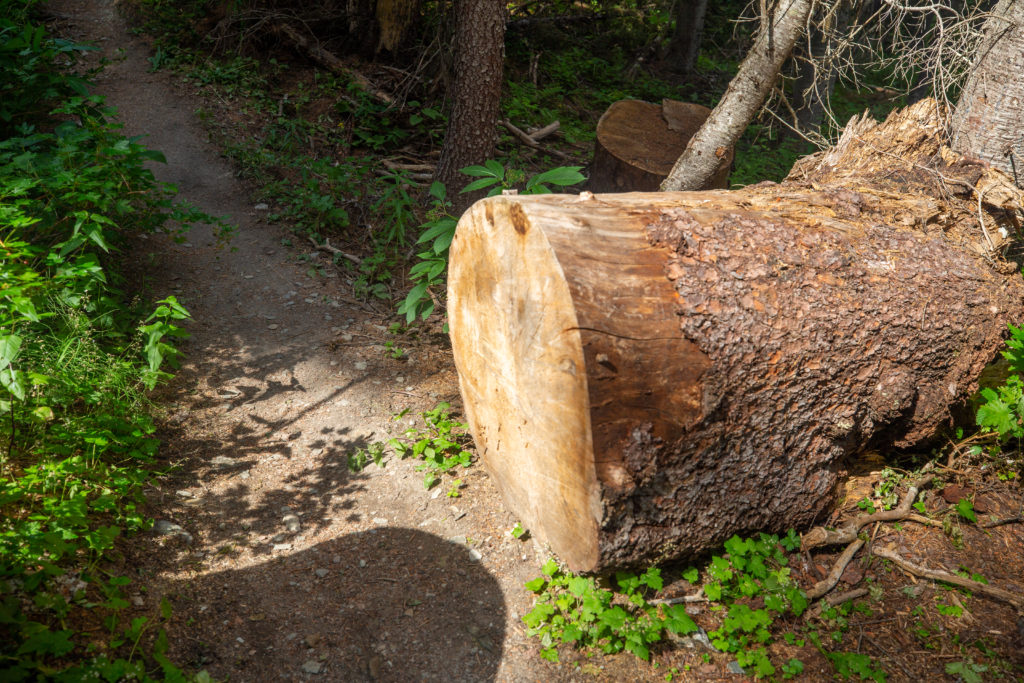 As we reached the top of the climb the trail flattened out and had a nice roll to it for the next several kilometres. I told Siobhan that I was tired and not feeling that spark. She did say we could slow down but I wanted to keep up our pace so we would have timeto go see the falls once we got to camp. We did finish the hike with a 3.5 kph average including lunch so my hiking pace was good it was just that the spark, the easy flow was missing. We came up to a suspension bridge that has quite a bounce to it. The bridge is about 2.5 km from the campground and is a great indicator that you are on the final approach to your day. It is also a lot of fun to cross. Once across the bridge we crossed some meadows of wildflowers. This made Siobhan very happy as one of her goals for the hike was to to see the wildflowers. Then Helmet Falls came into view in the distance. Helmet Falls is an impressive sight. It is only the 11th tallest waterfall in the Canadian Rockies but it has a clear drop of 352 m (1155 ft) and is very accessible. I never get tired of seeing Helmet Falls. Only 20 minutes of hiking left to the campground.
Once Helmet Falls comes into view it is a very easy hike to the campground. Along the way we past the junction to Goodsir Pass that I took with Micah back in 2020 when we hiked Section C of the Great Divide Trail. We walked pass a lovely but deserted Parks Canada Warden Cabin across a little bridge over Helmet Creek and into Helmet Falls CG. It was 2:30 pm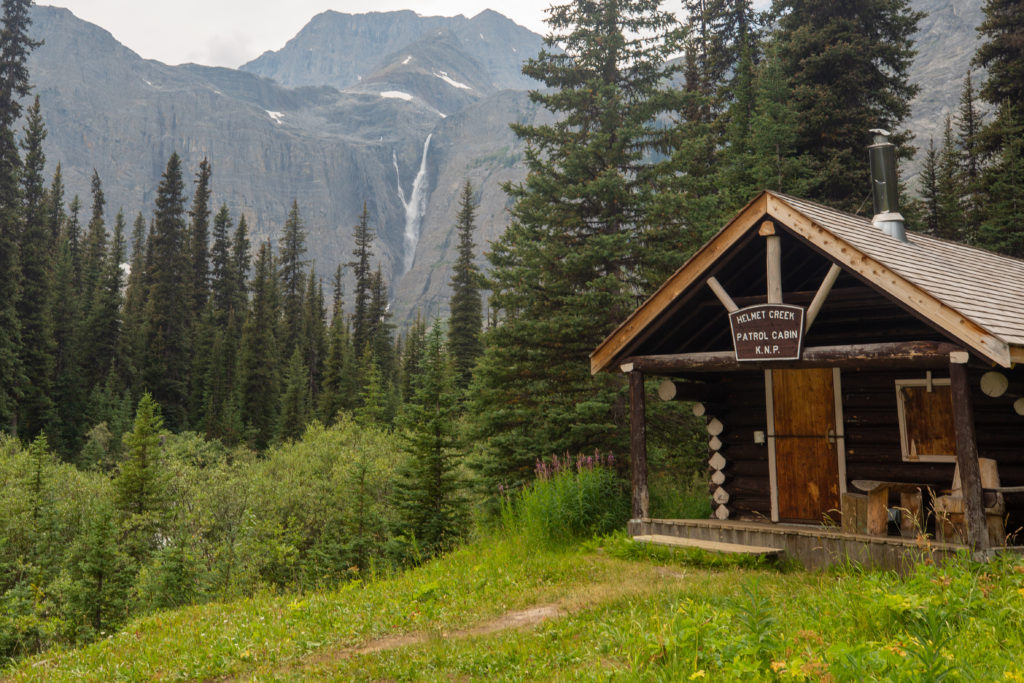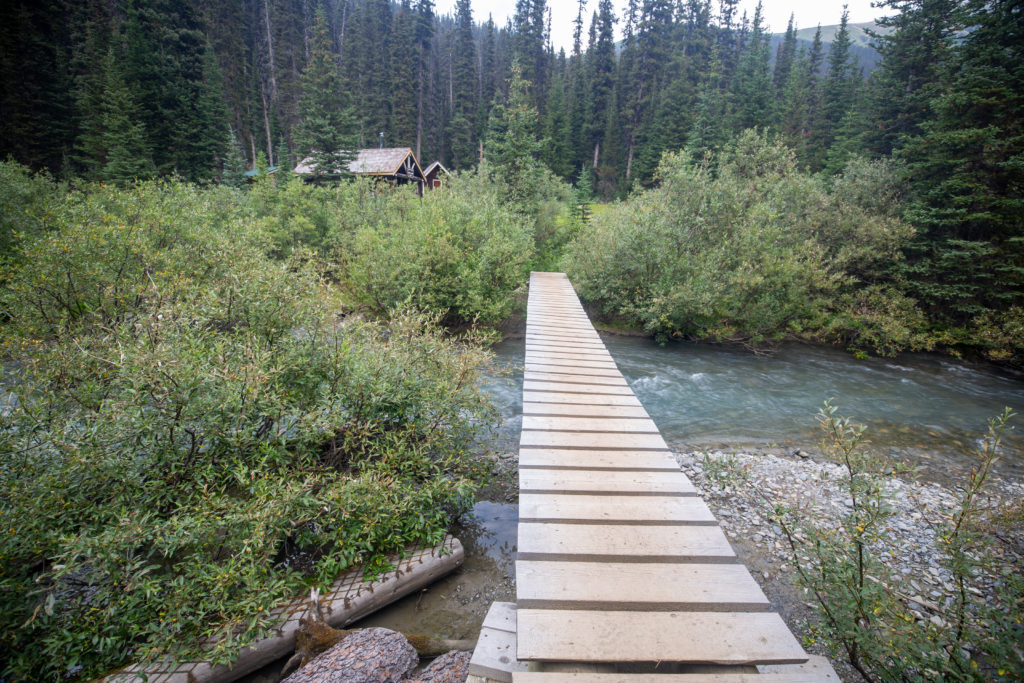 We chose the same campsite that my friend Ken and his brother Neil had used back on my Rockwall trip in 2020. We had the tent set up pretty quickly and I promptly had our beer chilling in the stream. Next on our agenda was a trip up to Helmet Falls which is about a 20 minute walk.
As we started on our way for a close up view of the falls we ran into a mother/daughter duo who were hiking with their doodle. They were were on their last day of their trip and were interested in visiting the falls. They were a little nervous of traveling up to the falls and said that they would feel better if they were hiking as part of a group. They asked if they could join us on our excursion up to the falls. We of course said yes. The hike up to the falls takes about 20 minutes on easy trail. Our first view was from the top of a little hill. After taking a few photos and just enjoying the view we decided we wanted to get a closer look at the falls. So we cut over closer to Helmet Creek and got right up and personal with the falls to the point that we both got wet in the spray. It was so windy near the falls that my hat blew off. I did not realize until later that my glasses that had been perched on top of my hat were missing. Luckily after retracing our steps we found my glasses on the trail.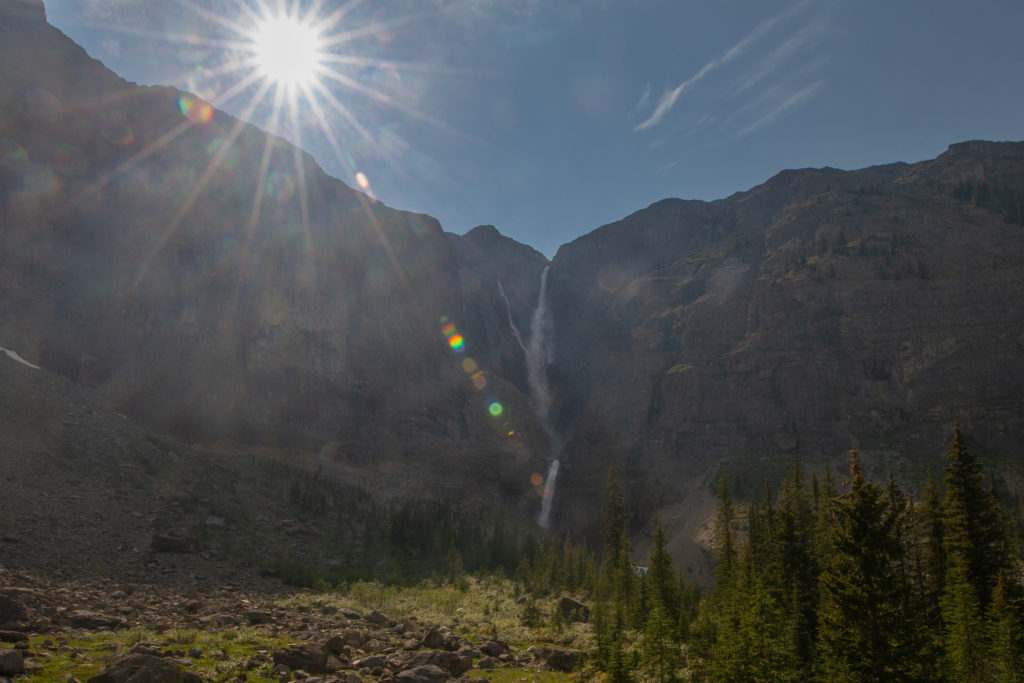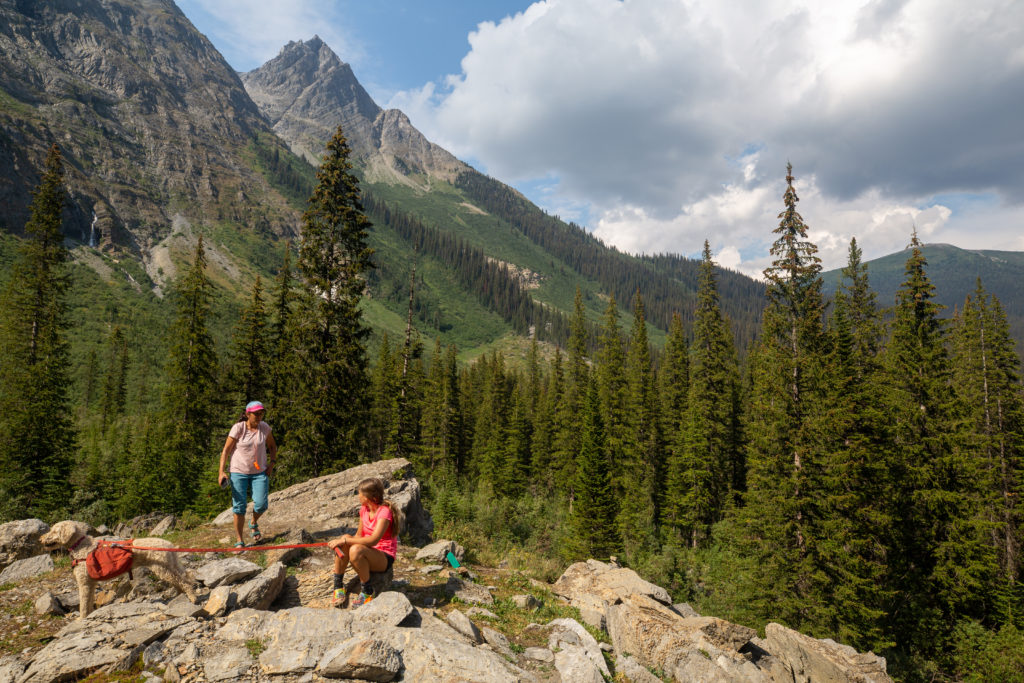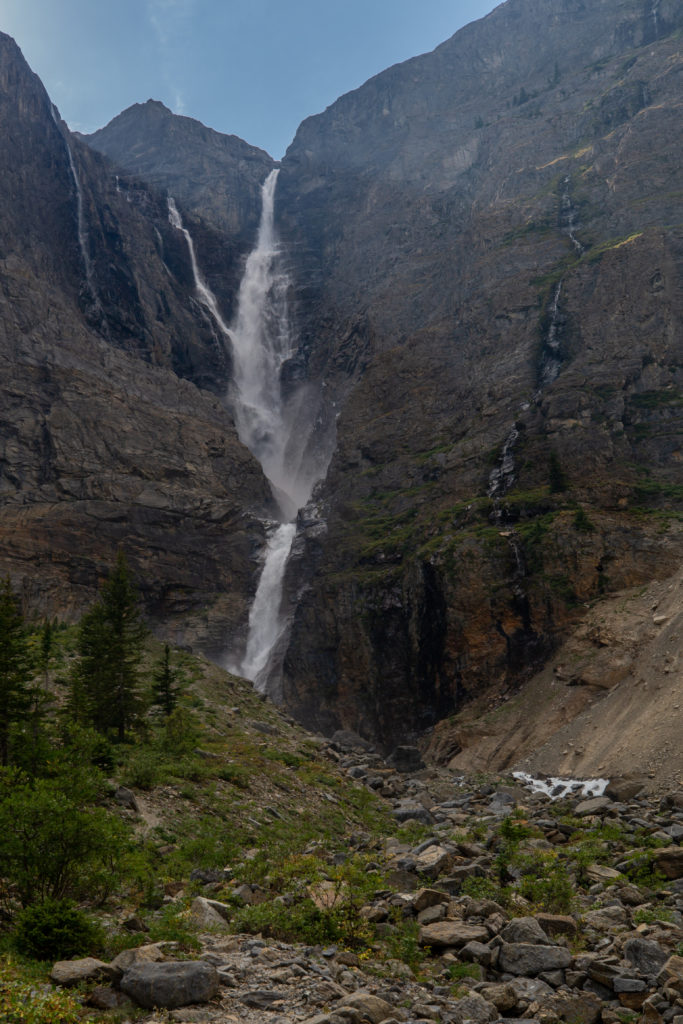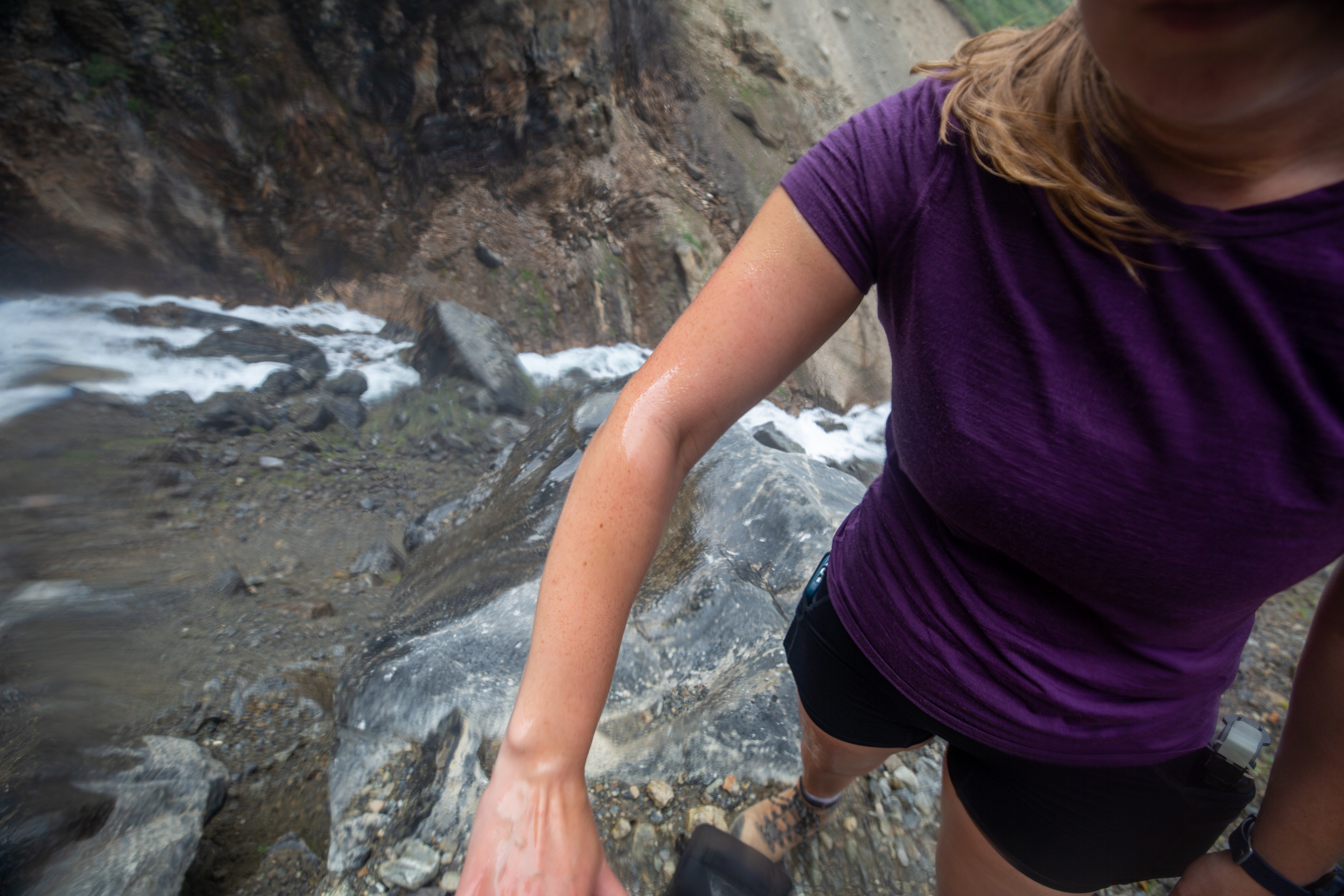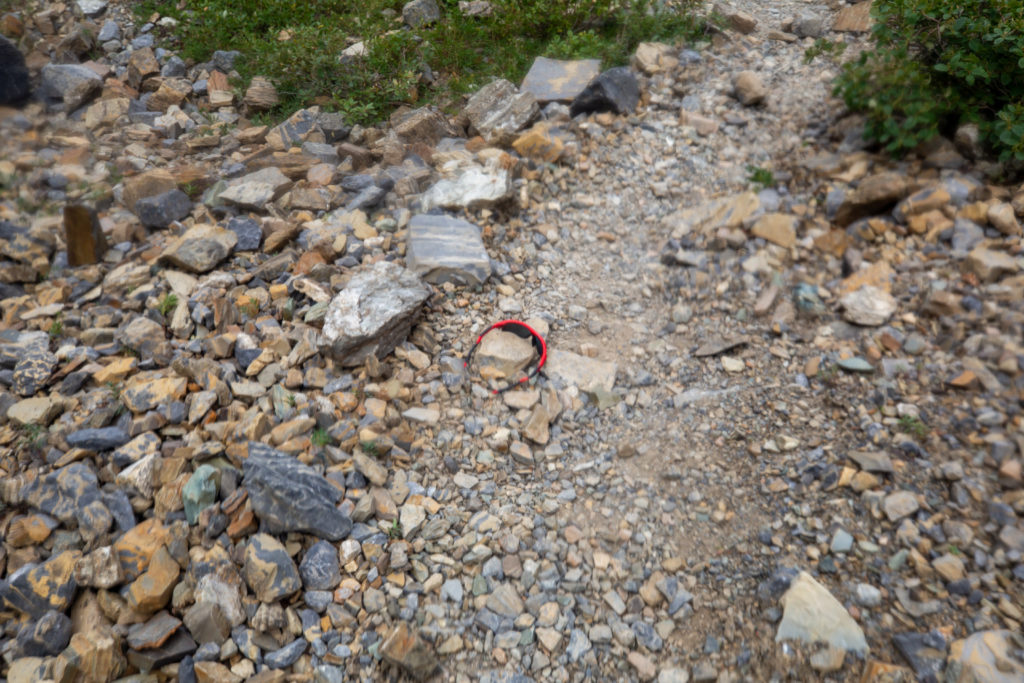 After we got back to the camp ground we said good bye to our new friends and heading back to our tent. We both had a little wash in the creek and I stayed a little while longer to have a nice foot soak in the crisp water. On my way back to the tent I grabbed the beer and we both enjoyed a cold tasty beverage, Siobhan sitting in the camp chair I got her for Christmas and me on my rubber bum pad.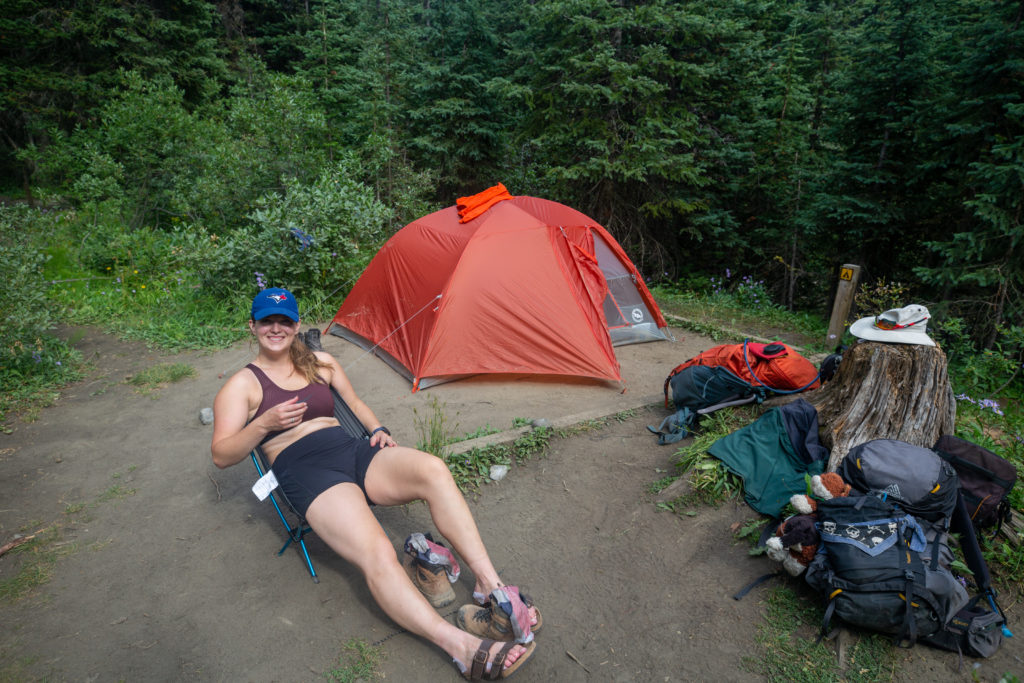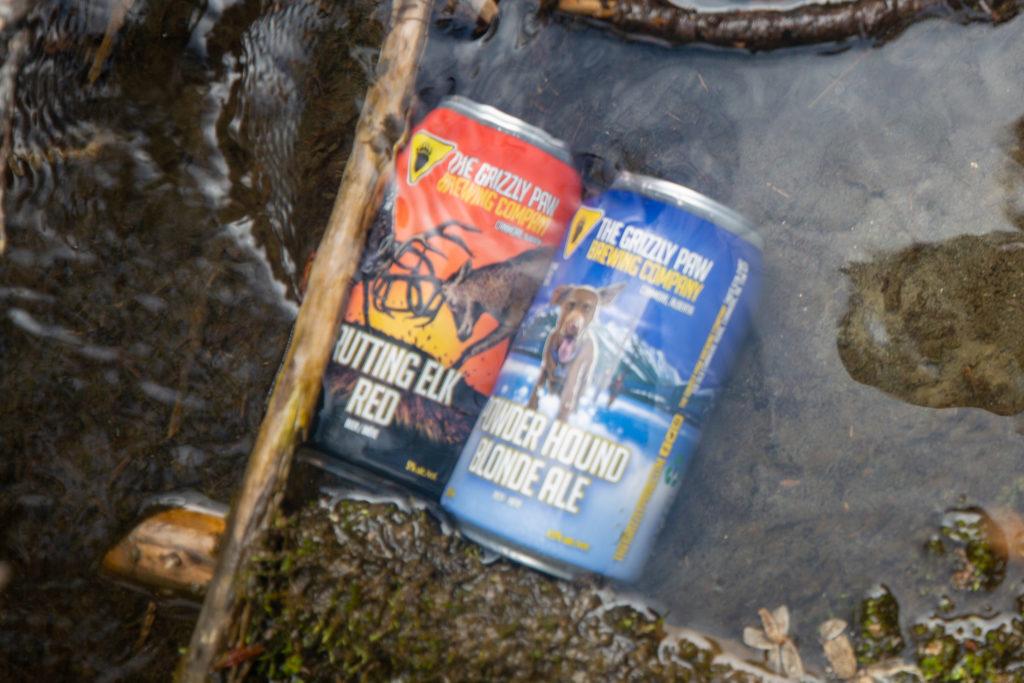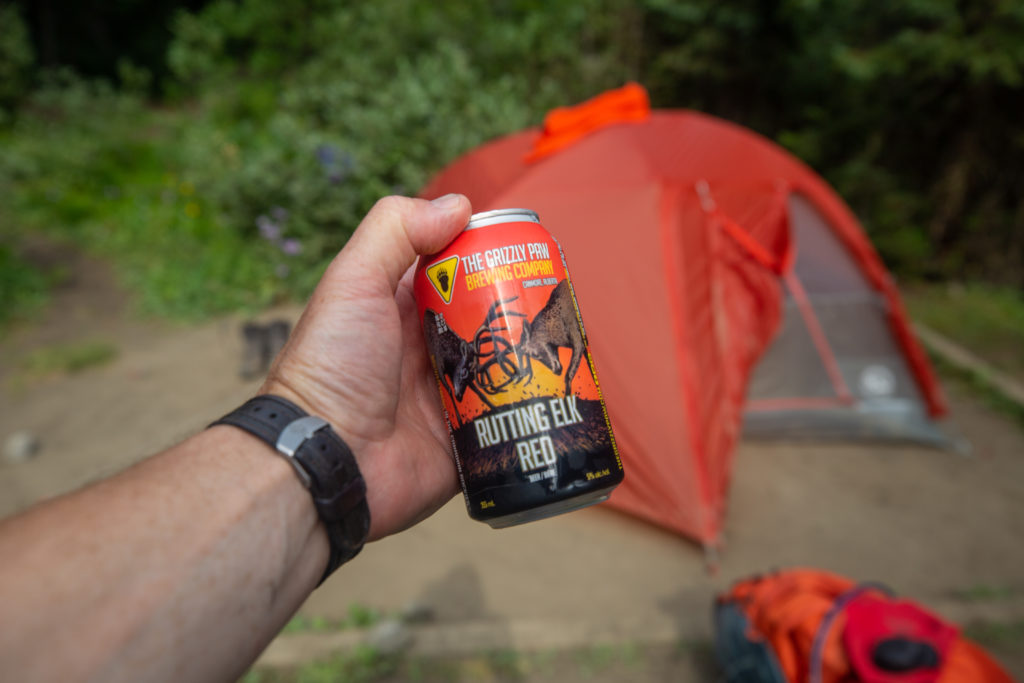 After relaxing for a bit I headed over to the eating area to pre-soak our cannelloni. Home made dried food is awesome but I find it takes a little bit longer to rehydrate than commercial food. I let the food soak for 20 minutes before giving it a quick boil on my trusty MSR Pocket Rocket and in just 30 minutes we were eating.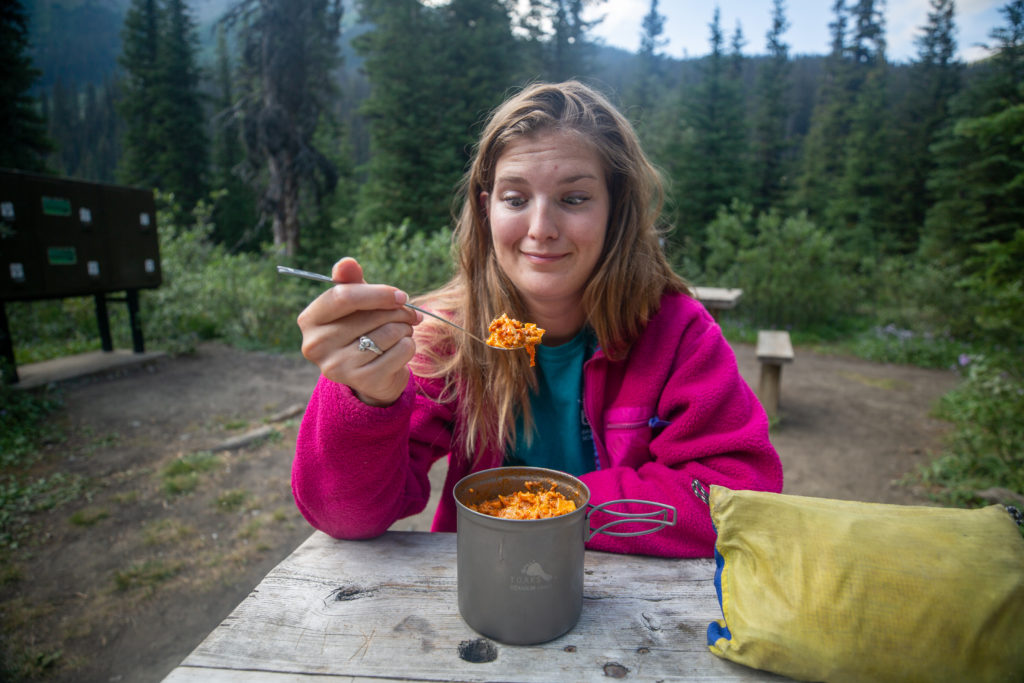 To keep the dishes to a minimum we had only one pot. Siobhan ate her fill first then I finished off what was left. I almost cleaned the pot spotless with my finger in an effort to get every last morsel of food. We had lively discussions all through dinner as the eating area slowly filled up with other campers. A couple came by with their very friendly Golden Retriever who was more than happy to accept our pet and scratches so that we could get our doggie fix.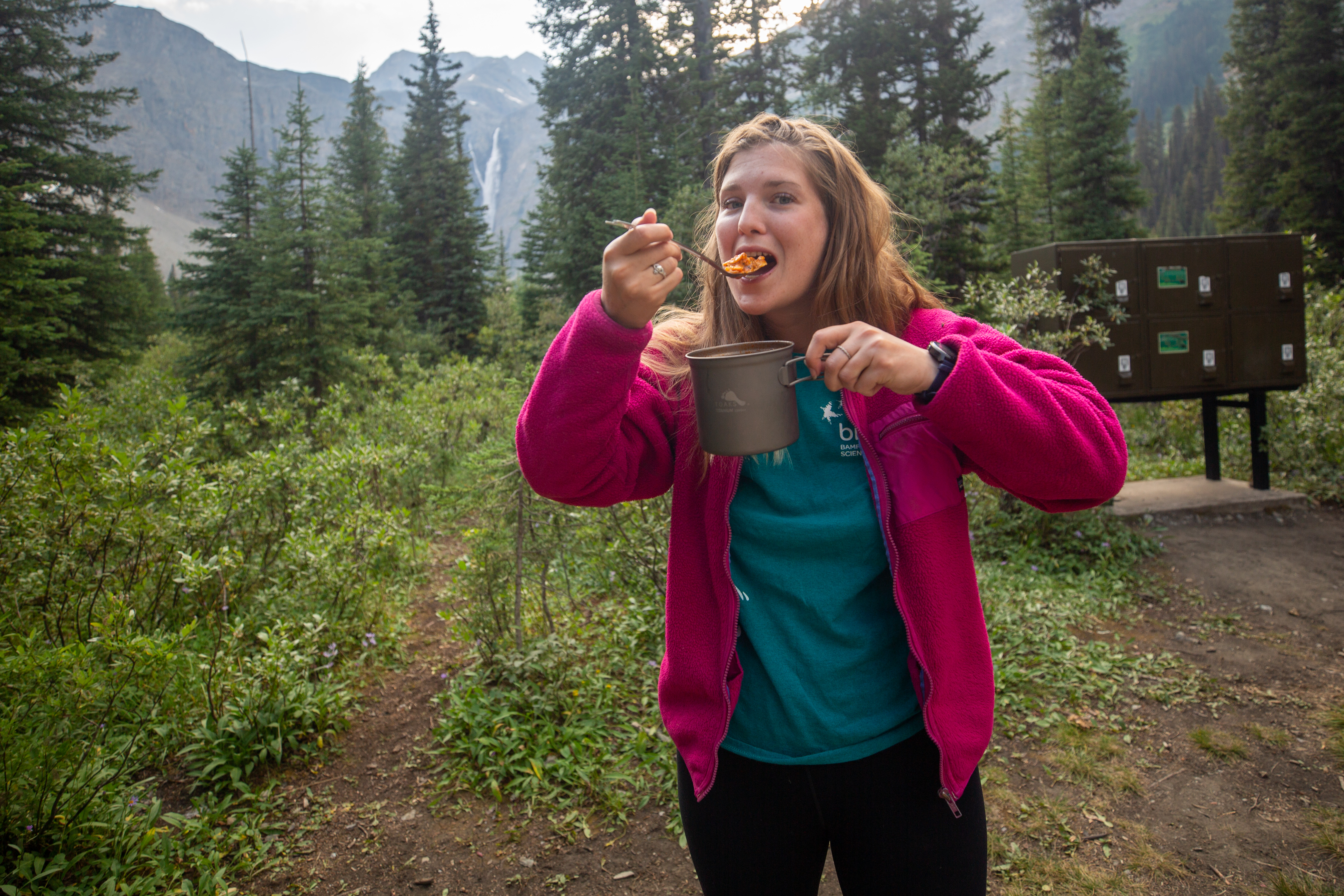 On the way back to the tent Siobhan was stung by a wasp. I think there was a nest nearby the creek as I had got bitten by something earlier on my foot. Siobhan is usually reactive to wasp stings so we were ready with the Benadryl but she had no reaction. Since Siobhan had got stung on the trip that she did on the Juan de Fuca last year with Micah I decide to give Siobhan the trail name "Sting". After getting back to the tent I grabbed my journal and headed over to the bridge to do some writing. On the way I ran into both the old couple just arriving in camp and the two ladies and the Duck Toller setting up camp. After journalling for a while with the darkness creeping over the campsite I decided to head back to our tent. On the way I counted 6 empty campsites. This was quite disappointing considering the campground was suppose to be full.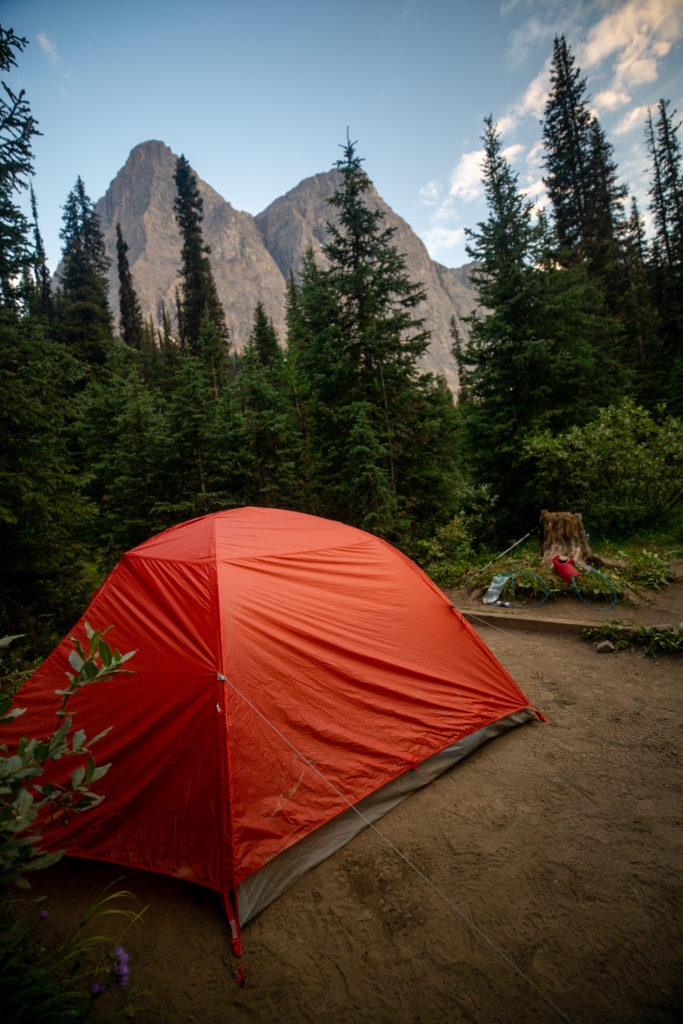 I sat outside in Siobhan's chair to journal a little more before bed. I quite liked the chair (got myself one as a Christmas present to me). While I was writing the group with the Golden Retriever came by. They had headed off to the see the falls after dinner but had to turn back just after leaving the main trail when they ran into a bear. The bear showed no interest in them but since they had the dog with them they decide that it was best to turn back. Just before heading it for the night I noted that they were still blue skies overhead and no smoke. Once in the tent I tried out my new inflatable pillow. I have never been comfortable with the stuff sack full of clothes as pillow. The new pillow felt great. It was 9:12 pm when I started to read. I thought I would get up during the night to do some astro photography but I would not set an alarm I would just wake up check the skies.
I woke up and looked outside the tent and could see clearly that the sky was clear and the stars were out. I am so chicken in the dark to go outside. It took me ages to get the nerve up to go outside. Once outside I was mesmerized as always by nature's light show in the sky. I took several photographs. There was a very bright star to the south. Unfortunately I was not able to photograph the star as I had brought my smaller and lighter tripod and it just did not have the reach necessary. Along with the clear skies it was reasonably warm out. At 11:30 am I headed back after being out of the tent for about 30 minutes.
Did I say I love the stars.