August 21st, Helmet Falls CG to Tumbling Creek CG, 12.3 km, 663 m elevation gain, 564 m elevation loss, 5 hrs 33 min.
I was up at 6:10 am. I sent my regular morning SPOT message to let everyone know we made it through the night and received a text message from Laura. I had the entire campground to myself. So I wandered around and took photos and caught Helmet Falls at "golden hour".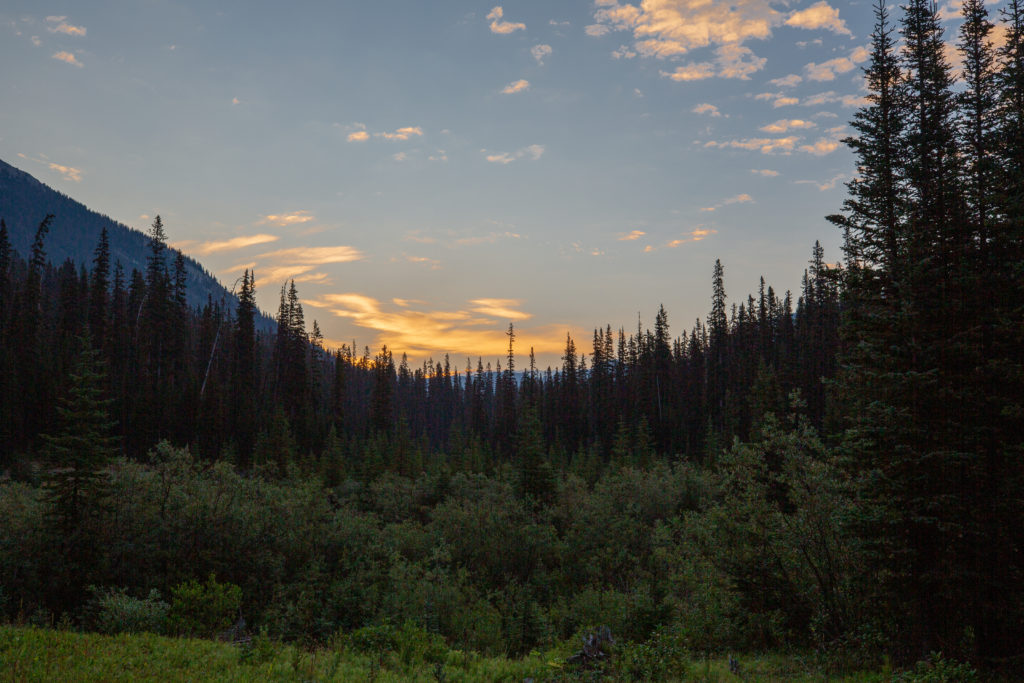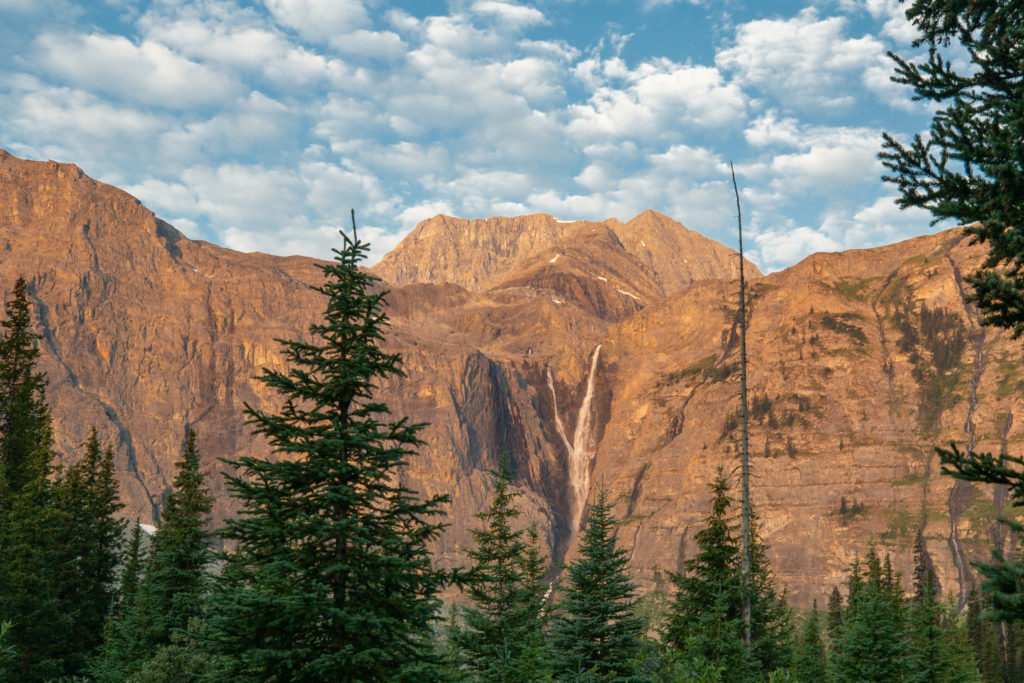 Siobhan was up at 8:15 am. I went off and cooked water for her breakfast and for coffee. We had the tent all packed up by 9:50 am and were ready to to head out on our day. We only had a little over 12 km to hike so we were not really in a rush but the blue skies had turned overcast and gloomy during the last hour. An ominous sign for our day.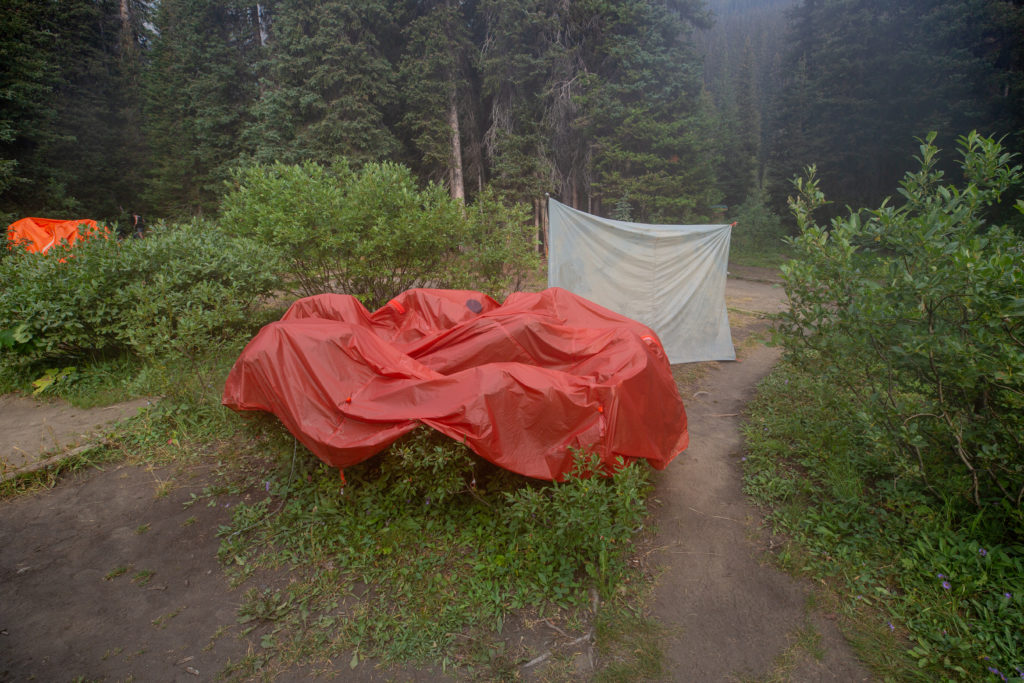 After passing over a little creek the trail begins immediately to head up hill. Hiking up the trail was quite the grind. Each step took a lot of effort and progress felt slow. Siobhan was quite happy on the trail and led the way up. We did stop numerous times to take in the view of Helmet Falls and the wildflowers. We would catch our last view of Helmet Falls at 10:40 am when the trail head started to contour east away from the falls traveling under Limestone Peak.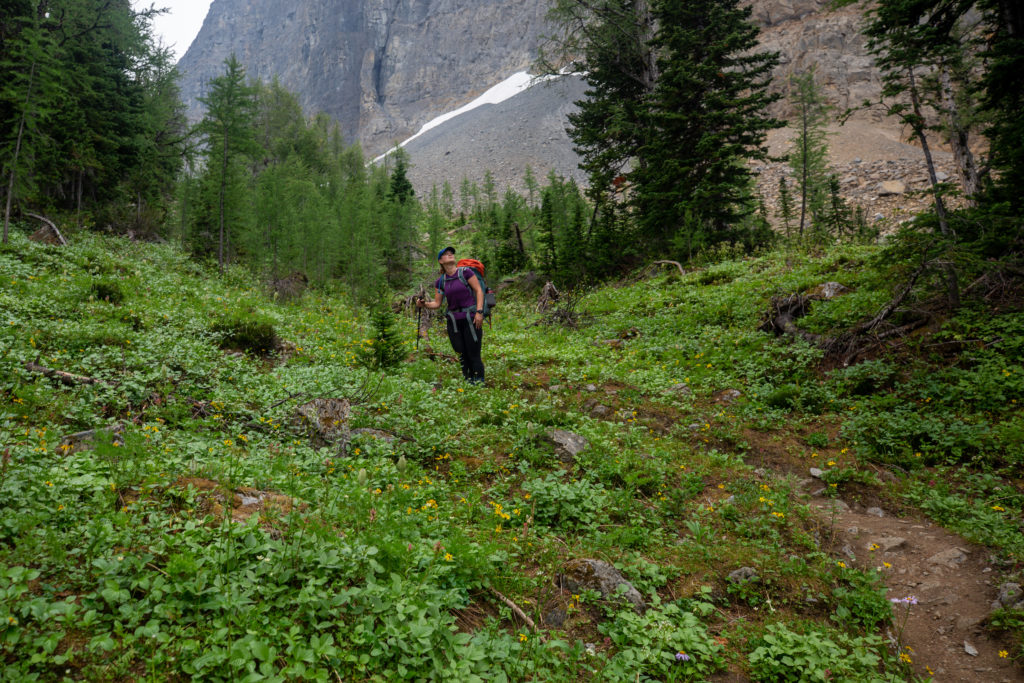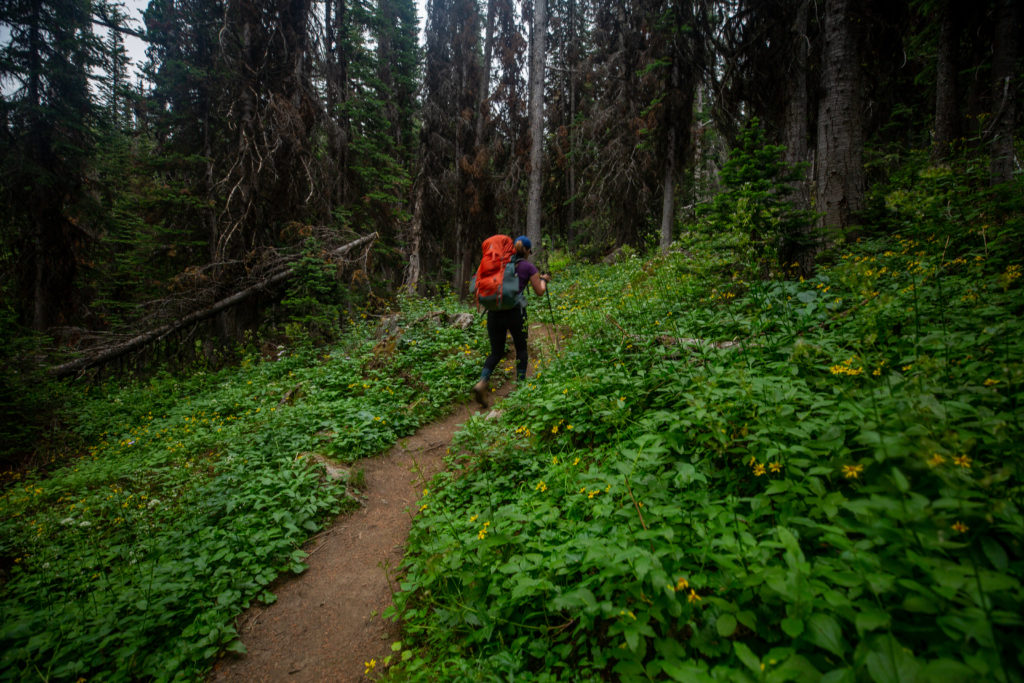 We met a nice couple hiking the Great Divide Trail. They were planning to camp at McArthur CG as I had done on my GDT Section C trip in 2020. I recommended to them that they should stay near the Warden Cabin and not in the campground itself. The campground is full of dead trees and when I visited was closed for a few days to allow Parks Canada to remove the fallen trees from the campground after a windstorm. The Warden Cabin is surrounded by a nice grassy field and and is a more pleasant and safer place to camp. Siobhan was very happy with the abundance of wildflowers on this section.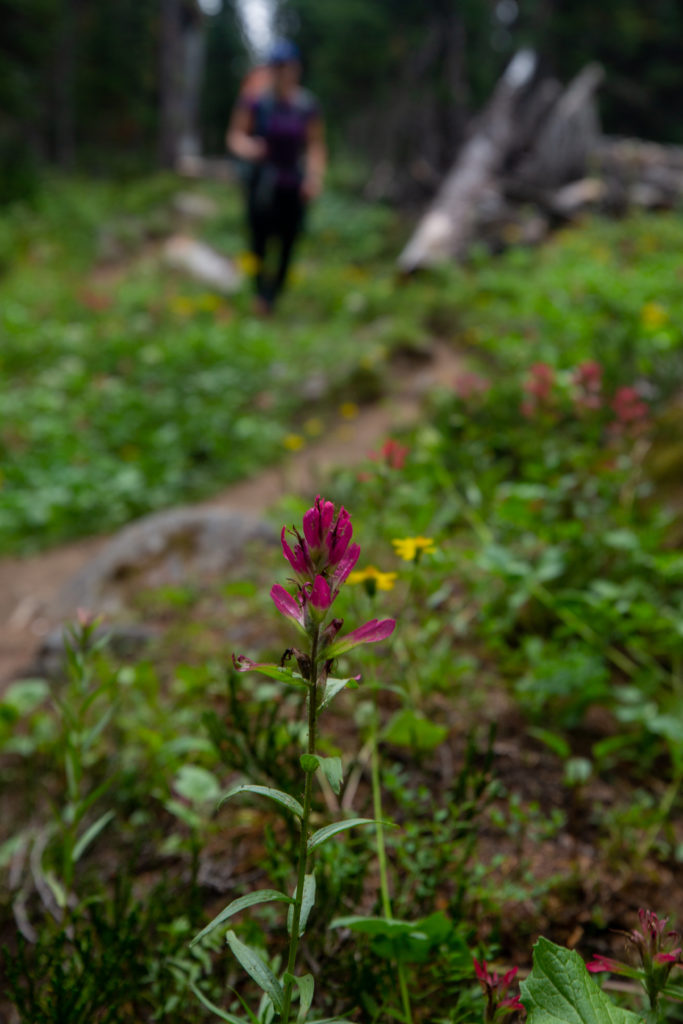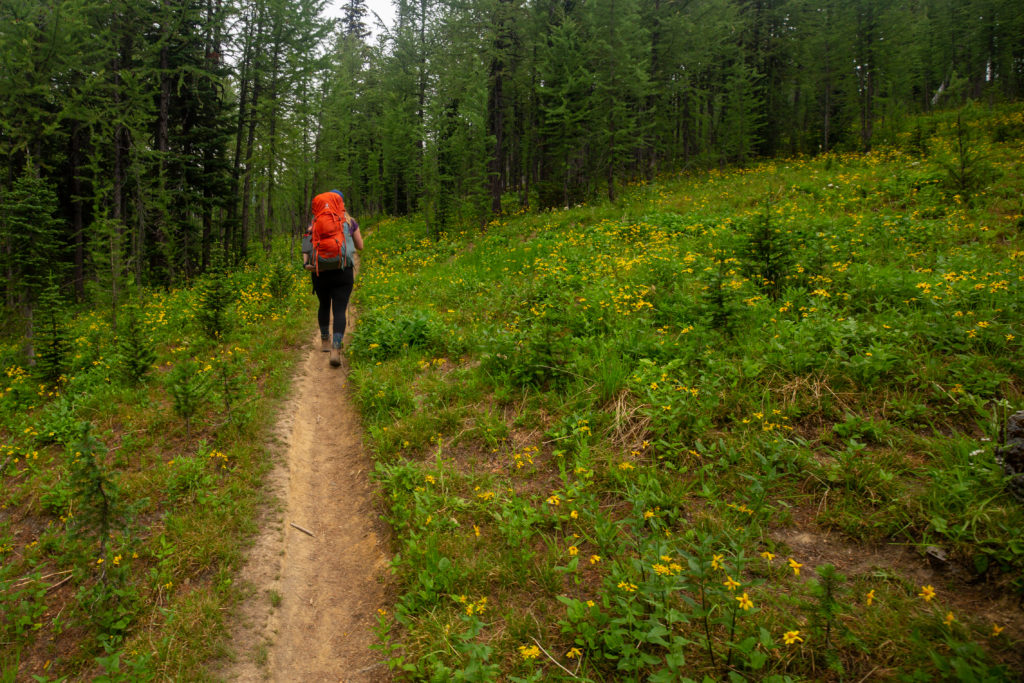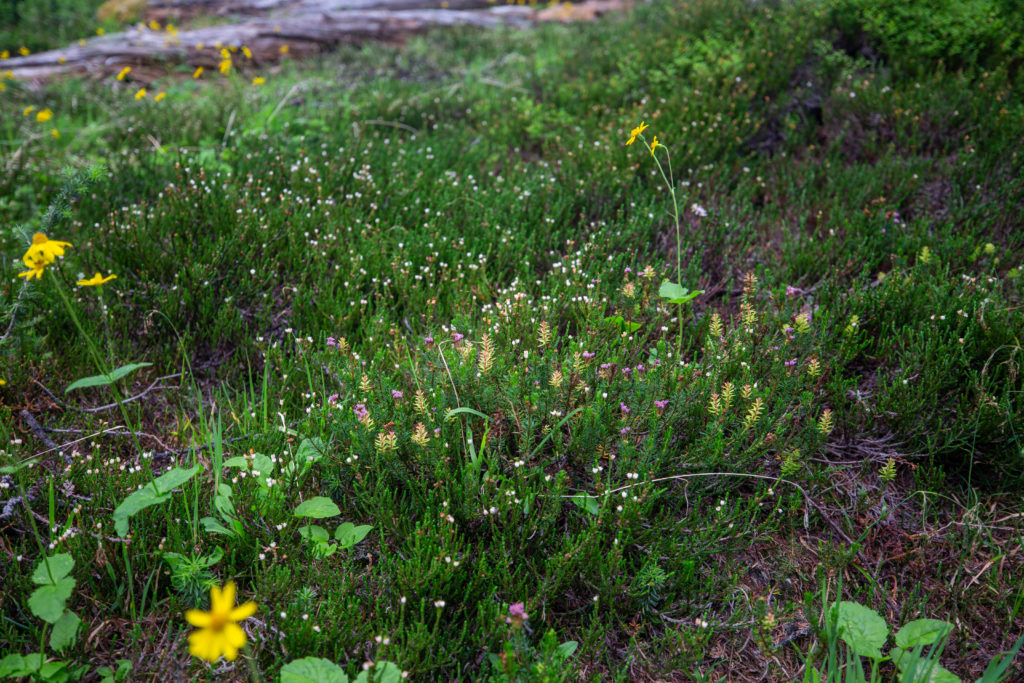 Shortly before arriving at Limestone Shoulder we met some more people hiking the GDT who were heading to McArthur CG. I offered the same advice as I had earlier. We then came upon the old couple slowly making their way along the trail.
The trail makes a hard right hand turn at the end of some trees and opens up to a small meadow signifying our arrival at Limestone Shoulder. The Rockwall comes into view stretching far into the distance. Siobhan was very happy at the sight of the Rockwall.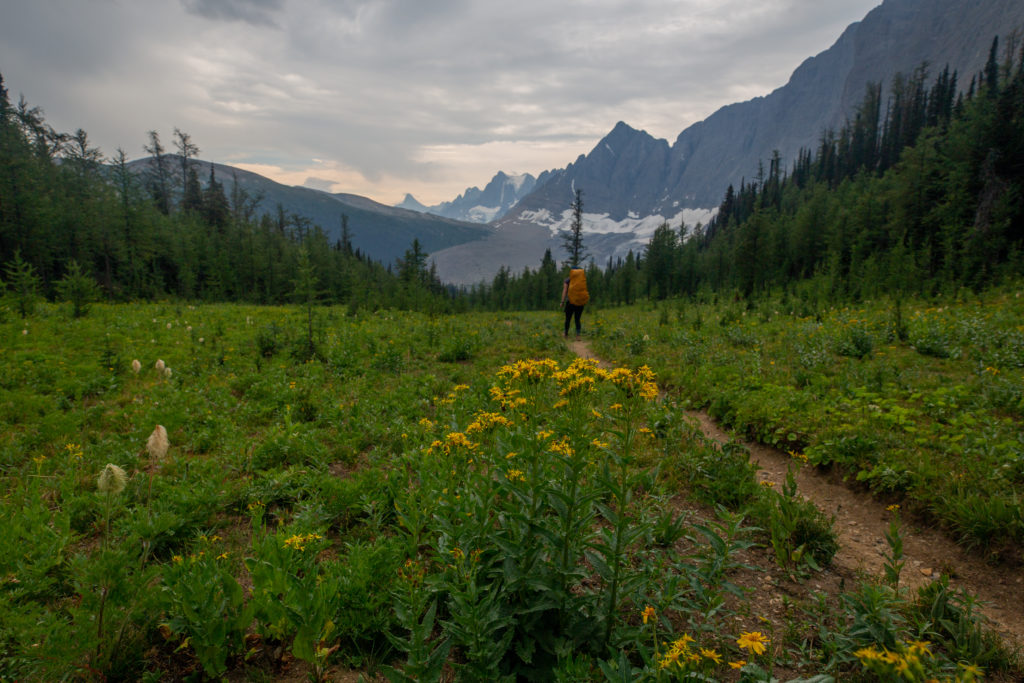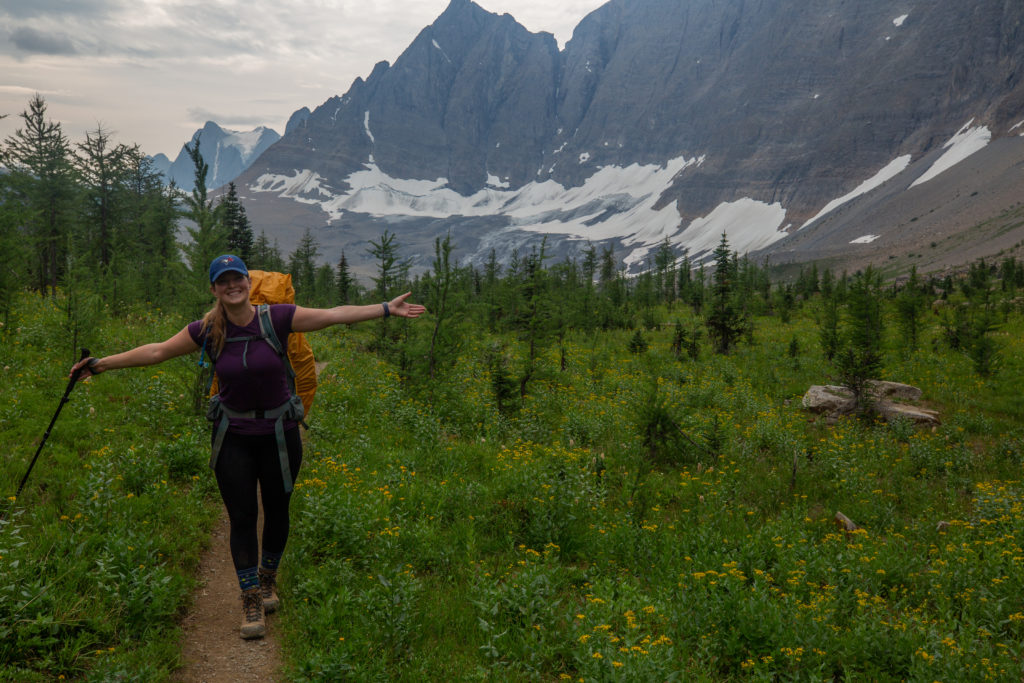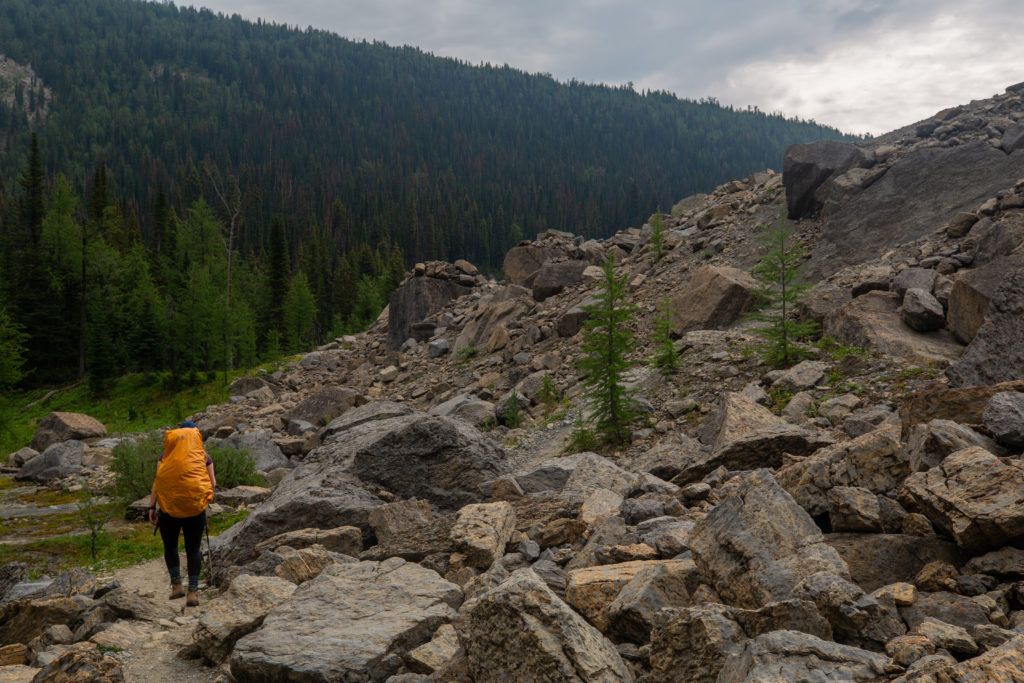 The bottom of the descent brought us to a terminal moraine formed by a glacier whose remnants cling to the base of Rockwall Peak. The trail weaves up through the rocks and as we arrived at the top of the moraine we saw the ladies with the Duck Toller heading into the forest further up the trail. From the top of the moraine we could see a couple of tarns. We chose to have our lunch at the smaller lower tarn which was located just off the trail.
We met a couple of people I know from Canmore making their way northbound. They had packed too much food so were offering us munchies as a way of lightening their load and to be nice. After a nice chat we continued on just a short bit before finding a nice rock for lunch. It was 12:20 pm, we had hiked 5.8 km in 2 hrs 25 min.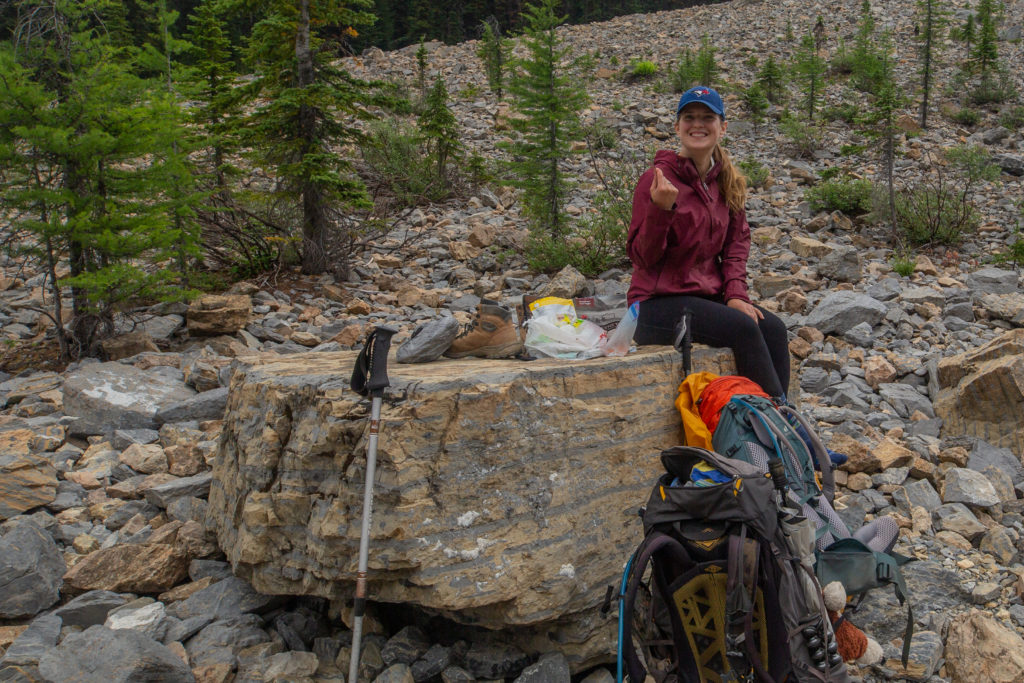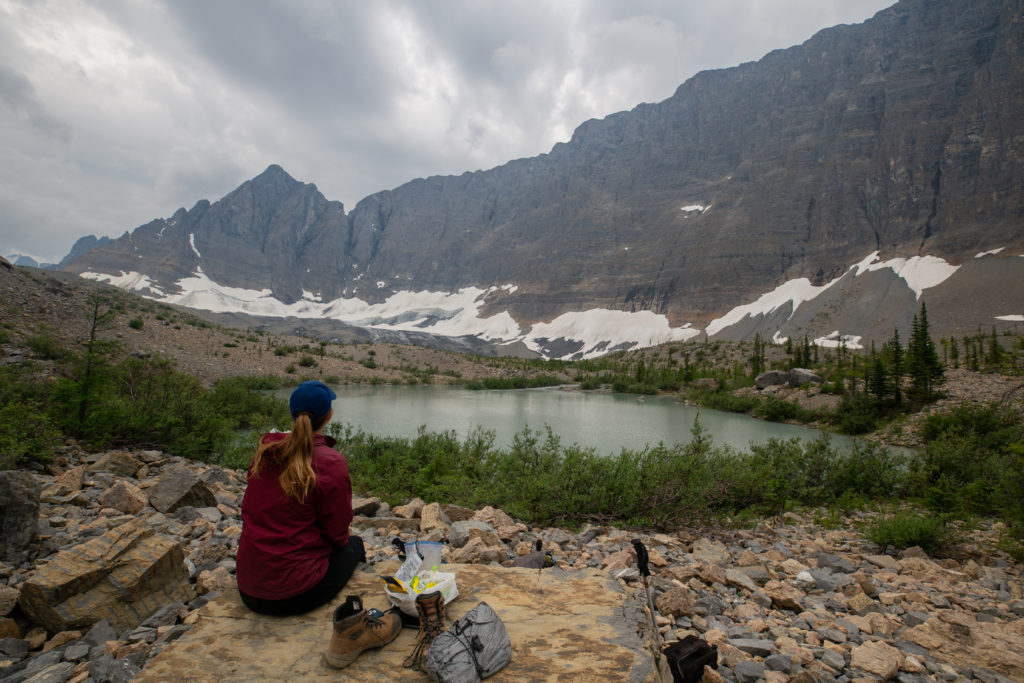 Lunch was quite a spirited and happy affair. We both ate one wrap each. Normally I have two wraps for lunch but on this day one was enough. The clouds were starting to look a little threatening so we packed up quickly and headed back onto the trail.
After crossing the creek draining Rockwall Pass the trail heads uphill at a pleasant grade through a forest. Soon after entering the forest we felt a light rain and after passing a small stream it started to pour hard. We stopped and quickly put on our rain gear. Siobhan had her purple rain jacket, rain skirt and my umbrella. I had my poncho and Zpacks rain pants. I let Siobhan use my umbrella as my poncho is made from the same material as my tent so is completely impervious the rain, well mostly.
We met a young person doing the GDT and who stopped to talk for a bit. He had no plans for what he was going to do after Section C (the section he was currently hiking) and was asking me about options for Section D. To us it appeared like he was just wining his trip. Personally I don't think it is a good idea to make your plans based on information you get while on trail. We wished him luck as we both continued on our respective trips.
Shortly after heading back up the trail we heard thunder in the distance to the west. We found a tree that actually had dry dirt under it so we figured it would be a good place to shelter from the storm. Some trail runners came by north bound and were very, very wet. Then a family of three came by also heading north. The wife was leading and said she wanted composite hiking poles for Christmas. Guess she felt her metal poles acted somewhat like a pair of lighting rods. She was not very happy and said that the "other two" meaning 9 year old daughter and husband were having a great time. It was true the daughter and husband both came by us with big smiles on their faces. In a strange turn of events we would see them again at the end of day 3. As we waited for the thunder to pass by we were passed by two parties heading south bound as we were. The first group was a young couple and the young women was hiking in running shorts and looked very cold. Once the thunder seemed to have past us we headed off up the trail and promptly passed the two groups. It was 1:40 pm.
The trail passes over a little drainages and leaves the forest behind as it heads out across the alpine. We were in very good spirits. Even though the rain clouds were still hanging around we were taking our time looking about and taking photos with Siobhan even striking a pose for the camera.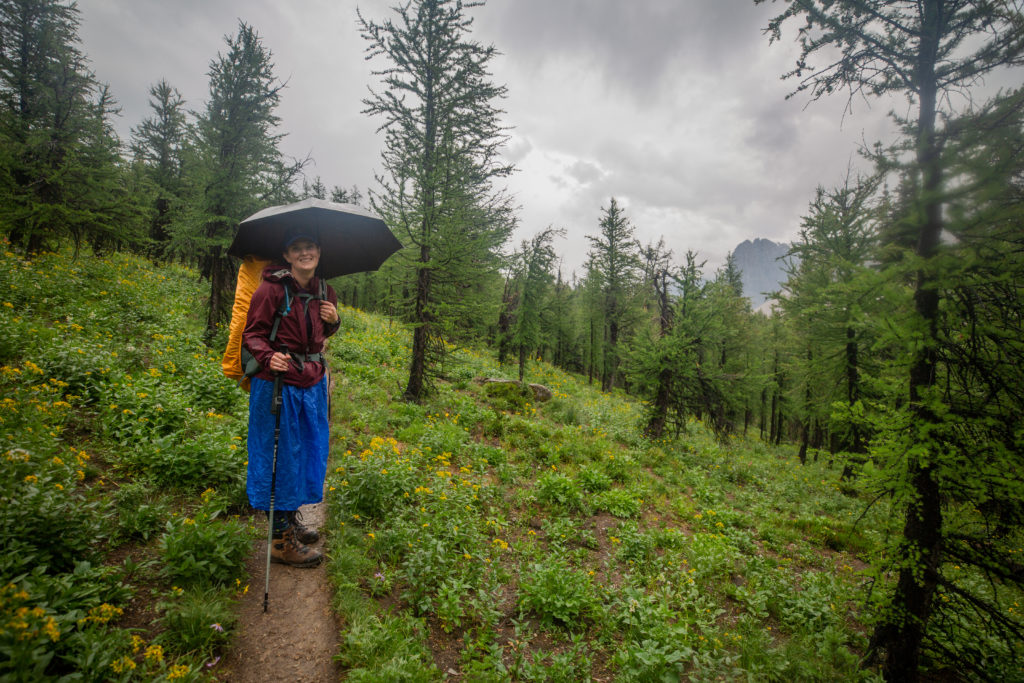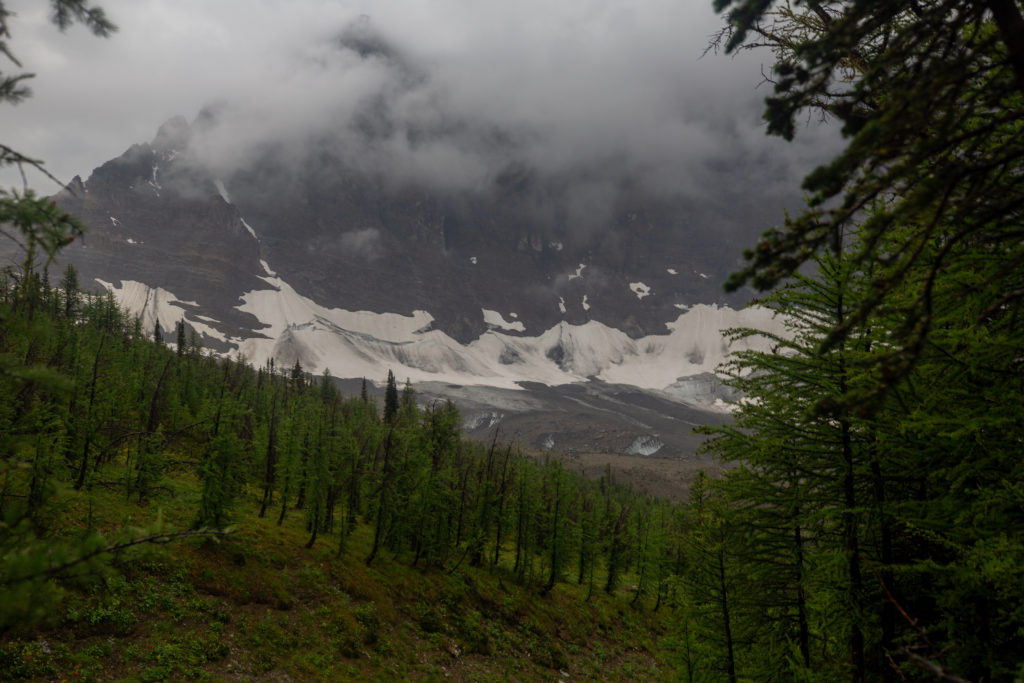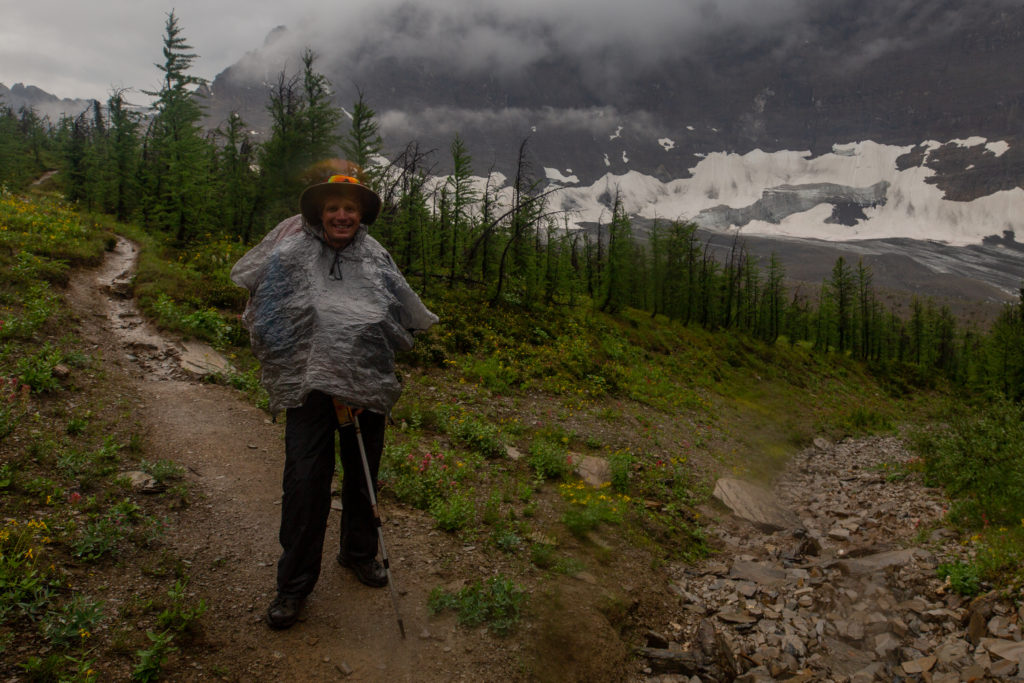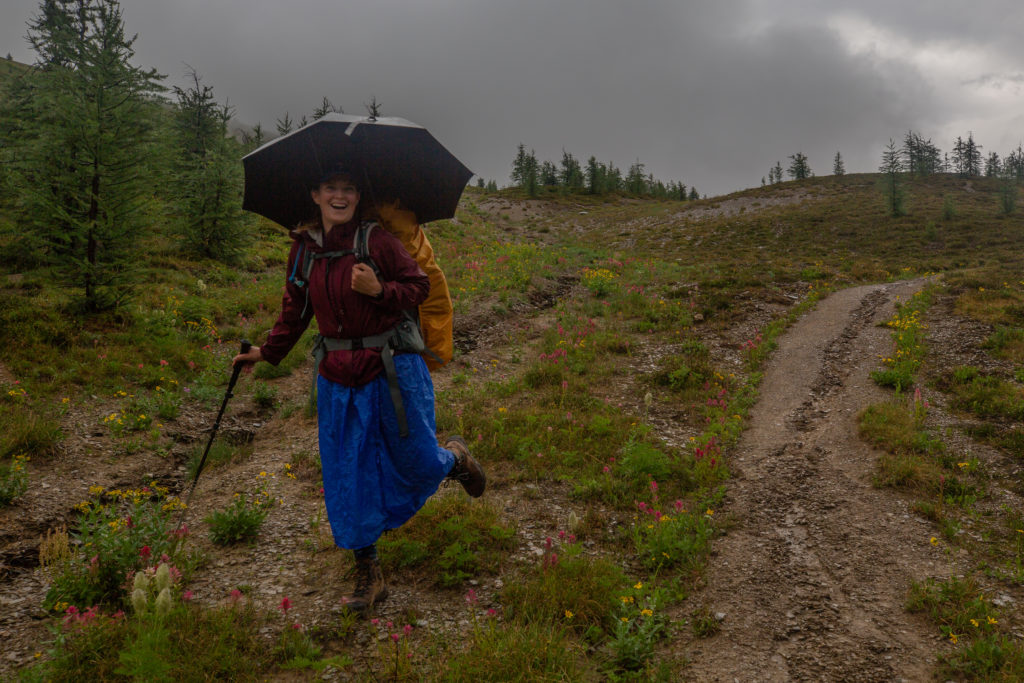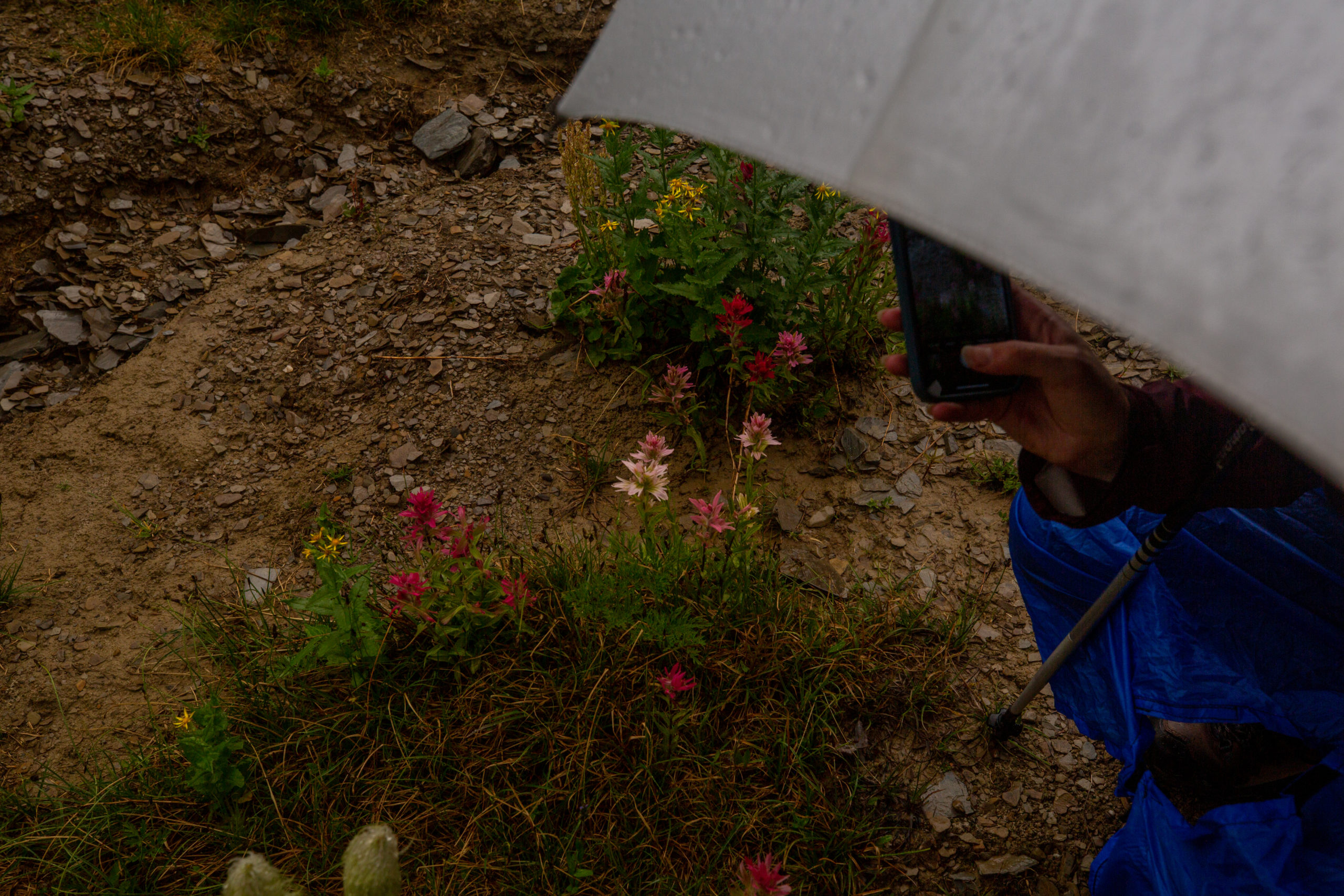 As we went over Rockwall Pass, our high point for the day, we had a hiking pole high-five. Then the rain came back.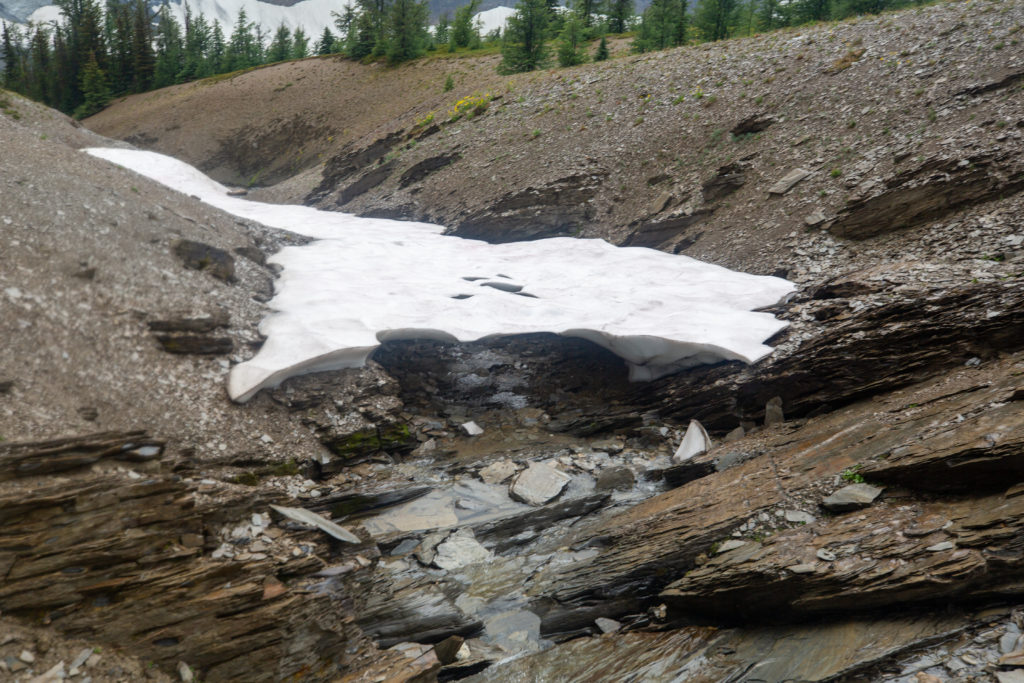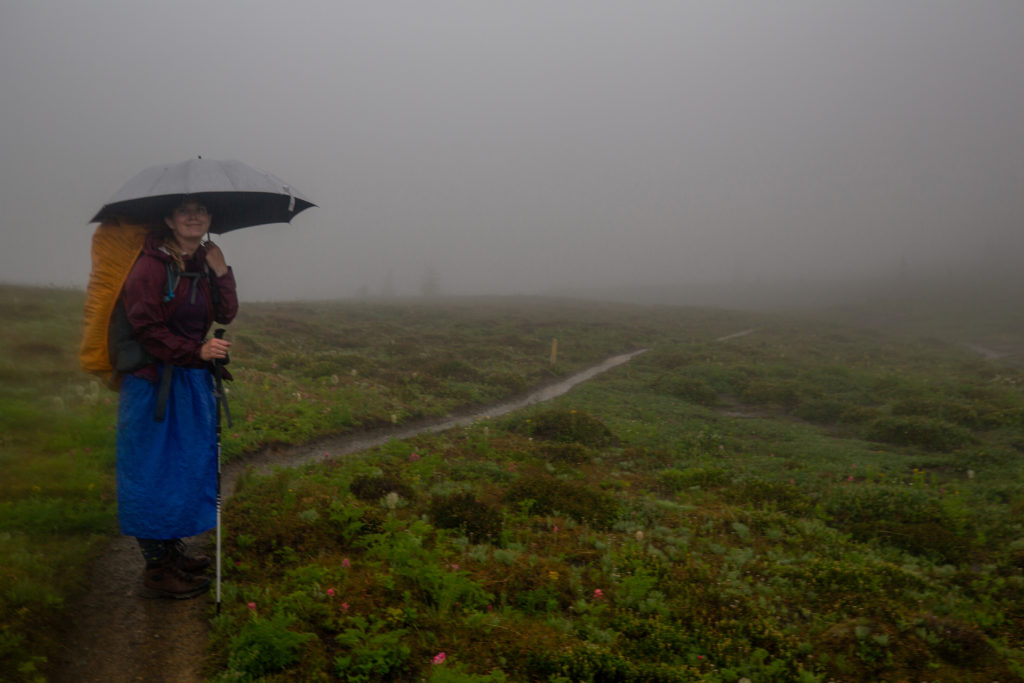 With the clouds closing in tight we trucked it as fast as we could to Wolverine Pass where I knew we would start to drop back in amongst the trees.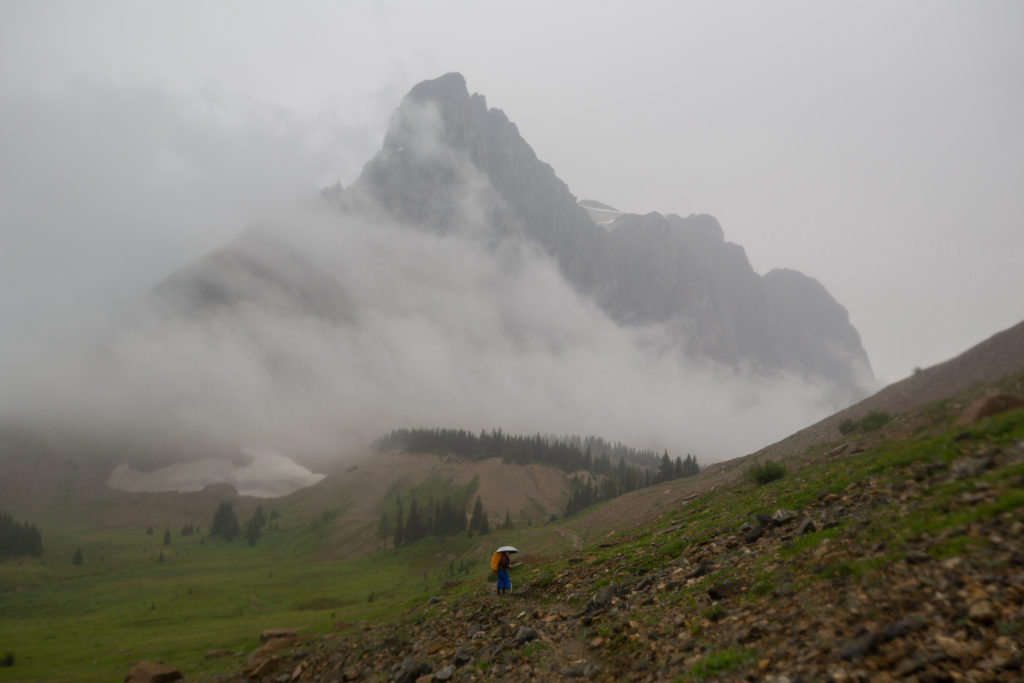 The rain was letting off but we decided not to visit Wolverine Pass and continue to camp. I had been to Wolverine Pass before and in the inclement it was really not worth the visit. My poncho was not working as well as I had hoped. In the basic design the arm holes are too big and allows the water to run to the inside. I feel that a poncho is a warm weather type of rain gear when you do not mind getting a little wet. I plan on buying some dynema fabric and making some sleeves when I get home. We were both a little wet but we were warm so everything was good.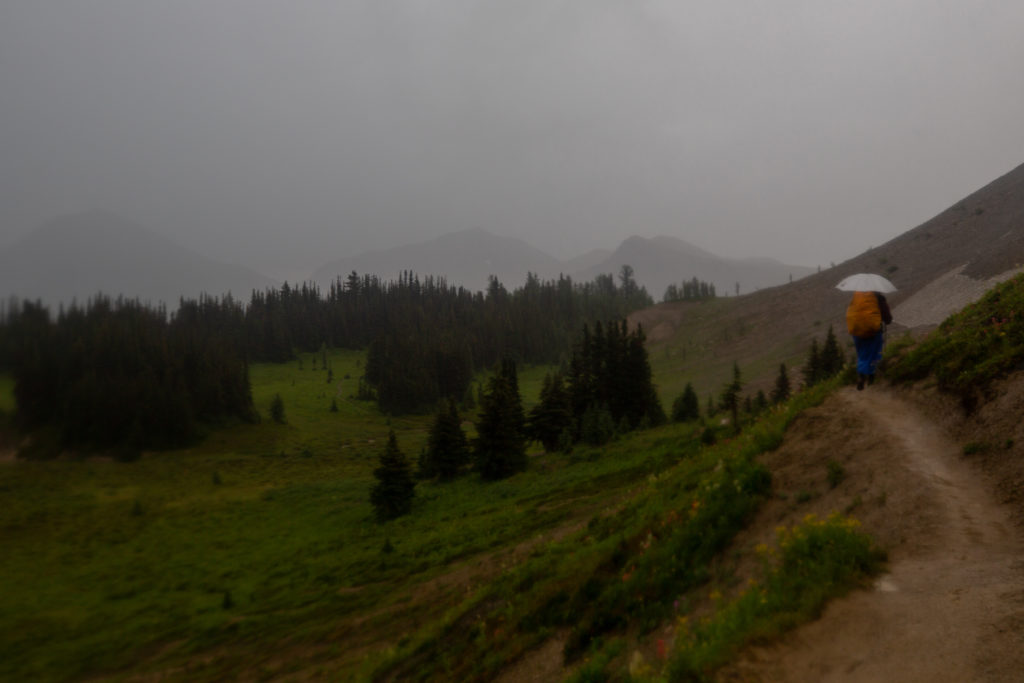 As we started to descend from Wolverine Pass there was some deadfall that we had to negotiate from an avalanche. As the rain let off and the clouds lifted Tumbling Glacier came into view.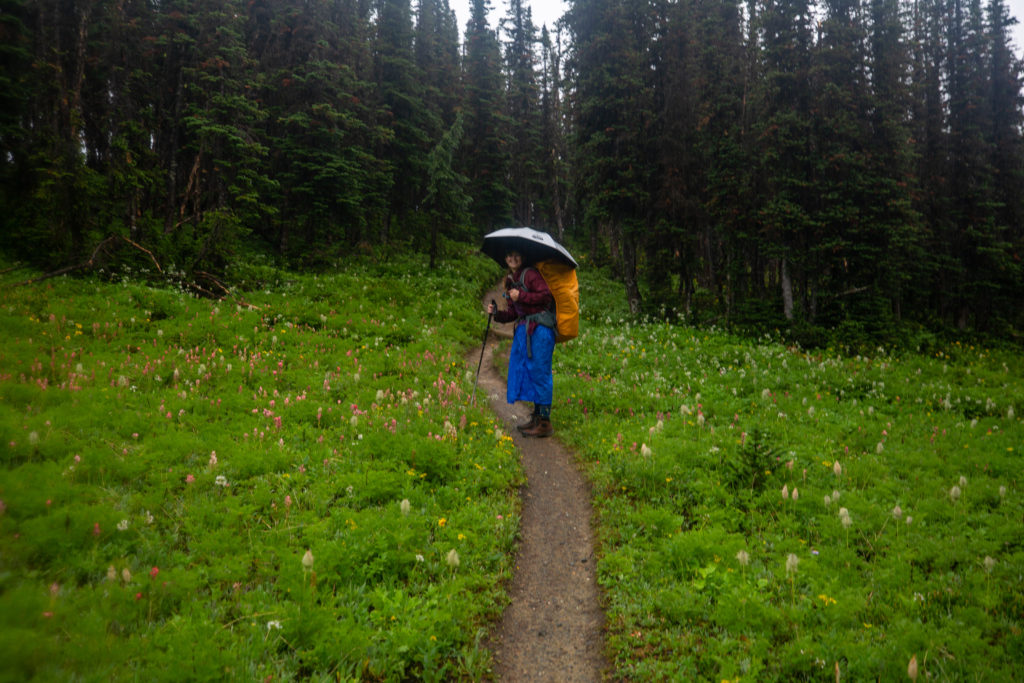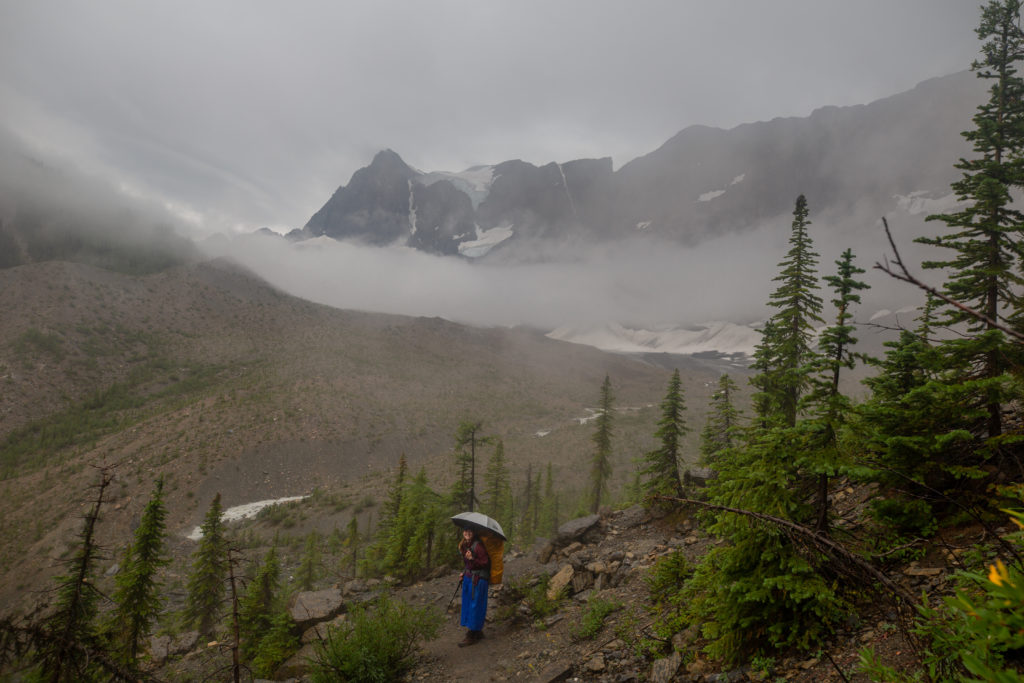 As we were ticking off the switchbacks as we descended to the campground we both swear we heard a "cat growl" in the trees. We stopped immediately and looked at each other and listened but we did not hear any other noise. Feeling a little nervous we sang "the ants come marching in" all the way to camp to ward off any curious animals.
Once we arrived at the the Tumbling Creek Campground we hiked through the upper part to look for a campsite. We passed by a lot of soggy campsites and campers. We continued through the campground to the lower area where I had camped on my previous visits. I had been to Tumbling Creek CG on two prior occasions but the campsites I had used before where both a mess from the rain. We looked around and found a campsite that appeared to be pretty dry with good drainage. It was 3:30 pm and the hiking for the day was over.
I texted Laura for a weather update. Her reply said 10% overnight, 10% morning , and 40% for tomorrow afternoon. We had two options for tomorrow. One we could just leave Tumbling Creek CG and head back to the Paint Pots. Or two we could go up and over Tumbling Pass and out Numa Creek to where I had left the car. Siobhan promised that she would get up early and we would aim for option two and head up Tumbling Pass. We quickly got the tent set up and the inside organized then left stuff to dry on the trees. Unfortunately Siobhan's pack cover was not tight around the bottom of her back, probably my fault, and her sleeping bag was a little damp (Siobhan does not keep her stuff in dry bags like I do). We ate some snacks while we set up the tent and I put the beer into the creek to chill for dinner. We talked to some of the campers and lots of people where caught out on the pass during the lighting storm.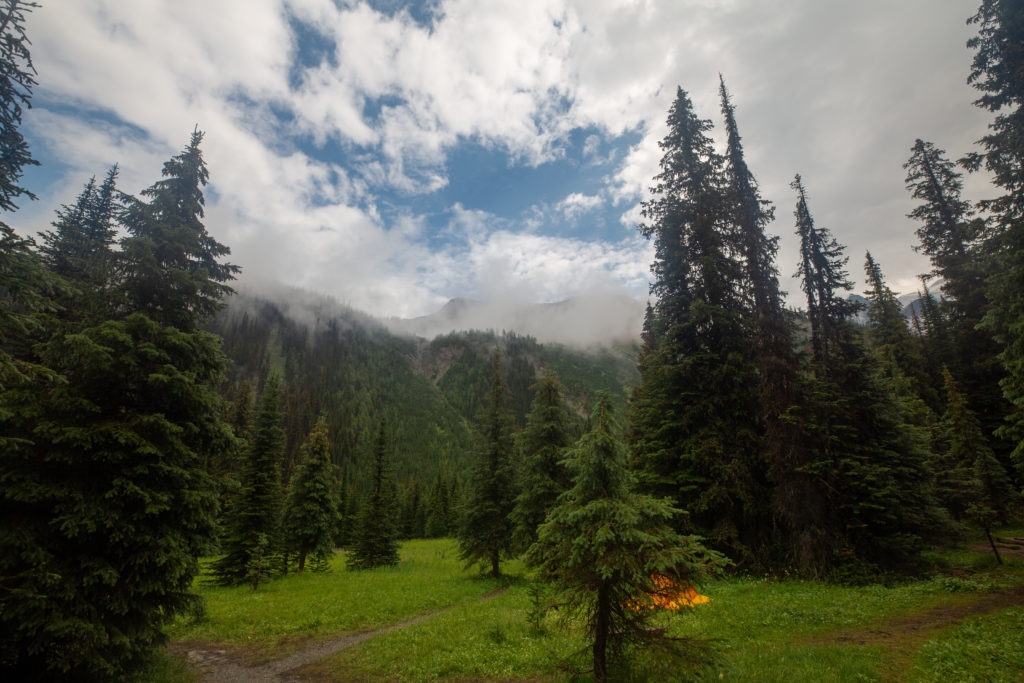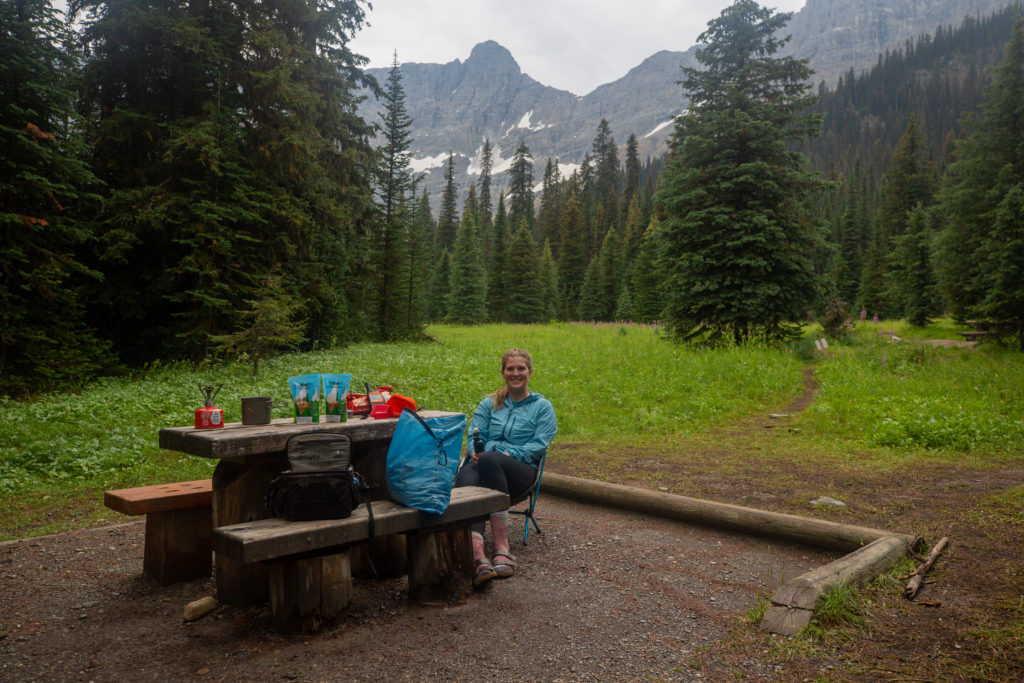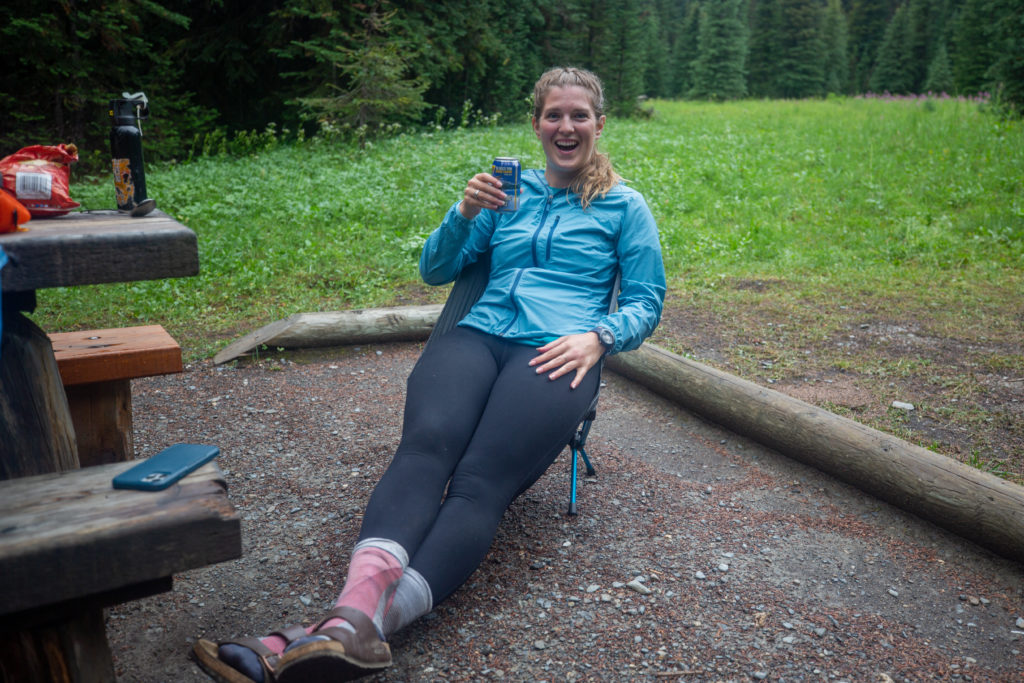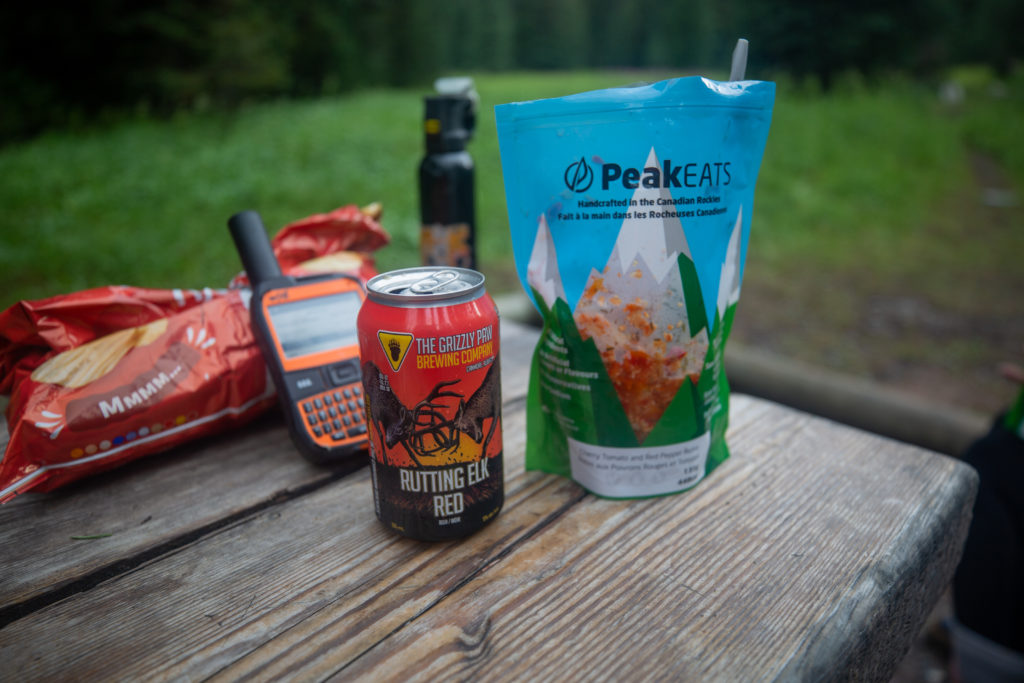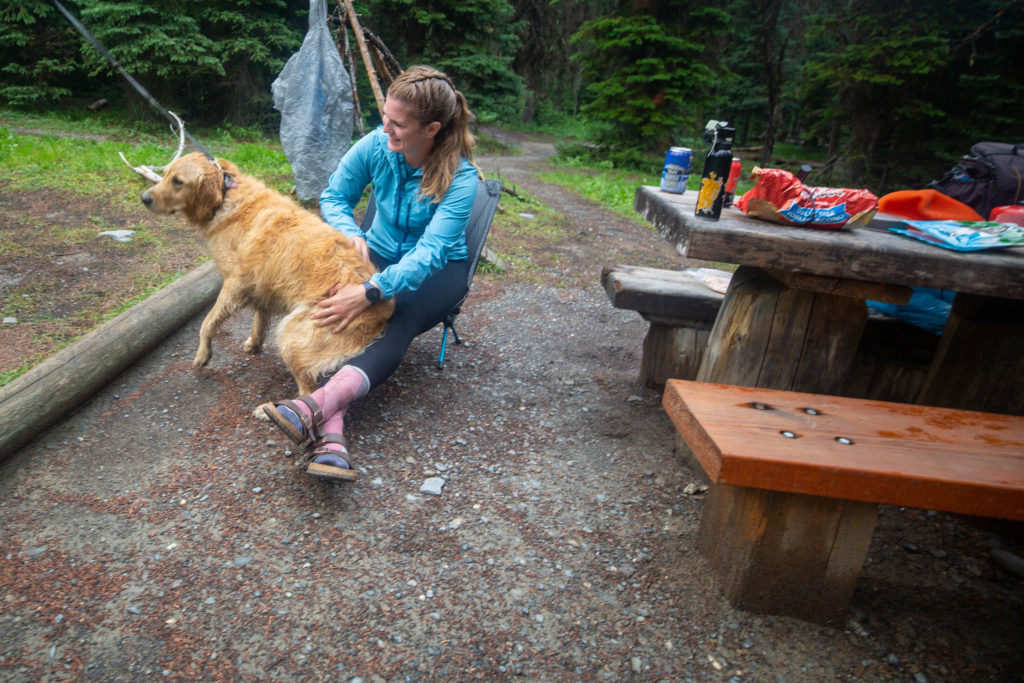 After dinner we went for a walk around the campground. We talked with the ladies with the Duck Toller. They had a tarp set up in the campsite and lots of stuff hung up to dry. We ran into a another Golden Retriever that needed attention from Siobhan. While we with the Golden the old couple came by and joined the conversation. During our conversation they said that their first backpacking trip was with 2 x 2 Trappers Packs. I had to look up what Trappers Packs are. They are very old school. While looking up Trappers Packs I found a nice little article on the history of backpacks by REI.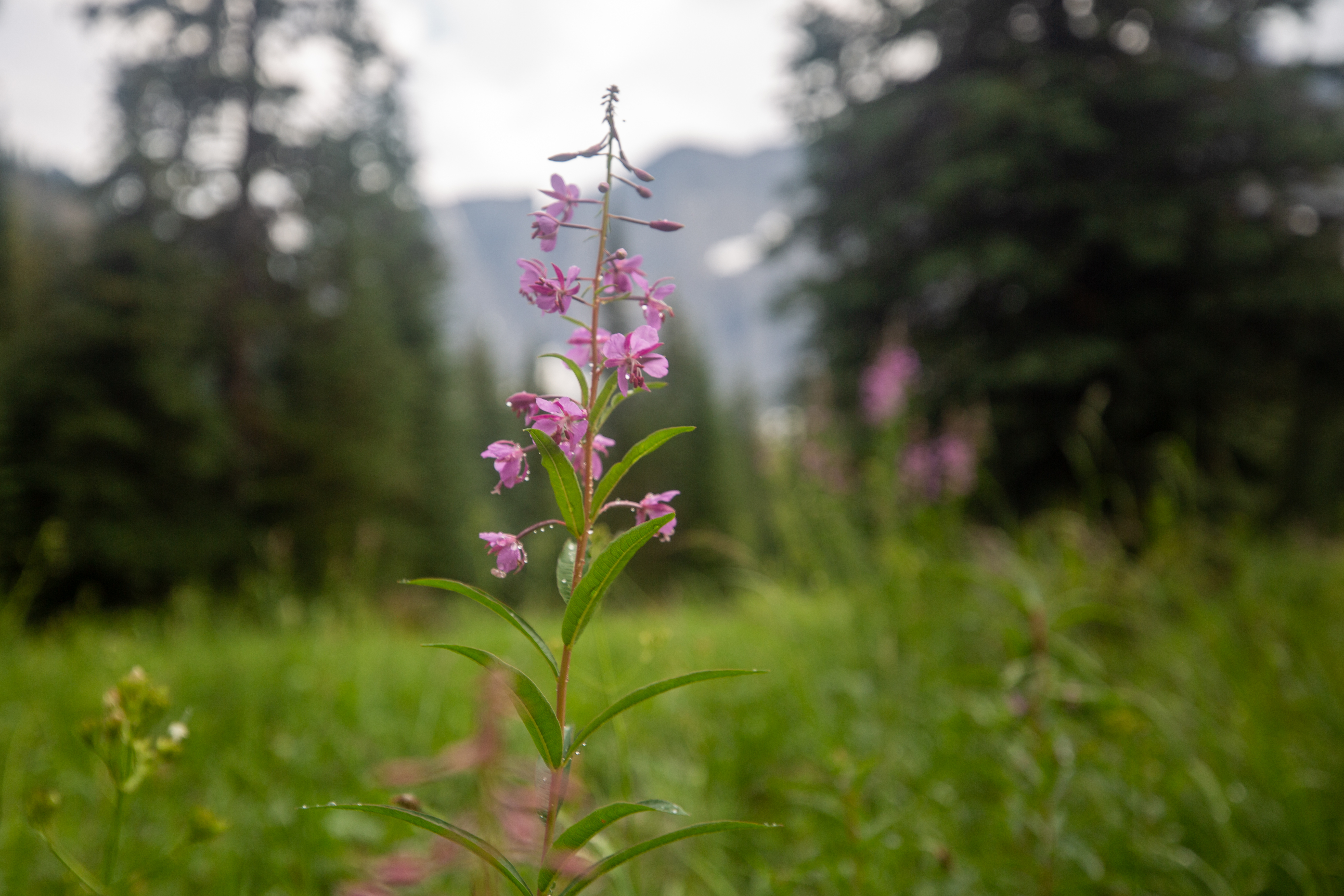 The old couple were headed to Floe Lake and then out with another night at Numa Creek CG. They would be hiking the entire Rockwall.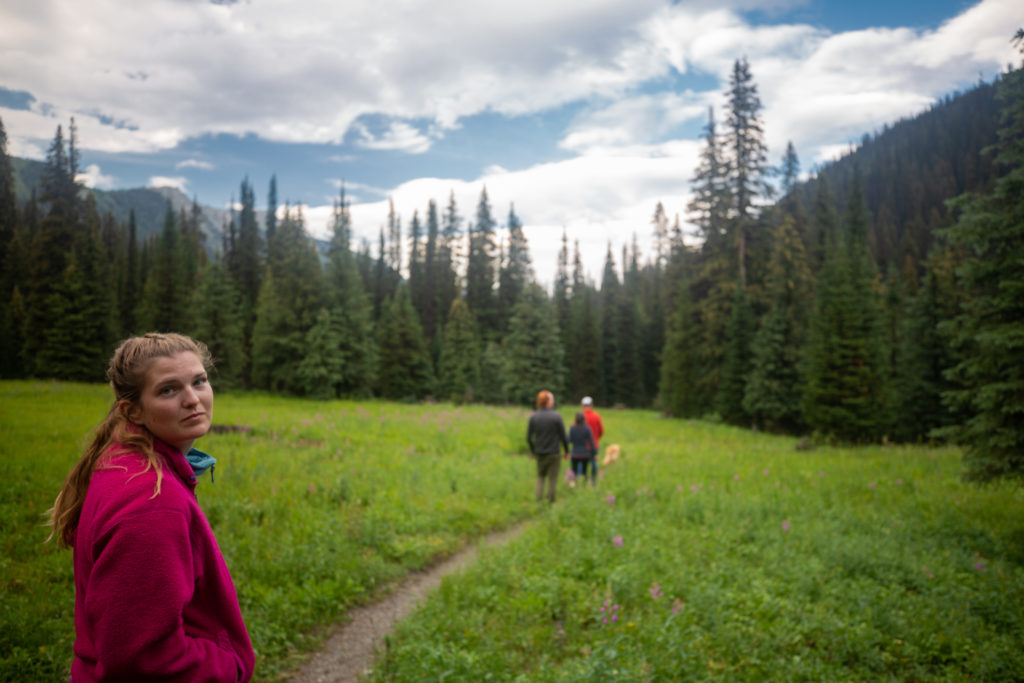 The sun was starting to set and the temperature was dropping quickly so we all decided it was time to head to our tents. As we walked back to our tent we confirmed our plan for tomorrow. Siobhan was good to get up at 6 am, if the weather was good we would go up on over Tumbling Pass and exit at Numa Creek, if the weather was poor we would hike out to the Paint Pots. Both days would be around 13 – 14 km but going over Tumbling Pass would be the preferred option.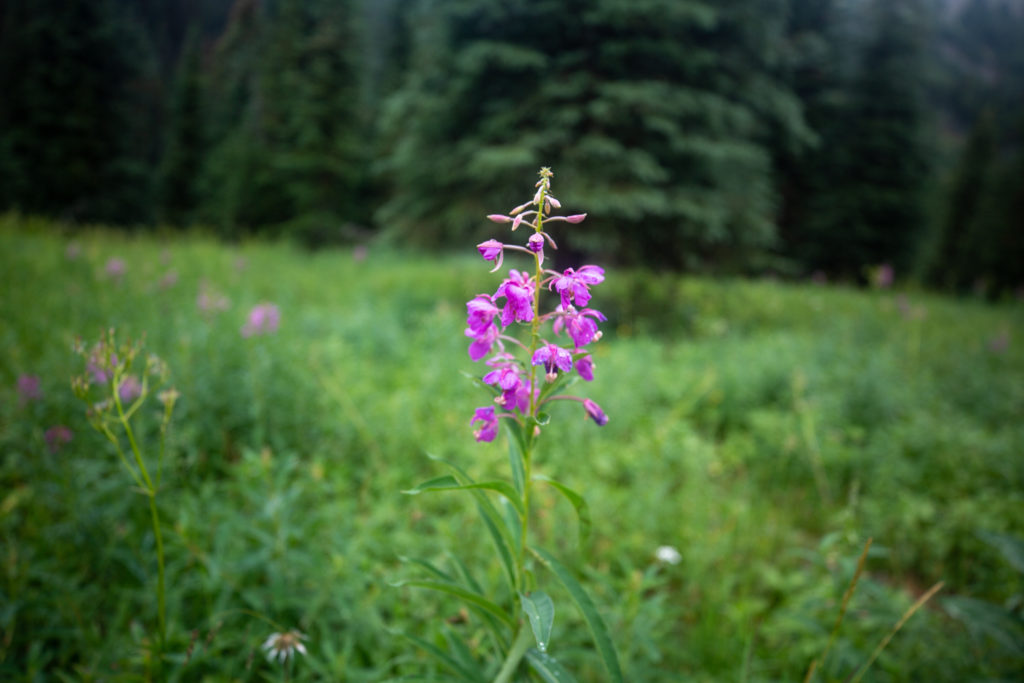 The tent was very humid when we got in. We both read for a little while before turning out the lights at 9 pm.