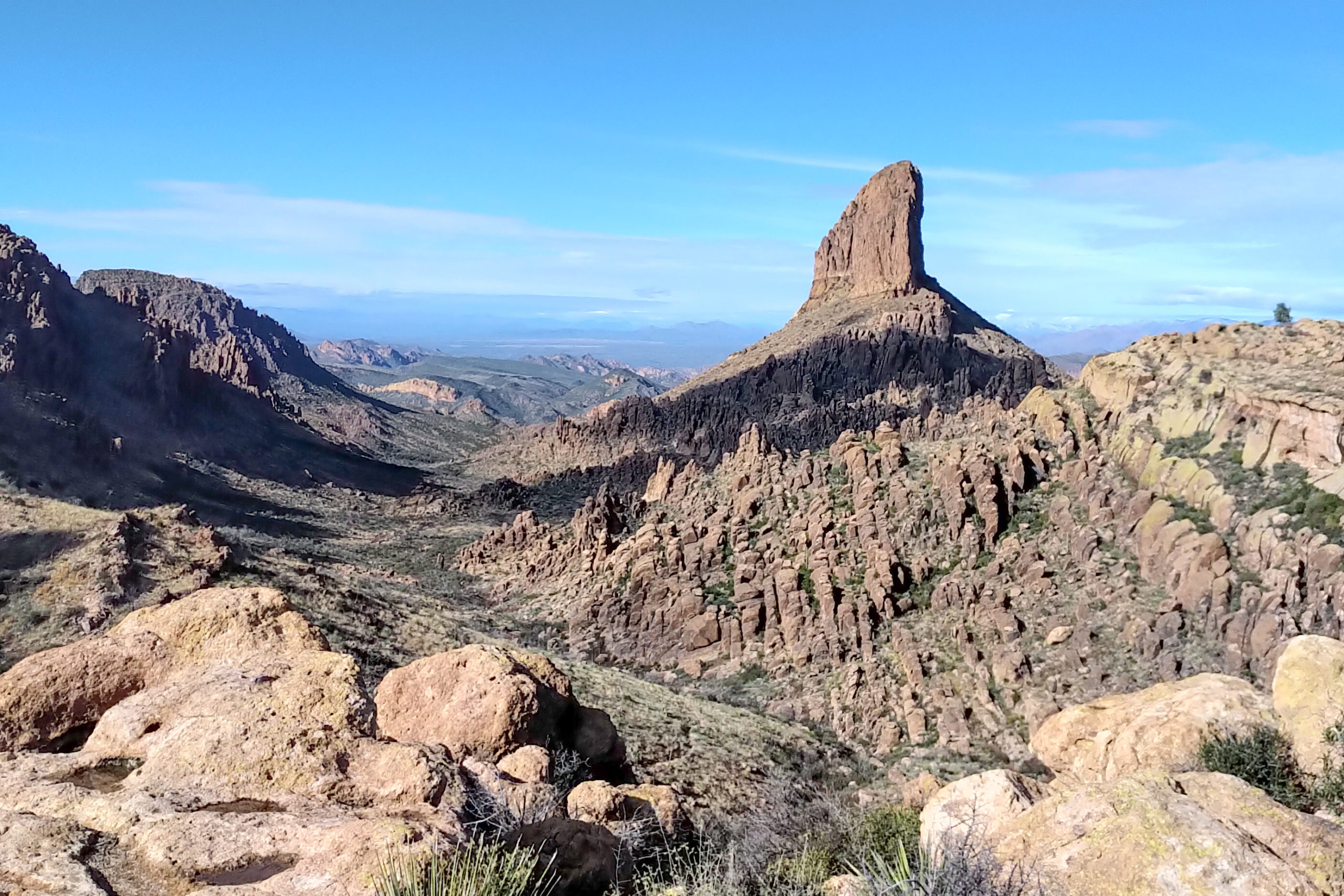 January 4, 2023, Bull Pass to Miners Needle, 16 km, 617 m elevation gain, 695 m elevation loss, 7 hrs.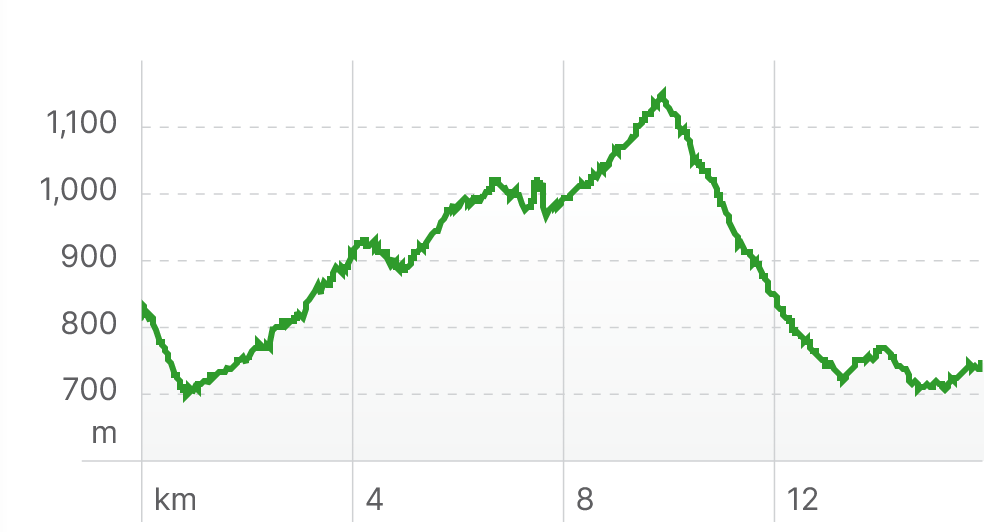 It was windy during the night making me glad I had put rocks on the pegs. I was camping without the self standing pole kit for the tent which makes it imperative that the pegs hold or the tent will come down on me. It was a very pleasant morning and there was no sense of urgency in camp.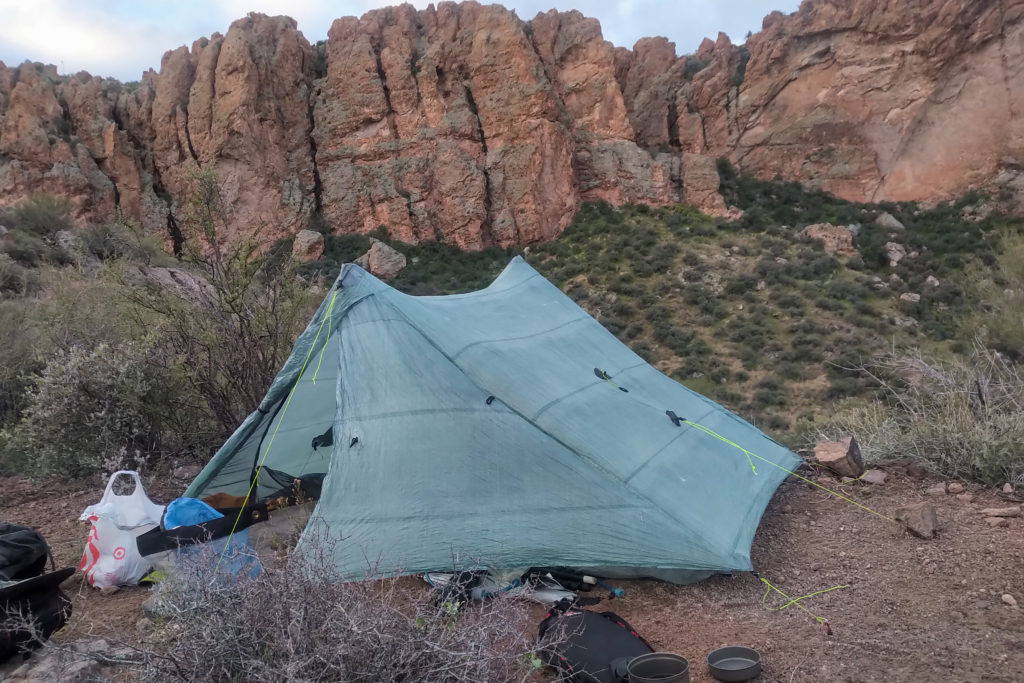 During breakfast they all looked at the brick I was eating and asked about it. It was my Logan Bread that I always have for breakfast when backpacking. There was surprisingly a lot of hockey talk which included reference to Tim Hortons and Gretzky.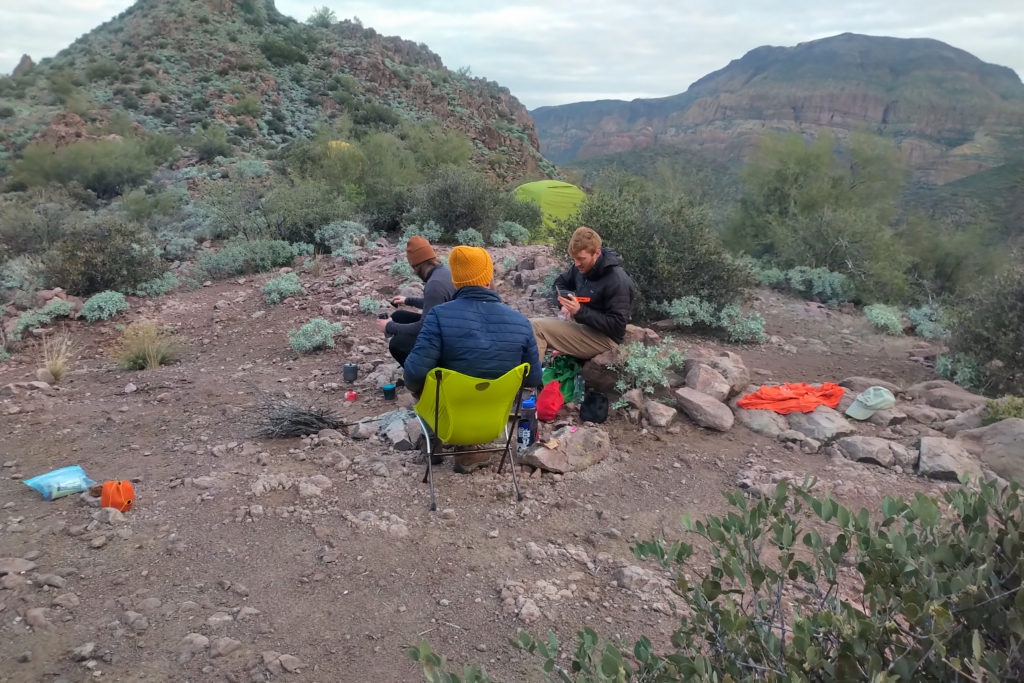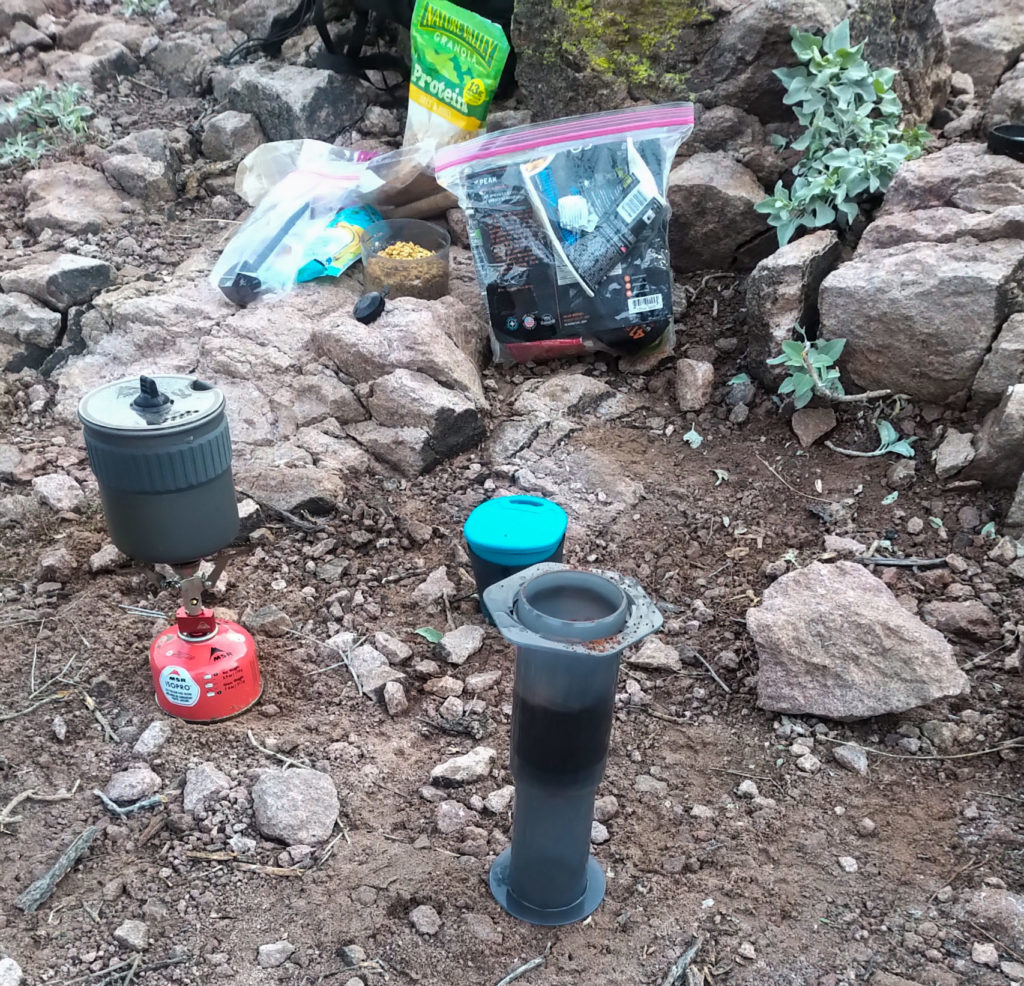 We were all packed up and on our way at 9:45 am. Our first objective to refill with water at a stream at the base of the pass.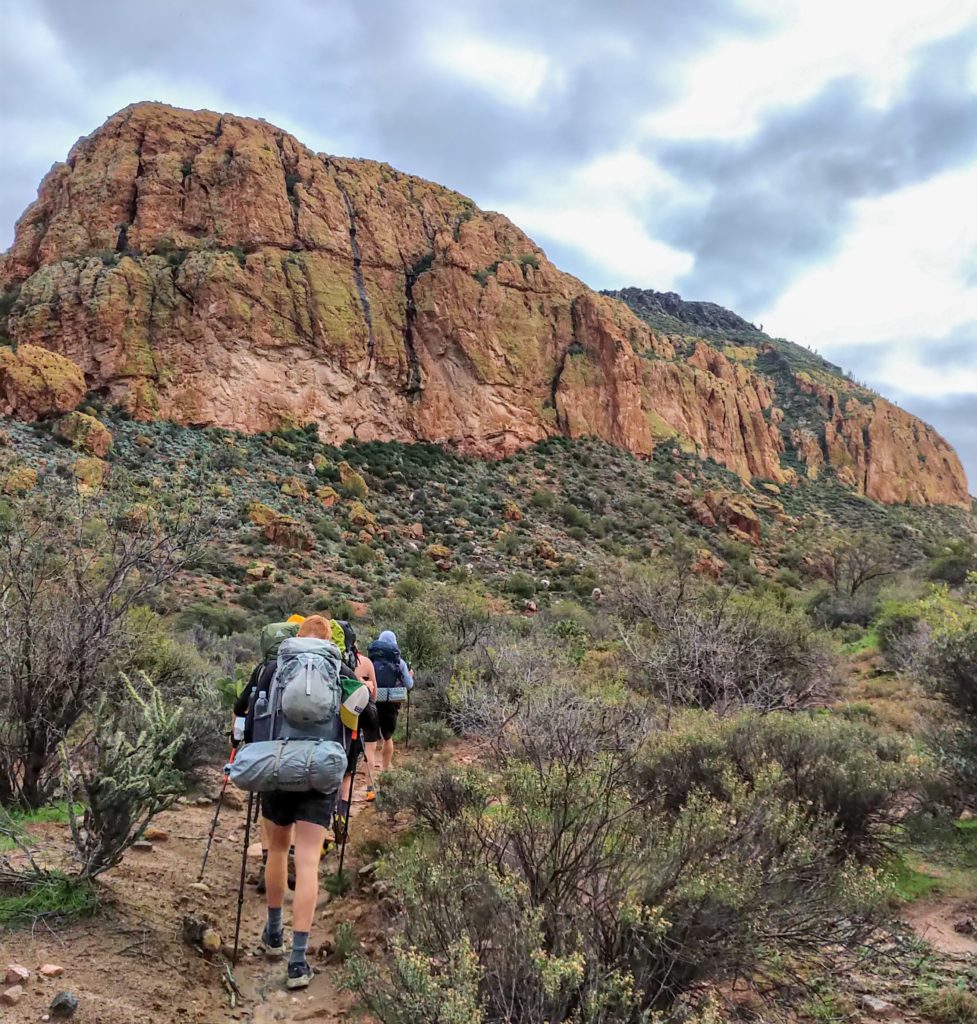 The stream was at the junction of trail 129 and the 104. Once everyone had their water we headed south on the 104 which goes around the south side of Black Top Mesa. We would then continue south to Weavers Needle on the 102 which we would take us through Peralta Canyon and terminated at Peralta Trail Head. We would finish our hike heading east to Miners Needle back on the 104!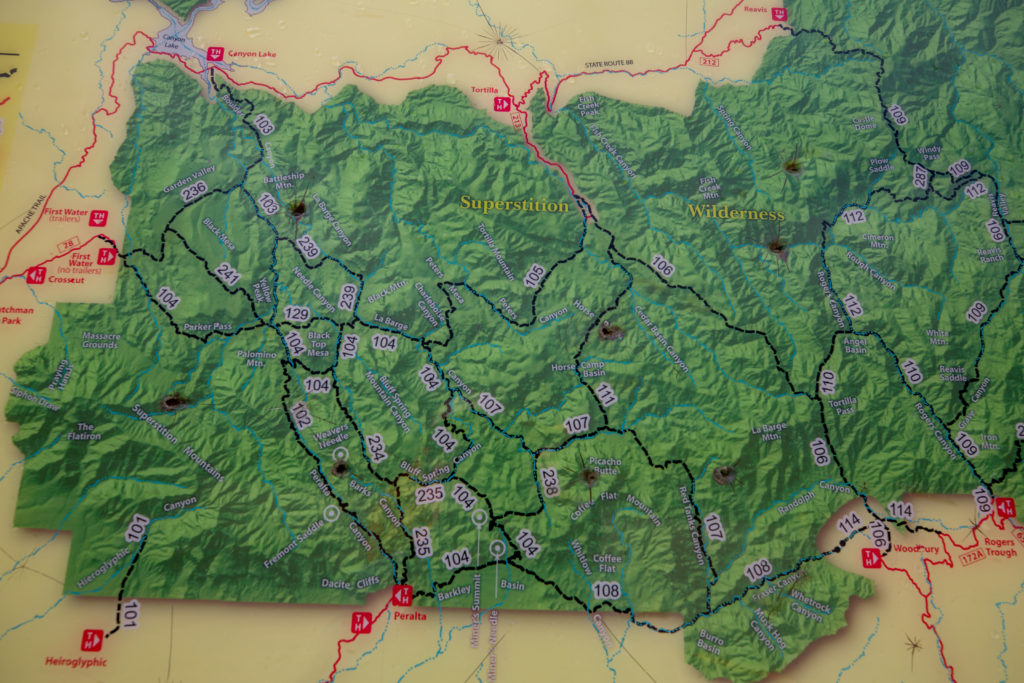 We quickly settled back into our pattern. I hang out at the back of the group and slowly fall behind. They would stop and let me catch up. Repeat. I was good with this scenario. The scenery was beautiful but the hiking was uneventful. I kept up to the group better on the uphills.
It had taken us 45 minutes to hike the 2 km to the junction with the 102. Considering we refilled with water I feel that we had a pretty good pace. We would be following the 102 for most of the day.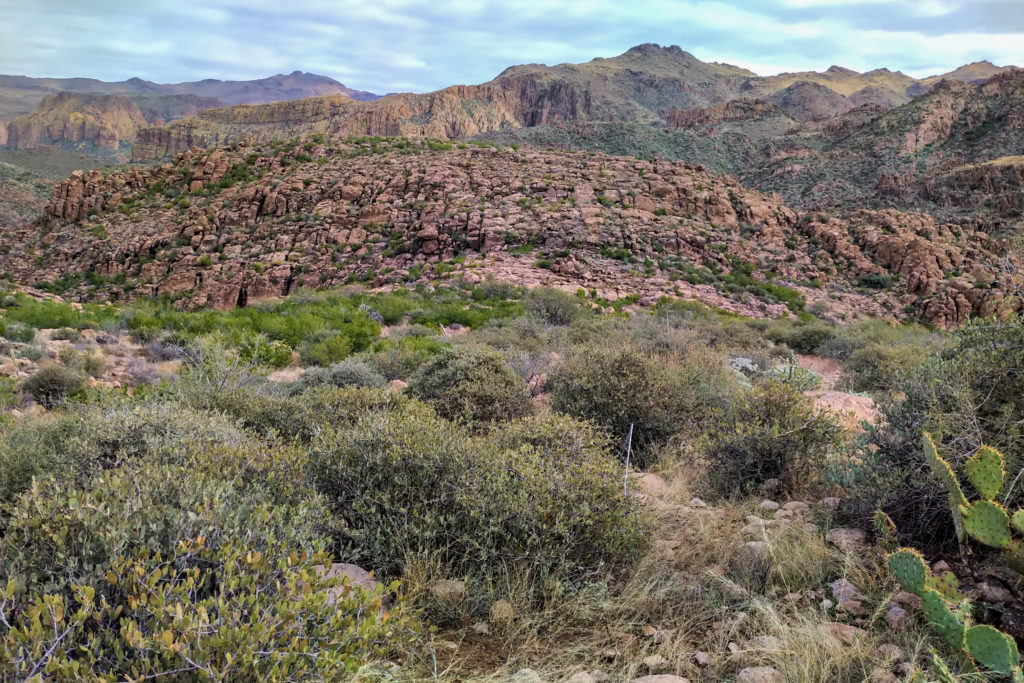 People often wonder how far you can see to the horizon. On flat ground a person can see about 10 km to the horizon. Going to Mt Everest the distance to the horizon only goes up to 370 km. We had some debates on trail about how far we could see. Someone in the group asked if we could see the San Francisco Mts just outside of Flagstaff, a distance of about 250 km. Turns out in the above picture the most distant peak I could identify was Mt Peeley. Mt Peeley stands at 2136 m and the photo was taken at an elevation of 900 m which makes a difference of only 1200 m. Mt Peeley is in the Mazatzal Wilderness and is about 75 km in a straight line from where I took the photo. Even Sedona is almost 200 km from where we were hiking in the Superstitions. So seeing past Sedona then up and over the Mogollon Rim all the way to San Francisco Mts would be impossible.
The scenery was beautiful as we made our way steadily up to the pass. I was keeping up better on the long gradual uphill. The group decided to change plans take a cross trail just south of Weavers Needle. During a little break James noted that we had missed the junction to a side trail that we wanted to investigate. So we had to backtrack back down the trail. It took us about 10 minutes to arrive at the junction which was quite obvious now that we were looking for it.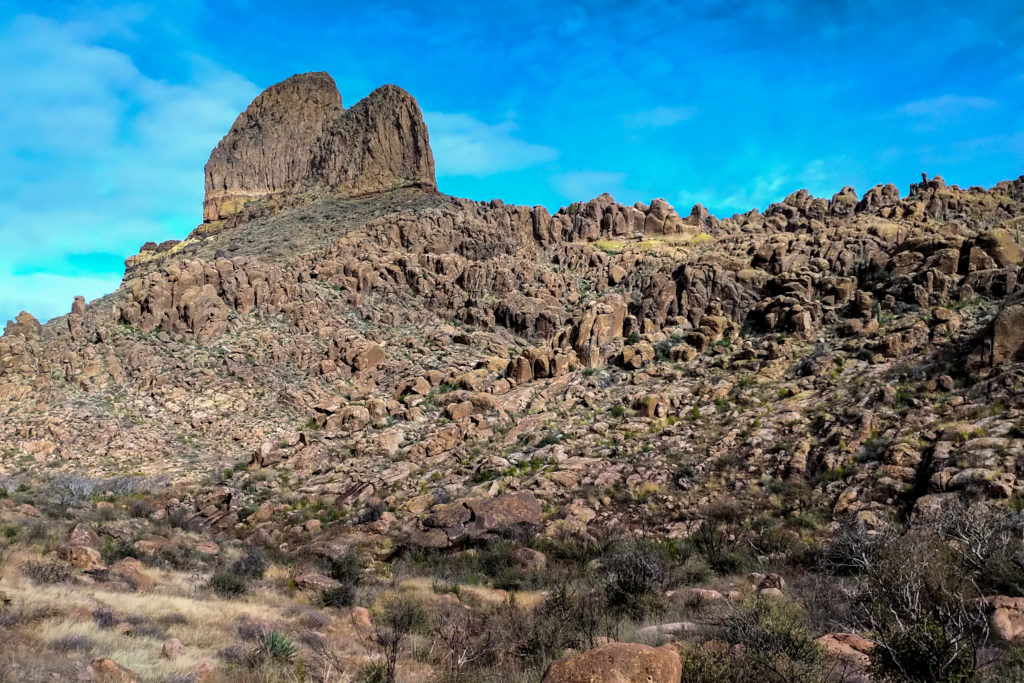 Initially the side trail was very distinct. A quick water crossing had the trail heading up a cliff band where it just disappeared.
James and John went up the cliff band to do a bit of recon on the trial. I did some of my own scrambling. I was following the app and was happy to do some more investigating but neither Patrick or Kevin liked the idea of climbing so we abandoned our attempt and returned to the main trail.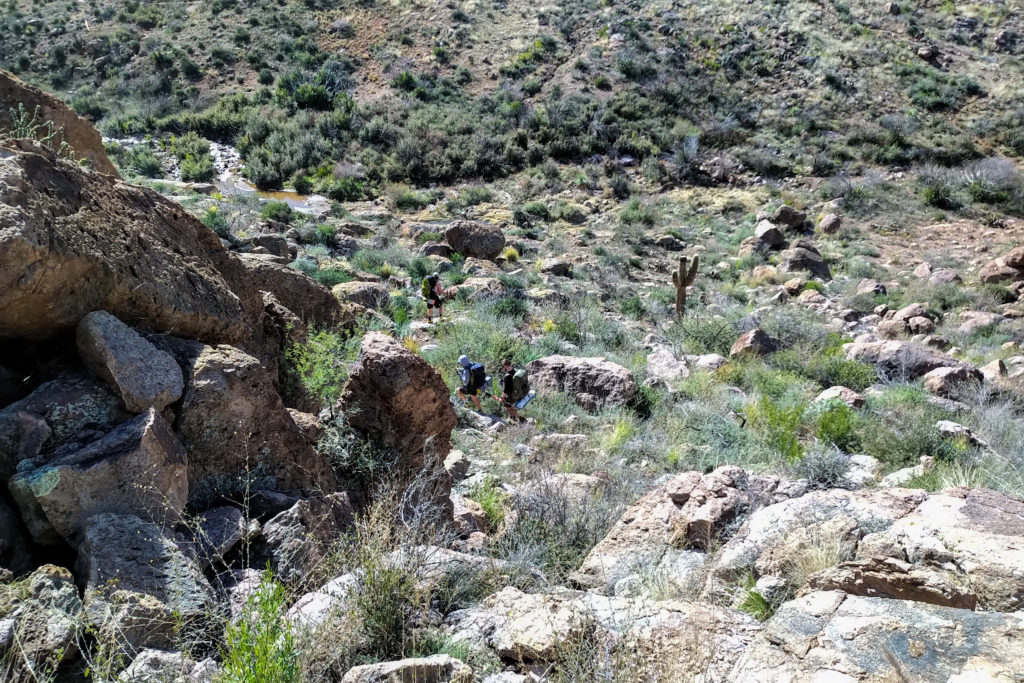 We had a little group meeting back at the main trail and decided to hike up towards Fremont Saddle for another 20 minutes before stopping for lunch.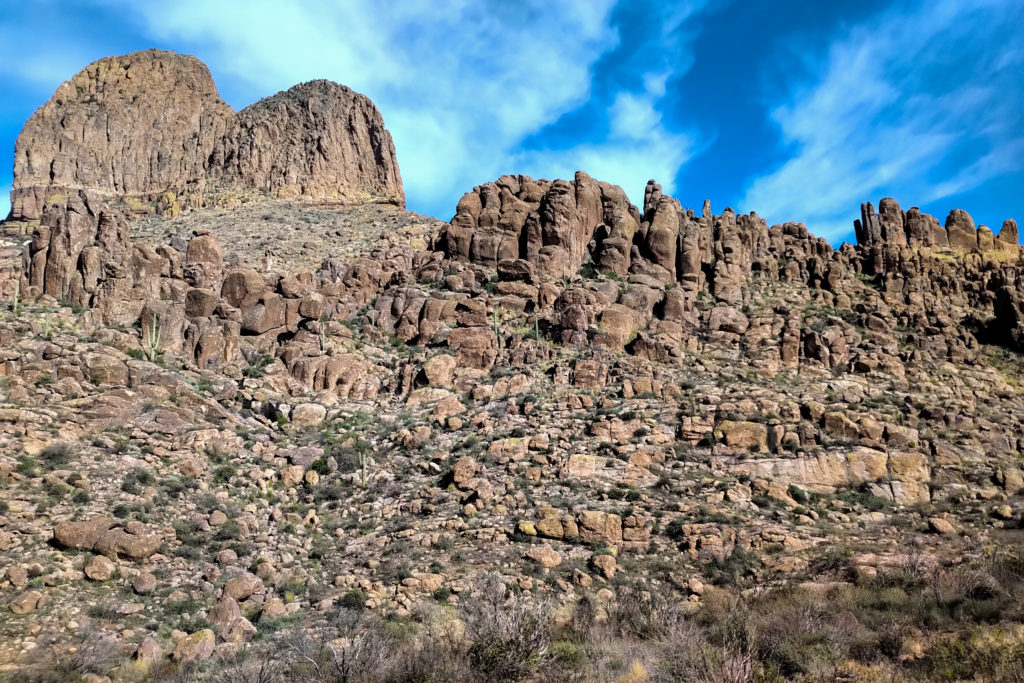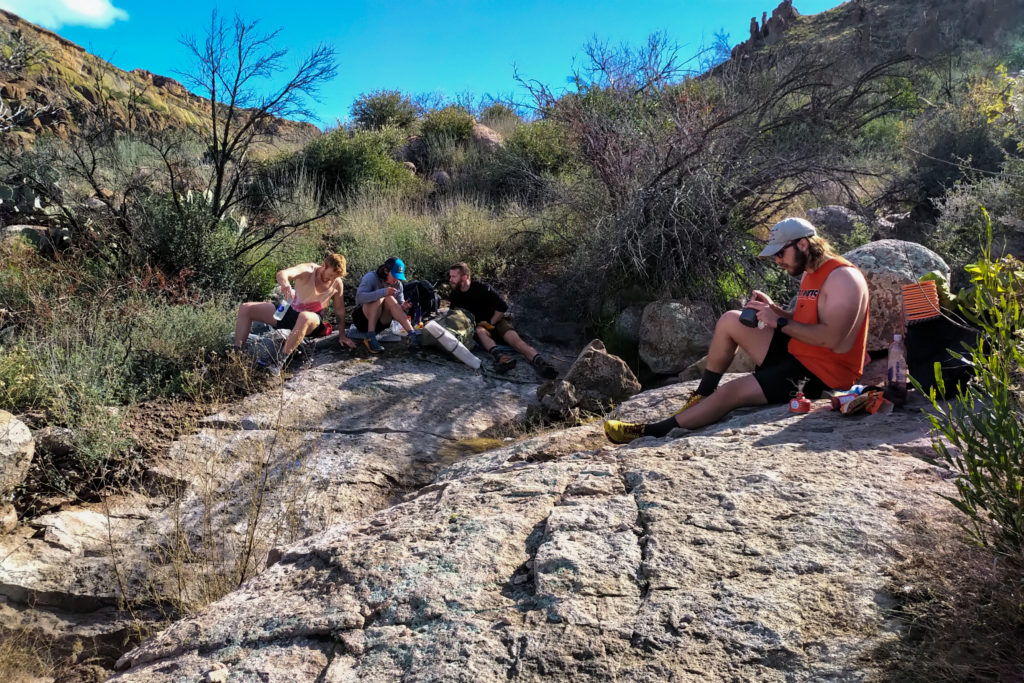 Lunches on this trip were quite a laid back affair. We stopped at 1 pm and did not head back up trail again for 45 minutes. This was a nice way to travel on this trip as there was little stress about the group. With breaks and exploring we still averaged 3 kph.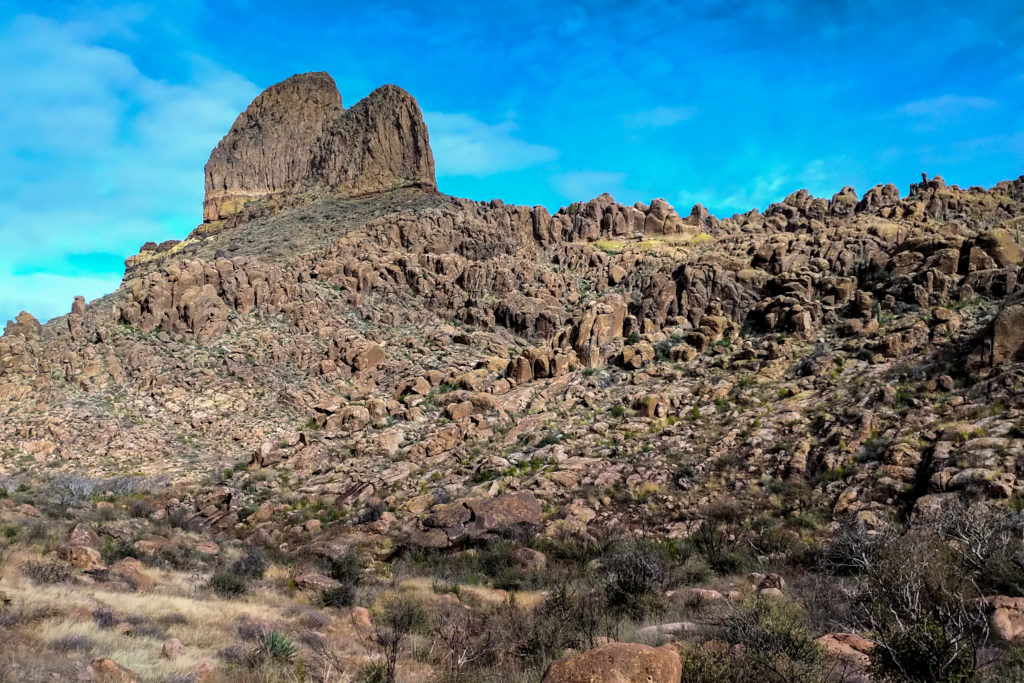 Our next destination was Fremont Saddle which was just over 1 km away from our lunch spot. On our way to the saddle we meet several groups heading north bound including a couple with a dog who said a quick "hello". We arrived at the saddle just after 2 pm. The views into the distance of the snow-capped mountains was captivating from our vantage point. We did hang out at the saddle for while talking to the different people there and just taking in the long views of the Arizona landscape.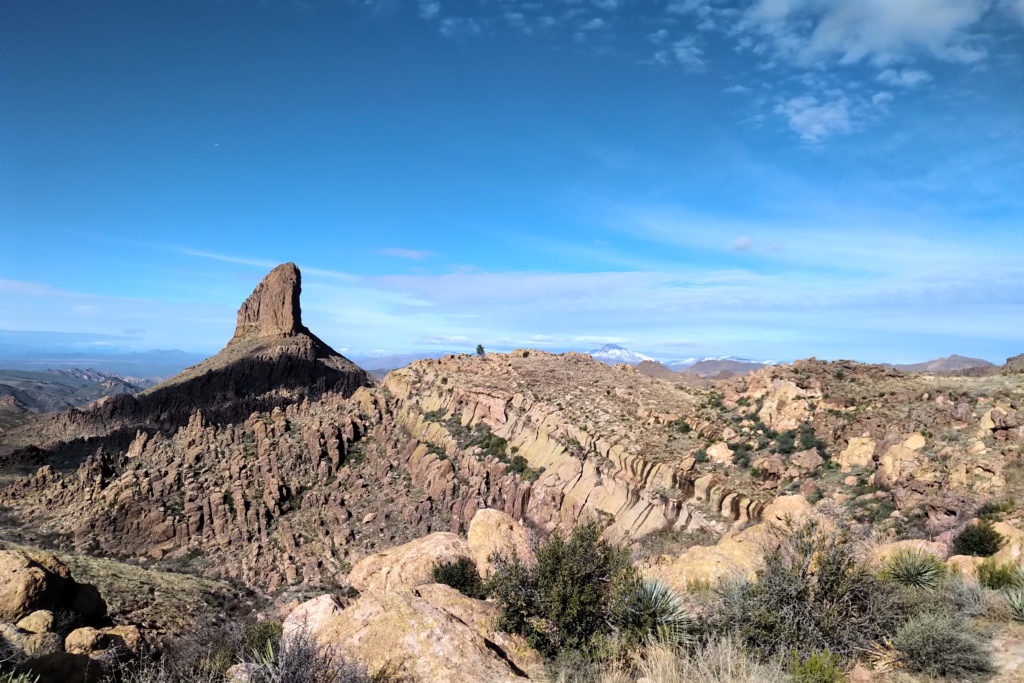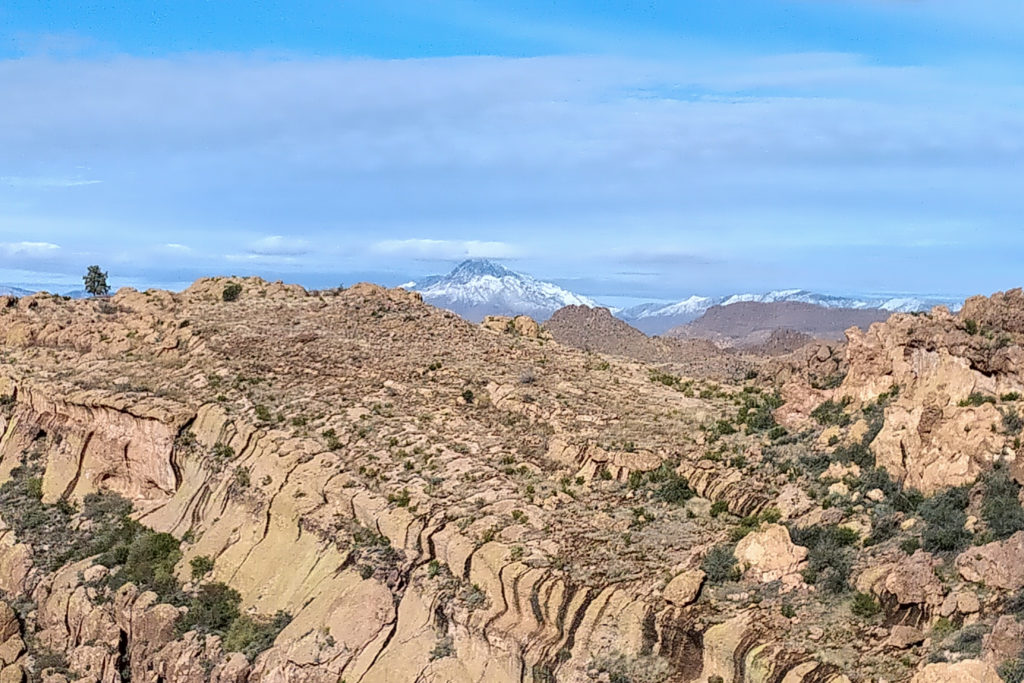 We hung around the saddle for about 25 minutes. While discussion the mountains I told James about the website www.Peakfinder.org and how it was valuable for identifying the mountains and that they actually have a app for your phone. I find this website very handy for naming mountains that I have photographed. Thinking maybe I should try the app. While at the saddle I attempted to plan my next day. The guys were going heading east for a day trip before heading back to Peralta TH where they were being picked up by James' sister. I needed to head back to First Water TH so was trying to find an interesting route back. An old couple (even by my standards) said the "Ridge Trail" was the "best hike around". It can be a challenge trying to find intel on a hike while in the backcountry with no cell service. I made sure that I had the route on my Gaia app, I did, and then tried my best to keep up with the guys as they headed off downhill.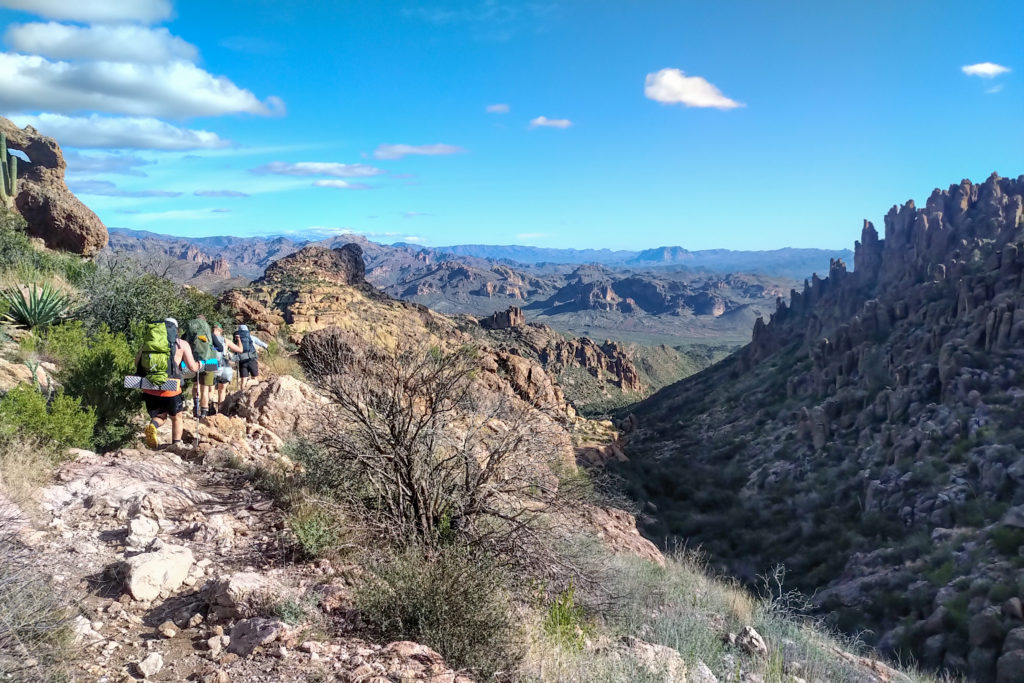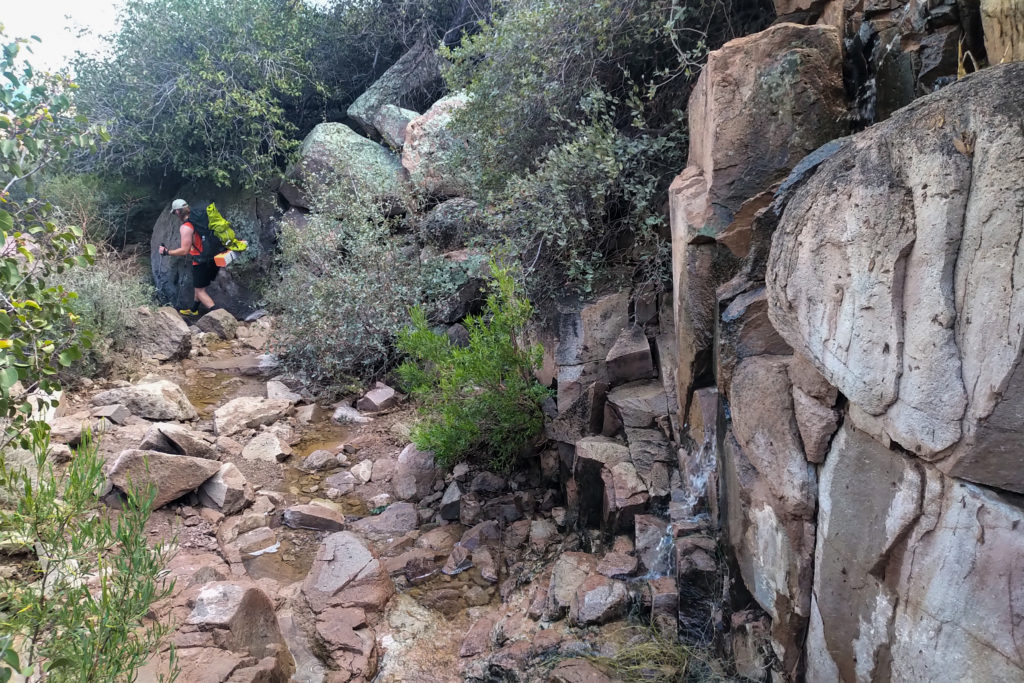 We hiked past by a young couple heading up dressed as punk rockers including spiky hair. They looked happy but I was happy because they had a friendly and super cool looking bull dog complete with chains and a studded collar.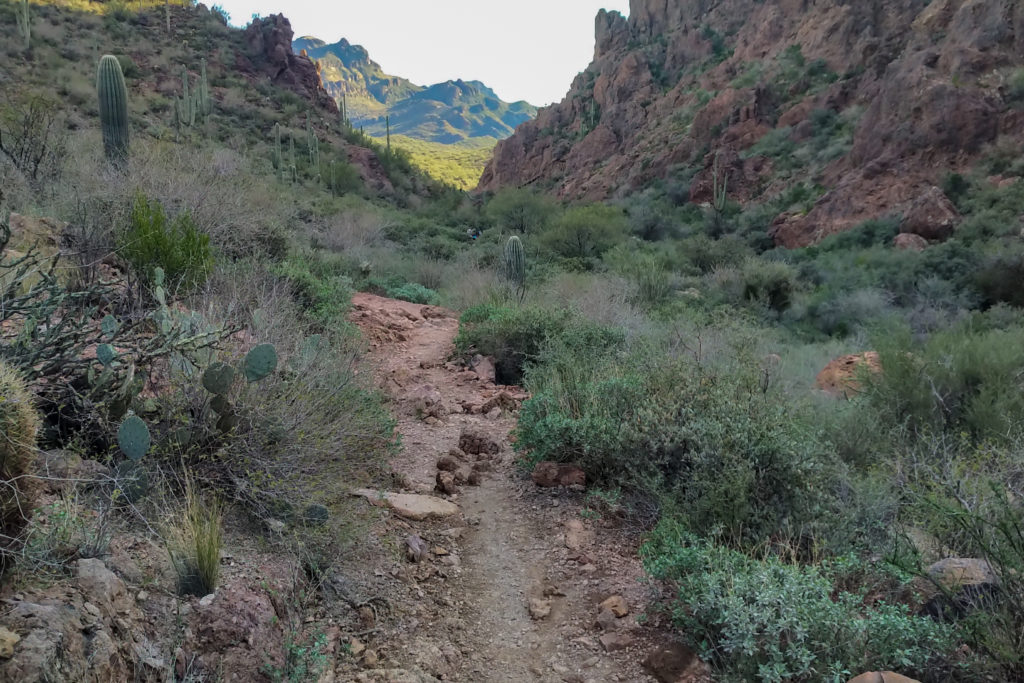 We got going again at 3:50 pm and by just after 4 pm we had arrived at Peralta TH. The guys did not slow down but took a hard left onto trail 104 (again) and headed towards Miners Needle.
The trail was wide and easy as we headed to Miners Needle. I stopped to take photos but was very conscious of keeping the guys in sight. It was quite a furious pace they were setting.
The guys found a camping spot complete with fire ring in full view of Miners Needle. It had taken us just 37 minutes to cover about 2.5 km from Peralta TH to the camp. The area we hiked through is known as Barkley Basin. I dropped my pack at 4:36 pm. Time to set up the tent.
I am running out of superlatives to describe the hike. The camping spot was simply amazing. We had stunning 360 degree views and the sunset was was utterly spectacular. I had a delicious dinner of kale rotini. The original recipe is spinach penne but when cooking back home I had neither spinach or penne pasta so I ended up with kale rotini.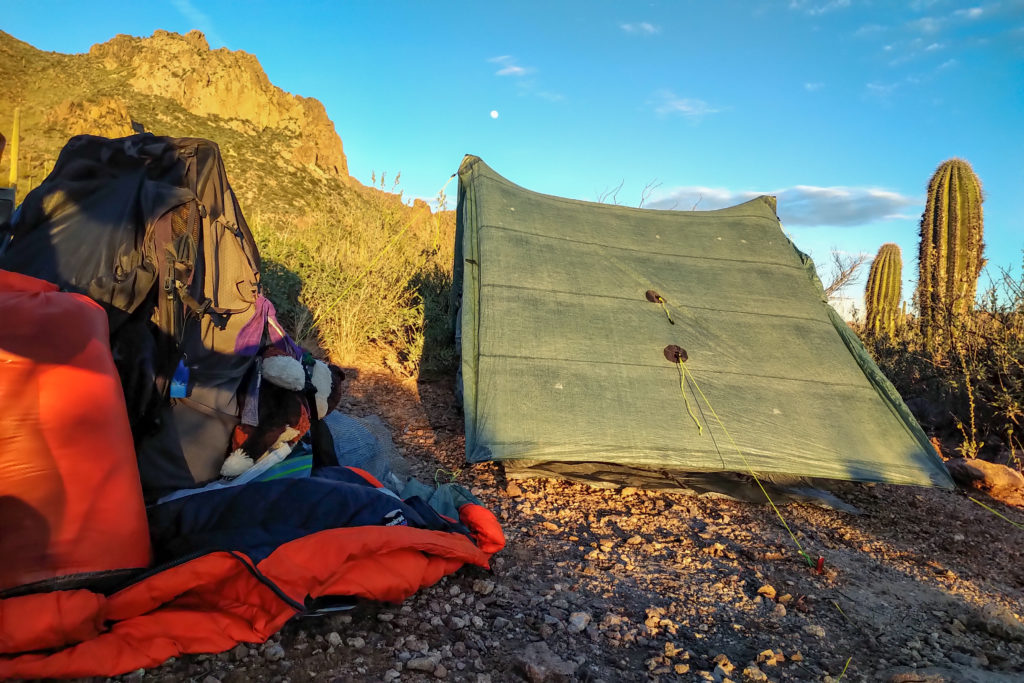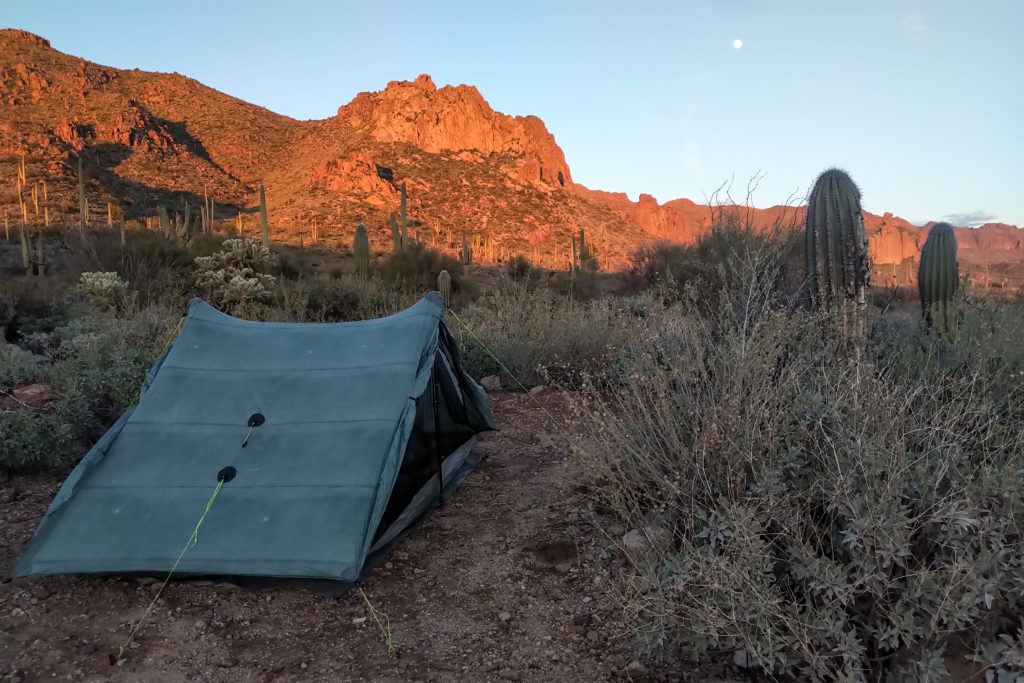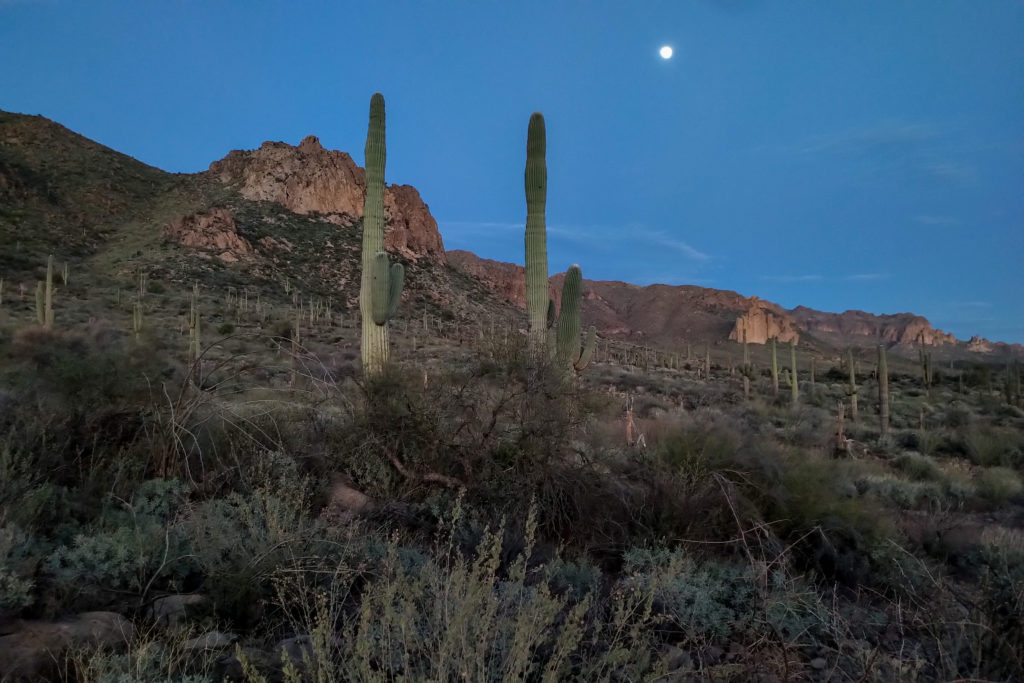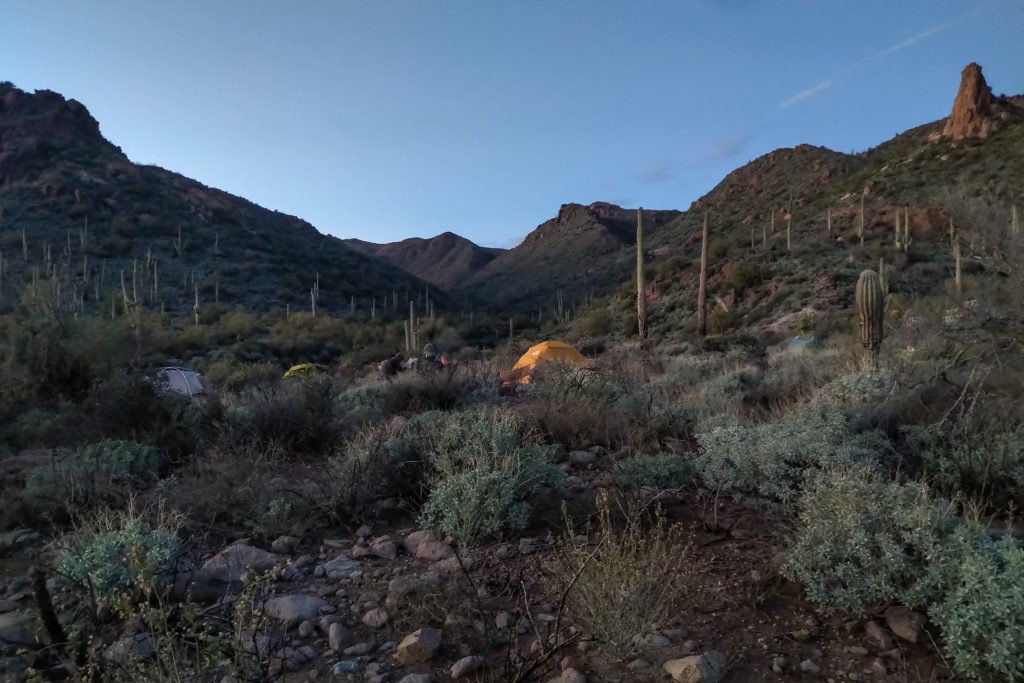 Somehow we kept the fire going until 9:30 pm. James was the first to go to bed. I said my goodbyes as I would getting up early to hike the Superstitions Ridge Trail. I decided since I was getting up earlier than anyone had on this day that I would hike for a while before having my morning coffee. My thought process was that I figured the stove would be quite loud in such a small camp and I did not want to wake anyone. I got everything organized for my early start so I could be quick out of camp. The plan was to do the hike back to the car over two days with one night on the ridge. I was a little puzzled when the app said the ridge hike was 24 km but the walking the road at the base of the ridge was 23 km. I figured out later that since I was offline the app could not detect the elevation so it saw both routes as flat. This really deceived me on what awaited me on the ridge. I was feeling good with the plan, a nice ridgewalk. James had checked online since he had service and said the ridgewalk was considered a tough hike but that I was "hardcore" so should be no problem. Those words would haunt me somewhat the next day as I made my way across the ridge.
Day 3 Miners Needle to First Water Road via Superstition Ridge