Hiking the Superstition Ridgeline Trail.
January 5, 2023, Miners Needle to First Water Road, 24.9 km, 1189 m elevation gain, 1319 m elevation loss, 10 hrs 25 min.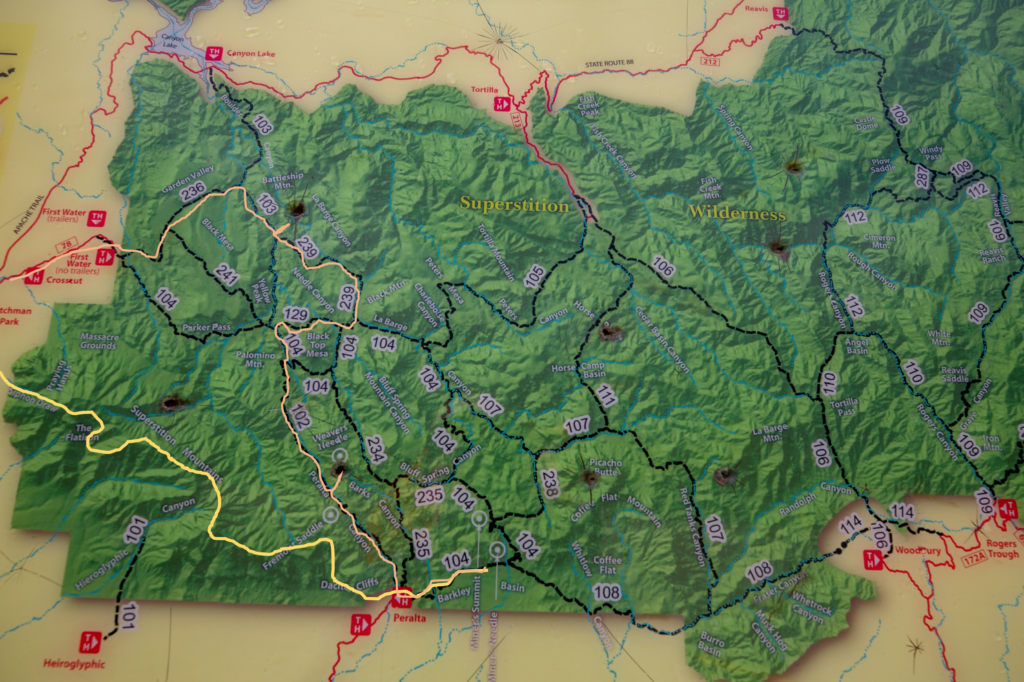 I knew I had a big day ahead of me but I was feeling comfortable in my sleeping bag so I delayed getting up by a few minutes. Tear down of my tent went pretty good and I ate my breakfast of Logan Bread in the tent as I packed. Eating in the tent is definitely something you cannot do back home in bear country. I did skip my coffee as I had planned and figured I would make coffee down the trail during a break. The sunrise that greeted me as I got out of the tent was breathtaking.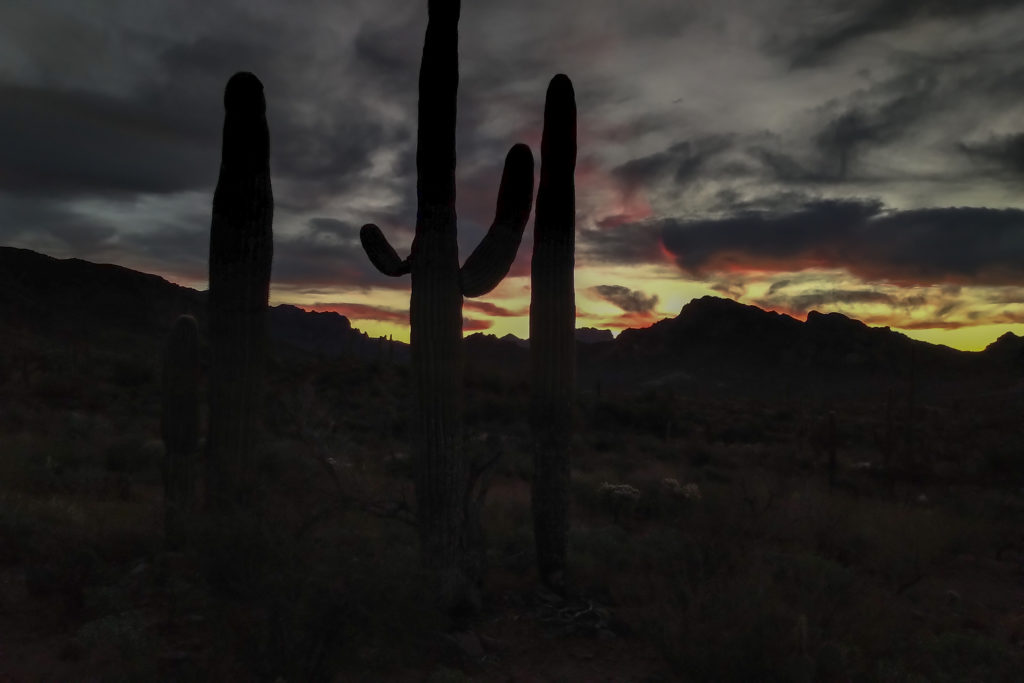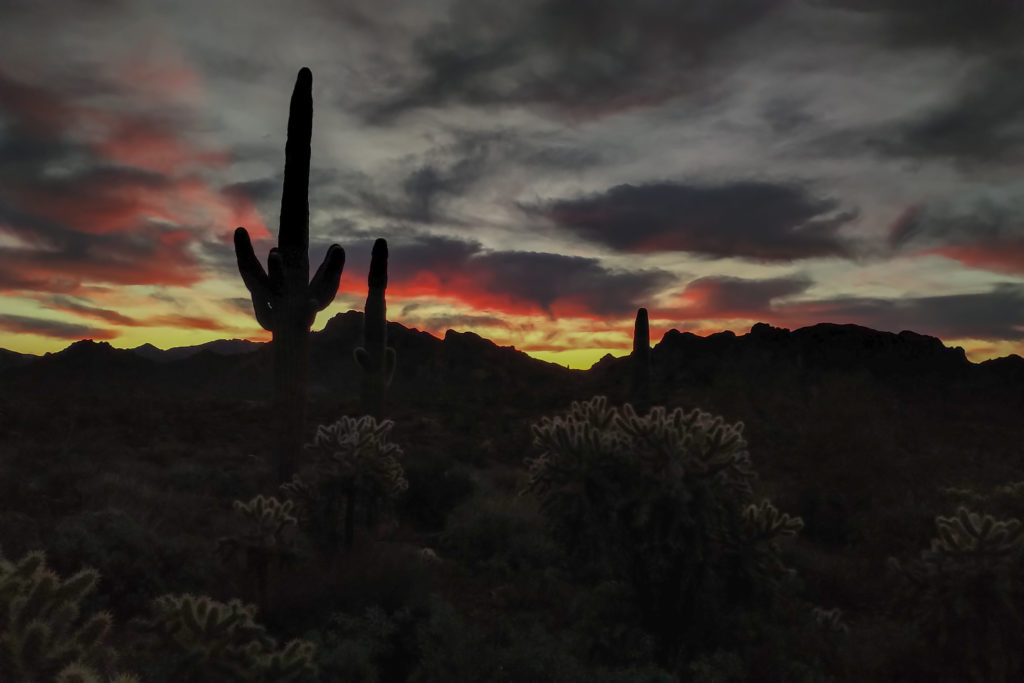 Before heading off I saw Kevin and gave him a quick wave. A last check of my camping area to make sure I had not forgotten anything and at 7:07 am I was off down the trail.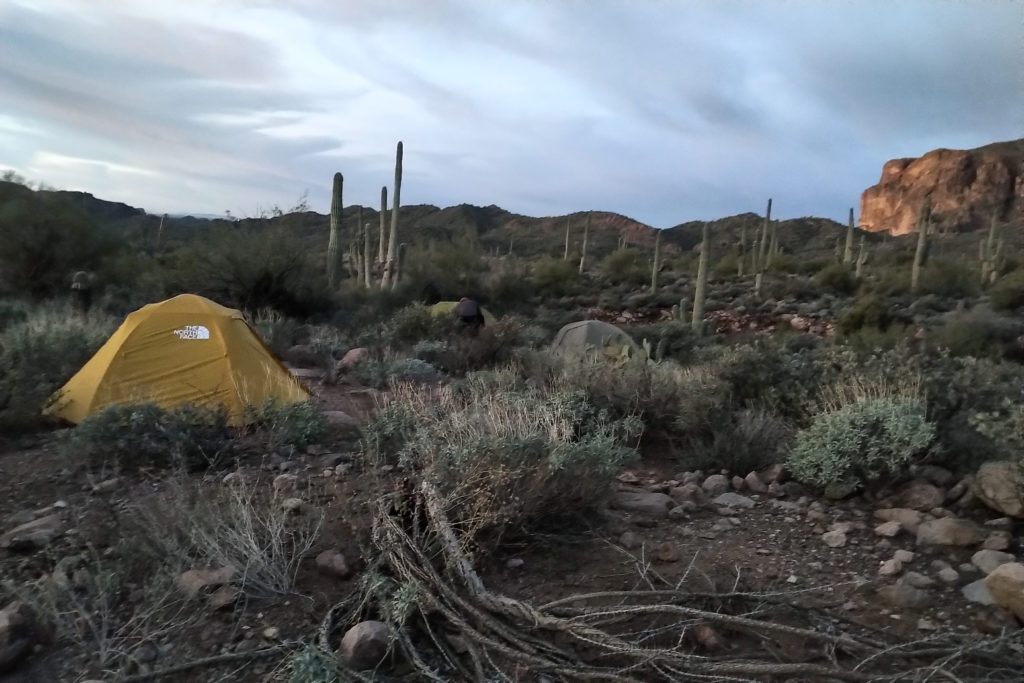 I hustled off down the trail. I tried to mix moving quickly with enjoying the sunrise. Taking photos is one way I have discovered to slow myself down and appreciate where I am.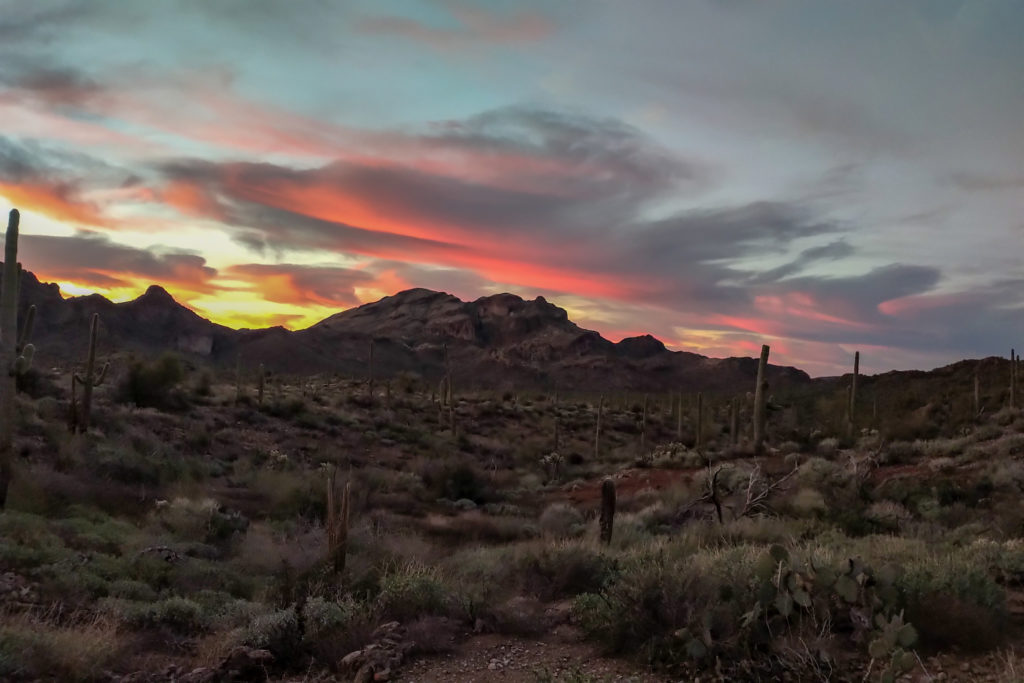 It took me 41 minutes to arrive at Peralta Trailhead. It had taken 37 minutes yesterday to hike the same distance so without the guys to chase I am hiking about 10% slower.
From the upper Peralta TH I had to travel down the access road past the lower trailhead and then head to the Lost Goldmine Trailhead. If I had wanted to skip the ridge following the Lost Goldmine Trail would have taken me around the base of the Superstitions to Dutchmen State Park where I could have picked up other trails to take me back to my car.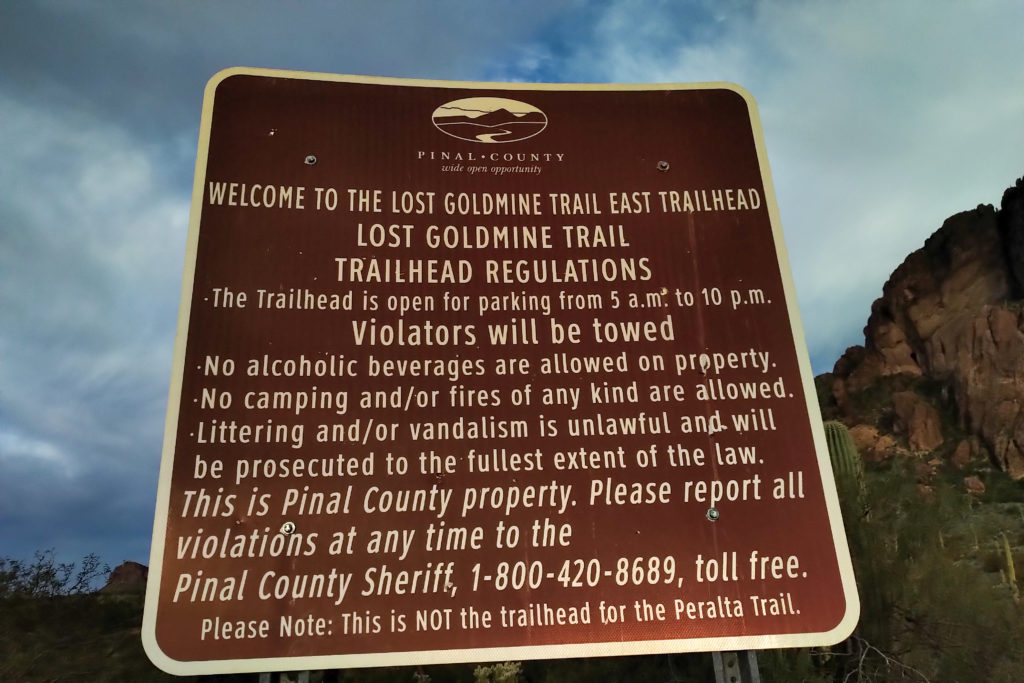 It took me about 30 minutes on good trail to hike to the junction with the Carney Springs Trail which would take me up to the Ridge Trail. On the way I past an older couple. The guy was hiking in a skirt and gaiters. They told me that the Ridge Trail was their favourite trail and that had completed the hike 10 or 12 times. They gave me some intel on water and camping spots along the trail but said arriving at the trail at this time (8:45 am) it was unlikely that I could complete the entire trail in one day (short days). So my goal was to camp just to the right of the gap before the decent into Siphon Draw.
Getting lost #1, I missed the junction with the Carney Springs Trail twice. Then I had trouble figuring out how to get through the fence. Not feeling like a real "hardcore" hiker at the time. Just three minutes later got lost #2 when I went left at the junction with the Wave Cave Trail. I contemplated bushwacking over to the correct trail but decided to take the extra minute to hike back to the junction and go up the right hand fork. This did result in me having to repass the old people. Wonder if they had any doubts on my ability to complete the trail without hurting myself.
Must have got off trail another three times. I scrambled up a cliff face and found the trail only to lose it again. I came across a small stream and filled with more water. I was concerned about being short on water but there would be plenty of water on the ridge due to the recent rains. I kept grinding my way up wondering deeply what I had gotten myself into.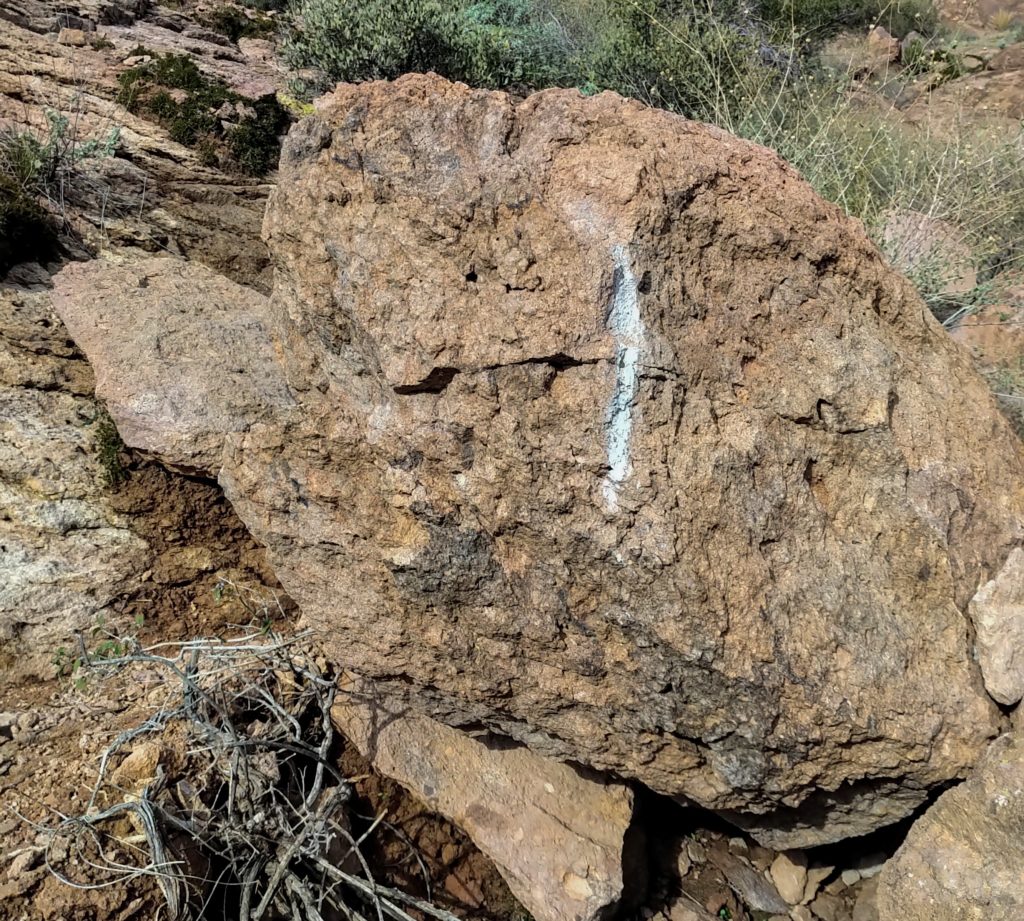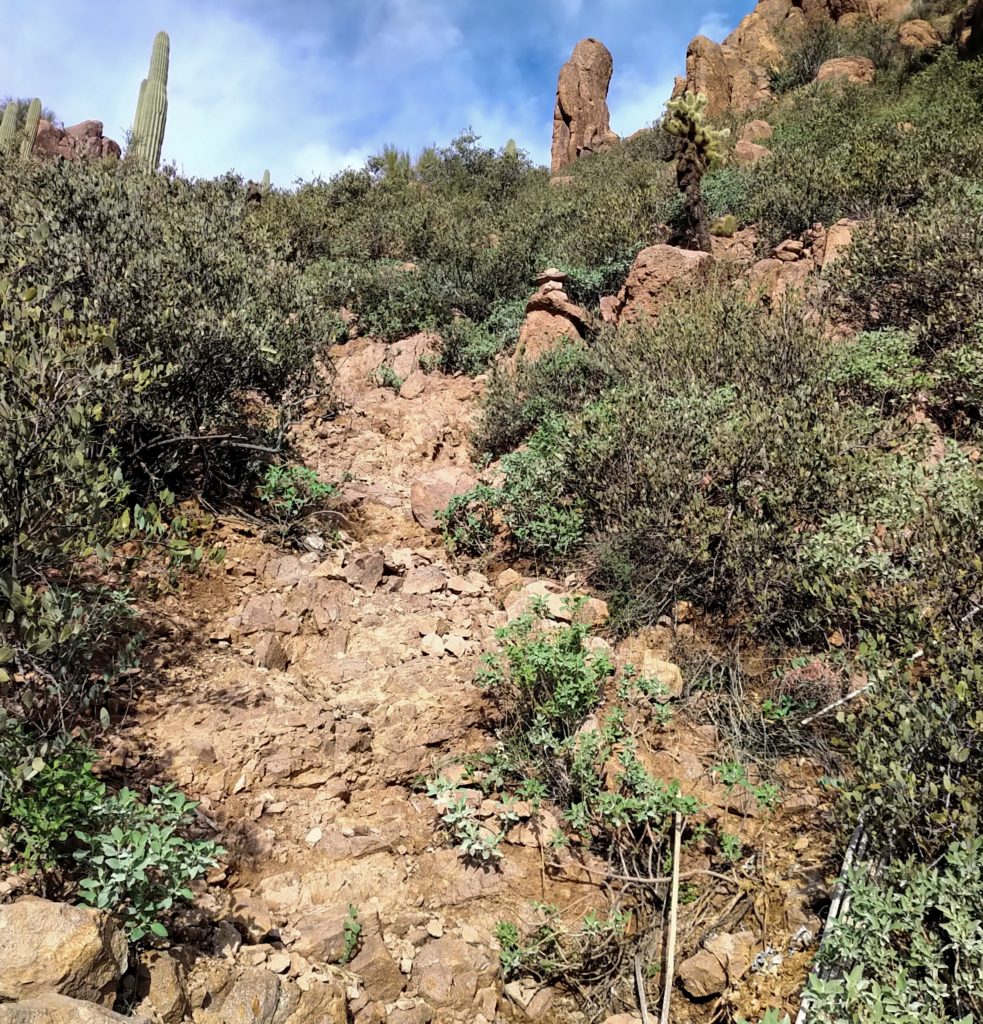 Met a guy and with a camera and a long lens. He said that he had lost the trail several times on the way up. He mentioned that the hike today was much more difficult than when he did the hike a couple of weeks ago. He told me that would be a distinct trail once I made the saddle which was only a short hike from where we were. I was quickly up to the saddle which made me much happier. Now I figured I would be on good trail. It was 10:20 am I had been hiking for just over 3 hours and traveled about 8 km. The climb had taken me 1 hr 35 min to cover 3.5 km and 410 m of elevation.
The trail zigged along the side of a hill. I soon lost the again but could see it up ahead so just aimed for what I could see. I felt very alone on the trail. The ridge was so large and with no trees of any size you could see forever. I had some debates in my head as to whether I wanted to continue. It was either go forward or turn back now. Remembering what James had said when he was looking at AllTrails, "cool trail, but all those people did it and you're hard core". So forward I decided to go feeling unconfident but buoyed somewhat by James' belief in me. However misplaced that belief may have been.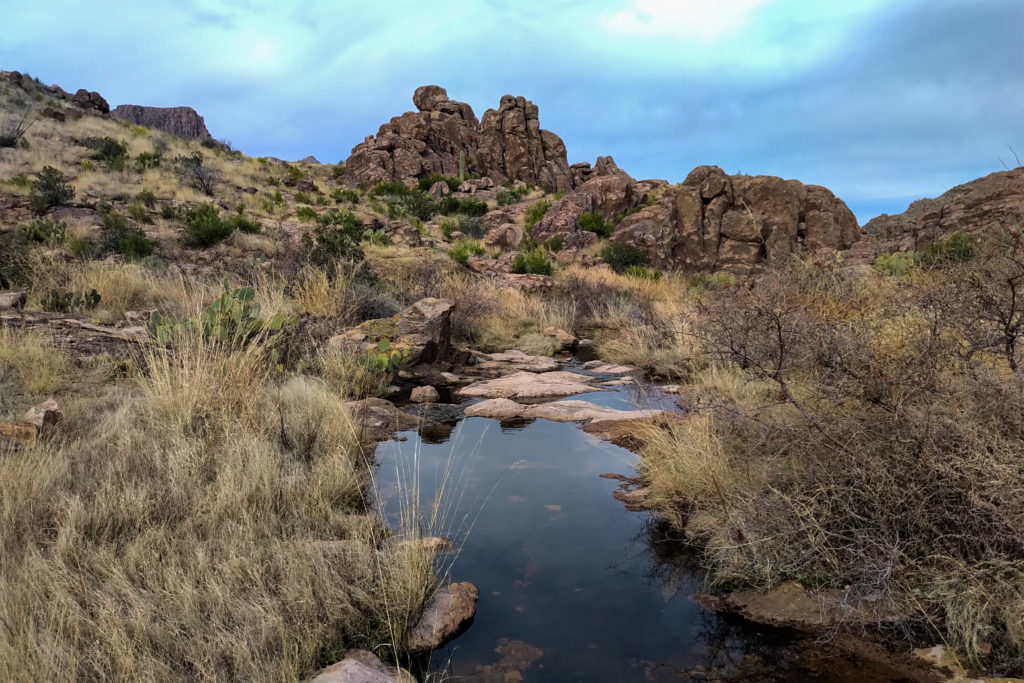 Lost the trail another two more times on the way up to the first high point. When reviewing the elevation profile for the hike the trail rarely levels off it is either going up or down.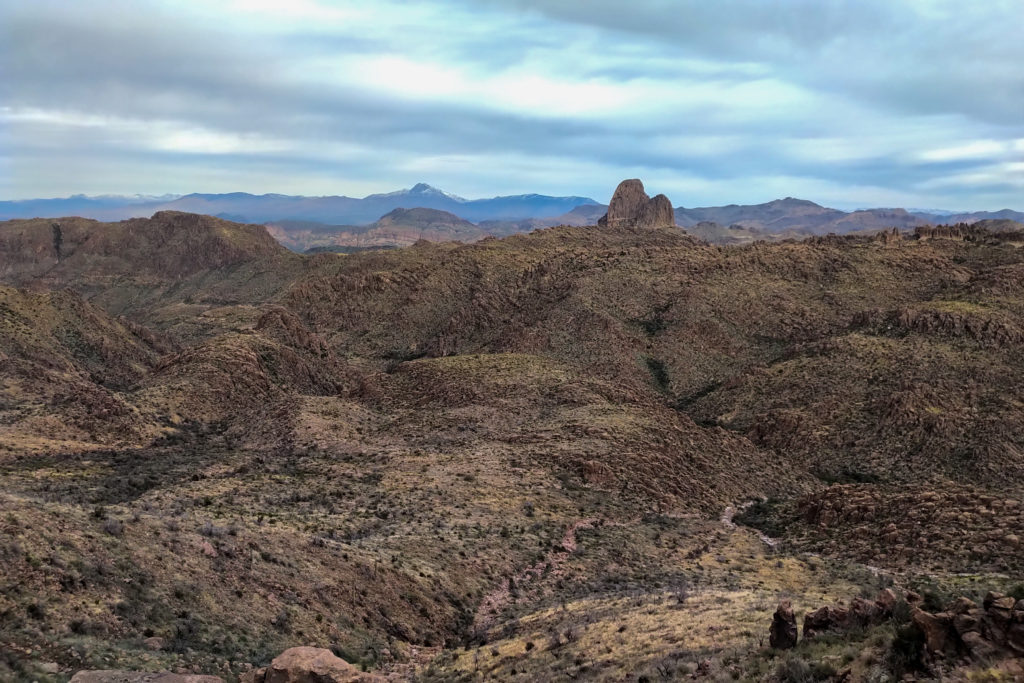 I arrived at a cliff that offered a crack to down climb. I had to drop my poles first and then climb down. I kept thinking to myself "really, the old people did this?". I must say though the Gaia app was amazing. Always had me on trail where there was a trail. I felt reassured even when I was route finding aw I often could see pole marks made by previous hikers.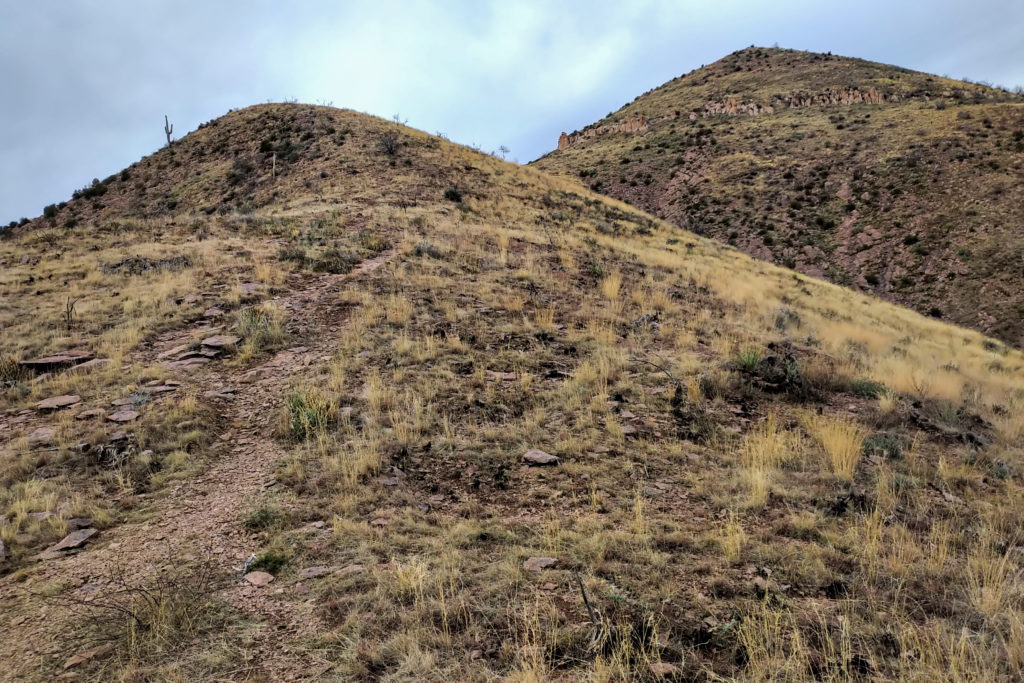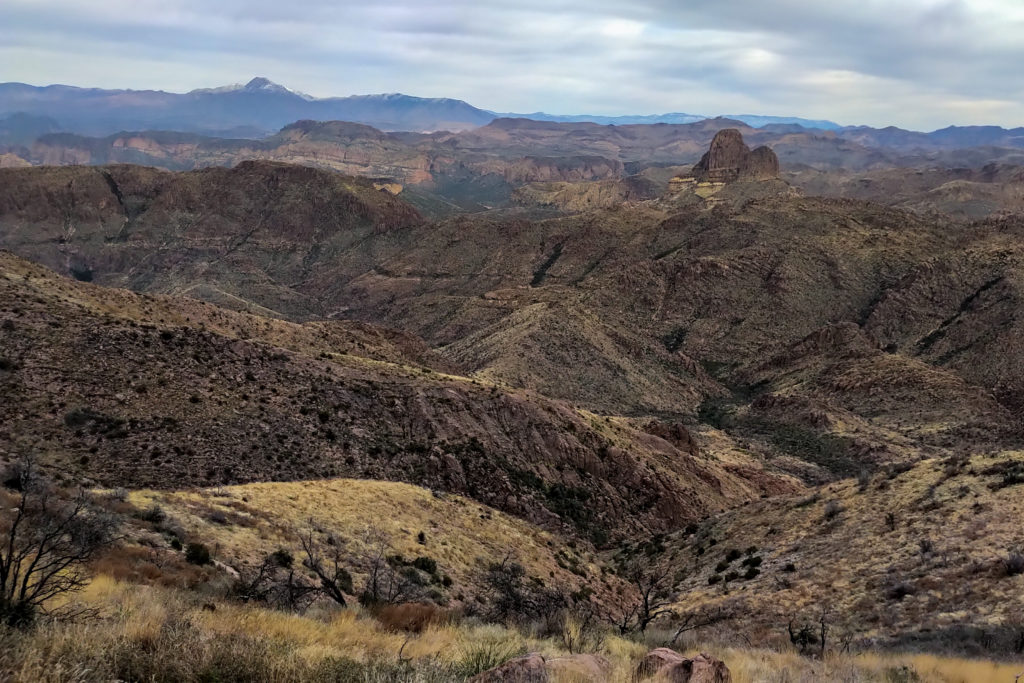 I saw pole tip marks and fresh foot prints which were probably from a day or two before. I was pretty uneasy during the hike and figure I completed the ridge in a heightened sense of mild anxiety. Kept reminding myself to eat and drink but I never stopped for a break and never relaxed while I was up on the ridge. After the down climb there was no obvious trail but I quickly spotted the pole marks and felt assured that Pole Tip Person had gone this way. I could see a flat spot below where there was a trail so I was not worried about being lost. Once I arrived at the flat spot I took a trail to the left which was incorrect. While I backtracked back to the junction I kicked a cactus. I had to take my shoe off to remove the needle. This was a disaster narrowly averted. You can not be careless when hiking in the desert.
Climbing up a slab brought me to the second high point where I paused to take in the views. Then it was a slow down climb on slabs which left me wondering where the frack was the trail. I promptly came to another decent that had me climbing down a crack. I dropped my poles down and proceeded down but halfway down my pack got caught on a tree. For a few seconds I was stuck and was left just dangling. I hauled on the pack and quickly arrived at the bottom but I had rearrange my gear as my tripod and some other items had come lose. Soon I was off and running again.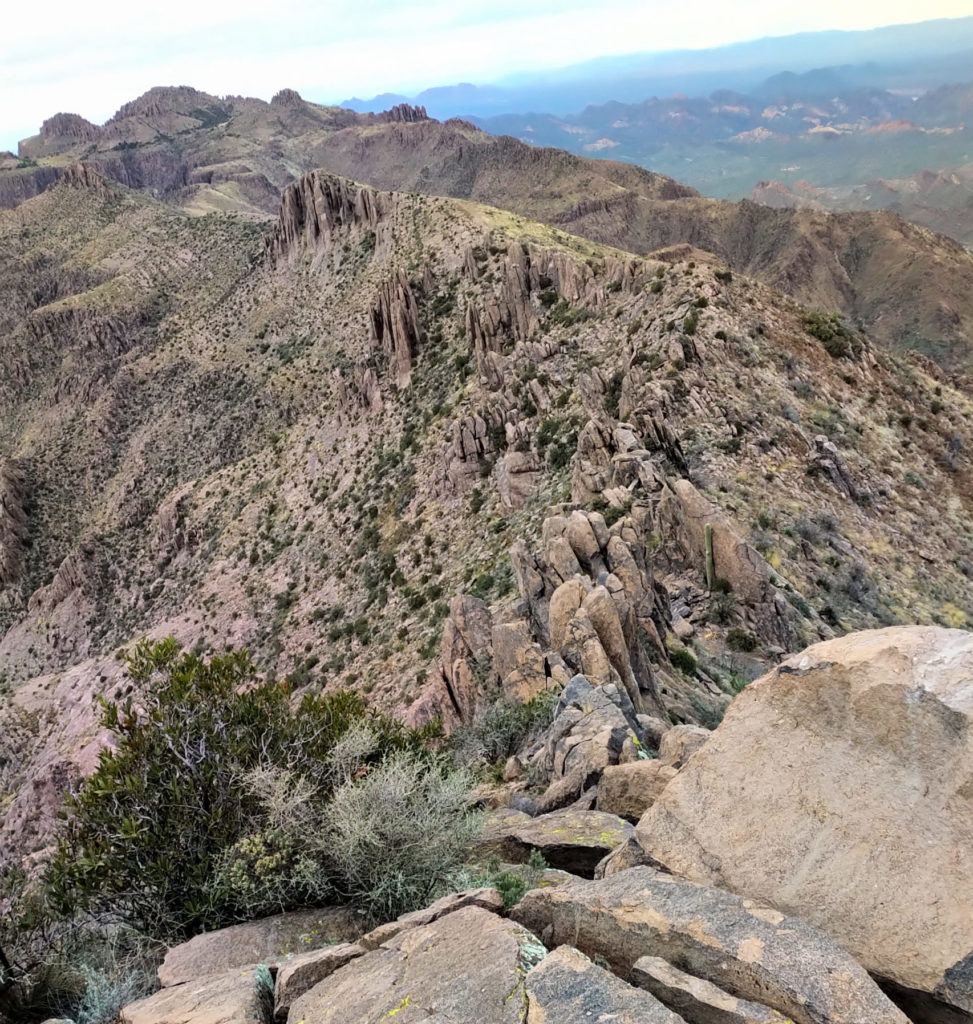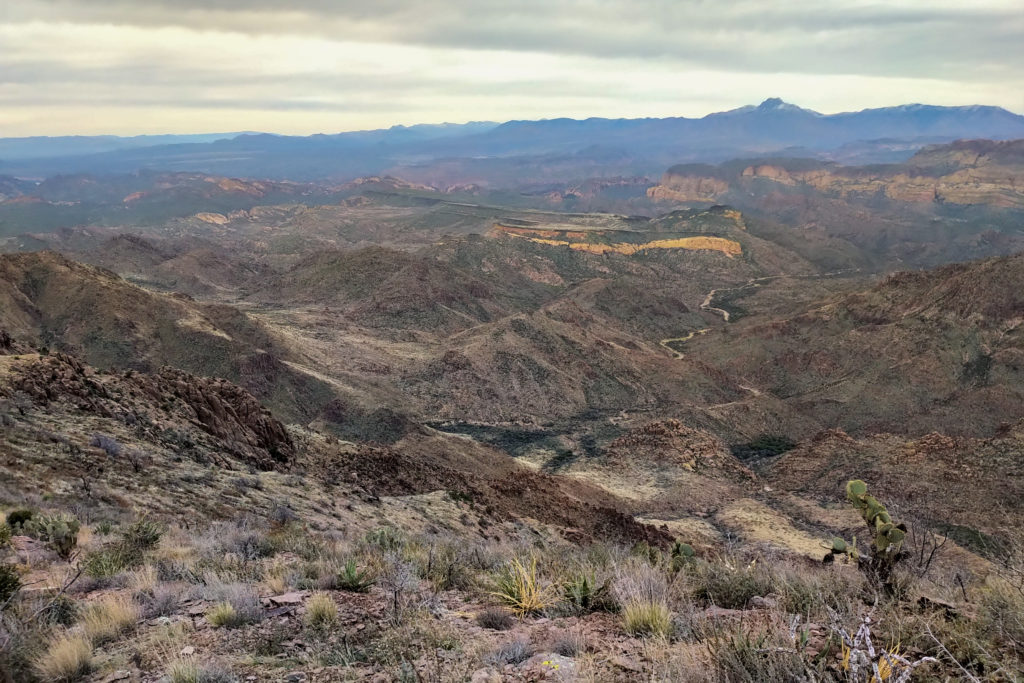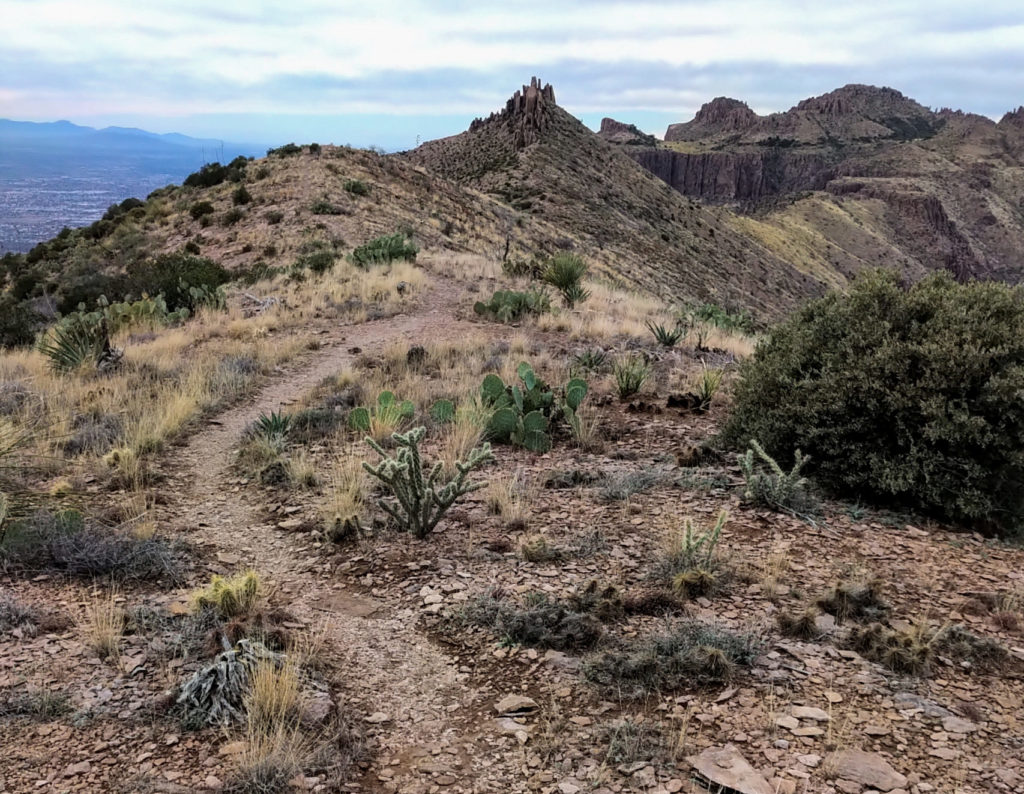 I figure that the ridge hike, starting from the saddle of the first climb and ending at the top of Siphon Draw, is about 11 km long. Only the last 3 km of the ridge are on a continuous trail that only disappeared occasionally. So I would characterize the ridge trail as 75% route and 25% trail.
After having a drink of water I remembered that Laura had trouble in the Grand Canyon when she drank too much and ate too little food. I had not stopped all day so I had only eaten my breakfast and snacks that I packed in my hip belt pockets. So I stopped to find the battery charger for my phone, which was down to 32%, and went "primal" on my lunch. Instead of sitting down and making my wraps I just scarfed down all the pieces. First I grabbed a few handful of chips, then I ate a chunk of cheese and grabbed a few pepperoni slices. While chewing on the pepperoni I stuffed some tortilla shells into my pockets so I could rip off chunks and eat them on the trail. I threw my backpack on and headed off down the trail munching on tortilla shells as I went.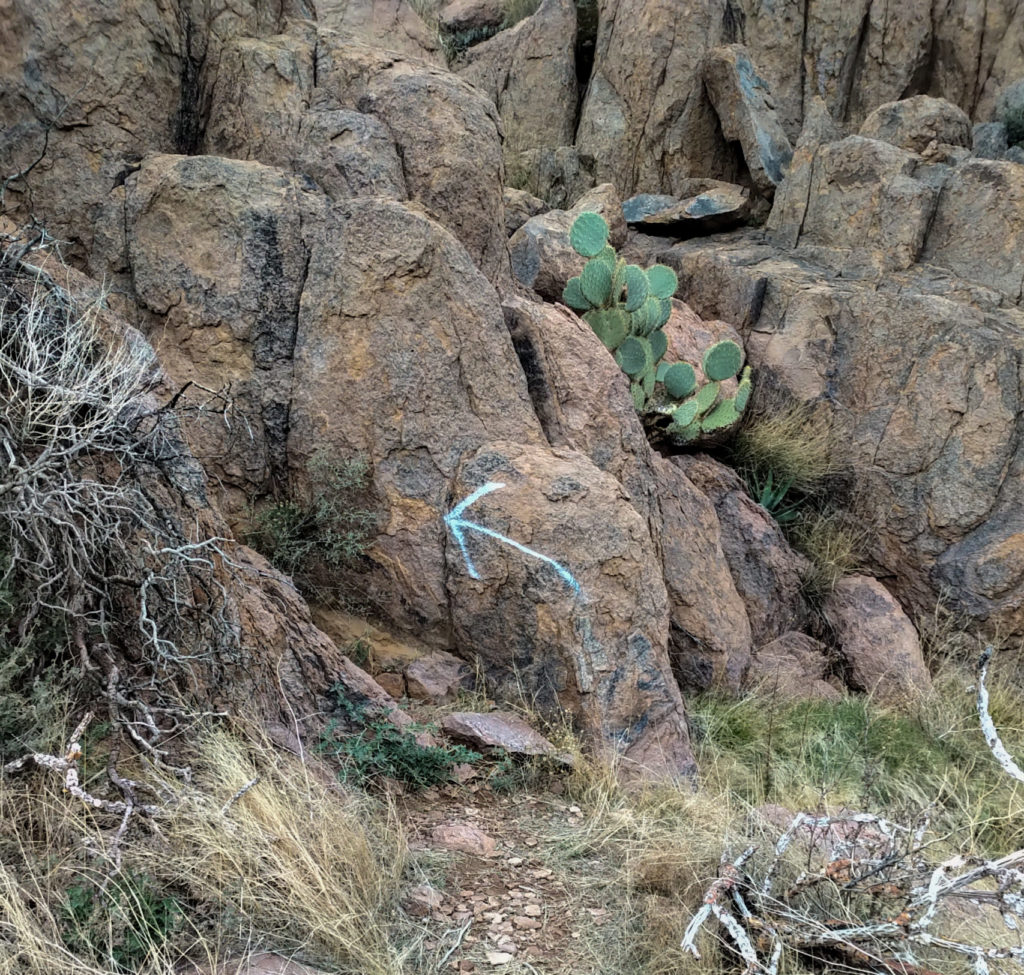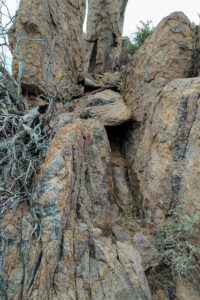 After a quick scramble over a rock face I had another long climb. I felt I was moving quickly down the trail but was really labouring up the climbs.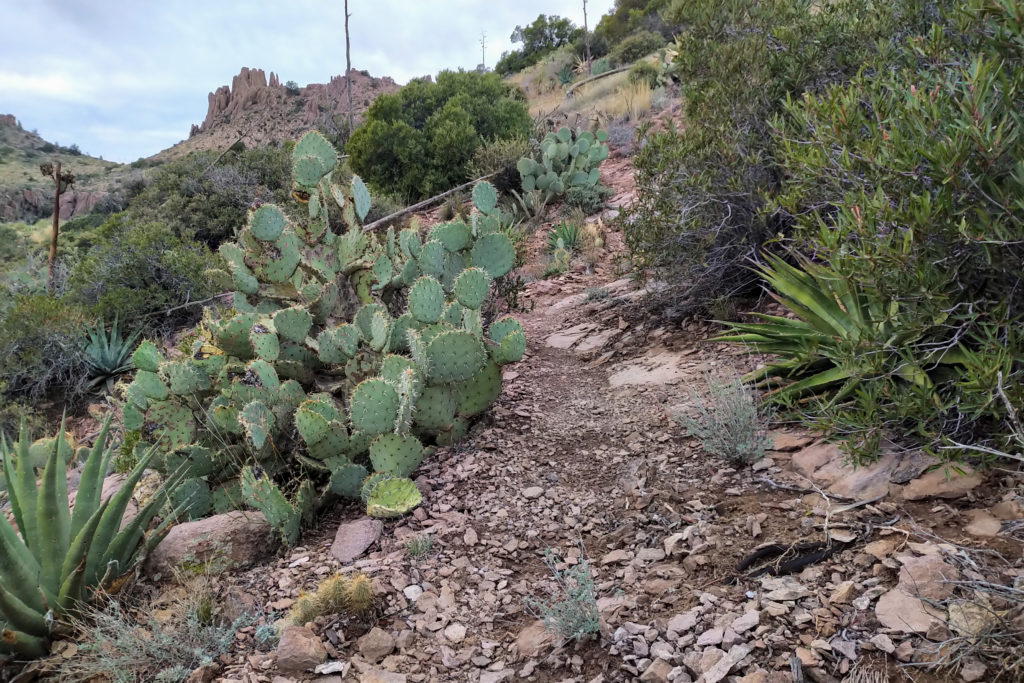 It was just past 2:30 pm and I was pretty sure I could see where the trail was headed and I was feeling confident that I could finish the trail. I had enough food and water to stay on the ridge but decided really needed a beer and I became laser focused on finishing the hike so I could get a beer. Right when i was feeling good I almost ran into a cactus. Didn't I say that you had to pay attention when hiking in the desert.
The trail cut through some nice grassy areas. I went up through what I thought was the gap between the spires that would signal the beginning of Siphon Draw, but I was wrong. I really do not seem to ever guess correctly on the trail. As I crested the little rise I could see another short climb between two massive spires which were to signal the end of the Superstition Ridgeline Trail and the decent through Siphon Draw.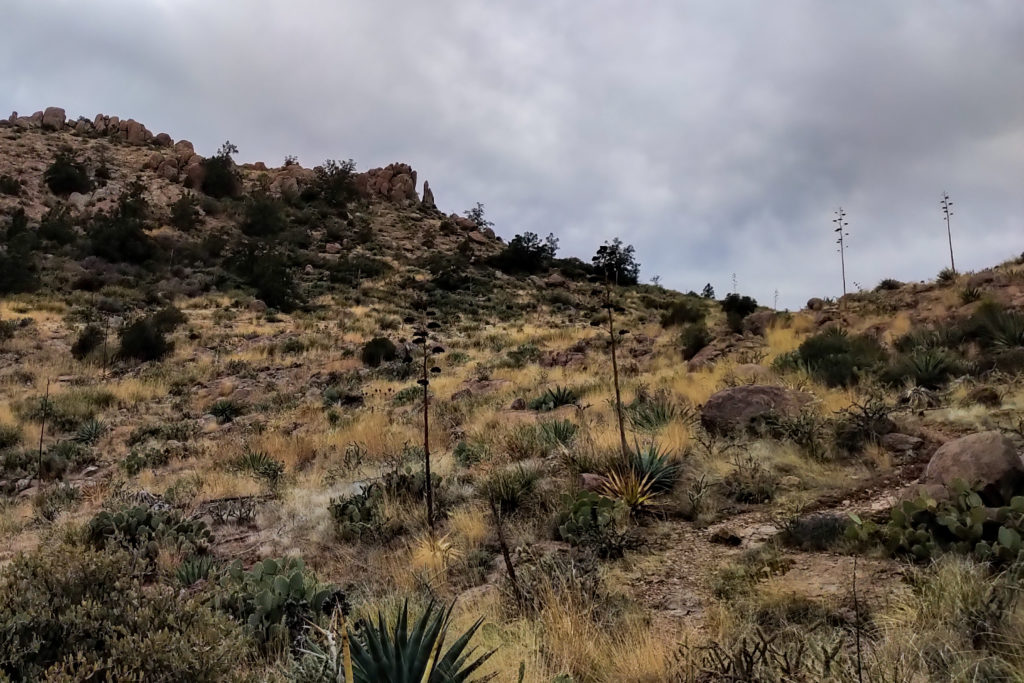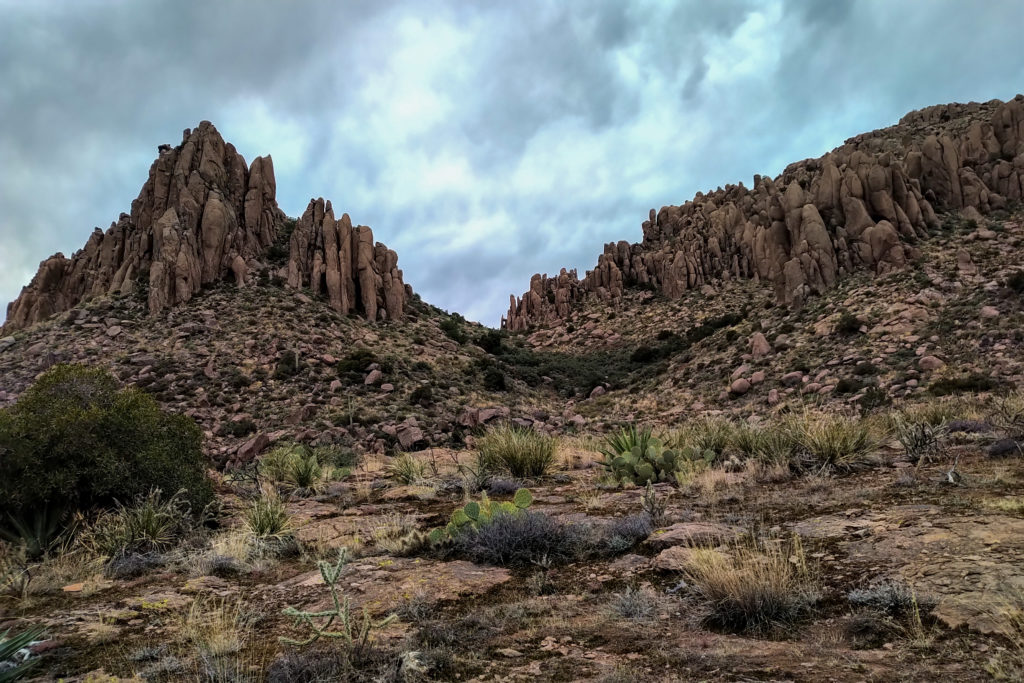 I arrived at the saddle at the top of Siphon Draw at 3:15 pm. I figured I had lots of daylight to make it to the bottom then it would be a lovely flat hike back to the car. I did not want to down climb in the dark but was quite happy to hike across the flats using my headlamp if necessary.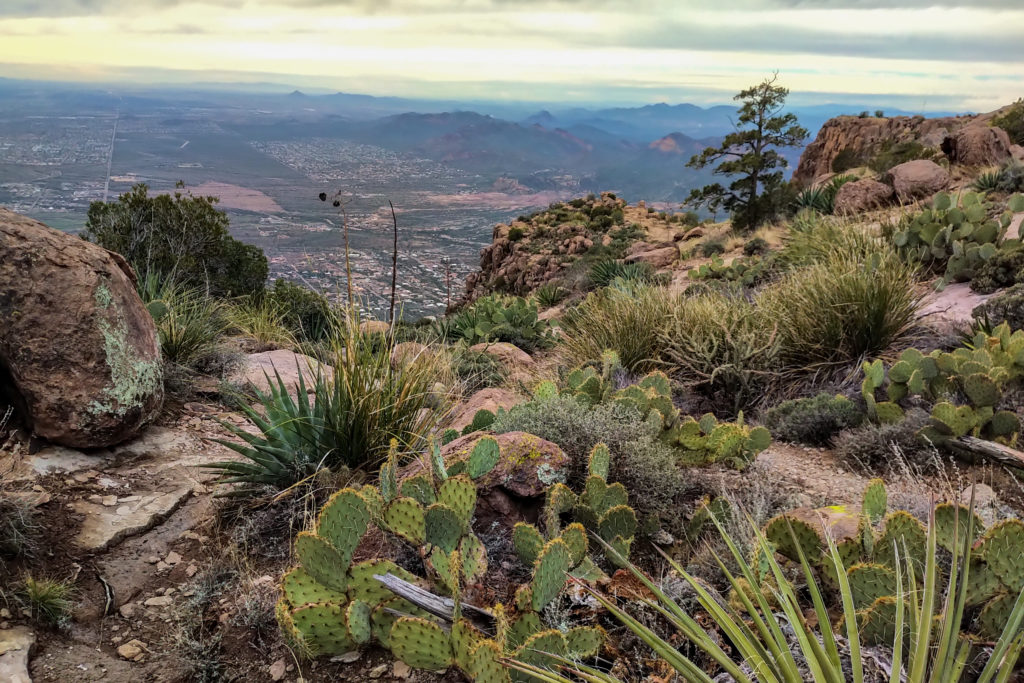 A huge mistake I made was that I did not know that a mountain just south of Siphon Draw, The Flatiron, is a popular place to view the sunset. If I had camped I could of had an amazing view of the sunset then walked back to my tent and down climbed in the morning. The sunset on this evening was amazing and I really missed out on an opportunity.
I remember talking to an old lady at Fremont Saddle who said the west part of the trail was easier, which is true, and once you arrive at Siphon Draw it is just "straight down" followed by a big whoosh motion of her hand. I did not experience a lot whooshing on the decent. I talked with a group of three people at the top while I got mentally prepared to head down. There were the first people I had seen since the photographer on the initial climb to the first saddle at 10 am.
The hike down for the first 1/3 of the way was very hard due to the boulders that populate the drainage. Boulders do not make for even steps and the constant dropping off a boulder onto the ground was hard on my knees. The draw also had numerous places where you had to down climb. I found the decent through Siphon Draw to be very intense made all the more challenging carrying a full backpack on very tired legs.
The challenges started right away with the first down climb coming just a few feet from the saddle. I had to drop my poles over 10 feet and complete what I felt was a little bit of risky climbing move. I started out facing out away from the cliff then holding onto the rocks with my left hand I pivoted 180 degrees on my left foot over top of a crack and then jammed my right foot into the adjacent wall and grabbed at some rocks with my right hand. I feel that James would have been proud of the move, I know thought it was pretty nifty. It was then a relatively simple little down climb through a crack with pretty good footing and handholds. I was relieved to make it down and get on with the descent.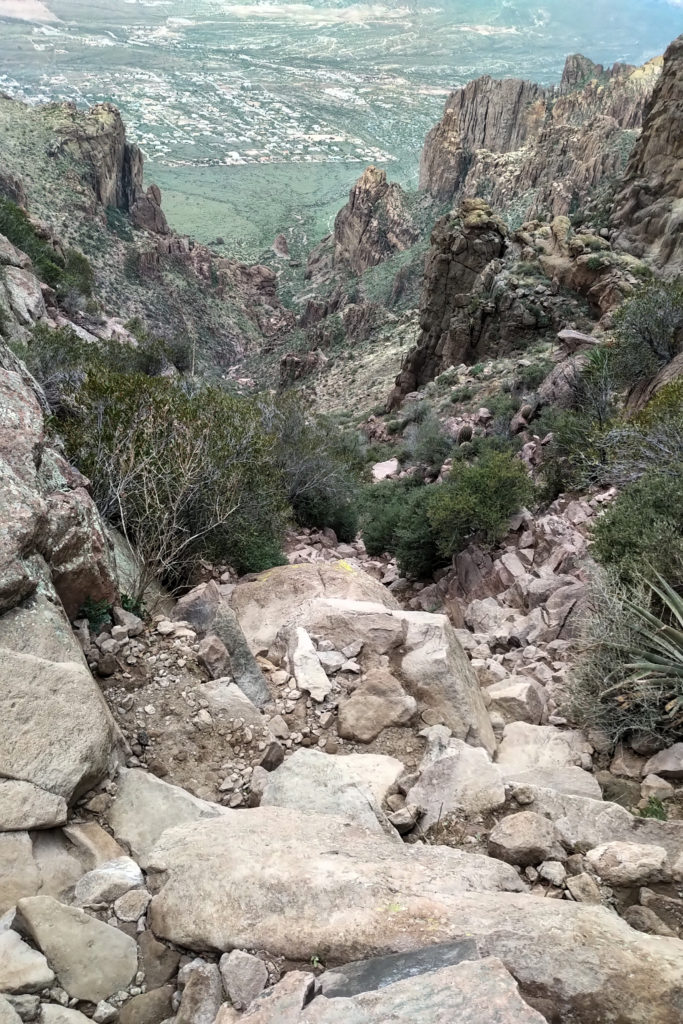 Very quickly I was faced with another down climb and my legs were felling rather shot by this point. I passed by a women heading up. I was wondering why she was heading up at this time. Now I know it was to watch the sunset from the top.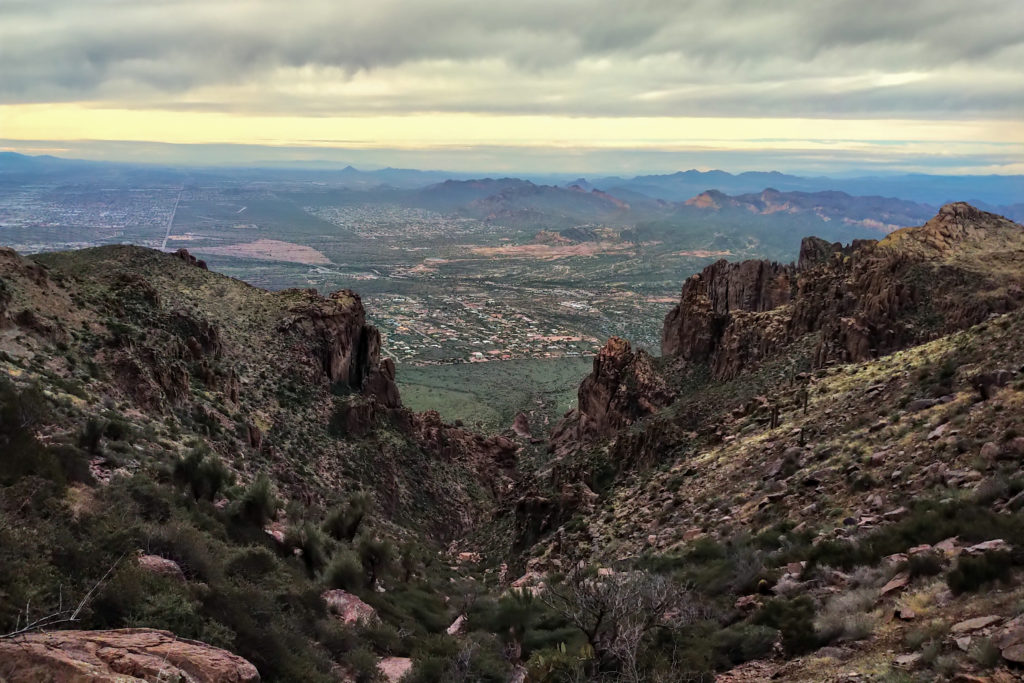 I passed a couple of ladies heading gingerly down. Shortly after three young men passed me. There was actually a small climb to the top of The Basin. The Basin is a long water worn smooth chute a few hundred feet in length. If it were covered in snow it would be quite the toboggan ride. I was very careful heading down The Basin as slipping would have resulted in a long tumble. I found my poles where very helpful as made my way way down slowly to the bottom of The Basin. Nearing the bottom I thought I could spy a trail up ahead. I met a family heading up to the Basin. When I looked back there were 10 – 15 people just hanging out in the Basin.
Once on maintained trail my progress and mood picked up.
I passed by two women who were hiking up the trail and noticed that one had a t-shirt that had the word "Jasper" on it. So I said in passing "Jasper….nice place". She replied that she was from Jasper so I replied back that I was from Canmore. We had a quick conversation. They were headed to the Basin to watch the sunset and the balloons. Apparently many people take hot air balloon rides to enjoy the sunset.
I arrived at the junction with trail 58 the Jacob Crosscut Trail at 5 pm. The sun had not set and I only had 3 km to go. According to my app I averaged over 4 km on the last section of trail. My speed was helped by the excellent condition of the trail and its slightly downhill slope.
The trail was actually quite busy considering it was getting dark. When the sun did start to set I saw why all these people had come out to the trails. The sunset was SPECTACULAR!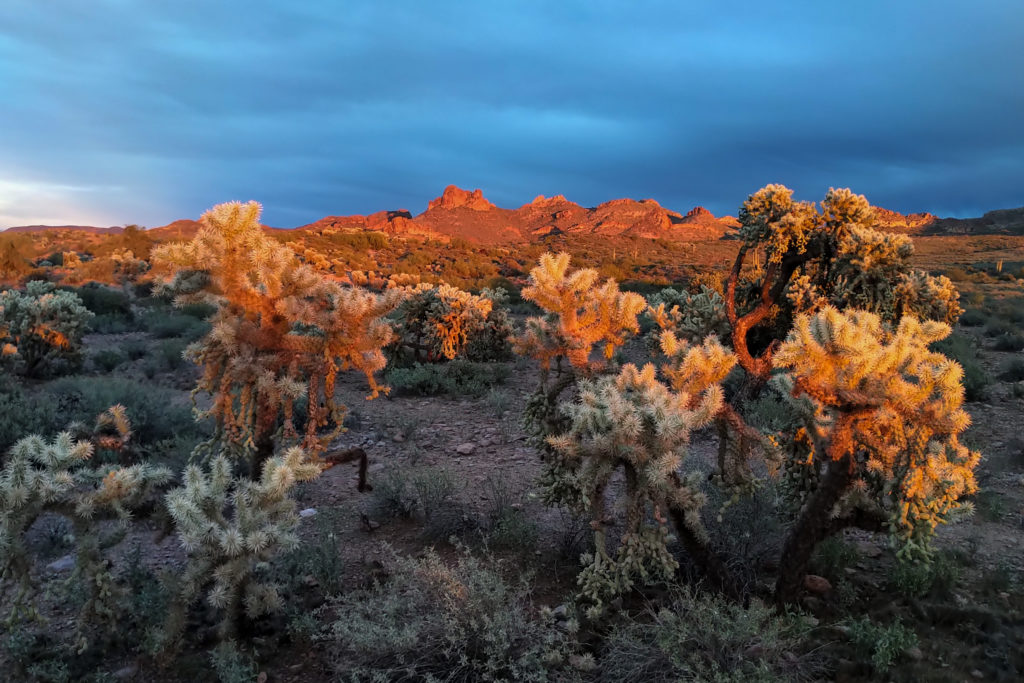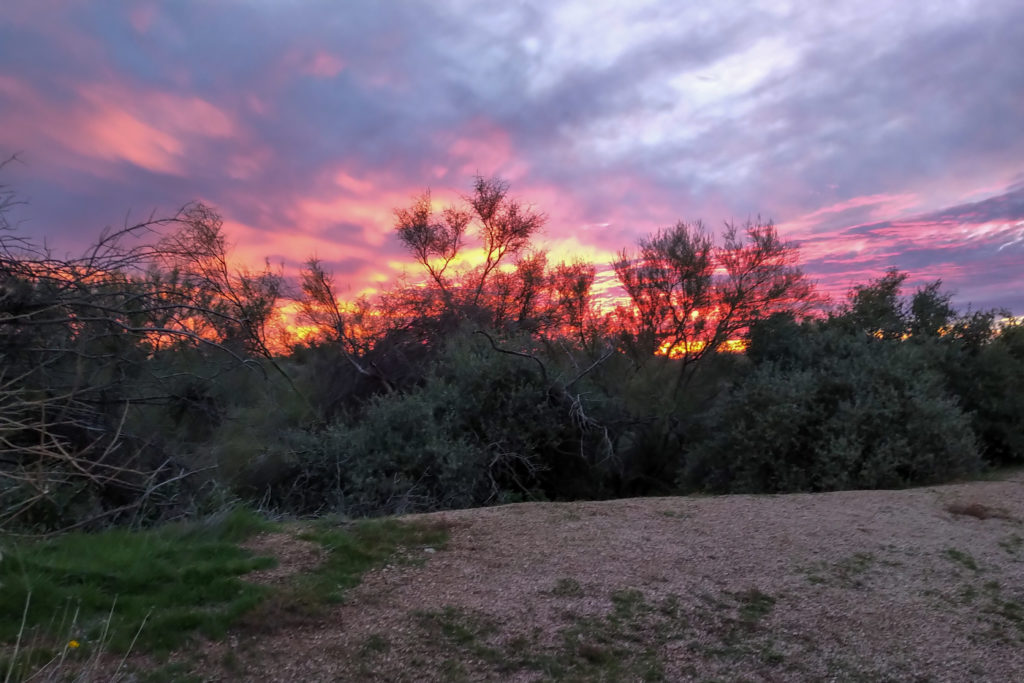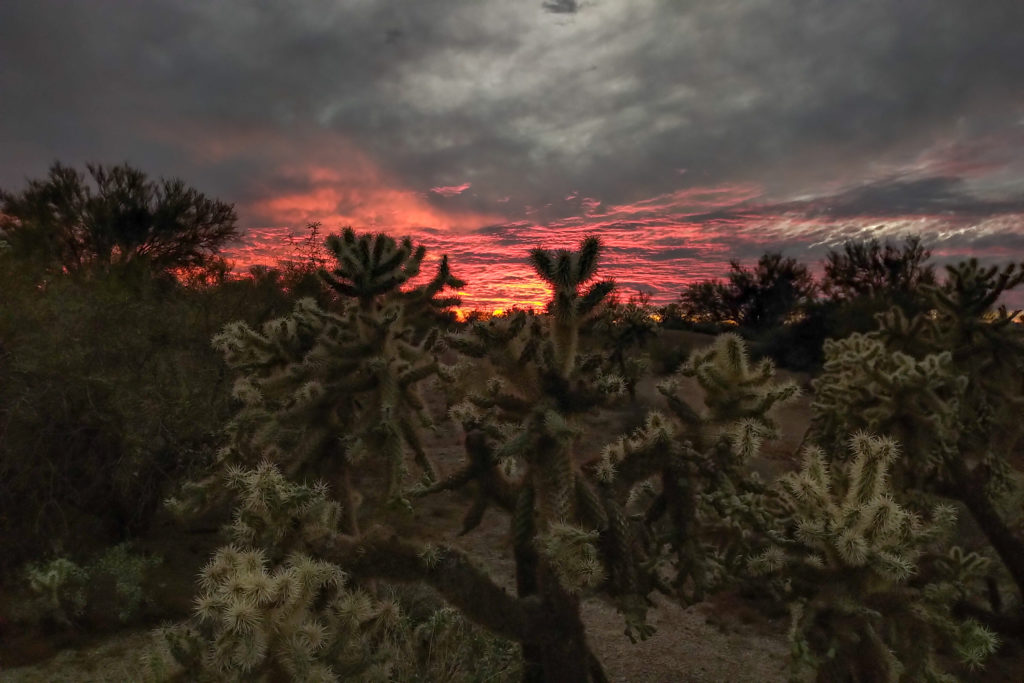 I ran into a wedding photo shoot and did my best to skirt around the happy people. There was a large group of people at the trailhead dressed up but not for the wedding, they were just there to take in the sunset. 5:45 pm I arrived at my car. I was DONE and had completed the Superstition Ridgeline Trail. Once back at the car I did not hustle very hard to pack up as I was awash with relief just to be finished. As I loaded up I sent a SPOT so people would know I was back at the car.
I was now faced with a decision on where to stay. Since I was familiar with Superior and the Copper Mt Motel I decided to head back and see if I could get a room. If I was unable to get a room I could still go out for burgers and beer and then go primitive camp at Picketpost Mt. I ended up getting my room back. For dinner I had two burgers and two Negra Modelo beers.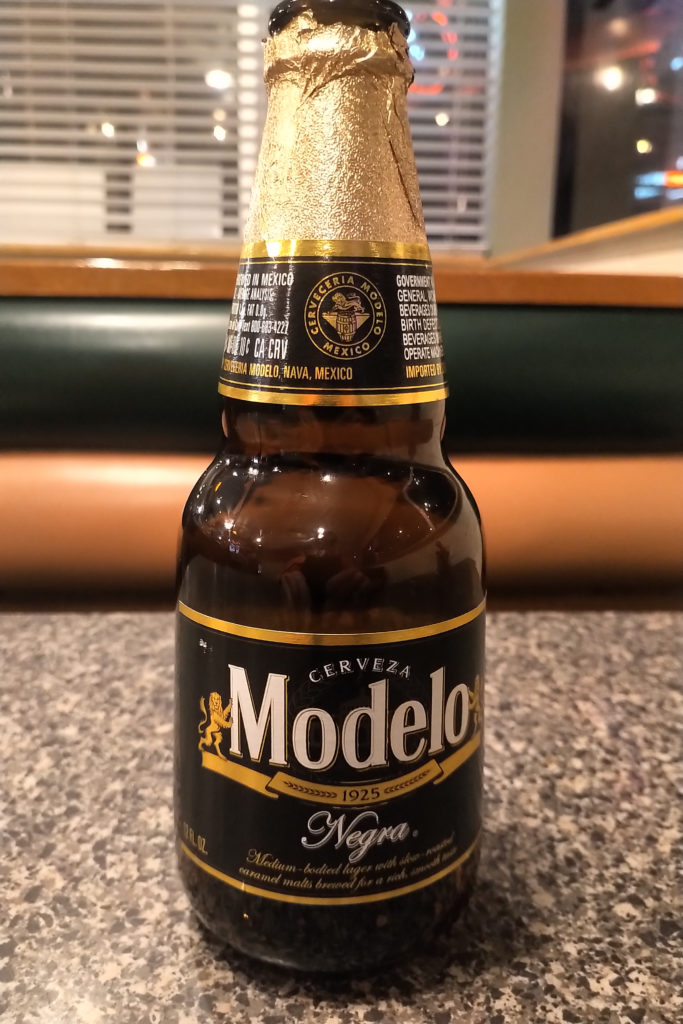 Back at the motel feeling stuffed and satisfied I video chatted with Laura before doing a little tidying up. I hung up tent and ground sheet to dry and my sleeping bag to air out. I found a few spines in me that came out pretty easily. I was already moving a l little slow and stiff. As I reflected on the hike I was very happy to have completed such a big day but I feel I would have enjoyed it more if I had someone to share the experience.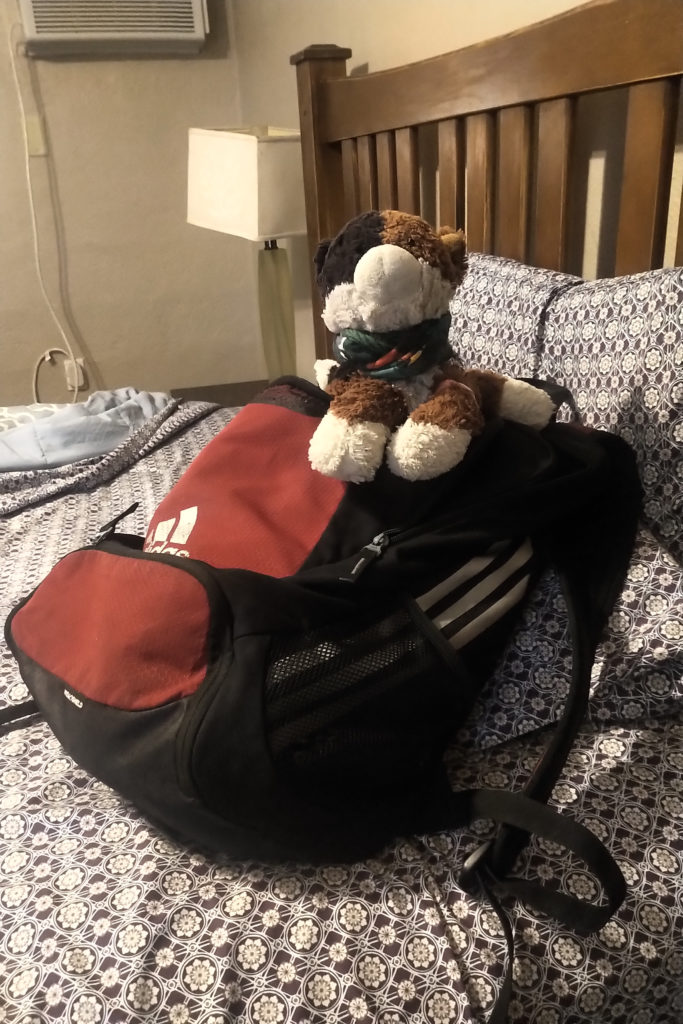 The following day was pretty chill. I packed up slowly and left about 10 am. The very helpful owner of the motel gave me a recommendation for a little hike in Phoenix.
After stretching my legs on a short hike I took the pack cover I purchased and never used back to REI. My flight was early Saturday morning so I had booked a hotel close to the airport. The hotel ended up being in a bit a of an iffy part of town so I holed up in my room and ate the food I had left over from my hike. At 4 am Saturday morning I headed to the airport for an uneventful flight home.