Day 2, August 6th, Yoho Lake CG to Iceline to Yoho Lake CG and onto Burgess Pass Trailhead. 24.7 km, 757 m elevation gain, 1314 m elevation loss, 9 hrs 20 min (all distances and elevation are as per the guide book, Viewranger App will vary), Kiwetinok Alternative (Segment 21).
The goal today was to make it through Kiwetinok gap and to descend the next valley to tree line. The hike was only to be 17 km long with the bulk of the hiking up good trail to Little Yoho CG and beyond to Kiwetinok Pass. After descending the pass I would be hiking off-trail for about 5 km. Micah was going to hike with me to Little Yoho and maybe all the way to Kiwetinok Pass before returning back to Yoho Lake to spend the night then returning to the car the following day. It had rained overnight but the morning was cloudy and dry. We had a relatively lazy start to the day not rising until 7:15 am. Breakfast and coffee were ready by 7:40 am. Micah set up their lovely solo tent that they used back on their John Muir Trail adventure in 2016 and we were off by 9:10 am.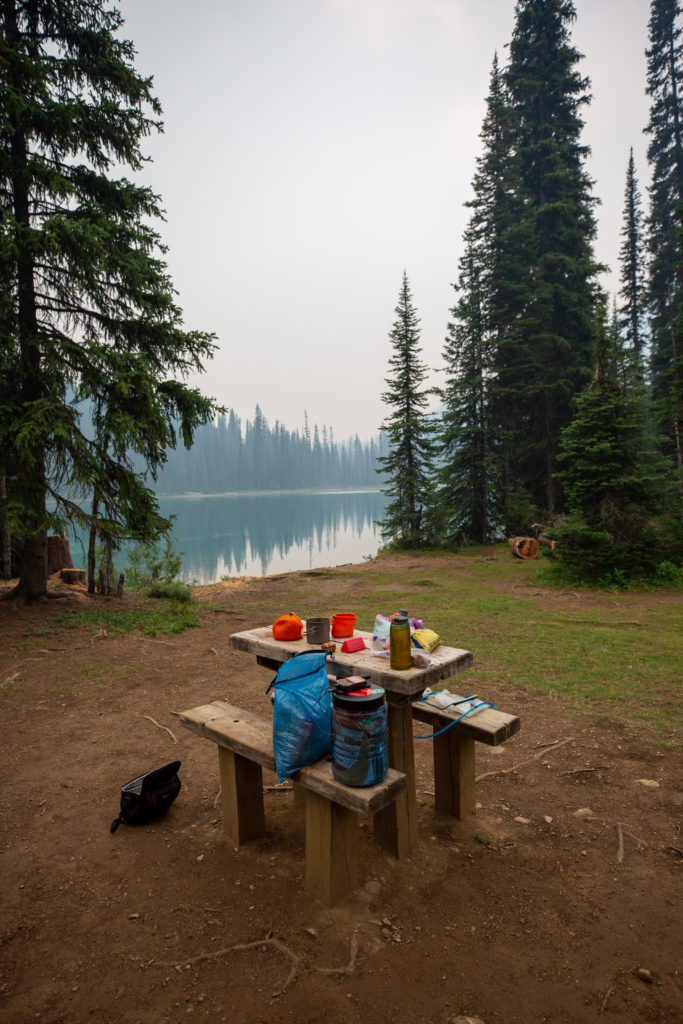 We headed out at a reasonable clip. The initial part of the trail from Yoho Lake is quite steep gaining 120 m in the first kilometre. The trail levels off for the next 1.3 km before settling into a nice comfortable upward grade. Views soon began opening up across the valley. The usually spectacular view of Takakkaw Falls was ghost like through the smoke. We arrived at the junction with the Iceline Trail at 9:50 am.
As we continued uphill the trail got a little busier. We were passed by some trail runners and a group of day hikers. The trail continued uphill but was never very steep. My spirits dropped as we hiked. I had put a lot of effort getting ready for the trip but the thick smoke that covered the mountains was weighing heavily on my mind. I hike because I enjoy the experience. If I cannot see the views and the very act of hiking could be having detrimental effects on my health, the smoke, then why am I hiking? The question of why I was out hiking kept playing over and over again in my head. The trail flattened out as we approached the high point of the Iceline and I started to get a headache. Whether the headache was a result of the smoke or the doubt in my mind of why I was hiking the end result was the same I came to conclusion to end the hike.
Shortly after turning back we met a couple we had talked to a couple of times earlier on the trail. We stopped to talk for about 25 minutes. They were visiting from Ontario so felt that they needed to stay on the trail. One reason was that they had another night planned on the trail and did not really want to spend a few hundred dollars on a hotel. While we were talking it started to lightly rain so at various times each of us put on our rain gear. We said our goodbyes and continued back down the trail. Despite the smoke the trail was quite busy. Approaching Yoho Lake CG we passed a large group of female hikers who must have come in from Emerald Lake. Arriving back at Yoho Lake we stopped to have a long lunch as it was still another 15 km back to the car and it was now 1:20 pm.
We would spend 55 minutes eating lunch. I surprised Micah when I suggested that they take down her tent and that we would not be staying. Micah thought that we could spend another evening camping in the backcountry. I had mentally checked out by this point and just wanted to get out of the smoke. I was aware that the smoke seemed to be lifting. We actually had a nice view of during lunch Wapta Mt. After several solid weeks of smoke I just could not consider that maybe the smoke would be finally moving away.
During lunch two hikers came crashing into camp. They were Jason and Bent who were hiking the Great Divide Trail. We chatted for a few minutes and then said our goodbyes. They had come from Field and were planning on staying at Little Yoho CG. I would run into both of them on Day 2 of my Section E hike and would spend the following two days with them. We started our journey back to the car at 2:10 pm. As we started along the Highline Trail under Watpa Mt I noticed how much clearer the view was across the valley to the President and Vice President.
As we headed along the Highline we met up with a family staying at Yoho Lake CG. They had a couple of young kids with them and a very happy doggie. The kids asked us all sorts of questions and we spent a few fun minutes engaging with them. Yoho Lake CG is a great starter backpacking trip for anyone. It is only a 4 km hike from Takakkaw Falls parking lot and you can access the Highline, which would normally have stunning views of Emerald Lake, and also explore the Iceline Trail.
We made our way along the traverse under Wapta Mt and Mt Field. Coming up to the drainage that leads to Mt Field we had a bet about how long it would take us. From what I remembered my guess was way off. We looked back to the slopes below Mt Field from Burgess Pass and were able to spot a blue structure at the end of the trail to the Burgess Shale. I have seen quite a few documentaries about the Burgess Shale including a recent one on CBC and knowing the actual location of the shale beds gave me more context about the shows I had watched.
As we headed down from the pass Micah remembered that they had read that there was suppose to be 50 or so switchbacks on the trail so they decided to count them. It was while we were descending that I began to ponder if the smoke was really lifting and could I continue on with the hike. I figured once back at the car we could drive to Takakkaw Falls parking lot and it was only a little over an hour back up to Yoho Lake. Then it would take me two days to catch back up to where I should be as my original plan for Day 3 was a fairly short day. Micah had difficulty in her counting deciding what qualified as a switchback. There were a few places where the trail curved but never really "switchbacked" in the other direction. I am pretty sure Micah counted about 45 switchbacks.
We arrived back at the car at 6:30 pm. I decided that I really was not too keen on trying to complete the hike as it was still smokey and it was just as likely that the smoke would blow back in then actually clear off. The best idea would have been to have stayed at Yoho Lake CG and enjoyed a relaxing afternoon since Micah had a permit for another night. In the end the smoke did actually clear off. While I was disappointed not be hiking I still feel I made the best decision with the information I had. We had one more little adventure before we were finished. I put the Spot device on the roof of the car to get a clearer signal to let people know where we were. I then forgot about the Spot up on the roof and drove home. Arriving back in driveway I was surprised and happy to see that the Spot had stayed in place and made the trip home successfully.