Day 2, August 12th, Upper Reaches of Owen Creek to Lower Michelle Lake. 5.1 km, 290 m elevation gain, 177 m elevation loss, 2 hrs 15 min (Segment 24).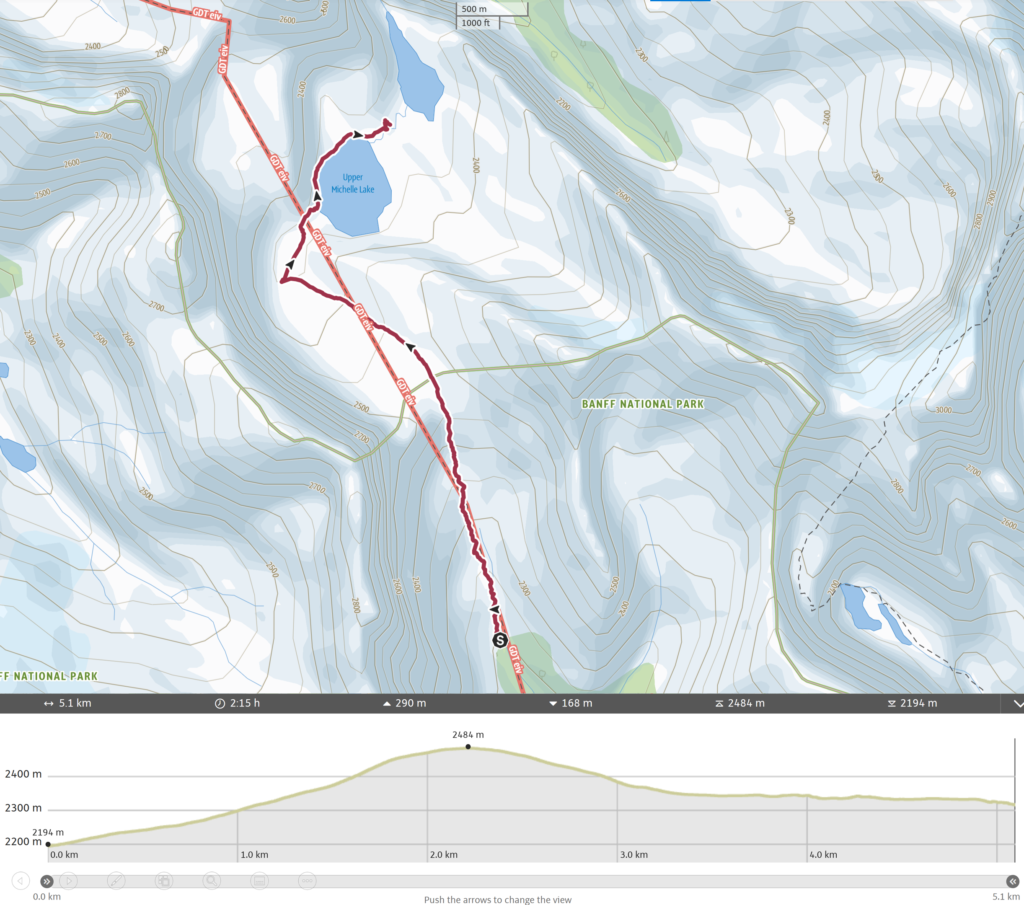 Even with my late night activities photographing the stars I was awake before 7 am and out of the tent shortly after. At some point I seemed to have lost the ability to sleep in. A clear blue sky greeted me as I set off to retrieve my food. I was quite happy to find both my bear hang and bear canister right where I had left them. I fetched some water form the small trickle that was Owen Creek and set about boiling water for my morning coffee and filtering some water for my Gatorade. I knew I would not require much water for my hike but still needed to stay hydrated to be prepared for tomorrow's hiking.
I enjoyed the morning at my little campsite quite pleased to have "survived" the night. This was the first night I had spent on my own in the backcountry. I was packed up and ready to leave just after 8:30 am.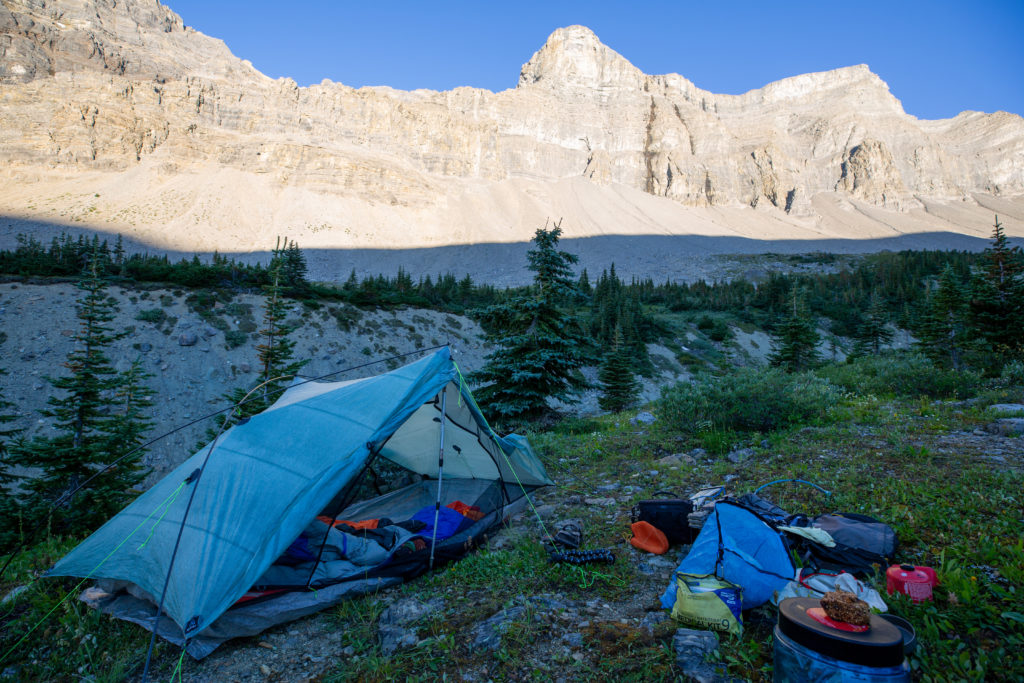 I was in great spirits as I set off up the creek. The weather was amazing and I had only a short hike to a place that a friend had called one of her favourite camping spots on the GDT. There was not much to route finding as I could see the pass up ahead. The trail quickly disappeared into the rocks and the water disappeared along with it. I am always impressed at the way plants can find a way to live and thrive in harsh environments at altitude. I took my time hiking to the pass taking pictures of the flowers and looking at the views that were presented to me in every direction.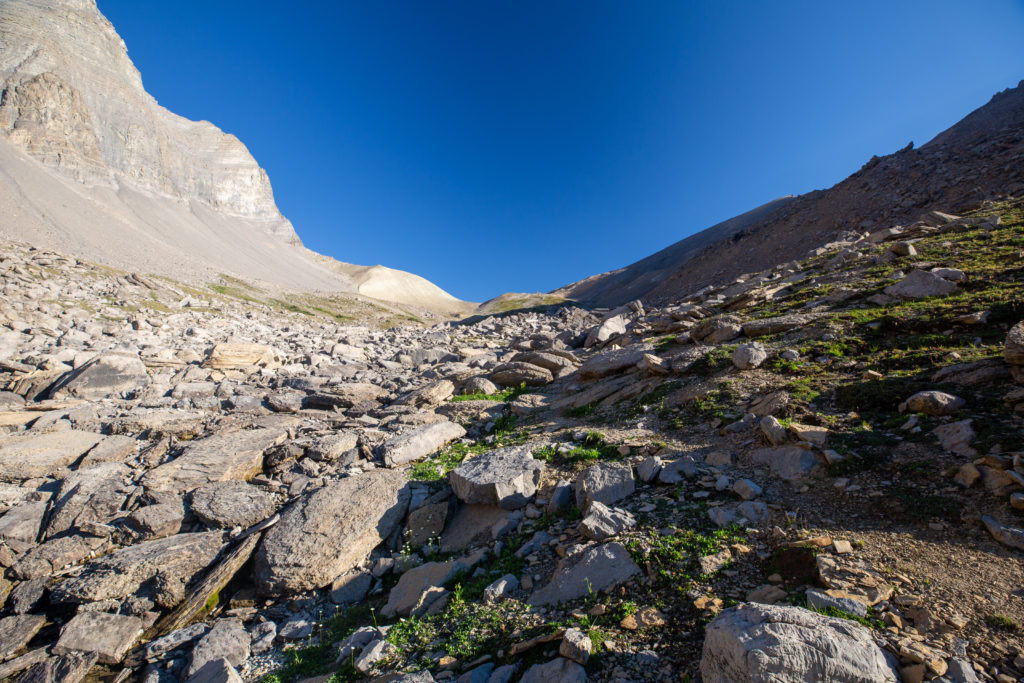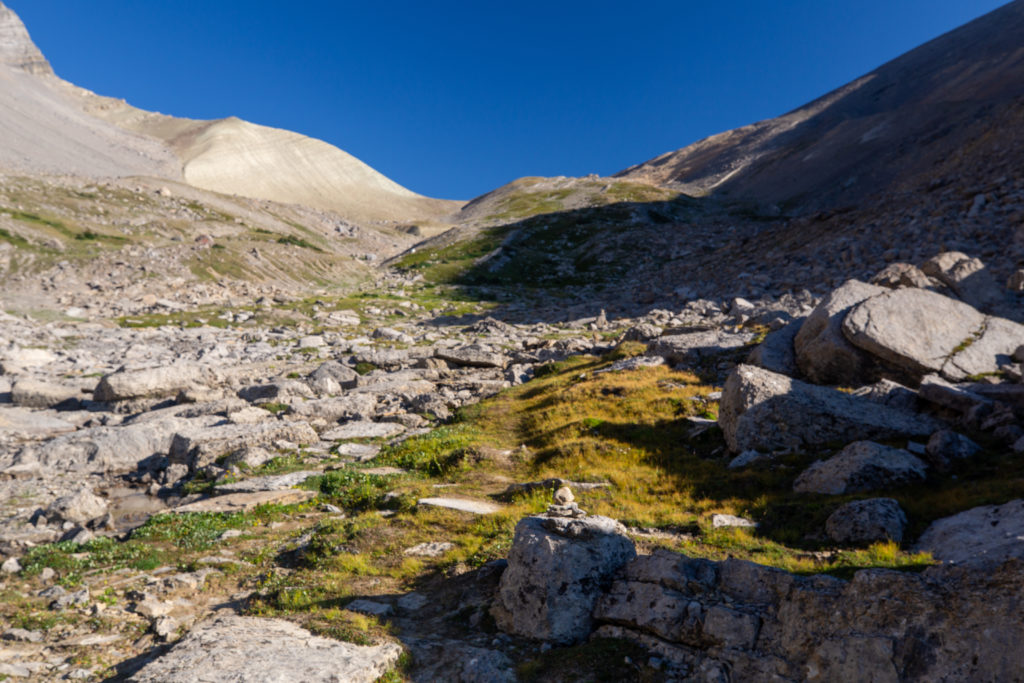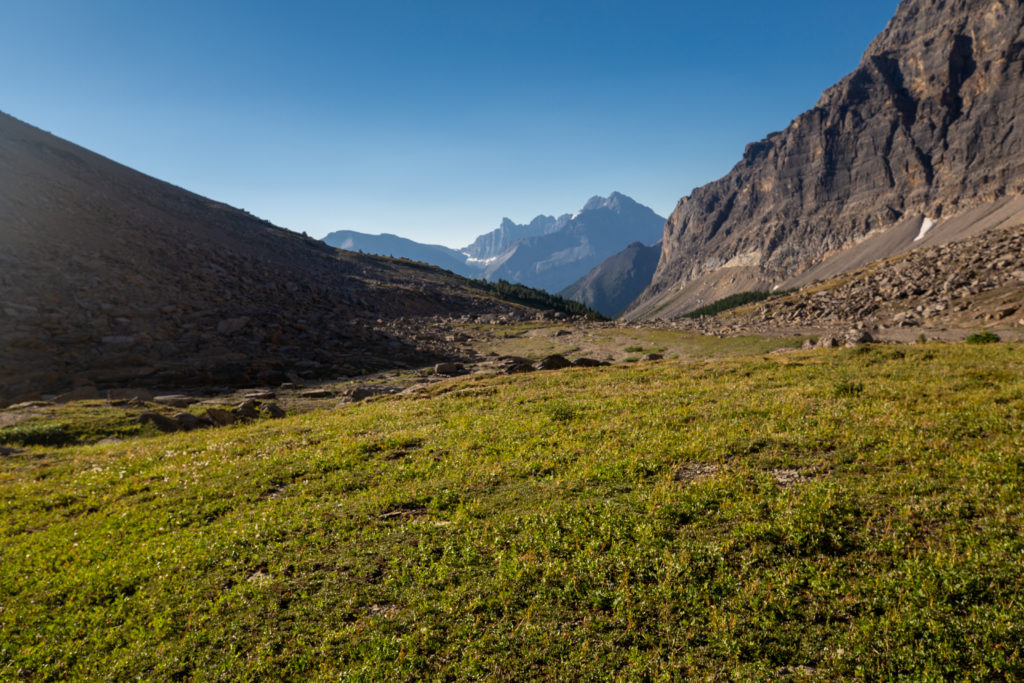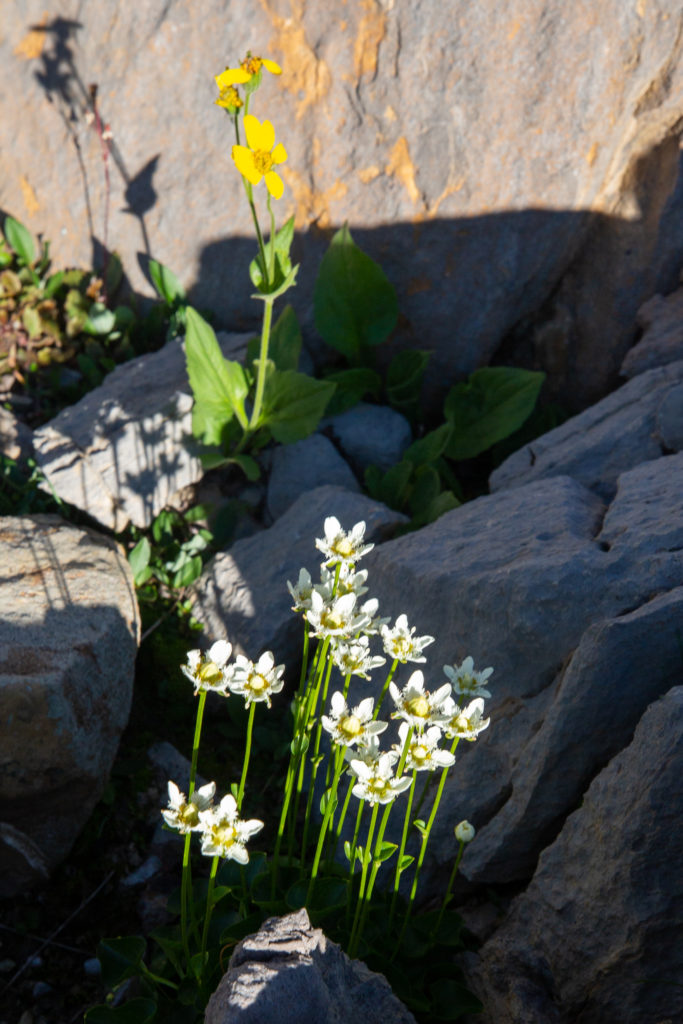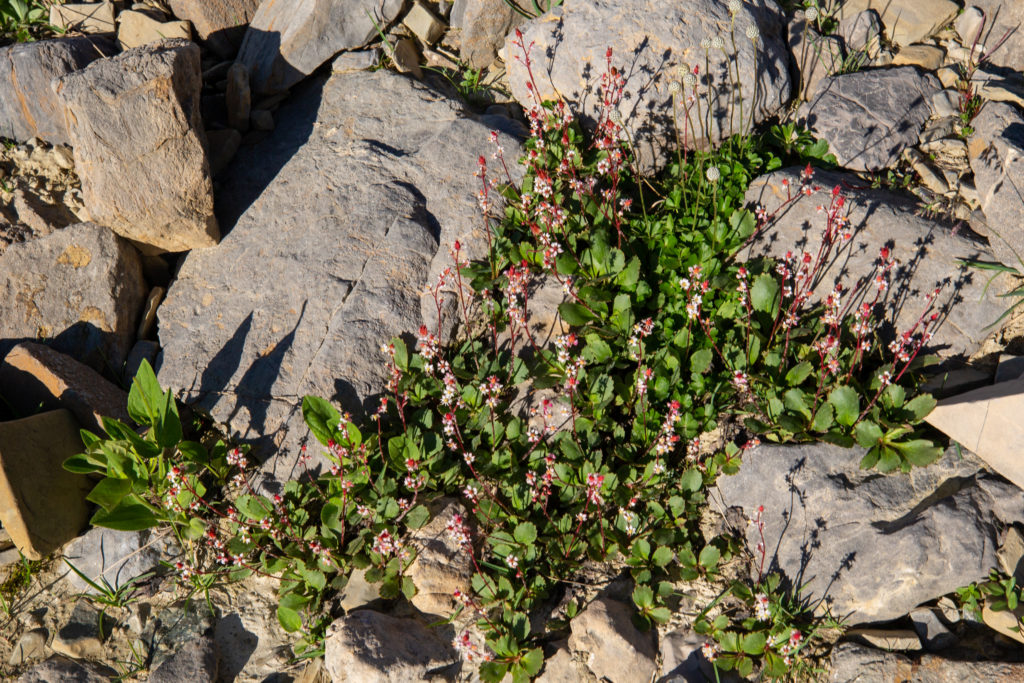 I made it to the pass in one hour covering 2.3 km and 275 m of elevation. The geologist in me was fascinated by the contrast in the rock types at the pass. To my left (west) there is red sandstone to the right grey shale.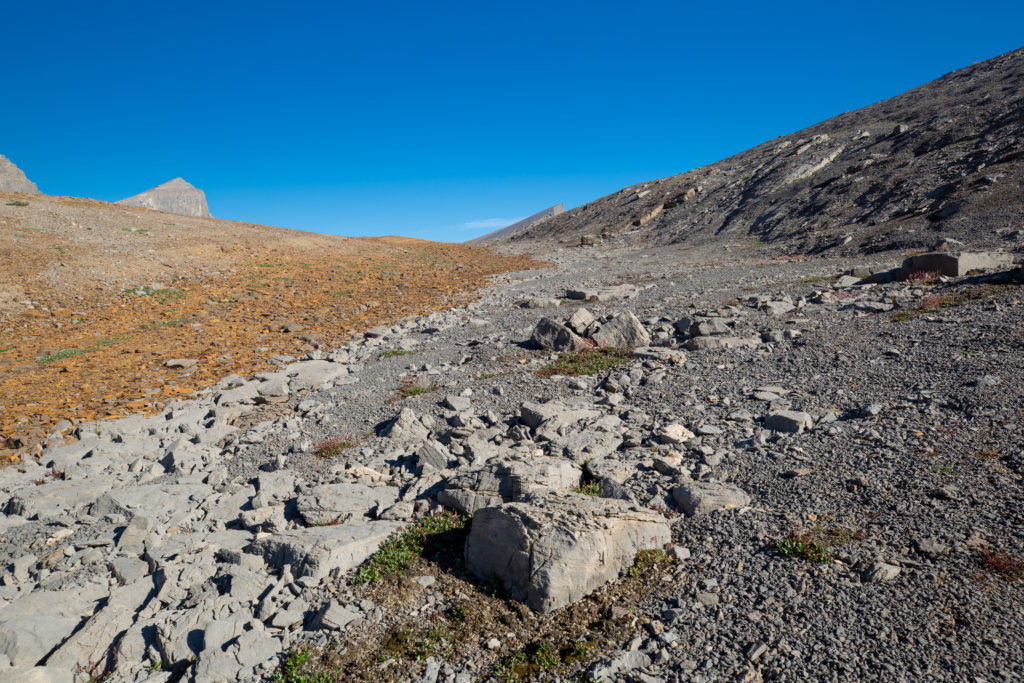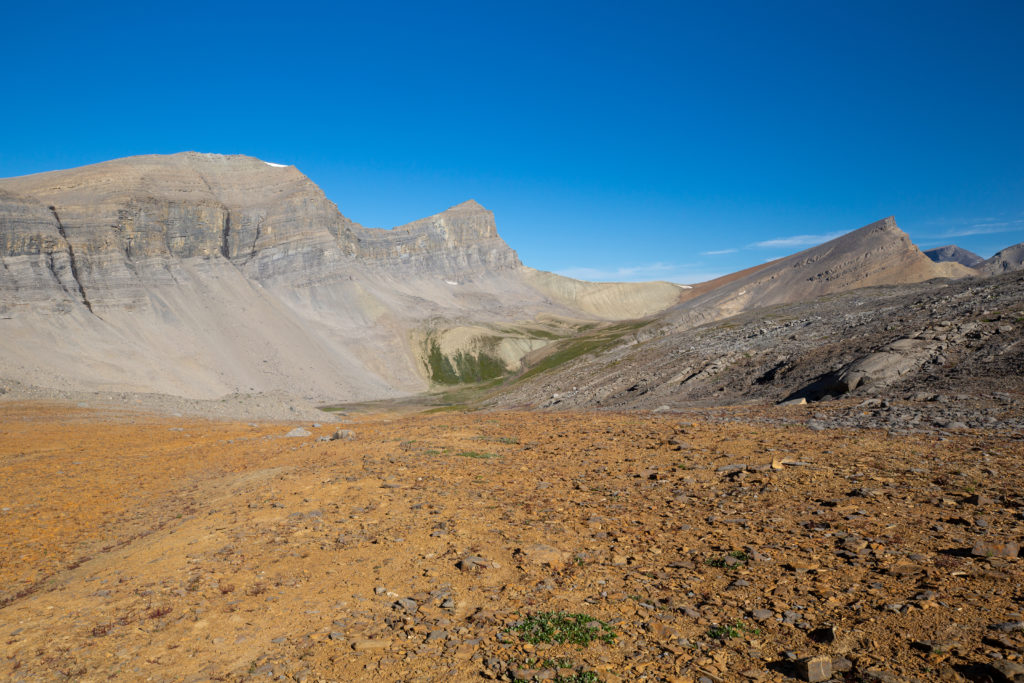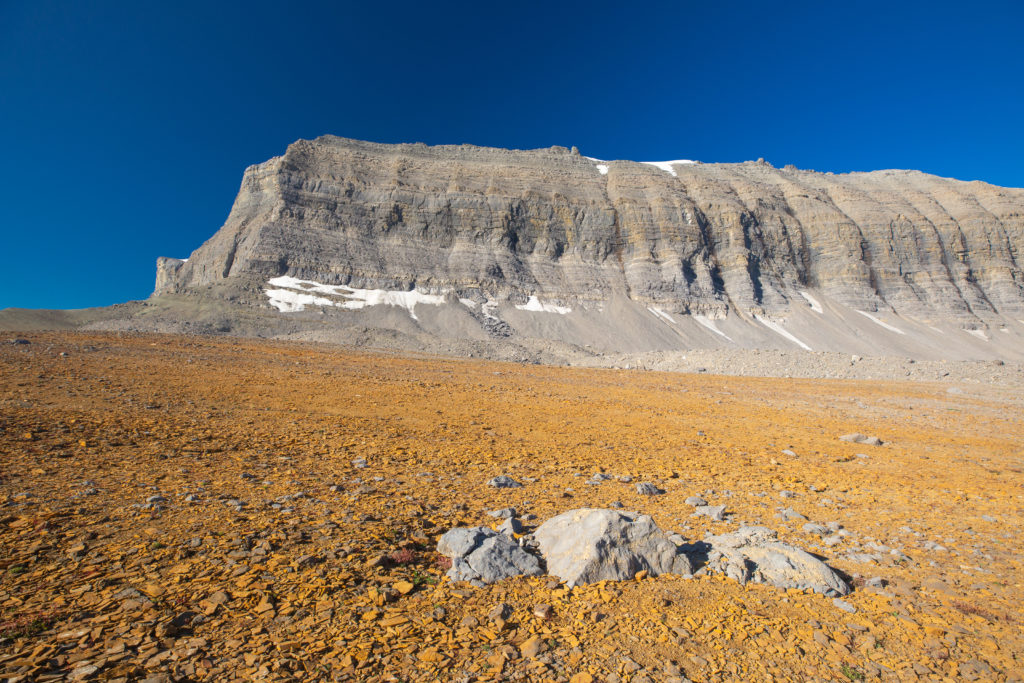 I arrived at upper Michelle Lake at 10:20 am. I met the couple the hunter from the day before had mentioned. They were refilling their bottles at the headwall to the the first lake. I spent almost 10 minutes talking to them. They were thru hiking the GDT and had completed a couple of American long trails. I noticed that they had ultra light Gossamer backpacks on so I asked them about durability. They were happy with how long the packs lasted but admitted that they were on their third packs but I do not remember the time frame. I also asked about their shoes as both were hiking in trail runners. They liked the runners due to weight savings and said they normally get about 500 miles (800 km) out of a pair. Before they left they gave me a great piece of intel about camping. While there was ample camping at the far end of Upper Michelle Lake on the south side the best spot was by a waterfall at the bottom of the cliff that leads to Lower Michelle Lake. They had found the camping spot after setting up their tent and had chosen not to move as it was getting late. I thanked them for the advice and we both went on our separate ways.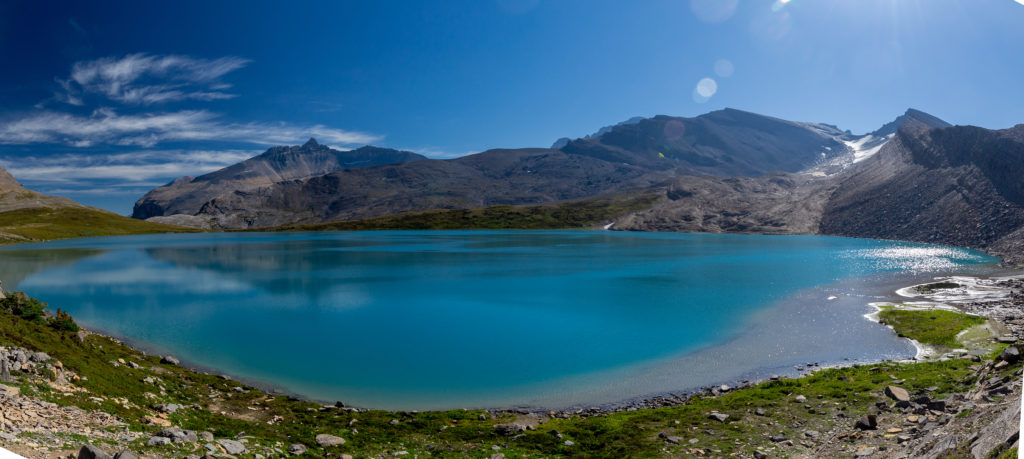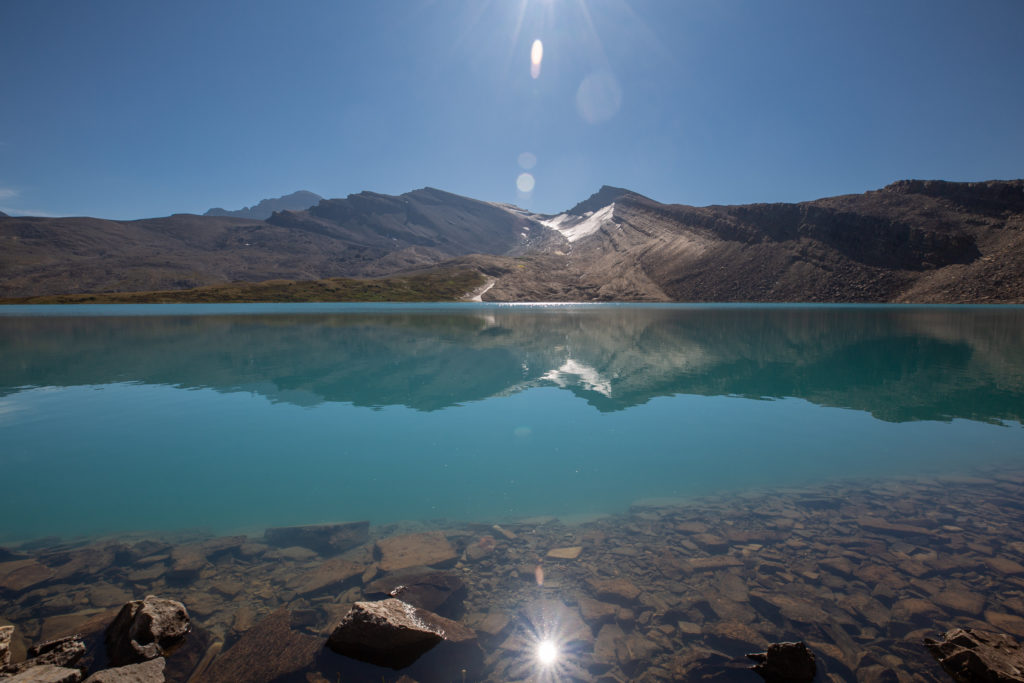 It was easy to descend the cliff without scrambling if you walk to the left (west) and find a little drainage . I took the short cut over the cliff and had to do some minor scrambling to descend to the bottom. The space at the bottom of the waterfall had a rock ring suitable for one tent and plenty of area to share with others who would want to camp near the waterfall. I was absolutely stoked to spend the day hanging out at Lower Michelle Lake and the evening sleeping by a waterfall. It is interesting that in his guide book Dustin Lynx did not have much good to say about Michelle Lakes stating that "The camping around the flood plain and Michele Lakes is poor owing to wet and uneven ground". The people I met who stayed at Michelle Lake were all very happy with the location and the camping. I threw my pack down at 10:55 am.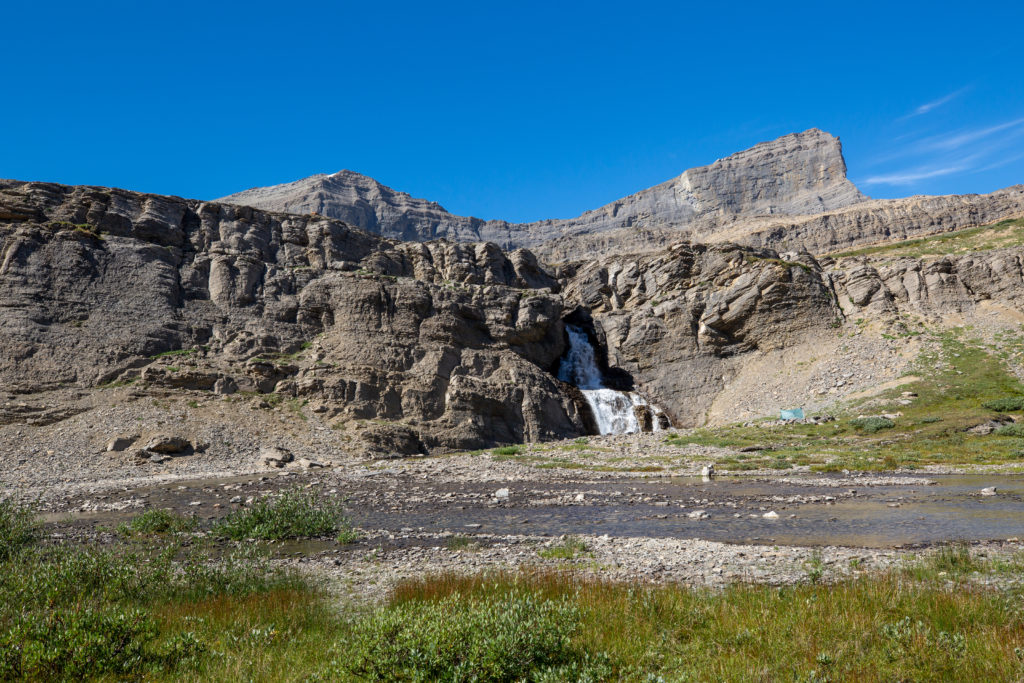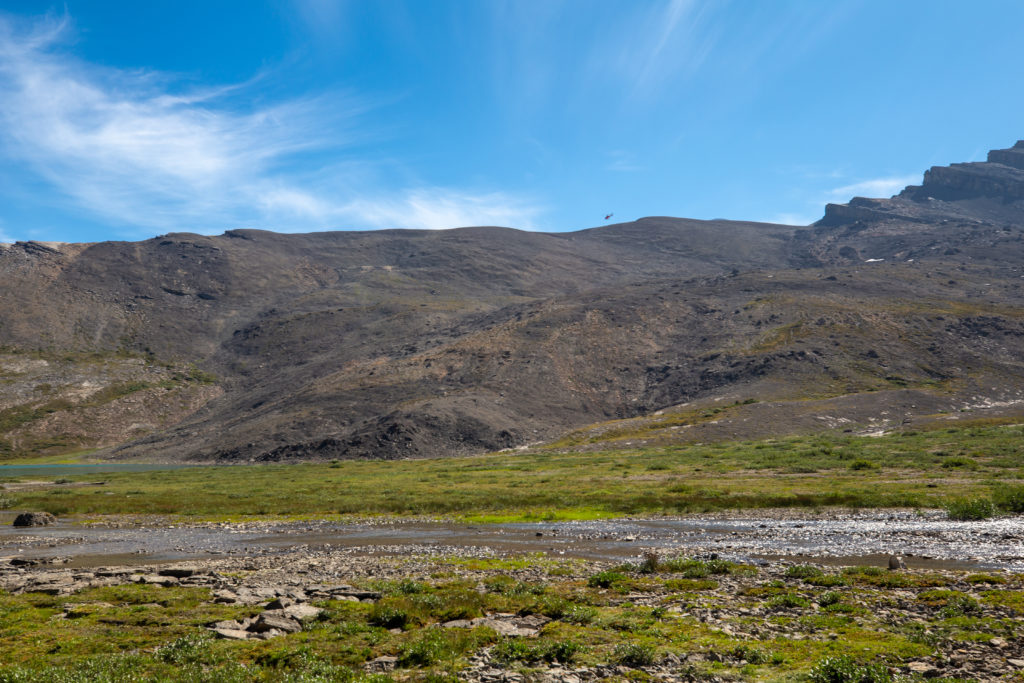 I had lots of time to observe the helicopter traffic in the area as I was completely set up before noon. There appeared to be a regularly scheduled flight bringing people to the area for a 30 – 45 minute walks. I saw the same helicopter and pilot three times. Once I did say hello to the pilot and his guests but did not get much response. They would land on the south side on a hill above Upper Michelle Lake.
From what I could figure out by watching the helicopters all day was that there were two types of flights. The regular flight as I have mentioned flew guests in and had a little 45 minute walk of the area. The other flight would drop off/pick up guests who wanted to stay for the day. I talked to a father/son pair who were at Lower Michelle Lake fishing for the day. Their helicopter landed on the green space directly across from my tent and picked them up to go back at about 8:30 pm. I did not really mind the helicopters. I understand for some people it is not possible to walk to an alpine setting and this is a way more people can experience, even briefly, the wild high alpine of the Canadian Rockies.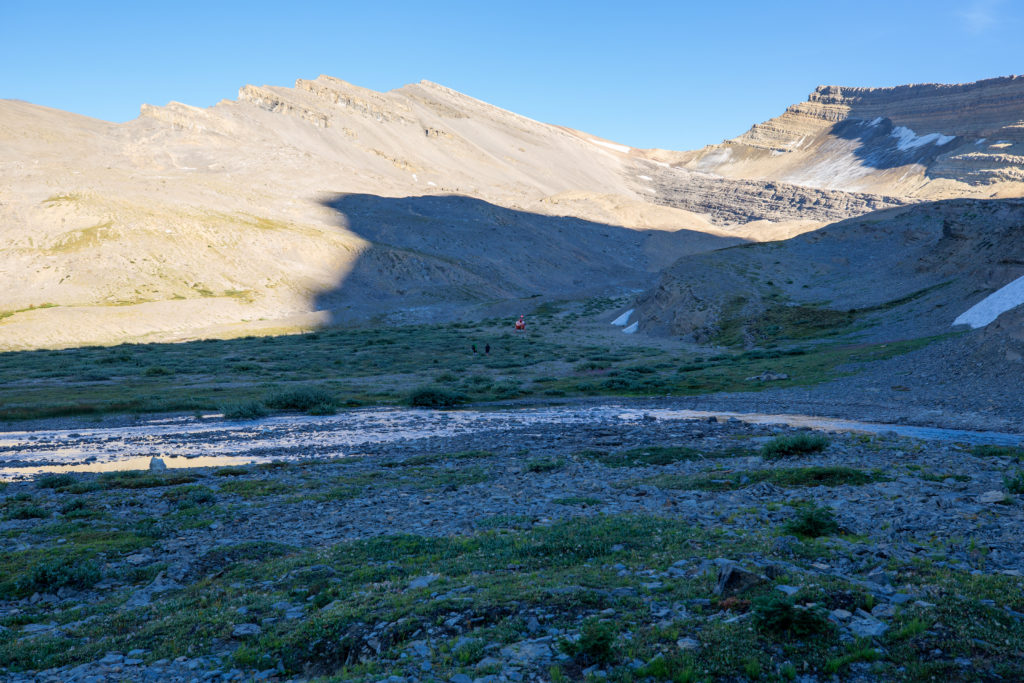 I set off to explore the area around Lower Michelle Lake. The lake was rimmed by cliffs and steep slopes. I was quite aware that I was solo and was somewhat cautious in my exploring.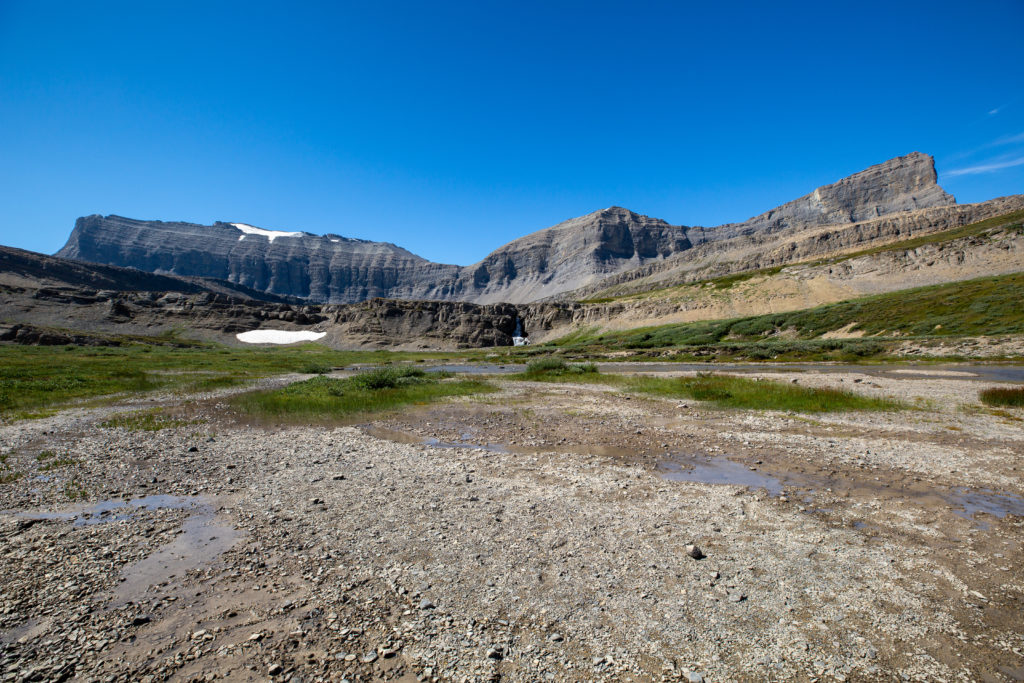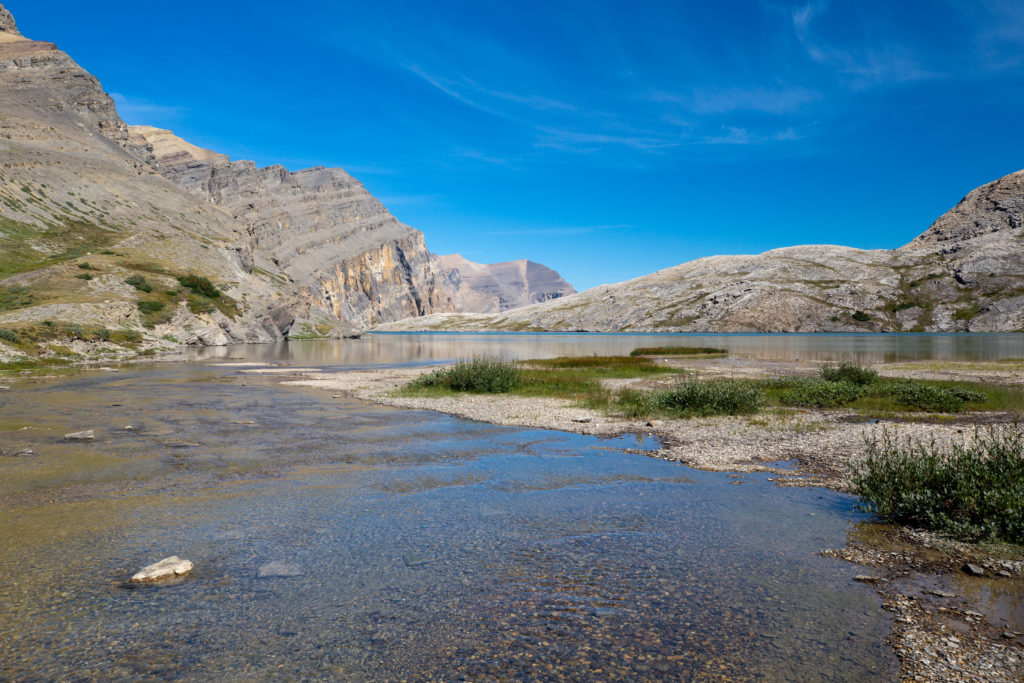 After I finished exploring I went back to camp to have lunch and do some reading. One challenge of the beautiful day and my high altitude was a lack of shade. I was able to find a comfortable place on the cliff across from my campsite to sit and read during the afternoon. I quite enjoyed myself sitting and reading my book on AI surrounded by the beauty of the Canadian Rockies.
To break up the reading and to keep moving a bit I experimented with long exposure photography of the waterfall. I have a variable density filter that I can put on my camera to allow me to leave the shutter open for extended periods of time to blur the water.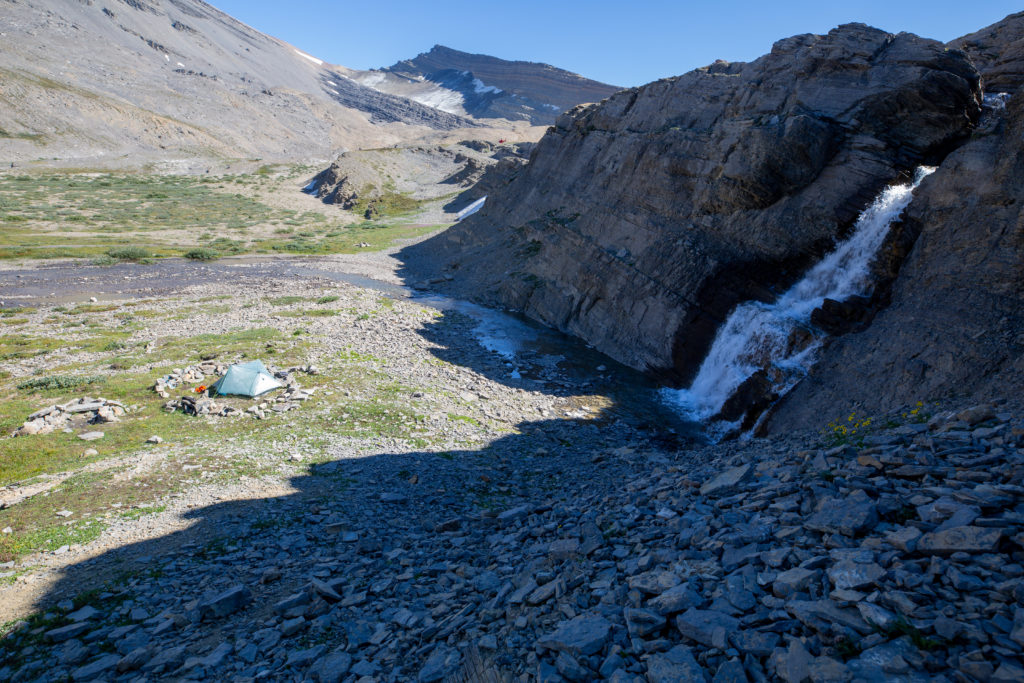 At just after 6 pm I made dinner. I set up my kitchen by shore of Lower Michelle Lake.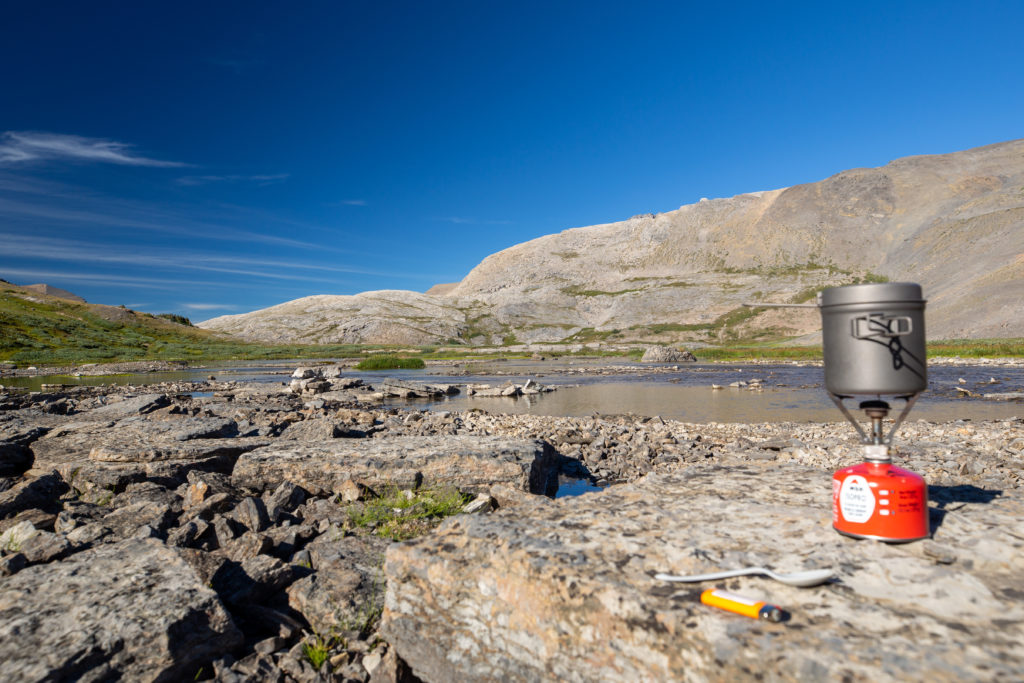 After dinner I cleaned up and attempted to place my bear hang. With an obvious lack of trees I decided to place my bear bag high up on a ledge. I figured that a large animal like bear would not be able to access my bear bag but it would be vulnerable to agile nibbling critters but what choice did I have.
I decided to go up to Upper Michelle Lake to see if anyone else had arrived. As I walked over the cliff I spotted a couple of people and some tents. As I got closer one of the figures screamed out "Ian". The two hikers were Jason and Bent who I had met back at Yoho Lake on Day 2 of my Aborted Section D hike. We chatted for a while. They were headed to Pinto Lake the next the same plan as I had so we agreed to hike together. I told them about the Perseid Meteor shower that should be visible with the clear skies we had. Jason told me the next day that he hauled his sleeping bag and pad out of his tent and spent over an hour that night watching the meteor shower.
I headed back down to my tent and read some more before going to sleep with the soothing sound of the waterfall in the background.