August 12th, Palliser Pass Wild Camp to Big Springs CG, 26 (+13) km, 150 m elevation gain, 540 m elevation loss 11hrs 5 min (all distances and elevation are as per the guide book, Viewranger App will vary), Section C Segment 15 and start of 16.
It rained heavily overnight and a couple of thunderstorms rolled through the campsite. We were up and out of the tent getting coffee going by 7 am. This meant rescuing our food from our bear hangs which took a few minutes. Micah's feet had got very beat up yesterday so they took a few minutes to wrap her feet in our go-to blister prevention tape. Unfortunately for my planning instead of bringing the entire roll of tape I had only brought about 8 strips of tape. After Micah had done her feet we were all out of tape and it was only day 2! My feet were sore too—not that bad, but there was no tape left. I should have put some moleskin on anyway. I carry moleskin although I find it comes off when my feet get sweaty.
Since we both had sore feet we decided to put the SPOT X to use and text home and ask for emergency resupplies for our blisters. I sent a spot to Laura and Kathleen outlining our issues from the campsite. I proposed a plan where we would hike to the junction with the GDT trail and the trail to Mt Shark Parking Lot. Then I would hike to the parking lot to pick up the supplies, about a 13 km round trip, with 4 pm the designated meeting time at the parking lot. After sending the message we decided that we would hike up to the Palliser Pass to check for a reply, which could take 15 minutes. No point sitting around camp.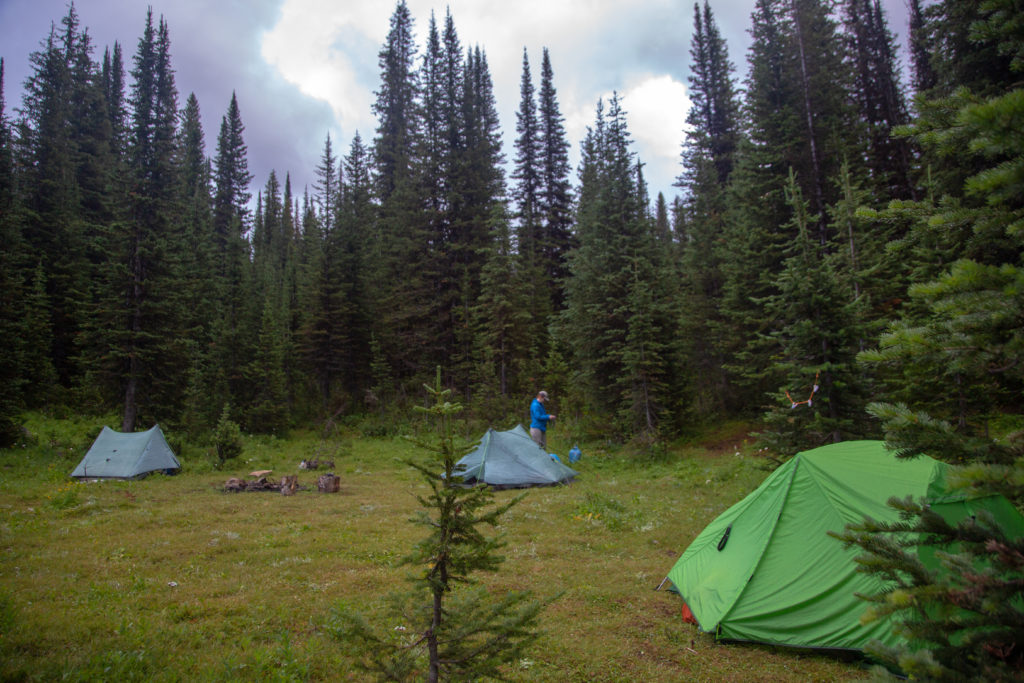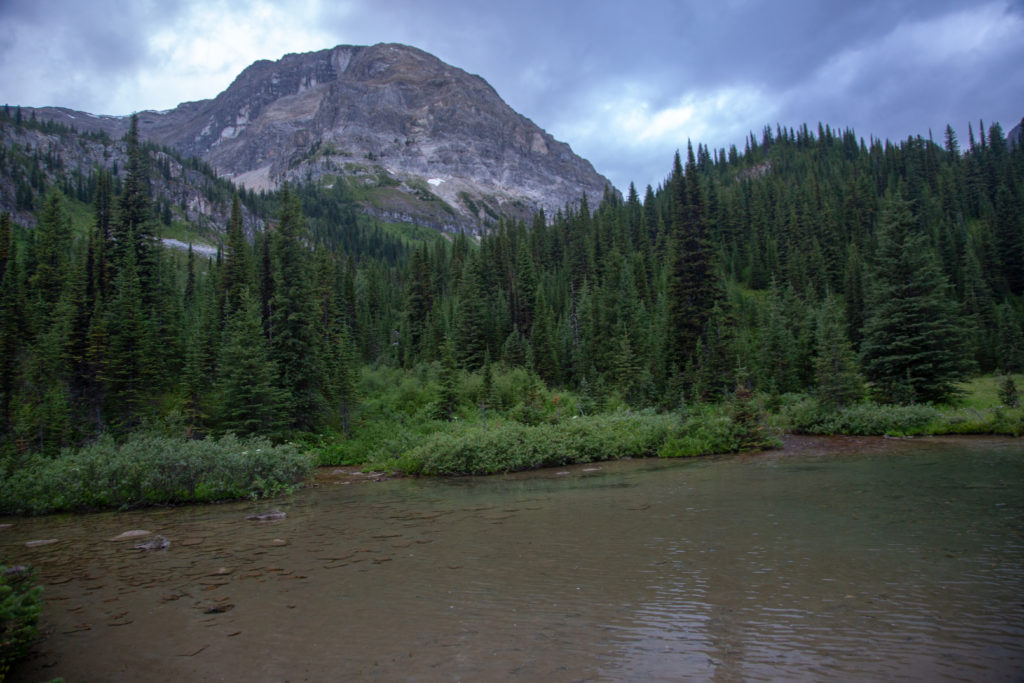 We left camp just after 8:30 am. A nice comfortable start to what would be a big day for me. After a flat walk over a meadow adjacent to the campsite we quickly headed uphill through dense brush heavy with water from the rains last night. We gained the 95 m to our high point of the day in about 22 minutes covering 0.8 km.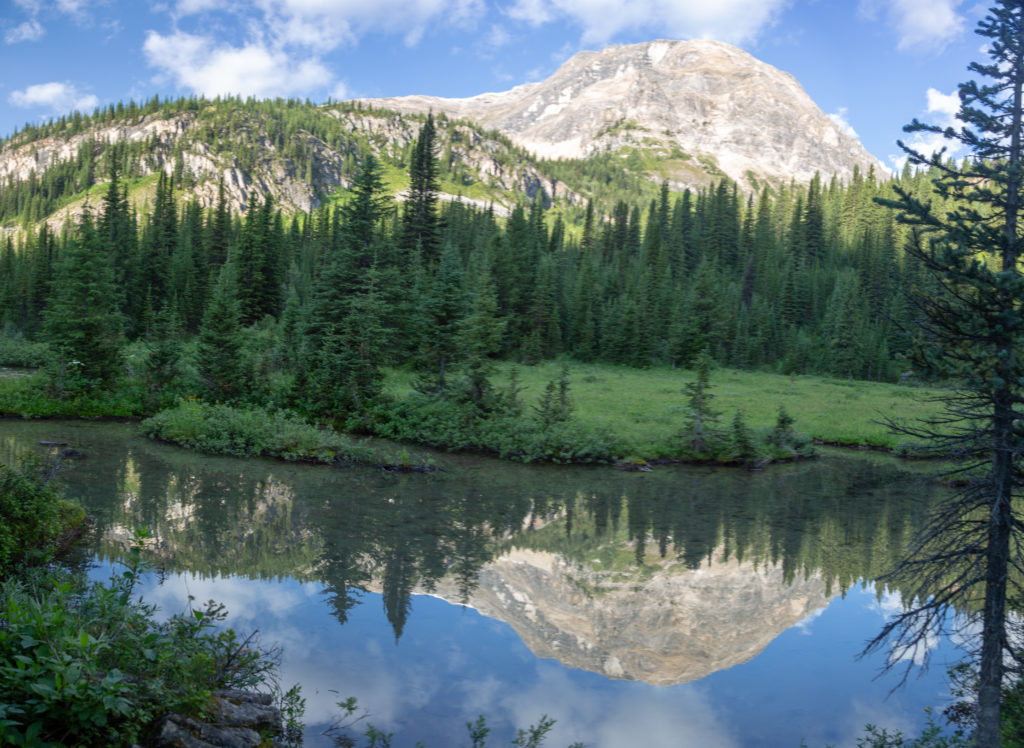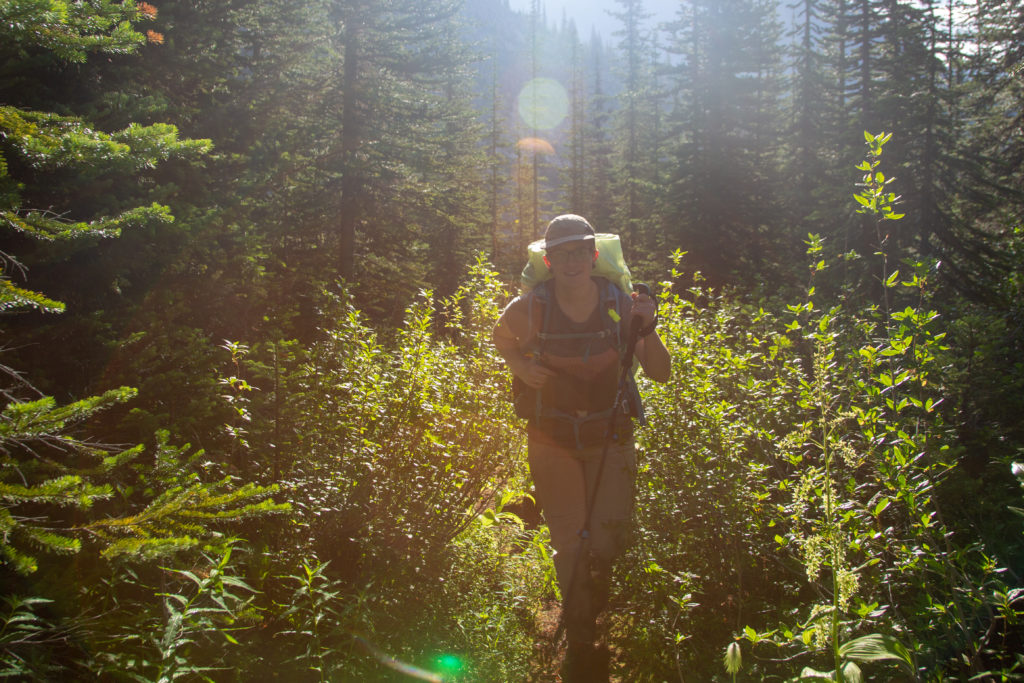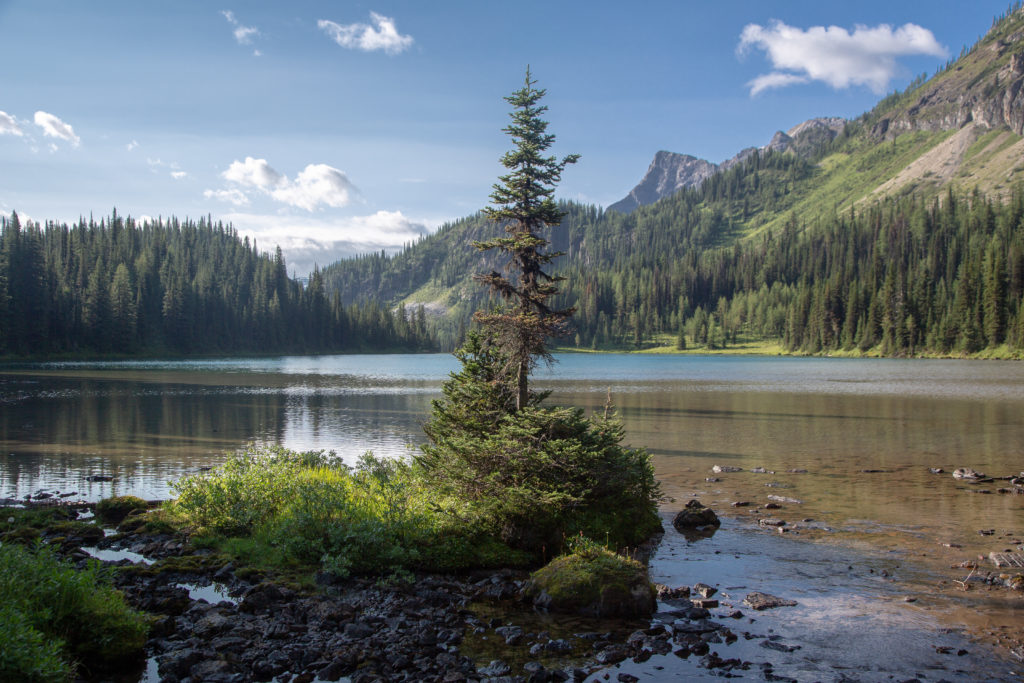 We passed by a couple of small ponds and arrived at the top of Palliser Pass, the entry to Banff NP, at 9:10 am. I pulled out the SPOT X and I had received replies from both Laura and Kathleen. The confirmed plan was for Kathleen to get our blister supplies from Laura and for Kathleen to drive to the parking lot at Mt Shark for 4 pm. This is where I made my second blunder of the trip. After asking for the blister tape I did not ask for my Salomon hiking shoes. We'll never know for sure, but switching back to my regular shoes may have saved my trip. The confirmation of the 4pm meeting gave us a hard deadline for our hike. In my mind I recalled it being around 6 km from where we would join the trail from Mt Shark back to the parking lot. The goal was to arrive at 3 pm at the junction. So we had 20 km to cover in under 6 hours and needed to stop for lunch. This was not unreasonable as once we descended from the pass the trail was almost flat as it followed the Spray River down to the Spray Lakes Reservoir.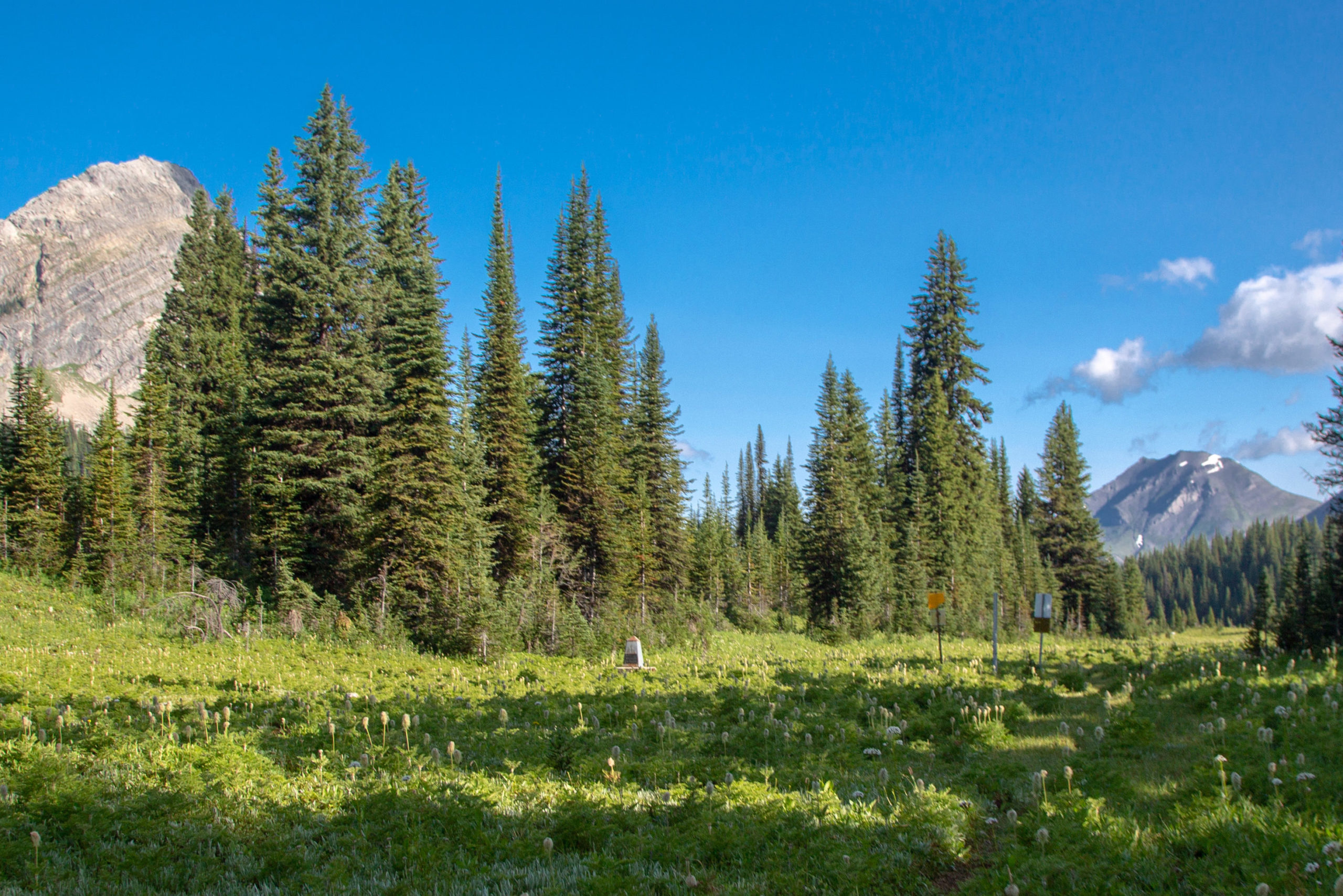 The clouds of the morning had cleared off, leaving us with blue skies overhead. After leaving the pass we quickly dropped 180 m in 1.6 km along a heavily forested trail. Once we cleared the forest we found ourselves in the Spray River Valley. We would have about 4 1/2 hours of easy hiking in the valley bottom. We stopped for snacks at 10:30 am and the father/daughter duo who we'd shared the campsite last night with hiked passed us. At 11:30 am we stopped for lunch just off the main trail on a little bridge leading to Leman Lake Campground. I knew about the bridge because I had been to Leman Lake CG with Laura back in 2018. I chose the spot because I thought sitting by the stream would be a relaxing stop on what was a hectic day.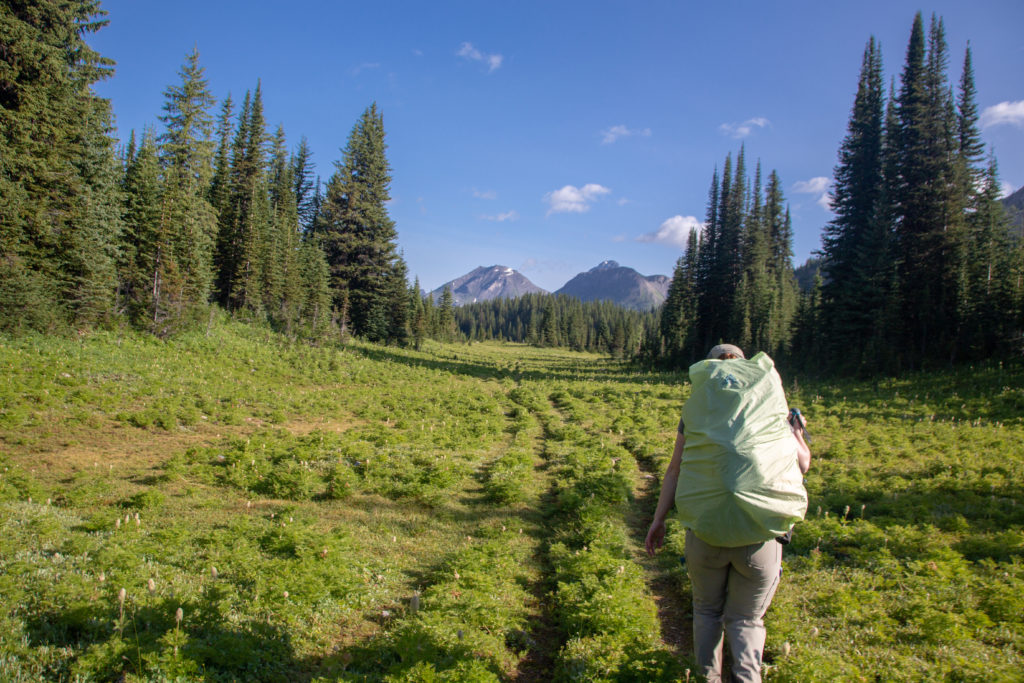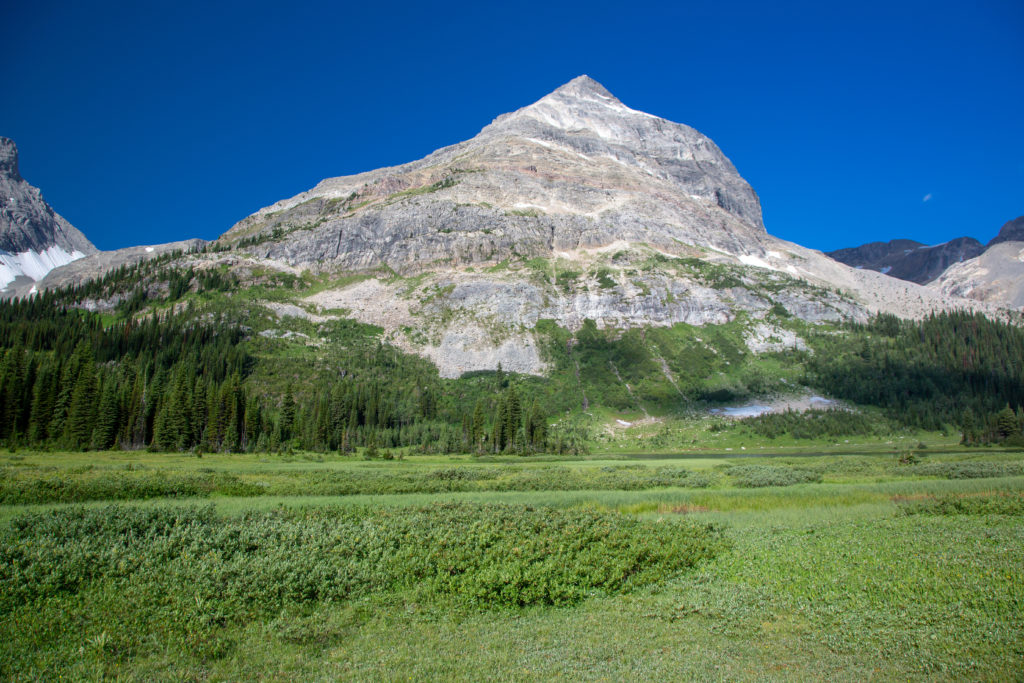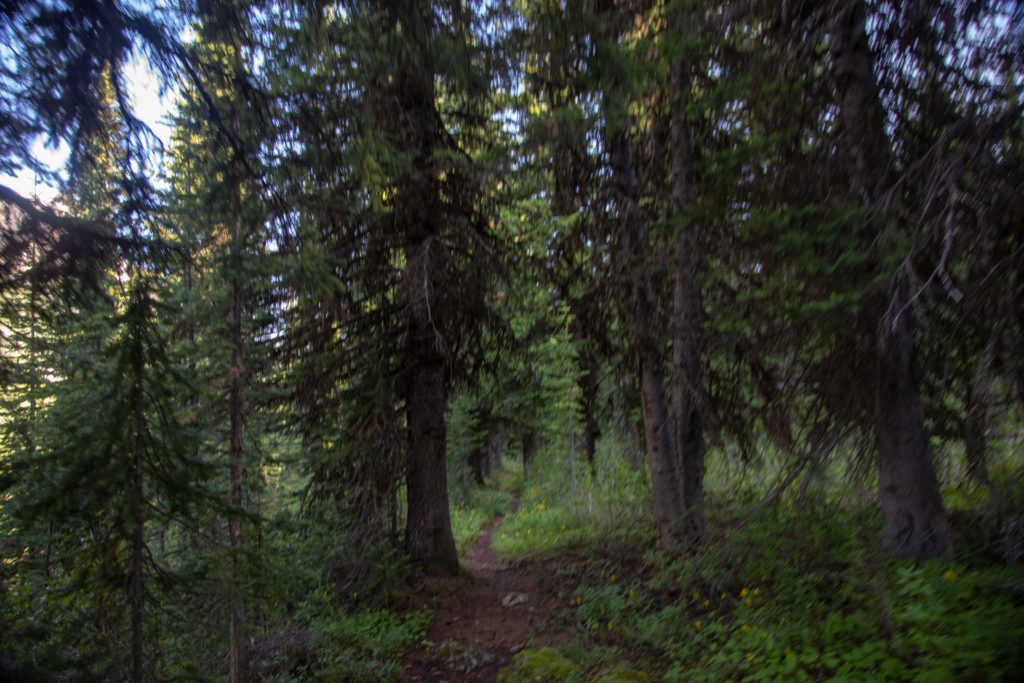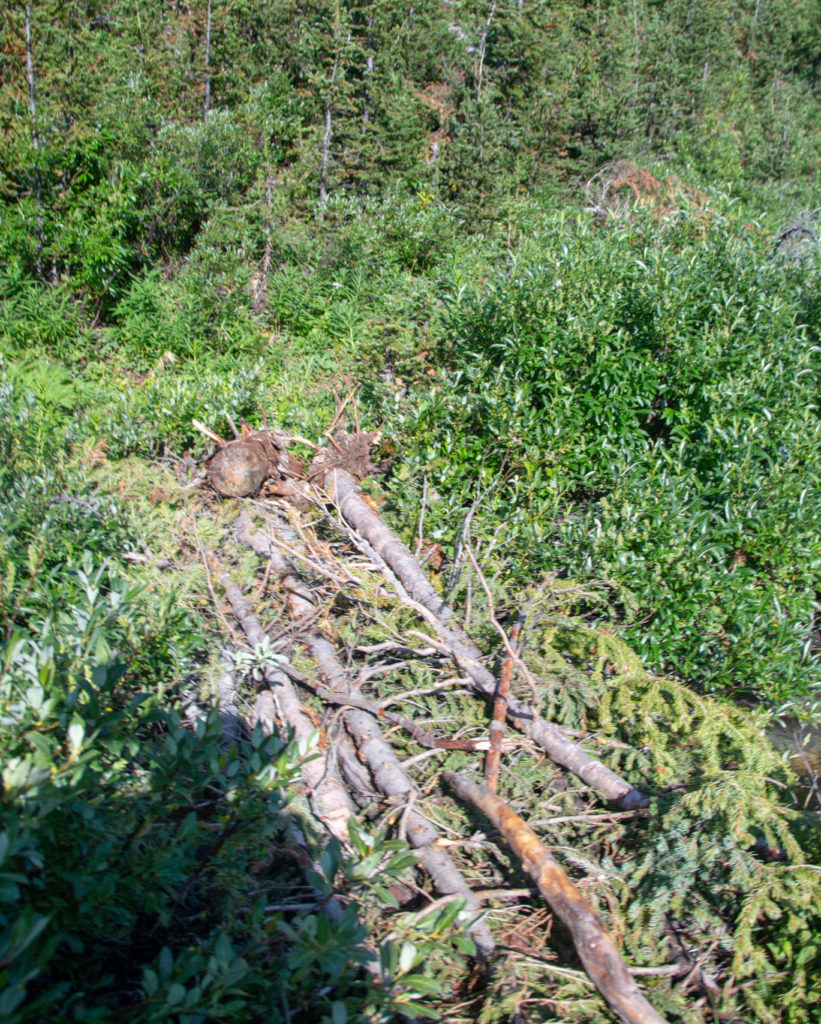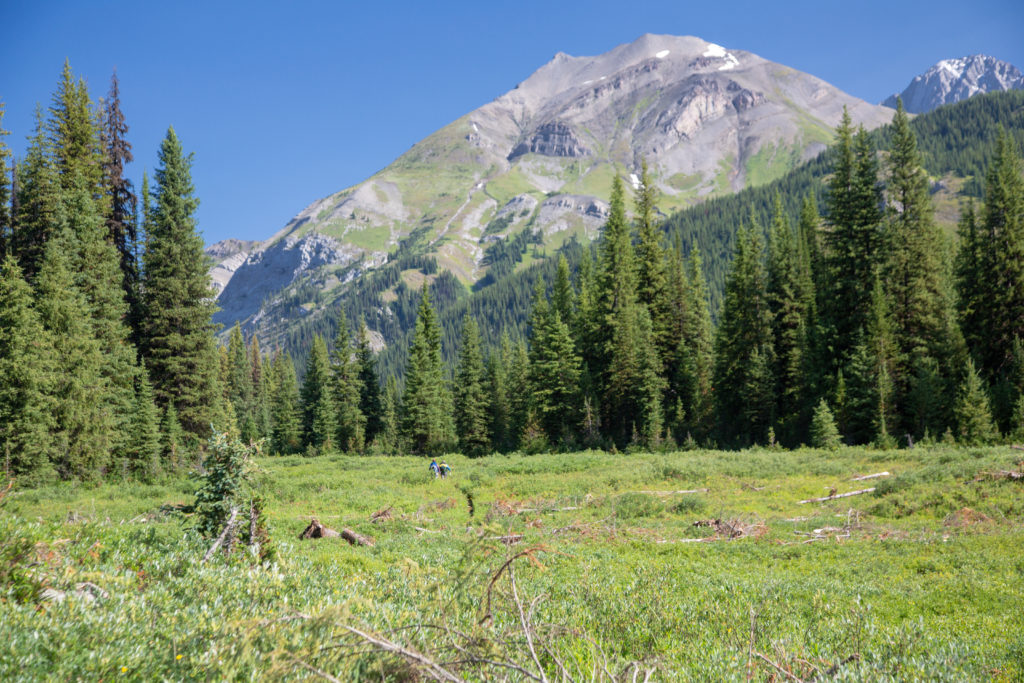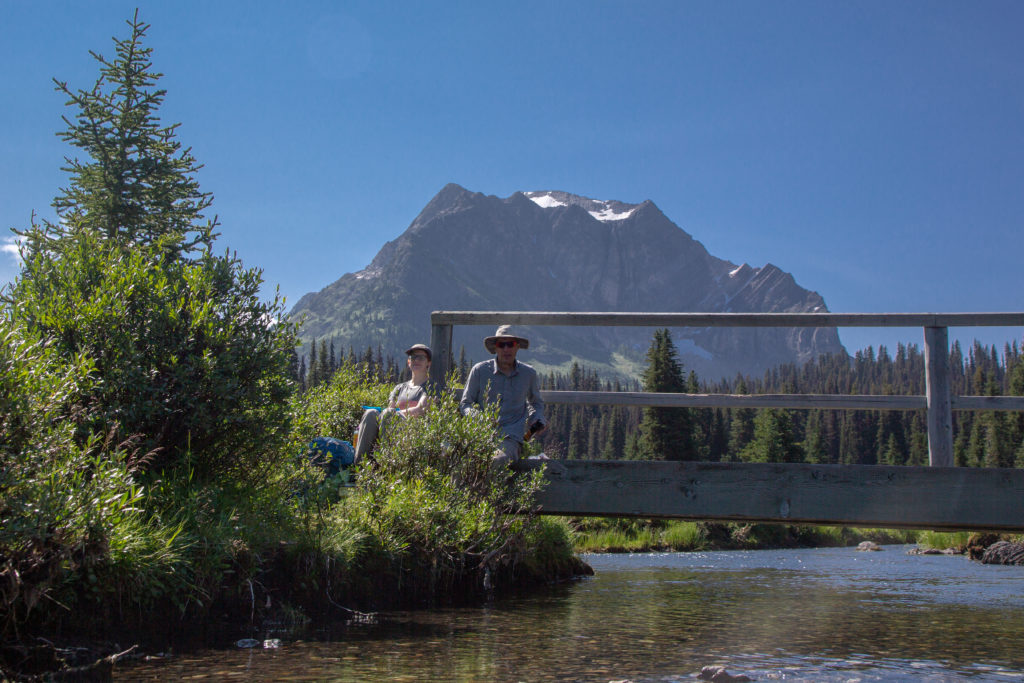 We had a nice relaxing 40 minute lunch break. Upon leaving I was feeling a deep sense of urgency at the distance we had to travel to arrive at Mt Shark parking lot by 4 pm. The distance to the junction was still about 14km, and then I had to add another 6ish to the parking lot. We had under 4 hrs to make the trip, necessitating a speed of a little over 5 kph. The trail was very flat and easy going but the 5 kph average was going to be a big ask and raised my stress level throughout the afternoon.
Micah's note: And to think he initially wanted to put 3pm as our meeting time! Good thing I talked him out of that one. It was a hell of day even with needing to get there by 4.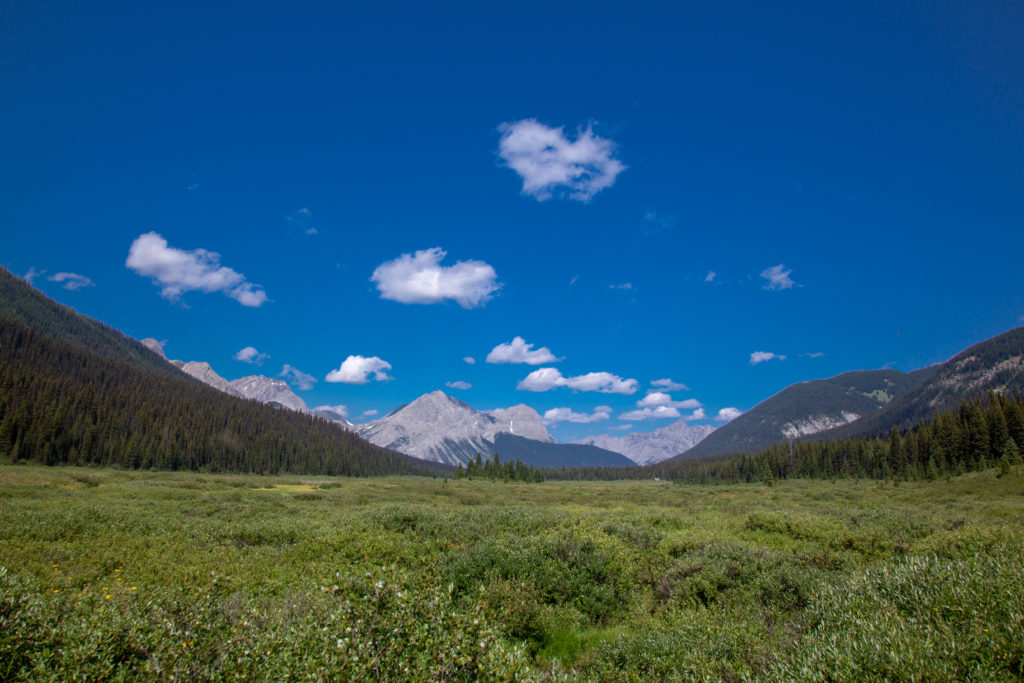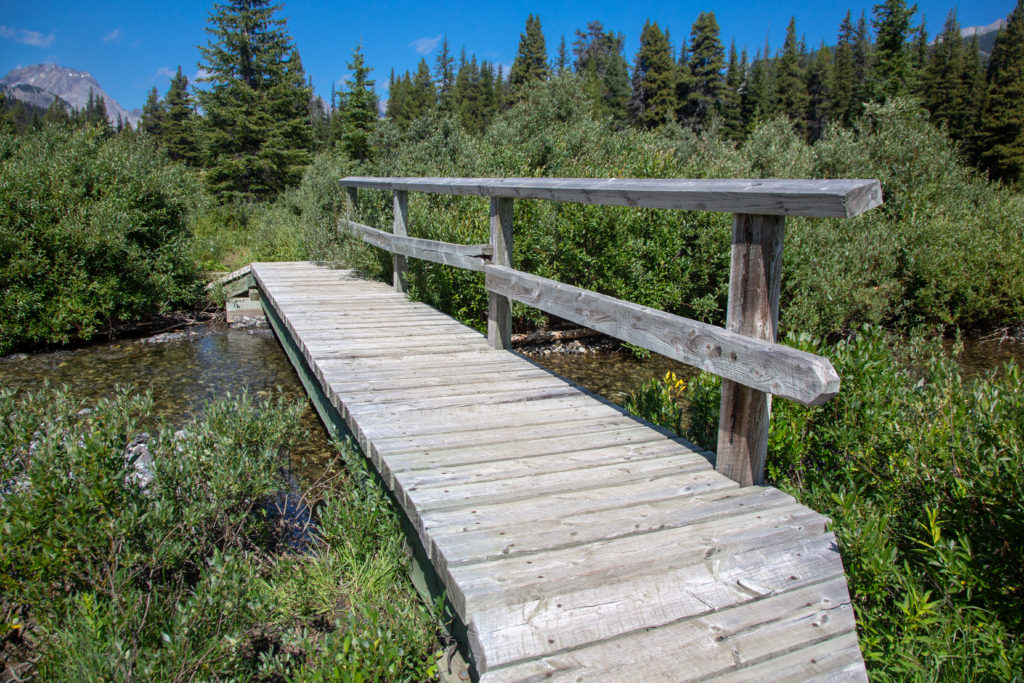 We past the father/daughter duo at Birdwood CG. They were enjoying their lunch while drying out their tent. Zpacks tents are very light but being single walled tents, no fly, they often have condensation buildup on the inside of the tent. We had quick drying cloths that we used to wipe down the inside of our tent that we also used to clean ourselves. Many people when hiking with a single walled tent will pull it out during a break to dry it, although we never did. We discovered the daughter was dealing with a severe case of blisters. They had started their hike the day before we had and had stayed at Forks CG for their first night. Despite using the same shoes as she did on the PCT the daughter had loonie sized blisters on her heels. They had planned to hike through to the Rockwall in Kootenay NP but did end up leaving at the trail at Sunshine Village. We pushed on as the hope of being on time at Mt Shark was quickly slipping away. This was one of the few times during the trip that I lead. I probably pushed the pace a bit high on the flats as Micah would later remark that the day was a bit of a death march.
Micah's note: I felt a little vindicated that the other pair we were hiking alongside had blister issues—if seasoned PCTers could get blisters on that section, then maybe the fact that dad and I had painful feet was at least in part due to the fact that it was tough terrain. Our footwear choices certainly hadn't helped, though. As for the death march comment? I have short legs. I'll blame the genetics.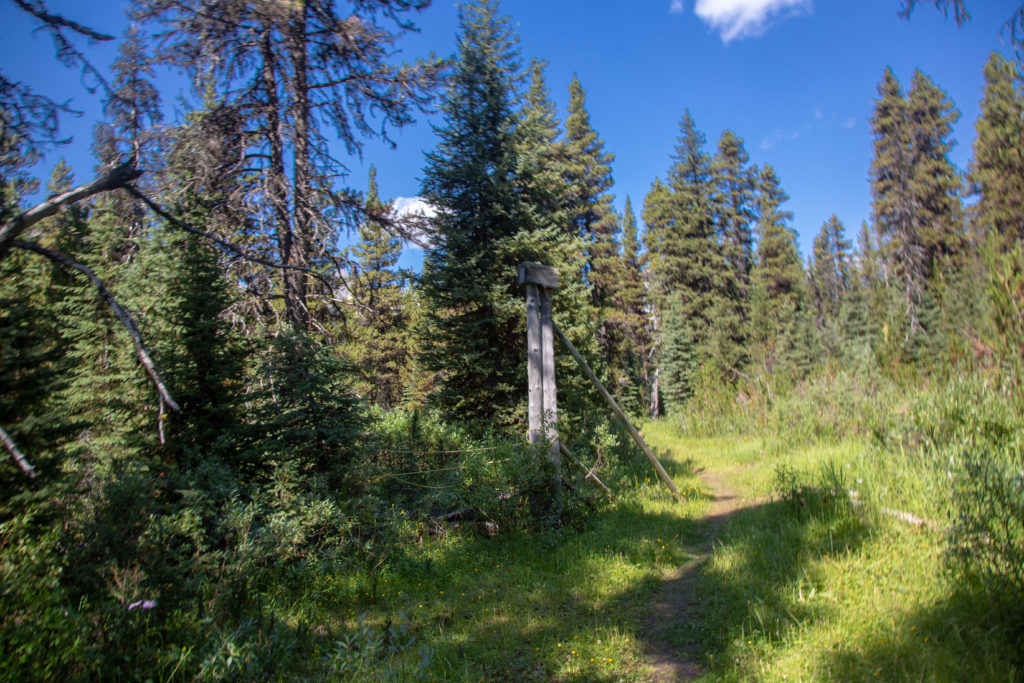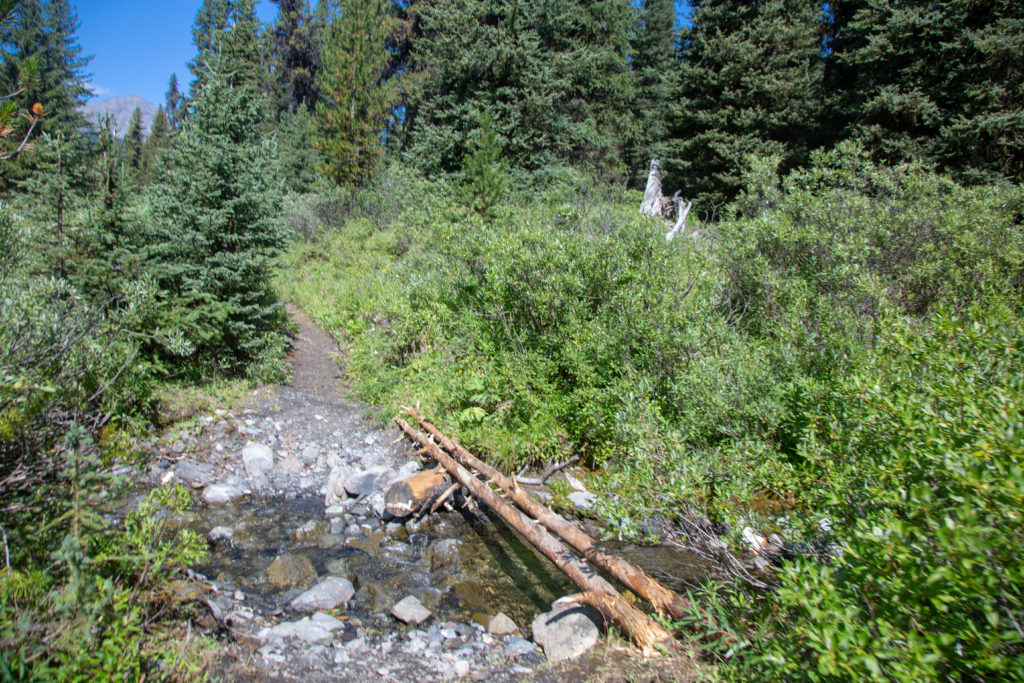 Once passing Birdwood CG we left the open meadow behind and spent the rest of the afternoon hiking in the woods. According the ViewRanger App we did keep an average speed of close to 5 kph. Pushing on just after 3:30 pm we arrived at junction with the trail back to Mt Shark parking lot.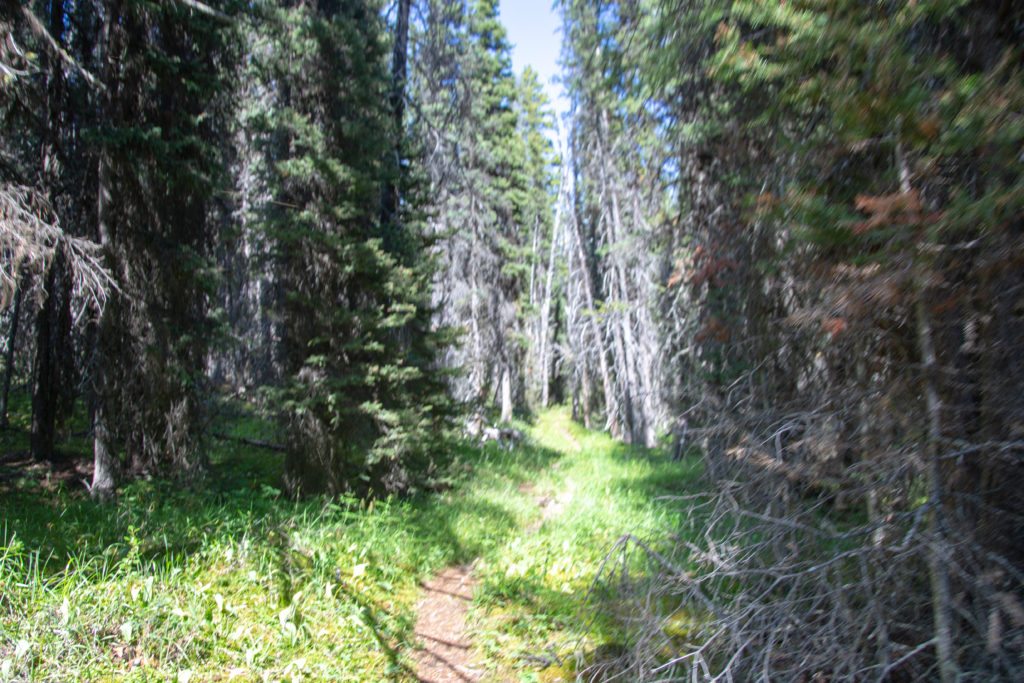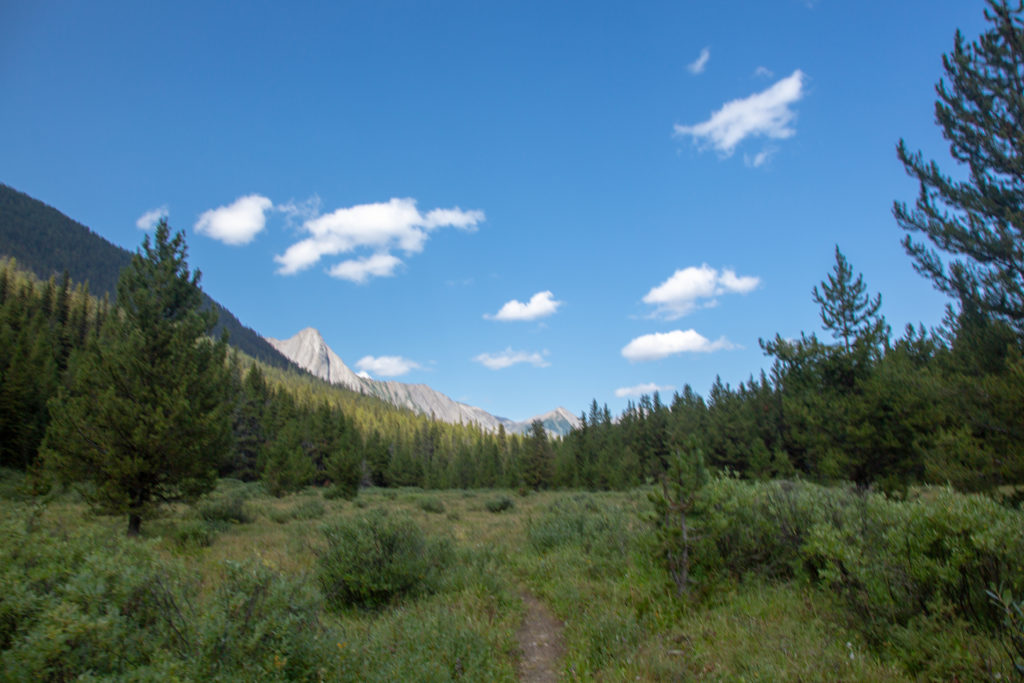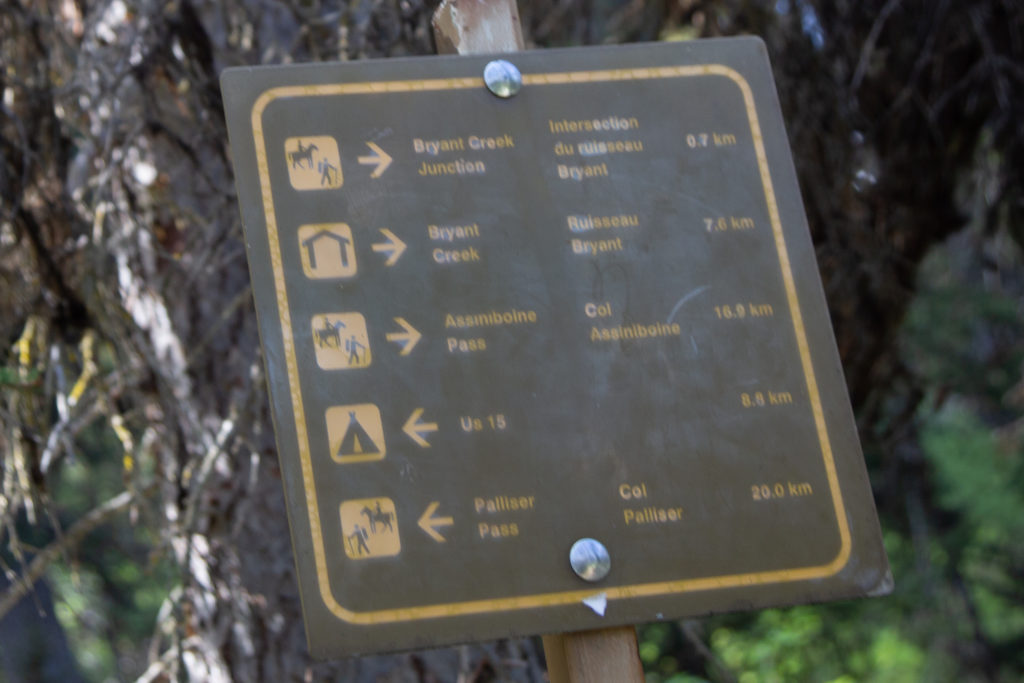 Upon arriving at the junction to our trail we set up a temporary camp at a little spot where the Spray River flowed into the Spray Lakes Reservoir. The plan was that Micah would stay with the packs and prepare dinner while I would hike to pick up the supplies. The Gregory backpacks that we both used on the hike utilize the water bladder pocket as a light day pack. We both carry our water bladders on the outside of the packs. Micah took to using her mini pack for her personal items that they wanted in the tent. I mostly ignored my bladder carrier but did use it to go pick up our supplies. My feet were incredibly sore by this point. I grabbed some snacks and some water as I figured the best I could hope for would be somewhere around one hour each way. I thinking was that fresh and with no blisters I can jog 6 km (the approximate one way distance to the parking lot) in around 50 minutes. So with a bit of walk/running maybe I could be close to the hour mark. We still had about an hour of hiking to get to our campsite at Big Springs once I returned.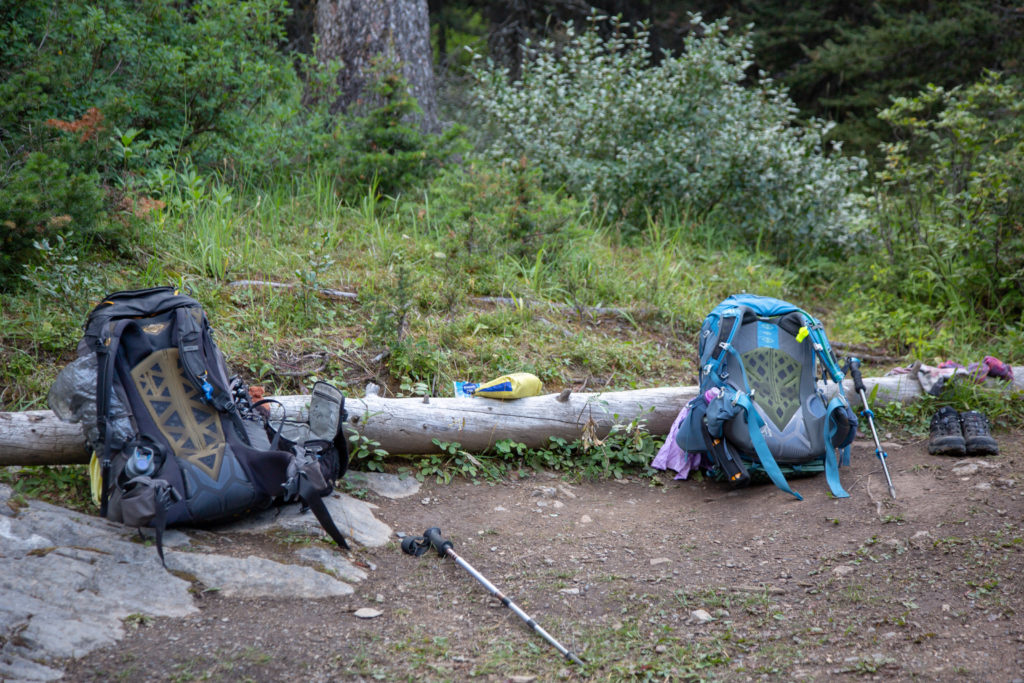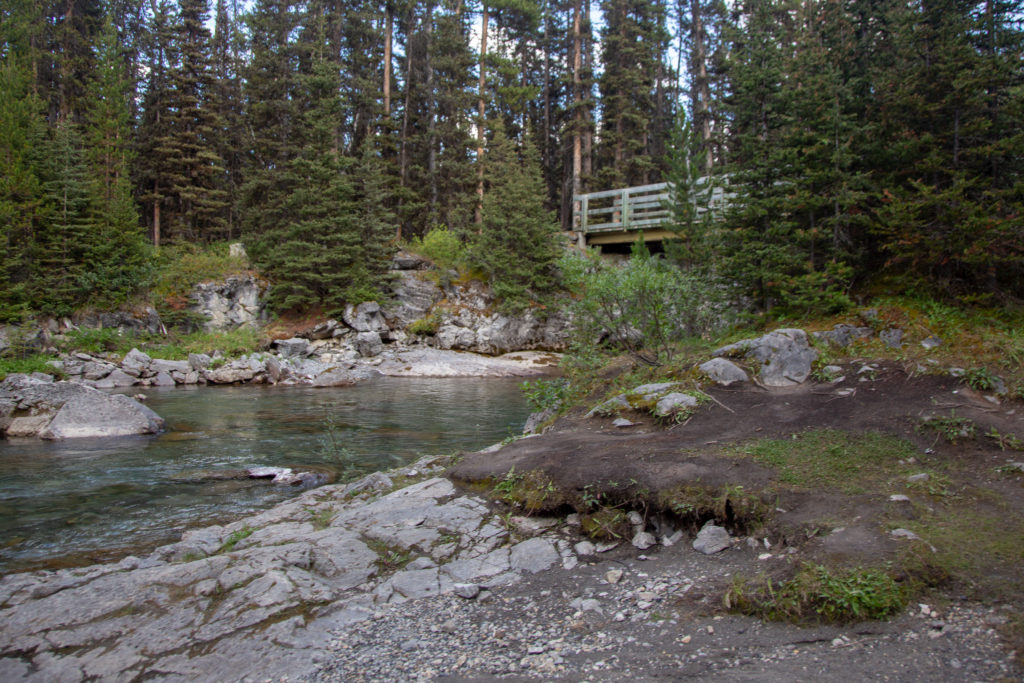 Despite our best efforts we were running about 45 minutes behind schedule by the time I hit the trail back to the parking lot. I ran/shuffled off down the trail. There was a bit of a hill I had to get over near the beginning. After hitting the flats over the top of the hill I was really feeling the cumulative effort from the days hike. I moved as quick as could down the trail. I have hiked the trail a few times and it was a little further than I remembered. I arrived at the parking lot in 1hr and 3 min. Kathleen, who is a nurse, bandaged up my blisters which really made a difference on the return trip. Kathleen had also brought some treats. I had a pop in the parking lot and carried a pop back to Micah along with some homemade cookies.
Once my feet were all bandaged up I headed back down the trail and resumed my run/shuffle style. I was making good time until I ran into a former student of mine (from when I was a student teacher in 2002) hiking back from a couple days in at Assiniboine. She was hiking in sandals as she had blistered up her feet badly on the trip. It is always great to meet a former student and catch up but on this occasion I had to keep the greetings short as I felt the need to keep moving. I had no worries about Micah being by herself. Micah has spent weeks hiking solo so they would be fine for a few hours by herself. My bigger concern was with Micah's level of apprehension if I took too long to arrive back. Even with the added time of talking to my student I arrived back in 1 hr and 5 min after leaving the parking lot. I was well inside the 3 hour approximation we had set. My dinner was already prepared when I arrived. Dinner on day 2 was one of our homemade meals. I ate and relaxed while Micah tended to her feet. We had about 4 km to go to Big Springs and set off around 6:50 pm and arrived at Big Springs CG at 7:40 pm; alas, no time for beer.
Micah's note: While dad was on his epic round trip to the parking lot, my job was a lot less exciting; I took pictures, wrote in my journal, and cooked dinner when I decided the timing was right. It kinda sucks to be the one left behind while someone else does the hard work, but it made a lot more sense than both of us carrying heavy packs all the way back to the parking lot, and anyway, it was a nice break for me. Dad was exhausted by the end of the day. We were definitely not moving fast those last 4km to the campground.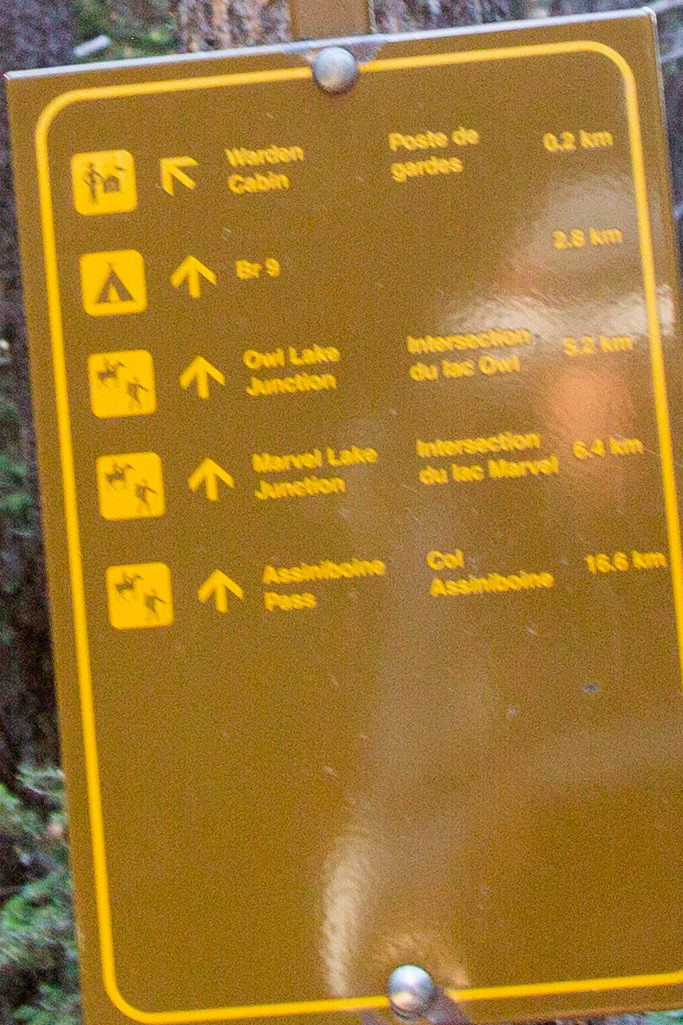 On most of our trips we read a book in the evening after a day on the trail. For this trip I had purchaseded the book Massive by Ian Sample. It was a retelling of the search for the Higgs Boson. To save carrying the book I had scanned the first 150 pages into a PDF document and loaded it onto my tablet. For the second night in a row we were too tired by the time we went to bed to do any reading. My feet were throbbing all night and I do not remember sleeping very well.