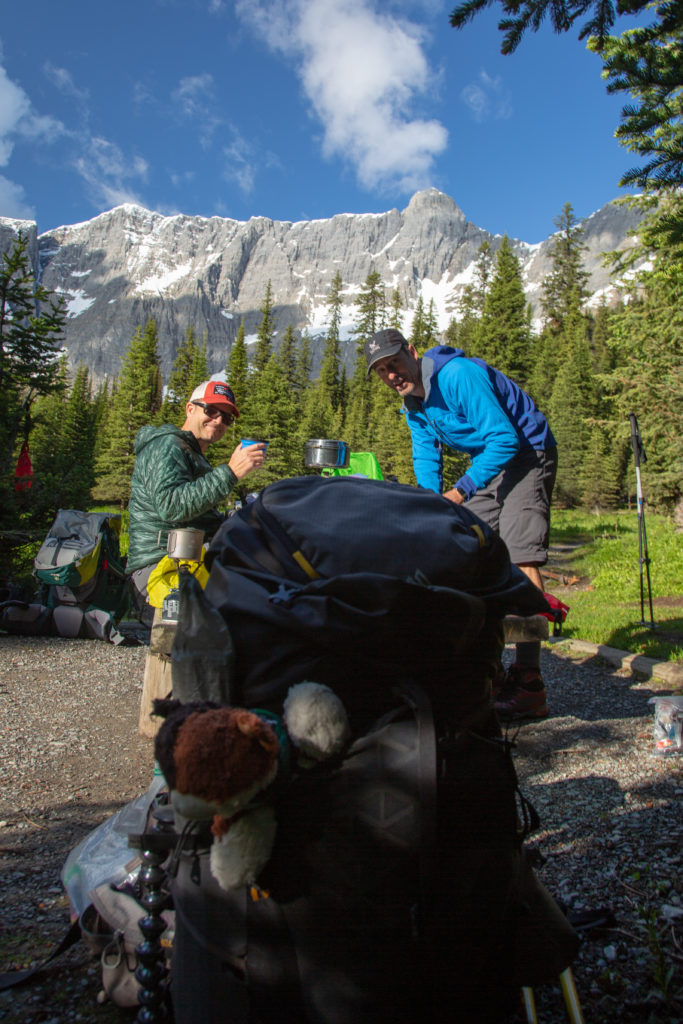 Tumbling Creek CG to Paint Pots Parking Lot, 11.1 km, 50 m Elevation Gain, 522 m Elevation Loss, 4 hrs 57 min.
Had a slightly more exciting sleep than I had hoped. It rained around midnight and my evidently had a small leak. Not sure how I noticed but I had water coming in under my sleeping pad. I managed to mop up what water had appeared in the tent and moved to one side and pulled the tent floor up where the hole appeared to be which prevented any more water from getting into the tent. When I fixed the hole at home it was so small I could not see it. I had to pour water into the tent and find where it was dripping to locate the hole. This little incident made me nervous about my longer trip coming up. Many of the Parks Canada campsites are on rocky terrain so I became concerned about getting another leak. I ordered a Zpacks ground sheet a weight penalty of just 88 g! I figured I could handle an extra 88 g of weight for some piece of mind. Despite the interruption to my sleep I was up and out of the tent at 6:50 am. I decided to have breakfast down by Tumbling Creek. Breakfast on the trail is heating some water for coffee and munching on a 100 g of Logan Bread.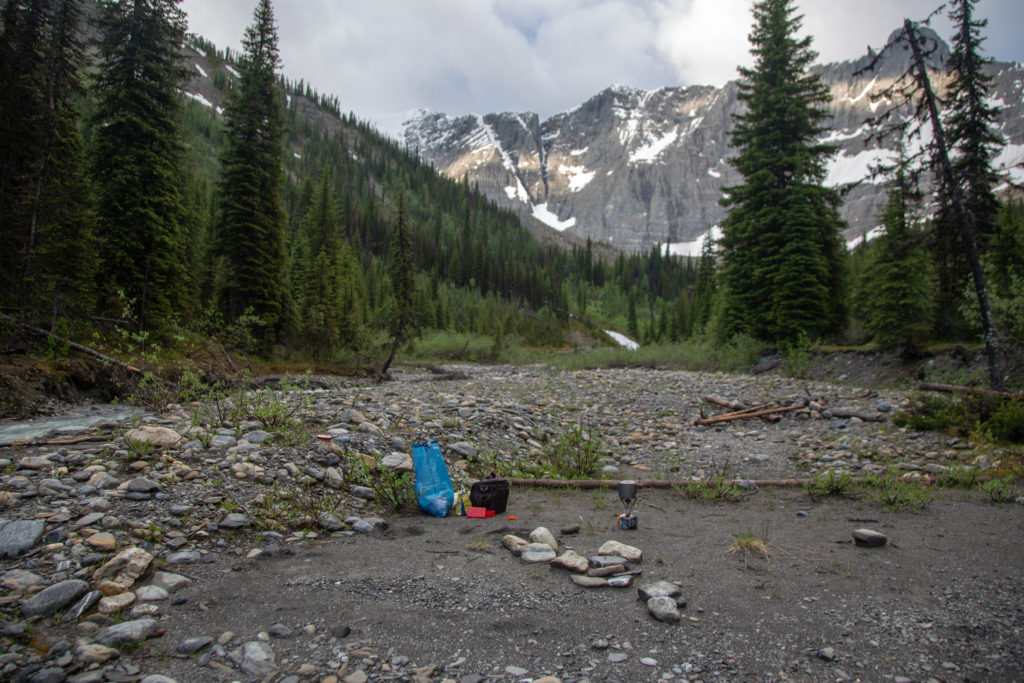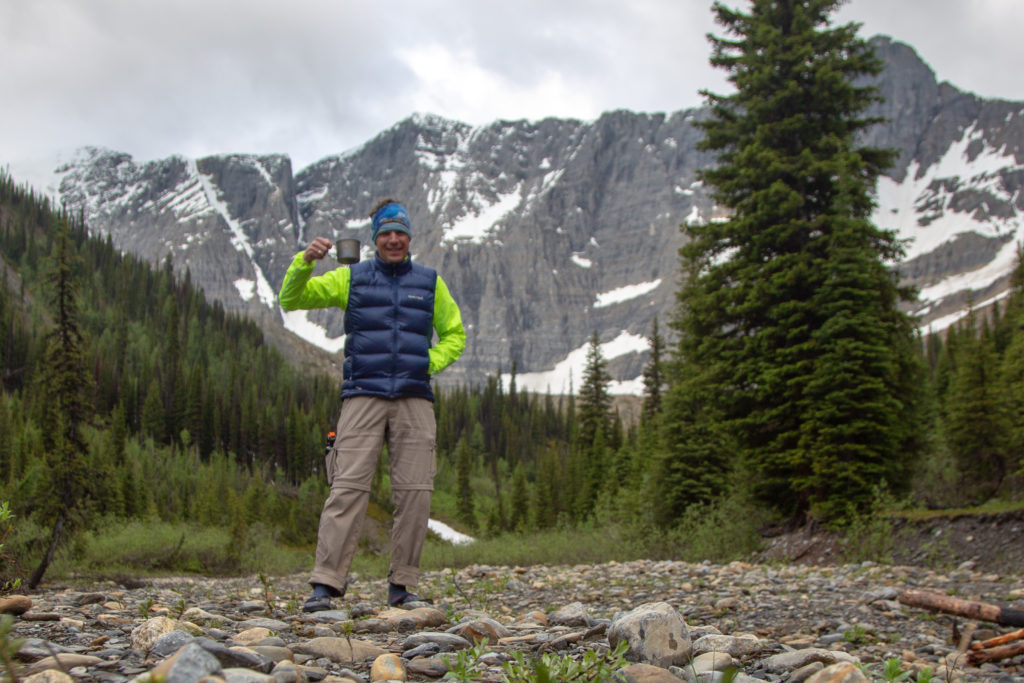 After spending some quality time alone by the creek I headed back to the tent to pack up. I noticed that during the night the ladies had moved tent spots. I guessed they had some water issues of their own as their original site had what appeared to be some hastily constructed canals dug into the dirt.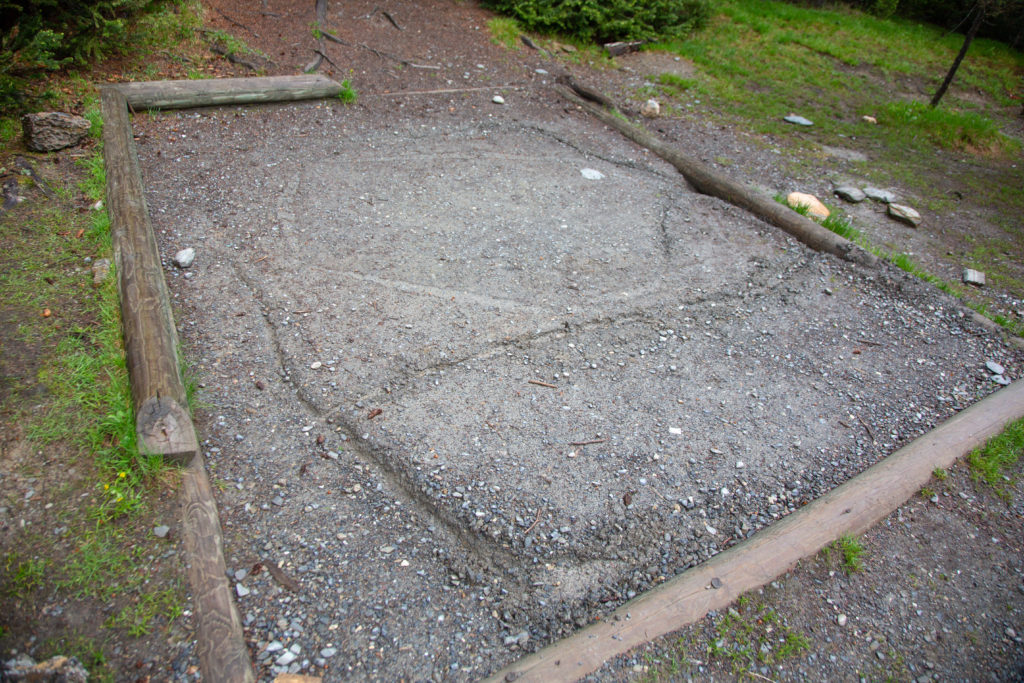 Ken and Neil got to work on their breakfast about 8:30 am. I made myself another coffee and decided to have a snack, a lunch wrap, since it was going to be a short day and I was thinking we would be back at the car by lunch.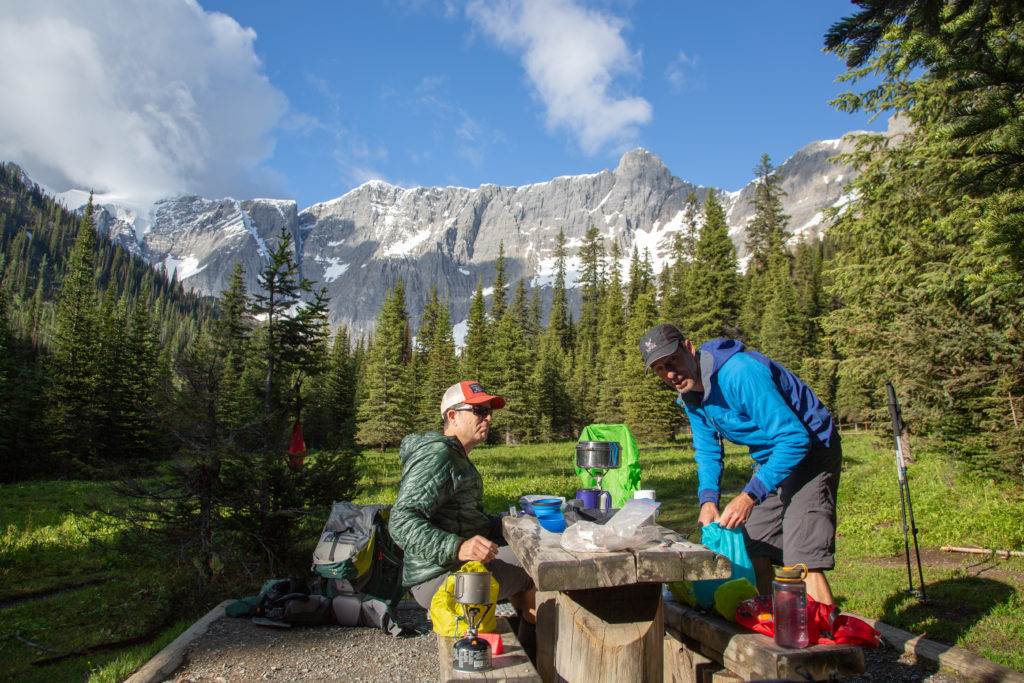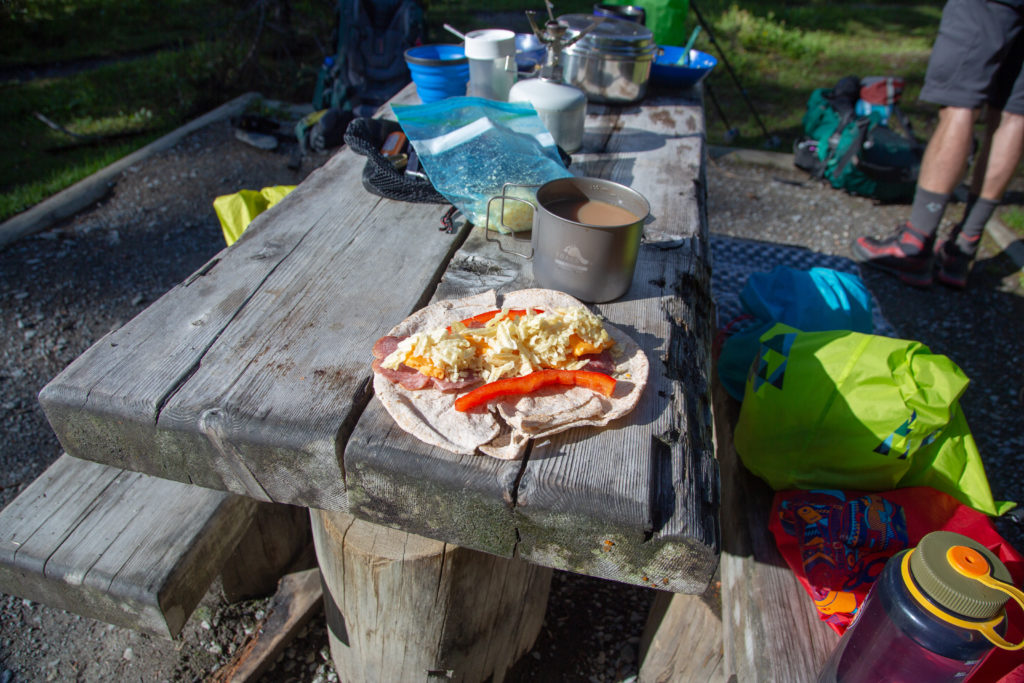 We were off on the trail at 9:46 am. The first obstacle of the day came quickly as we had an awkward creek crossing. The creek was down a steep slope onto a wet wobbly log. Being in my customary place as the caboose I was entertained watching Neil and Ken cross the creek while trying to keep their feet dry. There were no wet feet in the crossing.
After a couple hundred metres we came to a bridge crossing to take us over the the south side of Tumbling Creek. Across the bridge there is a trail junction with the choice of heading west to Tumbling pass or going east back to the parking lots at the Paint Pots. The bridge has been built with what appeared to be a judicious amount of room between the walking surface and the creek. Despite the height of the bridge there is obvious signs of heavy impact to the extent that the handrail on the upstream side has a serious dent in it.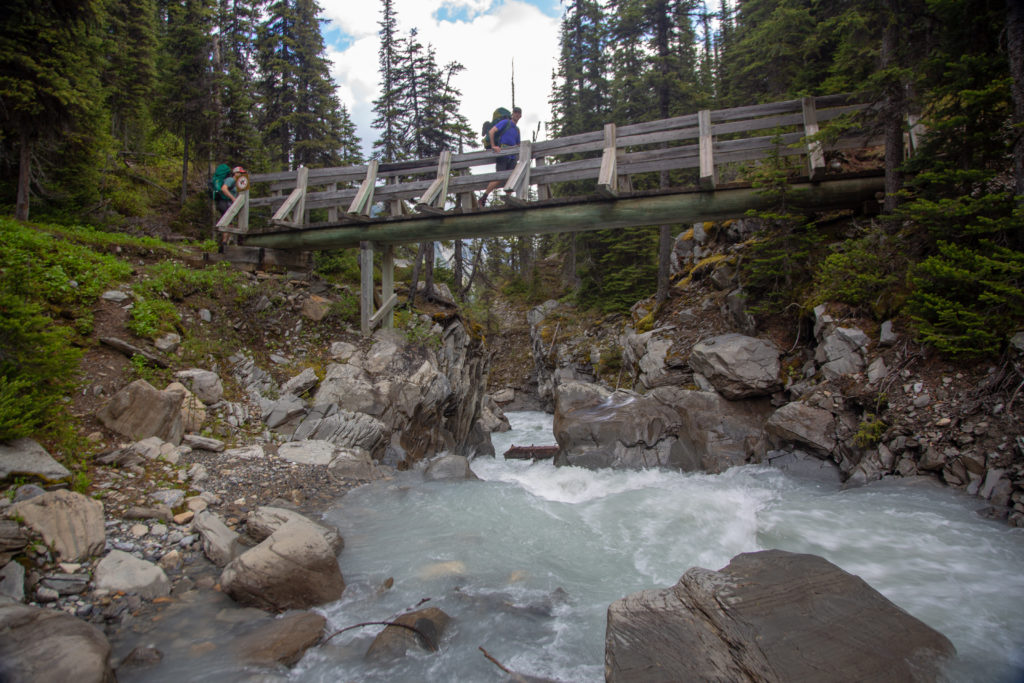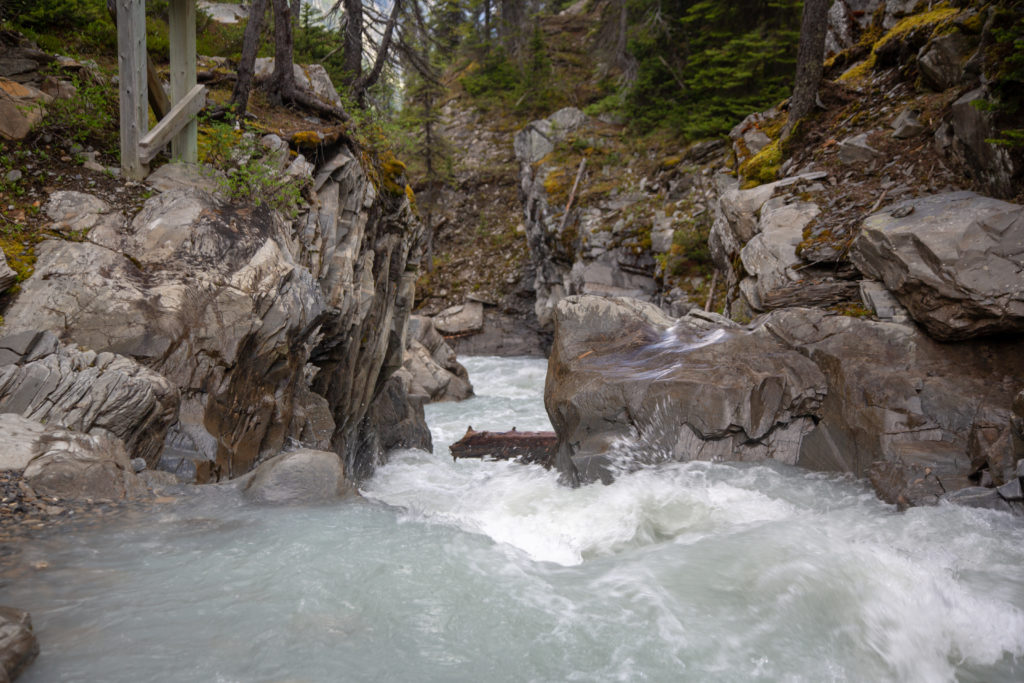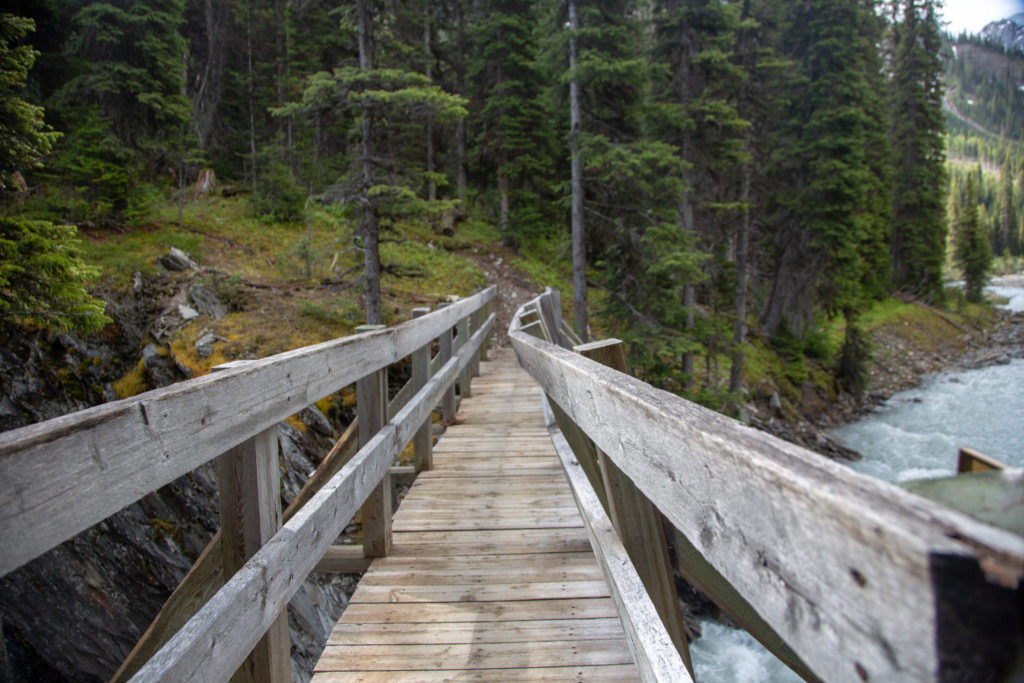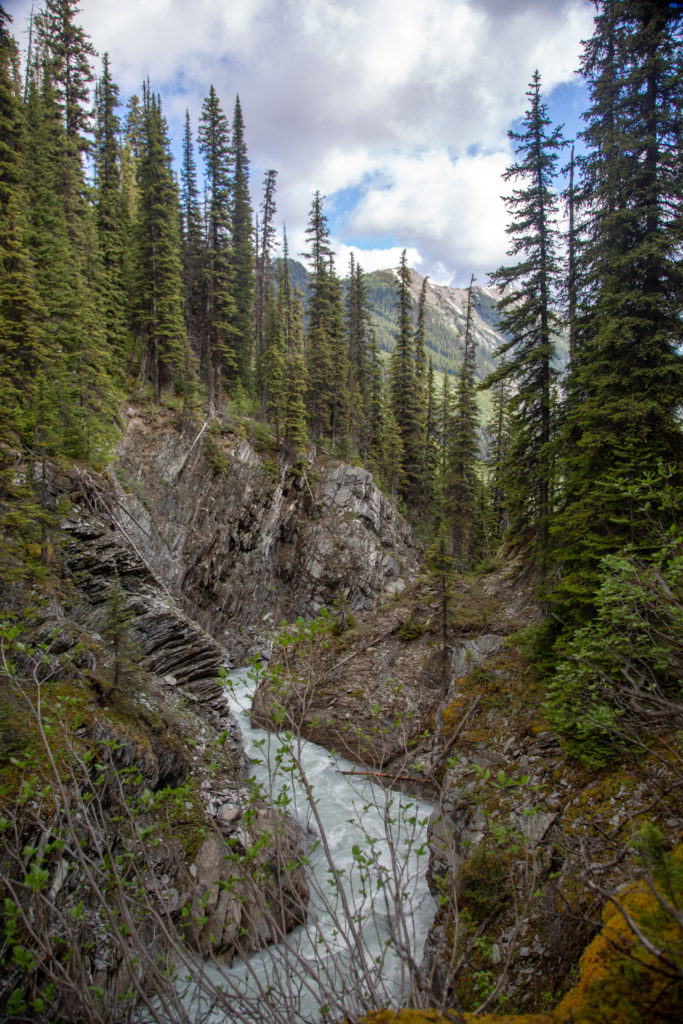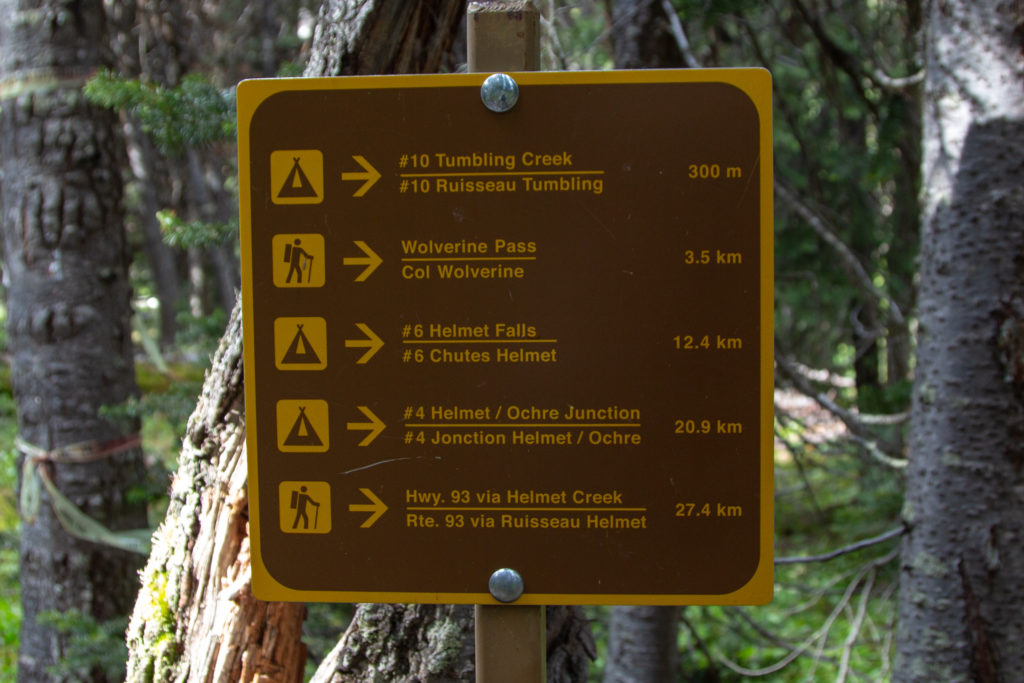 At the junction we headed east following Tumbling Creek. The narrow canyon the creek entered into after passing under the bridge led to quite a spectacular water fall. We would lose 130 m over the next 0.9 km after which the trail would flatten out dropping a modest 180 m over the following 4.7 km.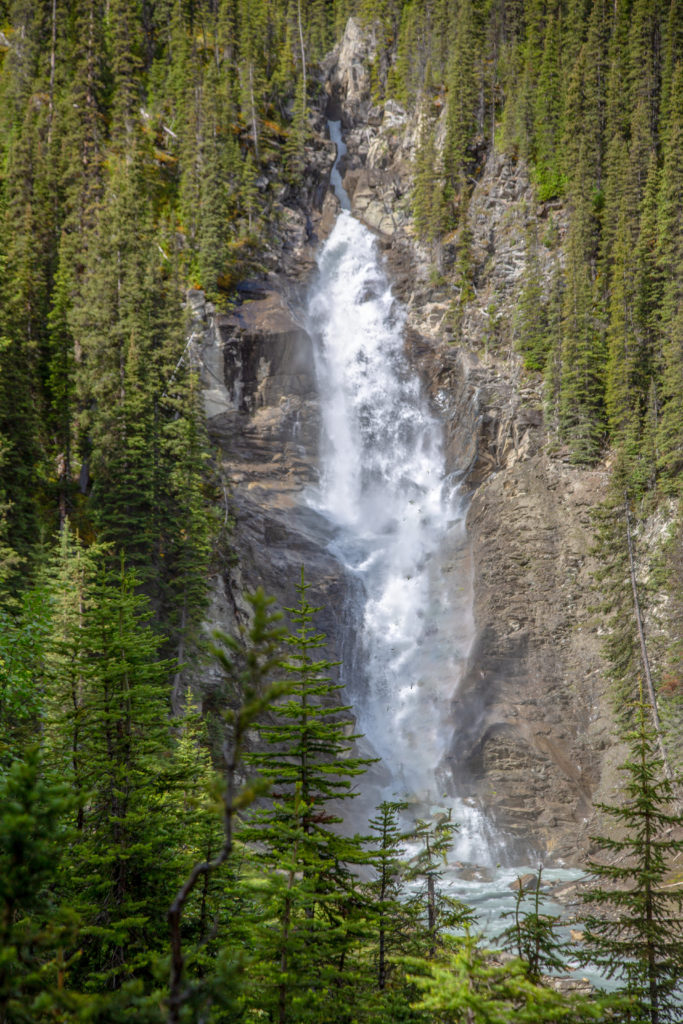 After viewing the underappreciated but still impressive Tumbling Falls, not even sure if that is an official name, we continued on down the pleasantly graded trail. The hiking was uneventful for the most part but we did pass through some quite impressive piles of avalanche debris that Parks Canada had fortunately cut a path through.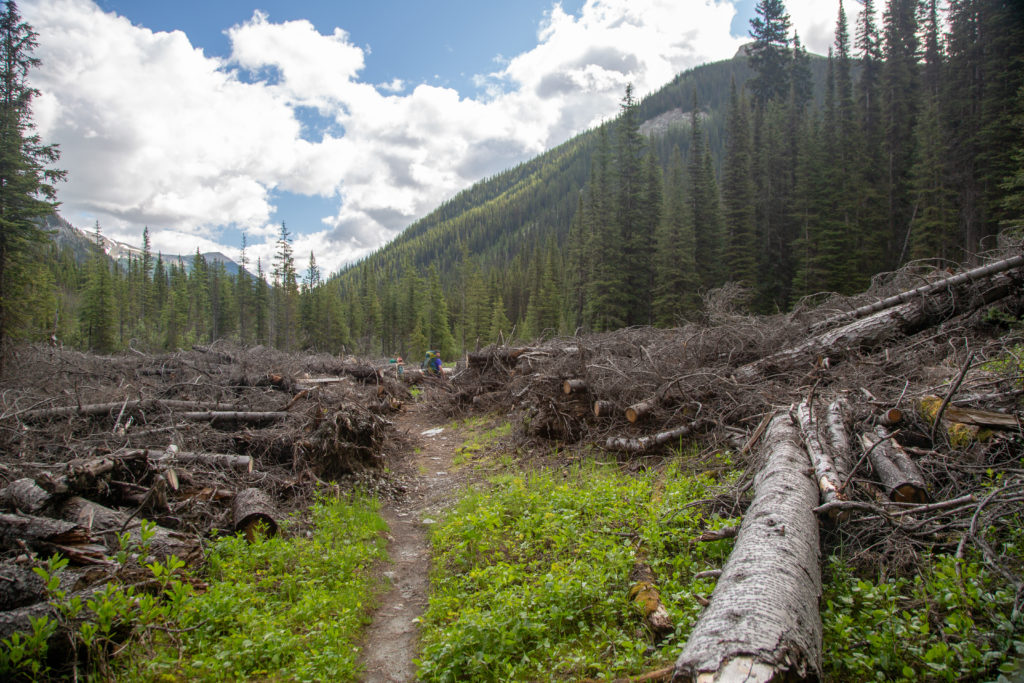 We came across the remnants of an old house (-116.22359, 51.14809) complete with old rusty tins that probably once held food. I have contacted Parks Canada about the history of the cabin. At the present Parks Canada are unsure about the history of the cabin and have passed on my information request to their archivist.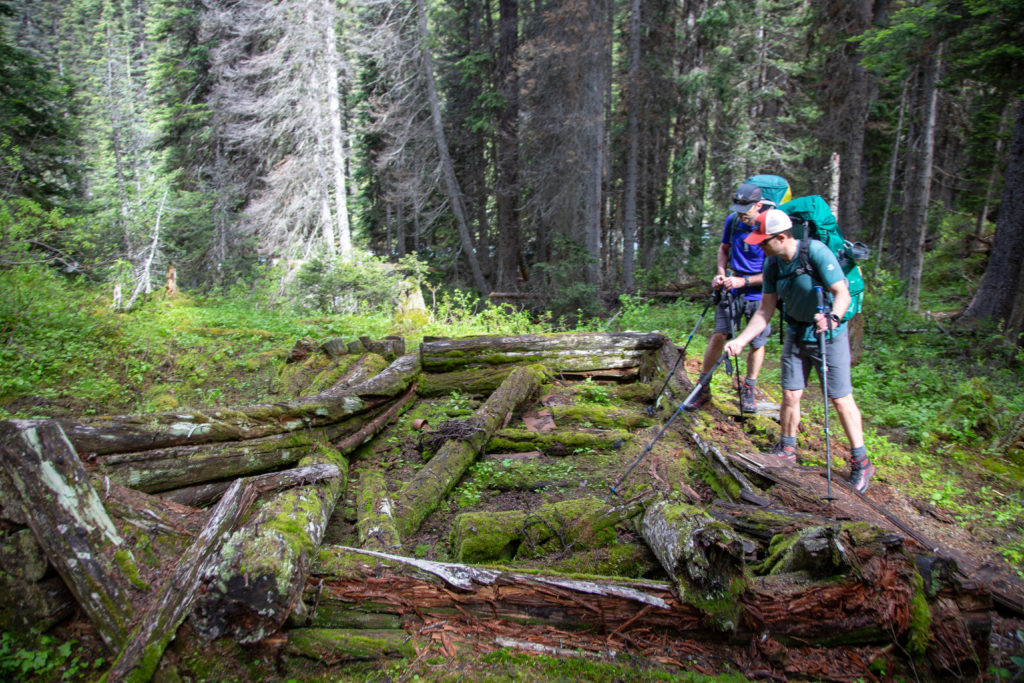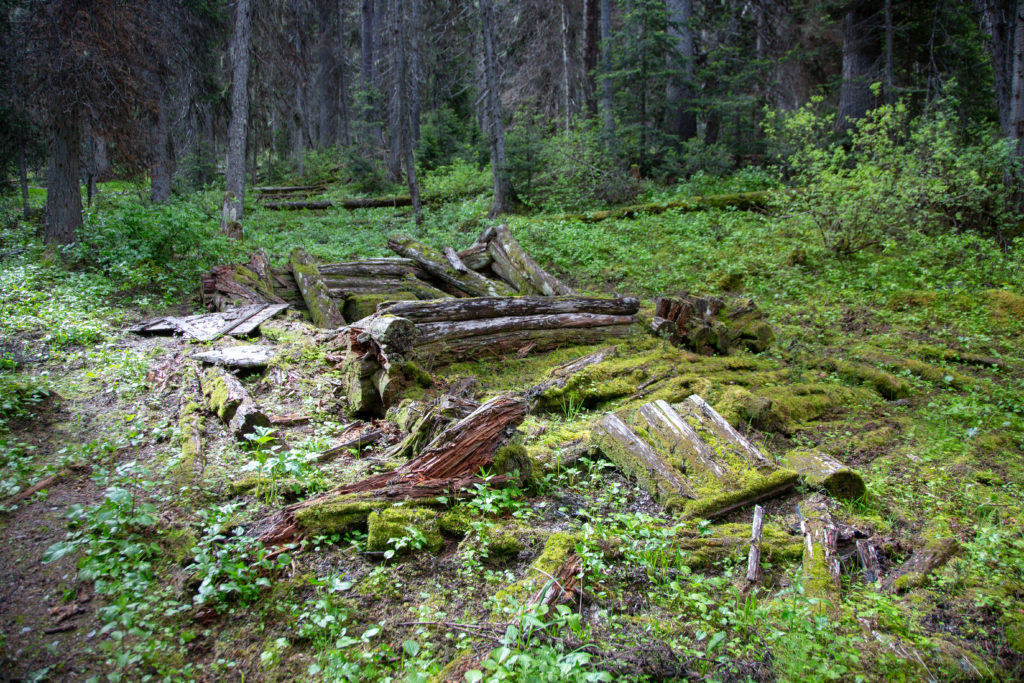 A few minutes after leaving the old house we came across one of many small stream crossings across somewhat rotten logs. Poles were very handy in keeping things steady as we crossed the unstable logs. The trail was very pleasant as it followed the creek down the valley. For the first time in a long time I had to wait while someone else took photos.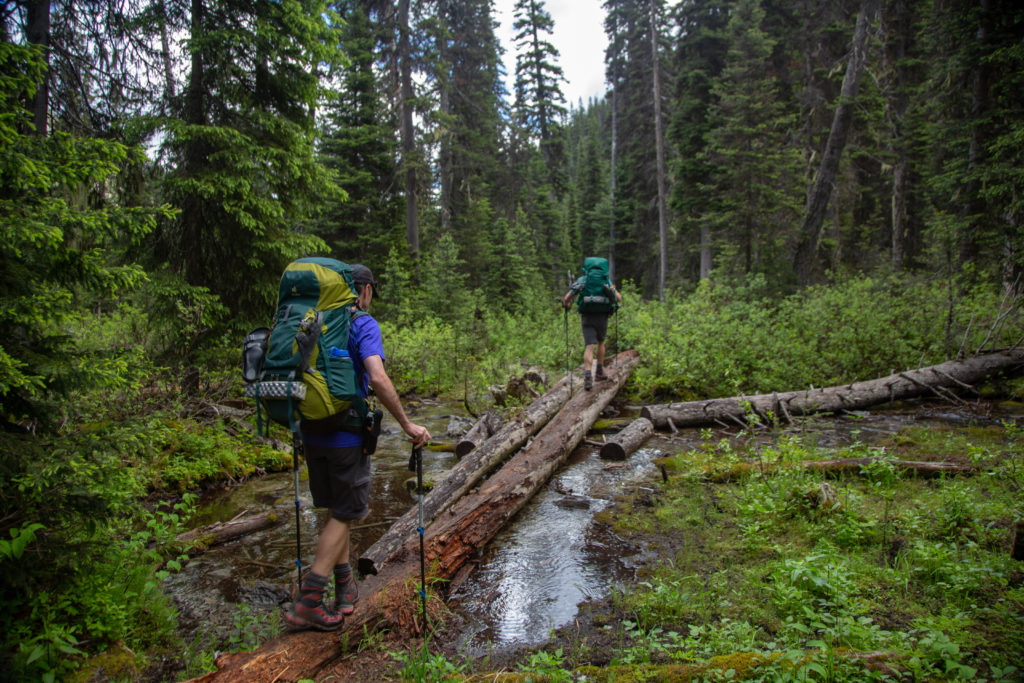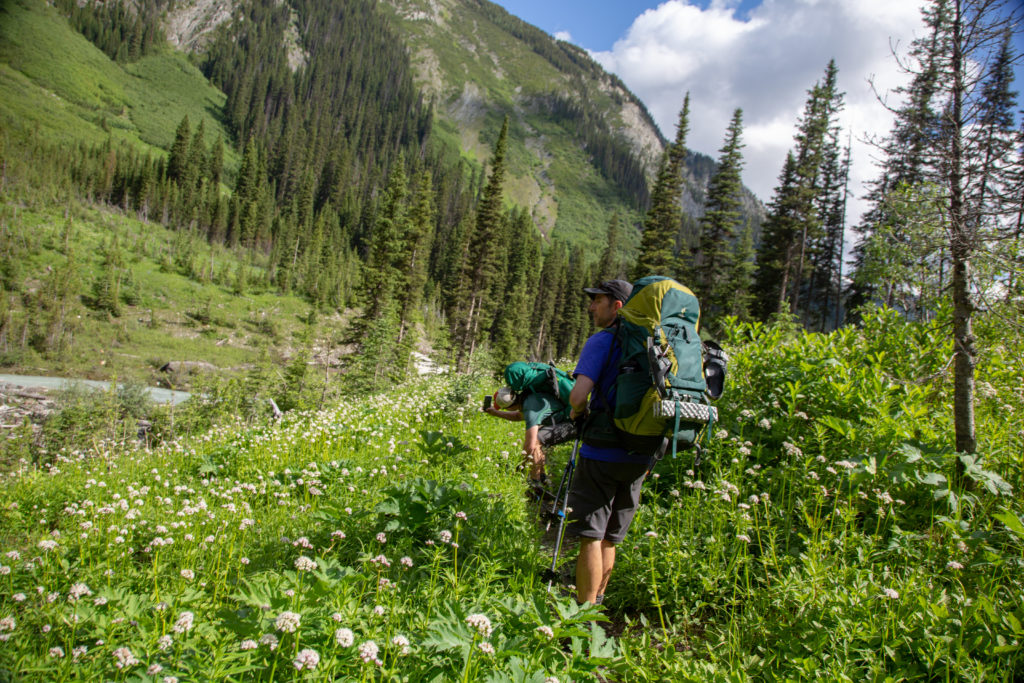 The trail cut through a large snowfield where again poles came in useful. The creek passed over a small waterfall where the water had carved a little canyon. The creek fell away from us after the waterfall. We dropped back down to the creek through a series of switchbacks that brought us to a very new bridge that would take us over to the north side of Tumbling Creek. It was just past 11:30 am and we decided to have a short break. We had been hiking for 1hr 45 min and had covered 4 km.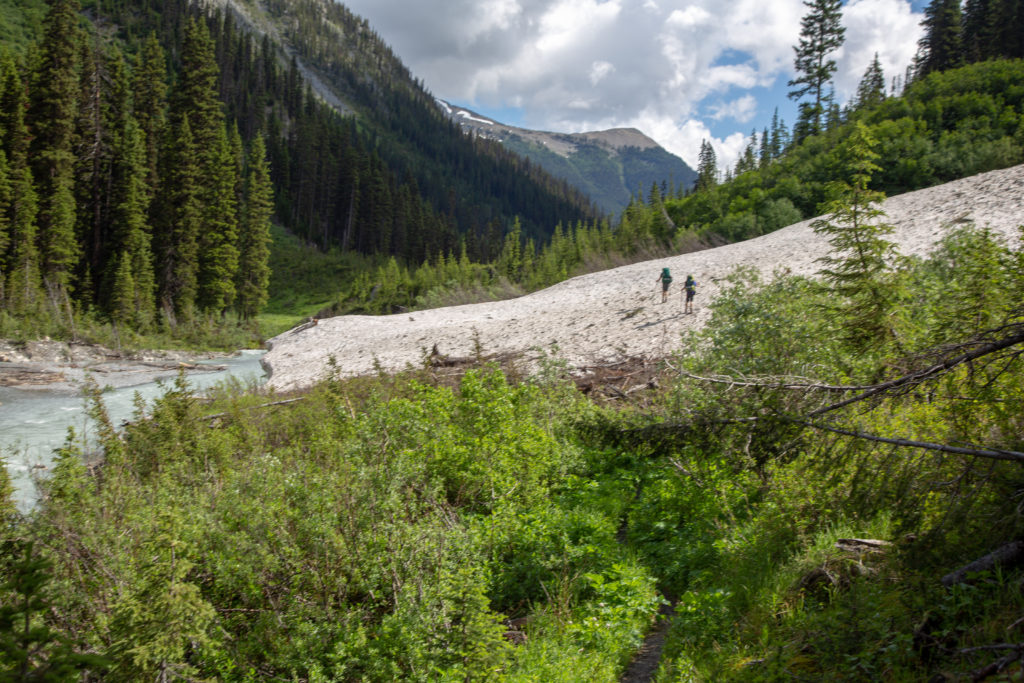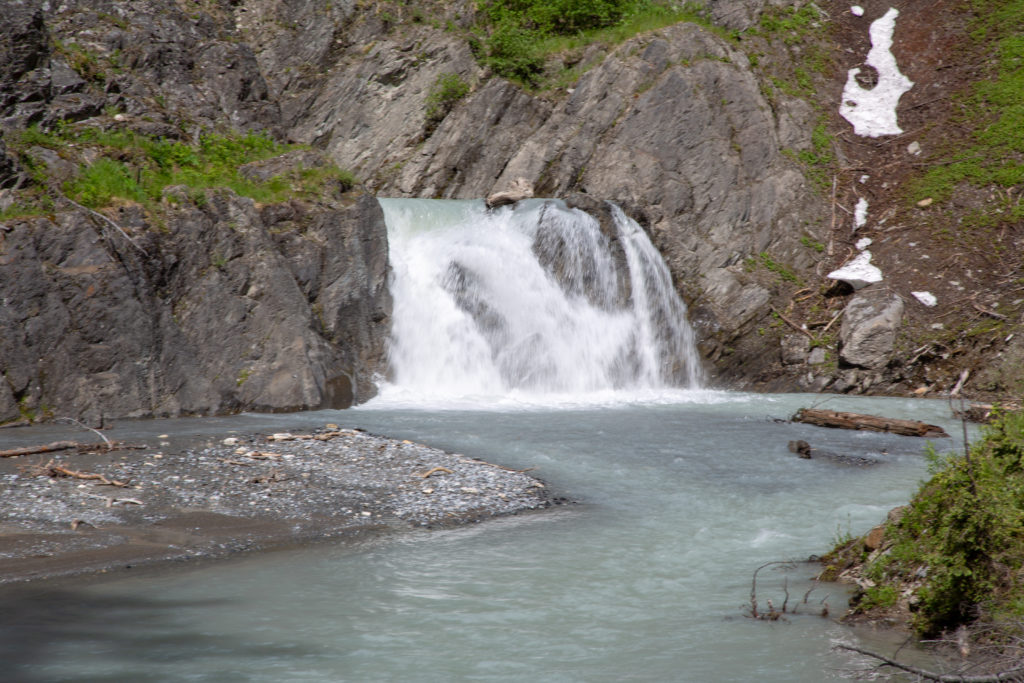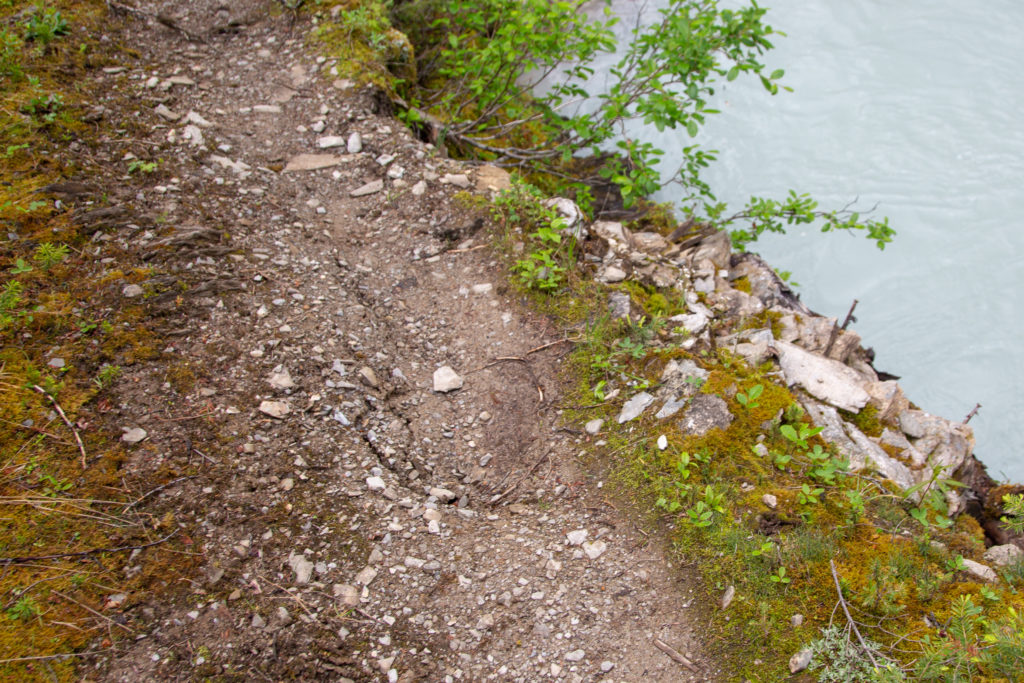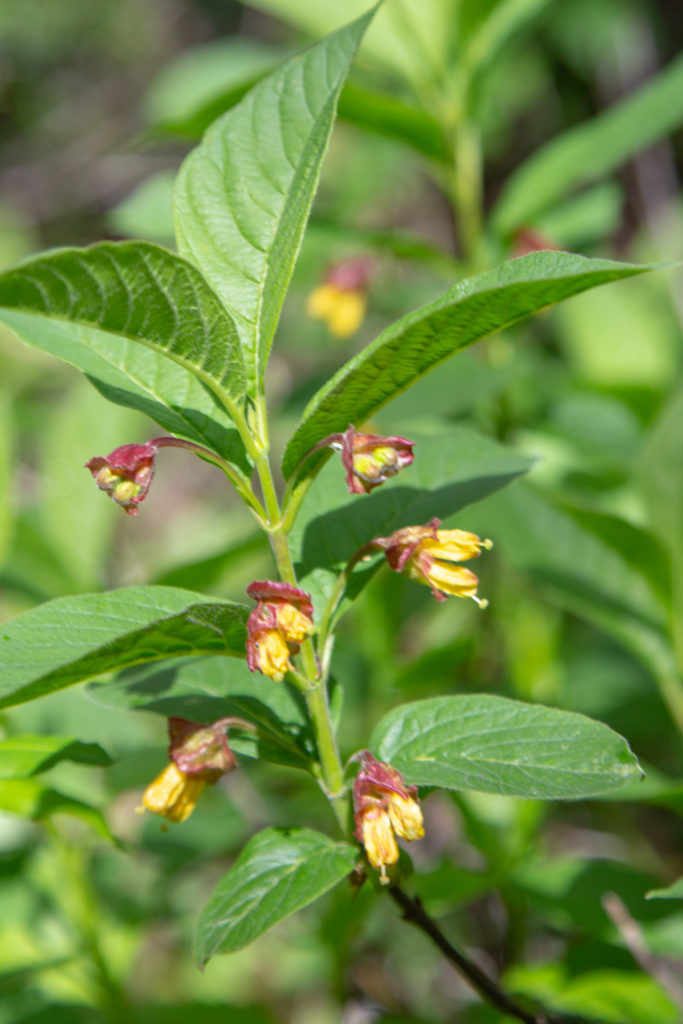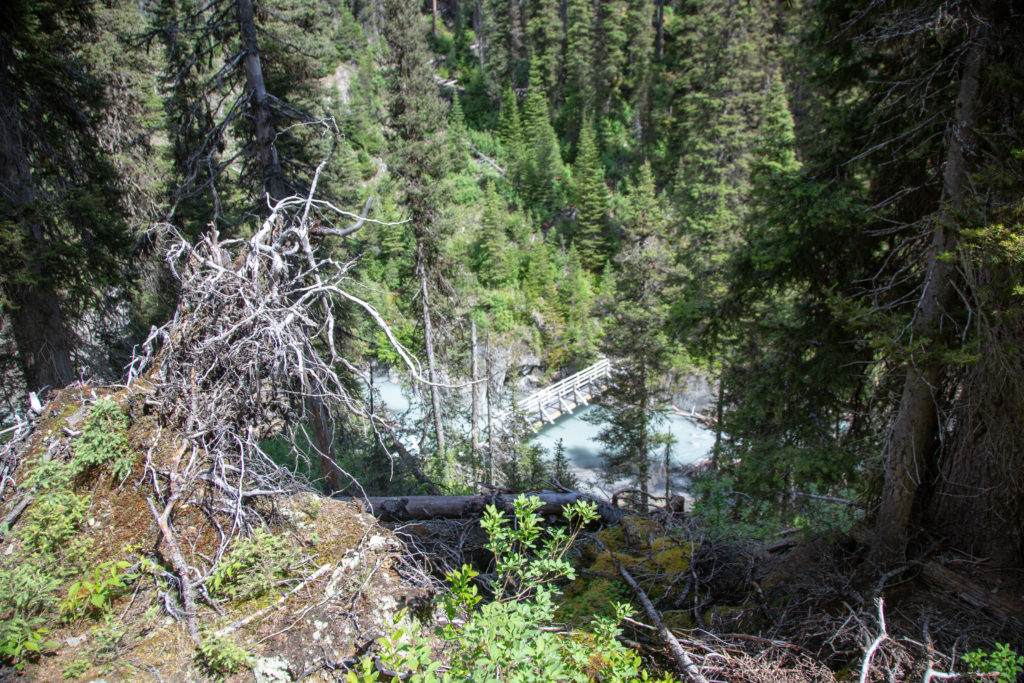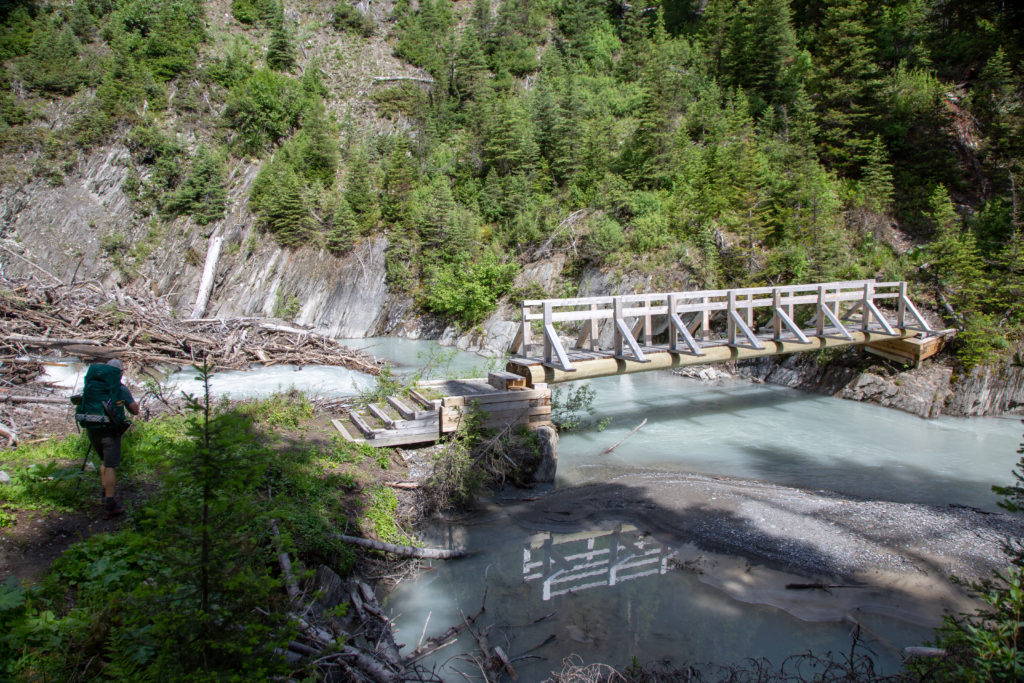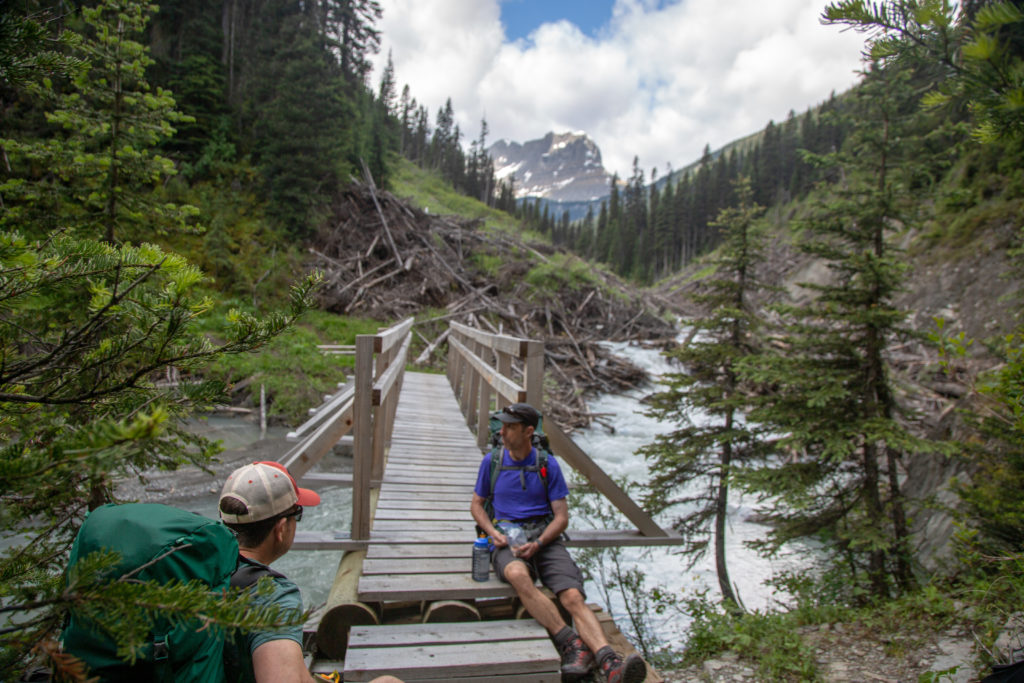 We headed back down the trail after a 10 minute break. The trail went across a loose unvegetated slope. Did not want to slip here or it would be a rough slide into the creek. The trail cut back up into the forest where it was almost overgrown by the lush vegetation. After 5.5 km of going north-east the trail turned 90 degrees as the creek was deflected around a ridge coming down from Tumbling NES that extended almost due north. We then went down a steep slope dropping 95 m in just 0.4 km. This brought us to the confluence of Tumbling Creek and Ochre Creek. We had nice open views all around us. It was 12:30pm now it was time for a proper lunch. We only had 4.2 km to go mostly on trail we had already been on just 2 days ago.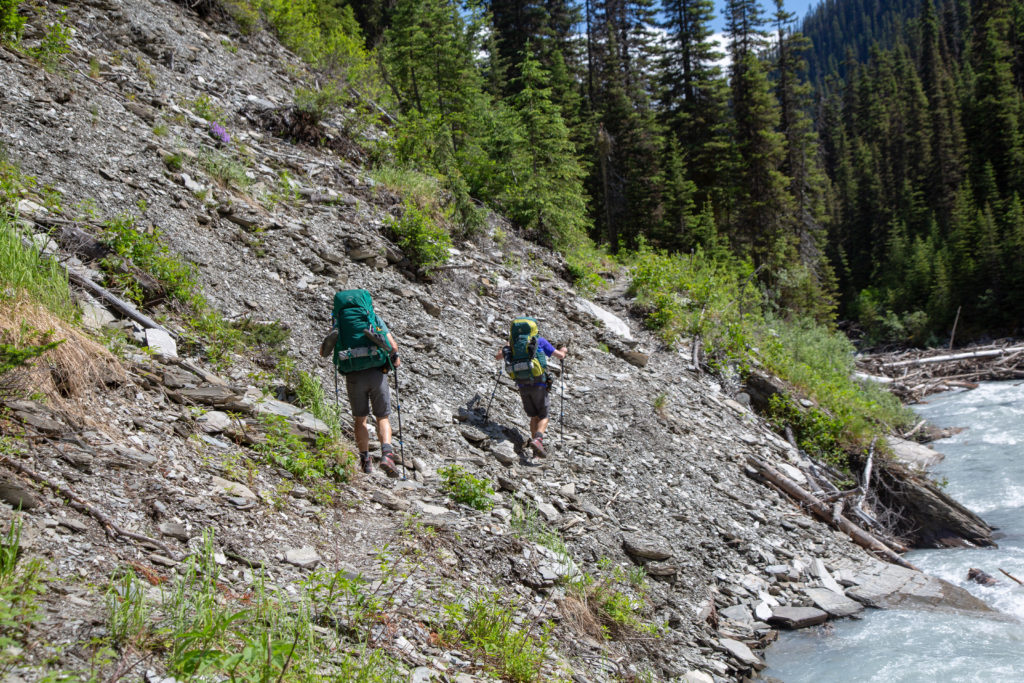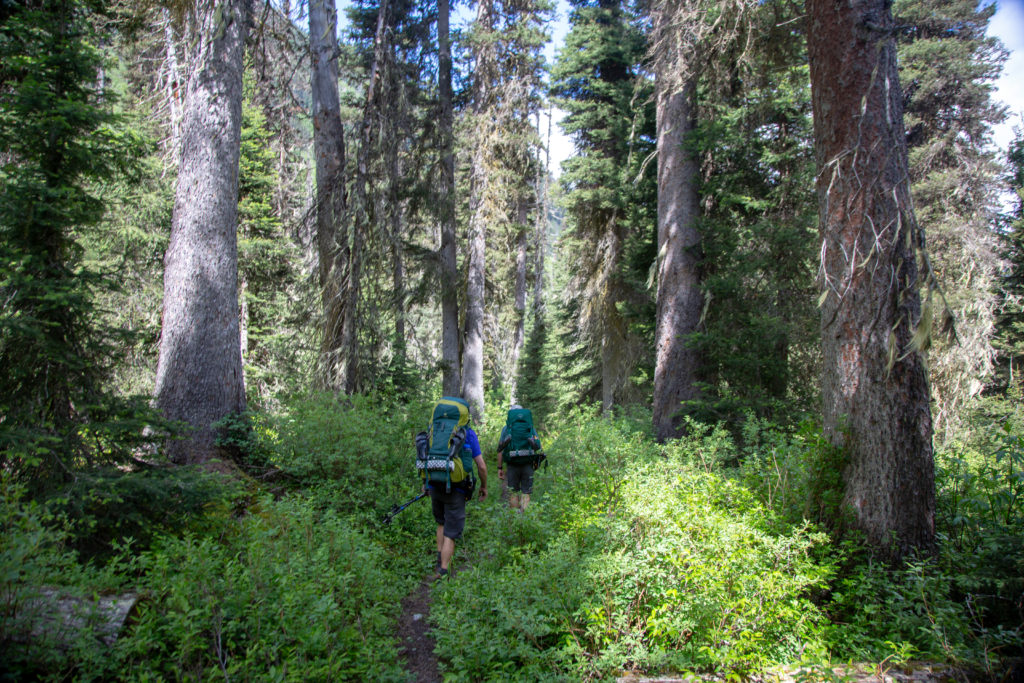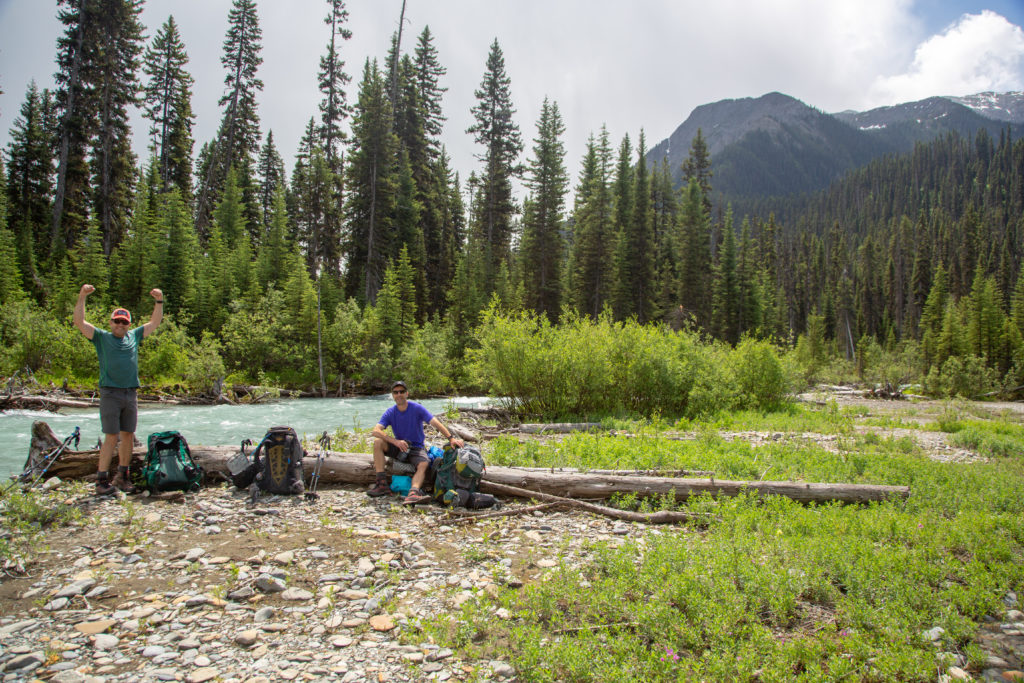 Lunch lasted a relaxing 30 minutes. We had some entertainment as we could see a suspension bridge crossing over Ochre Creek just upstream from our log. First a group of three, father and two adult daughters, went across. We had met them on day two briefly. They were hiking in a hurry and dad appeared to be having trouble keeping up. They piqued my interest at this point as there were some threatening skies overhead and all three had ponchos on. The poncho is my primary piece of wet weather gear and I am always pleased to see others using this effective if inelegant piece of gear.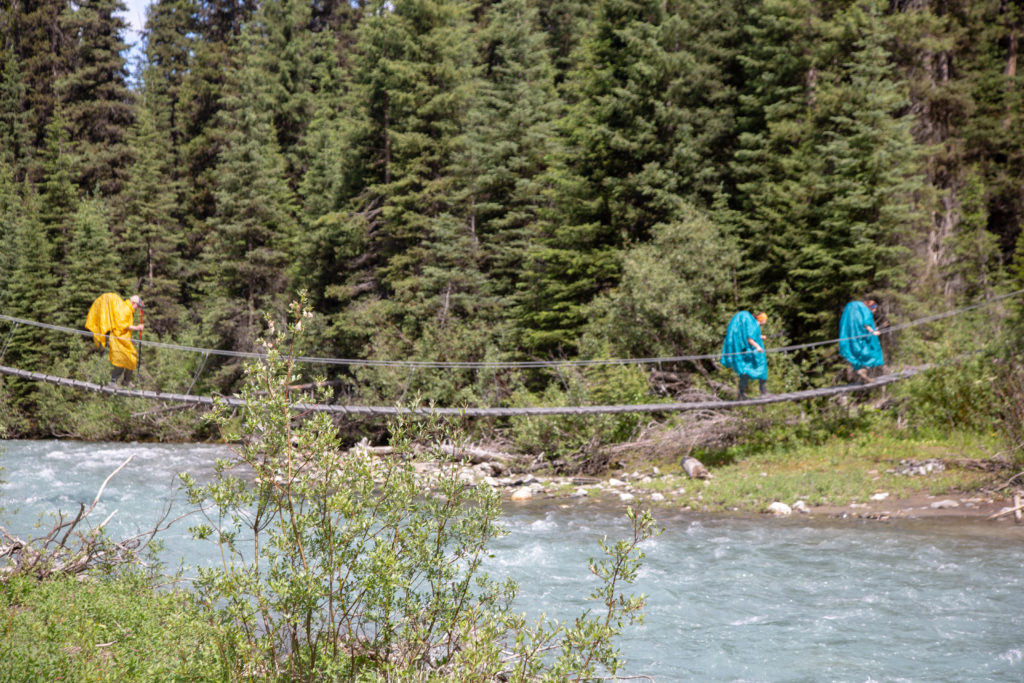 Then the three young ladies passed us by and proceeded over the bridge. They were nearing the end of a successful trip and were quite full of enthusiasm as they crossed the bridge.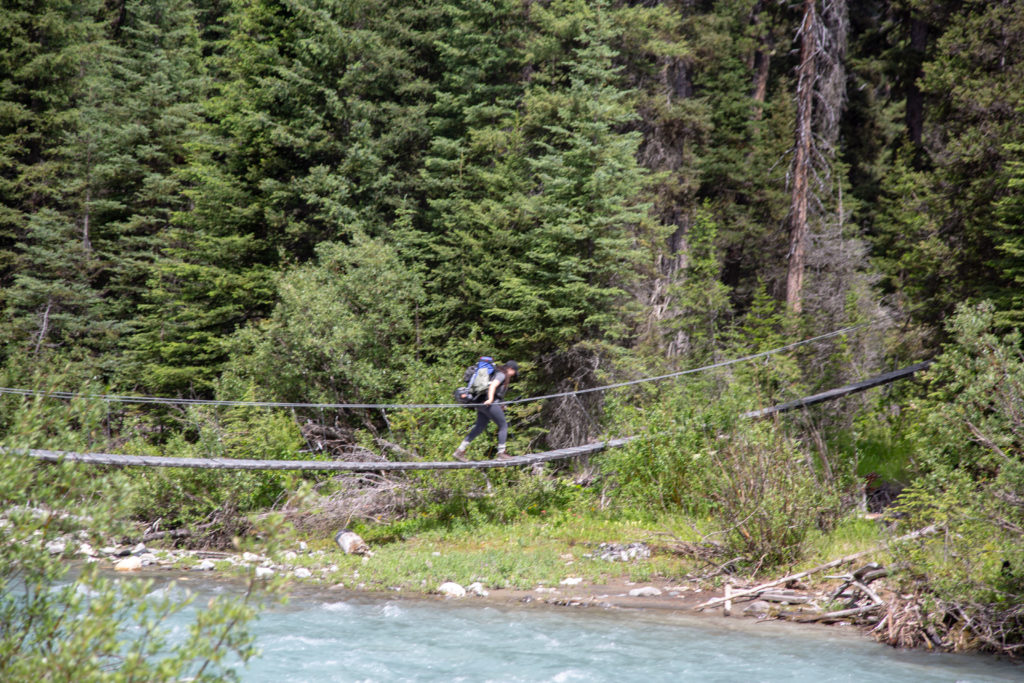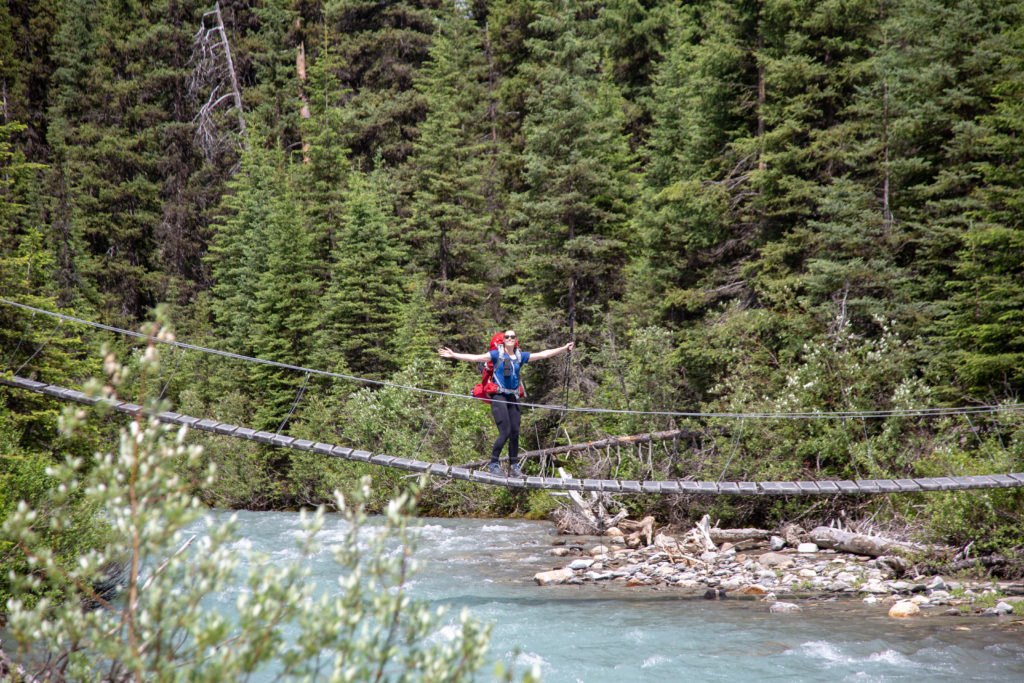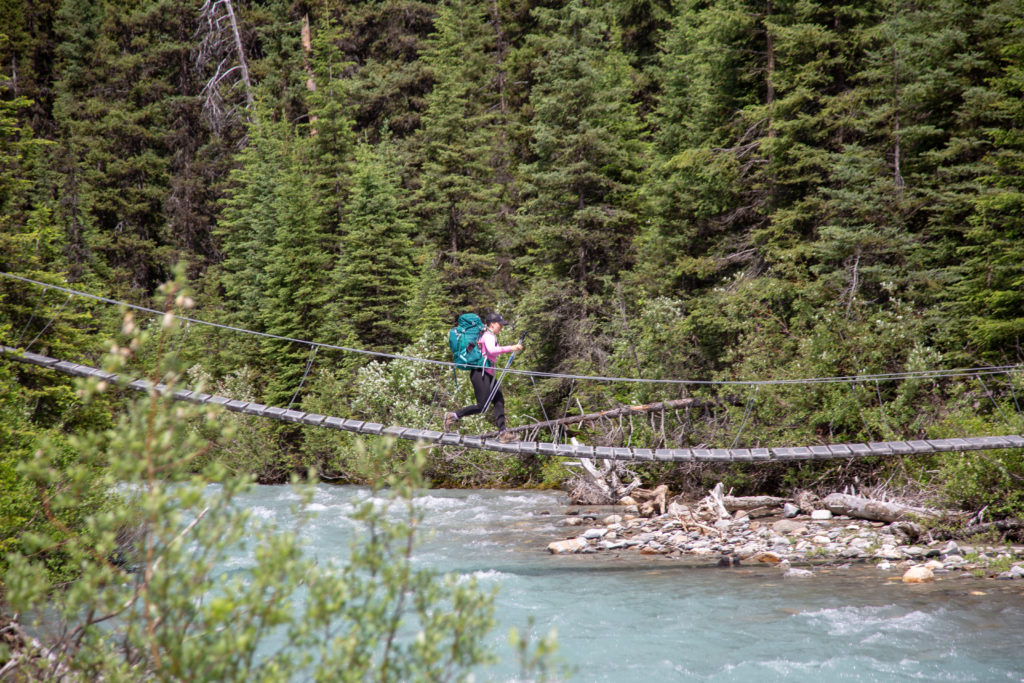 We got going about 10 minutes after the entertainment had ended. Ken tried to provide a bit of his own entertainment by bounding on the bridge in an effort to set up a standing wave. It did not really work all that well. It was only about 400 m from the bridge to the junction with the Helmet Falls trail that we had hiked on day 1.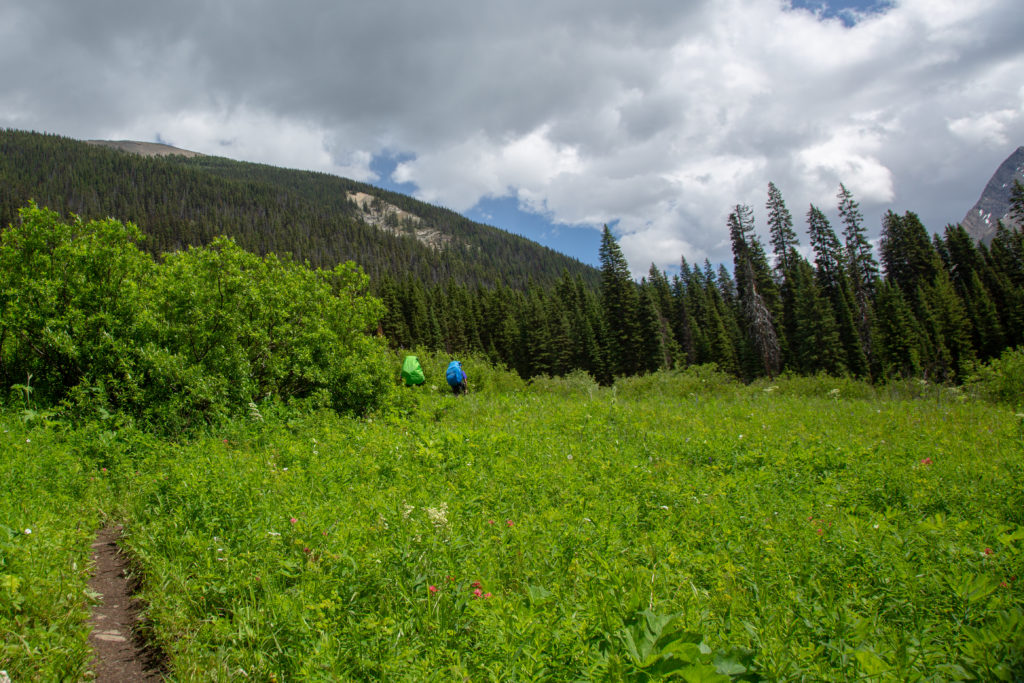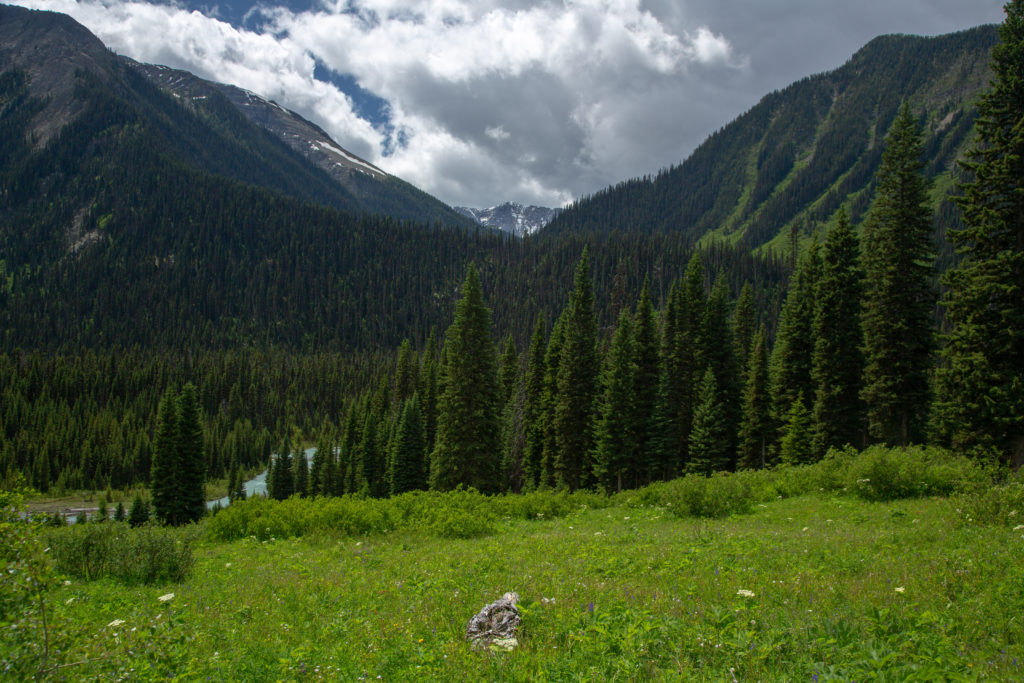 Back on familiar trail the pace picked up. We stopped to look for the pile of garbage I had tidied up on Day 1 but could not find it anywhere along the trail. Figure someone must have picked it up. The next time I need to return to an exact spot I will use the Viewranger App and mark a Point of Interest (POI). In no time at all we were back at the Paint Pots. Even after three days of hiking we stopped to enjoy the geological feature which is fairly rare in the Canadian Rockies.
A short walk back over the boardwalk brought us to the bridge over the Vermilion River and a short walk back at the cars. It was 2:45 pm we had had a very relaxing 5 hr hike covering 11 km. Once back at the car there were refreshments and a salty bag of chips. Great way to end a fun three days along one of the best pieces of trail in the Canadian Rockies.