A great walk serving as a recovery day.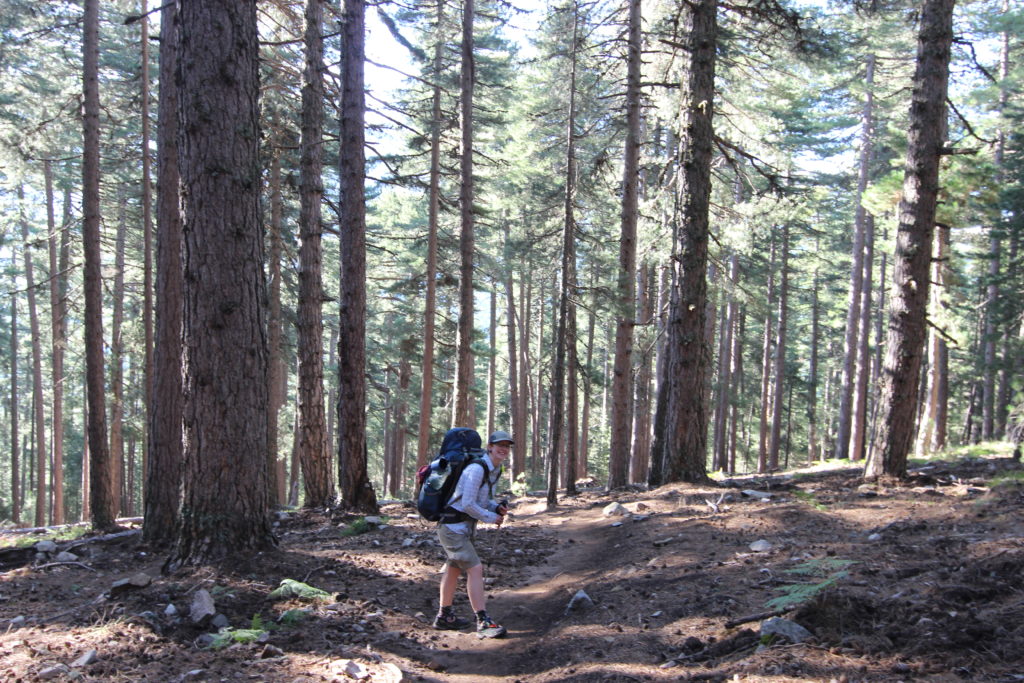 Bergerie Radule to Refuge de Manganu (Stage 6)
Distance 20km, 670m elevation gain, 475m elevation loss.
This was our biggest mileage day so far, but it was a very relaxing day and we walked on well graded trails. It was the first day that our hands where not required during the hike, no chains, no cables, no scrambling.
Started off heading down the hill into the woods and got lost a couple times as the path was braided with other trails and poorly defined (Micah was the leader, I just followed). Reached the hotel and blitzed by. We made the right decision to stay the night at Radule, a much prettier place than camping on the hotel lawn. Crossed the road and onto a lovely forest trail with a soft trail.
Able to stretch out and really walk. Start to gradually head up towards ridge line, a bit rockier but generally well graded. Can see Paglia Orba across the valley, still shrouded in cloud.
Onto the ridge and run into the family with the kids on mules again (see pictures). Up and across side of ridge, keeping one eye on Orba to catch a cloudless view, finally had one. Over the bocca and a short down-up to the days high point. Descend to lake, full of tourists and weeds.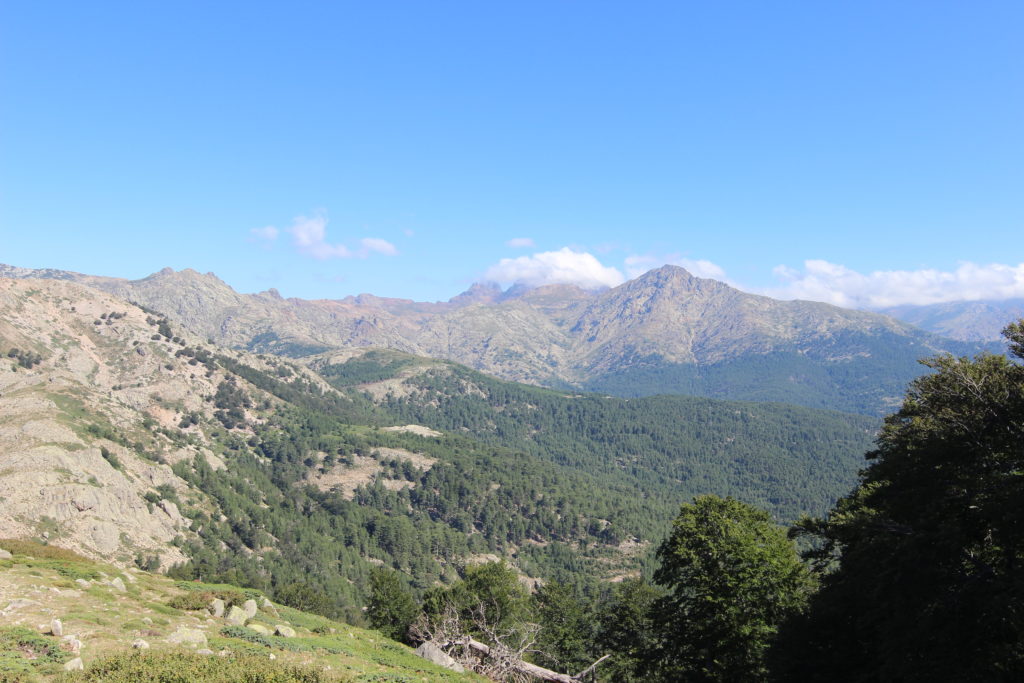 Stop and eat the last of our bread and cheese as a snack, and then continue on soft dirt path down the valley. Past one bergerie and down into wooded valley. Path got rockier, and very hot. Having to keep an eye out for cows around the trail. This is quite unique after having to be on the lookout for elk and bears back home. Around a small rise and to a very cheerful bergerie where we got smelly local cheese and bread. The bergerie had hire tents and camping spots, but we could almost see our destination in the distance, and it was just too early to stop.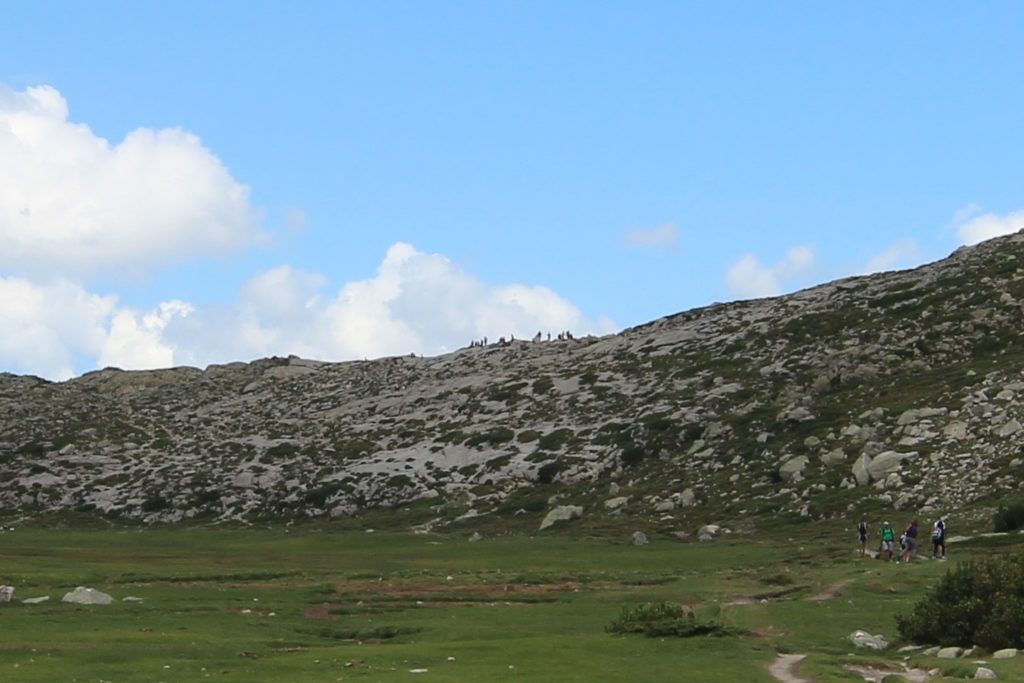 We stopped for some lunch of fresh bread and local cheese.

We could see ominous clouds over our destination refuge across the valley. We dropped into the valley, past grazing horses and donkeys, and up small hill to Refuge de Manganu.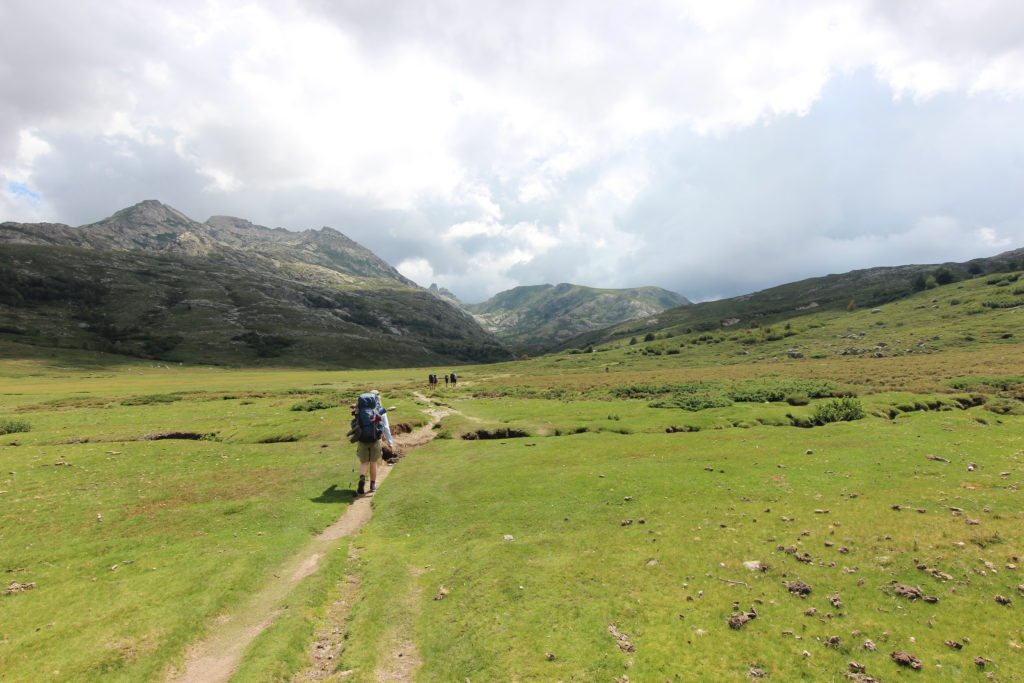 We set up tent as if it was about to rain. Some of the other campers where busy making little canals around their tents to divert the water in the event of rain, but in the end the clouds blew over. Used the cook stations to make dinner, saved our own gas. The really cool toilets with the pump action conveyors were back. This was a very good refuge. There were some young families about the campground. There are shorter access trails that families can use to make day trips or overnights, without hiking the GR20.
Tomorrows forecast calls for afternoon rain, necessitates an early start. Spent the afternoon and evening lounging and enjoying valley views, while scheming on our next couple days.
GR20 Day 6 Refuge Manganu to Refuge de Pietra Piana