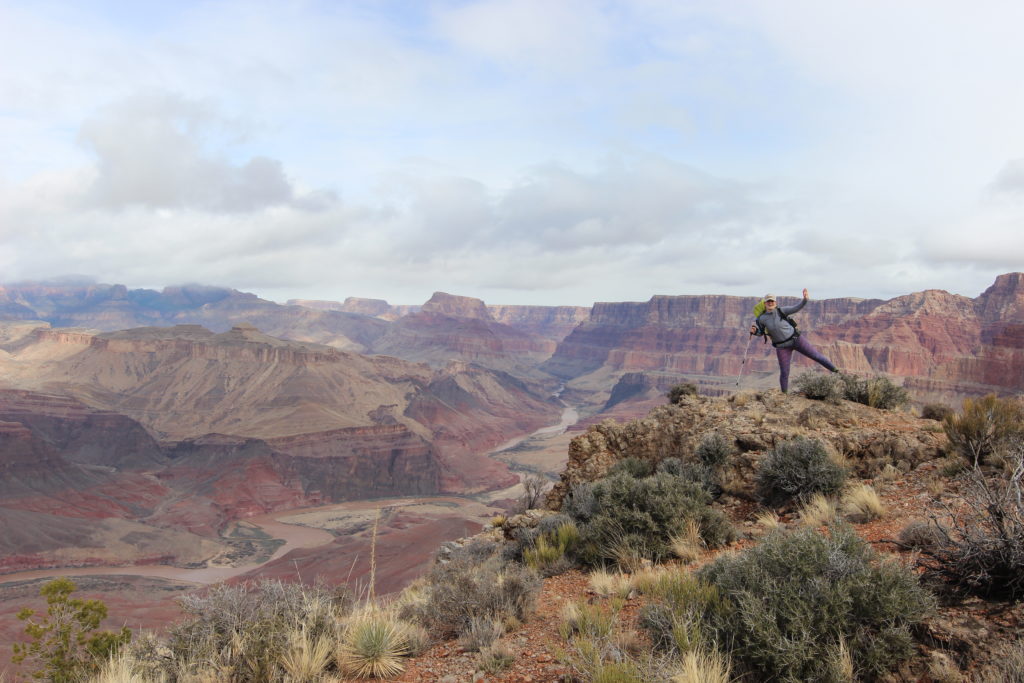 The plan was that we would arrive Friday evening in Las Vegas. Drive to the Canyon Saturday, and hike Sunday, Monday and Tuesday. Drive back to Las Vegas Tuesday afternoon/evening and fly home Wednesday. What could possibly go side-wise with this plan? I was so confident, I paid for Cirque du Soleil tickets for Tuesday evening in Las Vegas, planning to be in the car by 1pm after hiking out of the Grand Canyon.
Day 1 was to be Lipan Point to Palisades Creek (with a lunch break at Tanner Rapids) 19.1 km and 1417 m of elevation loss.
Day 2, Part 1 with day packs, Palisades Creek to Confluence of the Little Colorado River, back to Palisades Creek 21.2 km, 200 m of elevation up and down. Part 2 hike to Tanner Rapids with all equipment, 4.7 km, 0 m elevation. Total distance 25.9 km.
Day 3 Tanner Rapids to Lipan Point, 14.7 km 1417 m elevation gain.
Breakfast was oatmeal for Siobhan and crushed Weetabix for me and coffee. Lunch was cream cheese, salami and pitas, similar to what I had on my last trip to the Grand Canyon. Dinner was to be Mountain House freeze dried food, nice and light. We had chocolate and power bars for each day. Snacks where dried bananas and mangoes. We had a supply of Gatorade for electrolytes.
With clean water being a challenge due to the silt carried by the Colorado River, my plan was to use a collapsible bucket to scoop out water, and let it sit overnight, so that the silt could settle to the bottom of the bucket. Then, the idea was to scoop the water out with a cup and filter the water through a bandana to remove some more silt. Iodine tablet, 30 minutes activation time, were used to purify the water.
I tracked the weather and checked the history of the average weather for the middle of February at the Grand Canyon. I was fully expecting to have snow or ice on the initial decent into the canyon. We were going to use one hiking pole each, but I added traction by purchase some Ice Trekkers Diamond Grip traction aides. I cannot say how great these were in ensuring that we had a slip free decent into the Grand Canyon, as it did snow overnight prior to our departure.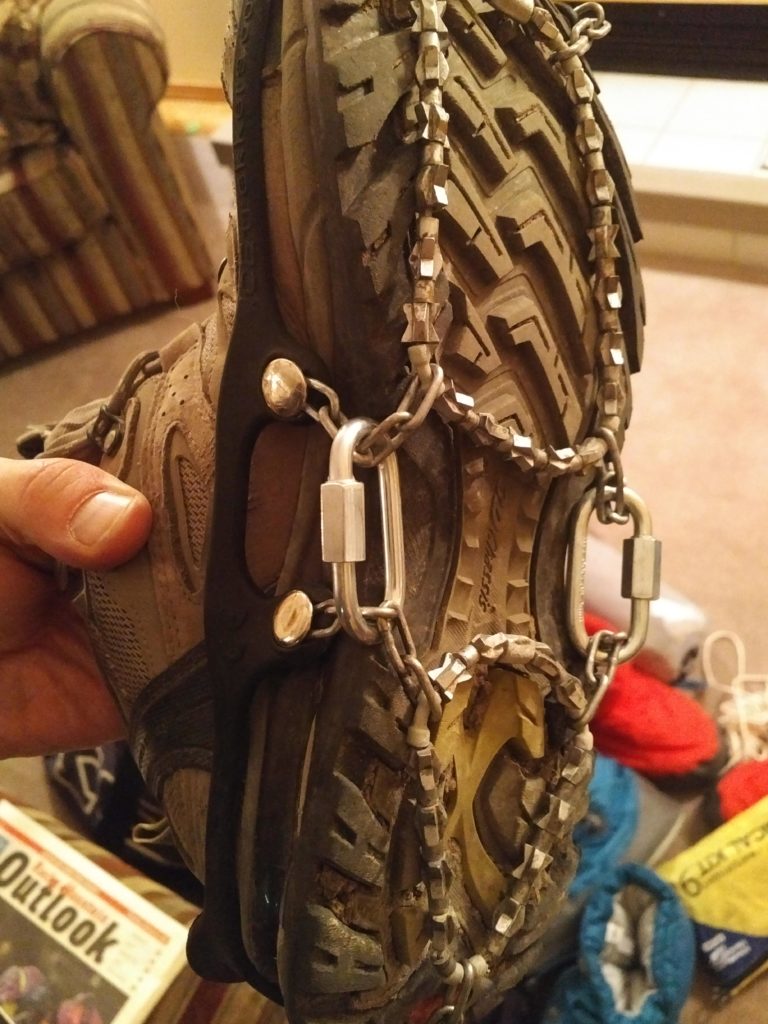 Even though it is at-large camping, you still have to reserve campgrounds, and the minimum time is three months in advance. Follow the link to the Permit Application page. As I now had two multi day trips to the Grand Canyon, I had no difficulties getting a permit for what is considered a remote part of the canyon.