Day 1, August 8th, Burgess Pass TH to Yoho Lake CG. 14.4 km, 1028 m elevation gain, 464 m elevation loss, 4 hrs 30 min, Kiwetinok Alternative (Segment 21).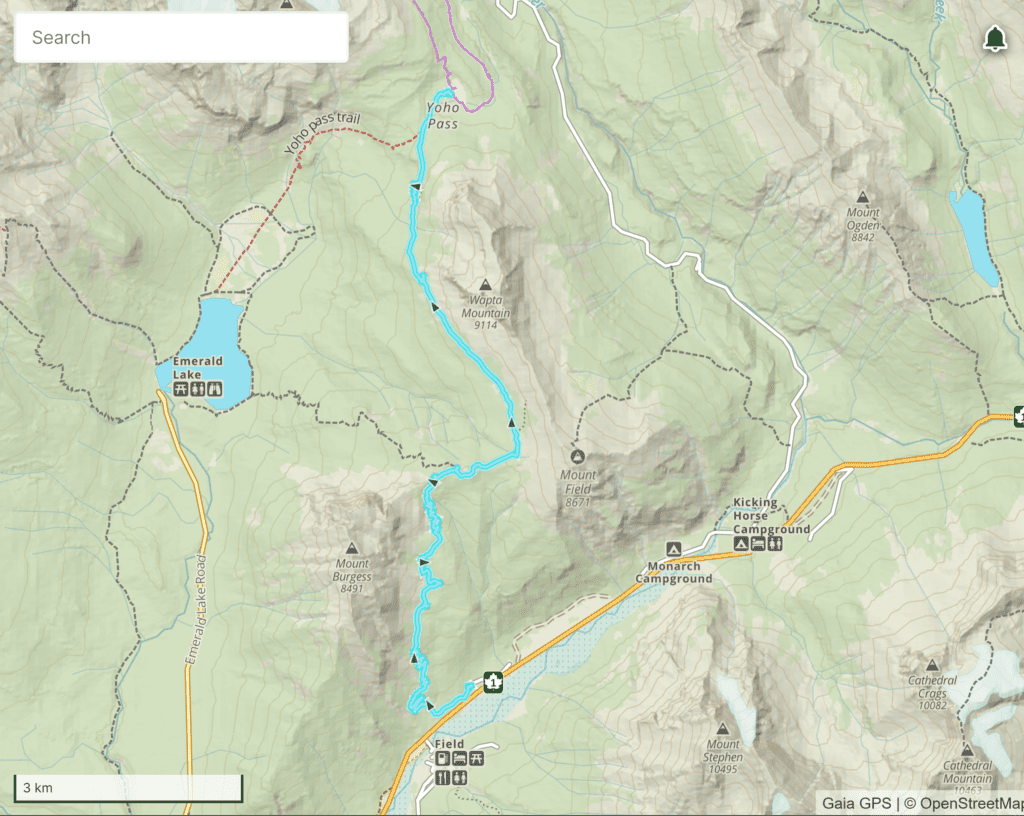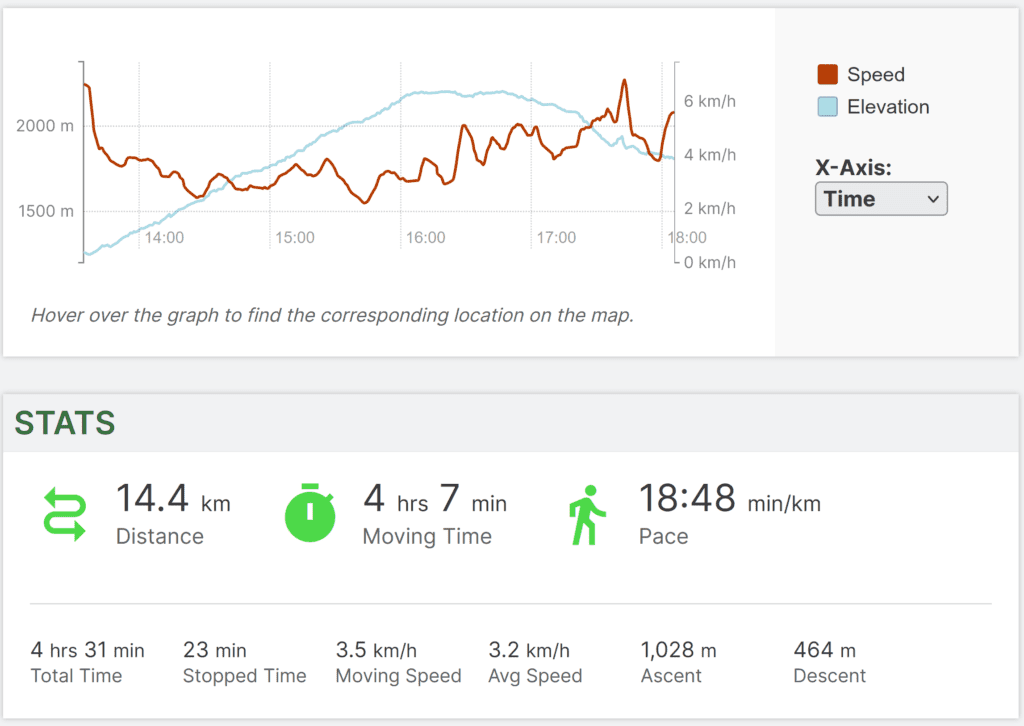 Laura and Margaux accompanied me to the Burgess Pass Trailhead near Field, BC, where I would start my third attempt to complete Section D of the Great Divide Trail. I knew from my attempt last year that this section of the hike would take me between 4 1/2 and 5 hours. This allowed for relaxing start to the day with a planed departure time from the trailhead between noon and 1 pm. With last hugs from Laura and scratches for Margaux I was finally ready to start my 6 day adventure on Section D. I headed down the trail at 12:31 pm.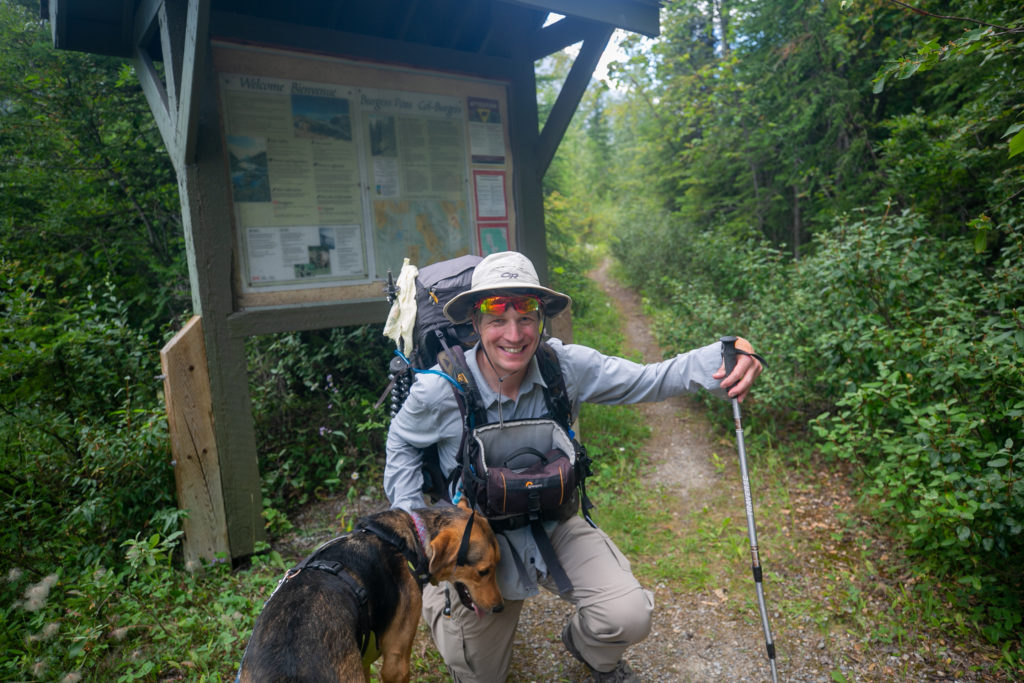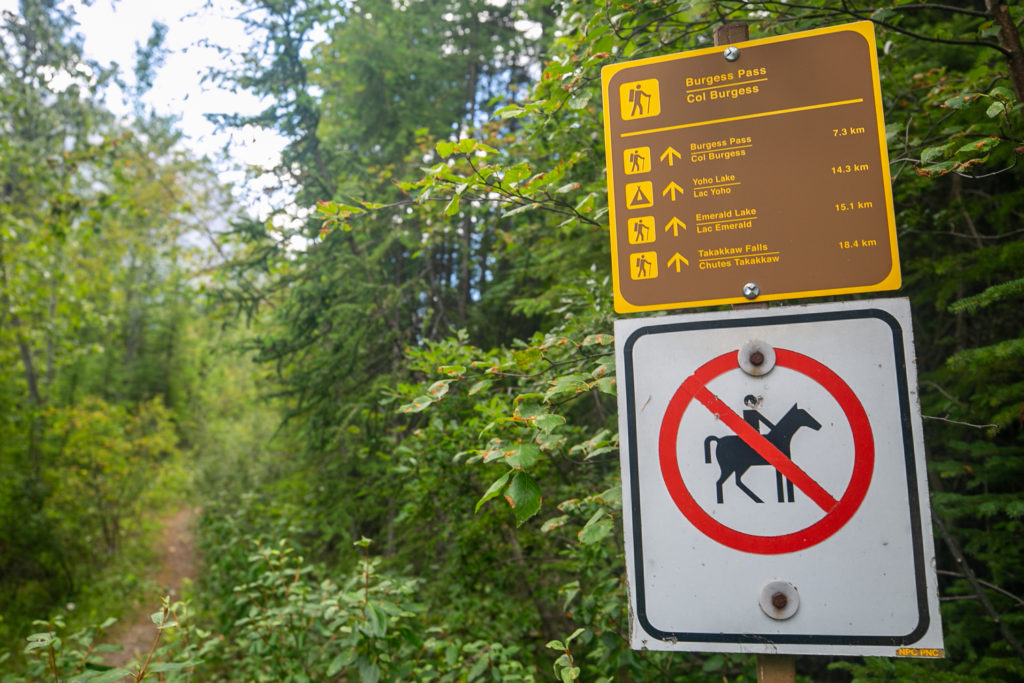 While I had lots of time to get to Yoho Lake I started off hard down the trail. I was using this first day as a litmus test of my physical fitness. On my 2021 hike with Micah I felt relaxed and strong on our first day as we cruised into Yoho Lake in 4 hrs and 40 minutes. On this day I wanted to see how hard I had to push myself to match that time.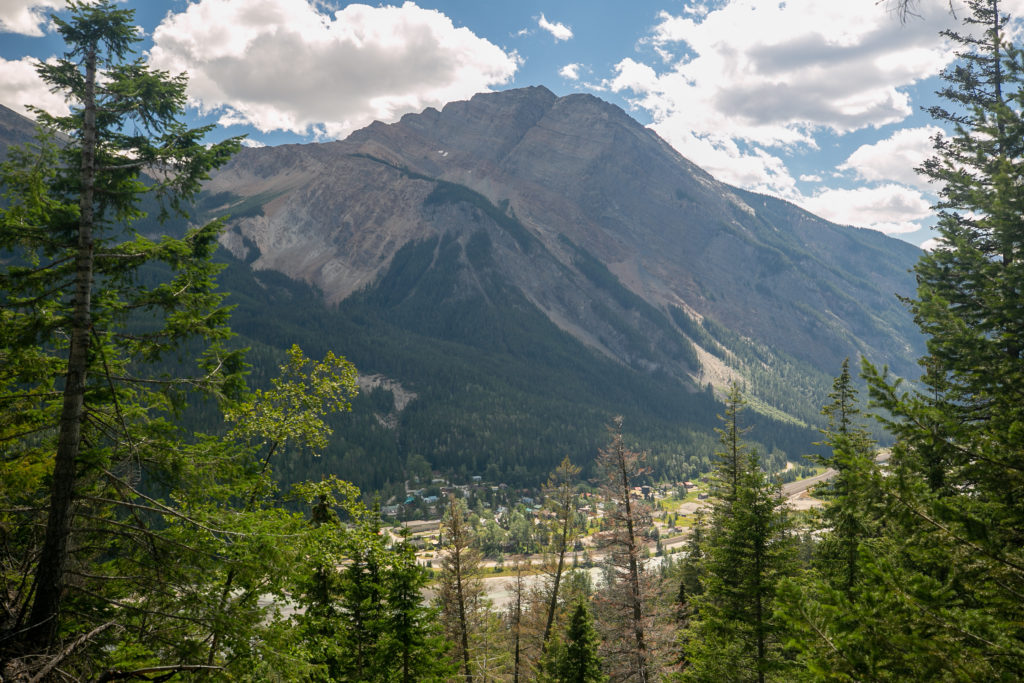 It was quite a warm day out and I found the initial climb to be very hot. The trail did get easier when it levels out as it traverses under the cliffs of Mount Burgess. I kept pushing myself to keep up the pace. When reviewing my journal there is an entry about the climb that reads "thot I was gonna die at times"! I really felt that my physical condition was not as good as it has been but the real question was, was it good enough to complete the hike?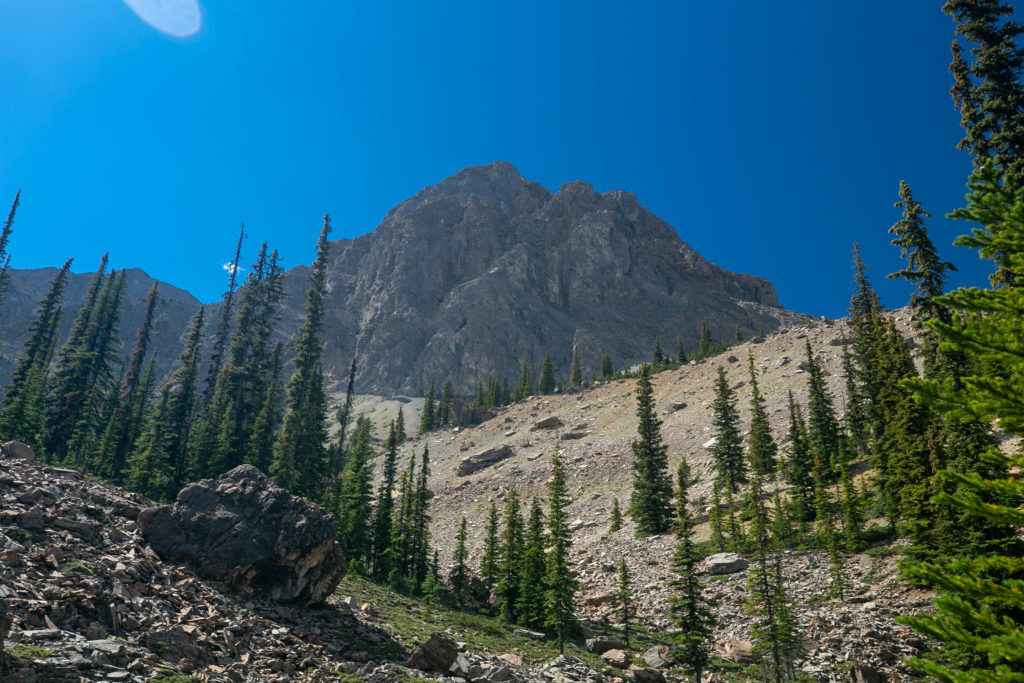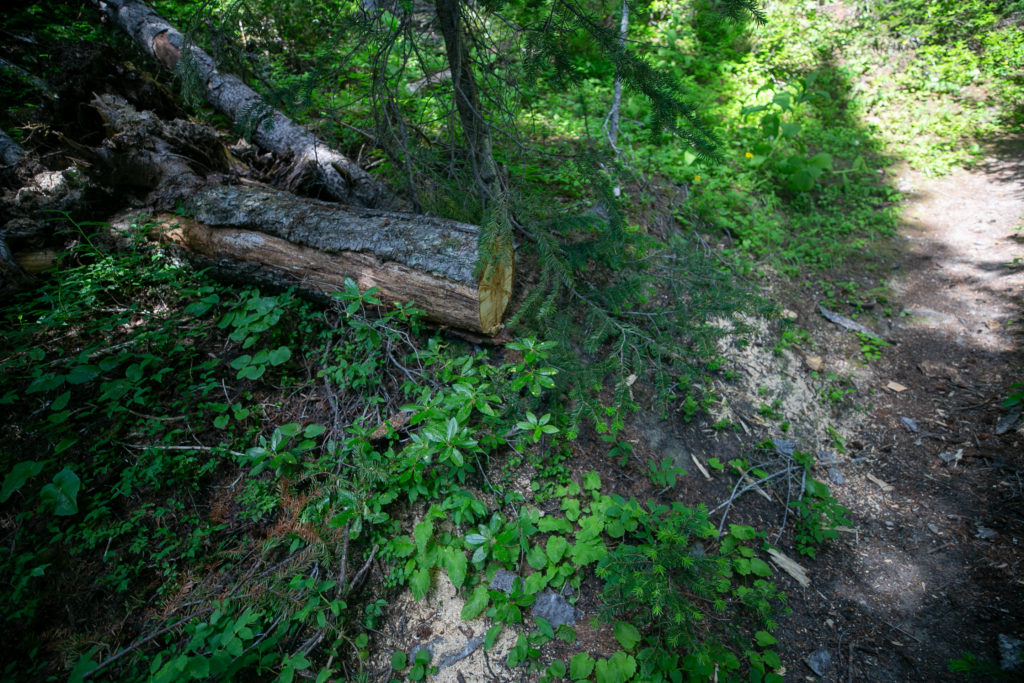 As I grinded my way up I ran into a nice young couple coming down from scrambling Walcott Peak. They were visiting Canada from France and asked for some hiking ideas for Canmore/Banff area. I suggested Heart Mountain out in Exshaw and Taylor Lake in Banff NP.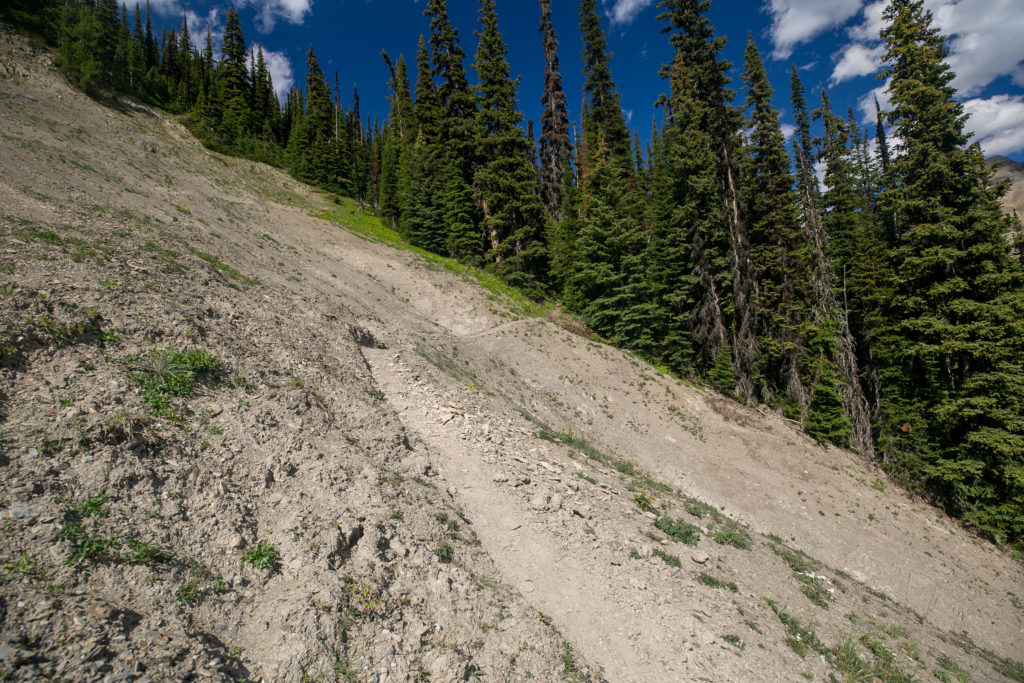 I got my first look to the other side of the Burgess Pass at 3:00 pm. It had taken me 2 hrs 30 minutes to hike up to Burgess Pass. Last year it had taken us 2 hrs and 50 minutes to do the same distance. While I was 20 minutes faster this year it had been a very tough climb and and the effort had not improved my confidence.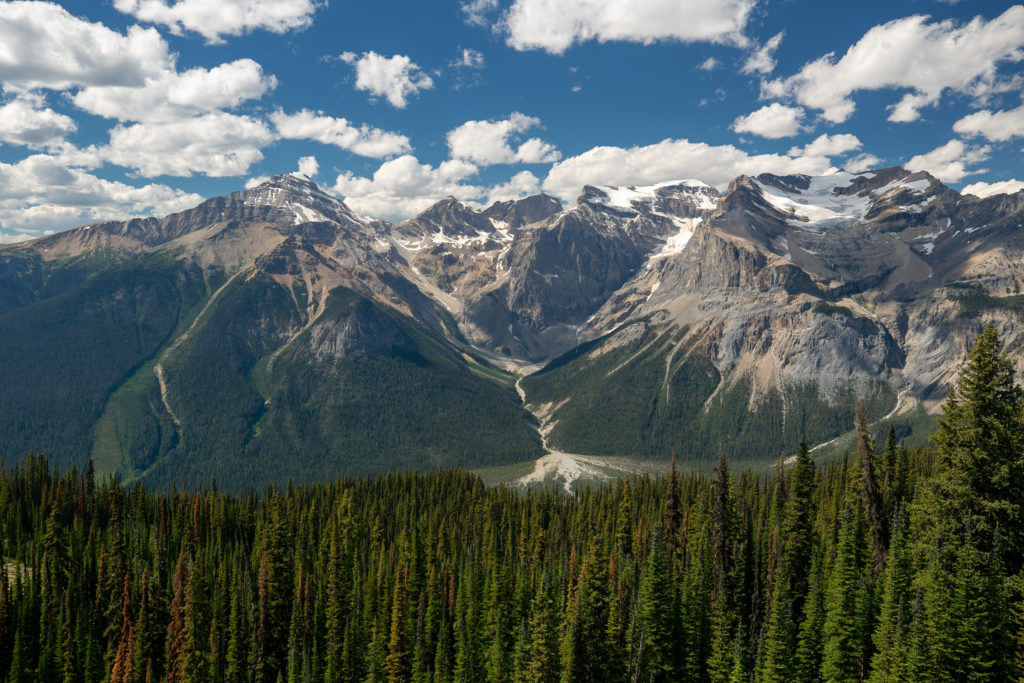 The flowers at Burgess Pass and all the trail to Yoho Pass were stunning! Shortly after leaving Burgess Pass I got some hot spots on my feet. I stopped right away and adjusted the laces which seemed to alleviate the problem.
As the trail started to drop I began a light jog letting gravity pull me down hill. The trail has some old stairs cut into the hill but there was some recent deadfall that needed attending to.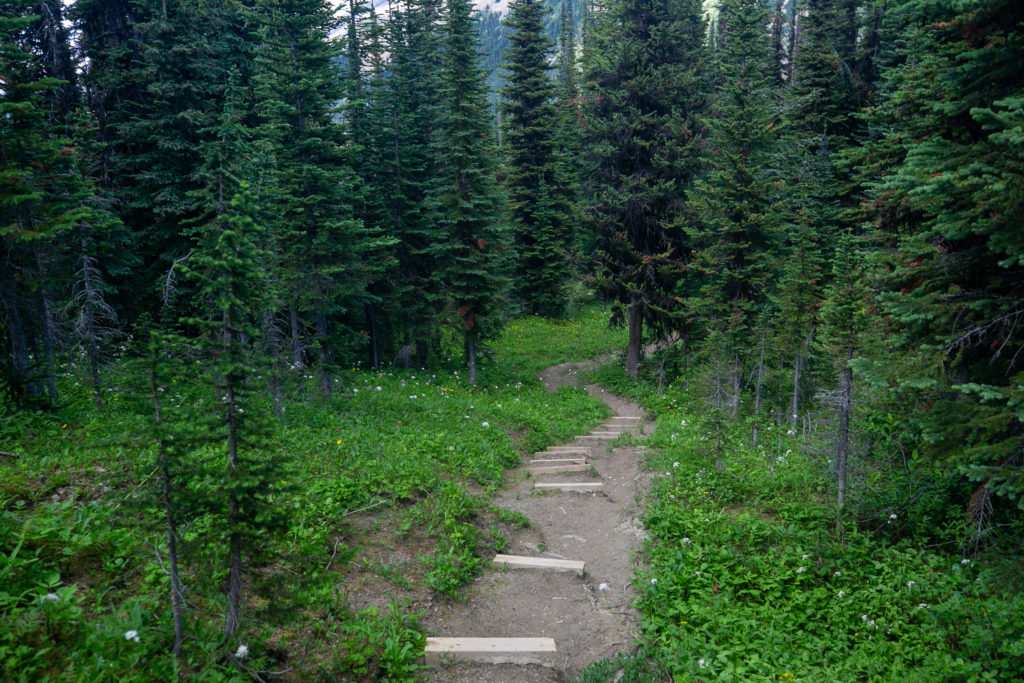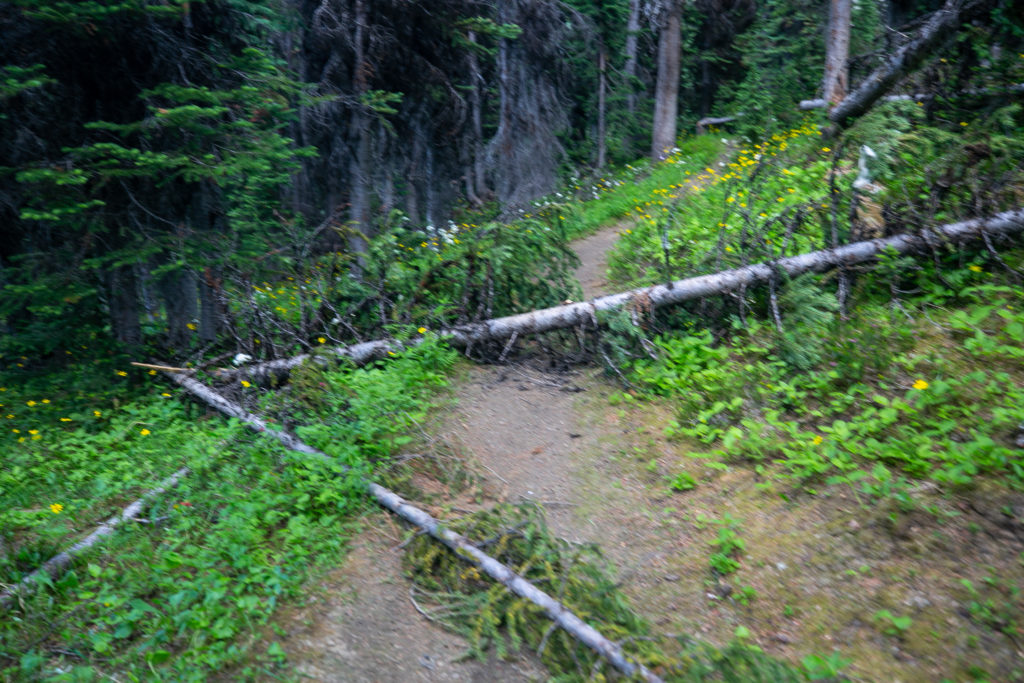 I soon came to the sign indicating the Burgess Shale area and the restrictions that are in place to protect the fossils. Parks Canada does run tours up to the Burgess Shale and it is on the list of things to do, just not today.
Shortly after passing the sign the trail leaves the trees and passes through a major drainage for Mt Field where it takes a turn to the left to traverse along the lower slopes of Wapta Mountain with unobstructed views in all directions.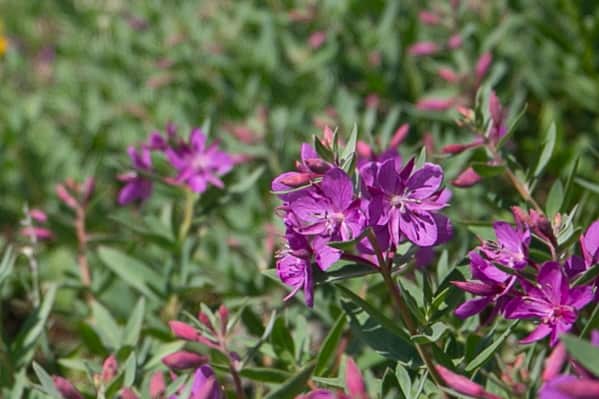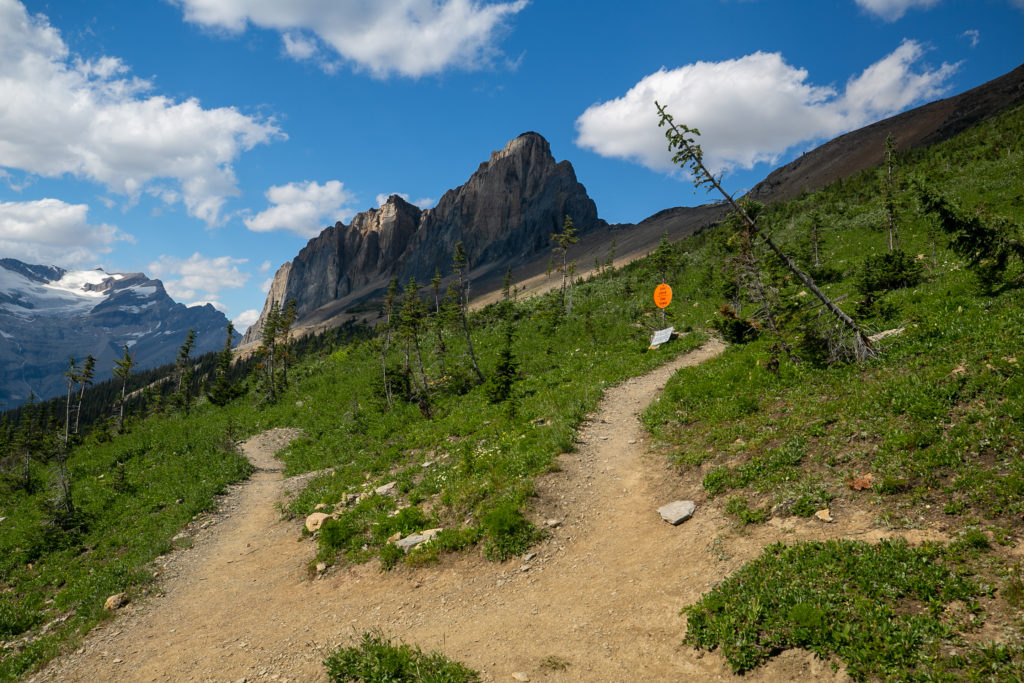 I made very good time as I traversed below Wapta Mountain. I did stop for a few minutes to attempt to get a cloud free picture of Emerald Lake. I timed it and it took about 8 minutes for the clouds to clear off the lake so I could get a clear shot.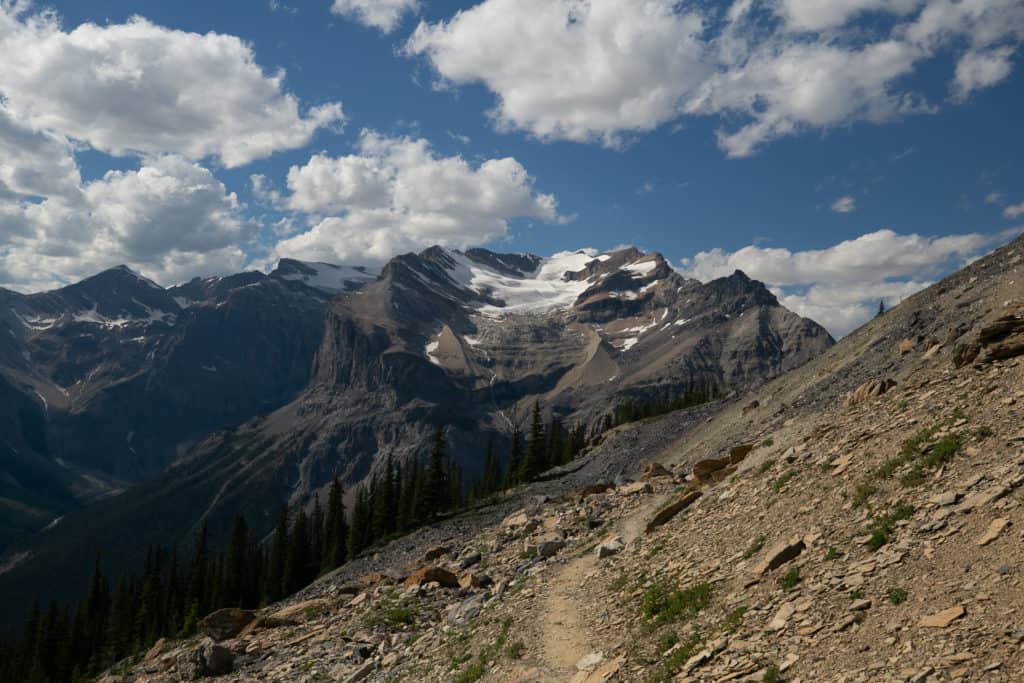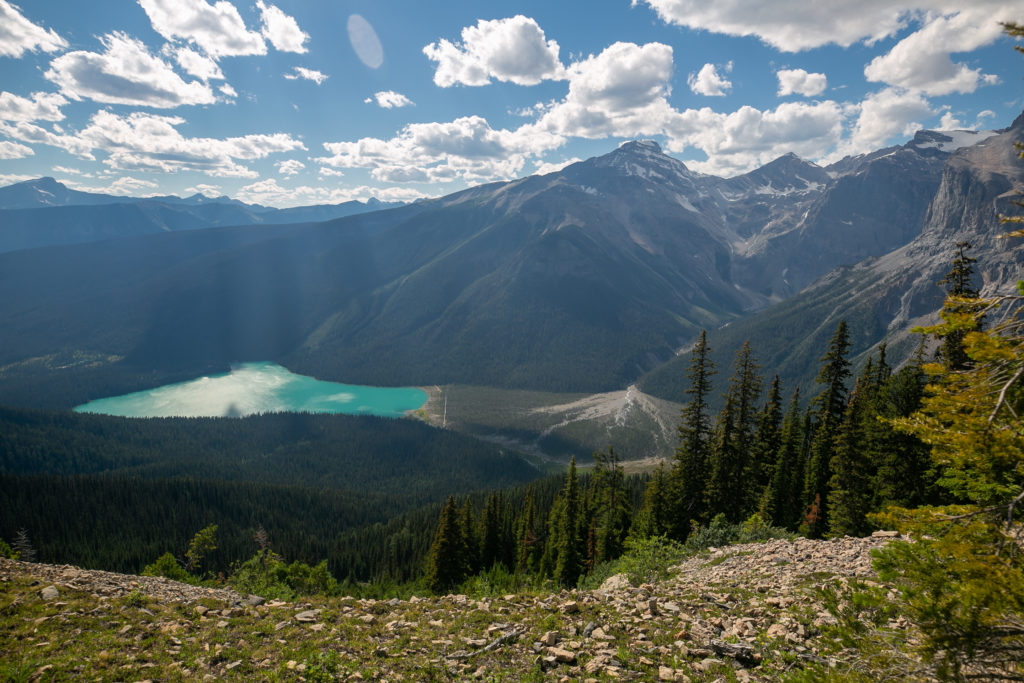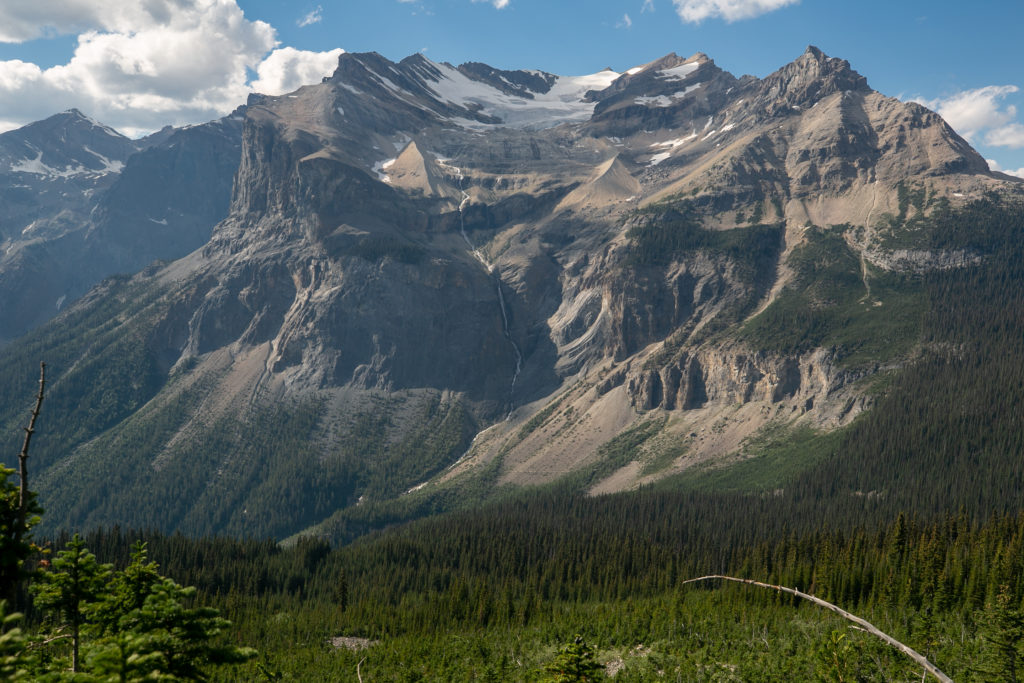 The hiking was quick and simple all the way to Yoho Pass. One reason I am happy that I carry a camera is that it does slow me down and forces me to stop and take in the view. I paused for a few minutes to admire the north-western wall of Mt Wapta and the flowers of Yoho Pass.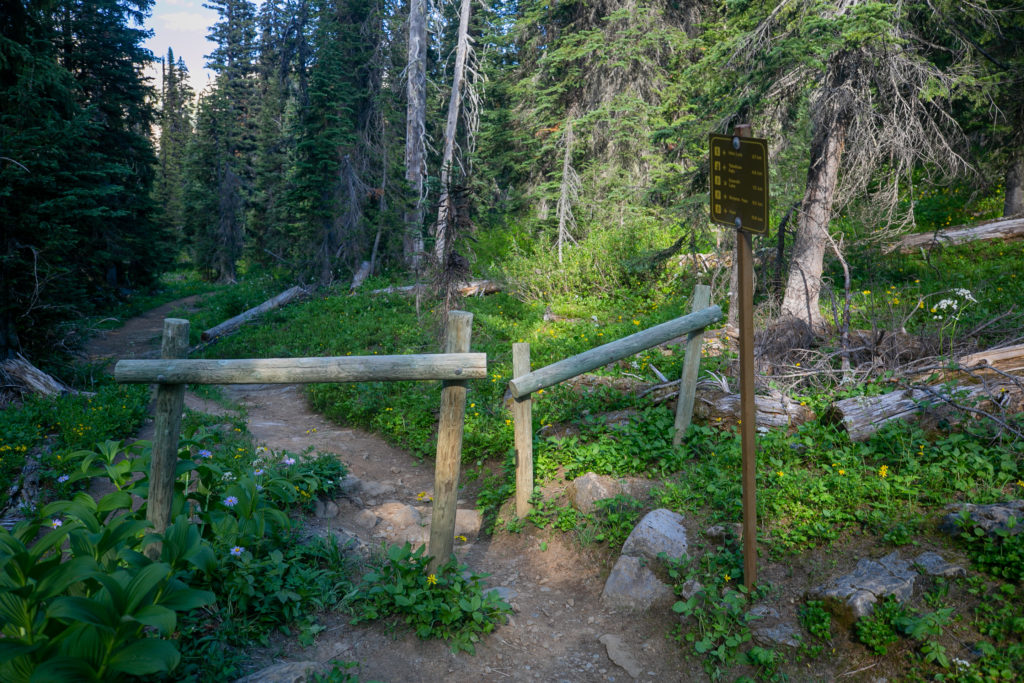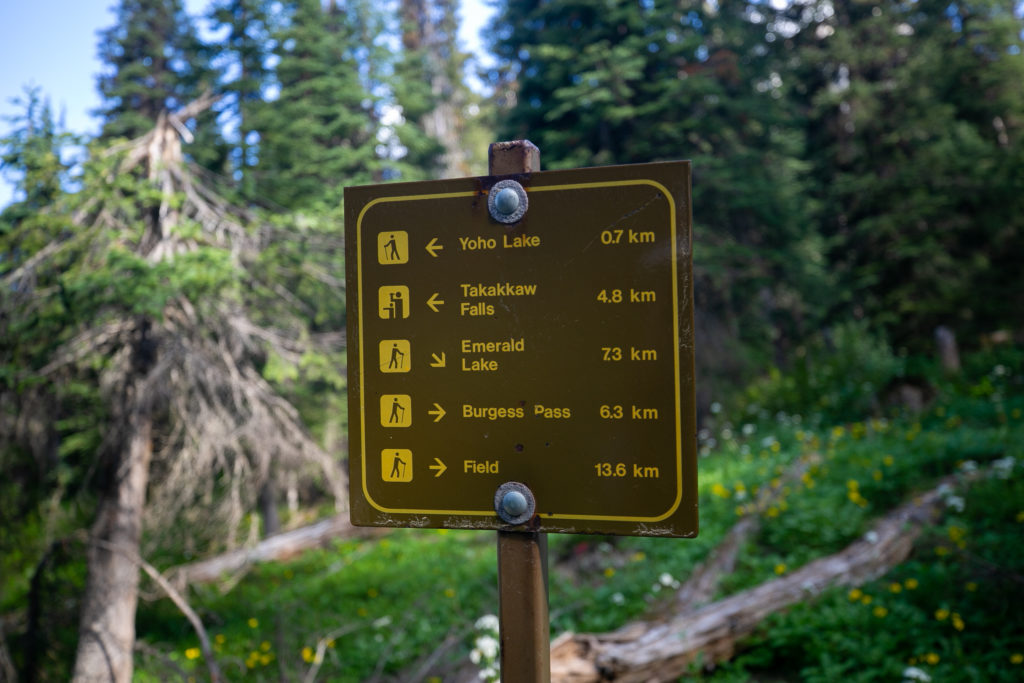 As I cruised towards Yoho Lake CG I was busy thinking and questioning myself. I do not know why I was so full of doubt. Two nights prior I could not sleep because I was so anxious about my the trip and now here I was with Day 1 almost completed.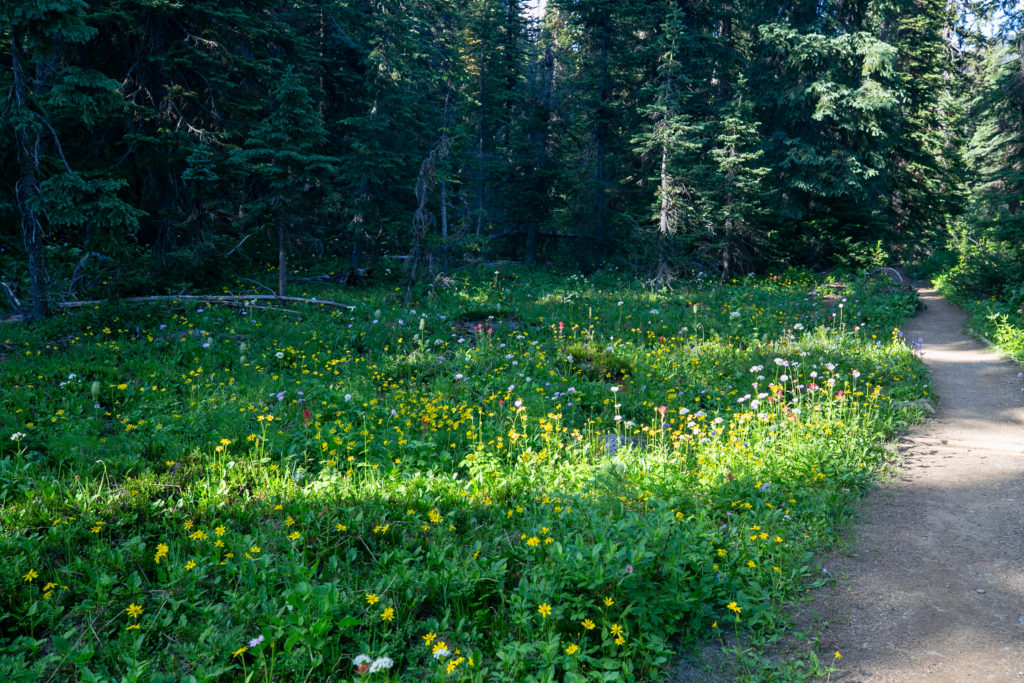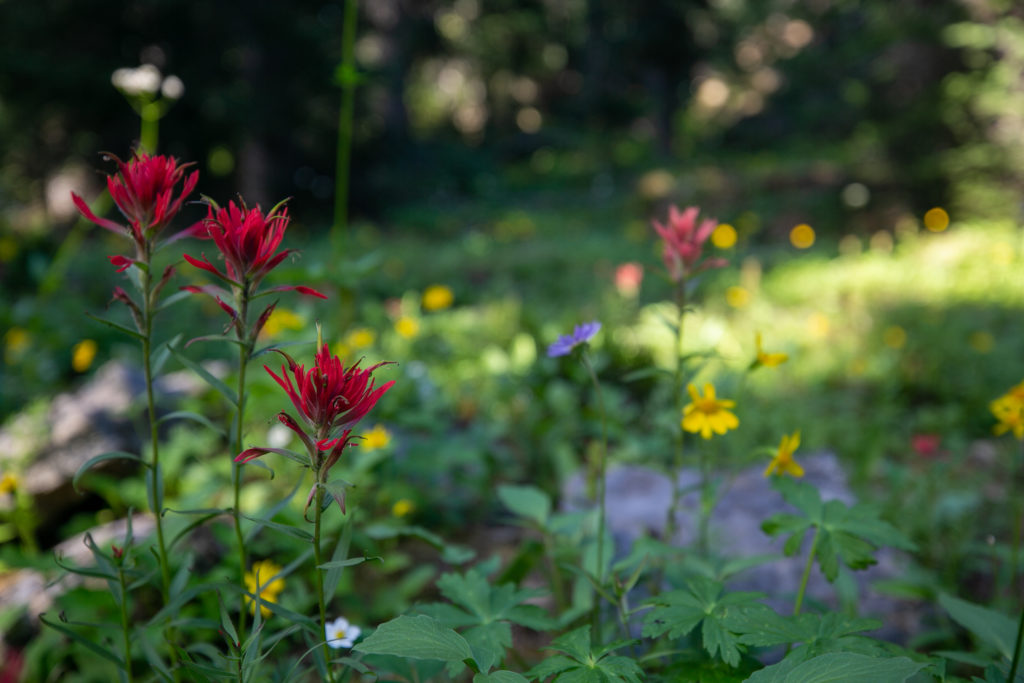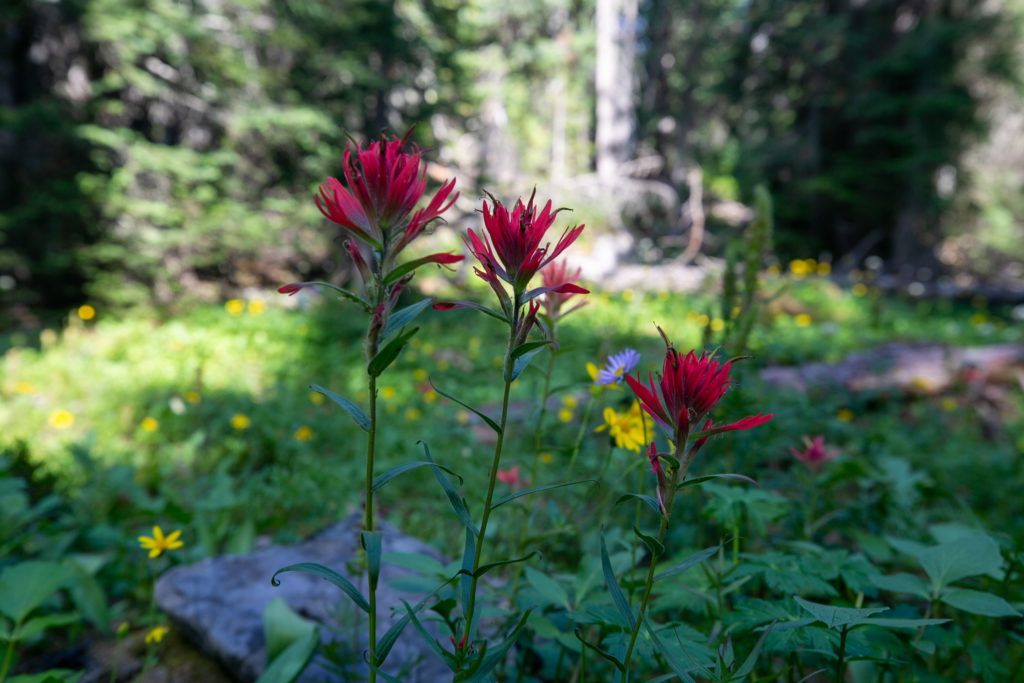 I strode into camp at 5 pm sharp. It had taken me 4 hrs 30 minutes to complete the 14.4 km from the trailhead. Last year I completed the hike in 4 hrs 40 minutes. So I was quicker this year but considering how much more effort it took me I was not very confident in my physical preparation. Time for more thoughts of doubt about the hike.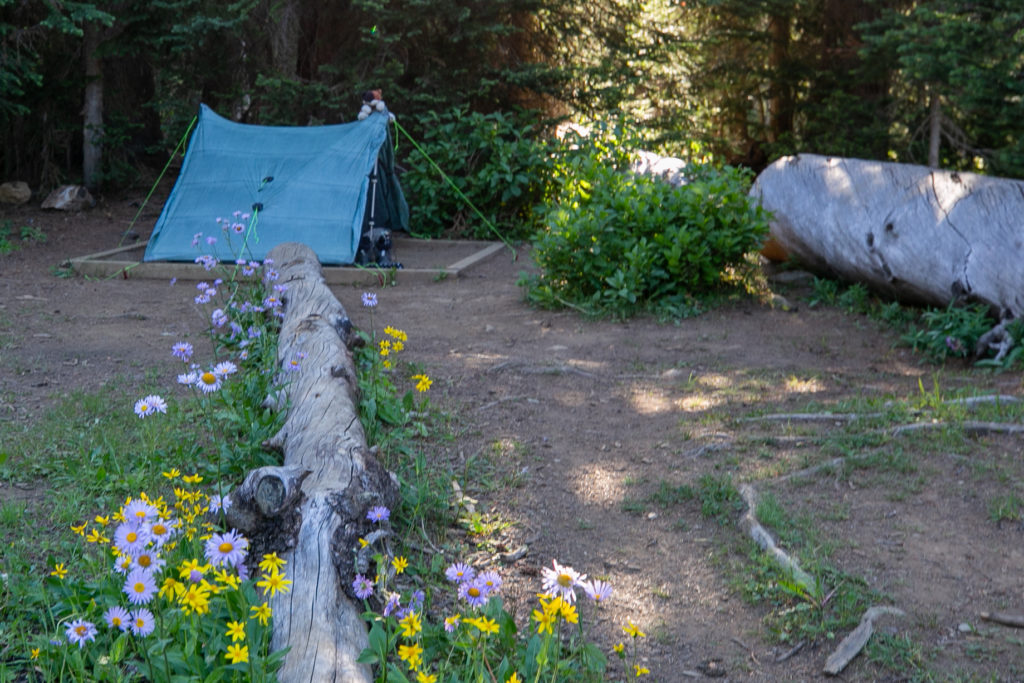 After I had the tent all set up and headed to find Lillian and her friend. I do not remember who said "hello" first but I remember it was fairly obvious who looked like hikers heading out on a long trip. We ate dinner together and chatted about the day. They had arrived much earlier and had taken the opportunity to have a swim in the lake. Taking a quick dip in the water was an activity that Lillian and Sara would enjoy a couple more times on the trip. We did talk briefly about our itinerary for the next few days. The plan would having us hiking together over Kiwetinok Pass and Amiskwi Pass and probably past the avalanche slides on the Blaeberry River which would be at least the next three days. It turned out that they had the tent site closest to mine. Dinner for me was cannelloni! After dinner I stashed my bear can in the the trees and I took some time to take photos from the Parks Canada Red Chairs that were situated lakeside and to do some journaling. As I was writing in my journal a young and very inexperienced group of campers came up to me and asked if it was safe to drink the water. I answered a firm but polite "no". As I was deep into my journal writing the group came back and smoked up behind me. Guess I should not have been so nice. On the plus side there were not as many mosquitos as there were on my trip just a few weeks before with Laura and Margaux.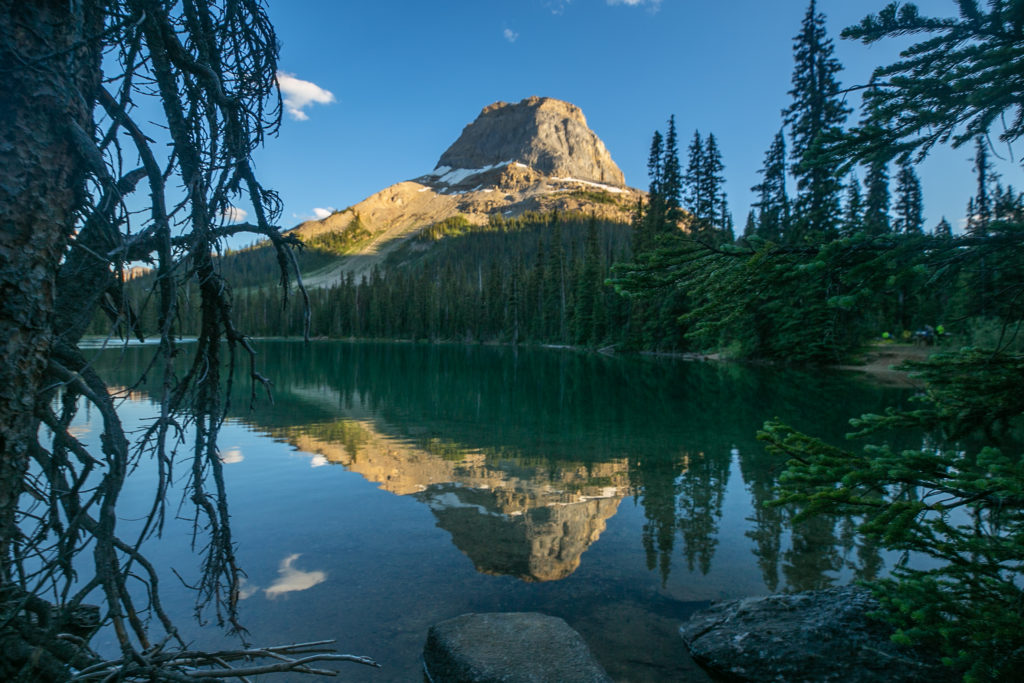 I headed back to the tent just after 8 pm. Chatted with Lillian and Sara through the tent for a few minutes. Their tent was a Durston X-Mid 2. The plan was to leave around 7 am tomorrow. Despite my doubts and the constant nagging in my own head the day was definitely a 10/10.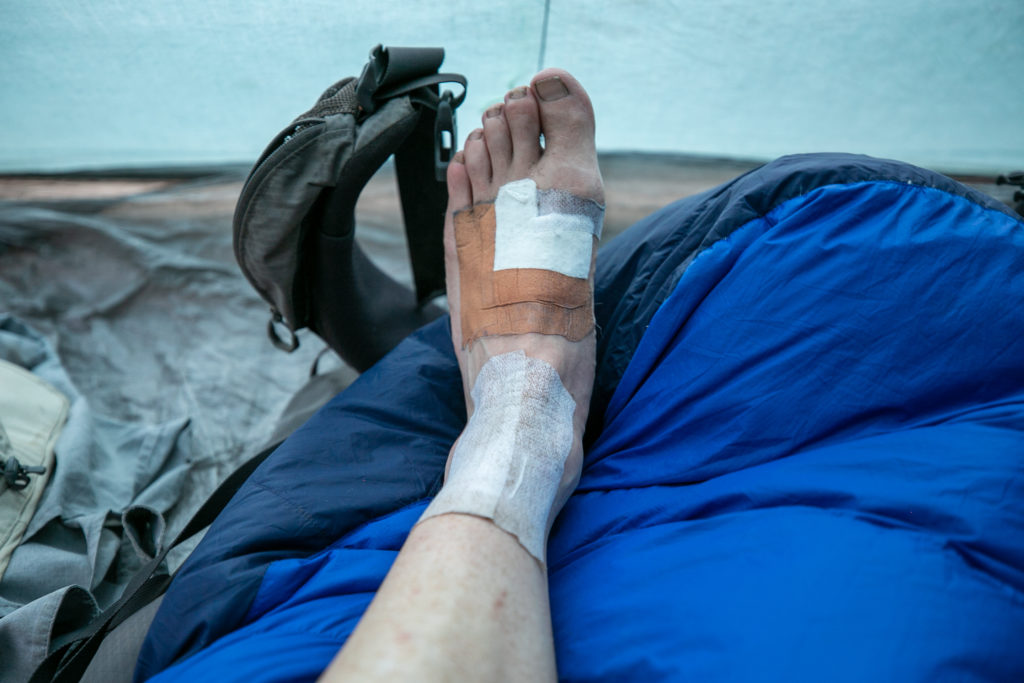 Good night from end of Day 1 at Yoho Lake CG.
GDT Section 2022 Section D Day 2