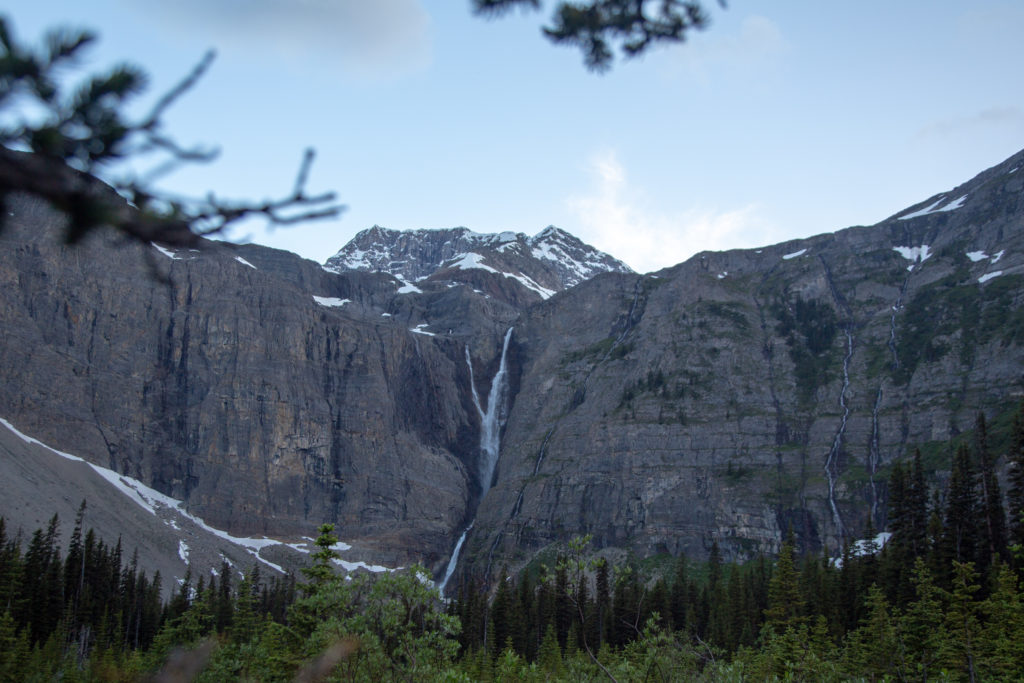 Day 1 Paint Pots to Helmet Falls CG, 15.3 km, Elevation Gain 750 m, Elevation Loss 420 m, 3hrs 38 min.
I finished summer school at about 1:45 pm and rushed out to the car. I was already dressed for hiking (the students did not notice since school was online) so I was able to leave right from school and drive to trailhead at the Paint Pots located on Hwy 93 South to Radium. Arriving in the middle of the afternoon I was actually luck to find a parking spot. The parking is for those hiking the Rockwall Trail but also for people who want to go view the Paint Pots which is a great little family hike. The Paint Pots are iron rich mineral springs that bubble up to the surface and spill over the top of the "pots" and paint their surrounding with a deep ochre colour. The Paint Pots are considered a sacred site by the Ktunaxa First Peoples of Columbia Valley so it is considerate if visitors look but do not disturb the pots and the ochre. The trail for the Paint Pots is officially just 2 km out and back, I measured it as only 0.7km one way, and does include a lovely bridge over the Vermilion River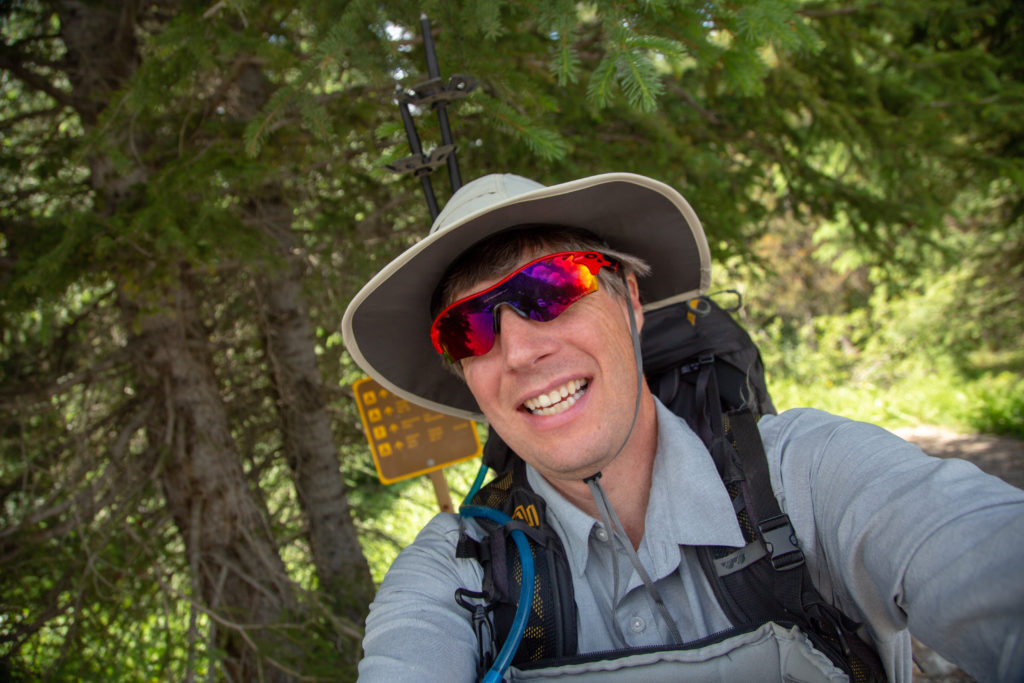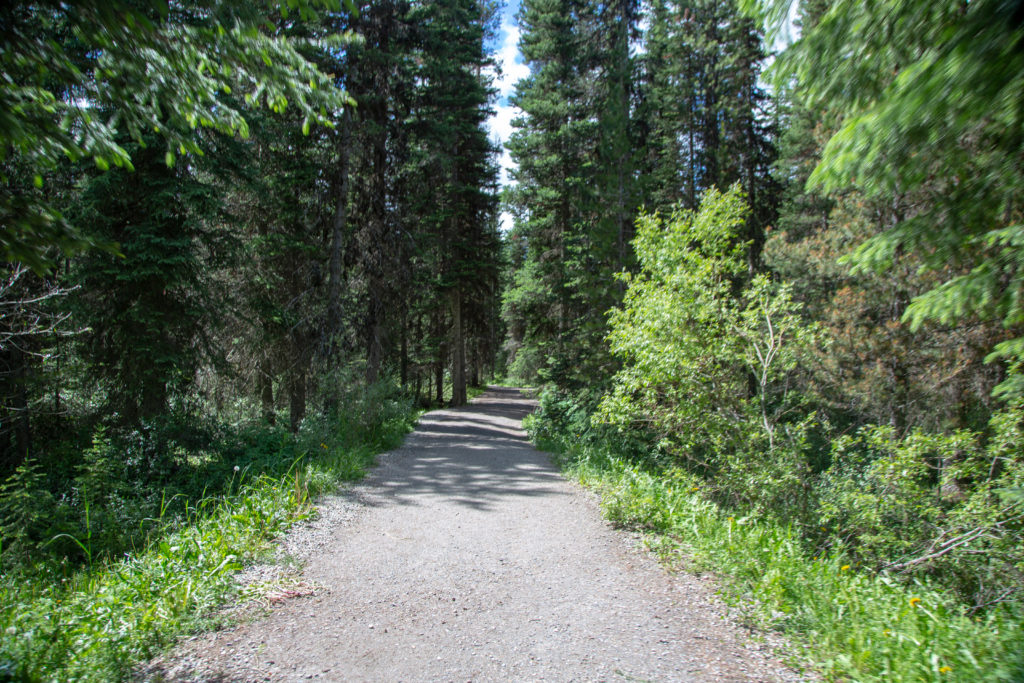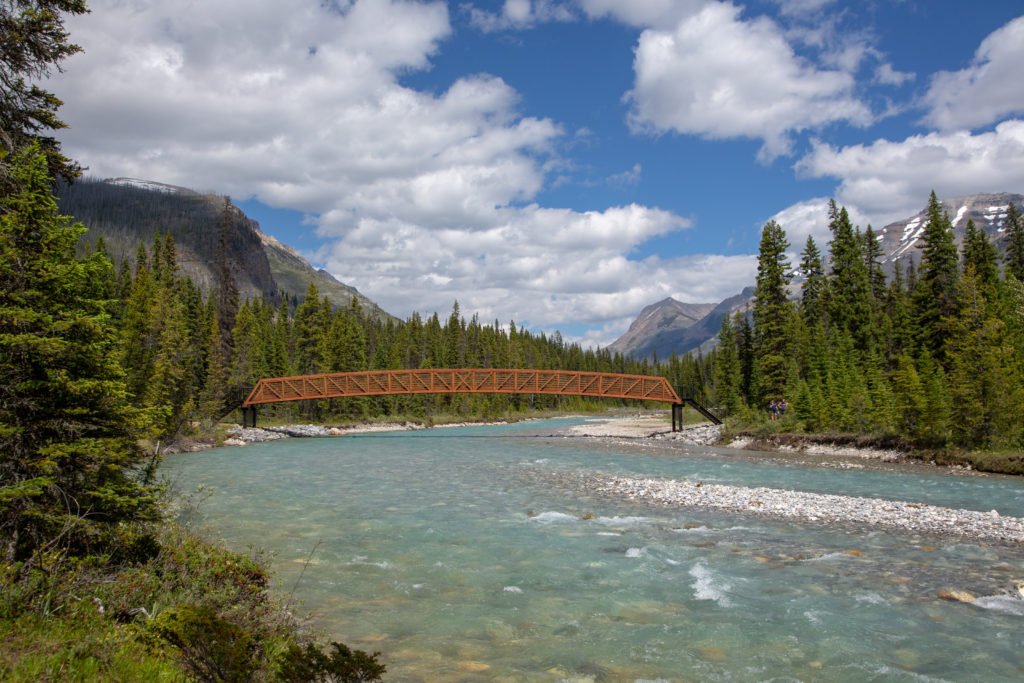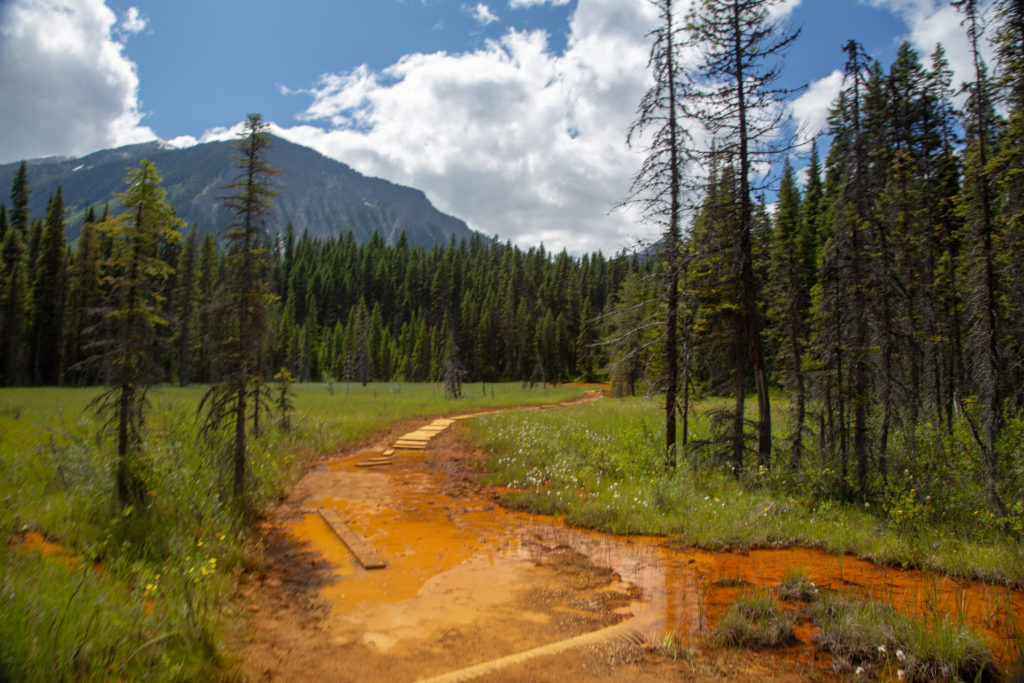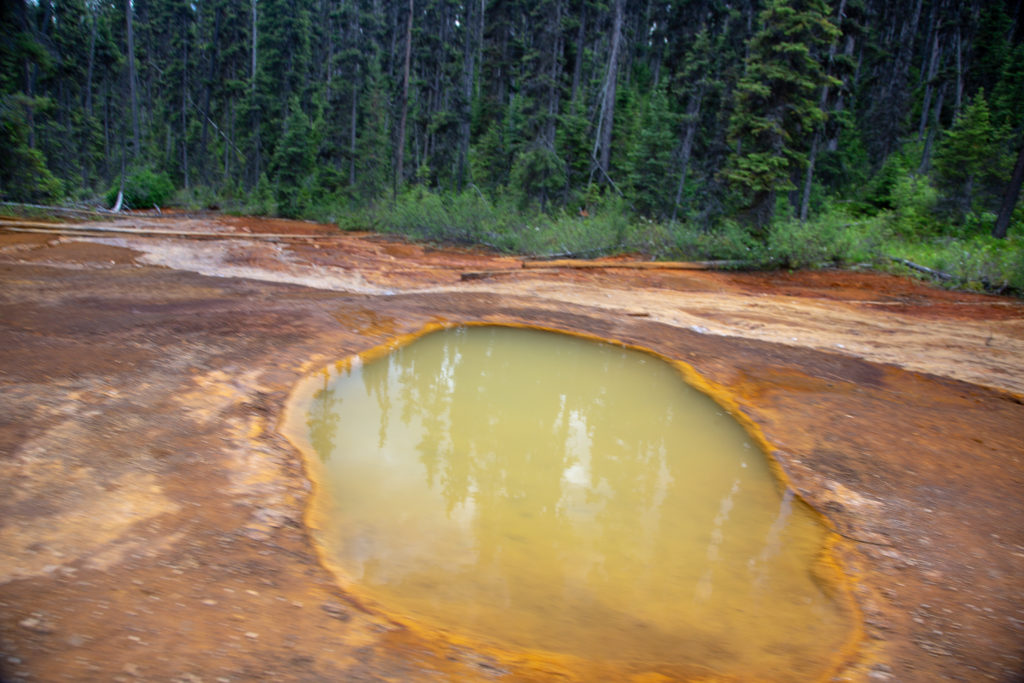 Leaving the Paint Pots the trail heads up what would be a very muddy climb if it was not for the boardwalk. The trail stays very muddy and rooty for just the next km. This made going a little slow but as I was in a rush and wearing boots I just plowed right through the mud. Happily as I passed the first junction with Marble Canyon the trail dried out.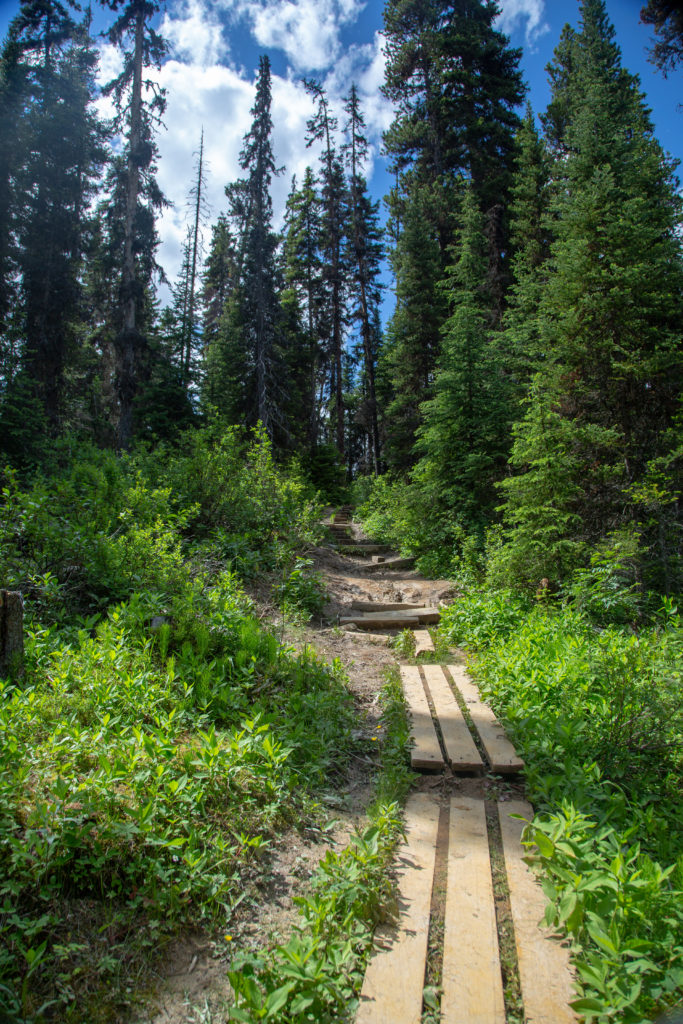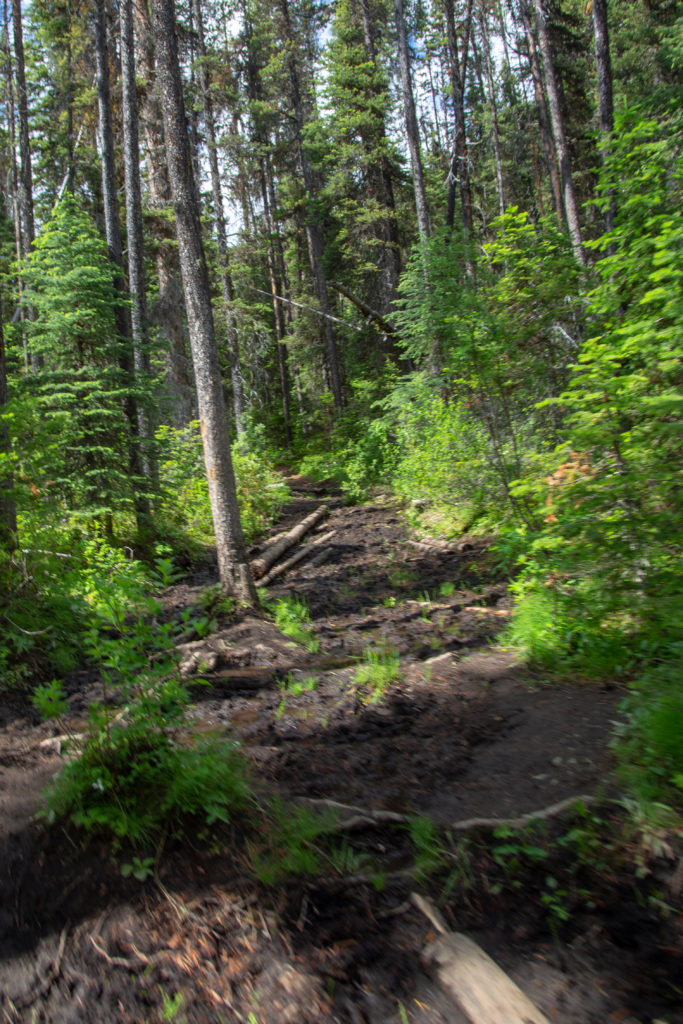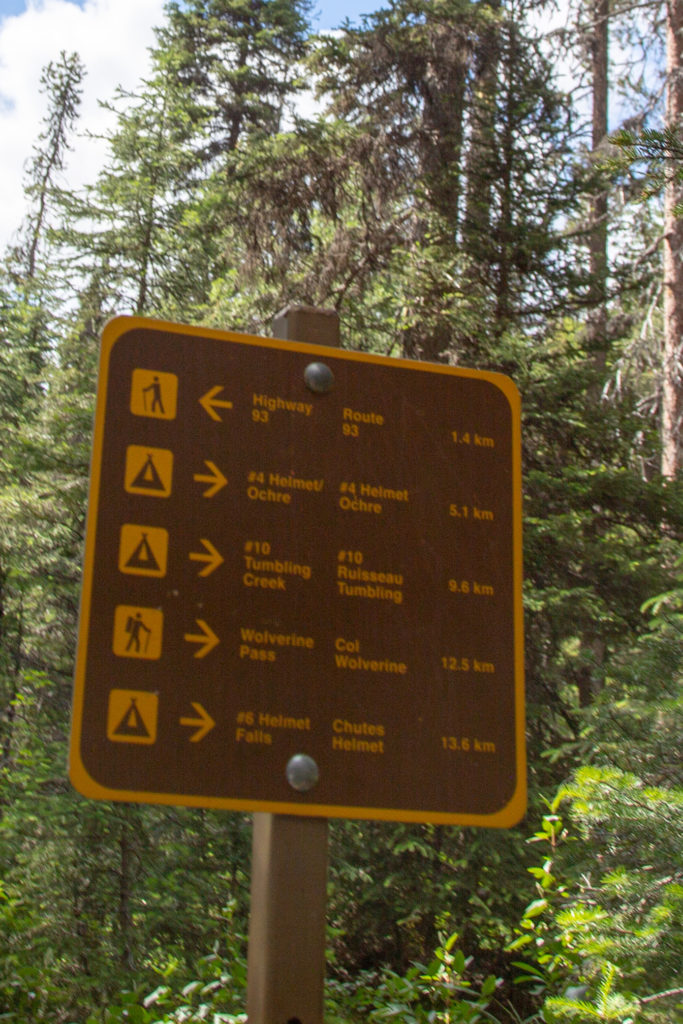 Thankfully the trail dried out and I was able to up my pace. Luckily for me much of this section of the hike was deep in the trees with only occasional views. I was in a rush to get the campground so was trying to maintain as fast a pace as possible. This did not mean that I did not stop to take photos but the stops were kept short. I stopped for a few minutes to clean up garbage that was across on the trail. Someone had dropped or dumped their dried meal packages. More maddening was that I had passed at least a dozen people coming the other way who must have walked right passed the garbage. I tidied it up and left it in a obvious location near a log to pick up on the way back. When we came by on Day 3 the garbage was not to be found. It took me 55 minutes to reach the junction to Tumbling Creek CG a distance of just over 4 km. I would be coming down this trail on the way home on day 3.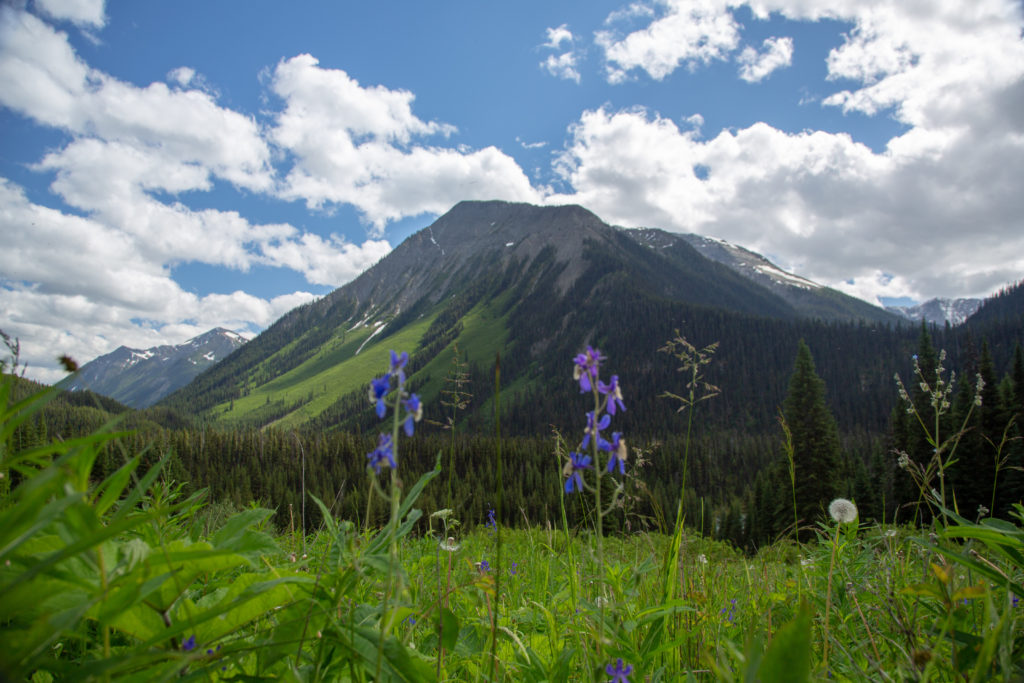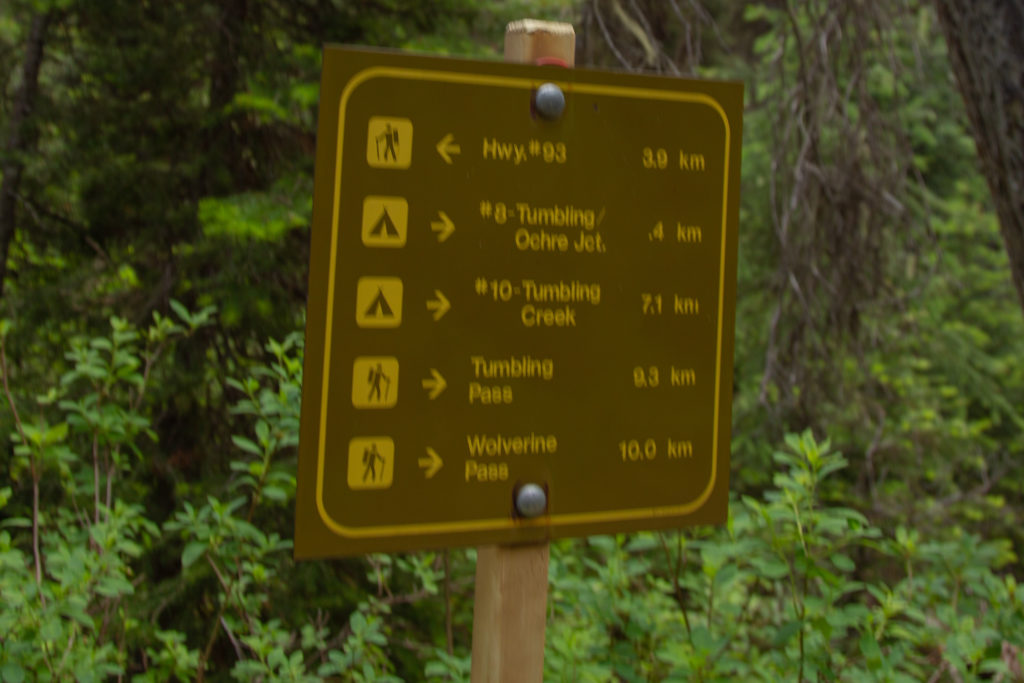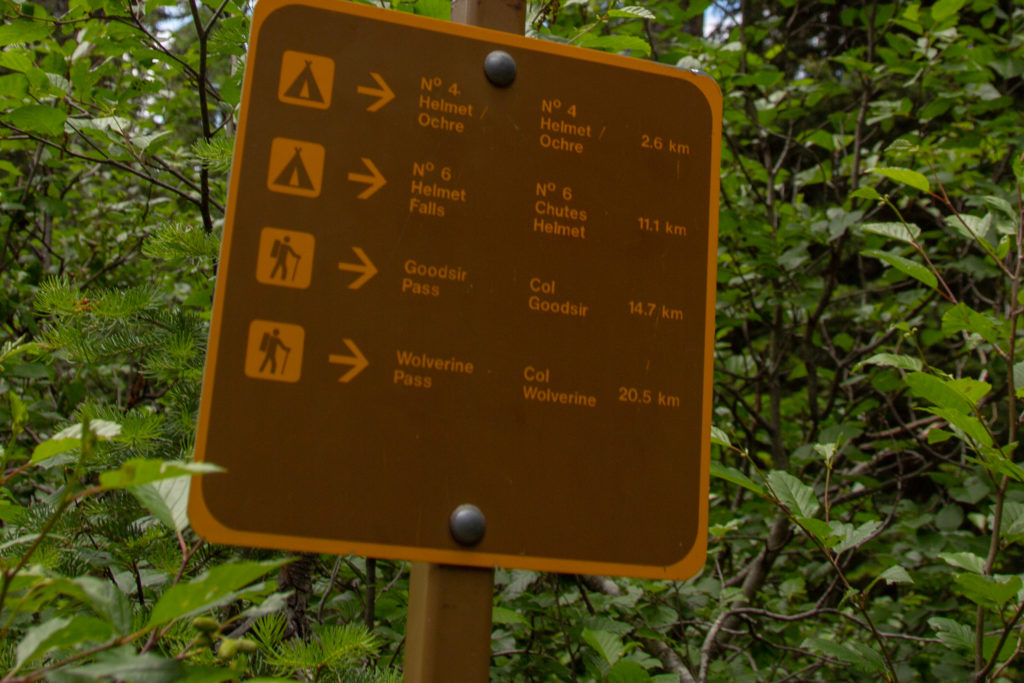 Covered the 2.6 km to Helmet Ochre Campground in under 30 minutes. This included a stop to tend to hotspot on my foot. .I had completed 6.2 km in 1.5 hrs and had 8 km to go. With a bit of luck I was on track to make it to the campground in under 4 hrs.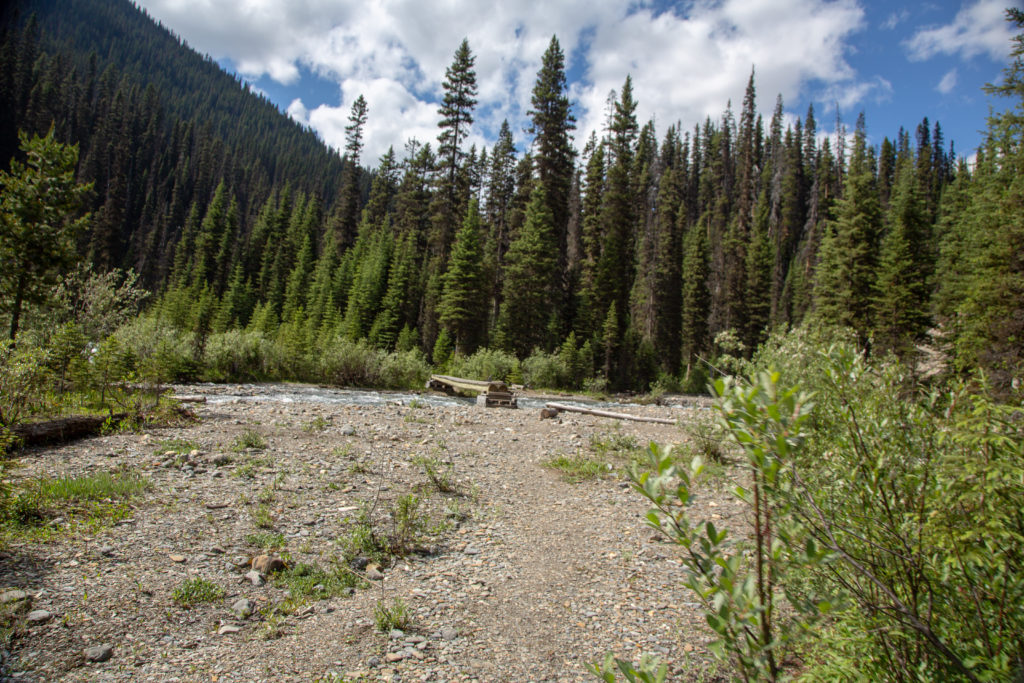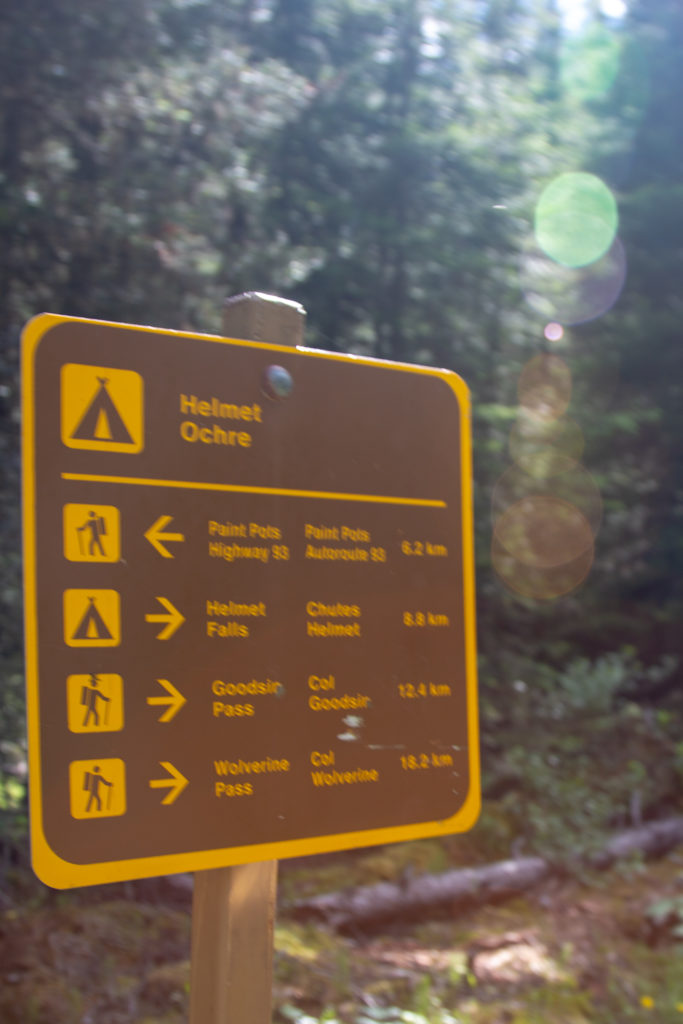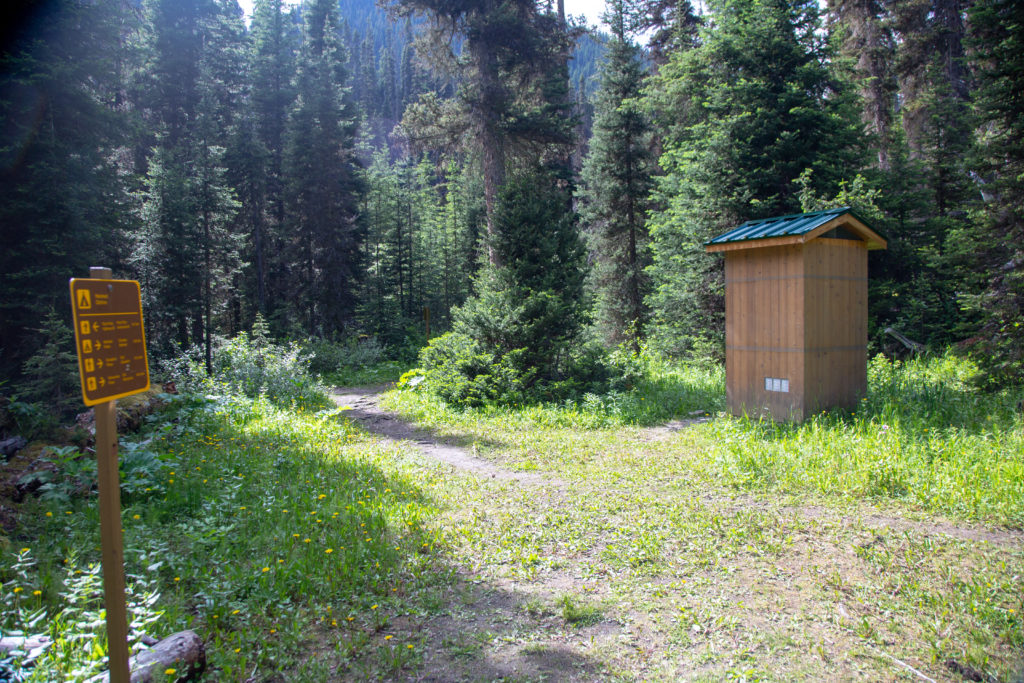 Only a few minutes after leaving the campground I spied a little tumbling creek on the other side of Ochre Creek. I stopped for a few minutes to take pictures trying to do a long exposure picture without taking my backpack off to get my tripod using well placed rocks. It worked pretty well. I then crossed a very sturdy bridge and stopped to take some pictures of Ocrhe Creek.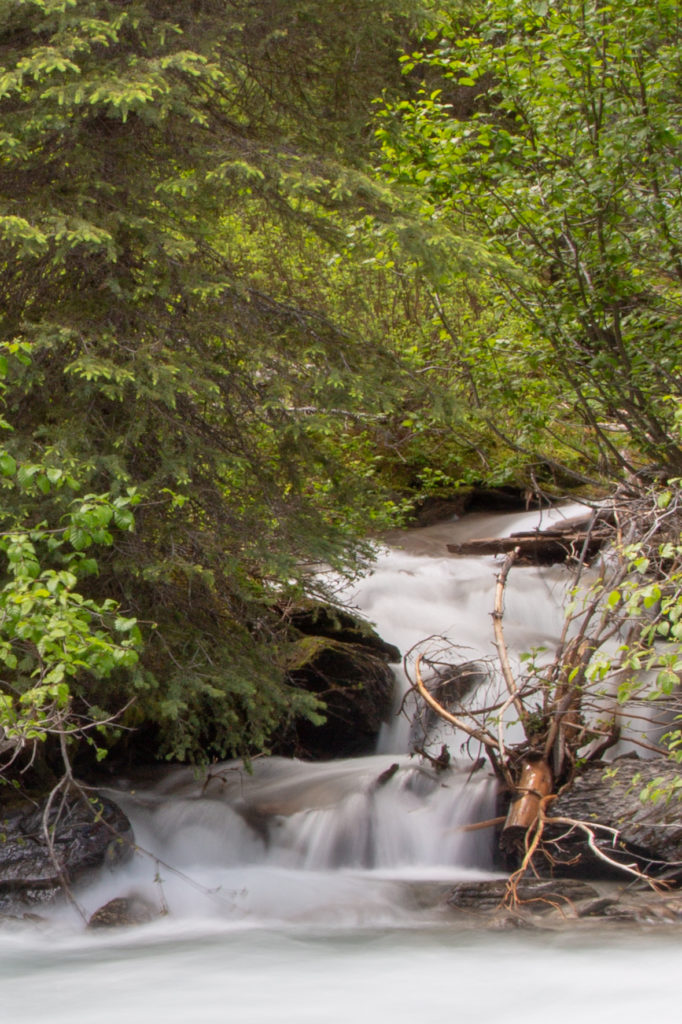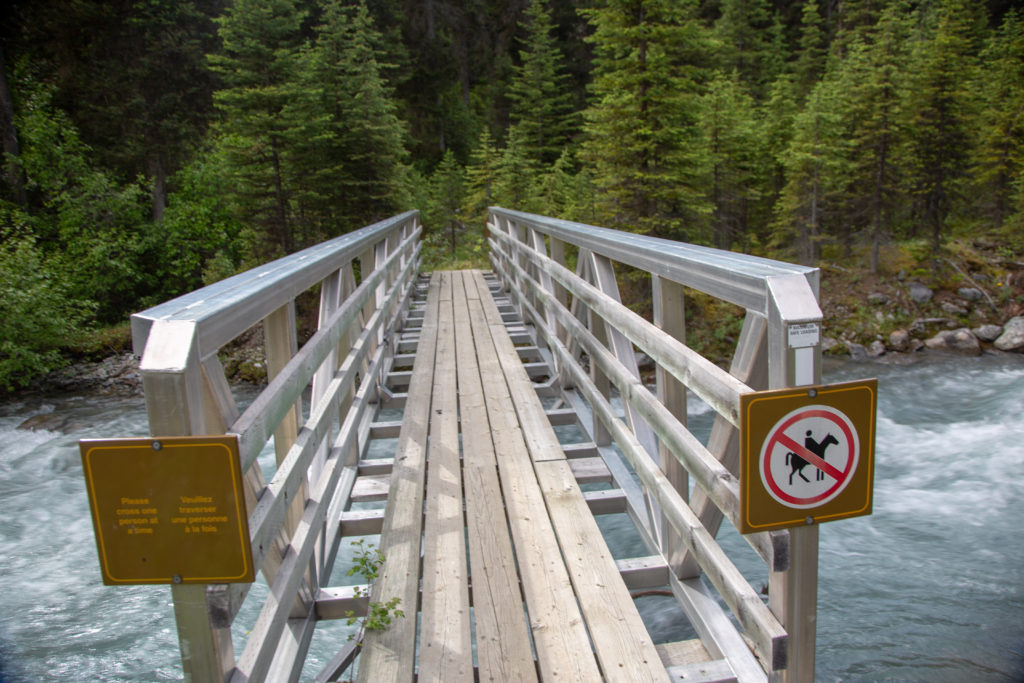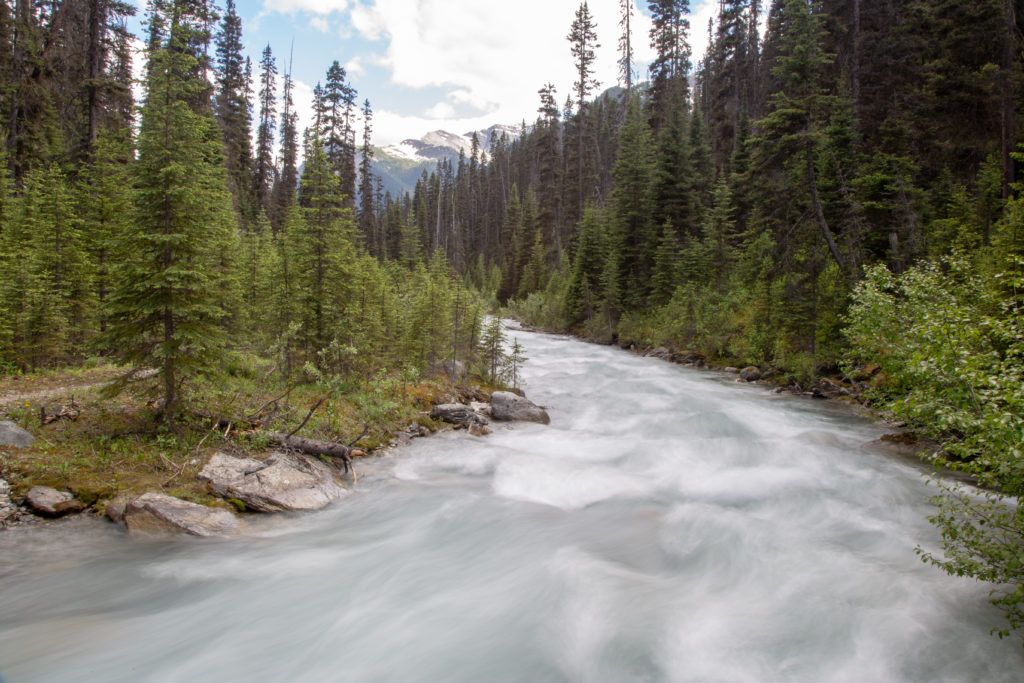 The next stretch of trail was moderately uphill.This was the largest elevation gain on the trail going 150 m in 2 km, not exactly steep. The trail then stayed well above the creek for the next 4 km. I did meet a few people heading the other way. A few were hiking just to Helmet Ochre CG but a couple where heading out to their vehicle. The only thing that impeded my progress on this stretch was the many downed trees. I lost count how many trees I had to detour around or climb over. It made the trail fun as there was not whole lot of opportunity for views with the thick forest overhead. I got lucky going over a tree at one point as I tried to rush over the tree and lost forward momentum and fell backward landing on my pack. Luckily there were no rocks or stumps where I landed making for quite a cushy landing. Falling could have had a much different ending and was a good reminder that even when rushing going slower can be faster and safer.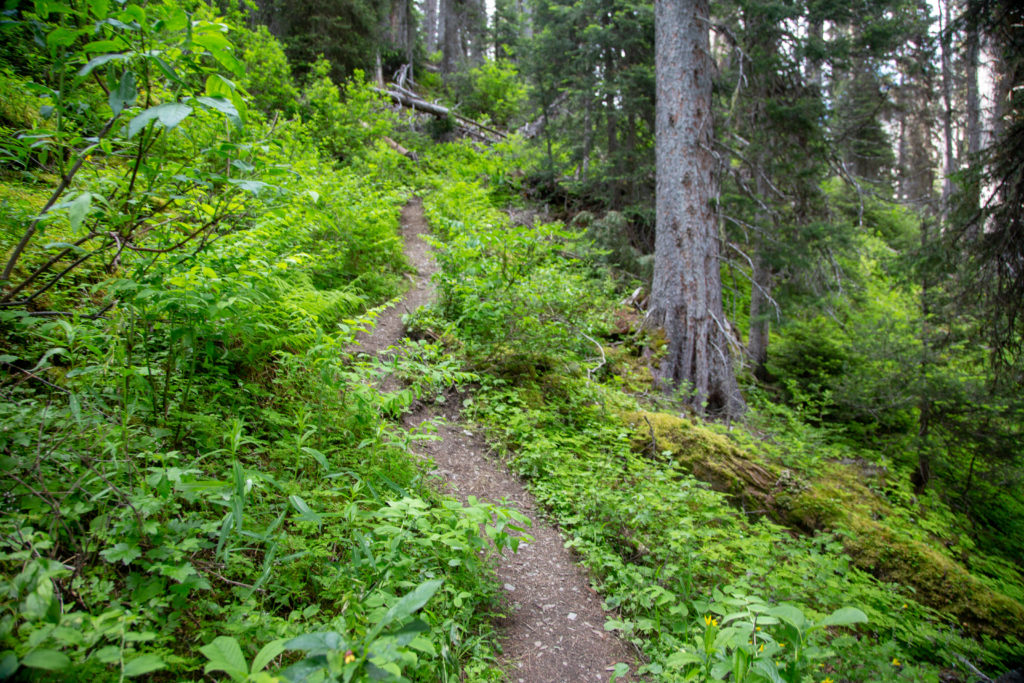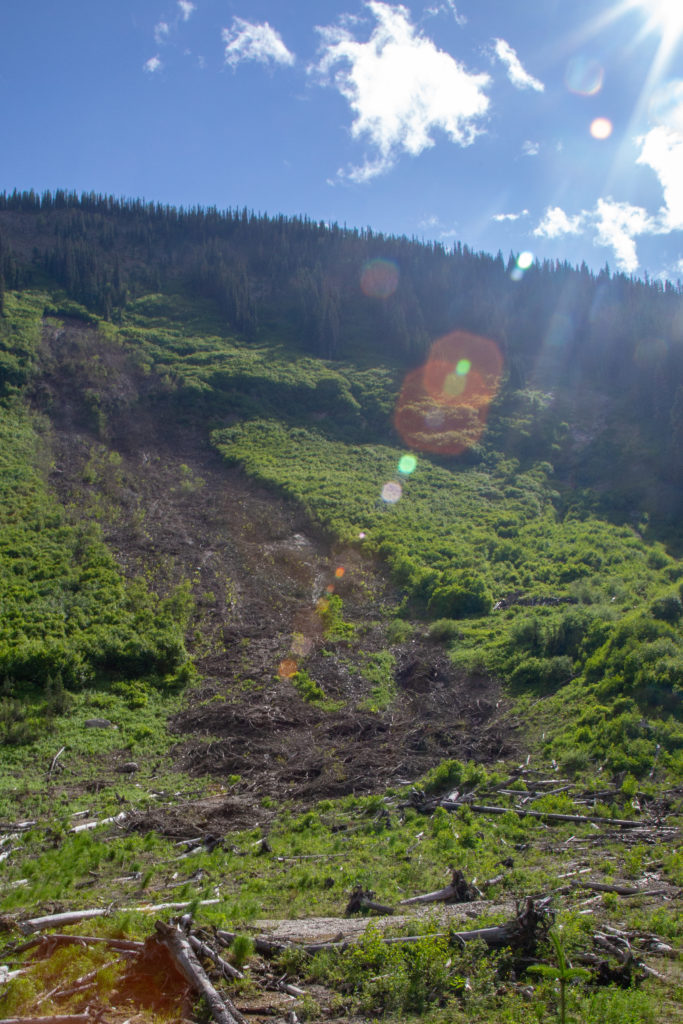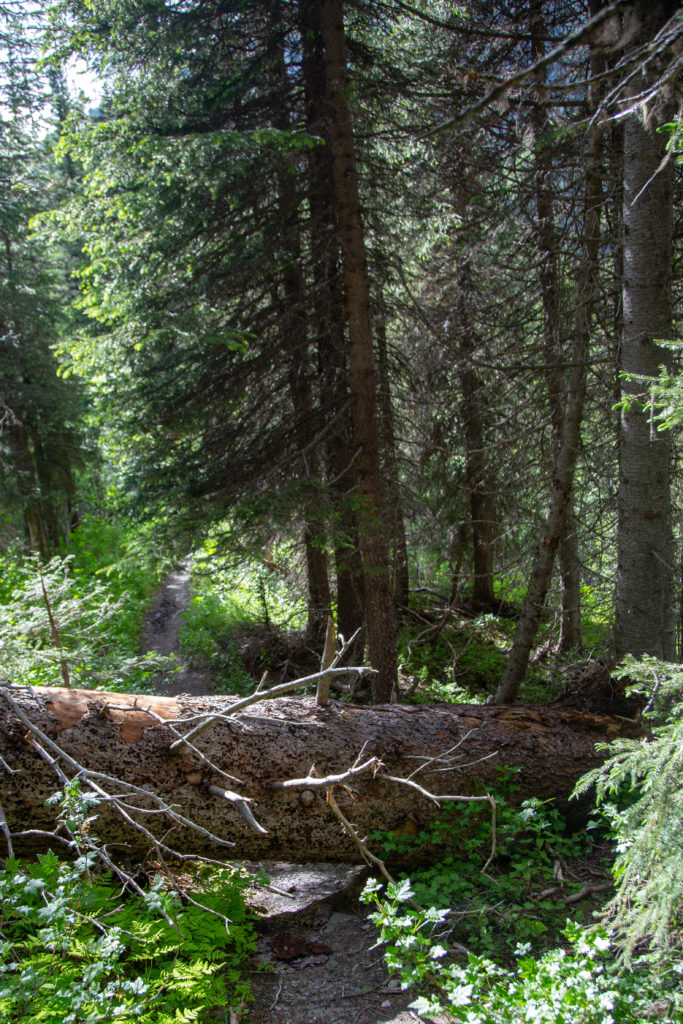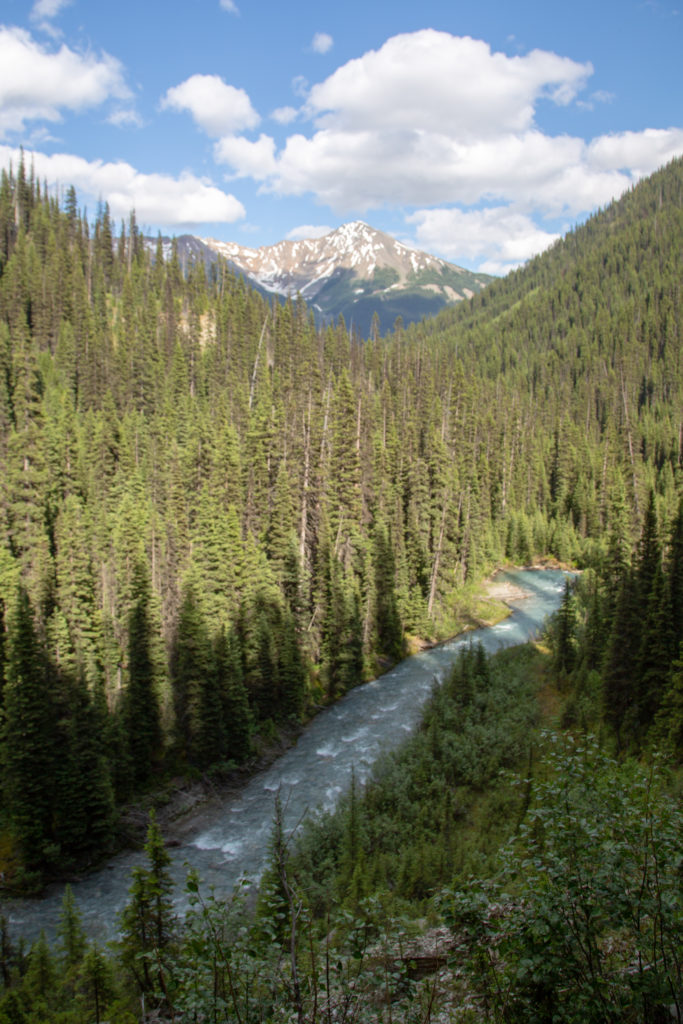 The trail came back to the river just past the 10.5 km point which had taken me 2 hrs 45 min since I left the car. The trail did not so much as drop down to the river as the river came up to the trail. The trail would stay by the river all the way to the campground. There was very cool suspension bridge at the 12 km mark. It was a bouncy trip across the bridge. The first views of Helmet Falls came at about the 13.5 km mark, almost there.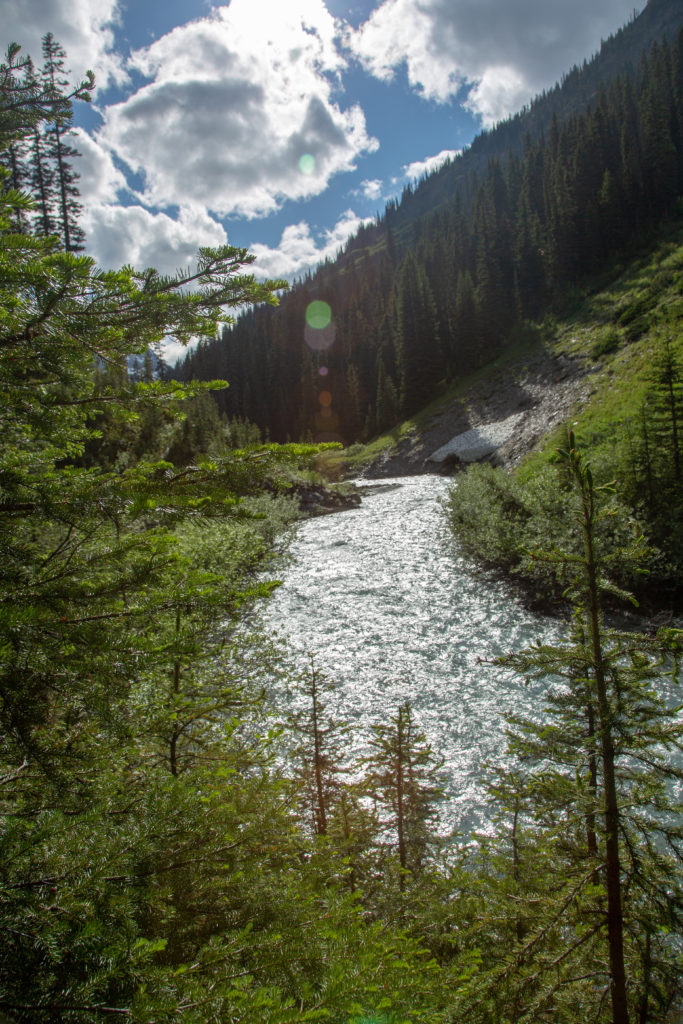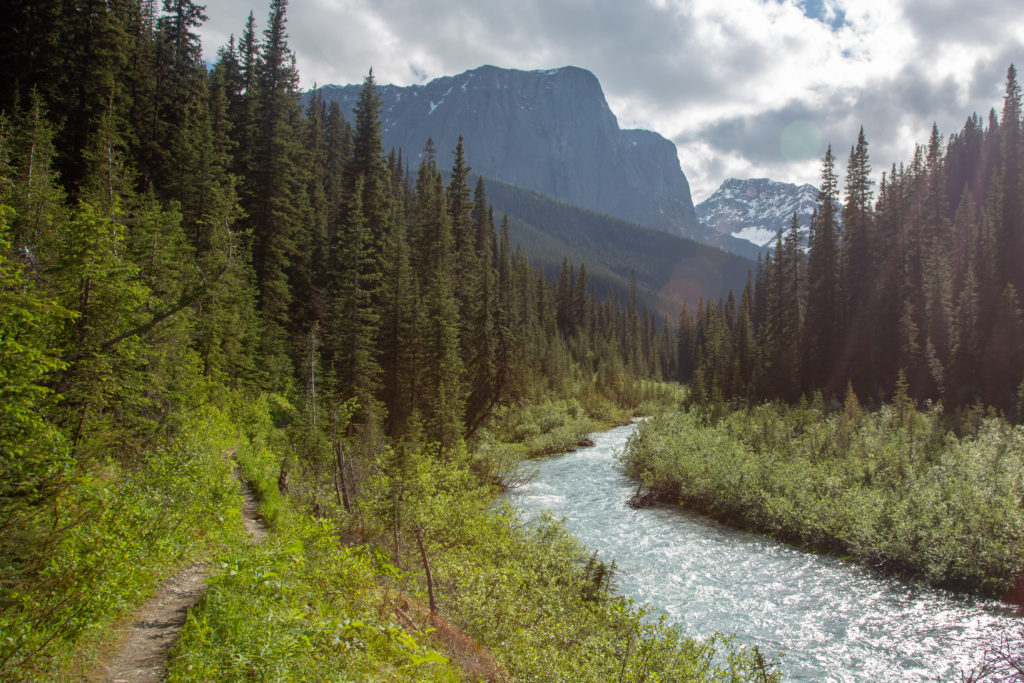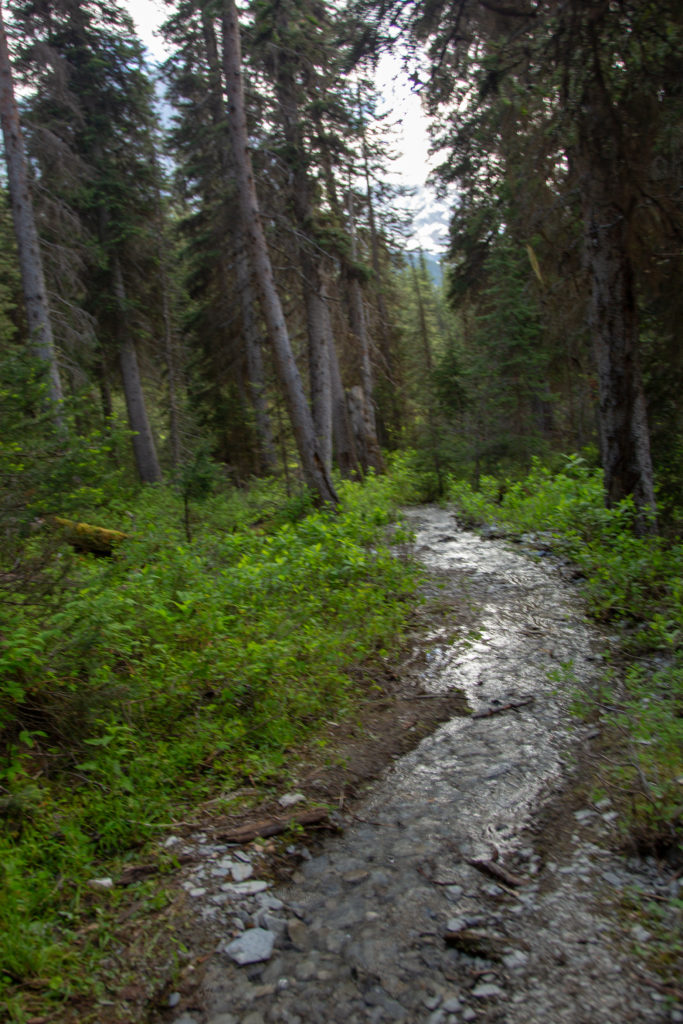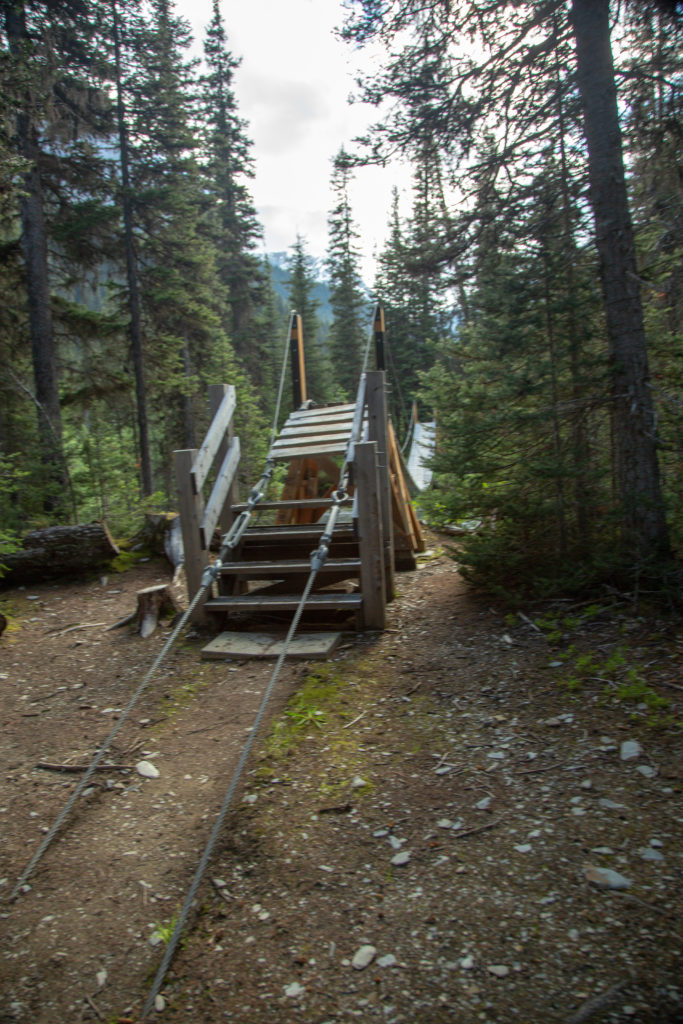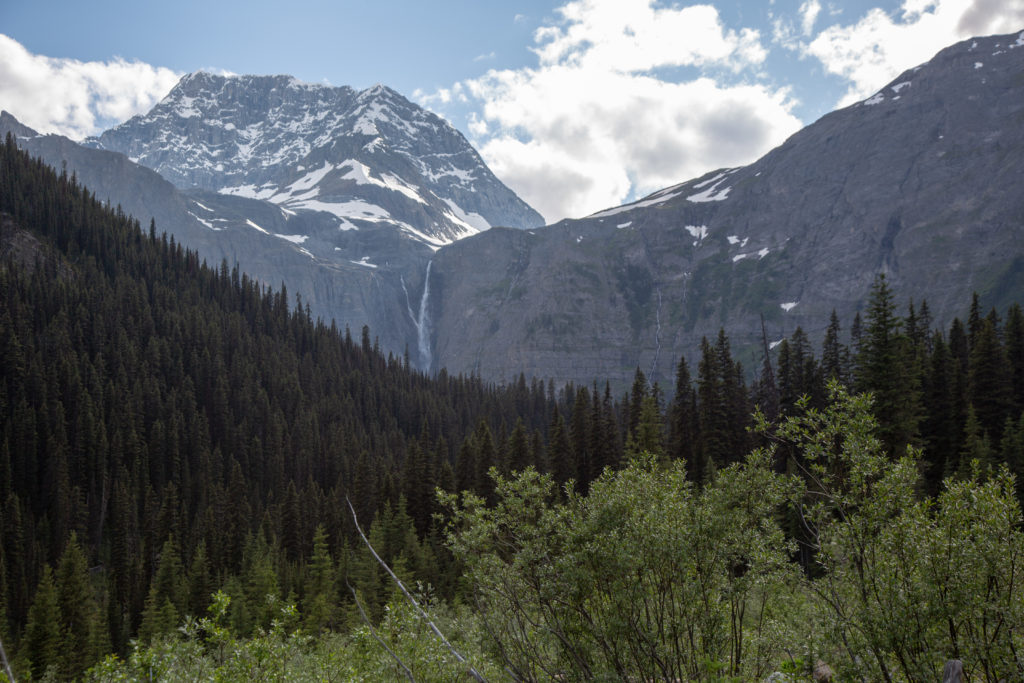 Flew by the junction to Goodsir Pass, that I would be taking later in the summer when I would hiking the Great Divide Trail. A log bridge crossing of a small creek lead to an open area and the Parks Canada Patrol Cabin (not occupied) and another view of Helmet Falls.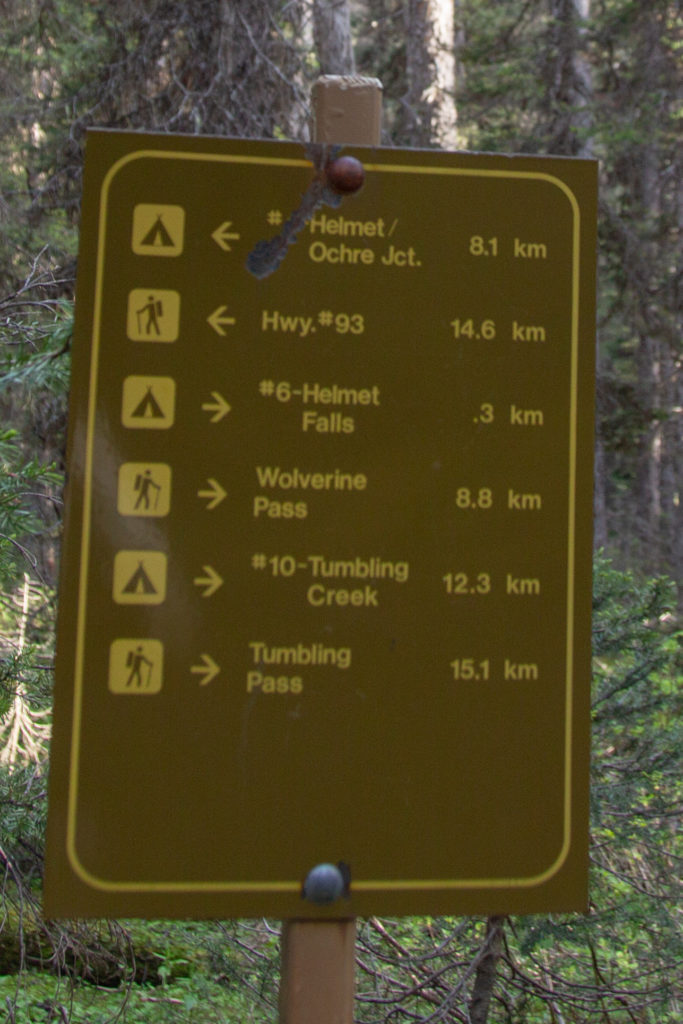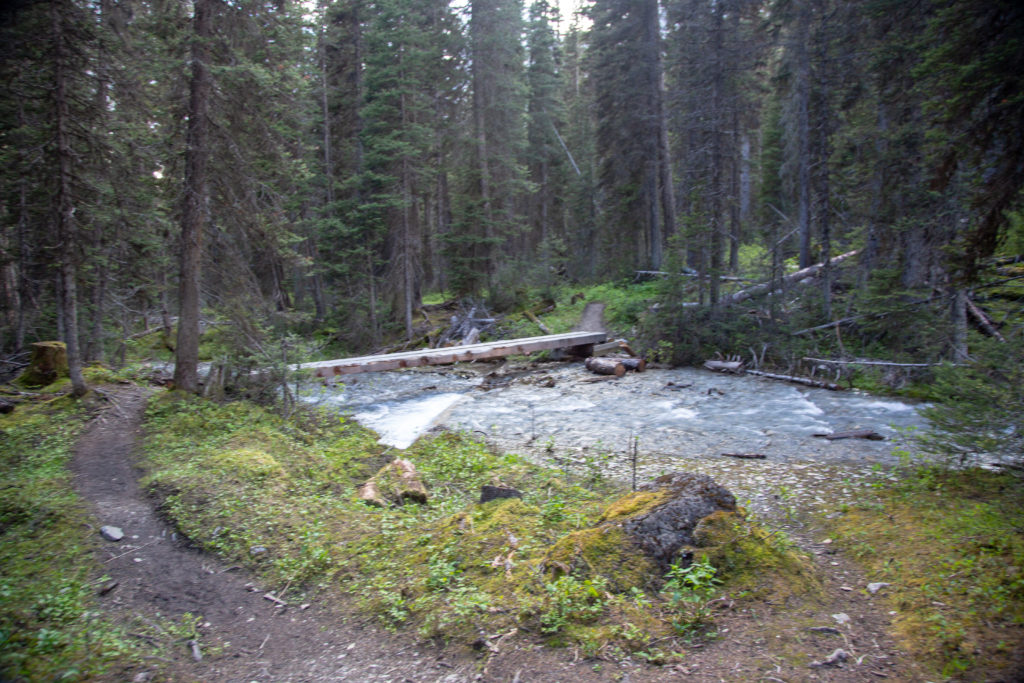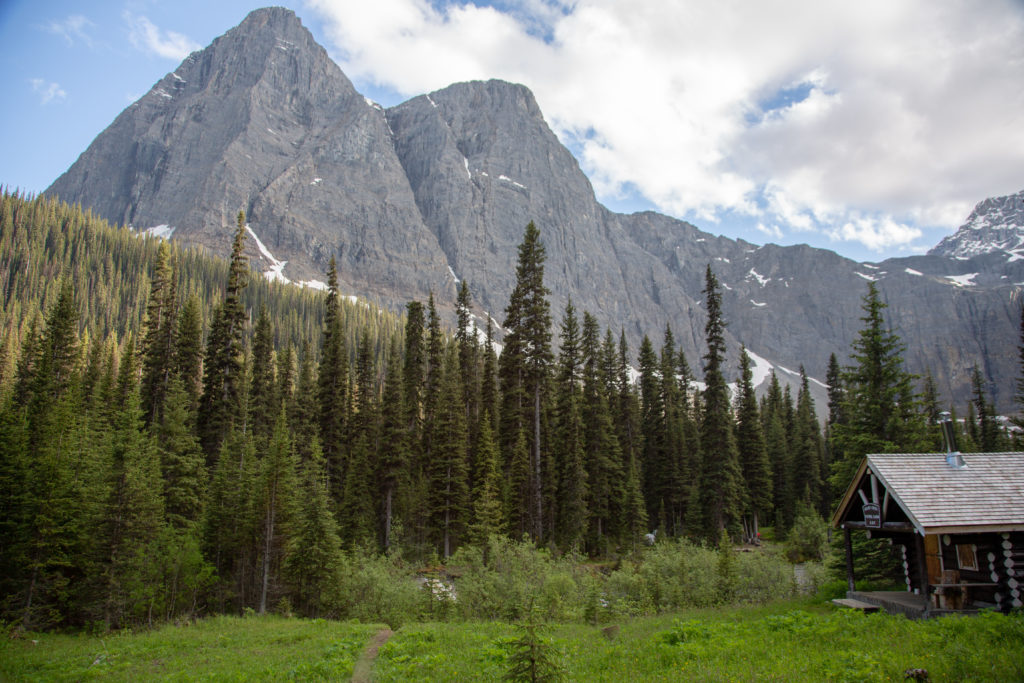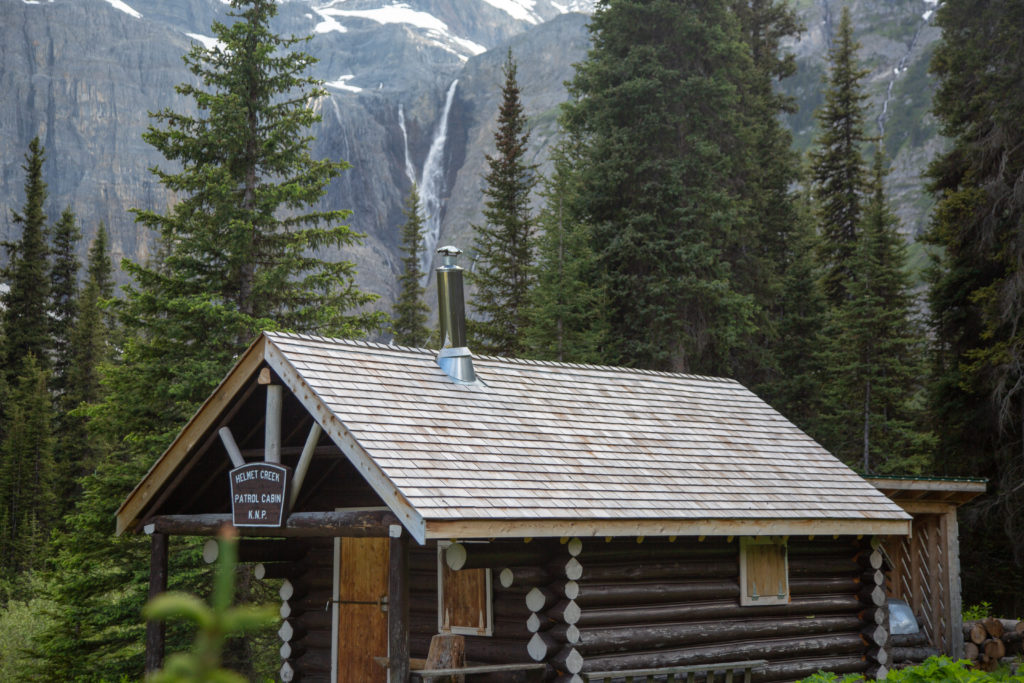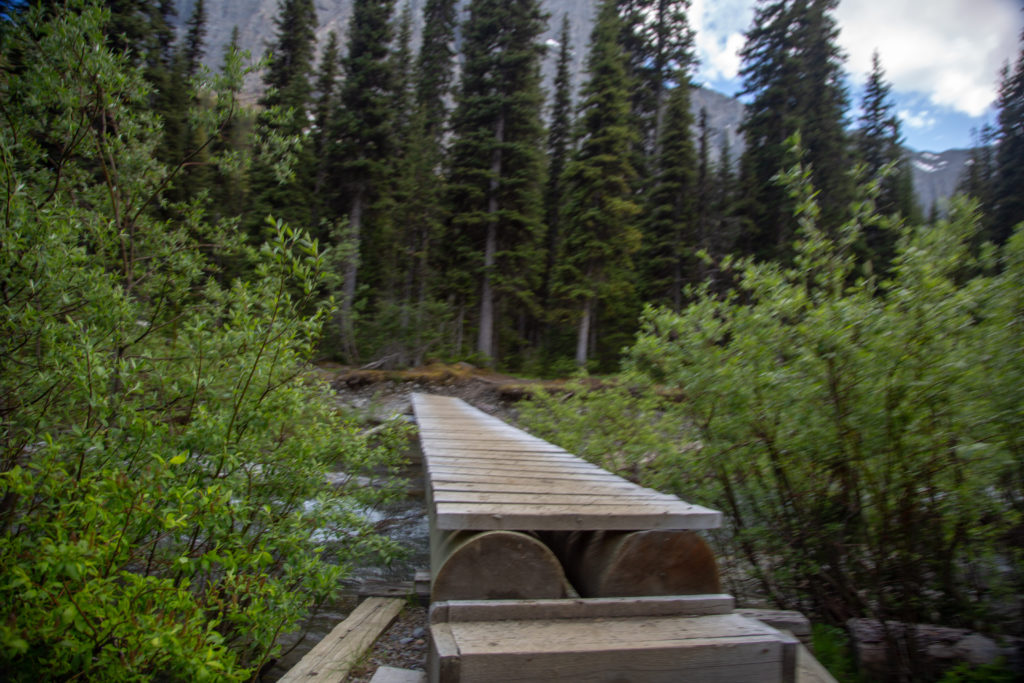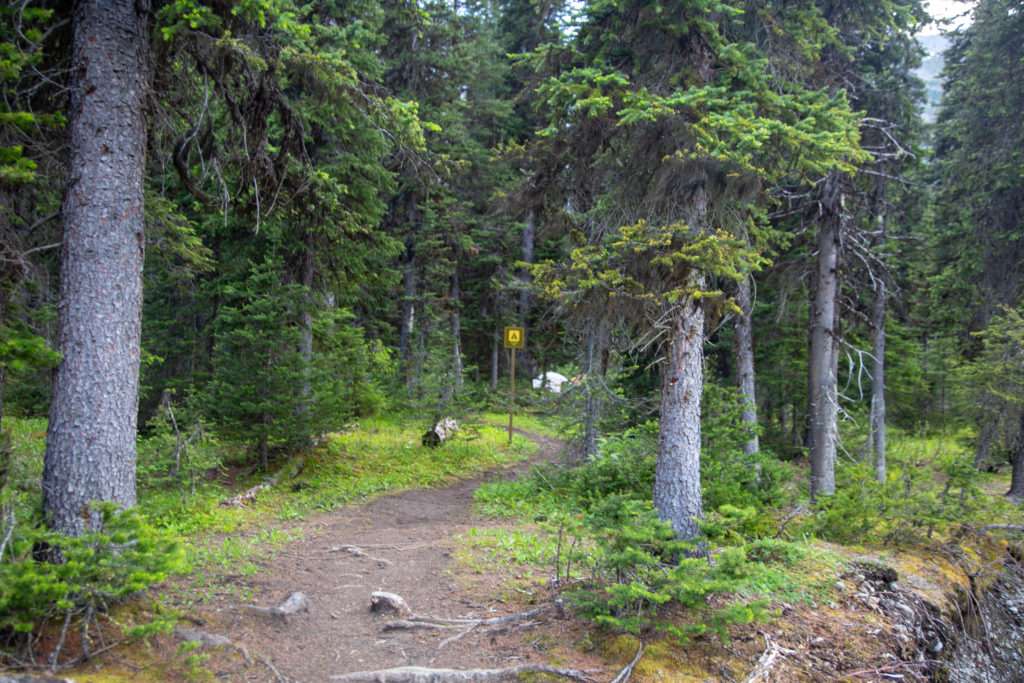 Arrived at Helmet Falls Campground at 6:47 pm. Now had to find Ken and Neil. This turned out to be quite easy. I ran into a young women and asked if she had seen a couple of brothers who were camping here. She said that they were actually having dinner with them! Quick trip to the dinning area and I found Ken and Neil. After quick introductions Ken lead to where they were camped and had held a site for me located right beside a little creek. The campground is actually on a little island surrounded by small creeks. I threw my tent down on the spot and grabbed my food to go join dinner but not before I put a couple of beers in the creek.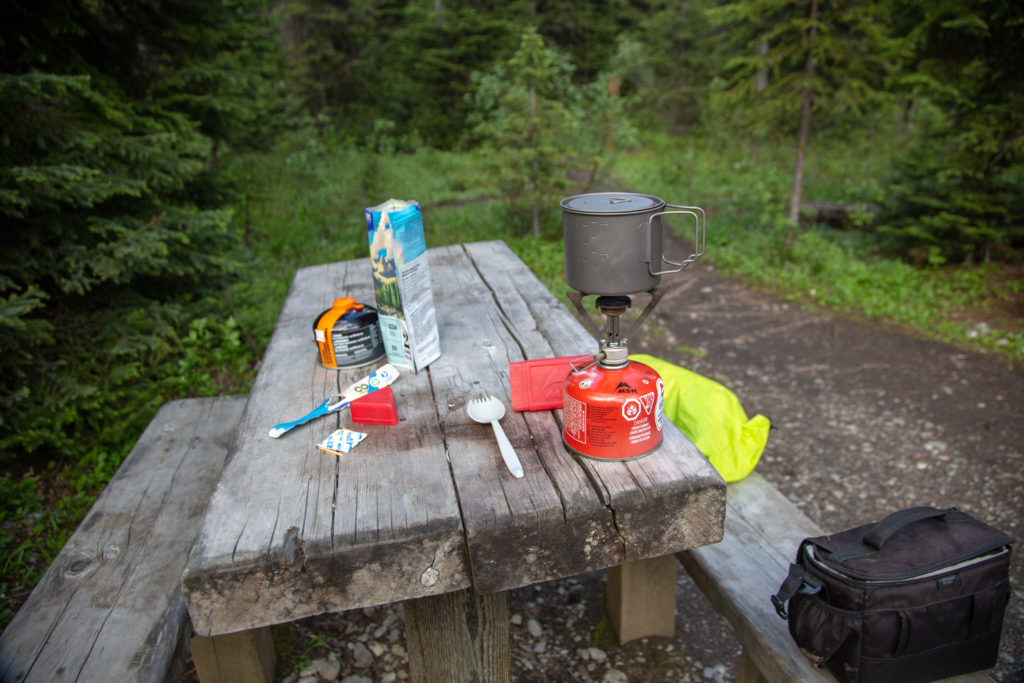 I joined in with the discussion at dinner. The young ladies that Ken and Neil where talking to had already had quite the adventure. One thing that kept coming up was the wine. They had brought 4.5 L of wine for a three day trip. They were being very generous in sharing their wine in effort to be both friendly and lighten their load for tomorrow when like us they would be heading to Tumbling Creek CG. Dinner was an extended affair with much talking and laughter. Ken refused my offer of a beer but Neil accepted. Of course I had a little wine to wash down my re-hydrated food. I got some pictures of Helmet Falls it was about a 20 minute walk from camp so I planned to visit early in the morning. Headed off to the tent to sleep at about 9:45 pm.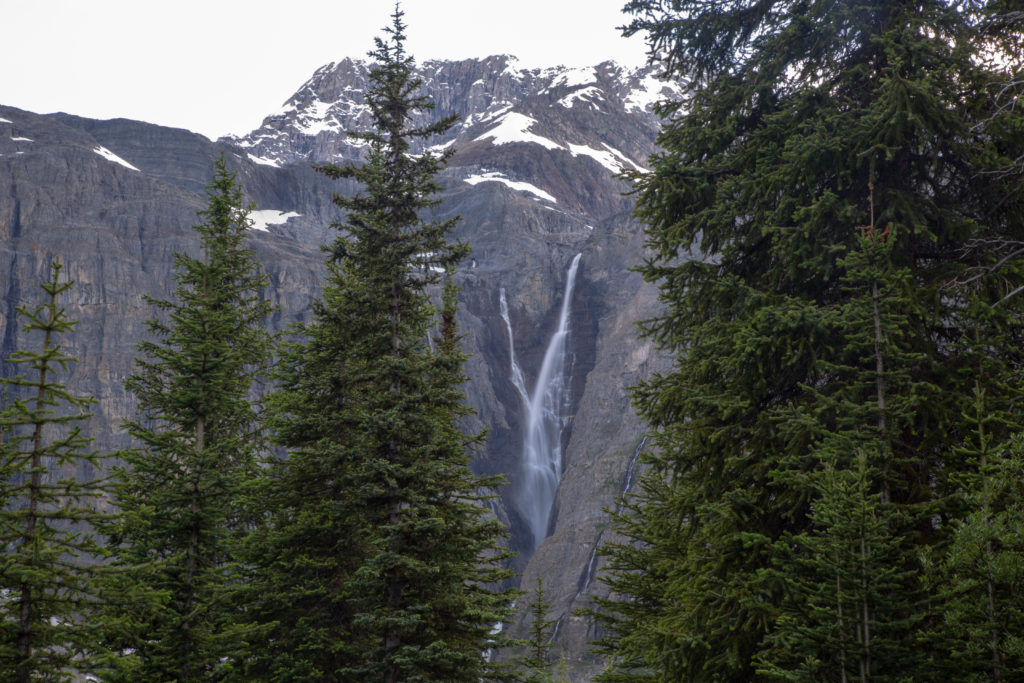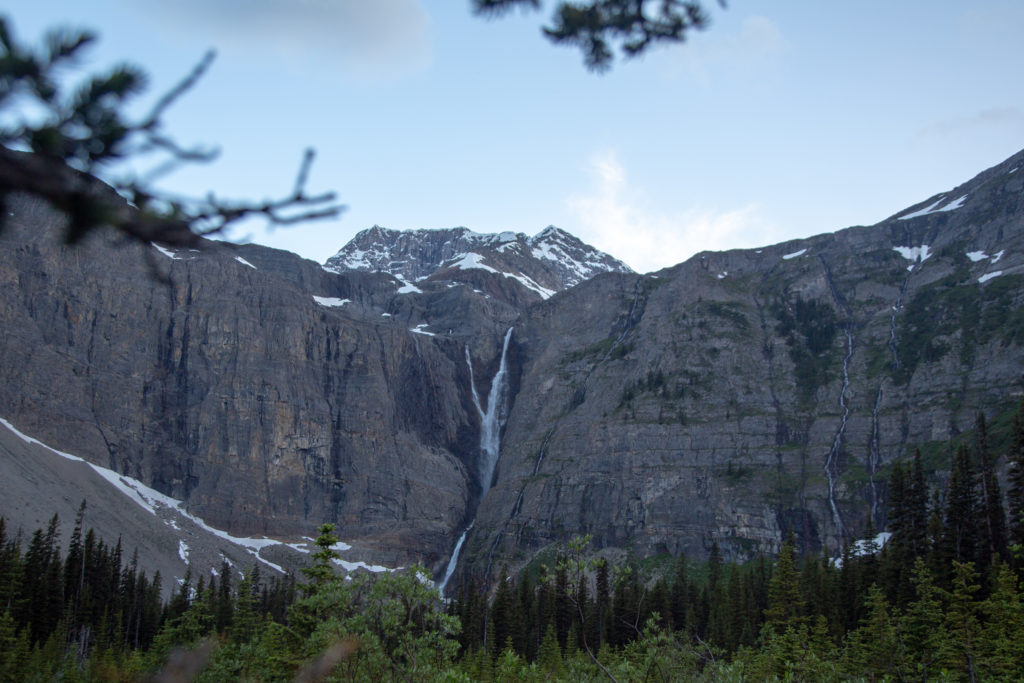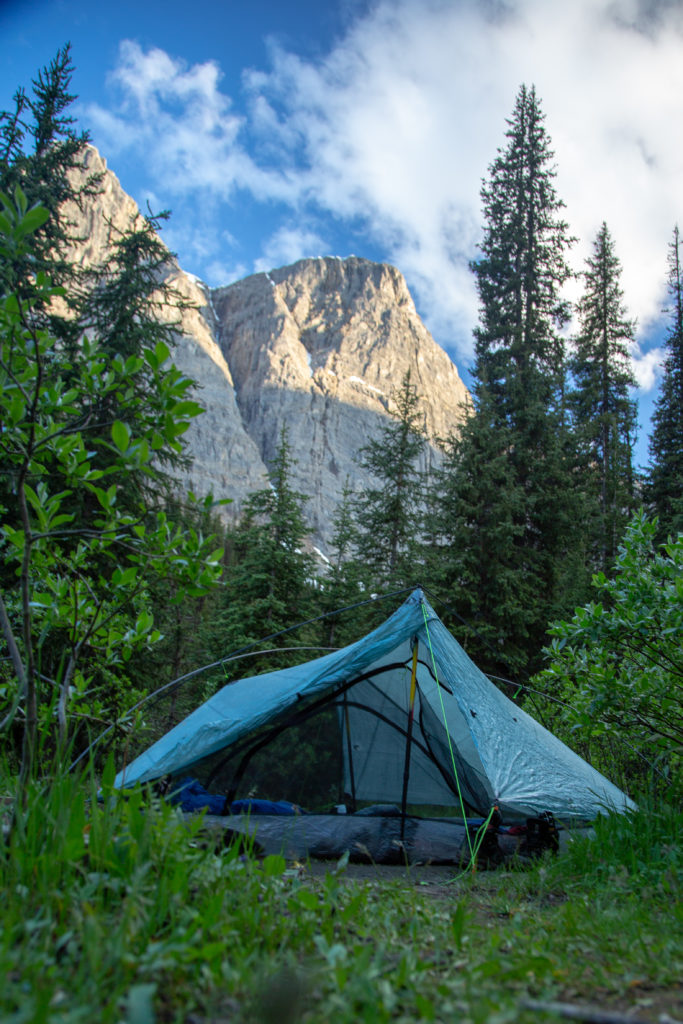 Rockwall North Day 2 – Morning at Helmet Falls