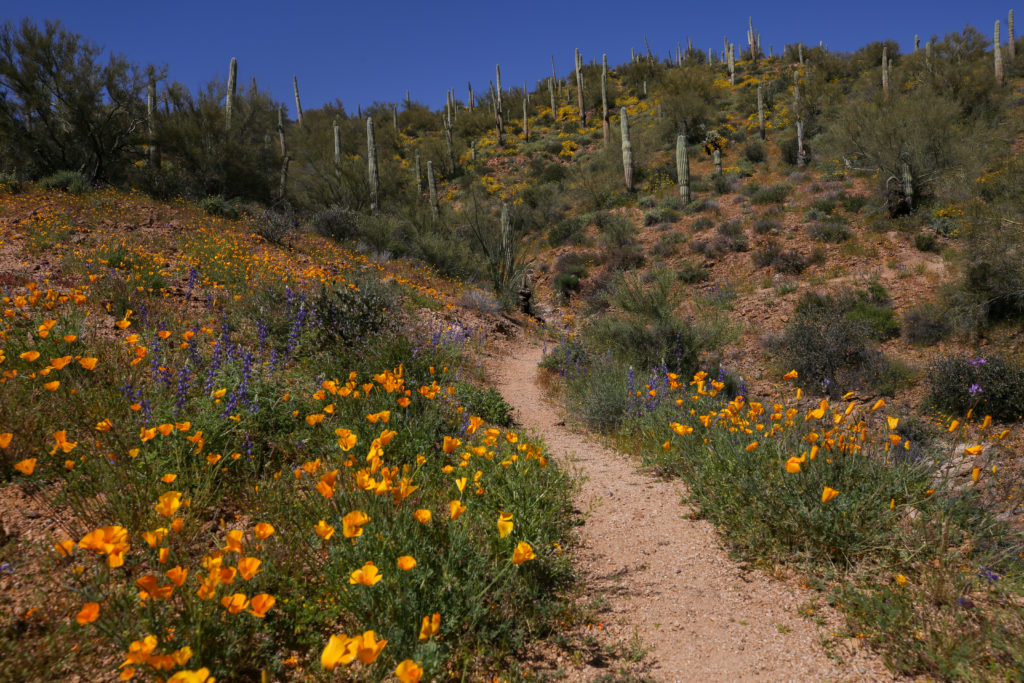 April 4th, 2023, Kilometer 399 to Kelvin Bridge Trailhead, 30.7 km, 360 m elevation gain, 881 m elevation loss, 9 hrs.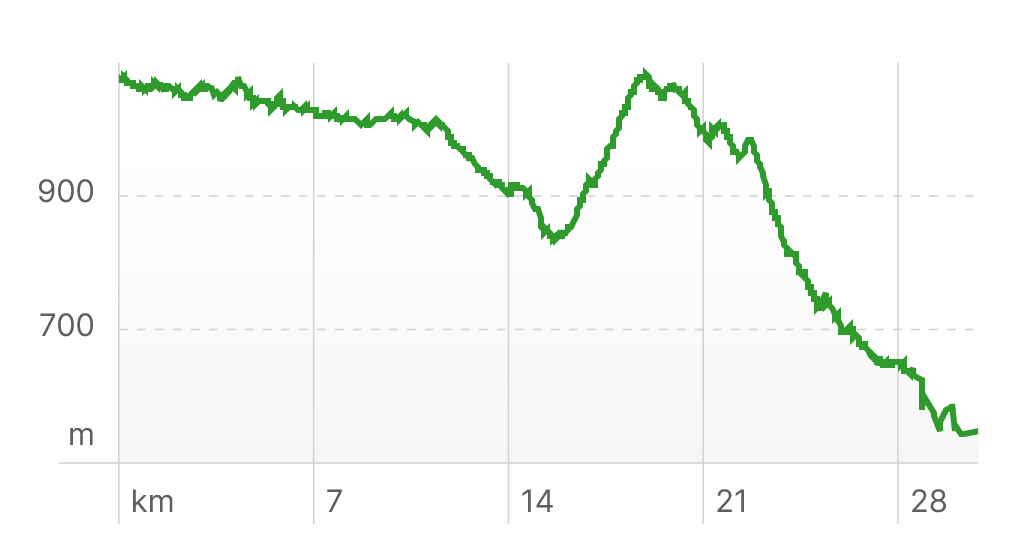 The weather cooled off a lot overnight making it almost cold in the sleeping bag. I got out of bed at 4:14 am with the plan of finishing off Passage 15 a distance of just under 20 miles. With my feet being so sore I had no idea of what pace I would be able to keep up so I wanted to get started early to ensure that I would finish the hike even if I had to hike into the evening. Before getting out of the tent I had to tend to my little toes. The right little toe looked particularly nasty. It was swollen, puffy and very red. I popped and squeezed all the fluid out which made the toe feel much better. I bathed both my little toes in polysporin to help ward off any infection as they would be spending most of the day hot and sweaty inside my shoes. Finally I wrapped them lightly in some gauze. I fashioned a wedge and taped it on my left heel to keep the blister from running against the back of the shoe. My final act of foot maintenance was to move my laces up three eyelets from the bottom to help widen the foot box. When I started the hike on Day 1 the laces were originally pulled together tight and now after moving the laces there was at least an inch between the eyelets.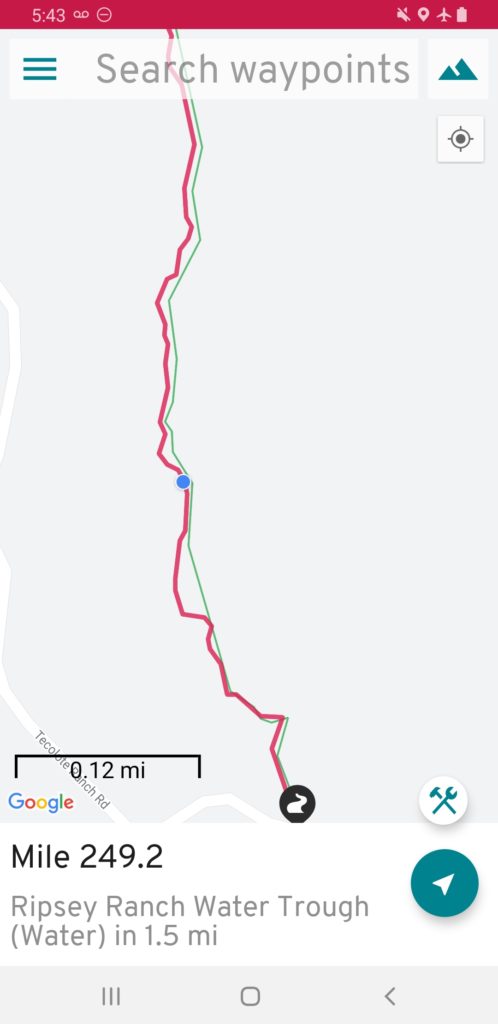 It was a chilly start to the day so I started the day with my orange fleece over top of my hiking shirt. While taking down camp I wore my orange puffy for added warmth. I knew it was going to be an epic day on trail so I treated myself to a double coffee. It was not a quick tear down of camp since I had spent quite a bit time doctoring up my feet. Once my feet were inside my shoes they did not feel too bad. I was hoping to leave early and was prepared to hike in the dark using my headlamp but with my slightly later start I had no need of my headlamp.
Five minutes after leaving camp I came across a lovely flat area surrounded by trees that would have made a fantastic campsite. In the cooler temperatures I ended hiking in my orange fleece for about three hours. My focus on this day was just to simply finish and with this goal in mind I spent much of the early part of the hike just trying to move as fast as possible. This is not the mindset I like to be in when hiking but I also did not like the situation I was in so I was taking what I felt was the best course of action.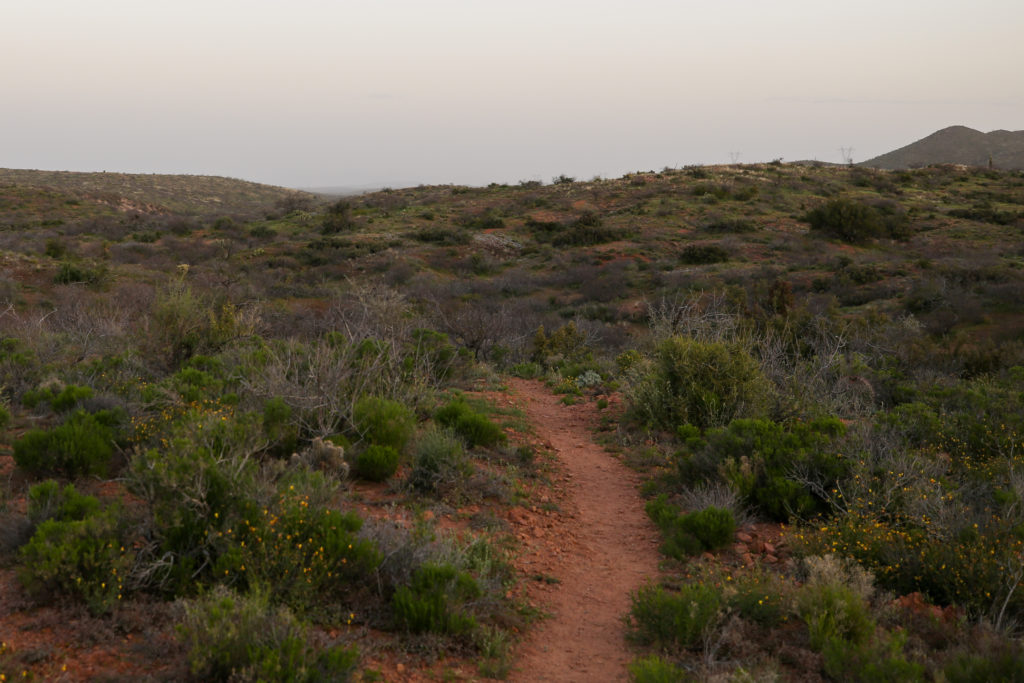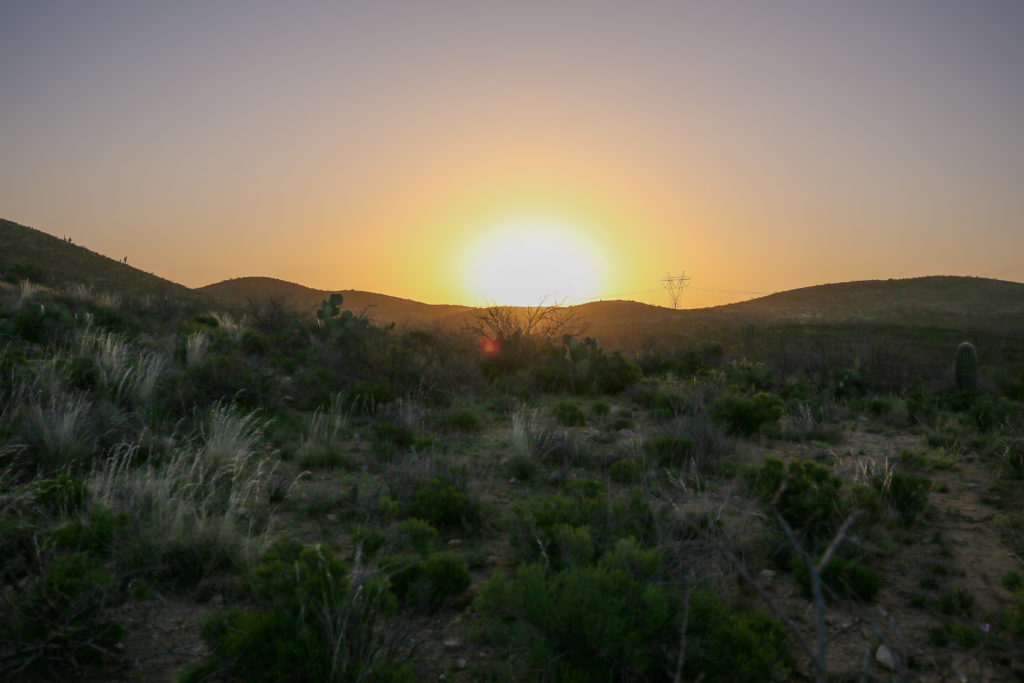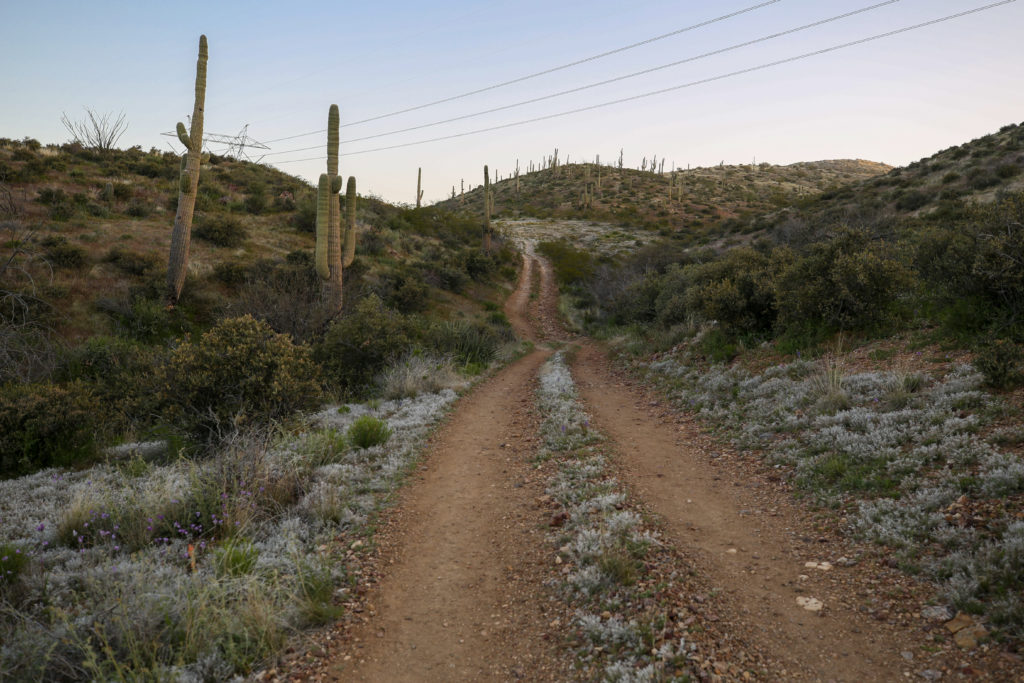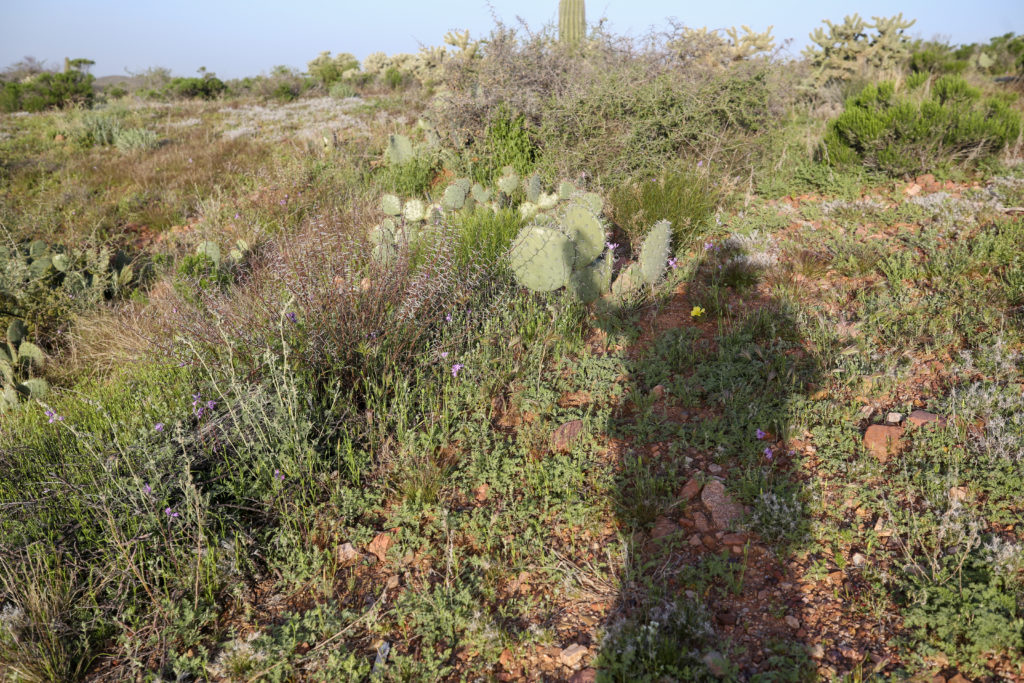 The trail was very easy going. The track was undulating which made it interesting. Soon I was onto an old road which while not invigorating made for fast hiking. I was trying to go as fast as could early in the day as I knew the end of the day was harder with decent climb.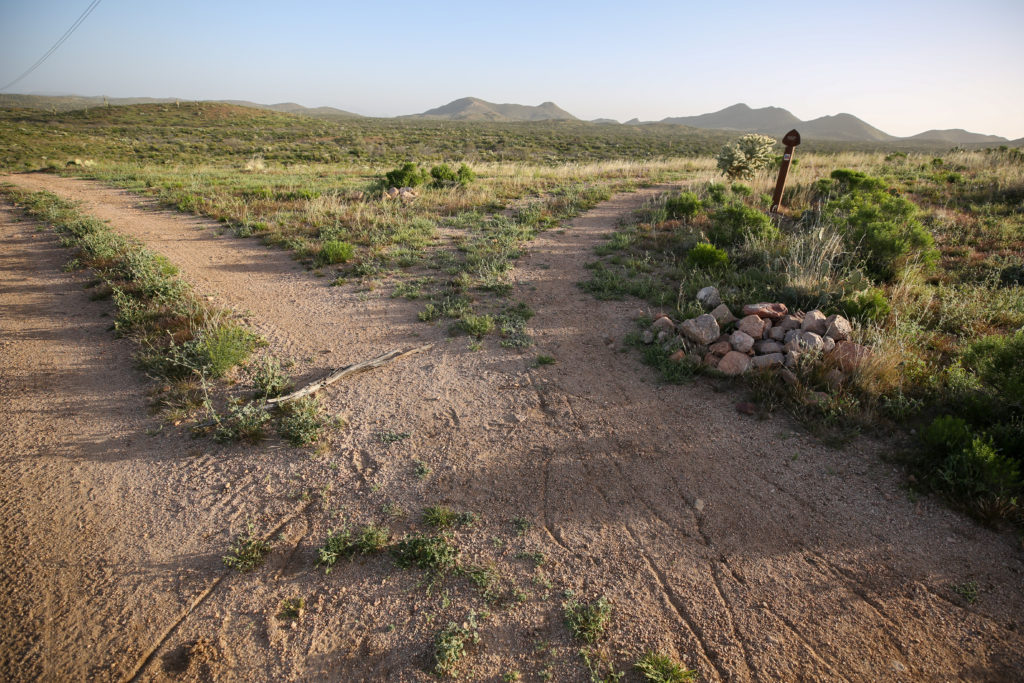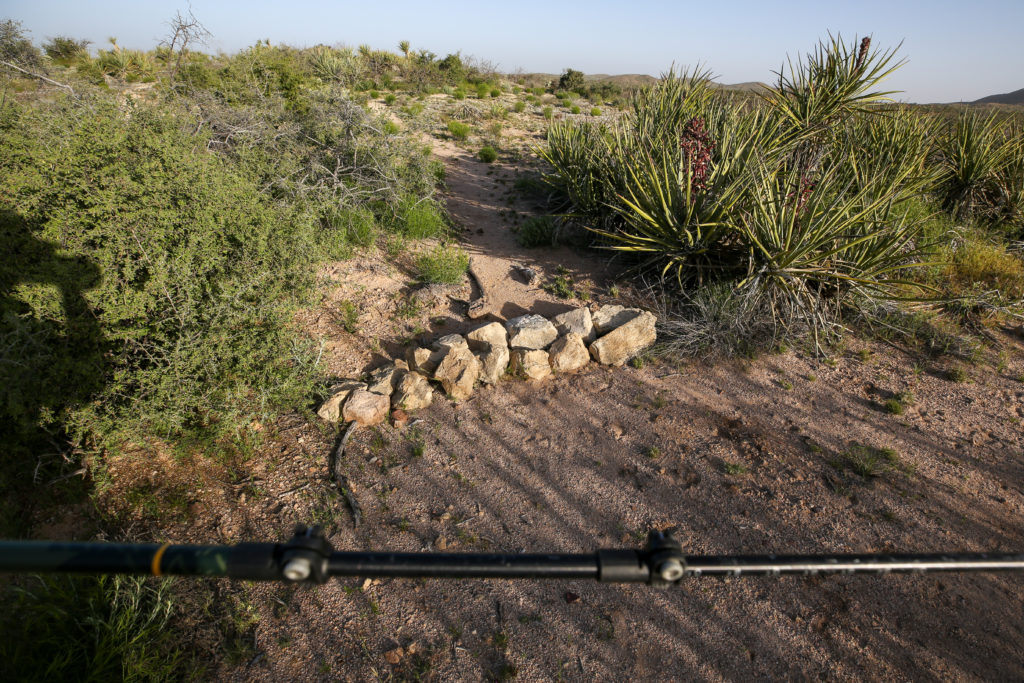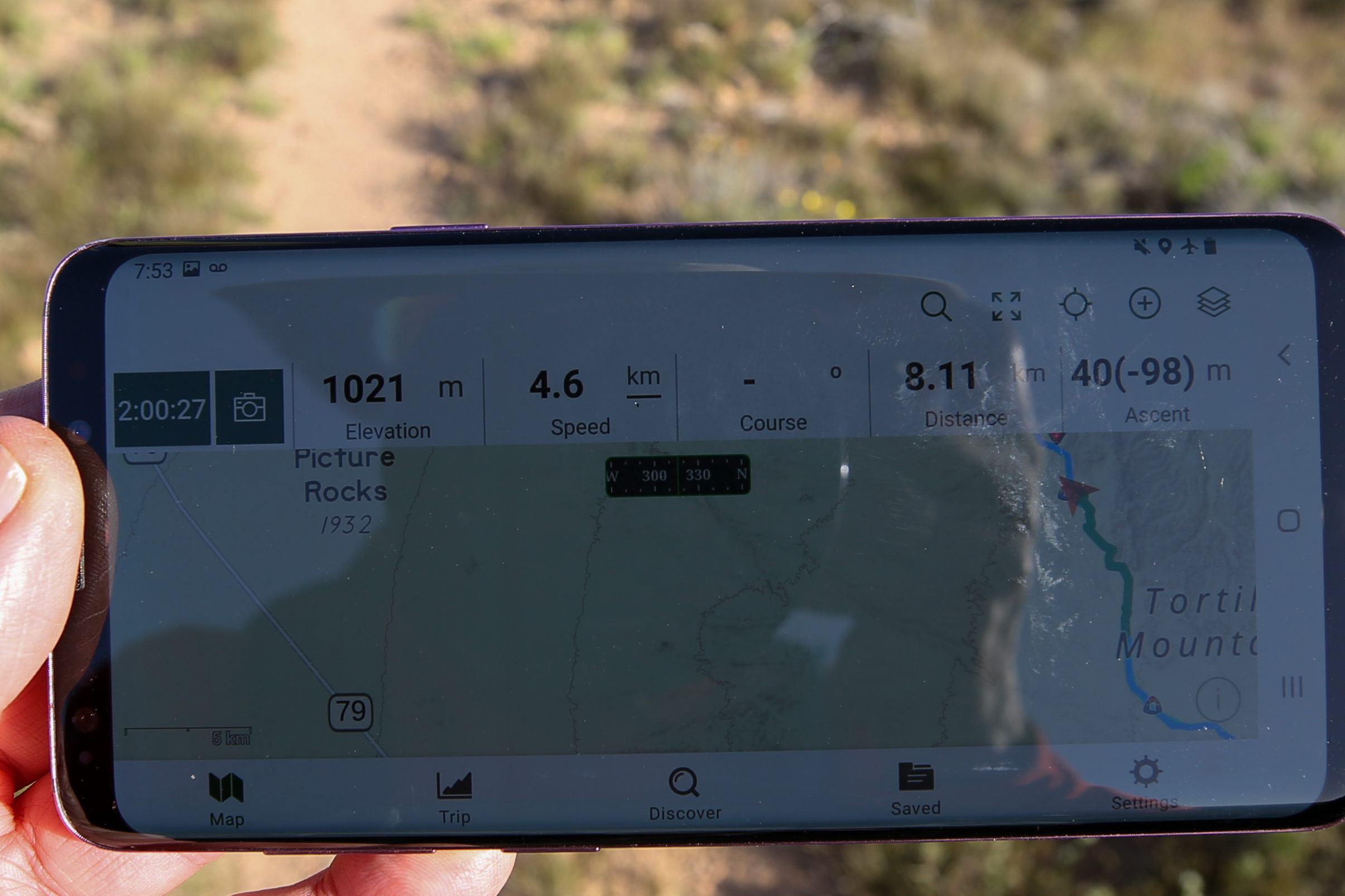 I was trailing another hiker who I could see a couple minutes ahead of me down the trail. I stopped to adjust my left shoe and after I returned to the trail I only caught a few glimpses of them in front of me and I never did catch them.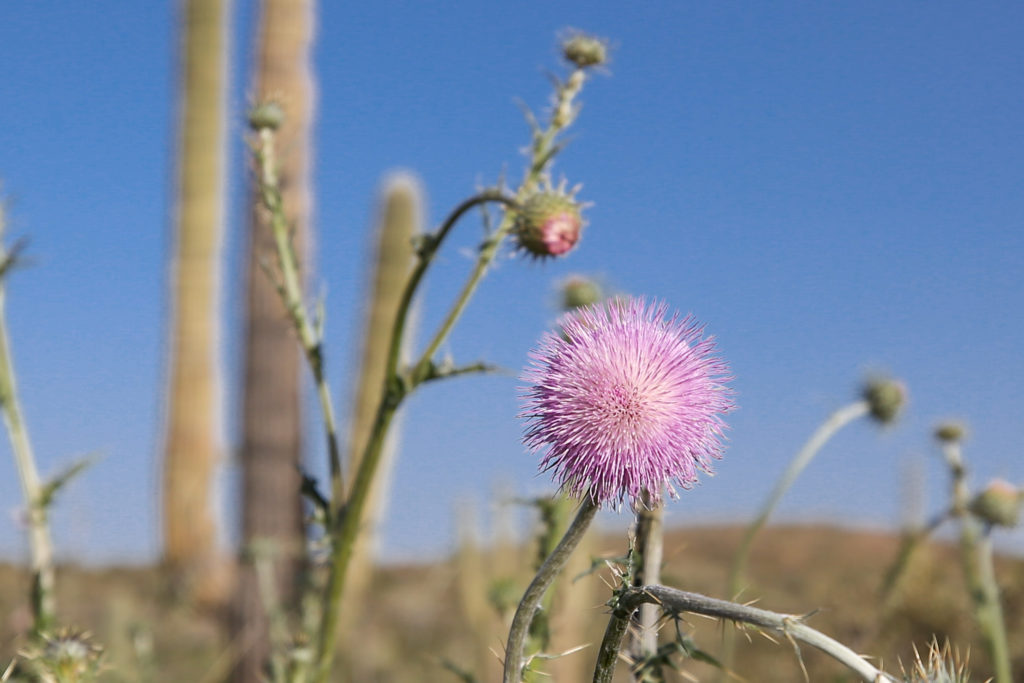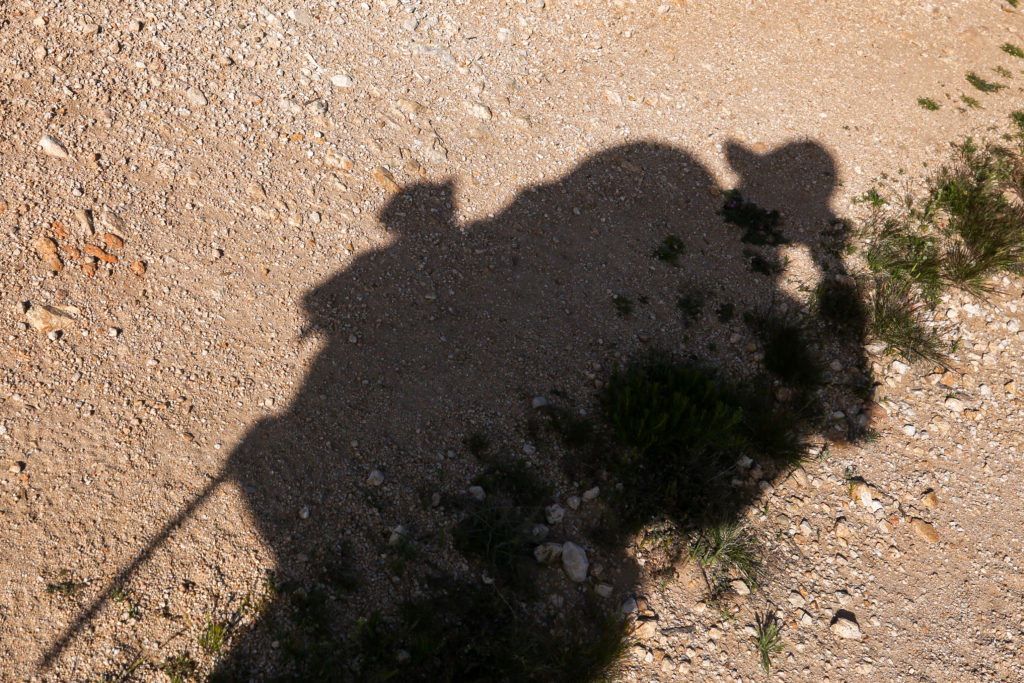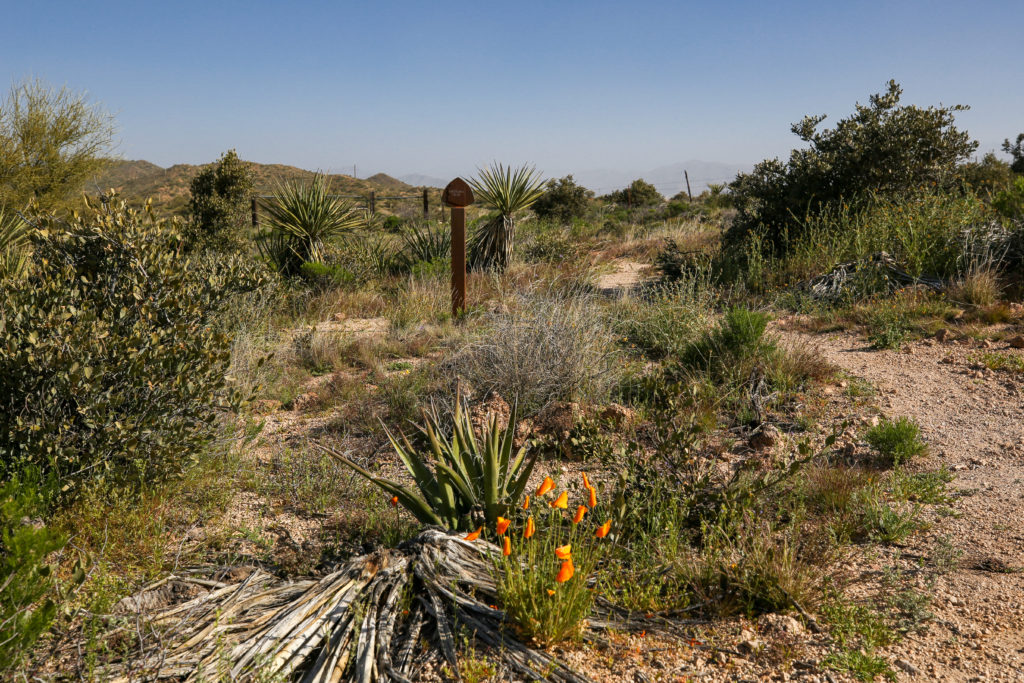 I was happy to be heading back into canyon country. The ups and downs made the trail more interesting. In one section of the canyon there was actually running water. As I pushed on through the canyon I felt a hot spot on my right foot. I quickly stopped and checked out my foot. I had another blister. I popped it and it hurt for a moment and then felt better. I was frustrated as these are the same shoes I wore on my trip at New Years and when I had no issues at all.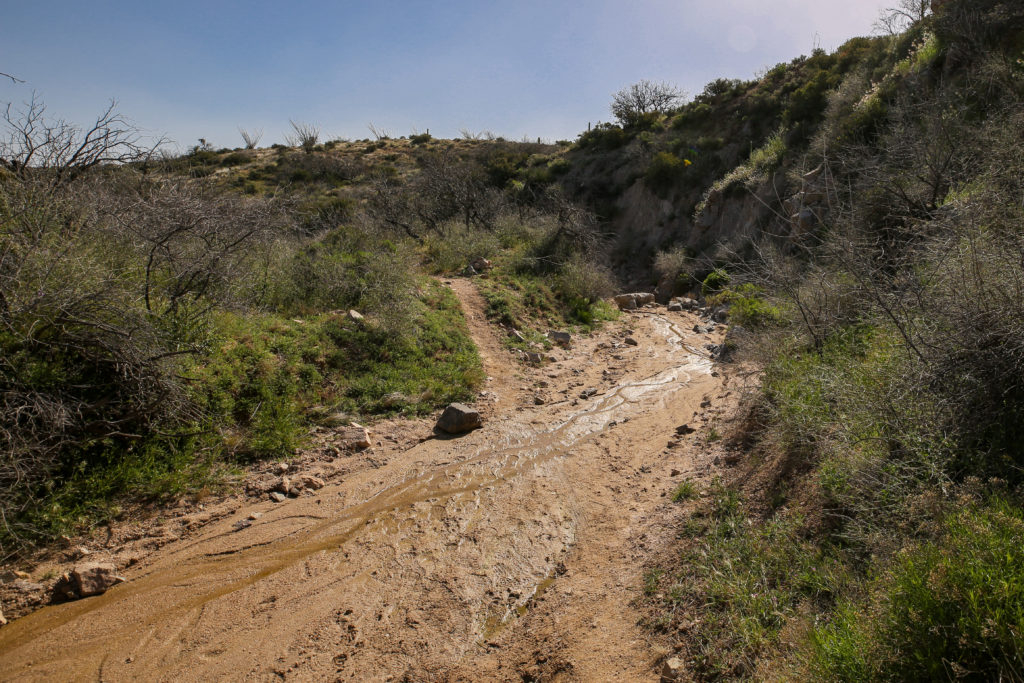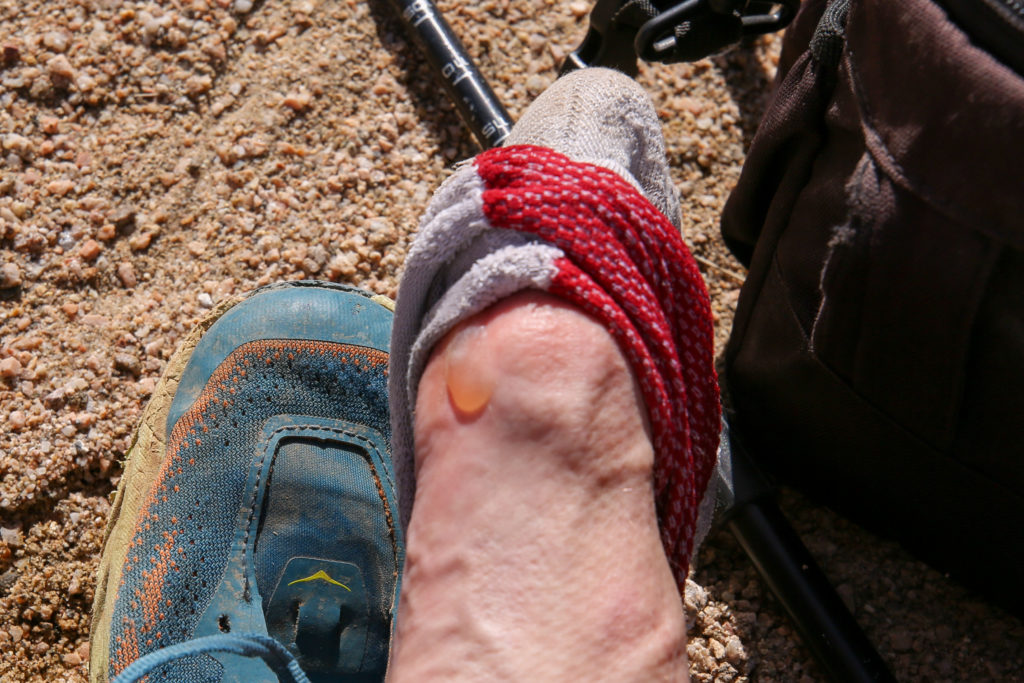 After climbing a little hill the trail flattened out before descending gradually down to a wash at the base of the climb. I met a SOBO hiker but he did not make like he wanted to chat so we both grunted a hello and kept going. I felt I had lost time moving through the canyons and that my pace had slowed so with the trail going slightly downhill I decided to start jogging the downhills as I had done when I hiked the Superstition Ridge back in January.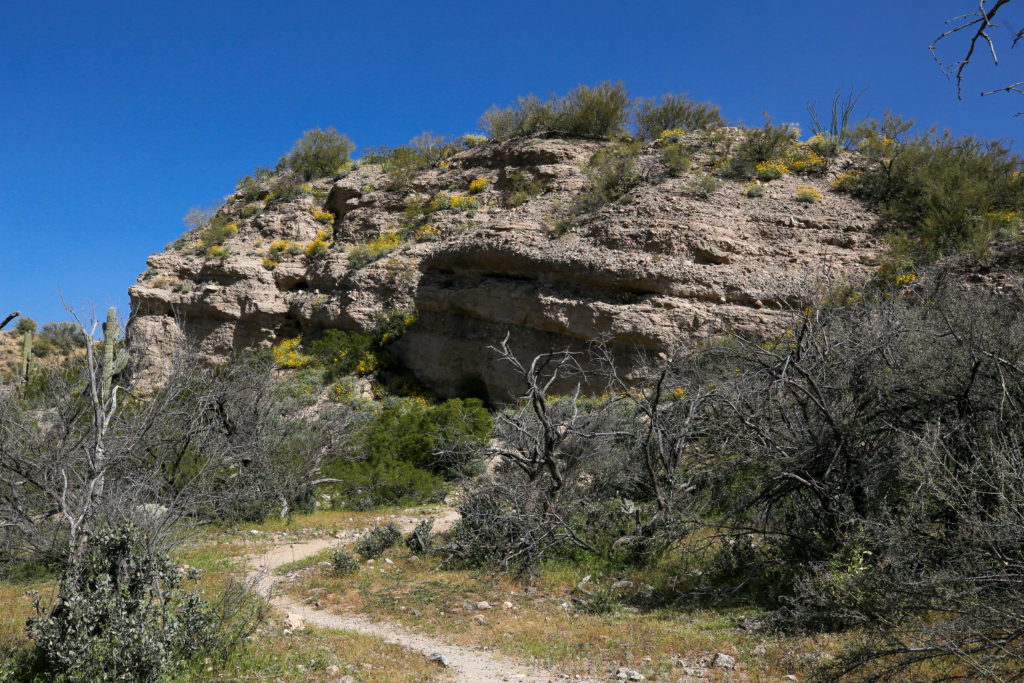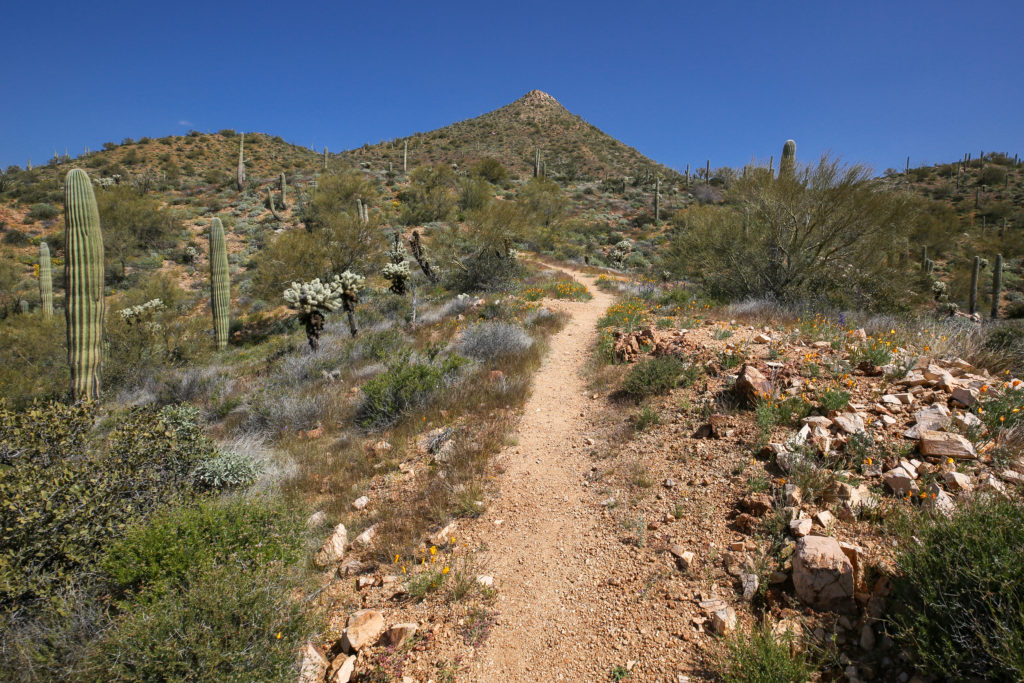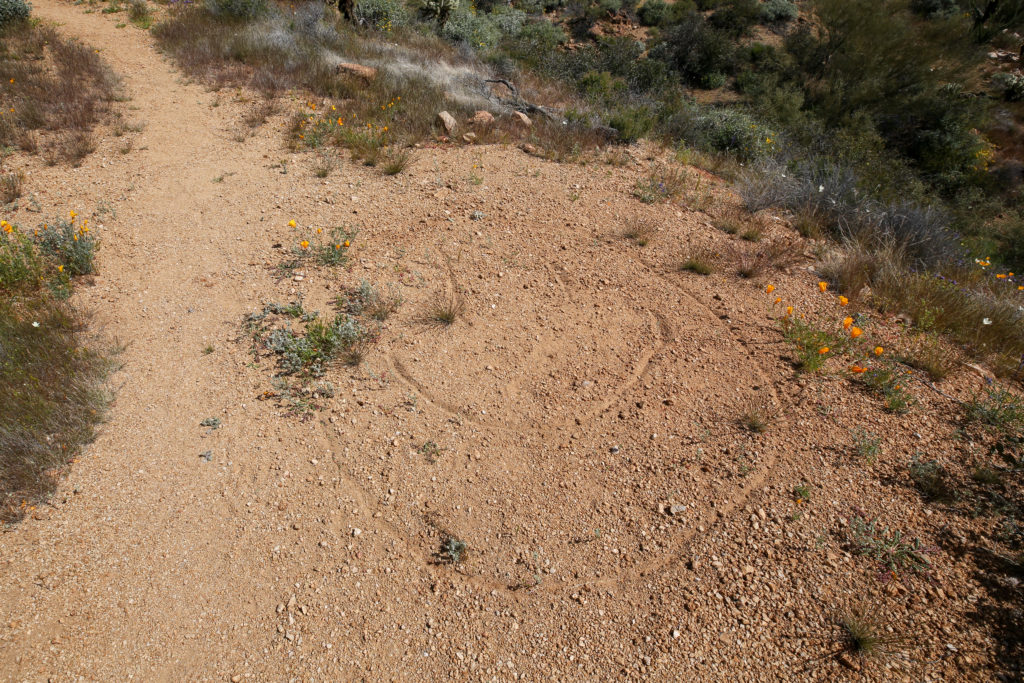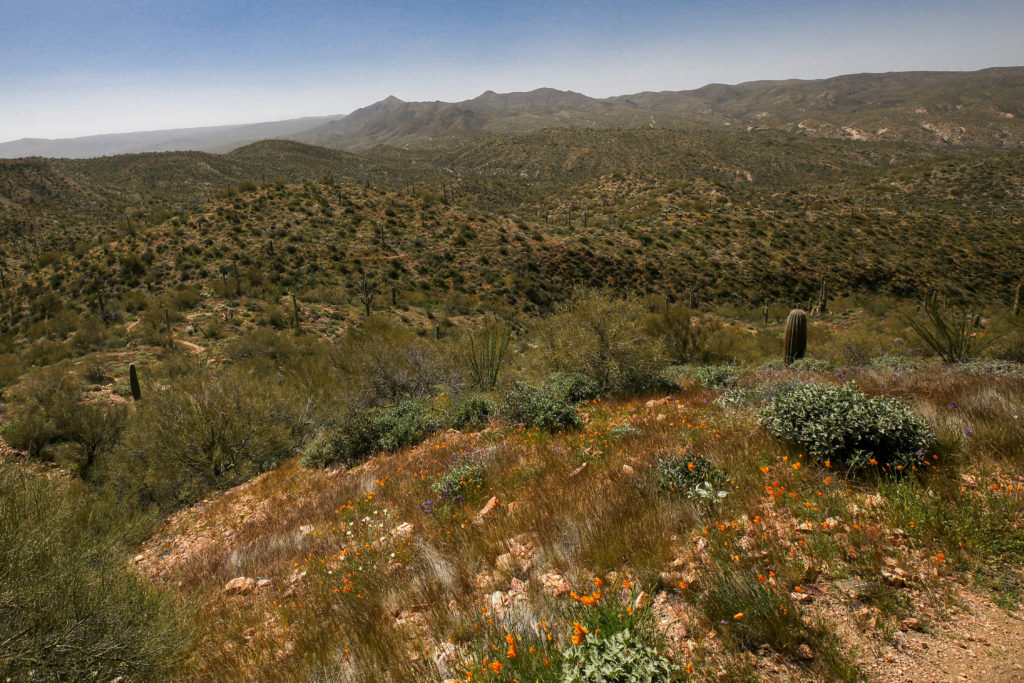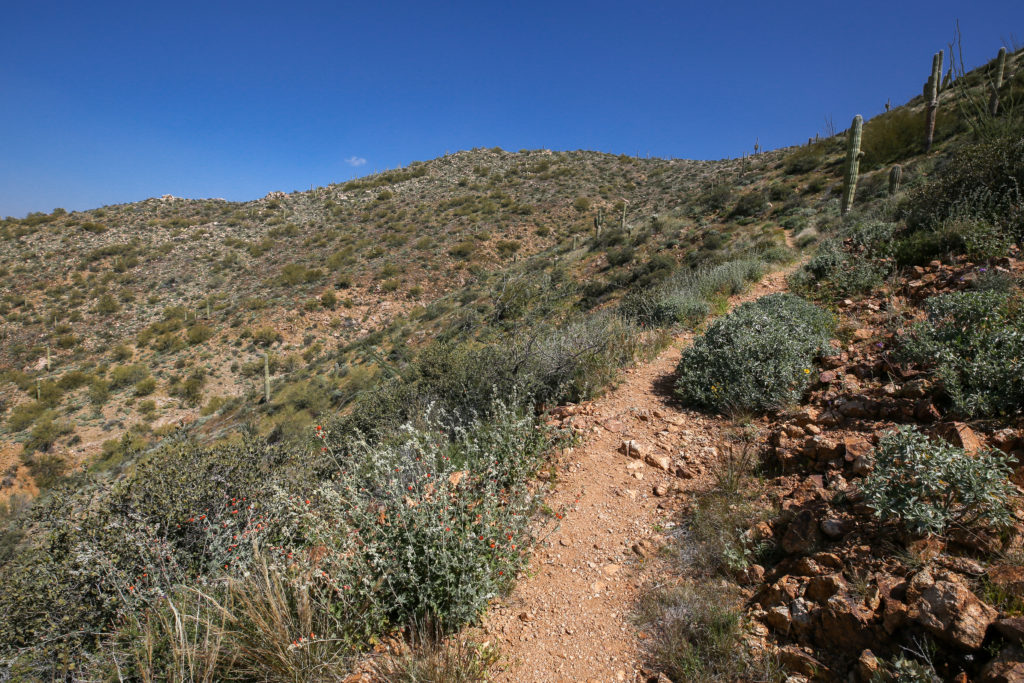 I felt really good on the climb. The trail was very nicely graded enabling me to keep a good steady tempo all the way to the top. The climb took me just under 1 hour. I hit the top of the climb just after 11 am.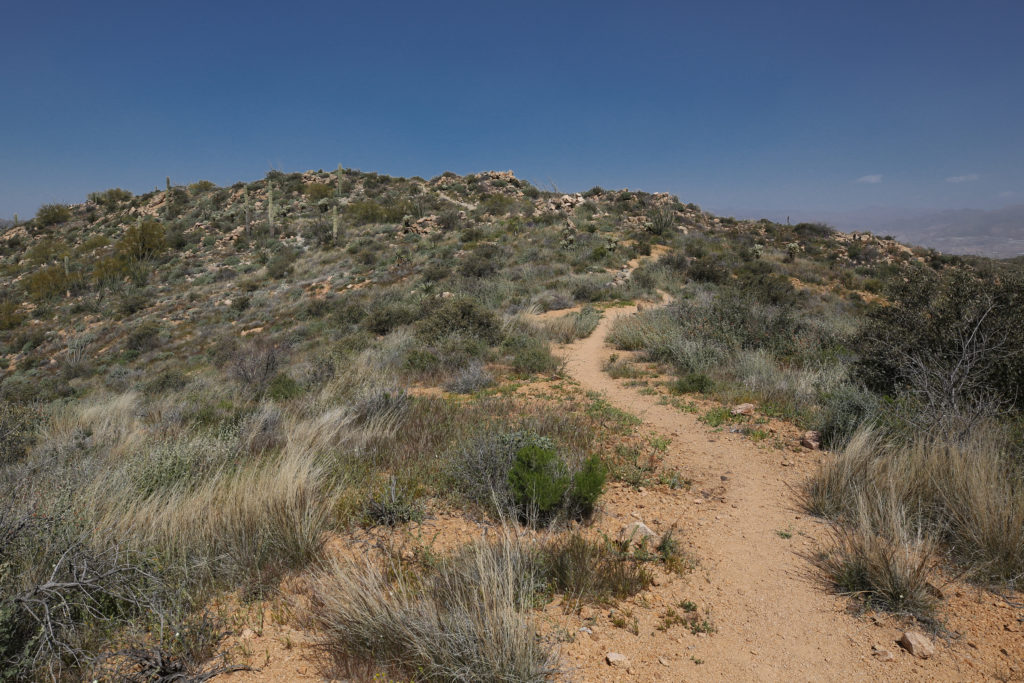 I did stop to take some photos and record a video at the summit. I met an older couple who were packing up after have camped overnight on the ridge. They commented that it was a very windy night. No kidding.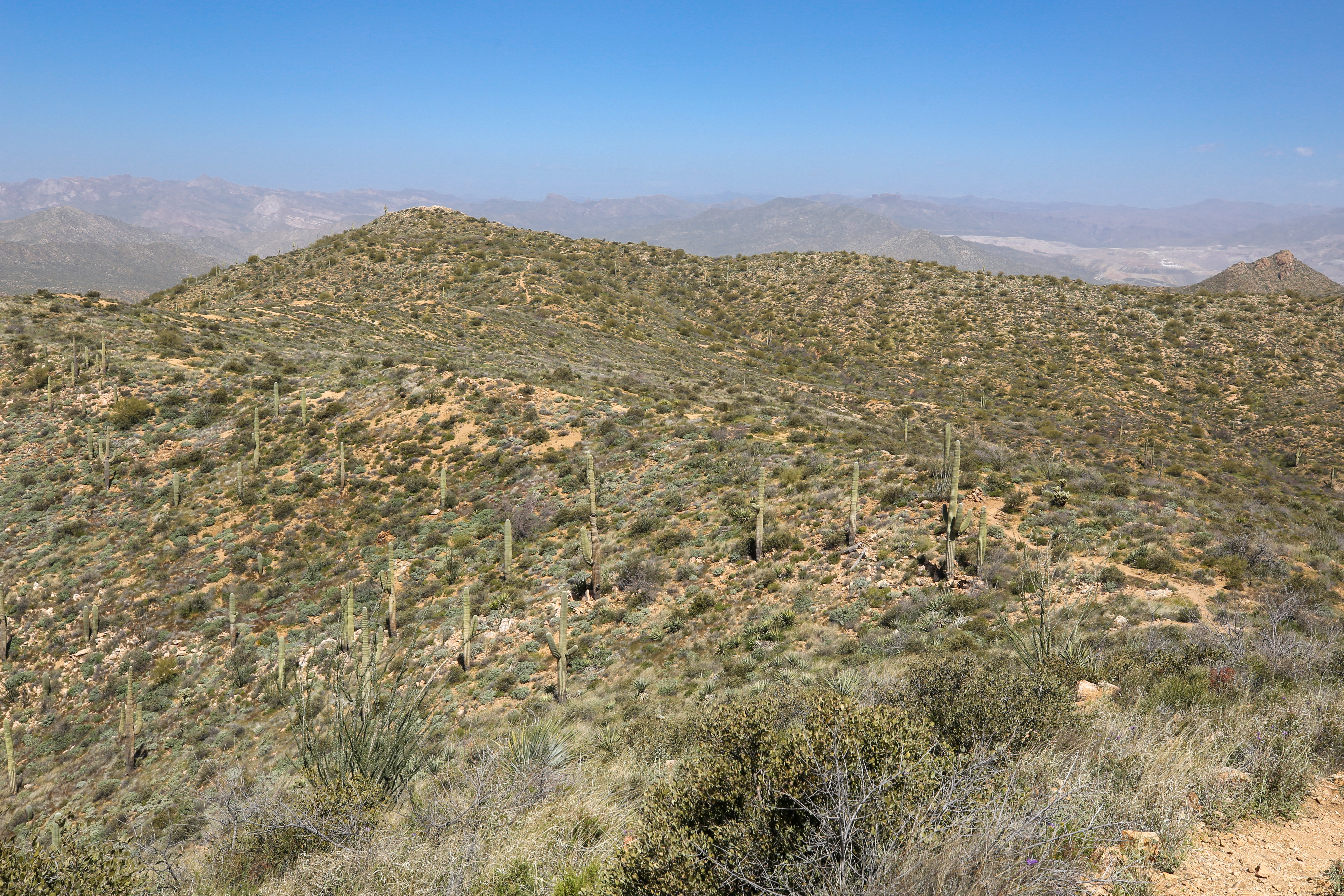 I would spend an hour hiking on the ridge before descending. The view from the ridge was simply spectacular. Unfortunately on this day the wind made it hard to stop and enjoy the view.
With the intensity of the wind I was worried about losing Frosty Paws. I checked on them a number of times and they were always holding on tight with all four paws.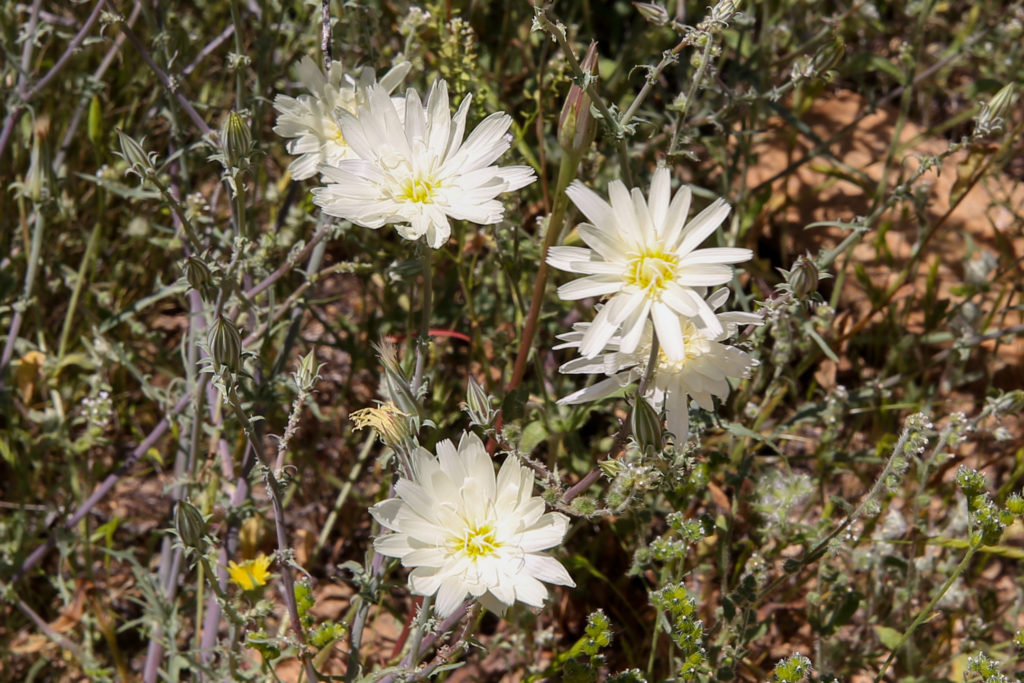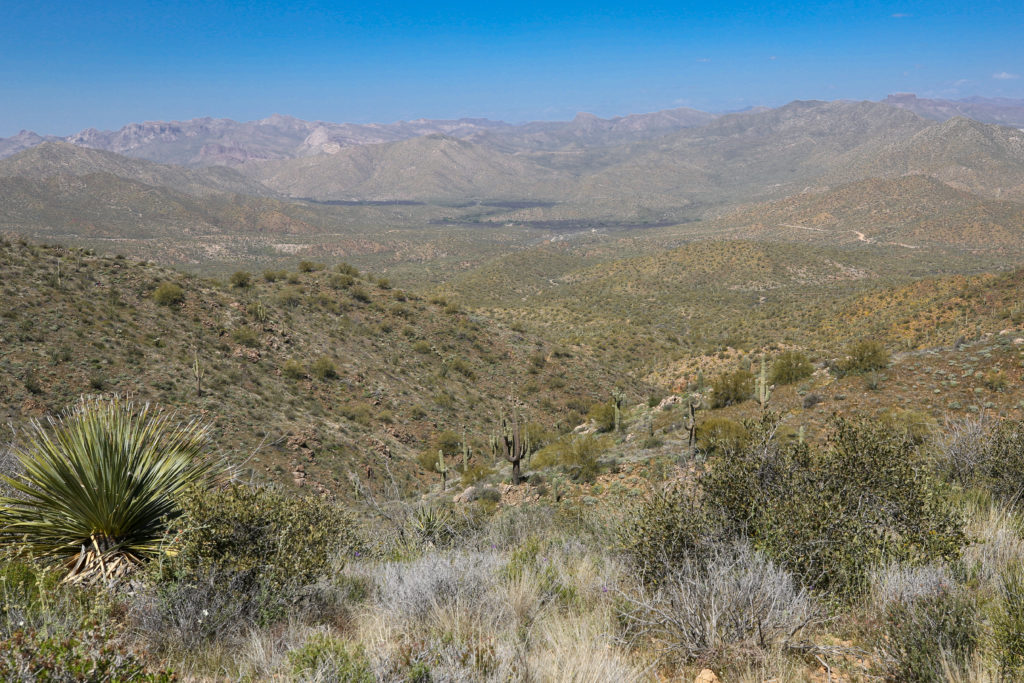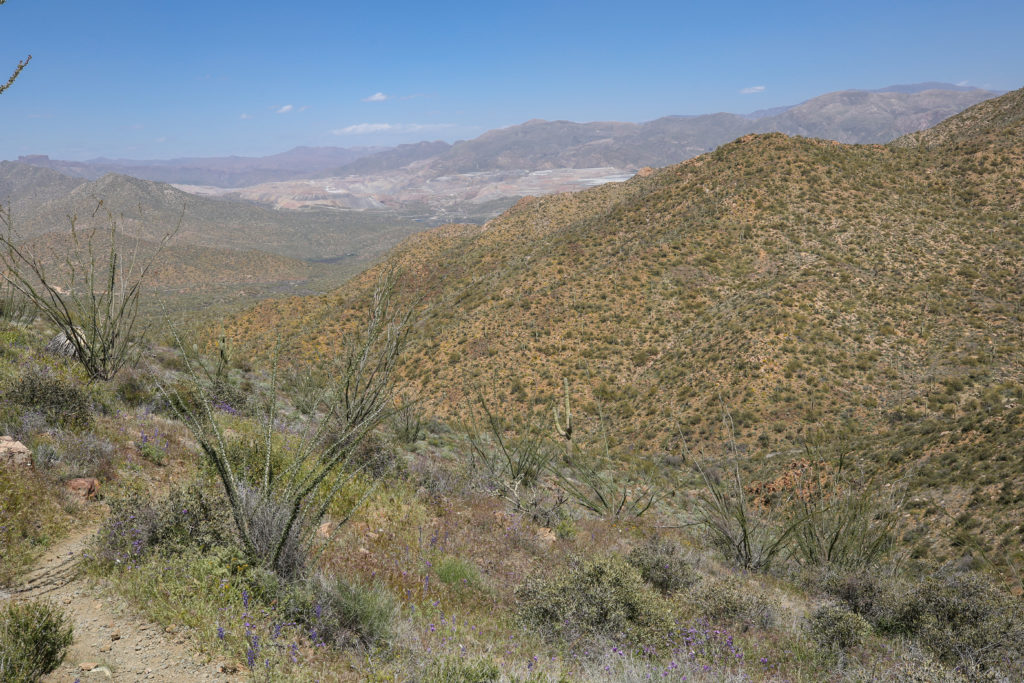 I finally was heading downhill. It was just after 12 noon and I had only approximately 10 km left to hike. I had initially hoped to finish the hike by 4 or 5 pm and it now looked like I would be finishing early than that.
I was back to running the downhills to keep up my pace and make as much progress while the feet felt good. I got some dirt in my shoes so I stopped on a rock to clean out my shoes. As I returned to the trail I saw two people down the hill on a different switchback. Suddenly I realized that I did not have my phone. I figured it must have fallen out of my pocket when I stopped to take off my shoes so I hustled back up the trail berating myself for possibly losing my phone. When I arrived back at the corner where I had taken off my shoes I found my phone leaning against a rock. Disaster averted.
There were so many flowers I had to force myself not to stop and take photos.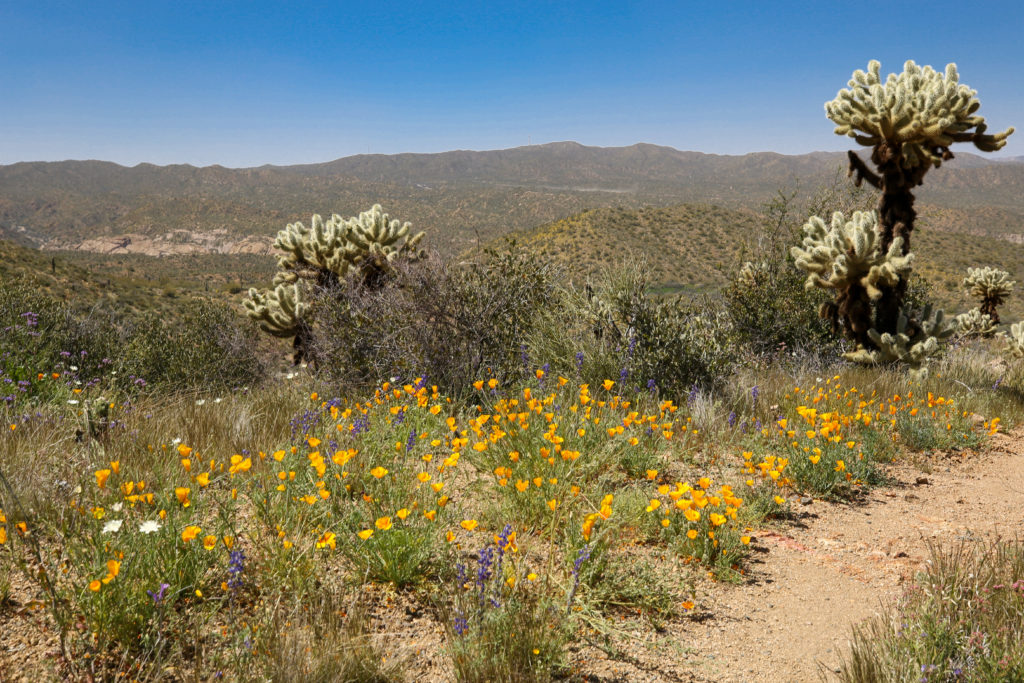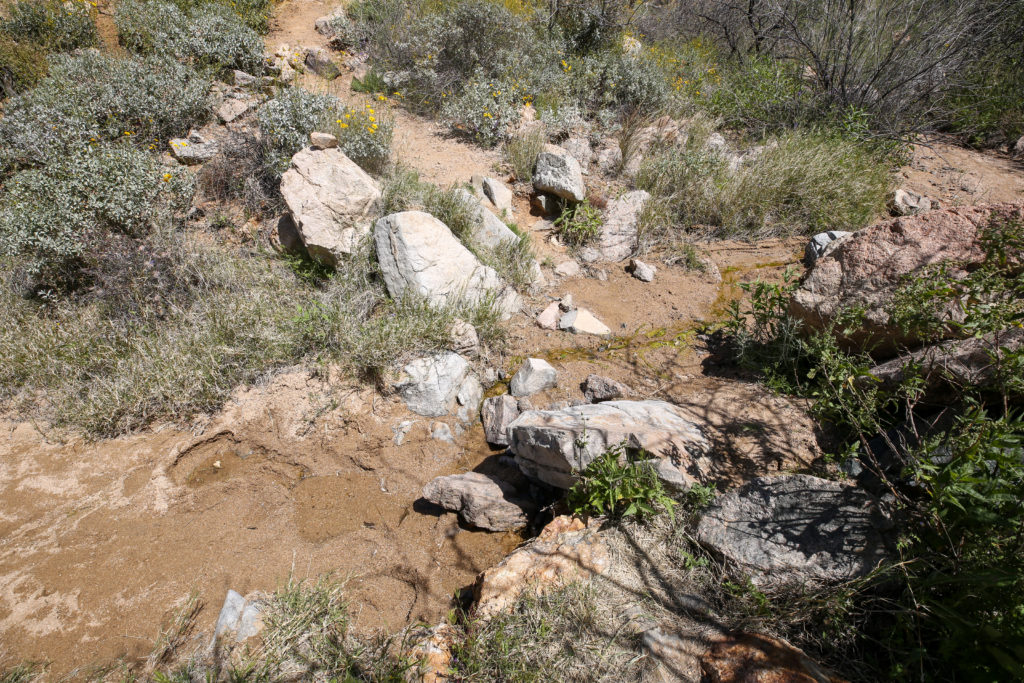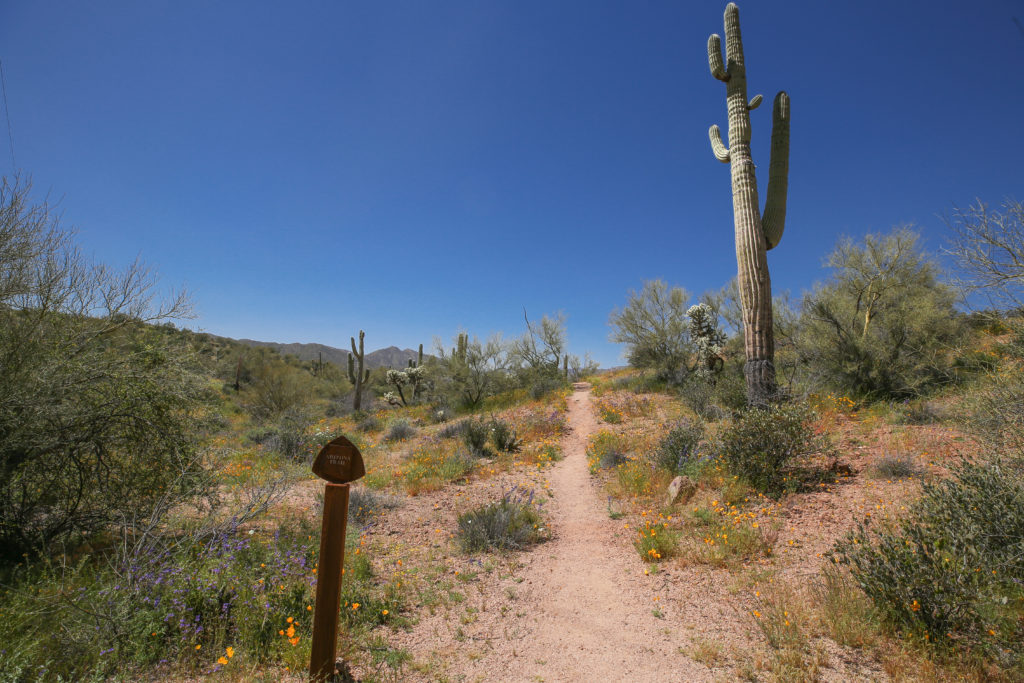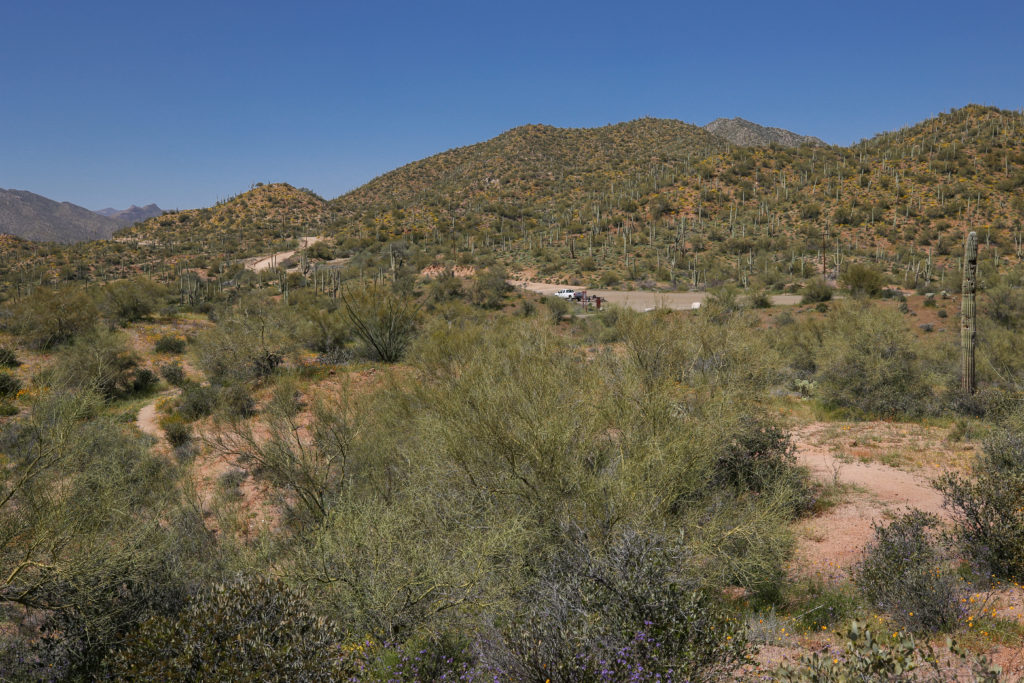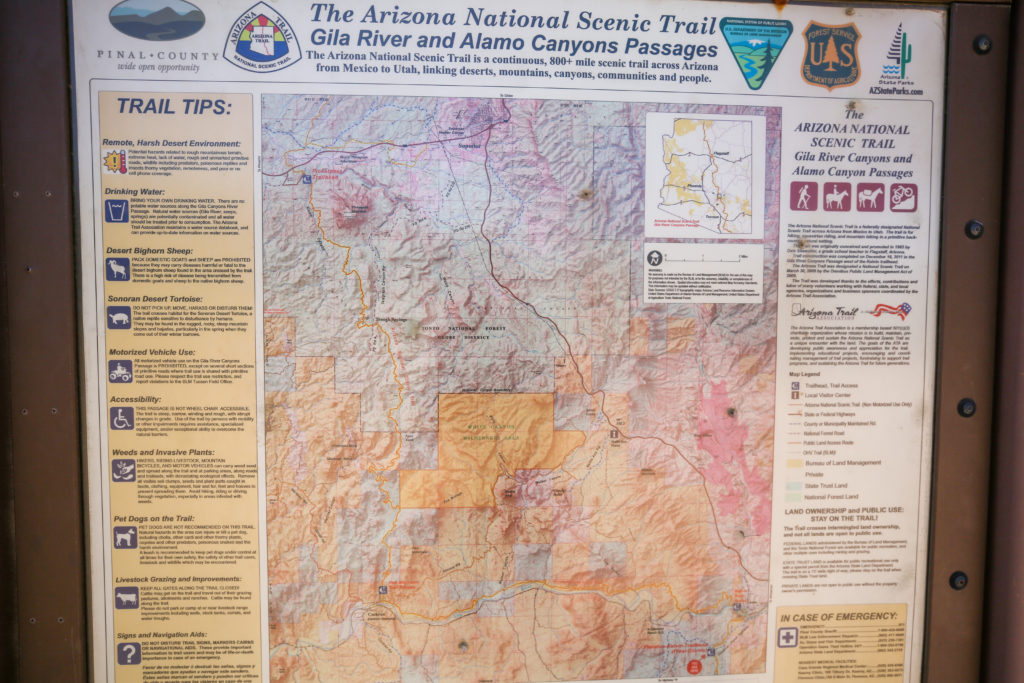 There were four vehicles parked at the trailhead all with trailers for ATV's. I was thinking of Micah as I crossed the parking lot to continue my hike to the Kelvin Bridge TH. Micah feels you do not have to hike every step of the trail and there is no need to link up all the segments. This is a sentiment I usually agree with. I do not feel the need to hike several kilometres of road just to connect two distant trailheads. But I had chosen to leave my car at the next trailhead so I was forced to continue my hike and hike a few extra kilometres to get to my car. Luckily there is a trail for AZT so I would not have to follow the road down to the bridge. As it would turn out having to hike all the way to the next trailhead was a huge win. The flowers were spectacular and where certainly worth the extra time spent walking.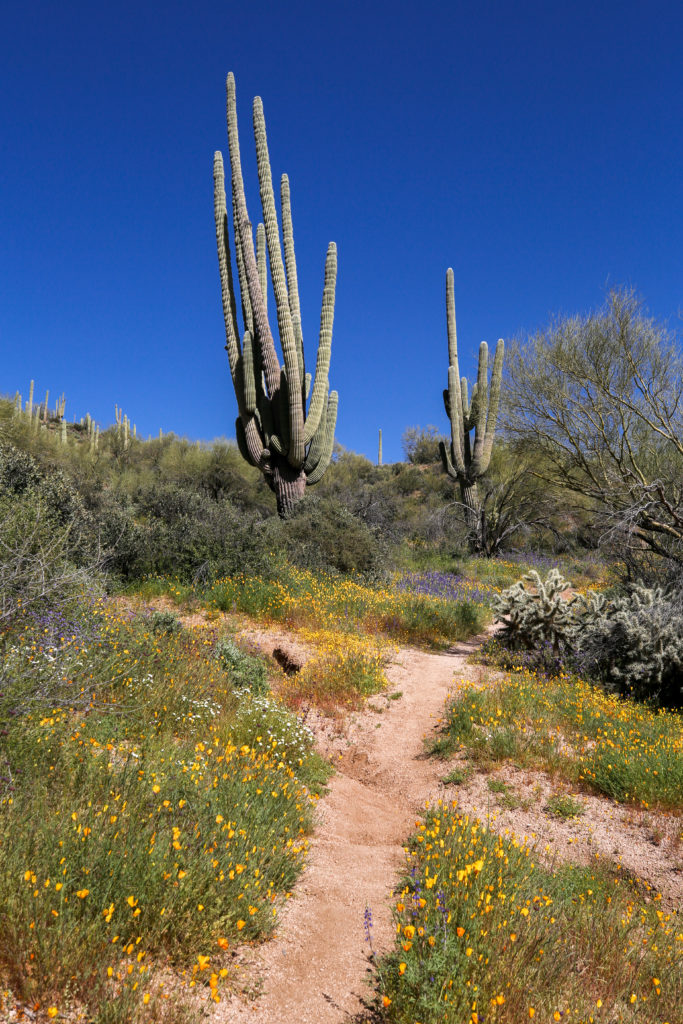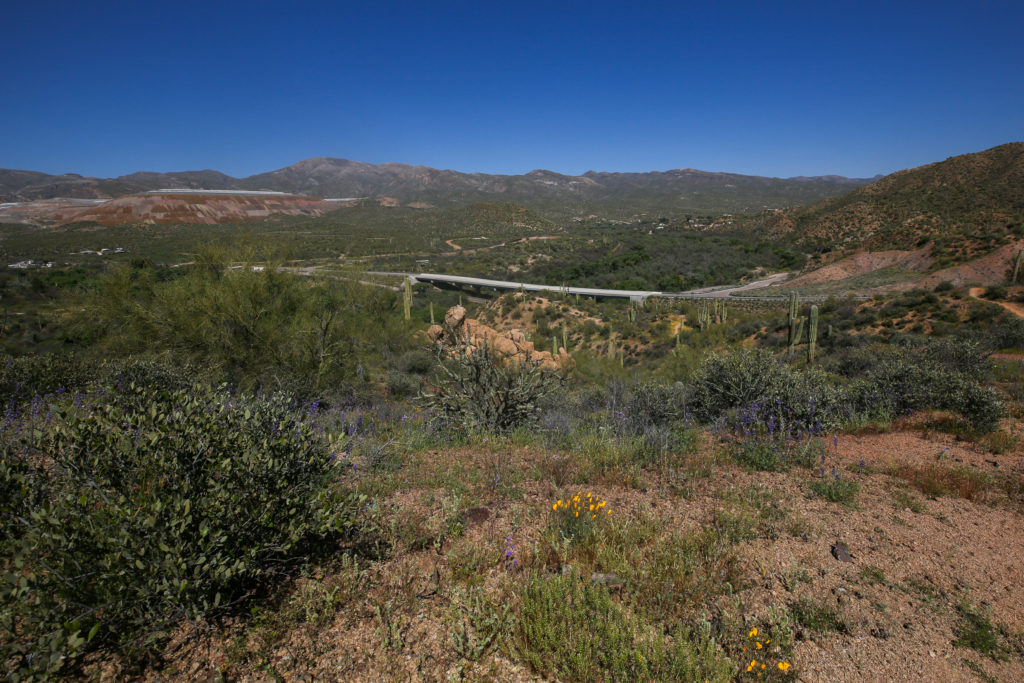 Despite the flowers lifting my spirits I was staring to lag as I moved down the trail. I did have another snake encounter but this time it was just an itty bitty snake that posed no threat to me.
I was so relieved to see my rental car. I did have mixed feelings since I was super happy to be finished and have the opportunity to let my feet heal, but I was sad to be leaving the trail. I chatted with a guy who was at trailhead mountain biking. He was living in a camping trailer and had cycled the AZT three times. He said it took about 20 days to cycle the trail and that Passages 16 and 17 (starting at this trailhead) were his favourite passages.
I slowly got into the car but only after being sure to send a SPOT message to everyone telling them I had finished. I drove back to Superior to see if there was room at the Copper Mt Motel. I was very lucky to get a room as the hotel was full with road work crews staying at the motel for the week.
I ended up staying for two days to let my feet heal up. The owner told me next time not to rent a car as she would organize the rides I needed.
I slowly peeled the tape off my toes and after my shower I just lay on my bed letting everything air out for a while.
While the focus of the next couple of days would be recovery I did go out and have my post hike burger and beer. It was a short but slow walk to the restaurant. Even though I was in recovery mode my adventure in Arizona was not over yet.
AZT Trail Magic