Day 5, August 15th, Boulder Creek CG to Four Points CG, 3.3 km, 44 m elevation gain, 150 m elevation loss, 61 min (Segment 26)
I rolled out of bed at 5:30 am to say goodbye to Bent and Jason. Their plan was to camp at Waterfalls CG, where I would be the next day, putting them a day in front of me. It was much too early to be getting ready for my big 3 km day, but once I was up I did not feel like getting back into the tent. I set about packing up but without the urgency of a regular morning. To my dismay I could see that the smoke had hung around, plus there appeared to be a threat of rain. As a precaution, I put the pack cover on the backpack and heaved my pack onto my back. It was 6:35 am as I headed out onto the trail.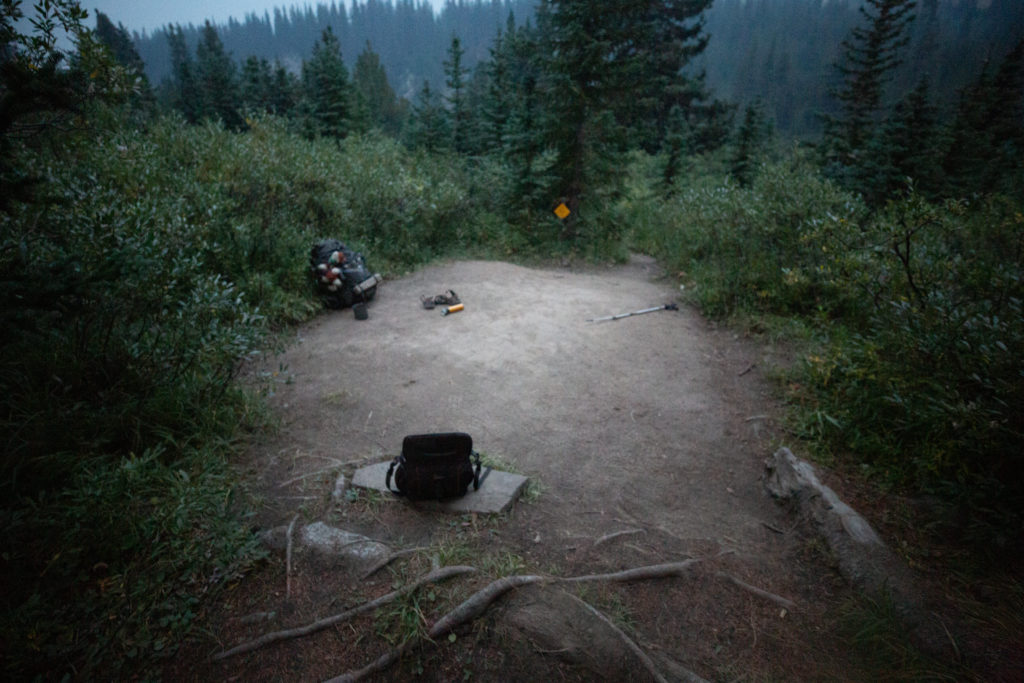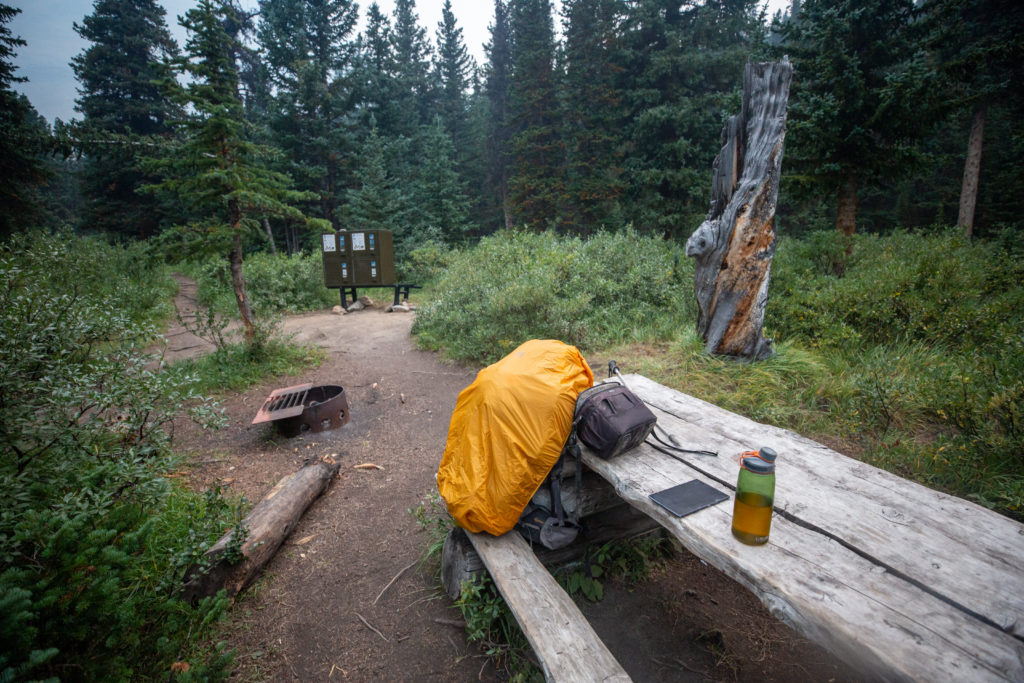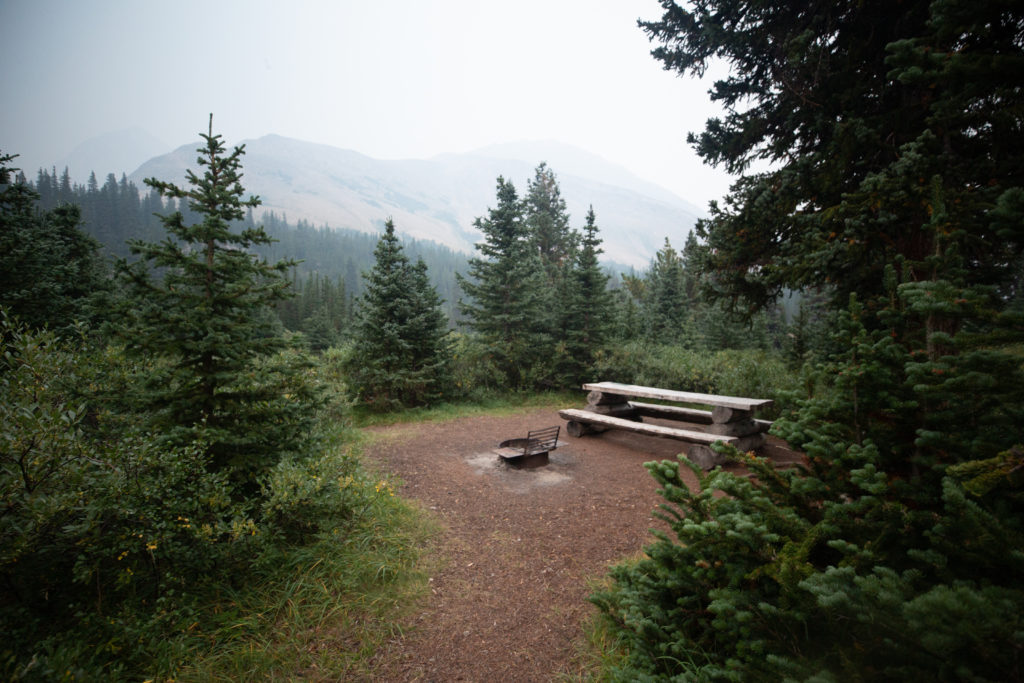 The hike to Four Points CG from Boulder Creek CG is very easy and almost entirely downhill. I walked at an easy, steady pace since I was going to arrive ridiculously early. I don't remember exactly why, but I ran into Bent coming back to the campground. I assured him nothing was left at the campground. I snapped one last shot of Bent and said another goodbye as he was off quickly down the trail making up for lost time.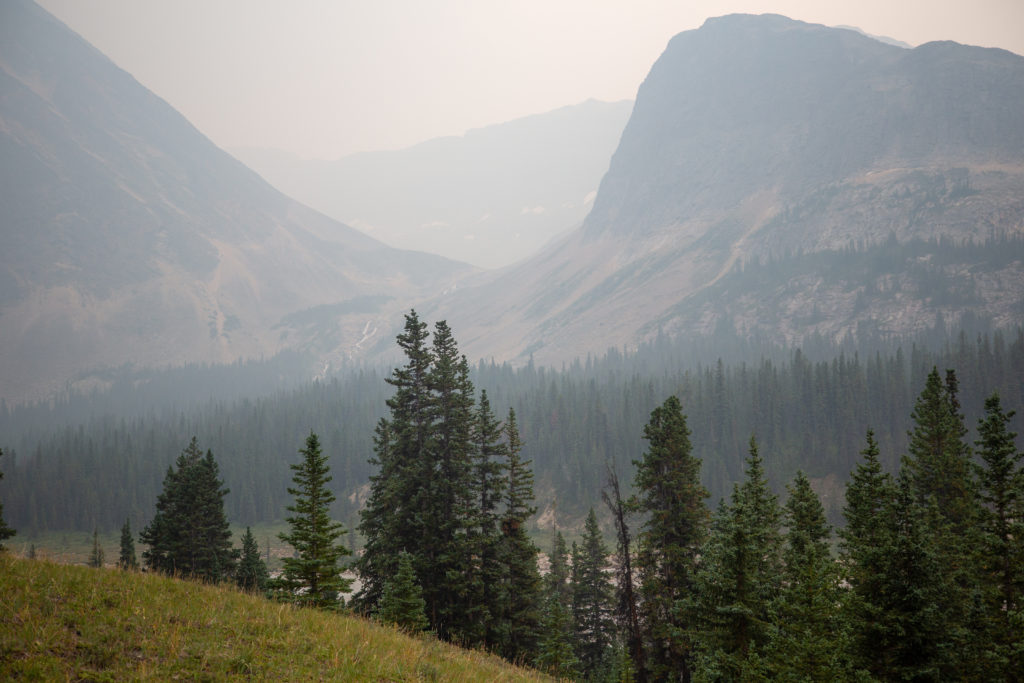 Shortly after Bent left I stopped for 15 minutes to tape up a hot spot on my toe. It was a short hike but blisters can come on quickly so best to take care of any hot spots right away. I arrived at Four Points CG just 7 minutes after returning to the trail. It was 7:38 am and my hiking was done for the day. I got some strange looks arriving into camp. Only one tent pad was available but it was not overly appealing, as it was somewhat humped in the middle, so I threw my pack down next to a tree and went out to the river to take some photos while waiting for people to leave. The sky was thick with smoke, which was not good for hiking but made for some interesting pictures as the sun was very red despite being quite high in the sky.
As people headed out for the day I selected a nice spot and had my tent set up by 9:15 am. I talked to an older fellow from my home town of Canmore and explained why I was so early, i.e. my daughter was joining me on the hike and I had hiked further than planned the day before. He ran into Micah later on the trail and told them that I was expecting a strawberry rhubarb pie! I was not expecting a pie but it would have been a nice treat.
I spent the day reading my book on artificial intelligence and dozing in the meadow out by the river. I had a very relaxing day.
Micah arrived as scheduled between 3 and 4 pm. I heard them coming down the trail yelling "Yo Bear." I was quite surprised how far their voice carried, as it was a good minute after I first heard them yelling that they arrived in camp. We quickly got them all settled into the tent and sorted out our food.
The campground was full when I arrived in the morning but by dinnertime only a couple of other sites were occupied. It was a Sunday evening and it was smoky, so I guess some people who had booked did not make it. I chatted with the parents of a family of four who had arrived a little after Micah. I recognized the label on the hat the father was wearing as a cross-country ski facility out near Vernon BC, Sovereign Lake Nordic Centre. As it turns out they were from Calgary and both kids trained with the Foothills Nordic Ski Club. I had known the head coach for the Foothills club since he was five, so we traded stories about him. As Micah and I started to make dinner it began to rain lightly. After dinner the rain let up and we spent some time out in the meadow by the river. The rain had definitely helped with the smoke. Micah admitted later that the smoke had somewhat dampened their spirits on during the hike in.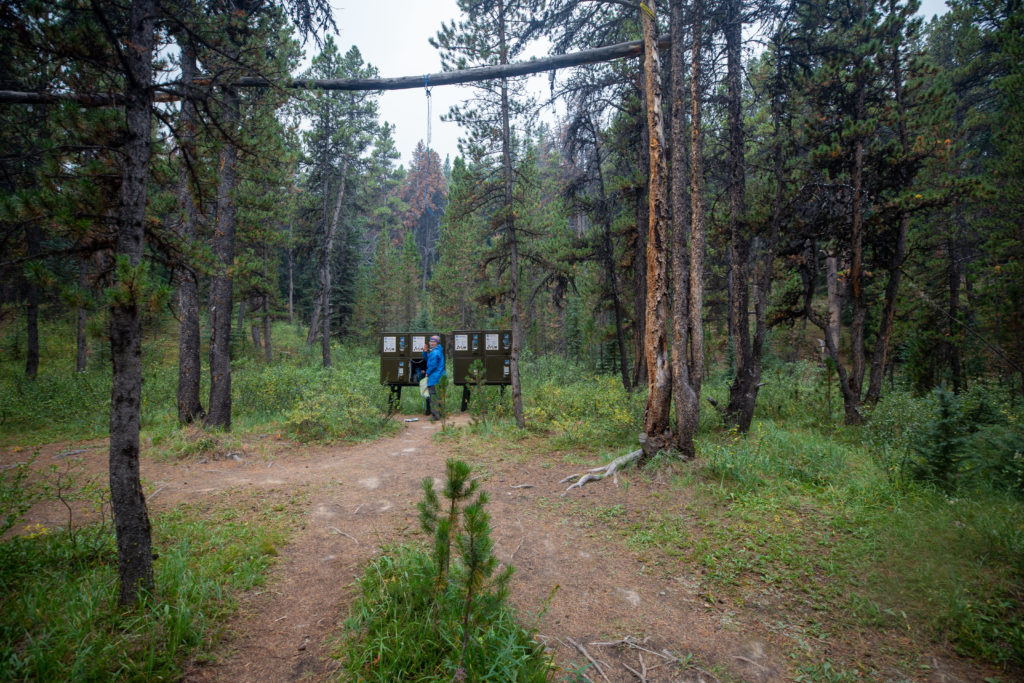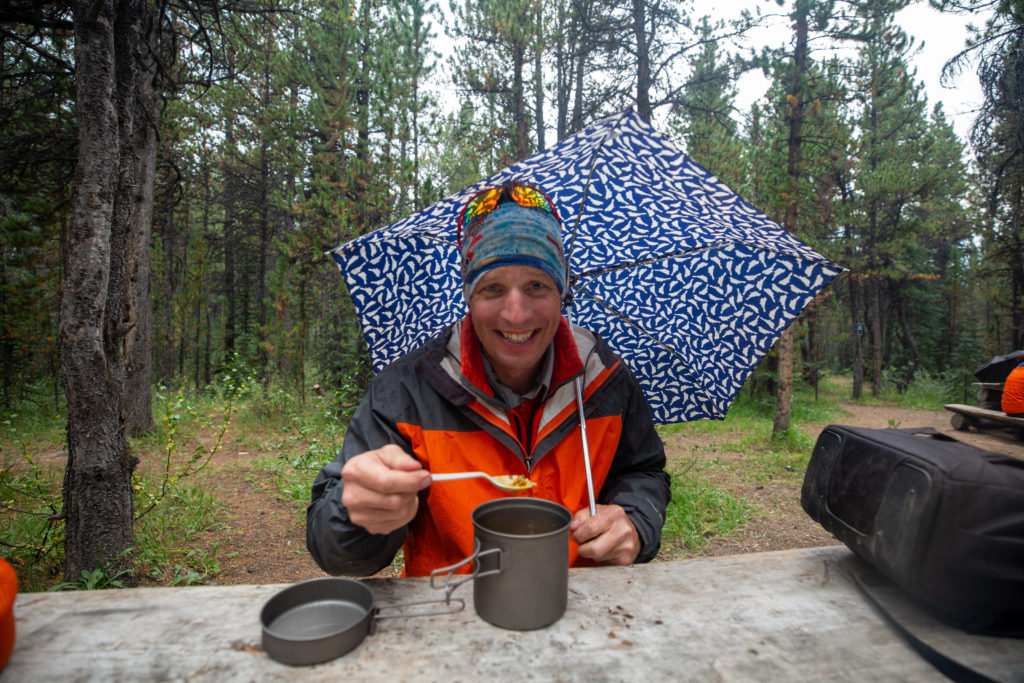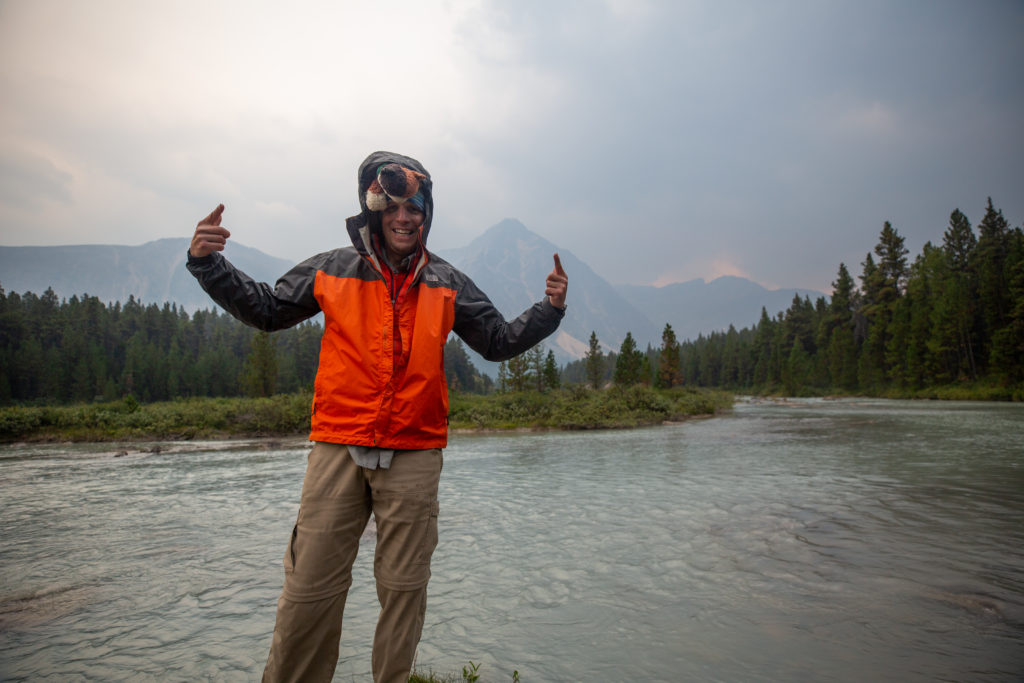 Just as we were heading to bed a young woman strode into camp. She set up quickly and disappeared into her tent. We saw her again briefly the next evening hiking past our campsite and in two days at Maligne Pass we actually met her. She appeared to get up late and hike late. We went to bed just after 8 pm and read our new trail book "The Order of Time" by Carlo Rovelli.