Unlike my footwear I feel as though I have my food pretty well dialed. The challenge this year would be on Section E I would have to carry 11 days of food. My kid Micah was going to be joining me at Four Points CG on the fifth day so I could have relied on them to bring in a small resupply. The risk was that if Micah could not make it then someone would have to hike in my resupply or I would have to go without. I compromised I gave them three energy bars to bring. I figured if I did not get the energy bars I might be a little hungry but it would not be a critical loss that would impact the trip.
My next challenge was that I would be doing some wild camping, three days on Section D and four days on Section E so I needed a secure way to store my food safely. We learned last year during the 2020 Section C hike that making a good bear hang in the Canadian Rockies is not easy. We had to do one bear hang on Section C at Palliser Pass and it was a very poor effort. We had arrived late to camp, it was dark and raining when we attempted our bear hang.
The trend among thru hikers has been switching to using Ursacks for food storage and/or just storing the food in their tent. While Ursacks are more convenient that Bear Canisters they are not as bear proof and have not been accepted for food storage by many US national parks for backcountry camping. I was heavily considering using Ursacks until discussing my trip with a fellow teacher and mentioning my food storage requirements and he offered me the use of his Bear Canisters. While we all enjoy buying new gear saving a couple of hundred dollars in not purchasing Ursacks was too attractive to not accept the offer. I know that there are lots of complaints about Bear Canisters online but after spending 11 days using a Bear Caninster I can say I think they are great. Easy to use, fits into my pack (Gregory Paragon 58L) upright or sideways and they keep your food safe and secure.
A Bear Canister can simply not hold 11 days of food for one person plus a first aid kit and toiletries. I carried my excess food in a Zpack Bear Bag. While I would do my best to safely secure the Bear Bag I chose to put into the bag what I thought I could afford to lose to an animal including the first aid kit, toiletries and whatever energy bars which would not fit into the Bear Canister. I only ended up needing to hang the Bear Bag on the first two nights. At my camp on Owen's Creek I was set up near tree line so the choice of trees was not great. I did get the Bear Bag about 3 m up a tree. At Michele Lakes I camped at the lower lake and placed my Bear Bag high on a cliff ledge hoping it would be inaccessible to bears.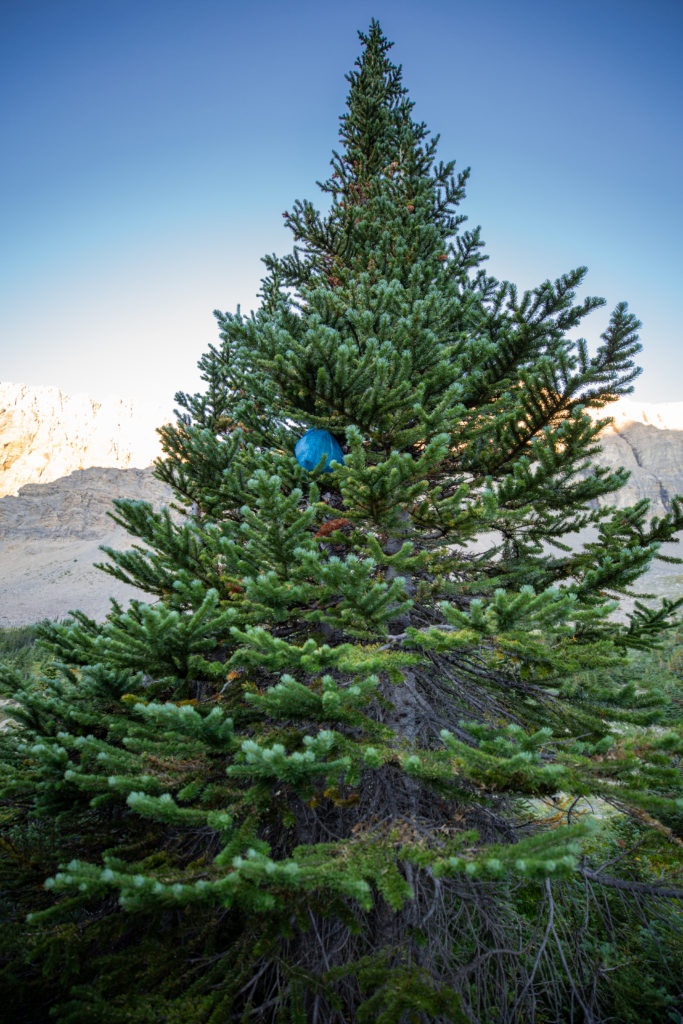 After Michelle Lakes the campground at Pinto Lakes had a bear hang and then we had Bear Lockers until our night at Six Passes. By the time we arrived at Six Passes on the evening of Day 7 all the food and other smellables easily fit into the Bear Canisters.
I started my food prep by drying some blueberries. Dried blueberries are quite crumbly and hard to eat as a snack so I would end up adding to the Logan Bread I prepared for breakfast.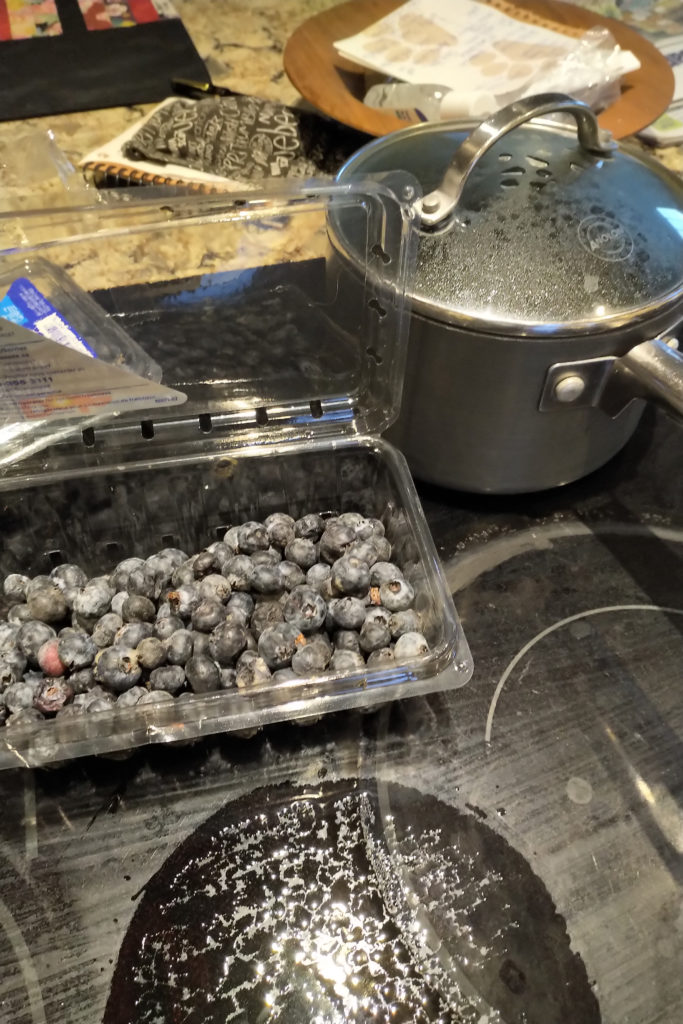 Breakfast and one type of snack would be Logan Bread. Logan Bread is a favourite no cook breakfast for us. There are many versions of Logan Bread but the recipe I use is one that Micah found from Wildpacker.com. Since I cannot eat nuts i replaced them in the recipe with the dried blueberries. I further modified the recipe also added a cup of chocolate chips because really who wouldn't want more chocolate on the trail. We did not have any honey in the house when I set about making the Logan Bread so as a good Canadian I used Maple Syrup instead. The other change I made to the recipe was to change the 7 cups of whole wheat flour to 4 cups whole wheat flour and 3 cups quinoa. Micah has suggested going a little lighter on the quinoa so maybe 2 cups next year. On the trail I ate a 100 g piece of Logan Bread for breakfast and a 50 g piece as a mid morning snack.
For snacks I dried one banana for each day on the trail. A sliced banana makes a 20 slices so that is what I put in my pocket at the start of each day. On the trail snacks also included Latte Bars which I made from a recipe from the same website as the Logan Bread. Instead of instant coffee I put in 4 sleeves of Starbucks instant coffee which gave the Latte Bars a good kick. The last snack I had on the trail was an energy bar. This year I ate Builder Bars. The switch from Power Bars was simply because the local store stopped carrying Power Bars. The Builder Bars are pretty much the same as Power Bars but the mint flavoured ones sure were a nice treat on the trail. I carried the banana chips in my pant pocket and the Latte Bar, Logan Bread and Builder bar all fit into the hip pouch on my backpack. By having the snacks accessible I was able to eat while moving. I ate all my snacks in the morning which allowed us to push our lunchtime break until after 1 pm.
I made a quick spreadsheet of the snacks and breakfast we would need to make sure I brought the correct amount.
Lunch on the trail was my standard whole wheat wraps with salami, cheese and Ruffle Potato Chips. Lunch consists of about 30 g of salami and 40 g of cheese and a handful of crushed chips with one wrap. Last year I ate two wraps but wraps are quite heavy and I was struggling to reduce the amount of food I had in the Bear Canisters so I decided on cutting down to one wrap. One really full wrap worked very well for me on the trail.
The staple for dinner would be meals purchase from a local company Peak Eats.
Peak Eats has a wide selection of choices for dinner but unfortunately I am allergic to beans and nuts so that eliminated a good number of options. Living in Canmore I got my meals delivered to my door the same day I placed my order. I still made several of my own meals for the trip. I made two version of spinach rotini, one with ground pork and one with Beyond Meat and I made a couple of meals of cannelloni. I used the same dryer as I use for my fruits but place a piece of parchment paper on each tray and run the dryer at 145 F for 14 – 16 hours.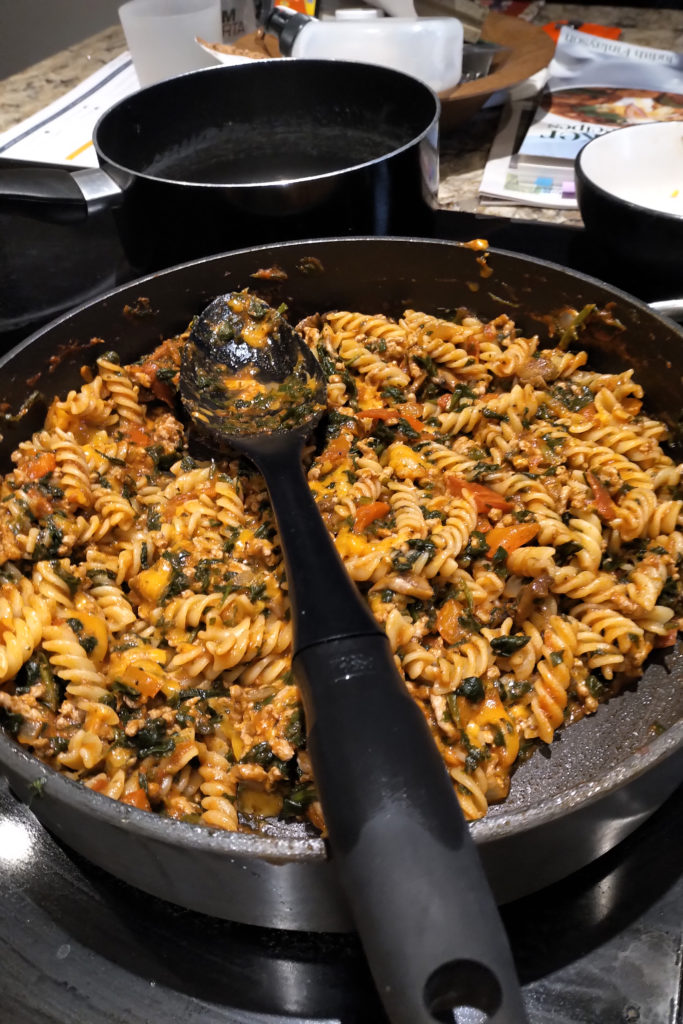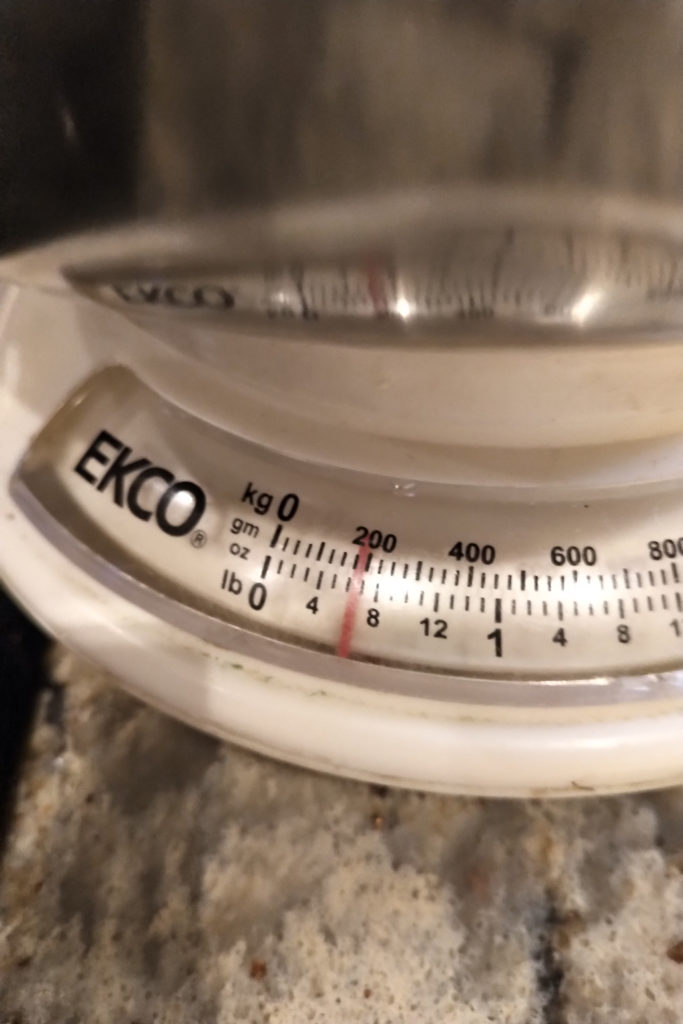 After drying all the food it was time to get it all into the Bear Canister.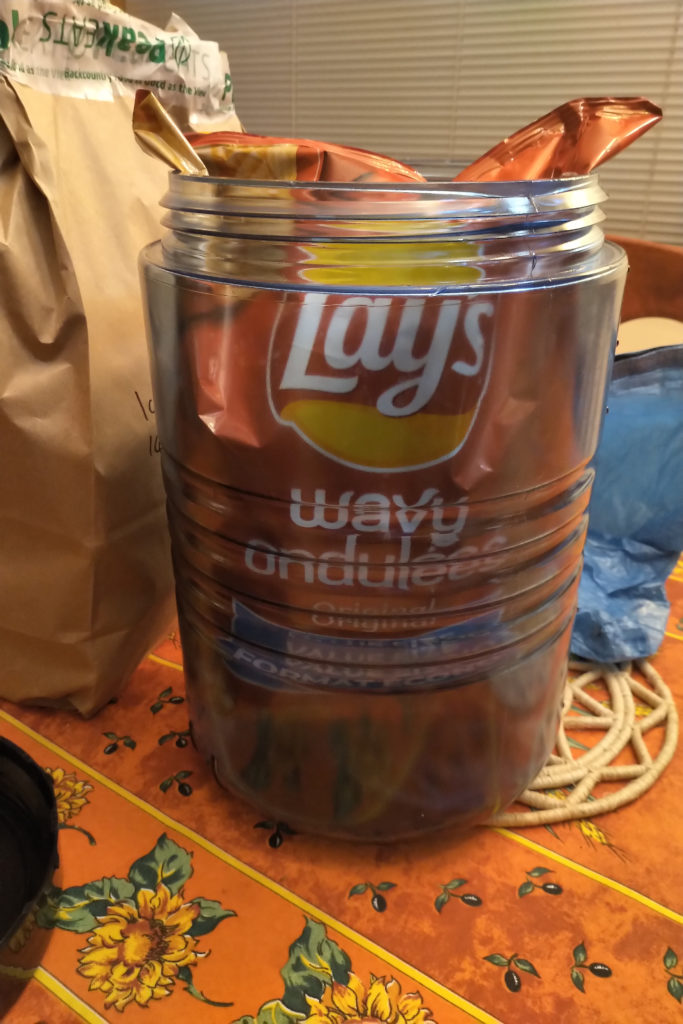 Whenever there is cooking to be done in the house Volcano is always given the task of pre-cleaning any dishes before they get put into the dishwasher.
For drinks we had one Starbucks instant coffee for breakfast and I brought along a supply of Gatorade to add some flavour and electrolytes to our water bottles. For filtering our water Micah and I both used inline Hydroblu water filters. I did have a supply of water tablets as back up and we ended using them to aid the cooking process near the end of the trip when we ran low on fuel.