January 3, 2023, Head of First Water Road to Bull Pass, 21.7 km, 606 m elevation gain, 389 m elevation loss, 8 hrs 40 minutes.
Woke up to the pitter patter of raindrops on the tent. With a severe lack of enthusiasm I broke camp in the dark. After driving the couple of minutes to the parking lot I sat in the car to stay warm to wait out the rain, it was 7:10 am. Just before 8 am the rain stopped. I popped the truck of the car and hung up the tent and ground sheet to give them a chance to dry for a few minutes. I was packed up and headed off down the road at 8:19 am. Finally the hike was going to happen. Maybe not my original plan but at least I had a few days of hiking and camping ahead of me.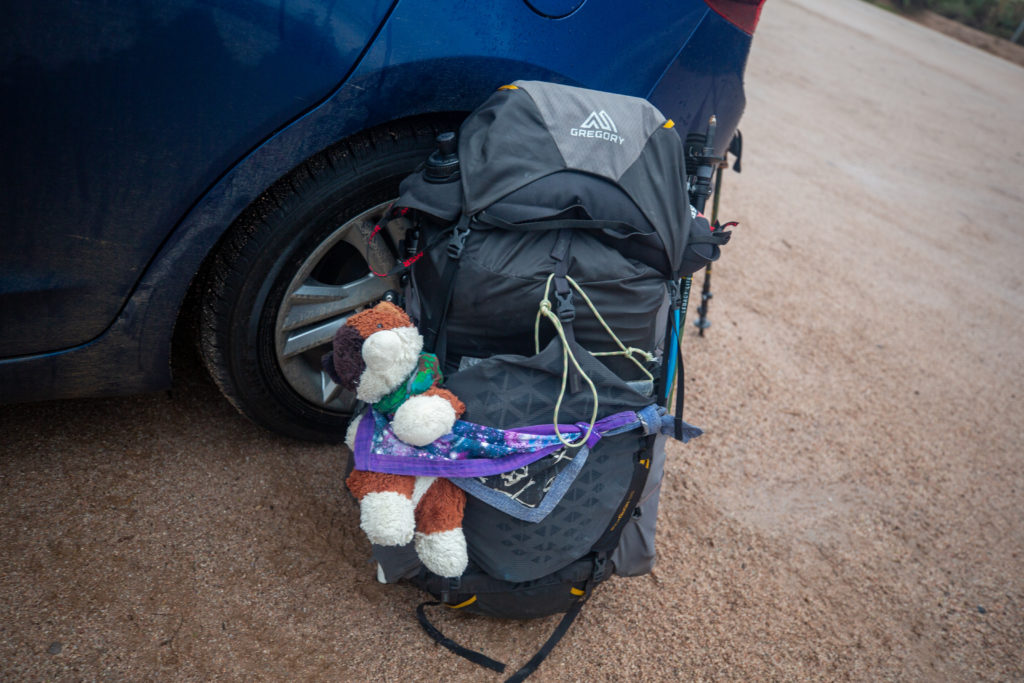 Shortly into my hike I met some park employees doing clean up. They informed me that I did not need a Tonto Pass to hike or park the car. I was passed by one car on the way up to the trail head. Some of the signs on the roadway had been used for target practice. I arrived at the overflow parking lot at 9:10 am and signed the hiking register. Finally I was about to head down a trail.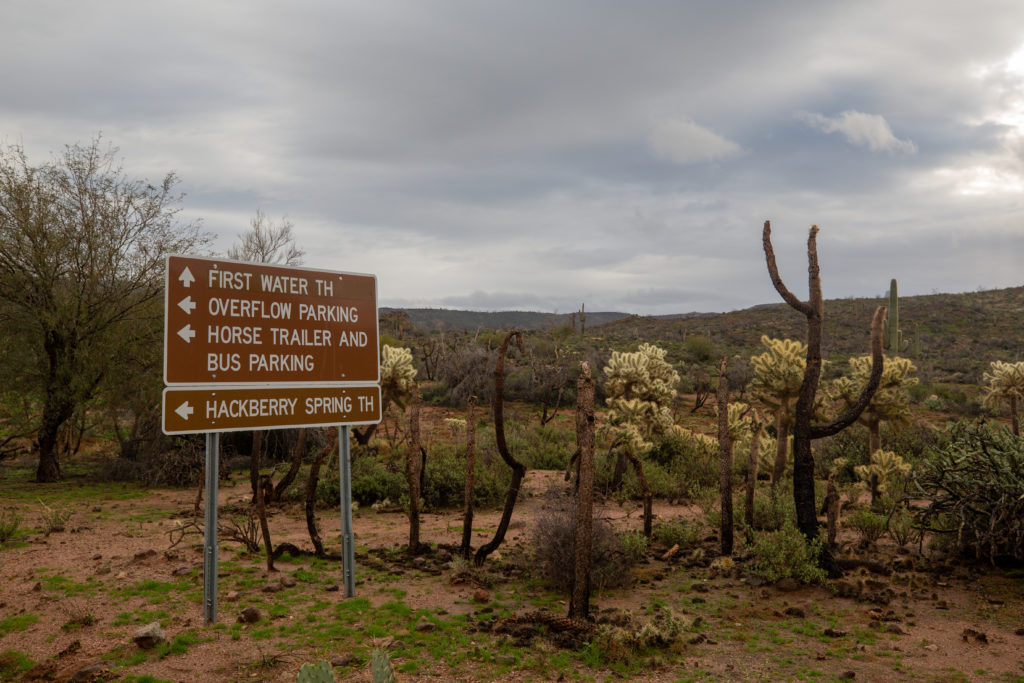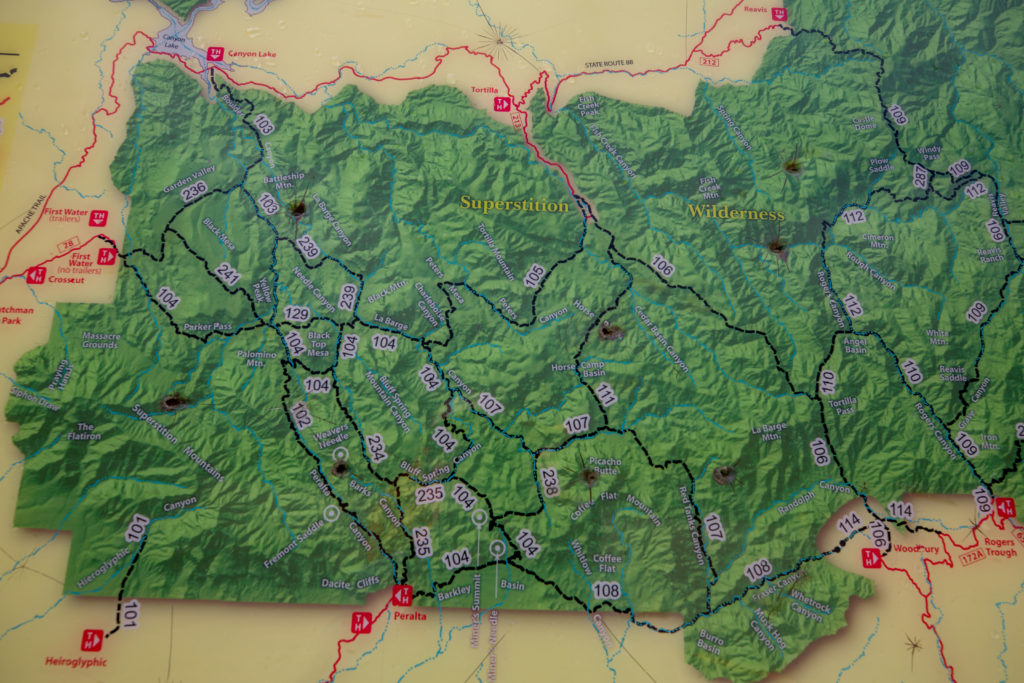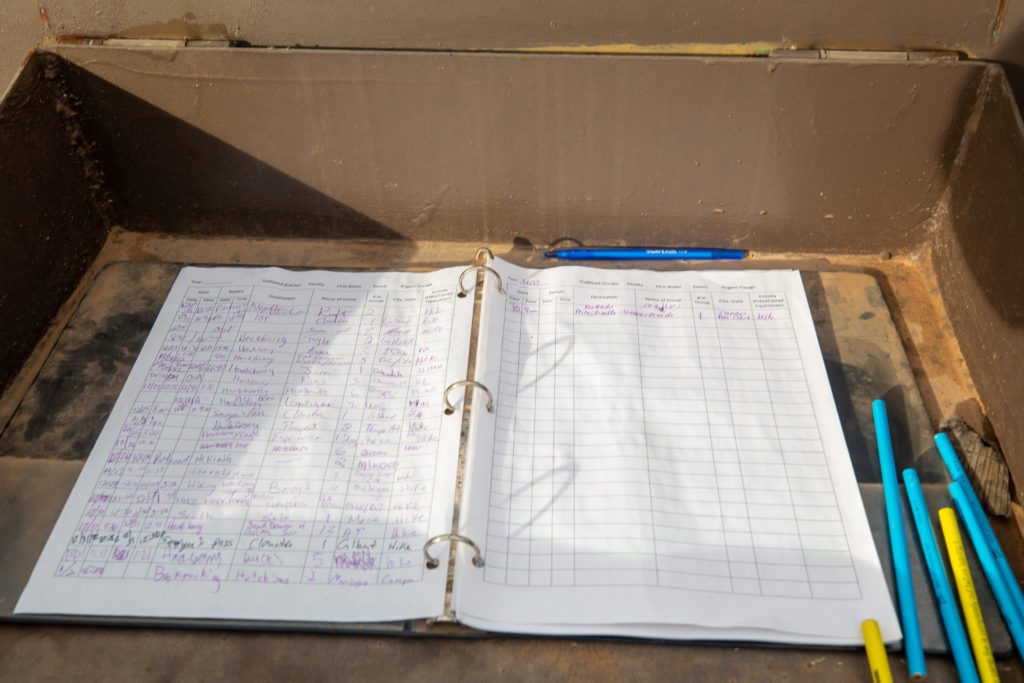 I met a couple of hikers returning to the trailhead just a few hundred metres down the trail. They were doing some recon for an upcoming hike and just went a little way down the trail. Feeling good I took off at a good pace down the trail. Since I was hiking in a desert I was following the recommendations I had seen online and was carrying two days of water with me. There would be plenty of water on trail and the extra water I carried was completely unnecessary.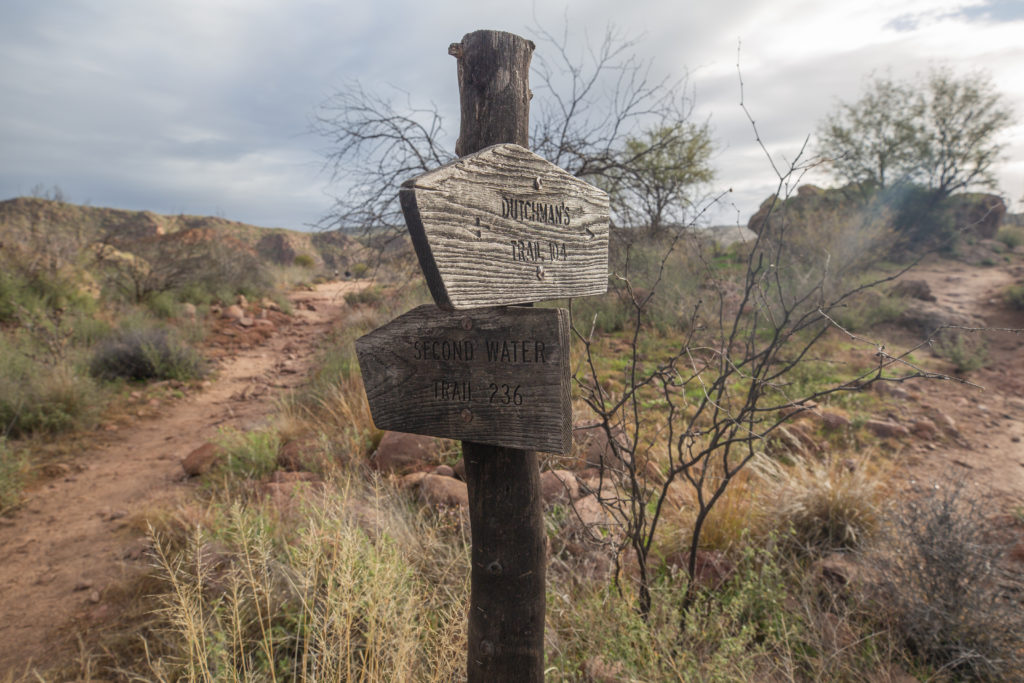 I could see a group in front of me. I would catch up with them at a waterfall. They were very chatty and a fun little group. The hike was mostly easy trail cruising at this point.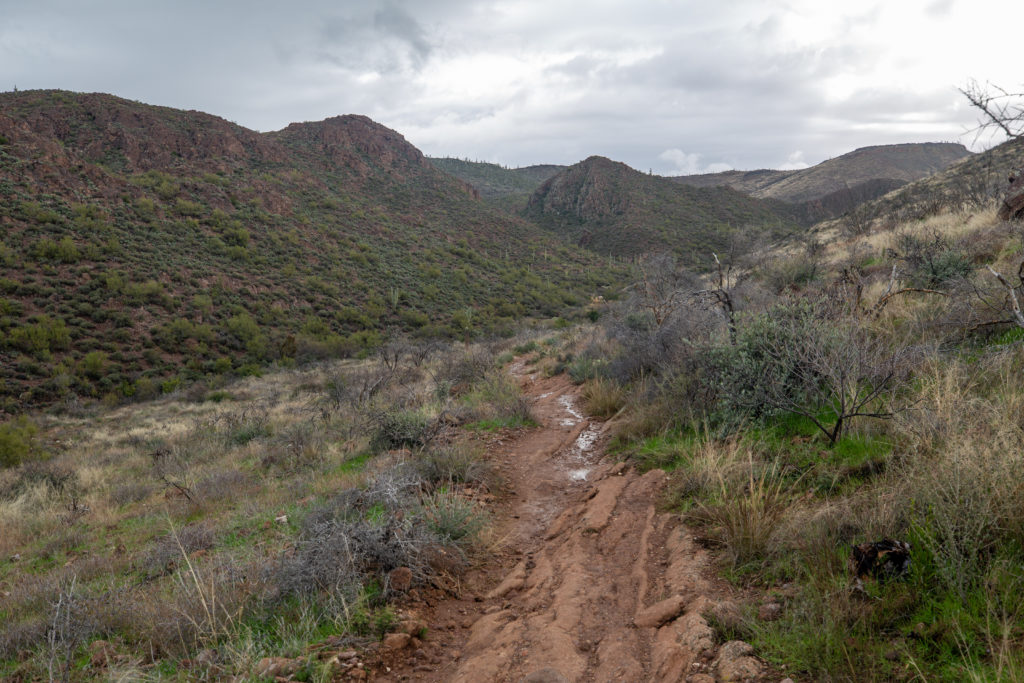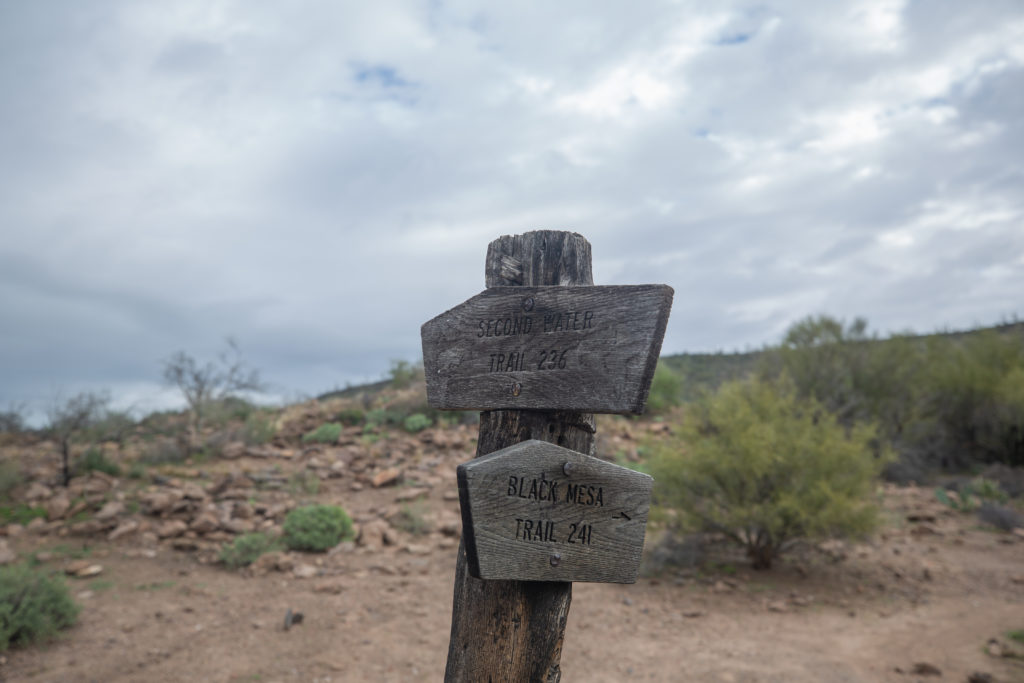 I arrived at the trail that would take me to the base of Battleship Mt, Trail 103, at 11:05 am. I had been hiking for 2 hrs 45 min and had covered 10km. I was in shock at what lay before me. I was faced with a stream and quite a large stream. I was mentally not prepared for a water crossing. I was in the desert after all.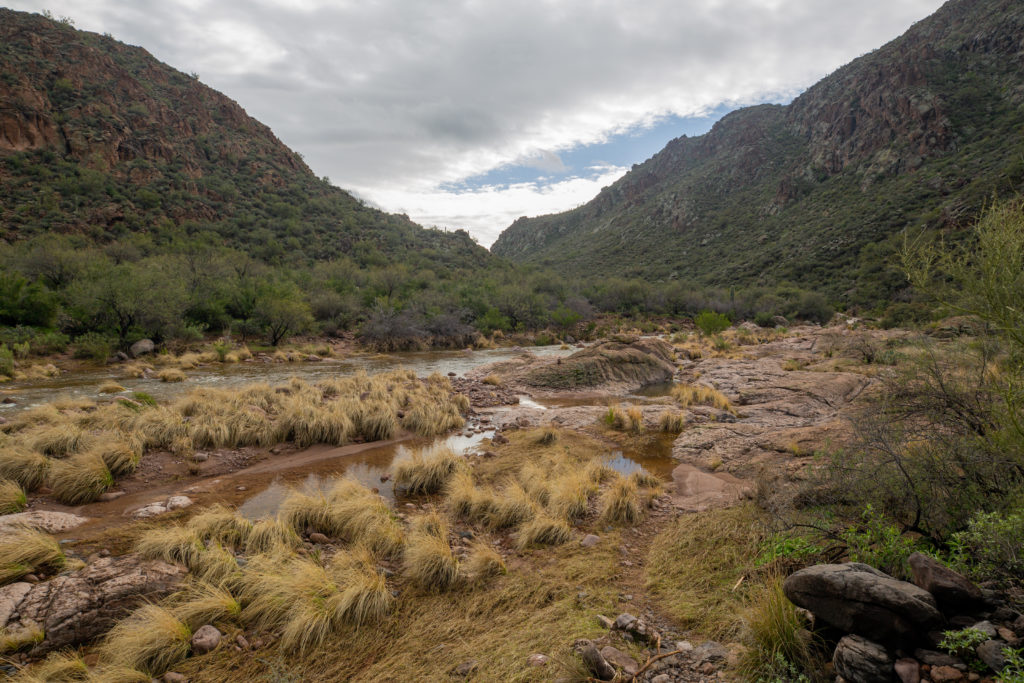 I looked up and down the stream and picked a nice wide section where the water was flowing gently. I rolled up my pants and forged across. The crossing was actually quite easy. I figured Micah would be proud.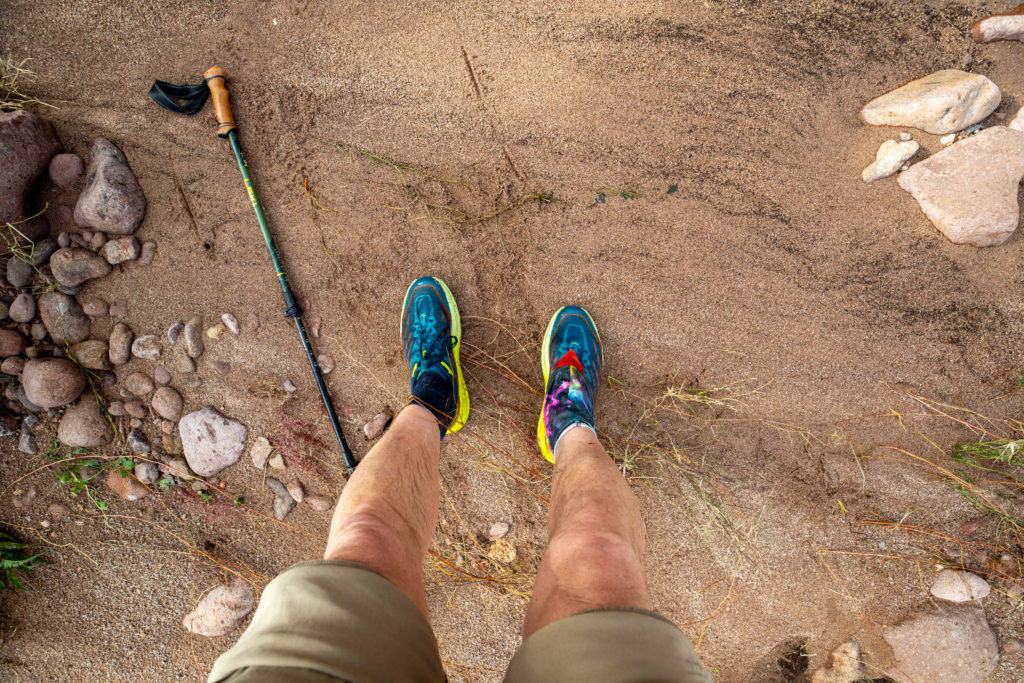 Once on the far side I quickly lost the trail. The trail would end up crisscrossing the stream about a dozen or so times.
I was getting quite used to the stream crossings when I spied four young men charging up the other side. They did not appear to be looking for a trail just making their way along the bank. I crossed over to follow them as they seemed to be making good progress.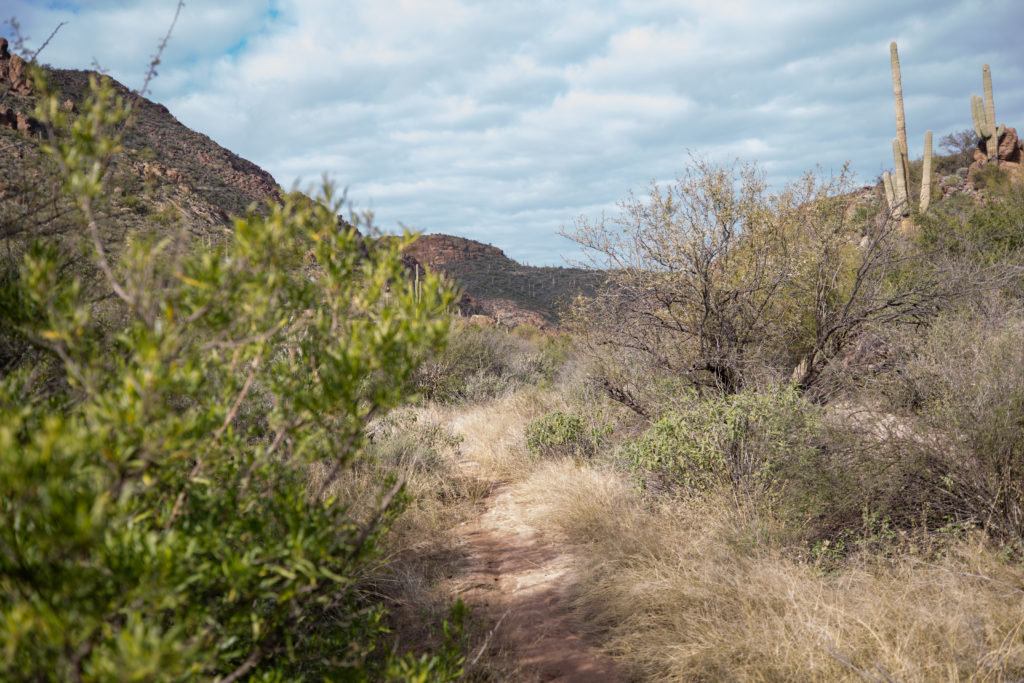 I crossed the stream and followed them. They stopped and started looking for a place to cross. We were standing by a nice wide part so while they debate where to cross I just headed over and they followed. After crossing we chatted for a bit and then I moved on as a couple of them had taken their boots off to cross and they were stopped waiting for them to put their boots back on. I was hiking in trail running shoes and knew that my shoes would dry quickly. I moved down the trail quickly making several more crossings in quick succession. I was feeling pretty good about myself and maybe a little cocky. I dropped my water bottle and while chasing it I and promptly fell into the stream. Everything got wet including my camera which got fully submersed 🙁
I stood for a few minutes feeling pretty gloomy. I slowly packed up. My gear in my pack was all dry as I have it all in dry bags. The big irony is that I have a plastic bag in camera bag to protect it from rain or water crossings.
I got moving again and quickly passed the guys at another water crossing. Shortly after I found the trail to Battleship Mt. I ummmed and ahhhed about whether I wanted to go up as I was feeling quite unmotivated. I did decide to head up the trail. There were cairns that guided they way up. The trail was rough but distinguishable. The trail ended at a butte which required a bit of climbing.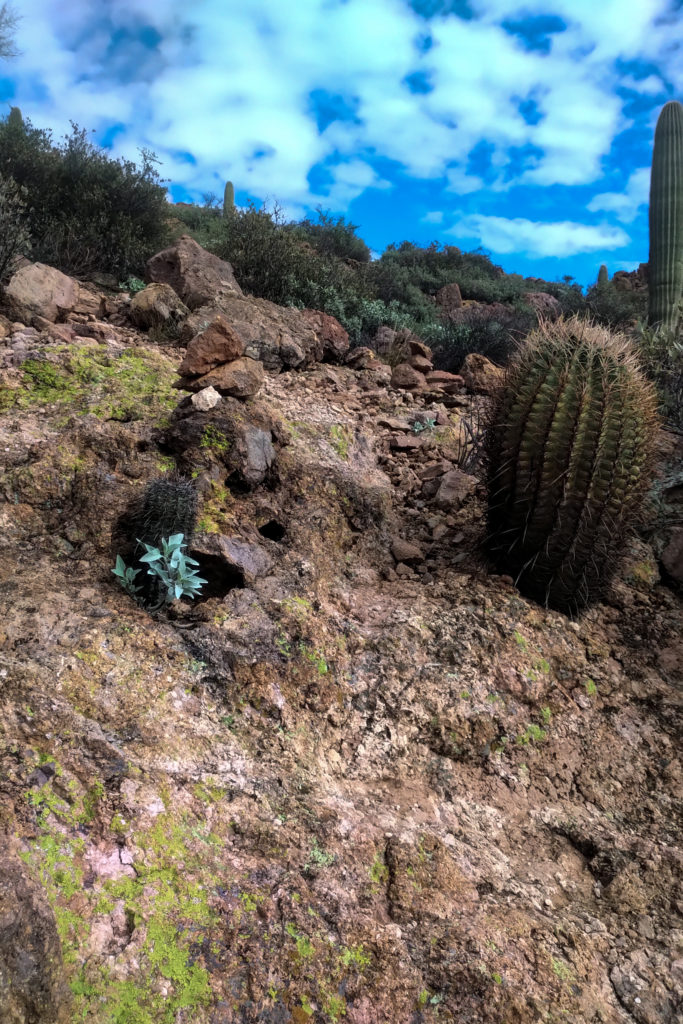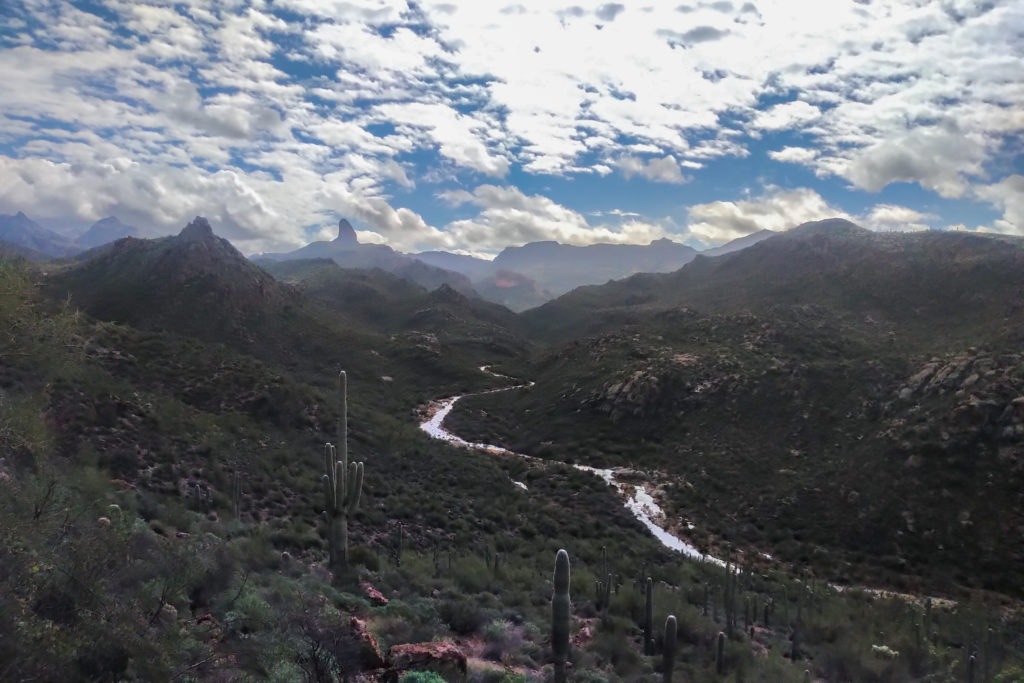 The hike to the cliff was pretty quick. I decided against climbing the cliff as I was on my own. I was just about to head down when the four guys caught up. We chatted at for a few minutes and a couple of them did scramble up the cliff. They came back down and said the the peak was still quite a long way off. They started down and I chased them back to the stream following a slightly different route than I had used to go up.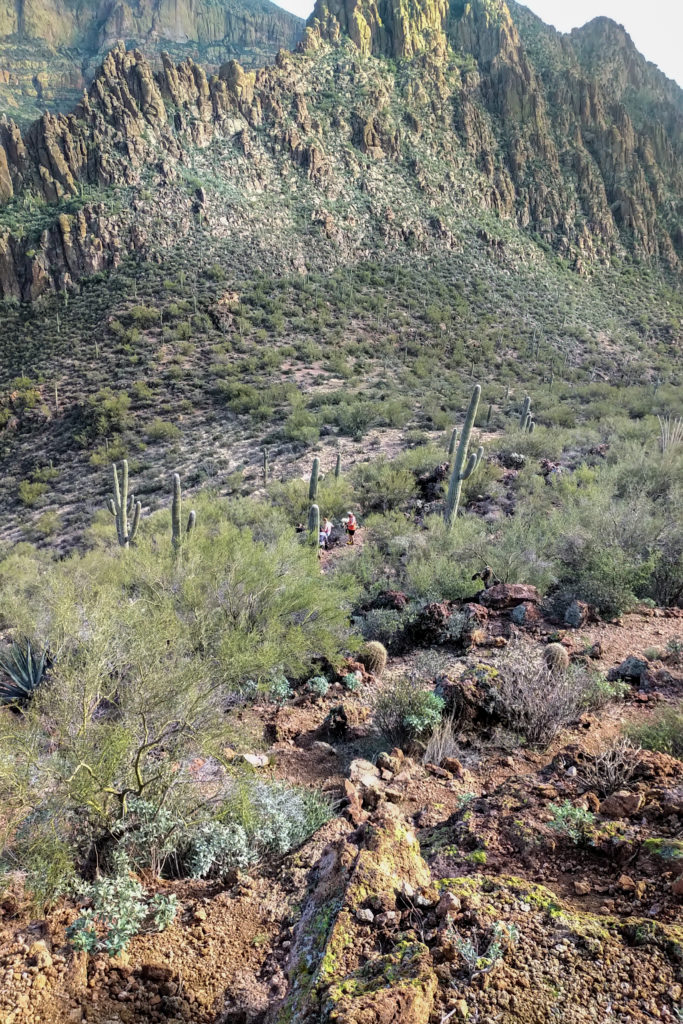 The guys decided to stop and have lunch and as we were talking I figured I would stop and join them. I instantly became good friends with John. John pulled a backcountry camping chair out of his pack and was getting a lot of ribbing from the others until I pulled mine out of my backpack making an instant connection with John. I would hike with the guys for the next two days, acting as the caboose for the group. They were all medical students from the University of Michigan, James was the climber, Kevin was the biggest of the group, John had the chair and wore boots and Patrick was also a climber and was the red head of the group. We had lunch at 1:15 pm, I had hiked 13.4 km.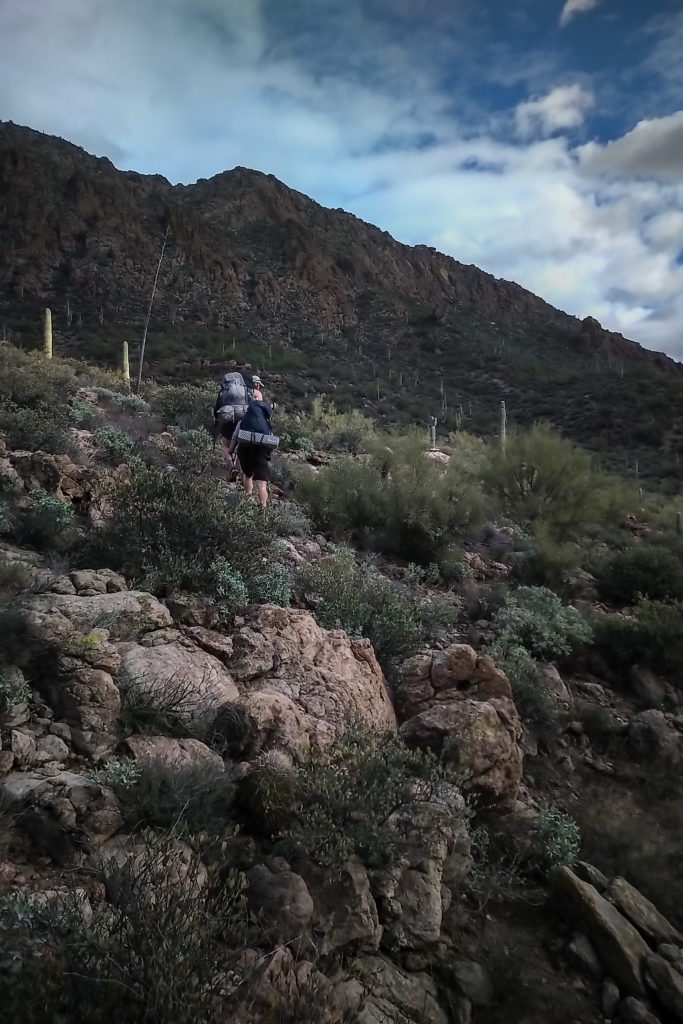 After a long and relaxing lunch, a couple of the guys actually had a hot lunch, we were off as a group of five. My solo trip had lasted approximately five and a half hours. As we were leaving the fun chatty group from earlier in the day arrived at the junction to Battleship Mt. I asked them about the stream crossings and they had decided after the first crossing they would just stay on the east side and bushwack to Battleship Mt. This would be exactly the philosophy my group made next. We were able to see the junction to our next trail less than a kilometre away and our next trail heading east. So it was a quick decision to stay on the east side of the stream and find a route through the vegetation. It took less than 15 minutes to arrive at the trail junction.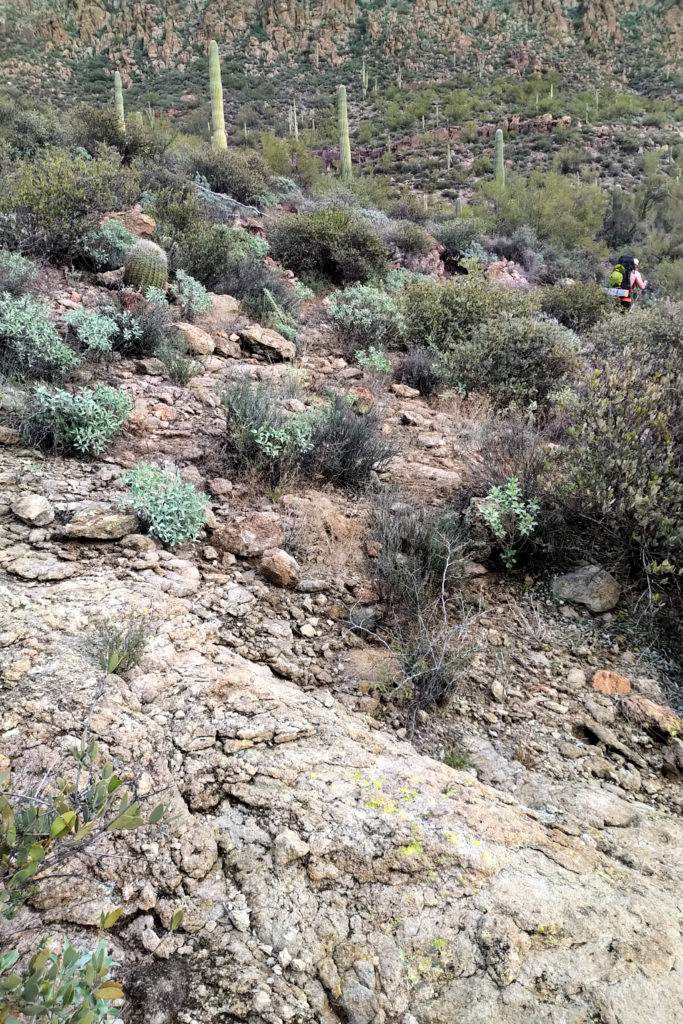 The group waited for me to catch up at the junction but we were quickly off. We would gain just over 130 m of elevation over the next kilometre. I was able to keep up with Kevin on the uphills. After we crested the top of the hill we had several more stream crossings. Only Kevin kept his shoes on so we kept starting and stopping and it was easy for me to stay with the group. Patrick did try hiking in his bare feet through a sandy section but the experiment did not last.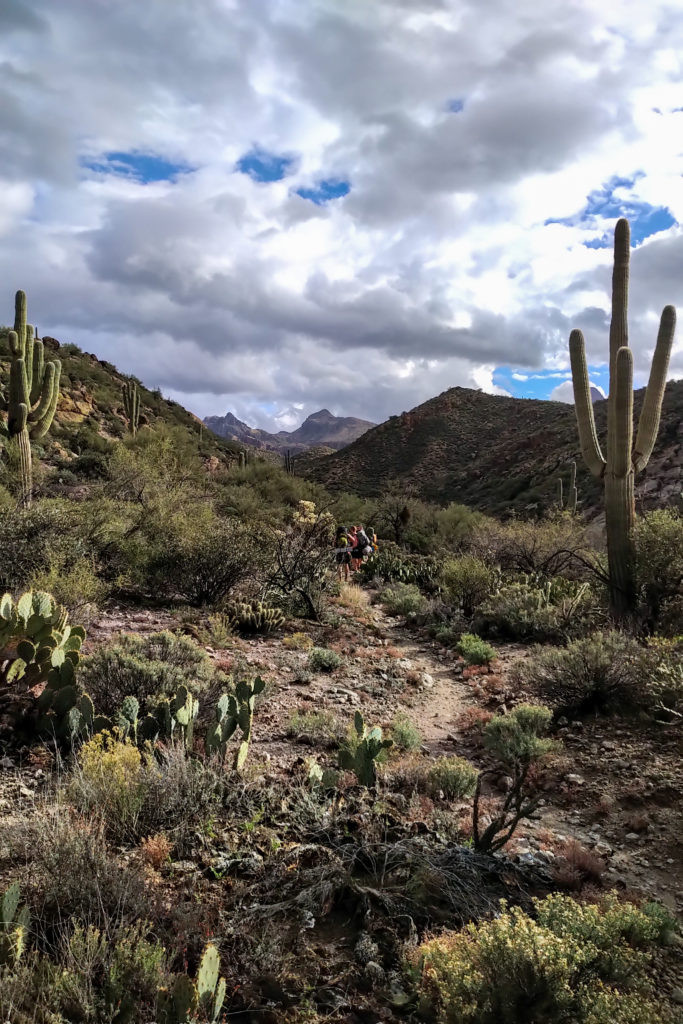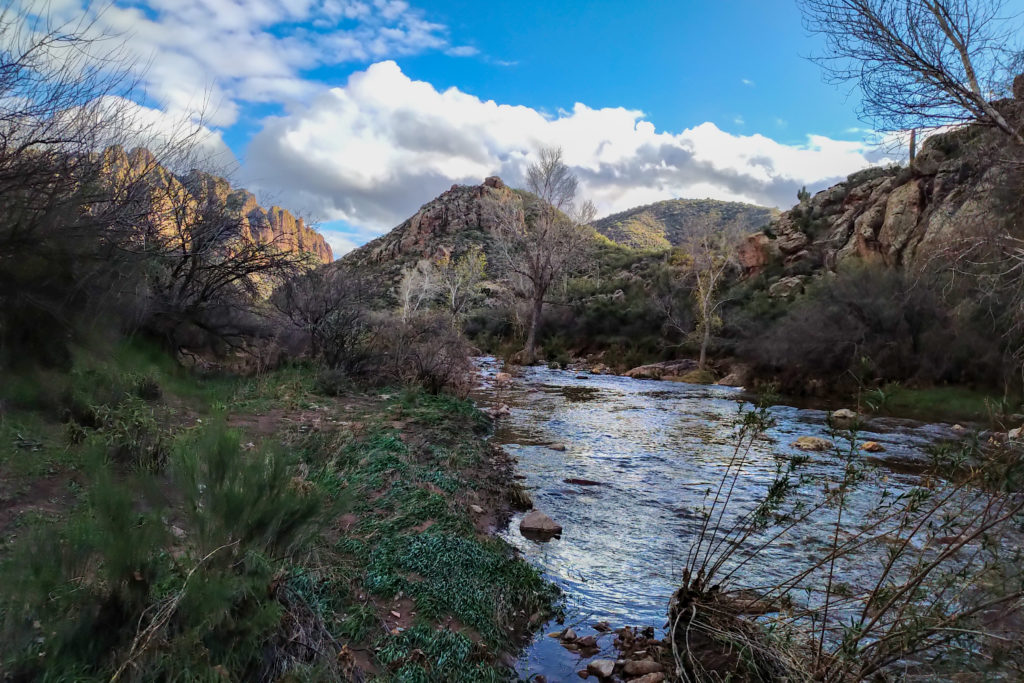 We made it to the next junction at 4:10 pm. It had taken us 2 hrs to travel 6 km with numerous stream crossings. They were headed to Weavers Needle the next as I was. We chatted about where to go. I pointed to the trail to the east and said that if had reliable water during the dry season it was likely to be very wet. They all agreed (I was a contributing member of the group) that we should avoid the east leg and take the western route to Weavers. The goal became to camp at a saddle on the lower slopes of Black Rock Mesa called Bull Pass. As it was a little after 4 pm the light was already fading the group decided that we would up the pace to the campsite. Keeping up to the group was going to be my goal. We left trail 239 traveled a short stretch on the 104 and then took trail 129 up the lower slopes of Black Rock Mesa.
It was a hard stiff climb up to a Bull Pass. It was a real challenge for me to keep up but luckily the climb was short. We climbed 110 m in a little less than 1 km keeping up a pace of a little over 3 kph uphill. We arrived at the pass at 5:10 pm, about an hour after our little meeting at the end of trail 239. The saddle offered up an amazing campsite with clear evidence of seeing regular use. We did meet a hiker on the next day who was fond of camping at Bull Pass.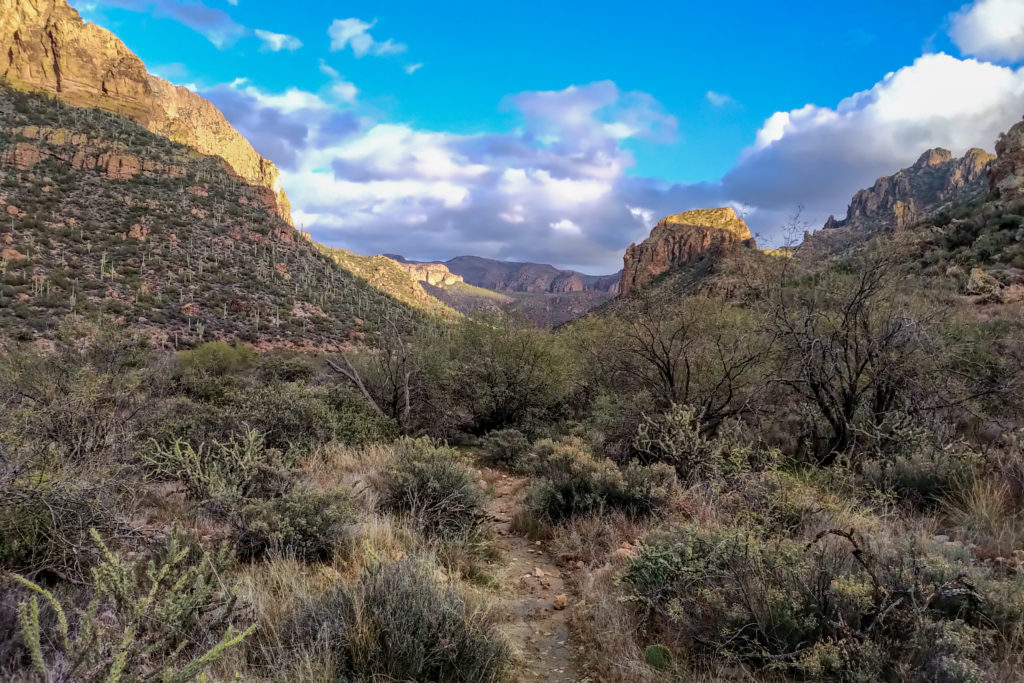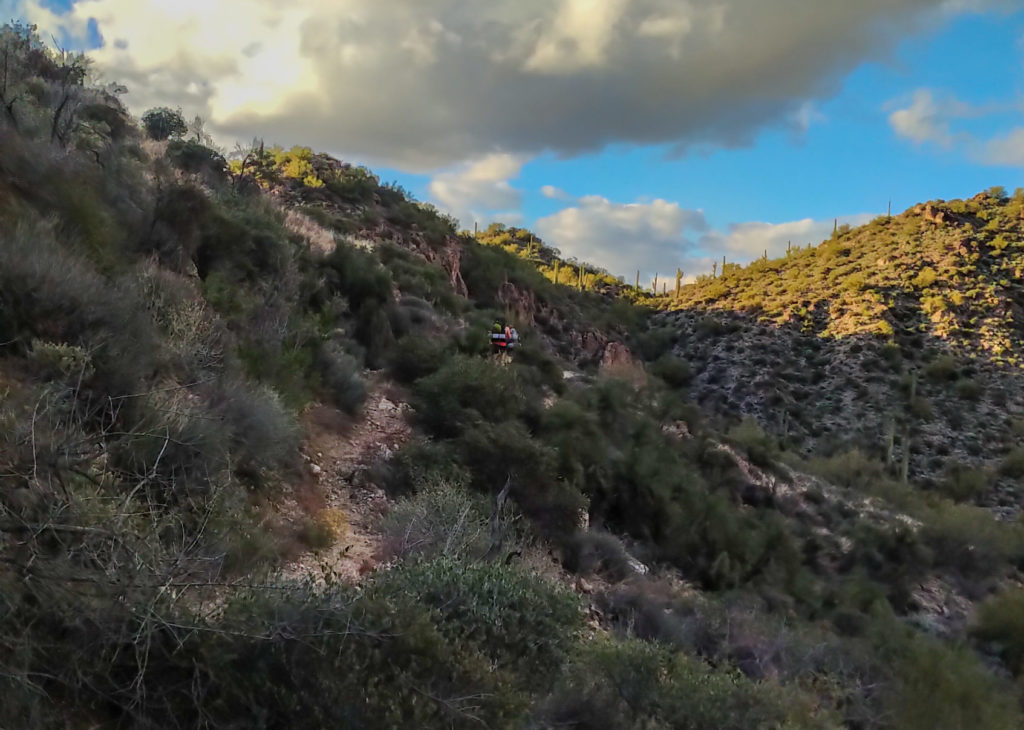 Not sure why but it took me a while to set up. Tried out a camp "hack" from a Great Divide Trail Association training video. If you do not carry camp sandals it came be uncomfortable to have wander around camp in wet shoes. To keep your feet dry and comfortable when you arrive at camp switch to your dry socks and put them inside plastic bread bags before putting your shoes back on. This will keep your feet dry while helping dry the shoes. It worked great.
I had one of my favourite meals for dinner homemade cannelloni. The guys made a fire and burned everything they could find that was not wet. It was never a very big fire. There was much medical discussion during the evening. I learned a lot of new big fancy words. Being a teacher they did ask me how well funded my school was. This question really highlighted a big difference in the education system between Canada and USA. In simple terms American schools are funded by their district. The more money that the district can raise from taxes the more money the schools have. In Canada the schools are funded by the province so public schools all receive the same funding levels across the province. So the question in Canada about how well your school is funded is not relevant. We also had a discussion about Orson Wells' radio broadcast of War of the Worlds. The guys also taught me about a YouTuber named the Liver King. The guys were all avid gym rats and Liver King had build his channel on working out and eating raw liver as the way to live be strong. He was also fond of the word "primal" implying that being old school was the secret to a strong healthy body. It had come to light that he had a $12,000/mth steroid dependency which made him the butt of a lot jokes and some lawsuits. It was quite entertaining to hear the guys going on about Liver King. After all the "wood" that was nearby had been burned it became too chilly to sit outside so we all headed to bed about 9 pm.
I had a little hot spot on the outside of right pinky toe which I taped up before going to bed. Pretty good start for my feet. What a first day on the trail. Feels like a completely different time when I was heading out from the car just over 12 hours ago. Good night from Bull Pass in the Superstitions.
Day 2 Bull Pass to Miners Needle