Day 3, August 10th, Yoho Lake CG to meadow behind Amiskwi Lodge, 16.6 km, 646 m elevation gain, 723 m elevation loss, 9 hrs 53 min, Kiwetinok Alternative joining Segment 21 onto Segment 22.
We had a very early start to the day with the aim of hitting the trail just after 6:00 am.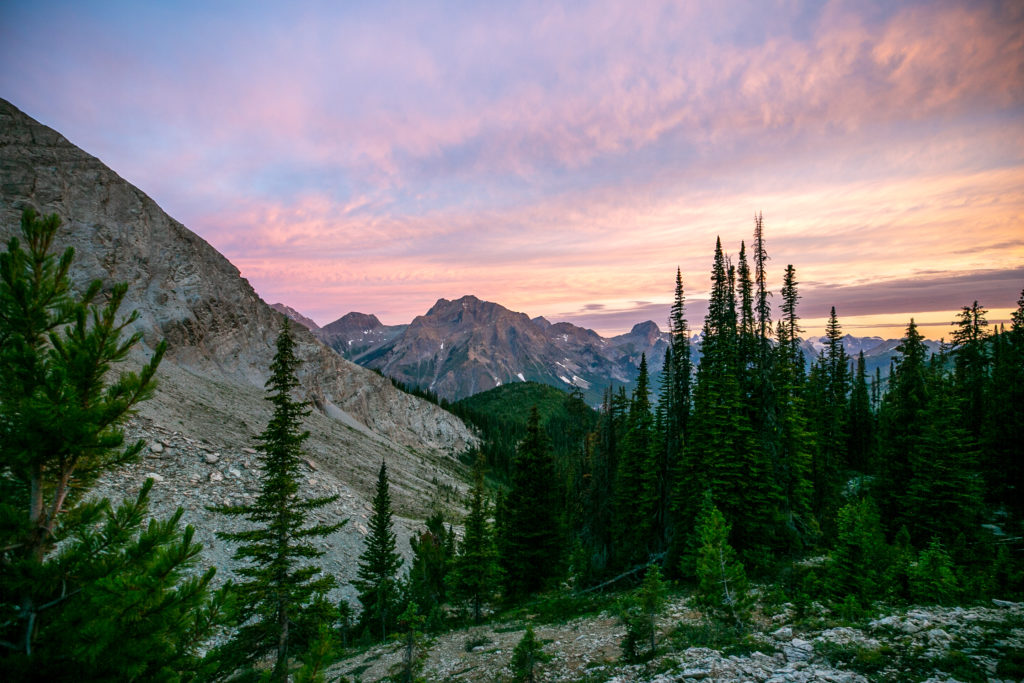 I had been thirsty all night which had me continually drinking my water whenever I woke up. I was slow and tired when I did get out of my sleeping bag just after 5 am. I had a light but persistent headache and during breakfast Lillian mentioned that she also had a headache. While we did sleep at a higher elevation than the previous night at Yoho Lake I figured I was suffering from a bit of dehydration. Unfortunately with all the water I had drank during the night I did not have enough water for my morning coffee. Not a good start to the day.
We headed out just after 6:05 am. We decided to head out early since we were all short of water. We planned to have a quick dry breakfast and have a proper breakfast later. This woulld be a short day at around 17 km. The day did have its challenges. Firstly we were still on the Kiwetinok Alternate and had around 4 km before joining the main GDT. Secondly we all needed some water.
Explaining the photo above. We took off down the wrong drainage to start the hike in search of water. I knew looking at the Farout App that the GDT was to our left so while we were filtering our water I headed out in search of the GDT. My bushwhacking initially took me uphill and the going was very slow. I was concerned about getting too far away from Lillian and Sara even though I knew I could easily backtrack using the app. Had I persisted for just a few more minutes I would have found the GDT which we would discover later was well flagged and tracked in. By not persisting in my search for the GDT we would do almost an hour of bushwhacking before finding our way back to the GDT. Looking back I am disappointed in myself for not persisting in my search for the GDT as the Farout App had not been wrong up to this point so a little more effort on my part would have saved us some dodgy bushwhacking.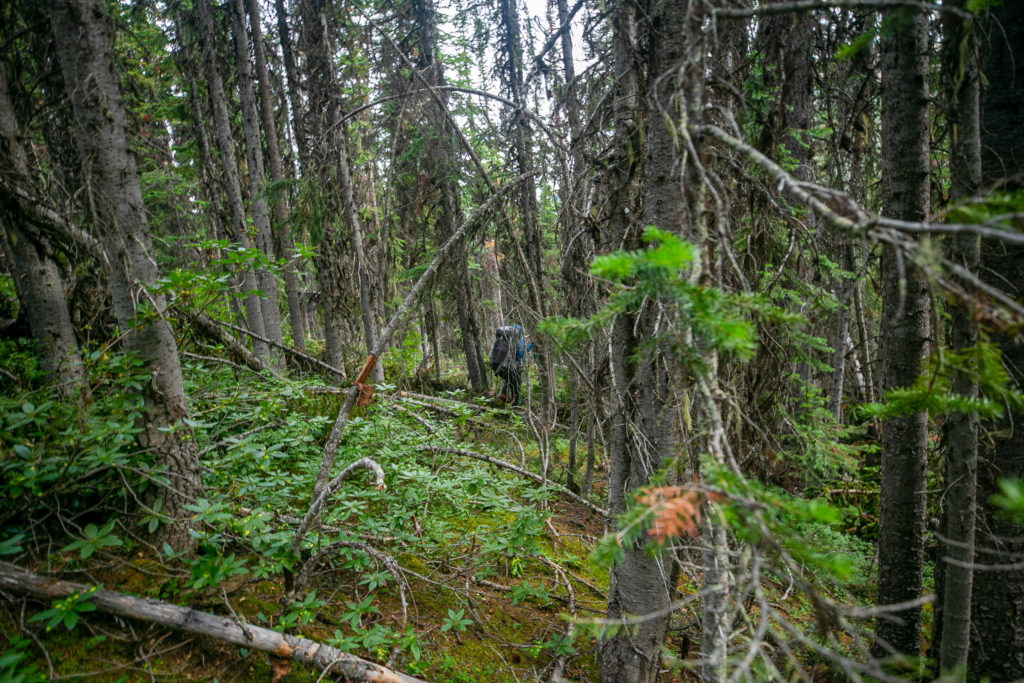 Initially we followed the stream we had used as our water source downhill. I was happy to follow the stream as I knew we would eventually end up at the Amiskwi River. I was also partial to following the stream based on reading the novel "No Picnic On Mount Kenya". I read "No Picnic On Mount Kenya" during my GR 20 trip in Corsica with Micah in 2018. The book is the true story of how three Italian prisoners of war escaped and climbed Mt Kenya during the World War II. Since there was no trail to the top the climbers followed a stream to make their way up and later back down the mountain. So I figured we could follow the stream to find our way down to the Amiskwi River.
Despite my enthusiasm for the creek Lillian was not convinced. Lillian was concerned that the creek could become a canyon making passage impossible downstream. The creek was growing fast and while it was clear of trees the wet rocks made it a challenging descent. After 30 minutes we abandoned the creek and decided to angle over and find the GDT. I led the way as we contoured around a hill using the Farout App as a guide. After just 10 minutes of bushwhacking we stumbled across a lovely trail complete with orange flagging.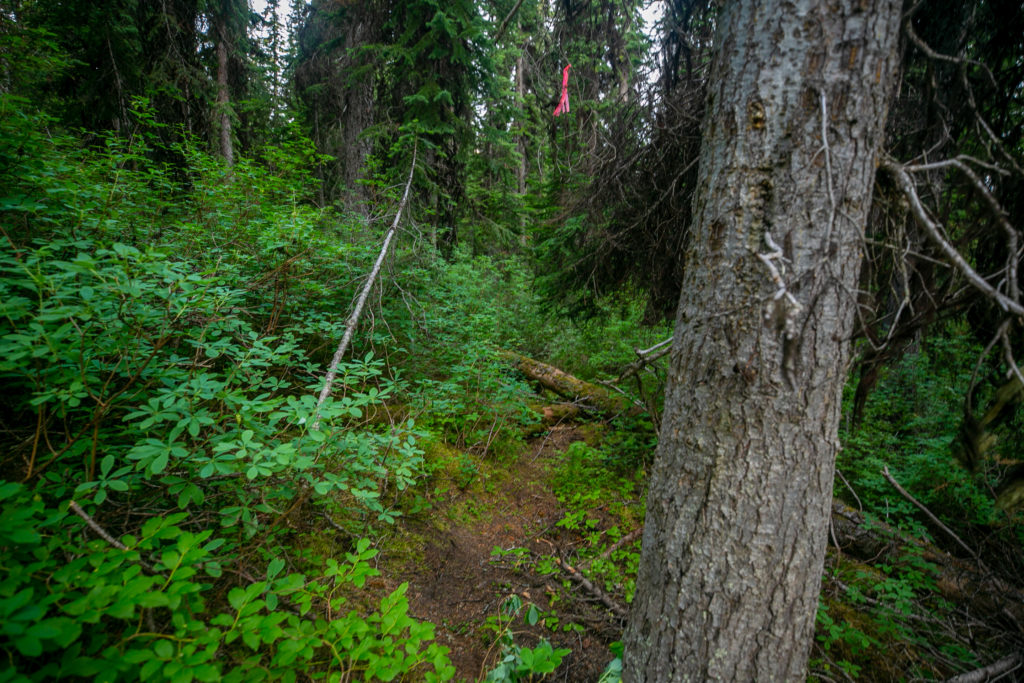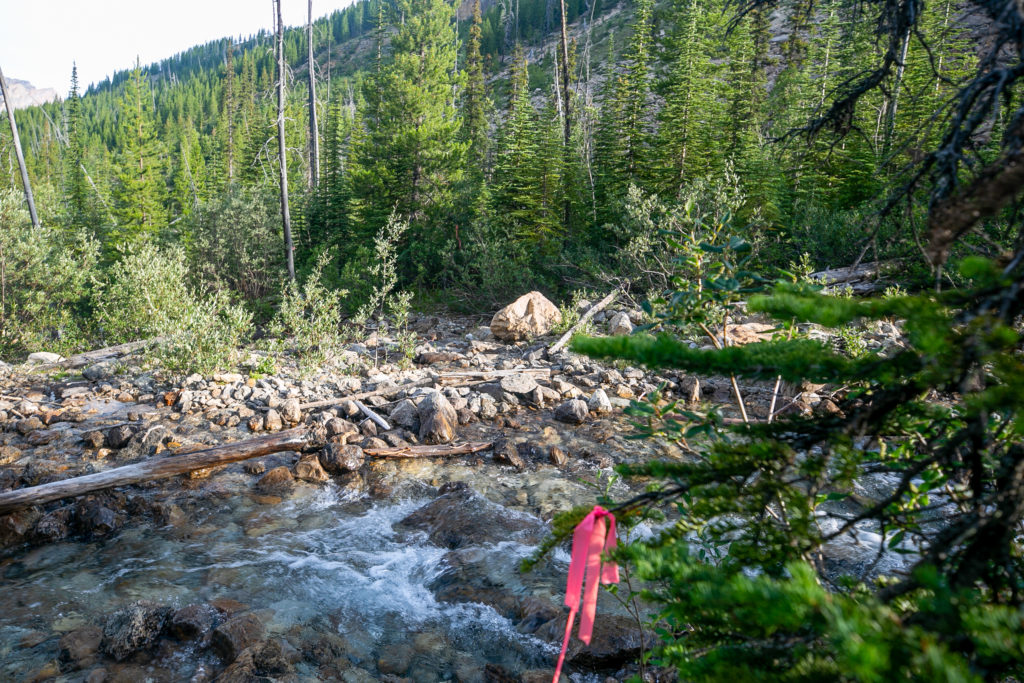 With it being quite early and knowing that we were just a couple of kilometres away from the main trail we decided to stop and have an extended break.
I had my morning coffee and ate some extra snacks during our break. After just over an hour relaxing we put our packs on feeling refreshed and energized. After just a couple of minutes down the trail Lillian had a bad feeling that she had left her spoon back at breakfast. A quick check of her pack confirmed it was missing and Lillian quickly headed back up the trail to hopefully retrieve her spoon. Lillian returned promptly with a smile her little trip being a success. Her spoon was right where she had done her washing. The trail heading down to the Amiskwi while not up to Parks Canada standards was very good and we made steady progress back to the main trail.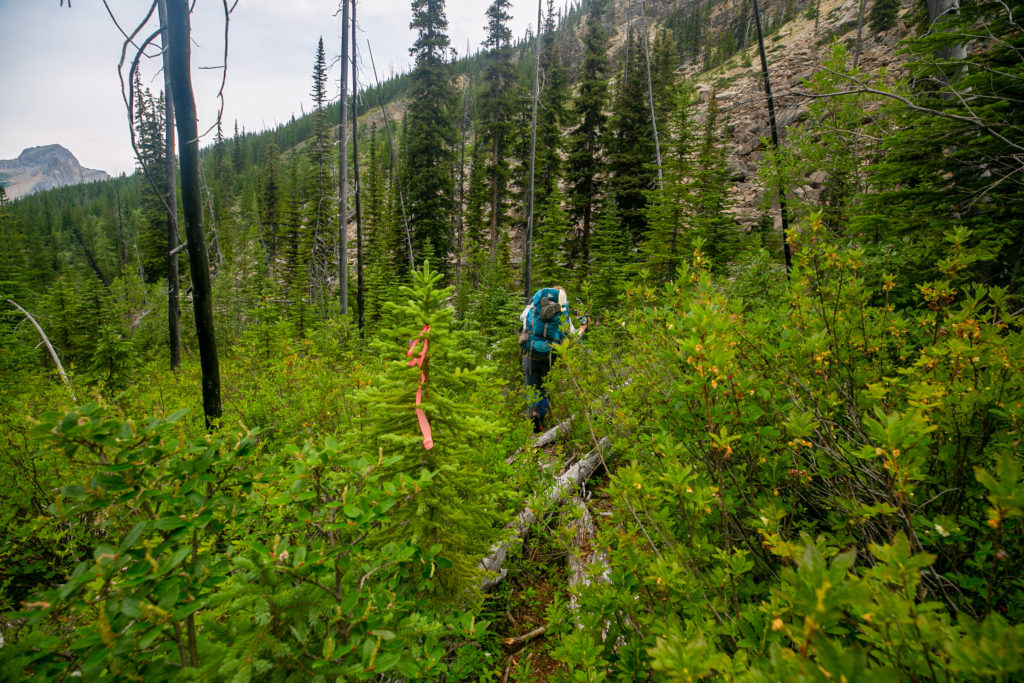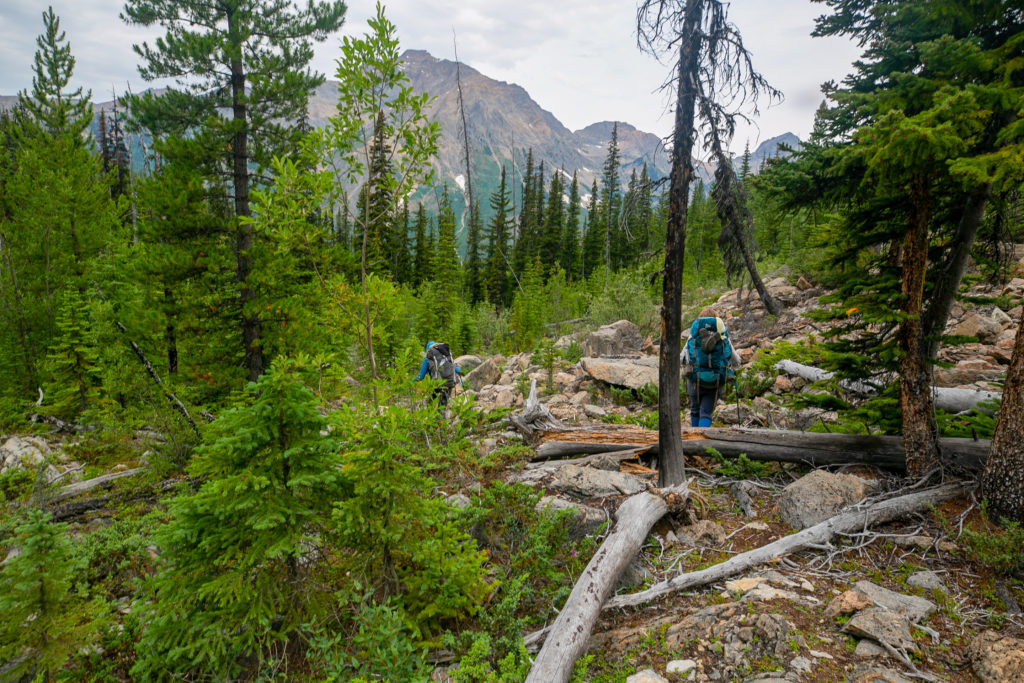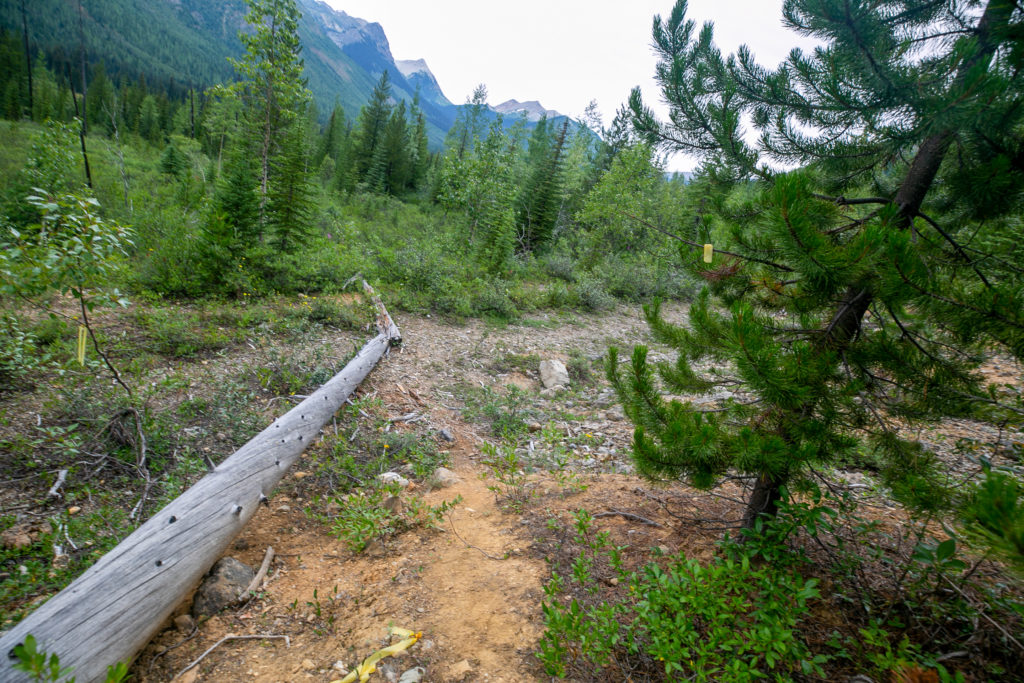 Even though I felt like we made very good time it had taken us 3 hrs and 35 min to hike the 4 km from our camp to the main trail. This did include 15 minutes to collect water and a 1 hr 15 min breakfast break. Our average speed worked out to a little over 2 km/h. Our pace shot up to over 4 km/h as we traveled along the logging road as we made good progress for the next 90 minutes.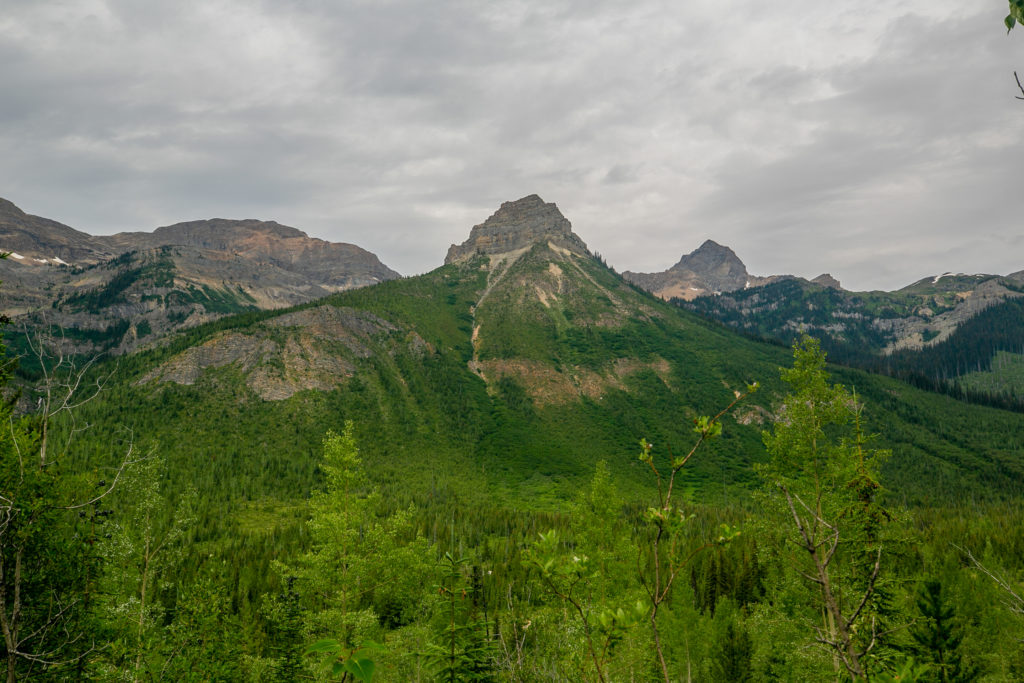 I lead for a while down the road. There was great conversation on this section while the road walking was not overly invigorating it did allow side by side walking. I discovered that Sara is a botanist and had spent time studying in the arctic.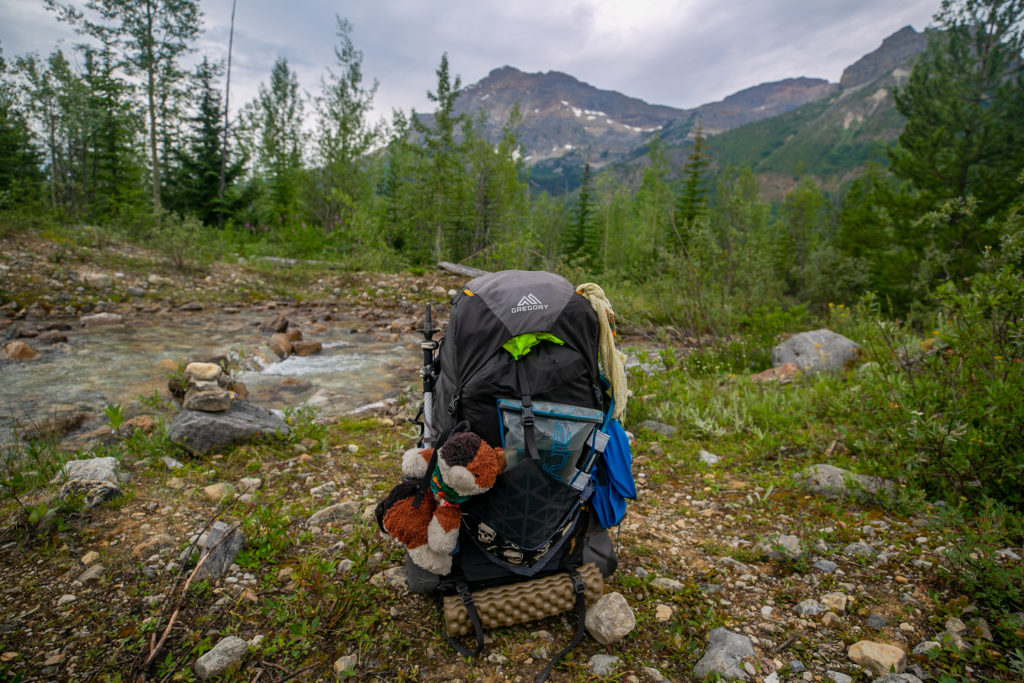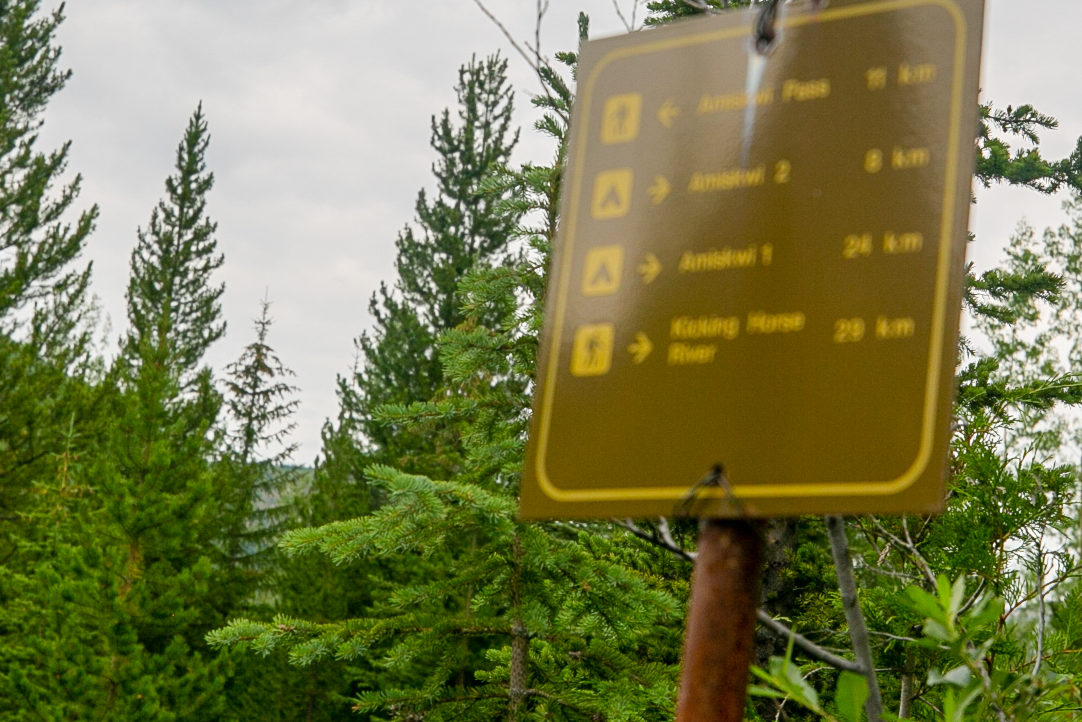 After a nice little break we headed back down the trail. We would leave the logging road periodically on the next section as we weaved back and forth across the Amiskwi River.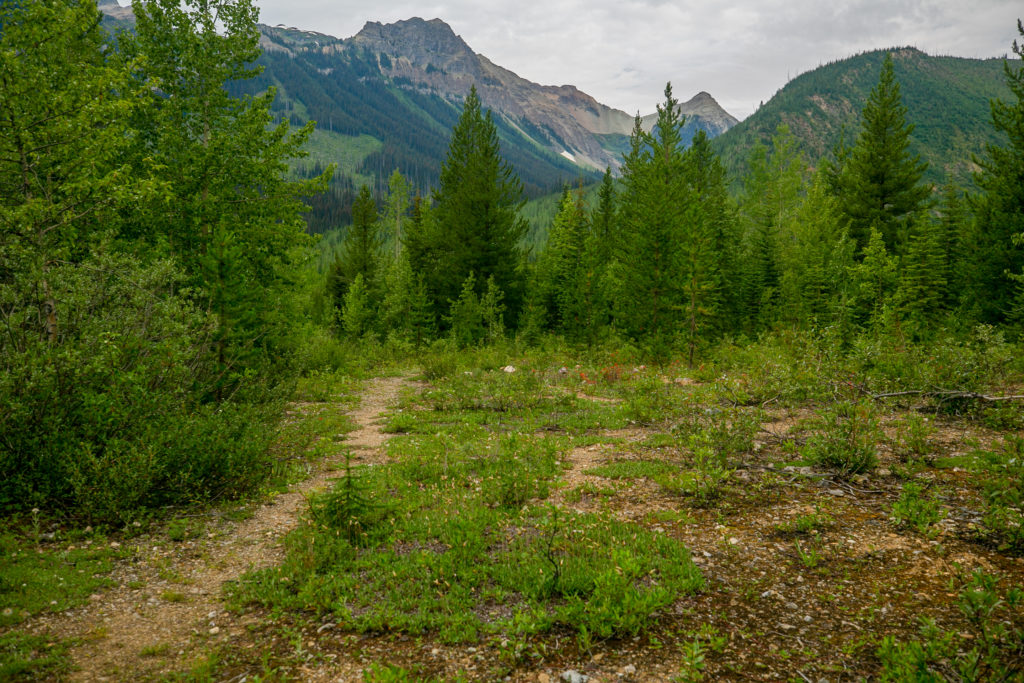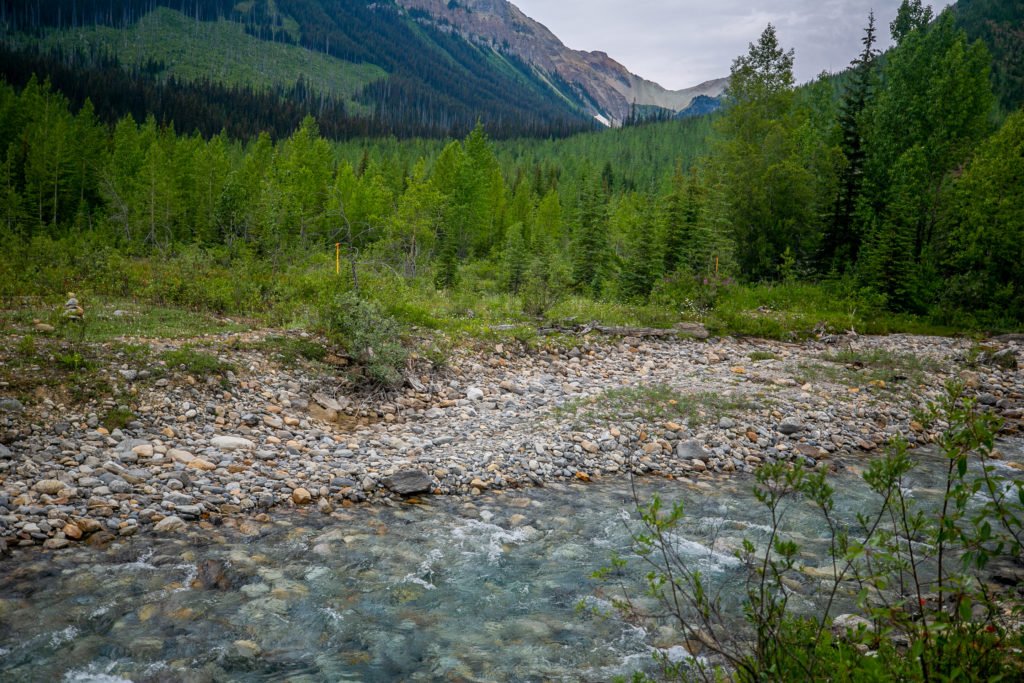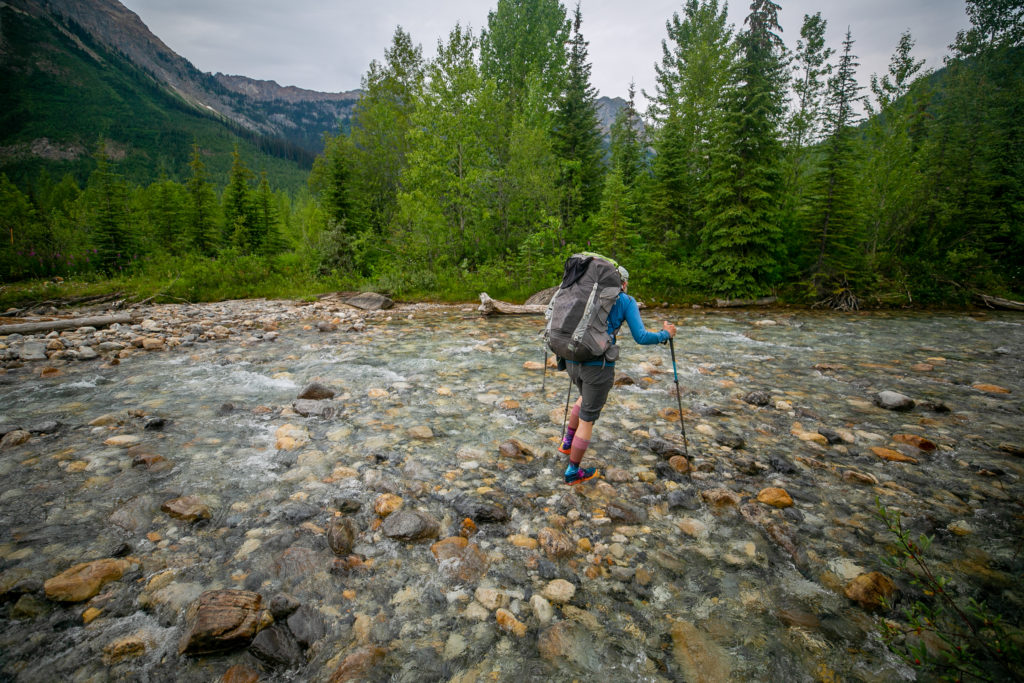 The name Amiskwi is Cree for Beavertail a prior name of the river. The name Beavertail River replaced an older name The North Branch Kicking Horse River.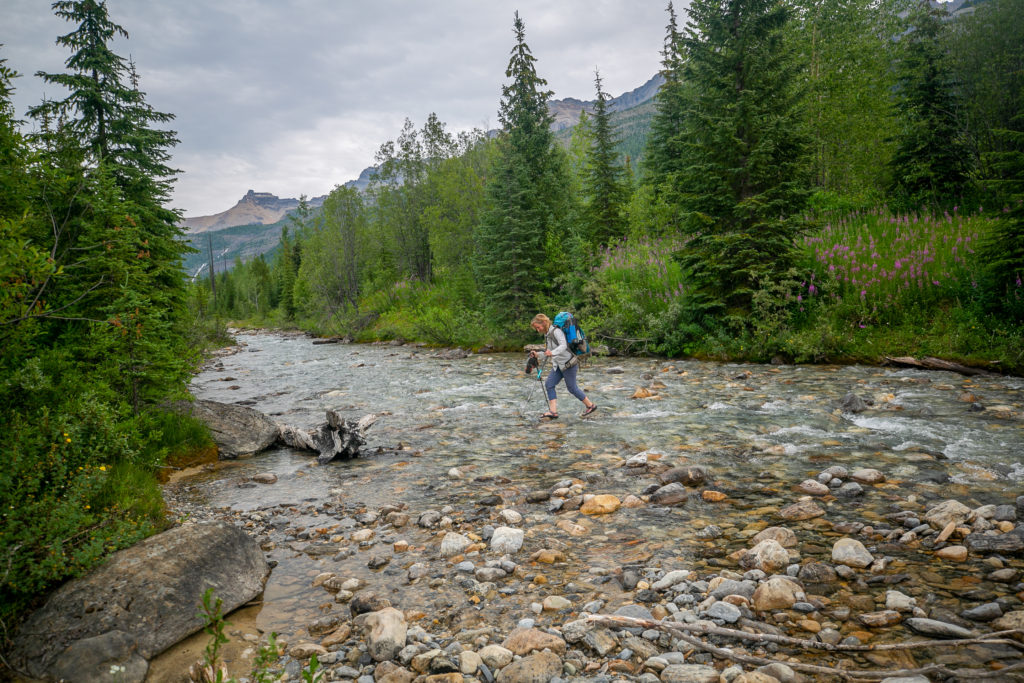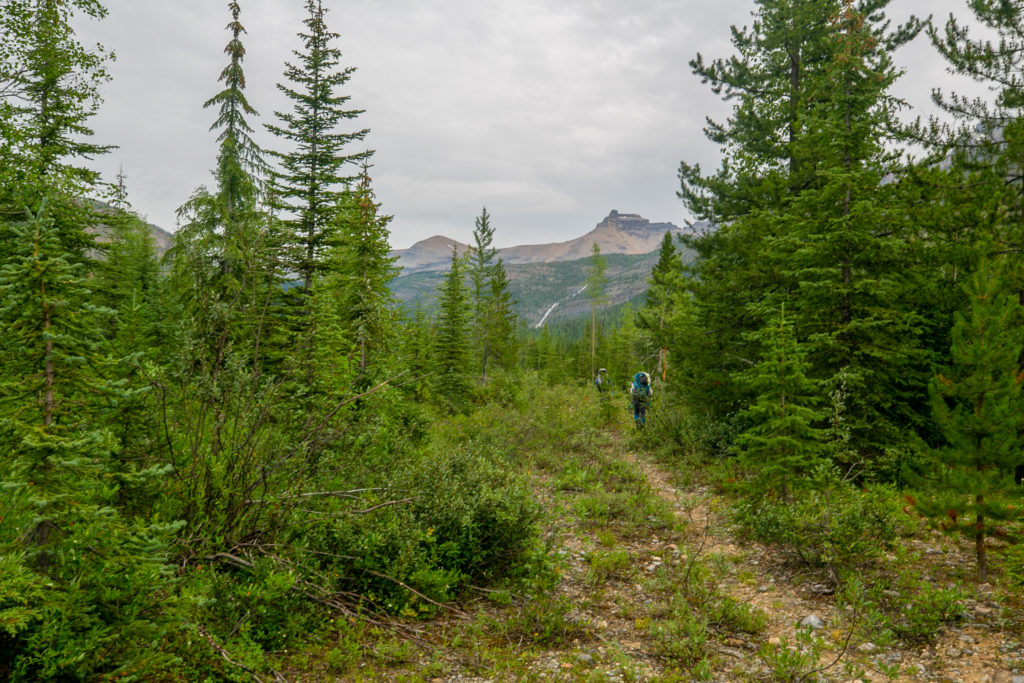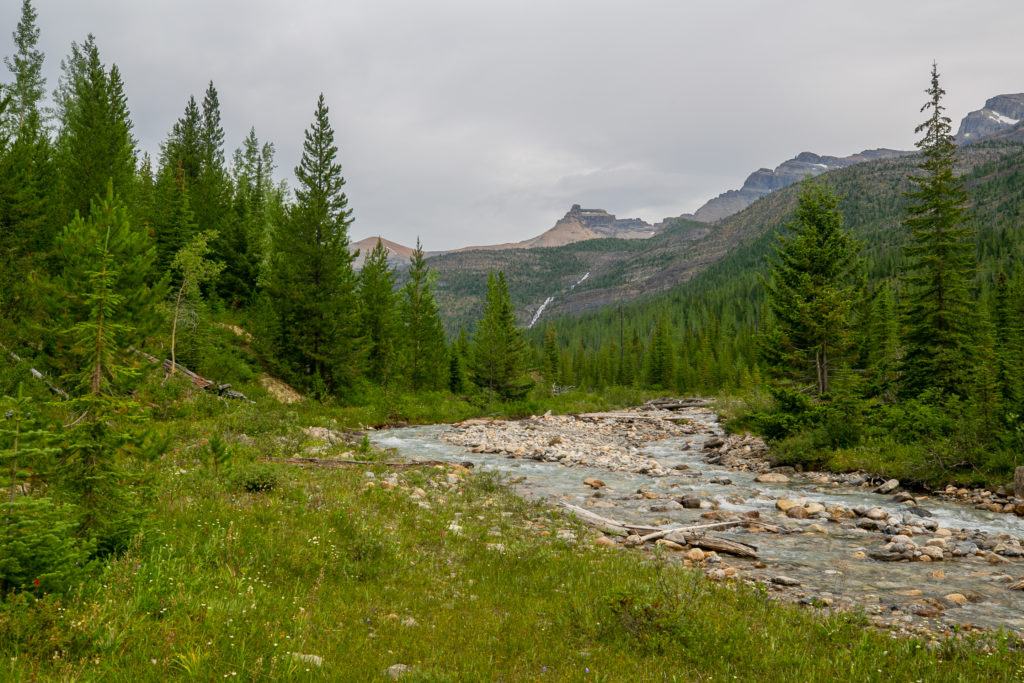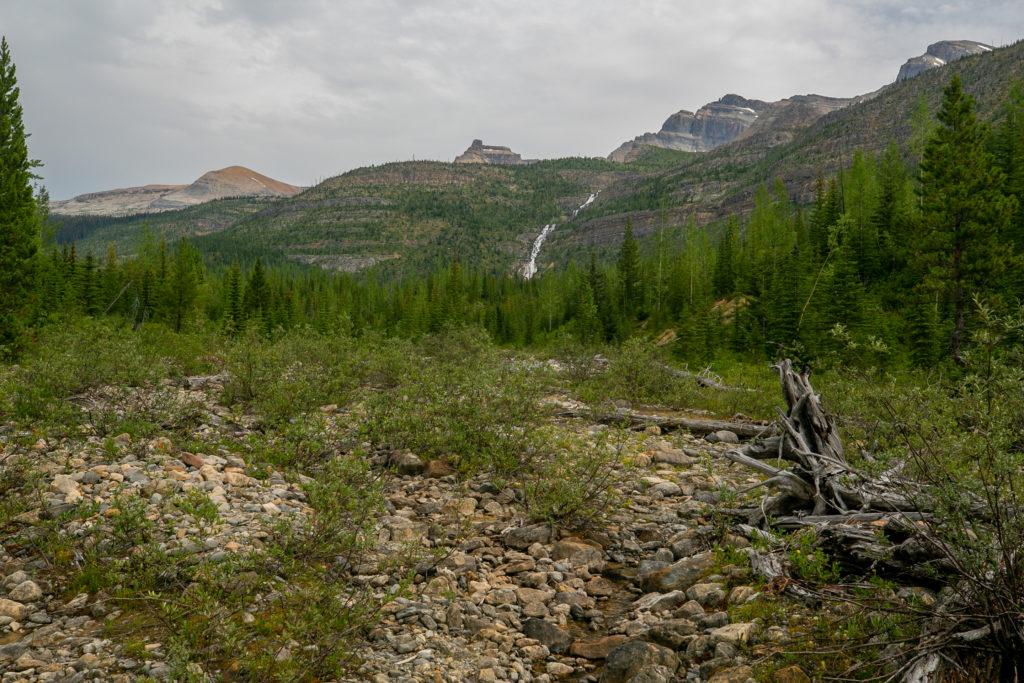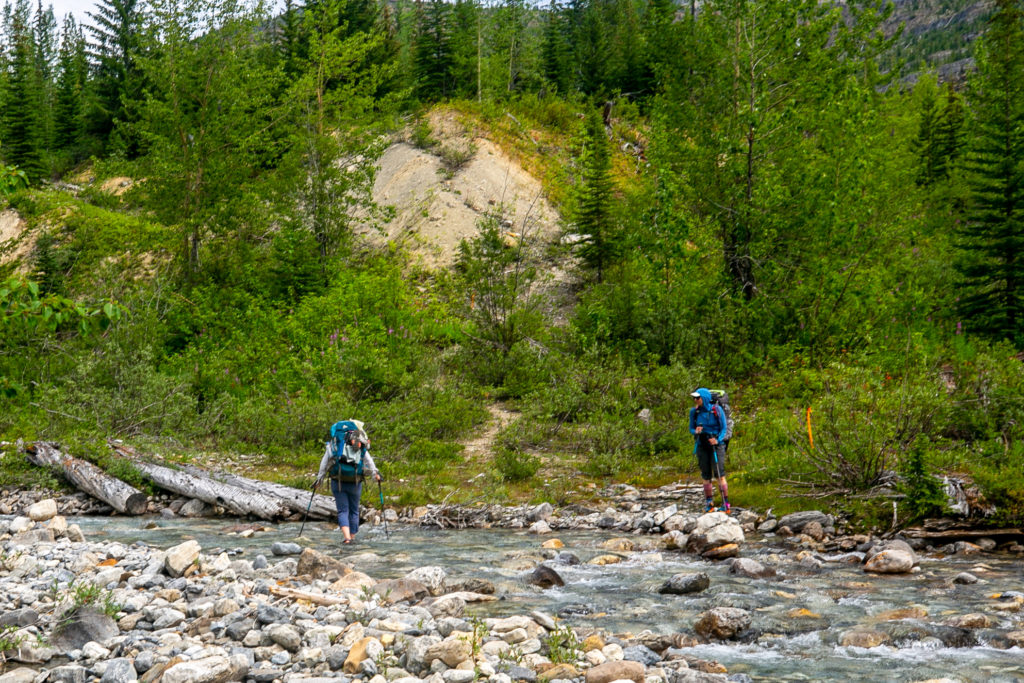 We stopped for lunch at 12:10 pm. We had hiked 9.8 km in a comfortable 5 hrs with numerous breaks along the way. Lunch was a relaxing 50 minutes. We were in no rush as there was only approximately 8 km left to hike and only a few hundred metres of elevation left. The final push up to Amiskwi Lodge would be steep but short.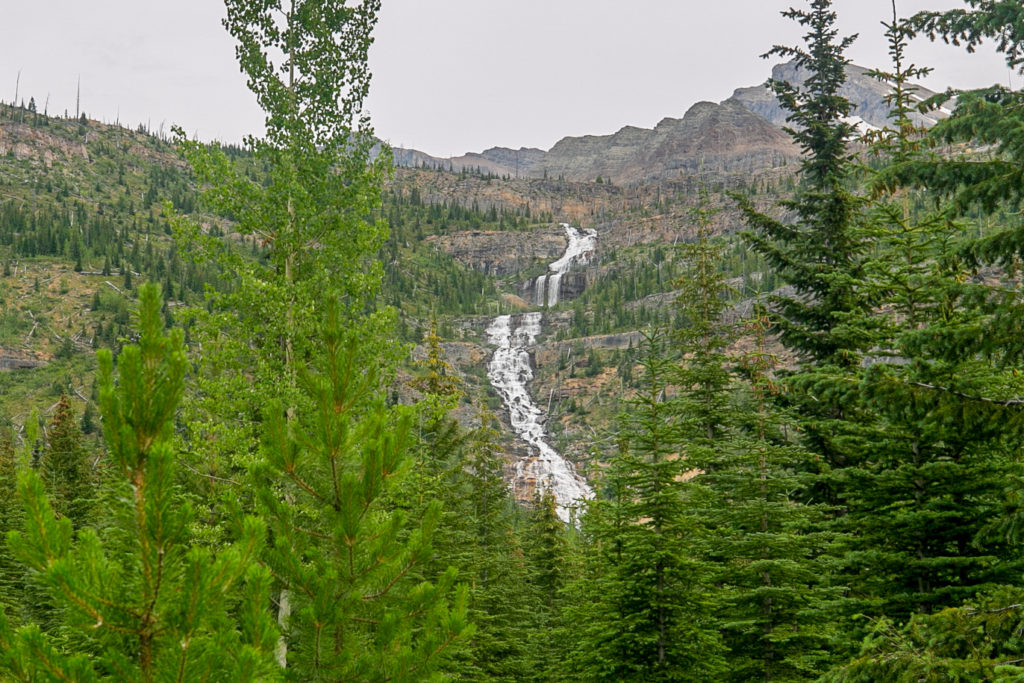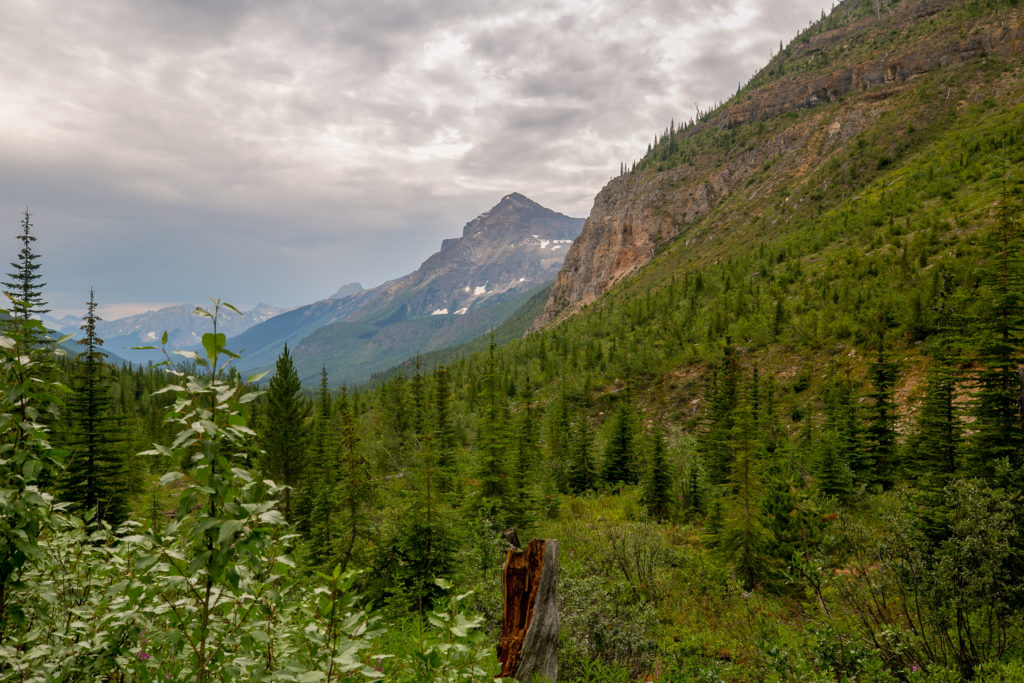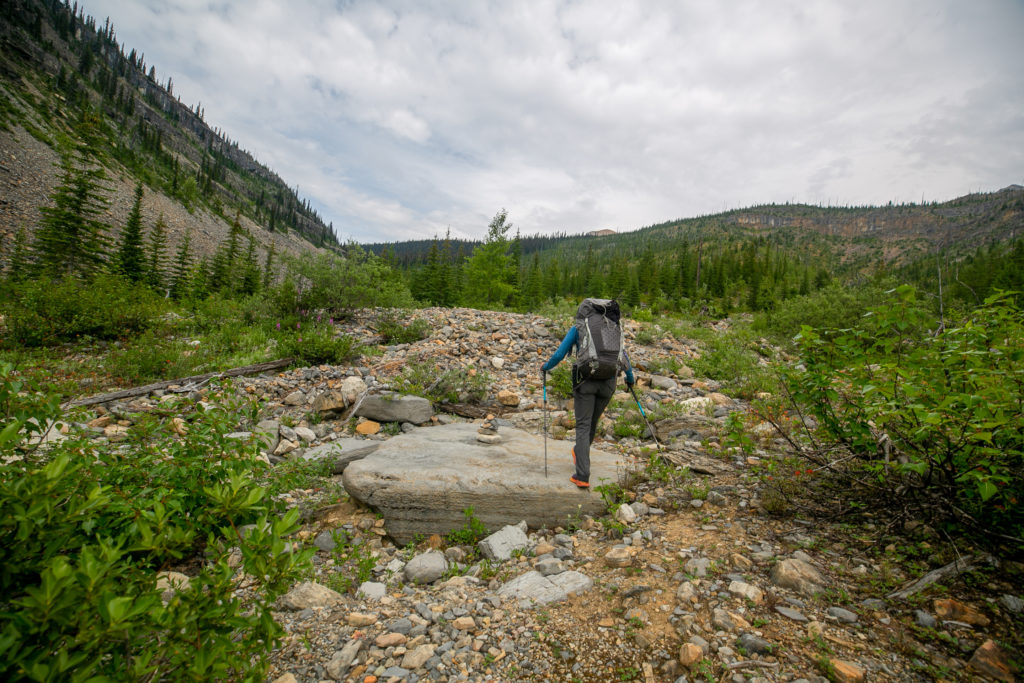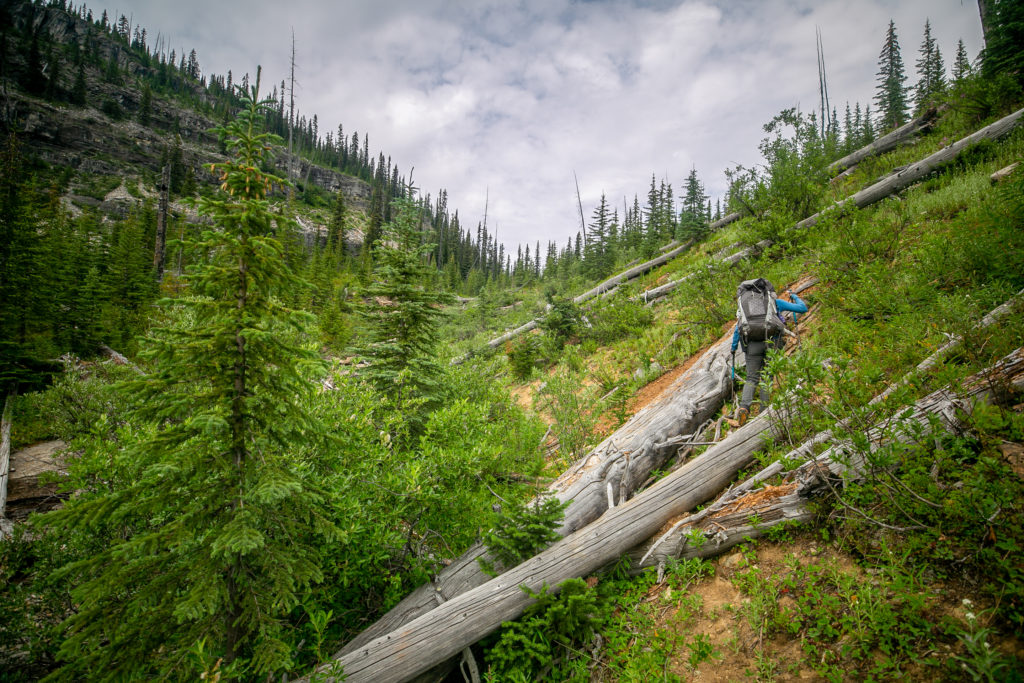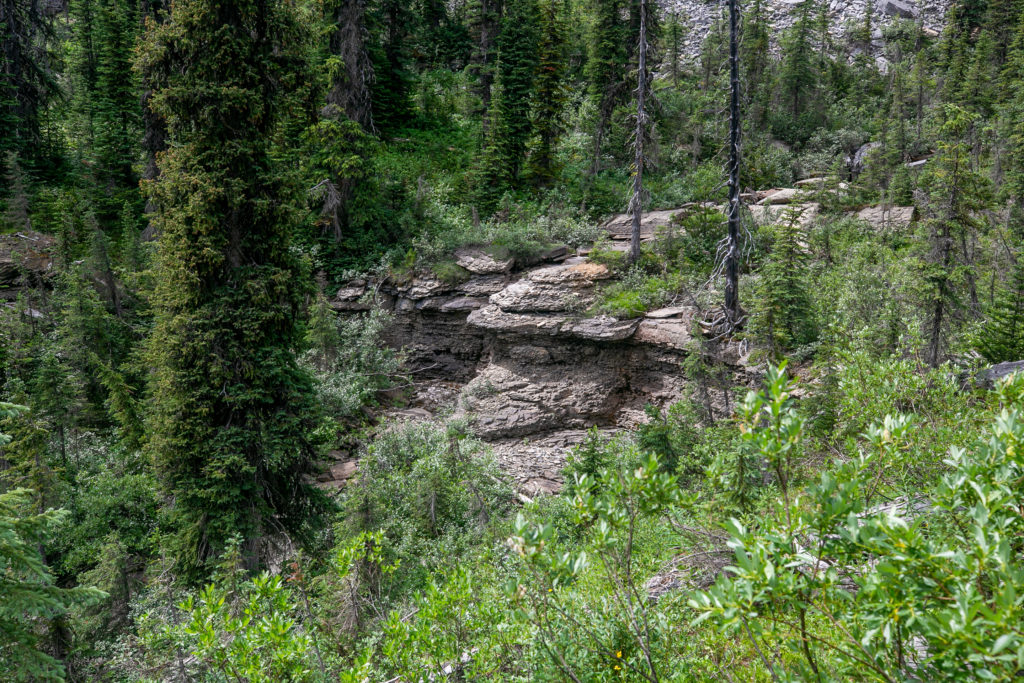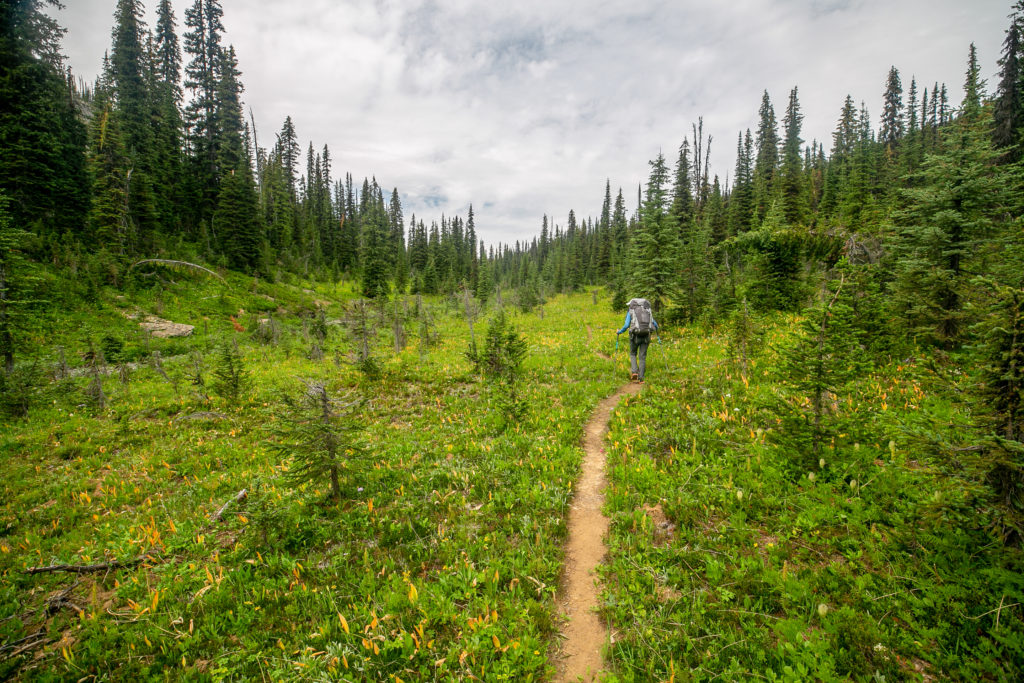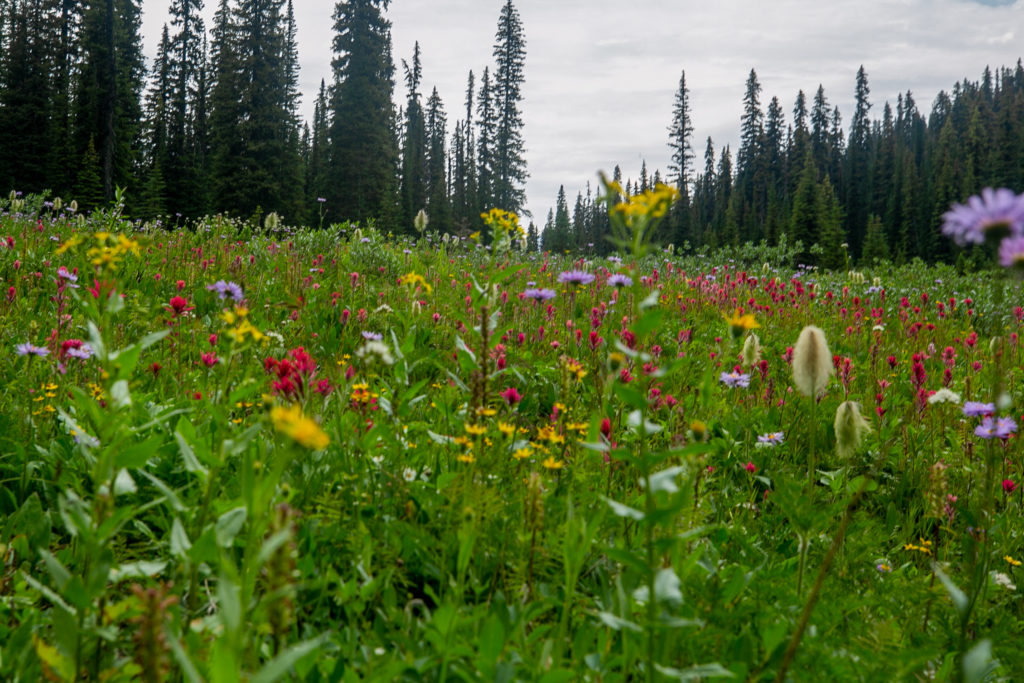 The hike up Amiskwi Pass felt so long. It was not steep just a long walk with a barely perceptible rise. On the plus side the flowers were amazing! The colours that surrounded us as we approached the pass was a like a natural firework display. My legs were so tired as we hiked past the flowers. Every step was an effort. I was very glad that this was a short day so I could recover from yesterdays big day.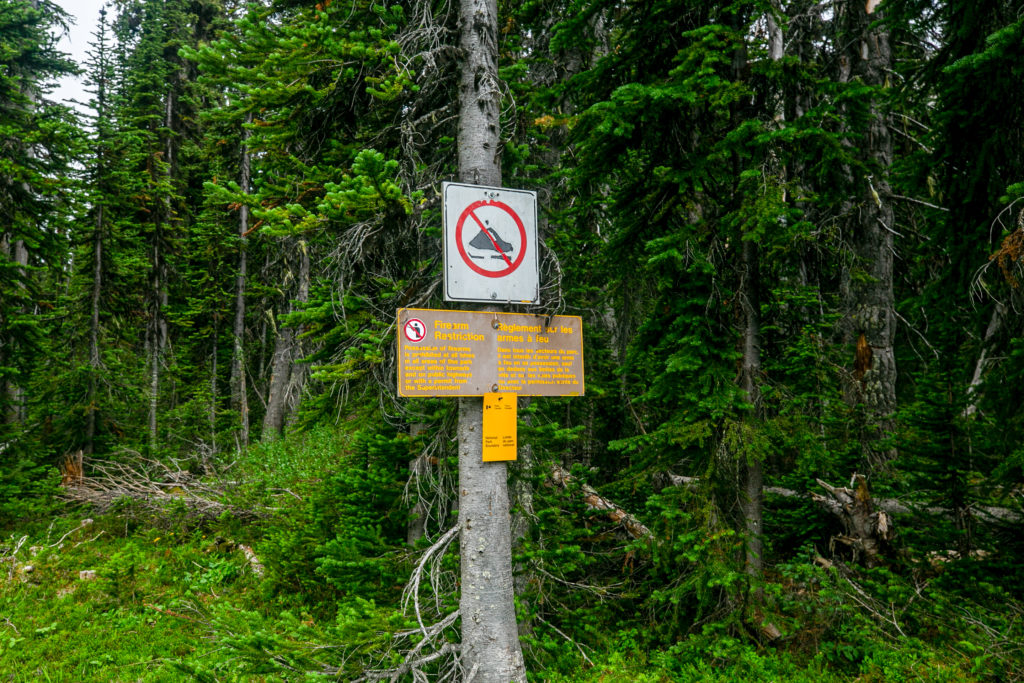 We arrived at Amiskwi Pass at 2:30 pm. It had taken us 90 minutes since lunch to hike 4.2 km and gain about 220 m of elevation. Amiskwi Pass marks the end of Segment 21 and the beginning of Segment 22. We did stop for a few minutes to admire the flowers that dominated the pass. Just after we left the pass for a short downhill section it tried to rain. By the time we got our rain gear on the rain had stopped and did not return.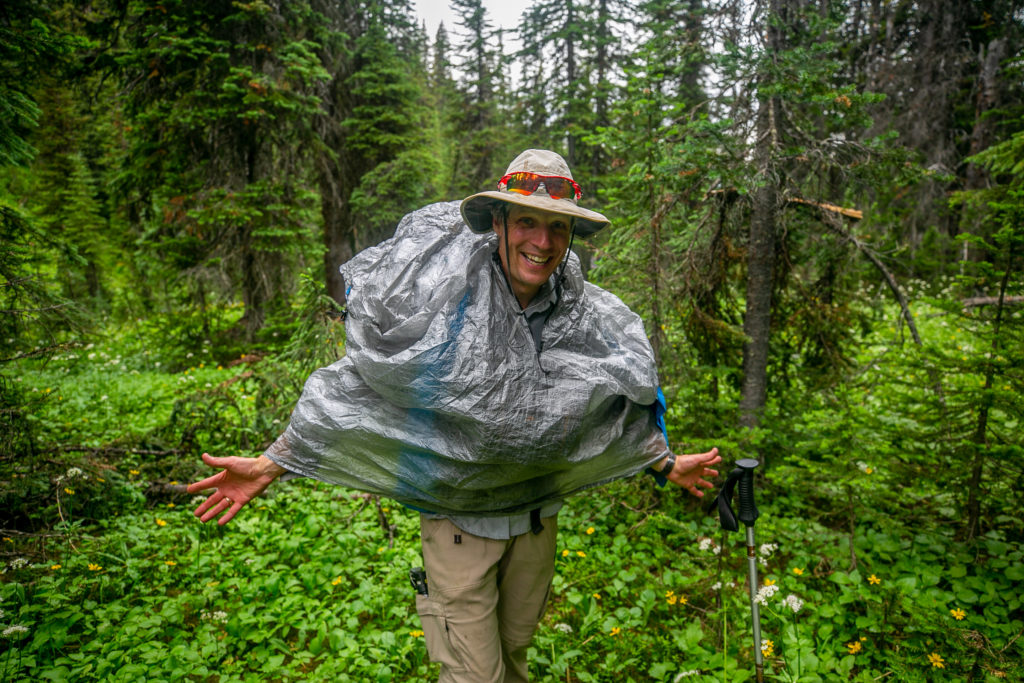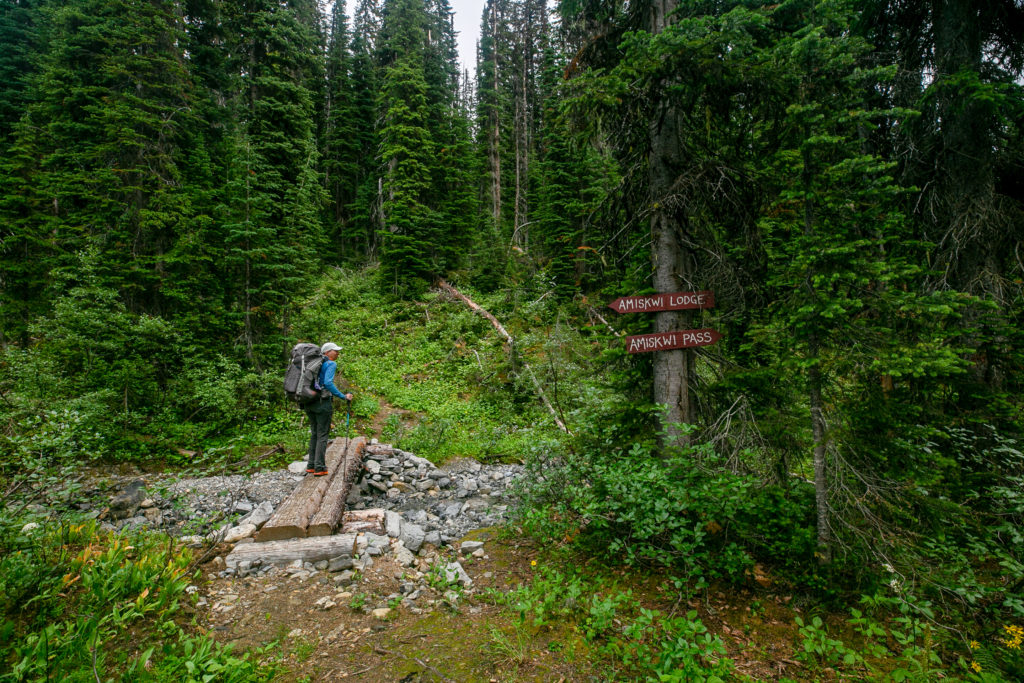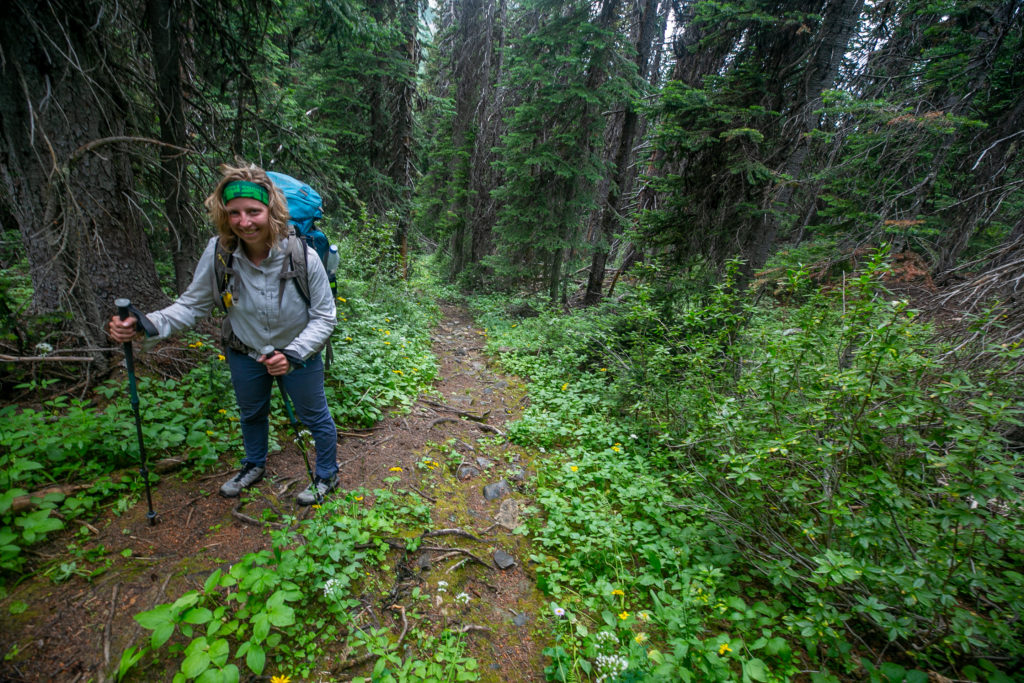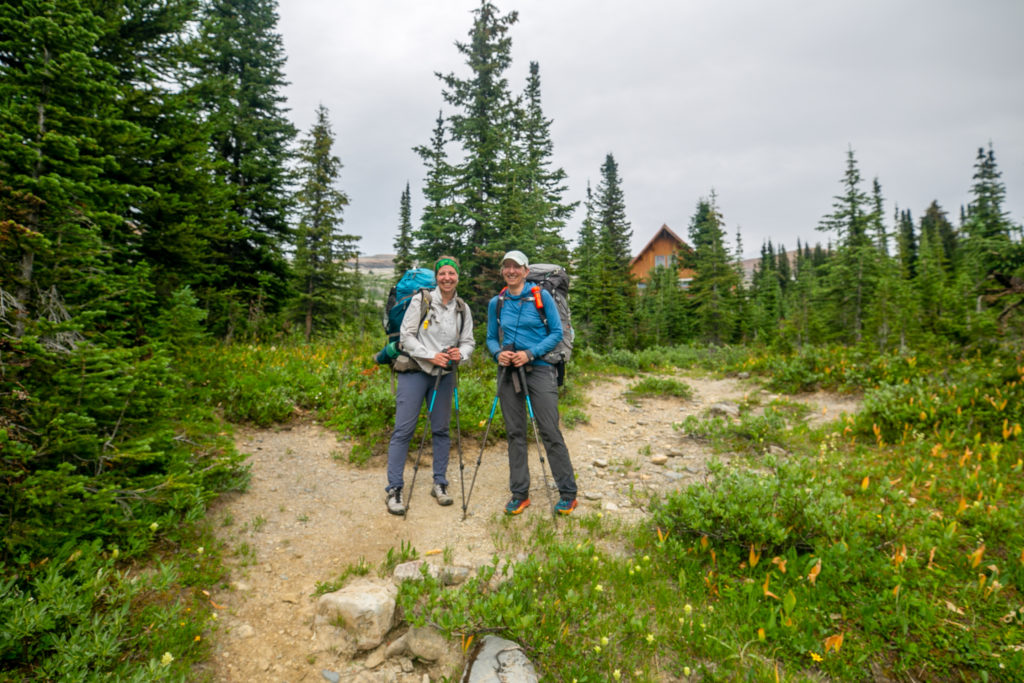 It took just under 30 minutes to climb the hill to the lodge. We tried to be respectful of the lodge and their guests and moved quickly and quietly through the area.
We dropped our packs at 4 pm capping a 10 hour day covering a distance of 16.4 km with a net elevation loss of about 75 m. Our campsite was a near a near a lovely stream where we would have dinner and breakfast and right at the base of the ridge that we would be heading up in the morning. The meadow that we were camped in was very pretty and offered fantastic views of Mt Mummery and the Mummery Glacier. I had a quick wash in the stream and also gave a my shirt a good wash after three days on the trail. The clouds were dark and gloomy overhead but could only muster a feeble little drizzle while we were setting up the tents. One lasting impression of our evening was unfortunately the mosquitos. This was probably the worst night we had for mosquitos and they were very intense.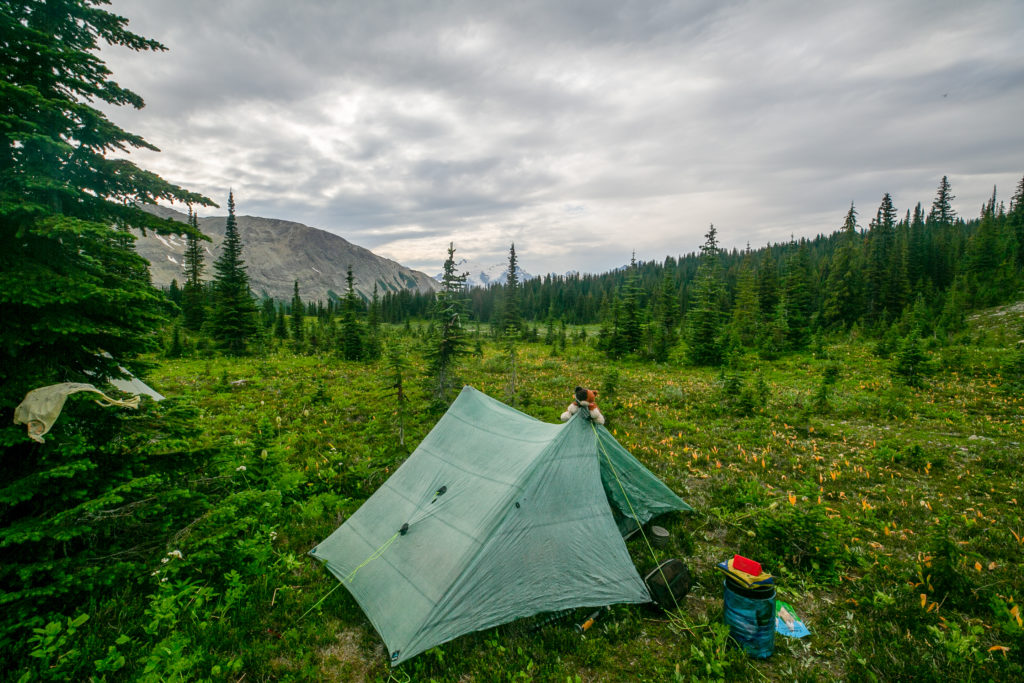 We gathered for dinner just before 5:30 pm. We ate by the stream where there was a little breeze which helped to keep the mosquitos at bay. I do not remember much about dinner specifically except that there was a lot of laughter. Lillian remembers that we had to stand up and continually move to try and escape the mosquitos since they were so intense. As the sun came out after dinner I felt that Mother Nature was playing a cruel joke on us. The mosquitos were so bad we had to hide in out tents but the sun was beating down on the tents so hard that it was almost too hot to be inside the tents. I choose to deal with the heat and hide in my tent.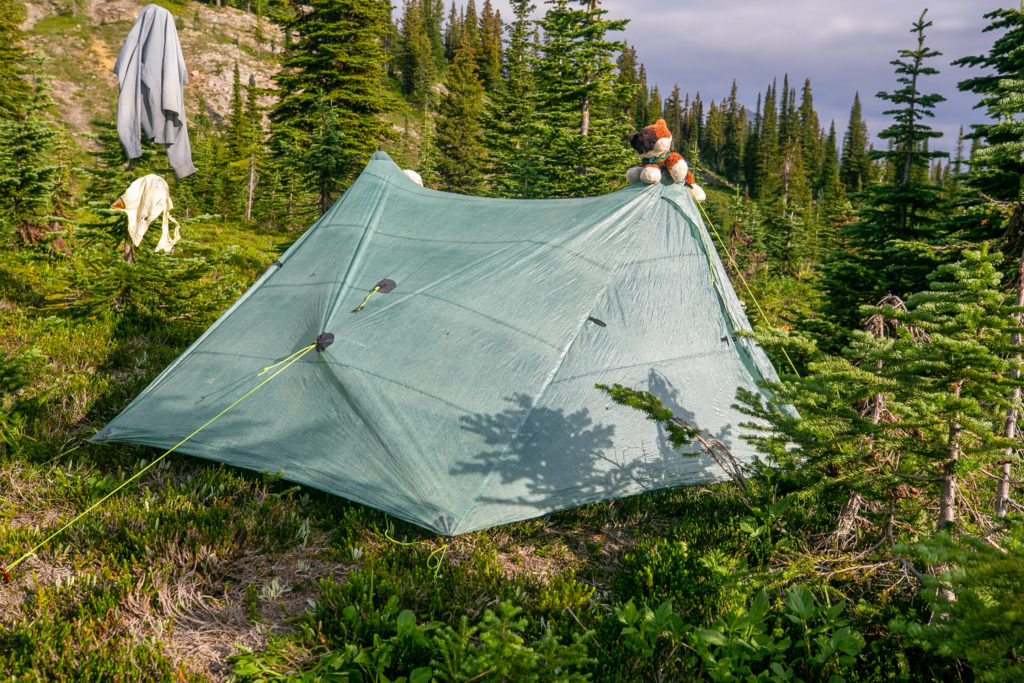 Tomorrow is shaping up to be an interesting day. We will only have 270 m of elevation gain and 1200 m of elevation loss over about 16 km. Then it will be two challenging days as we have to negotiate two avalanche debris paths and then navigate the Howse Flood Plain. Our plan was to hike together up and over Howse Pass but Lillian and Sara were planning on stopping a little short of where I wanted to stop on Day 5 as they have an extra day in their itinerary. I was a little nervous of what lay ahead but there was really good energy in camp and everyone was feeling very positive. I have been carrying a beer on the trip and I was thinking that tomorrow night will be a good night for a smooth dark beverage.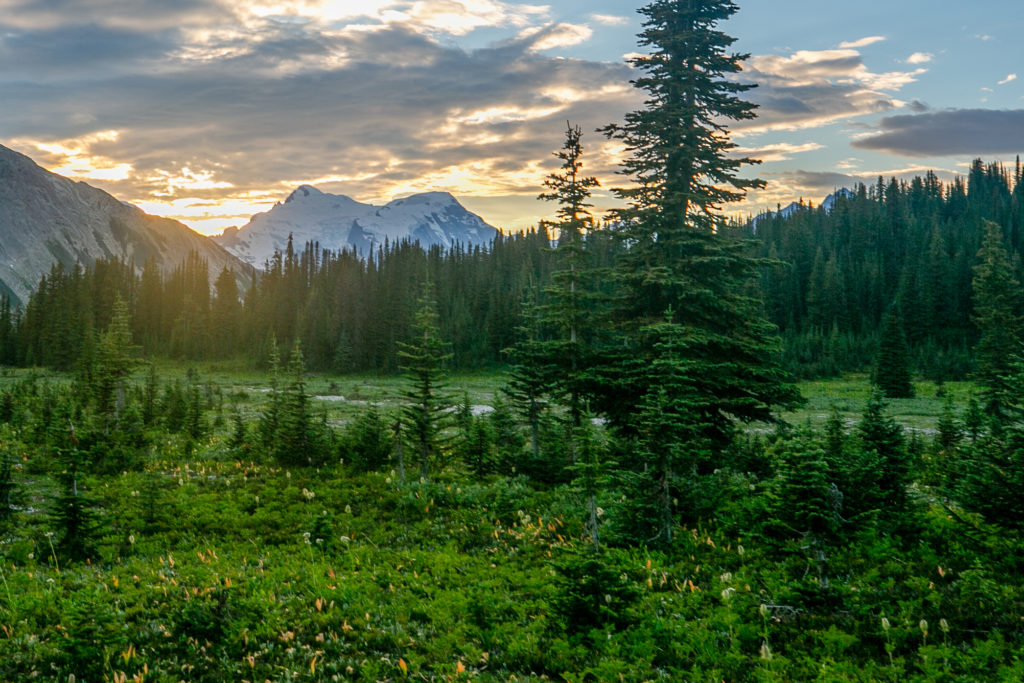 In my research I found that the Amiskwi Lodge refers to skiing on Crystal Ridge and I wondered if this was another name for Amiskwi Ridge. I could find no other reference anywhere to Crystal Ridge on the web. I finally found a picture of a map on a Rocky Mountain Scramblers Association trip report that showed Crystal Ridge. Looking at the map Crystal Ridge is the Amiskwi Ridge that we will follow on Day 4 and is just a name that Lodge came up with when they named different ski runs in the area.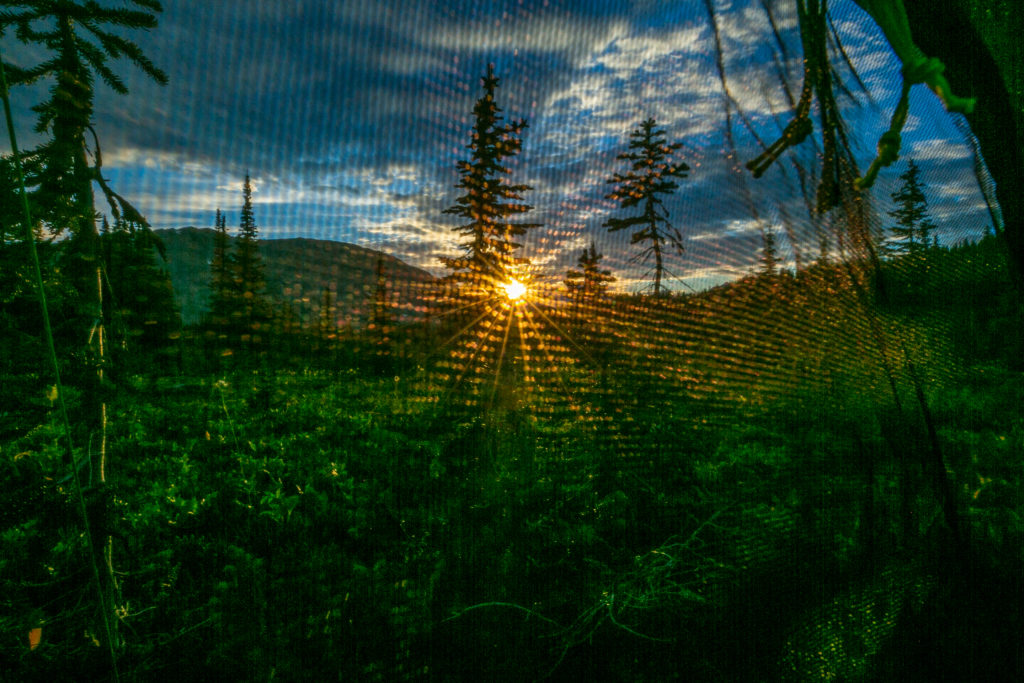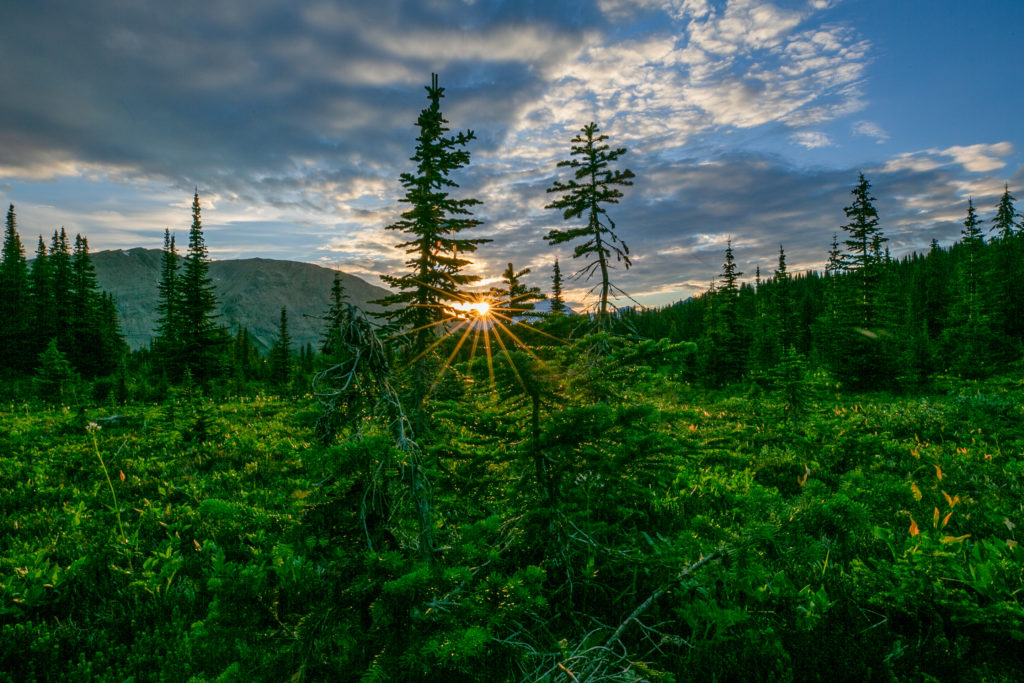 GDT Section 2022 Section D Day 4